Homemade Non-Toxic Laundry Detergent with Essential Oils
Jump to Recipe
Learn how to make this simple homemade non-toxic laundry detergent with essential oils. If you are looking to ditch toxic cleaners in your home and switch to more non-toxic products, you've come to the right place.
This is a really great alternative to toxic chemical-filled laundry soaps that you can buy at the store. The ingredients are inexpensive, easy to find, and are used in many other DIY household cleaning products.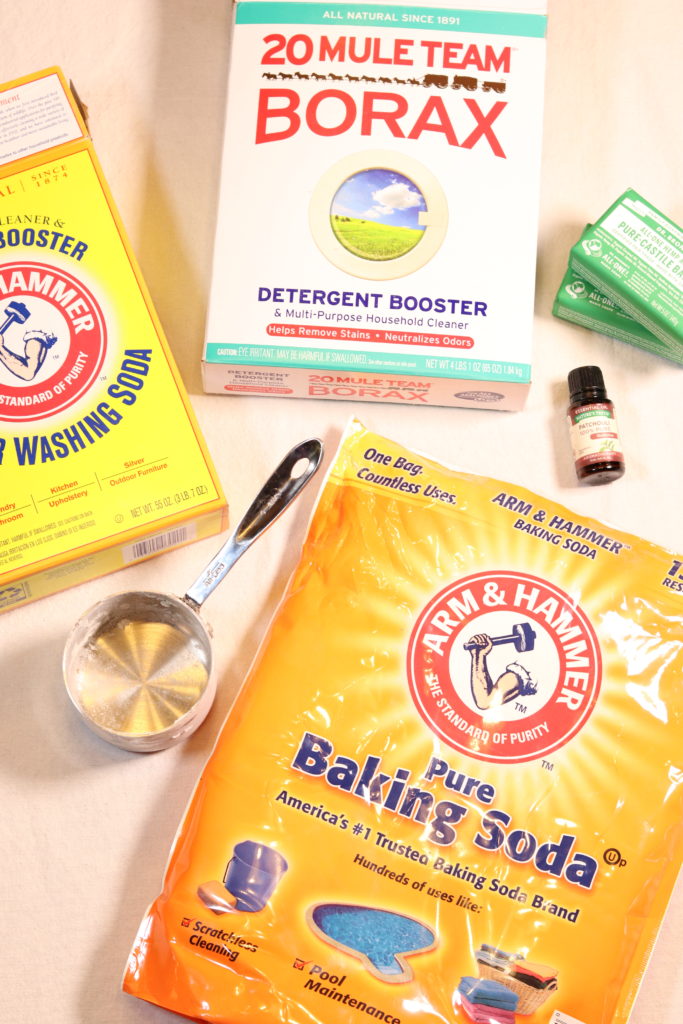 Some of these links are affiliate links. You can read my full disclosure HERE.
Why Make Homemade Laundry Detergent?
About 4 years ago, shortly after my daughter was born, I decided I needed to start eliminating chemicals and toxic products in our home. The process didn't happen overnight, but I slowly began to make all my own cleaning products instead of purchasing them from the store.
Making DIY cleaning products also:
Cuts down on plastic containers going to the landfill
Saves a significant amount of money-especially long term
Keeps toxic chemicals off your skin
Liquid Laundry Detergent vs. Powdered Laundry Detergent
For me, this is all about personal preference.
I have tested so many different powdered detergents and liquid detergents and found that they both cleaned about the same.
What did change my laundry game was the brand and style of the washing machine I was using to wash my clothes. That is when I noticed a significant difference when using the same DIY powder laundry detergent. It had nothing to do with the detergent and more to do with my washing machine.
Before we moved I had a front-load washer and dryer. A standard HE machine. When we moved into our new house I wanted an older style of washer that has a beater bar on the inside.
I noticed a huge difference right away when I switched back to that type of machine. I will never go back to a front loader again. But this is just personal preference.
I currently use a Maytag Commerical washing machine and dryer for home use. It is not any larger than a standard top load washing machine and front load dryer.
Ingredients
Ingredients For Homemade Laundry Soap Recipe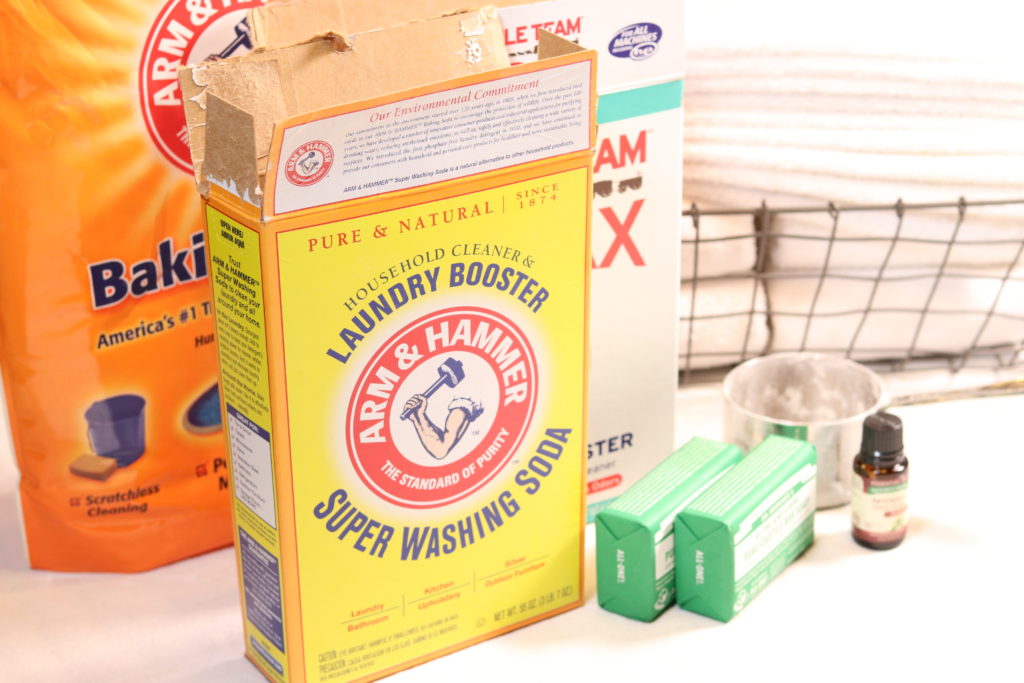 How To Make Homemade Laundry Detergent
First, grate 2 bars of castile soap of your choice with a box grater or food processor. I prefer to use my food processor to really speed the process up. I've had my food processor for 4 years already and I literally use it for everything. You'll need 2 bars per batch. I usually make a 5-gallon bucket of laundry detergent at a time, so I grate 6 bars of soap at a time.
Next, Measure out 3 cups of Arm & Hammer Baking Soda, 3 cups of borax and 3 cups of Arm & Hammer super washing soda and add them to whatever container you'll be storing your detergent in.
Add in the 2 bars of grated castile soap.
After all the dry ingredients are in your bucket, add 30-40 drops (or to your desired scent tolerance) of essential oil of your choice. Again, this is optional. You can also use scented castile soap. Dr. Bronners Brand has quite a few scents such as lavender, Citrus, almond, rose, and peppermint as well as unscented.
Slowly incorporate all the ingredients together, making sure that essential oil is thoroughly mixed in.
If you mixed your soap in a bucket, pour powdered laundry detergent into storage jar.
Label Jar with reusable chalk labels and chalk pen as well as a larger storage container if you're making a large batch.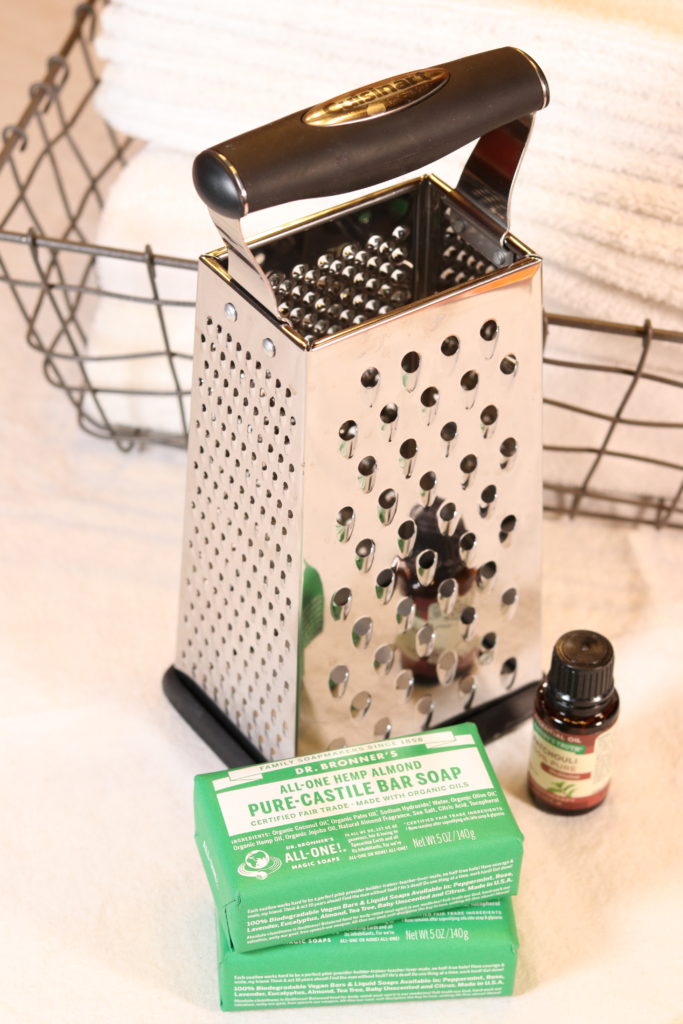 How To Use
Small loads– 1/4 cup of homemade detergent
Large loads– 1/2 cup
Liquid Variation– 1/2 cup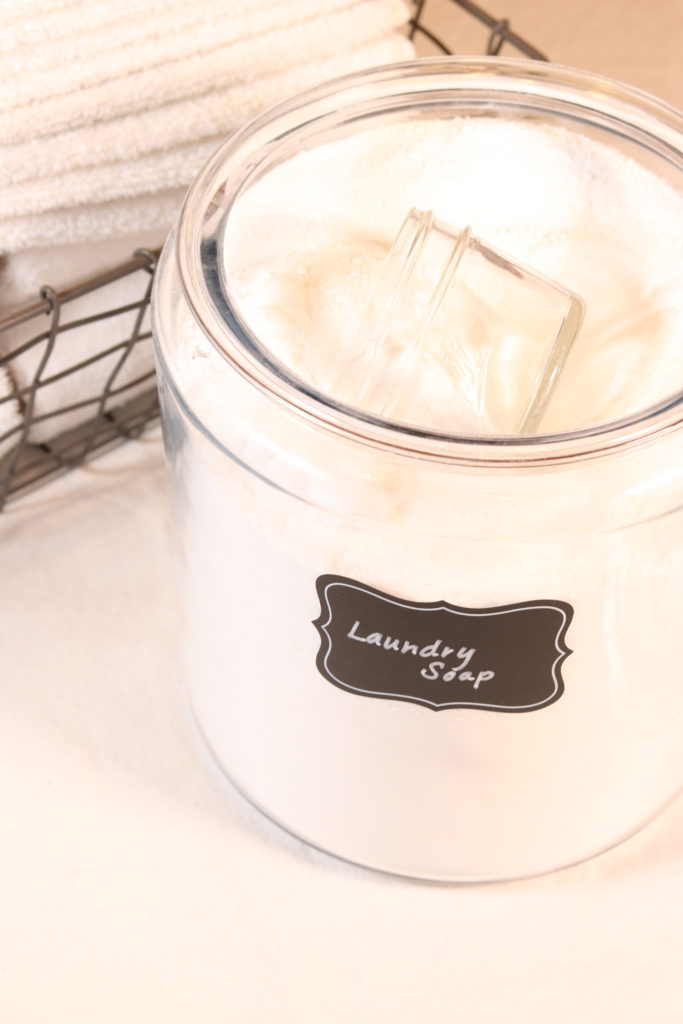 Variation
I know lots of people that prefer liquid laundry soap. I use to be one of them. On occasion I still do. So here's a variation for liquid laundry soap as promised.
Add 1/2 gallon of water to your 5-gallon bucket. Stir in 1 cup of borax and 1/2 cup of washing soda.
Shred 1 castile soap bar with the cheese grater. Melt soap shreds in 1 cup of water over medium heat. Stir often.
Add melted soap to the bucket and stir well.
Add 30 to 50 drops of the essential oil of choice.
Fill the bucket the rest of the way with water. Stir until all ingredients are well combined.
Let it sit overnight and then shake the bucket really well.
NOTES: I like to pour the detergent in a 1/2 gallon jar to make use easier. You can also store it in old laundry soap containers. Shake well before each use. Use 1/2 cup of detergent per load.
DIY Natural Fabric Softener
Add 1/2 to 1 cup distilled white vinegar to loads of laundry. This will work as a fabric softener so chemical fabric softeners won't be necessary. This also works to help eliminate smells from dirty clothes.
Add wool dryer balls into the dryer with wet clothes. You can also add a few drops of essential oils to the dryer balls as well for the sweetest-smelling fresh laundry.
Shop
Ingredients
Supplies
Homemade Non-Toxic Laundry Soap With Essential Oils Video
I have also created a video for this DIY laundry soap recipe.
Pinterest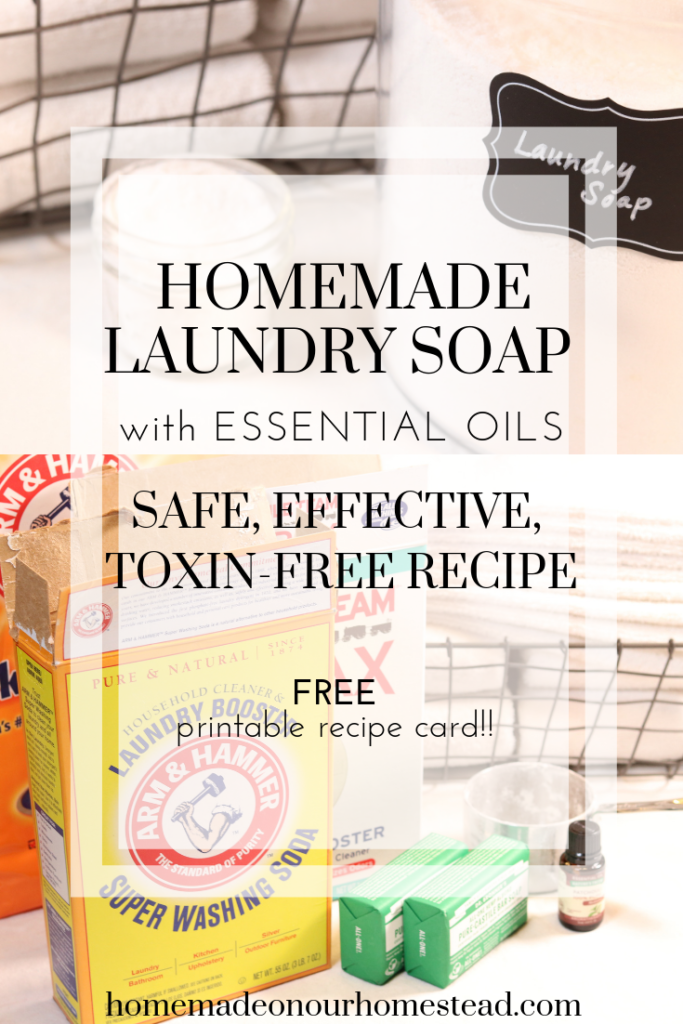 Printable Recipe Card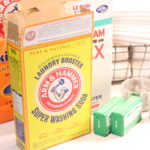 Homemade Laundry Soap with Essential Oils
This is a quick and easy recipe for the laundry soap I make for our home. Toxin-free and works great. Easily found ingredients as well.
Ingredients
3

cups

Arm & Hammer Super Washing Soda

3

cups

Arm & Hammer Baking Soda

3

cups

Borax

2

bars

Dr. Bronner's Castile Soap Bars (unscented)

You can use any brand and any scent you like. If you'd prefer not to use essential oils, a scented castile soap bar is great! Dr. Bronners has some great scents available.

30-50

drops

Essential Oil of your choice

I use 80-90 drops for a very large batch (5 gallon bucket full). So its really up to you how much fragrance you'd like to add (if any) to the mix.

*half

cup

Distilled White Vinegar

(optional) I add this to my wash to soften my laundry. I don't use dryer sheets so this helps with that

*

2-3

Wool Dryer Balls

(optional) I use these with a couple drops of essential oil as a fabric softener as well
Instructions
SMALL BATCH RECIPE:

1. Have a 1-2 gallon storage container available to put all the ingredients into. I make a huge batch of this at a time (5 gallon bucket) and transfer into a 1 gallon storage jar that I store next to my washing machine.

2. Label your storage jar so you and others know the containers contents.

3. Grate (with a box grater or food processor) 2 bars of castile soap. Set aside.

4. Add 3 cups of borax, 3 cups of arm & hammer super washing soda, 3 cups of baking soda and 2 bars of grated castile soap to container and mix contents of container together well.

5. (optional) If you are going to add essential oils to your laundry detergent, do so now. 30-40 drops is recommended, but you can really add as much (or little) as you'd like. If you are using scented castile soap bars, you really don't need to add essential oils as well. But its really up too you and your preference.

LARGE BATCH RECIPE:

1. Label 5 gallon bucket and 1 gallon storage jar.

2. Grate 6 bars of castile soap of your choice with a box grater or food processor. Set aside.

3. Add 3 BOXES of Borax, 3 BOXES of Arm & Hammer Super Washing Soda, 13.5 lb bag of Baking Soda and 6 grated bars of Castile soap to bucket.

4. Mix all ingredients together. I have found the best way to do this is to put the lid on my 5 gallon bucket and roll it around on the floor. *NOTE* I use a 5 gallon bucket with a screw top lid so I know that the lid won't come off. If you are using a regular 5 gallon bucket, be careful if you are going to roll it around on the floor. I don't know how well these lids stay on.

5. (optional) Open bucket and add 80-90n drops of essential oil of your choice. if you are using a scented Castile soap, you likely won't need essential oils at all. Totally up to you.

6. Again, mix together well.

7. Transfer small amount of detergent to 1-2 gallon glass jar to store next to your washing machine. When the glass storage jar is empty, refill from 5 gallon bucket.

**5 gallon bucket full of soap last us about 6 months for our family of 4 doing 1-2 loads of laundry every day. **

TIPS:

1. Adding 1/2 cup of distilled white vinegar to wash is a great way to soften the your laundry without having to use dryer sheets. Plus it works great to eliminmate odors as well.

2. Use wool dryer balls (2-3) in your dryer when drying laundry as a great replacement for dryer sheets. Place 1-2 drops of essential oils on the dryer balls to scent.
More DIY Cleaning Recipes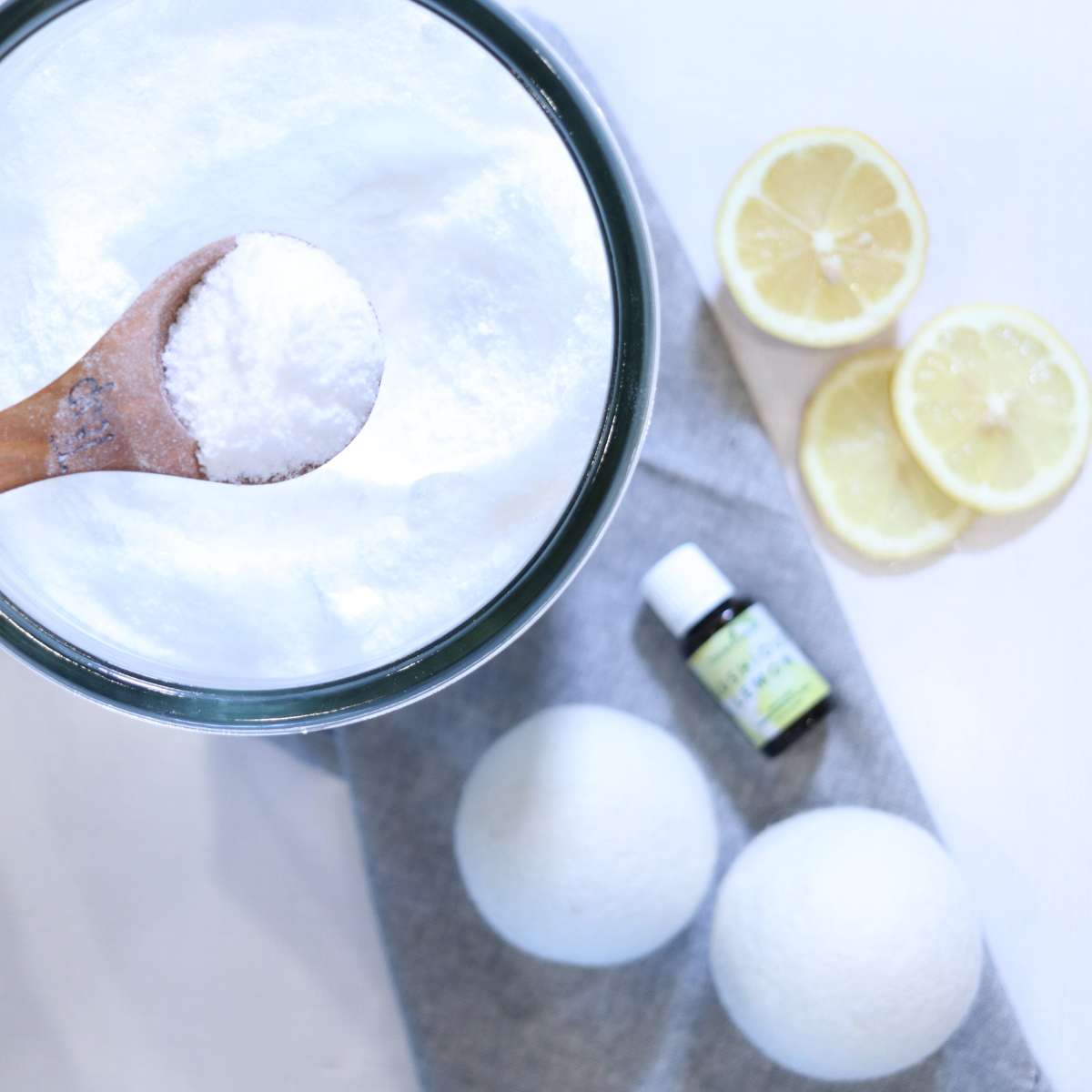 DIY Laundry Scent Booster
Add an all-natural fresh scent to you laundry routine with this easy DIY laundry scent booster recipe. Simple ingredients and really works!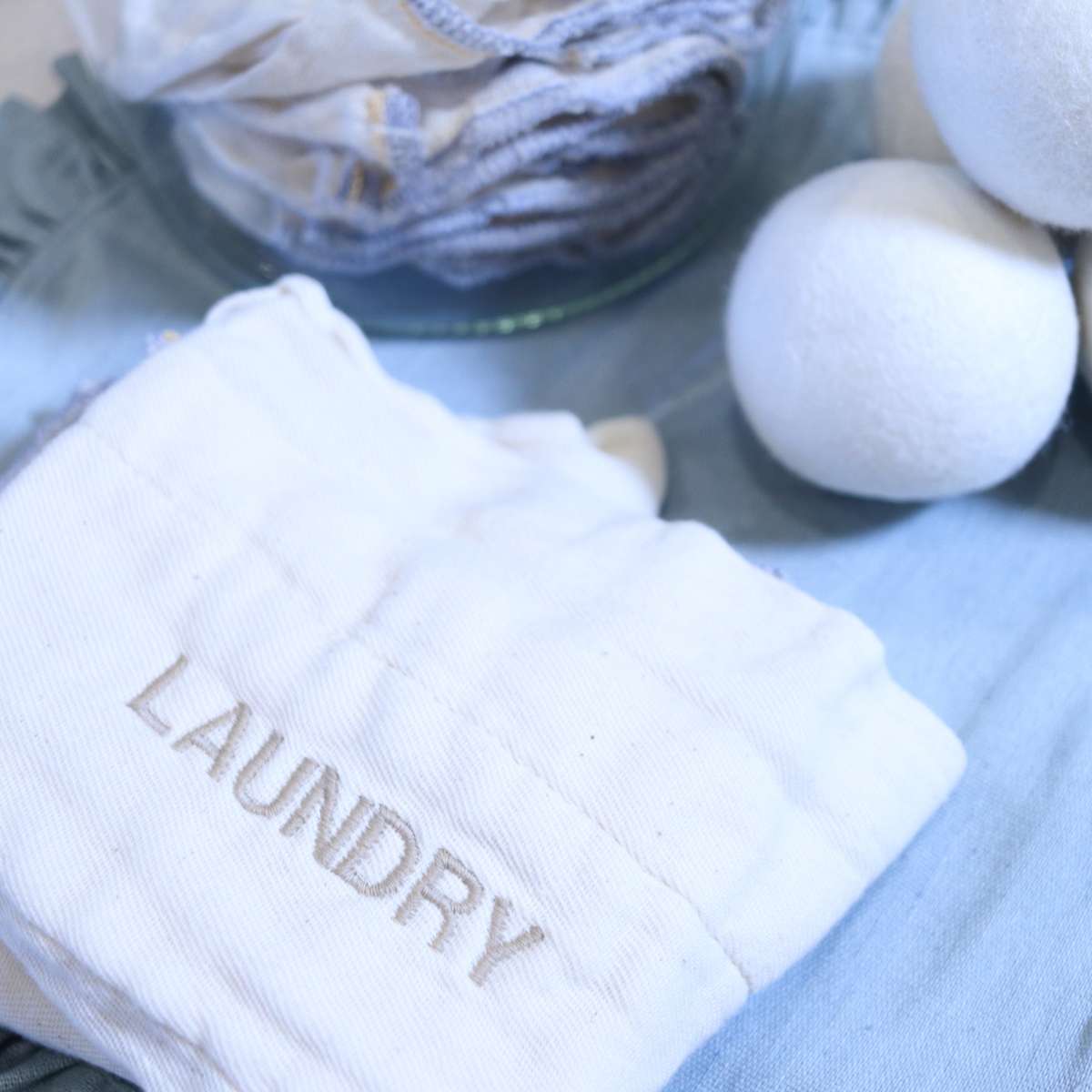 DIY Non-Toxic Dryer Sheets
Eco-friendly, cost effective homemade dryer sheets. Simple recipe and tips.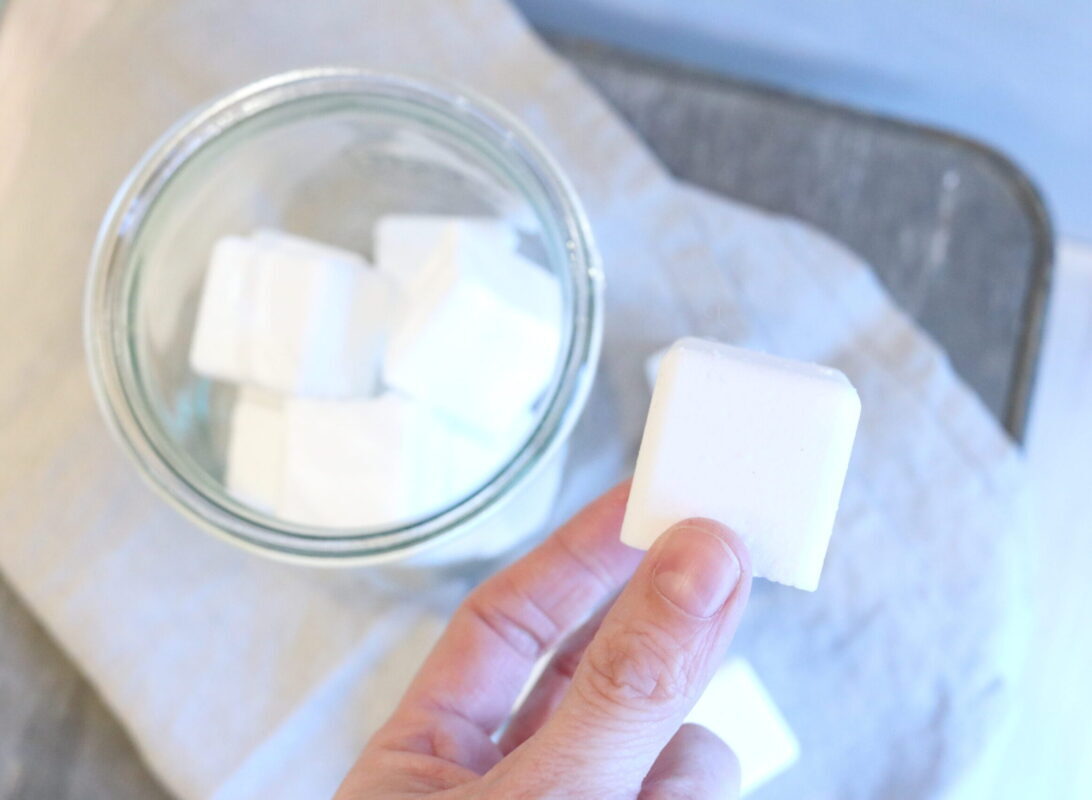 DIY Toilet Bowl Cleaner Tablets
Make these super simple DIY toilet bowl cleaner tablets for an easy clean or quick refresh. Non-toxic, natural ingredients with essential oils.
DIY Skin and Beauty