A delicious silky zucchini soup that's got a perfectly creamy texture and is rich with flavor.
This easy one-pot zucchini soup can be served with your favorite loaf of fresh-baked bread or served cold like a gazpacho.
It's delicious either way and can make dinner time a cinch in a pinch and Whole30 approved!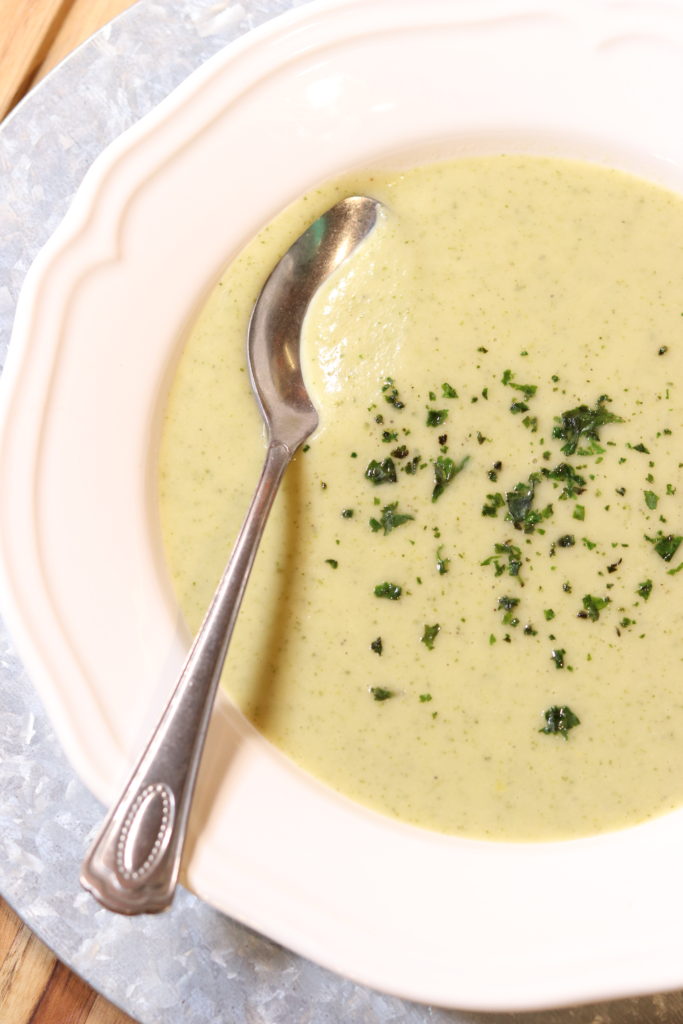 Some of these links are affiliate links. You can read my full disclosure HERE.
Soups are a favorite meal here in our household. While some recipes require more time, ingredients, and involvement to make and master, this soup is easy, has minimal ingredients, and can be made quickly when you are short on time.
Ingredients
Ingredients for Silky Zucchini Soup
Optional Ingredients For Toppings
Supplies
Supplies for making Silky Zucchini Soup
How To Make Silky Zucchini Soup
Instructions
Step One- Wash and rough chop zucchini. Set aside.
Step Two- Rough chop onion. Set aside
Step Three- Add oil to the stockpot and turn on the stovetop to medium heat. Allow the oil to heat.
Step Four- Once the oil begins to pop, add chopped onion and zucchini to brown slightly. Two to three minutes. Just until vegetables begin to brown slightly.
Step Five- Add chicken stock and coconut milk or cream to the pot and stir.
Step Six- Add garlic powder, ginger powder, salt, and pepper to the pot and stir again. Allow to simmer for 30-45 minutes or until vegetables are all tender.
Step Seven- Once vegetables are fully cooked, use an immersion blender on a low setting to blend all ingredients until the soup is silky smooth and no pieces are visible.
Serve soup topped with suggested ingredients or eat as is served with your favorite bread toasted.
Find the measurements and full printable recipe below!
Wash zucchini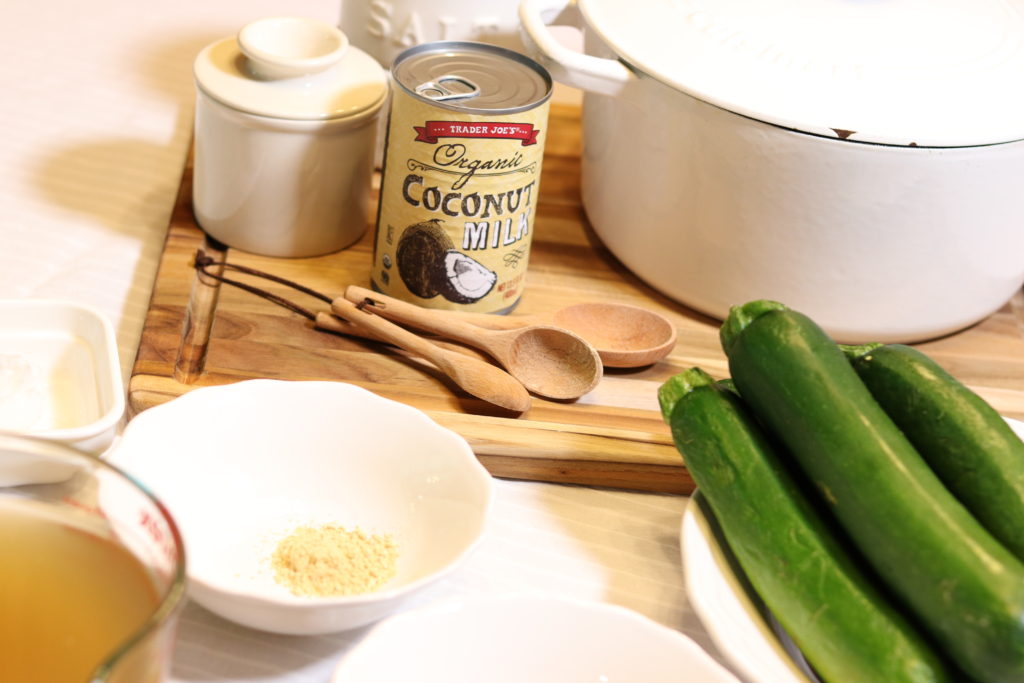 Rough chop zucchini and onion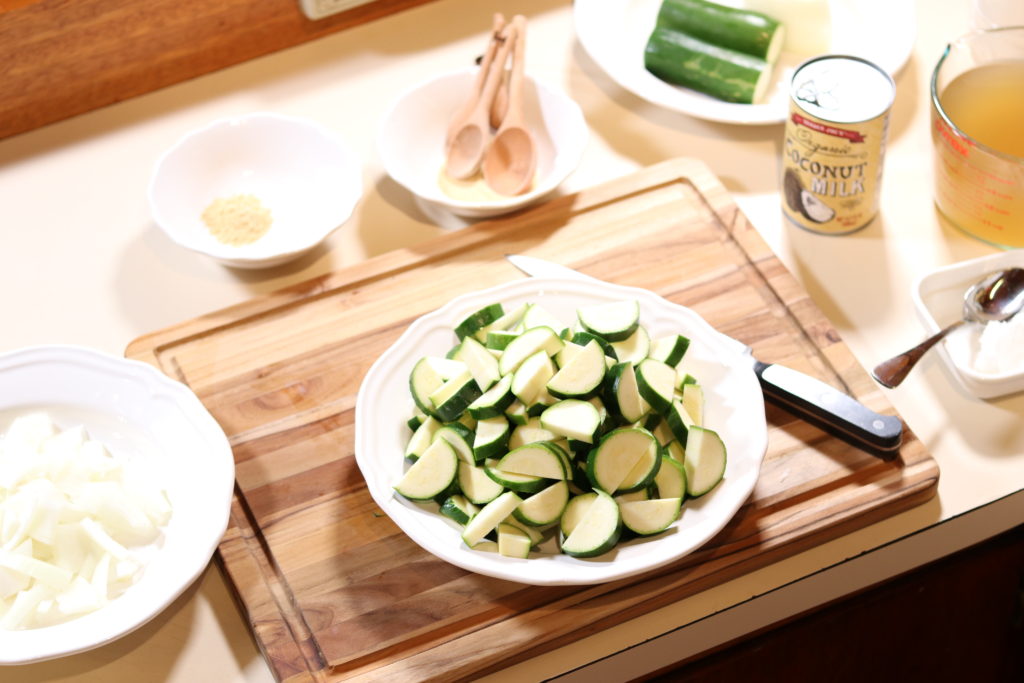 Immersion blender setting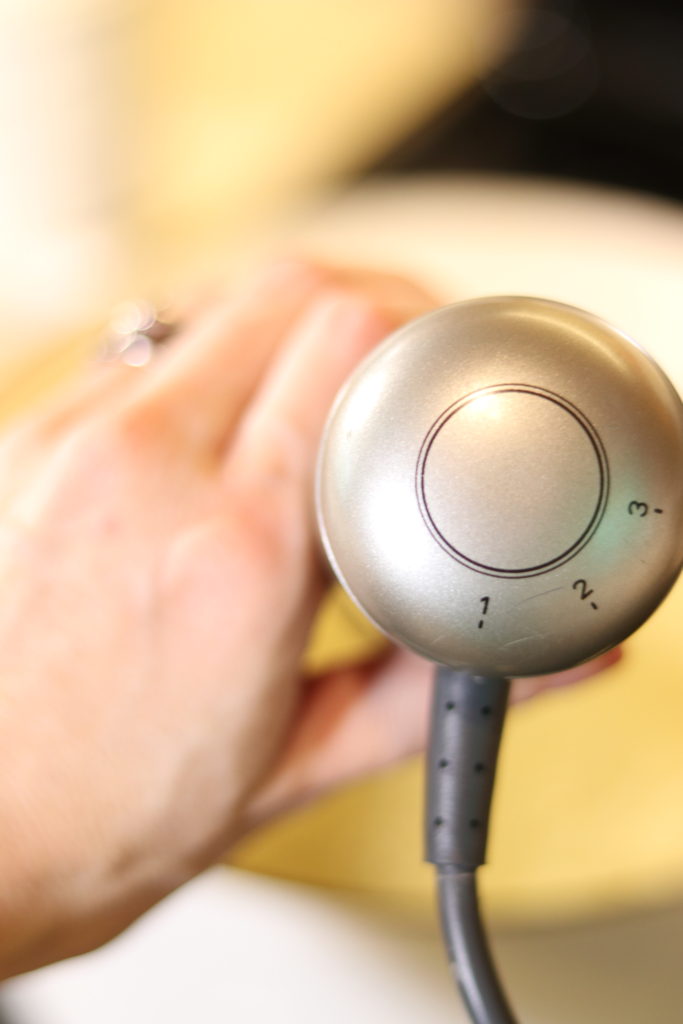 Puree the zucchini soup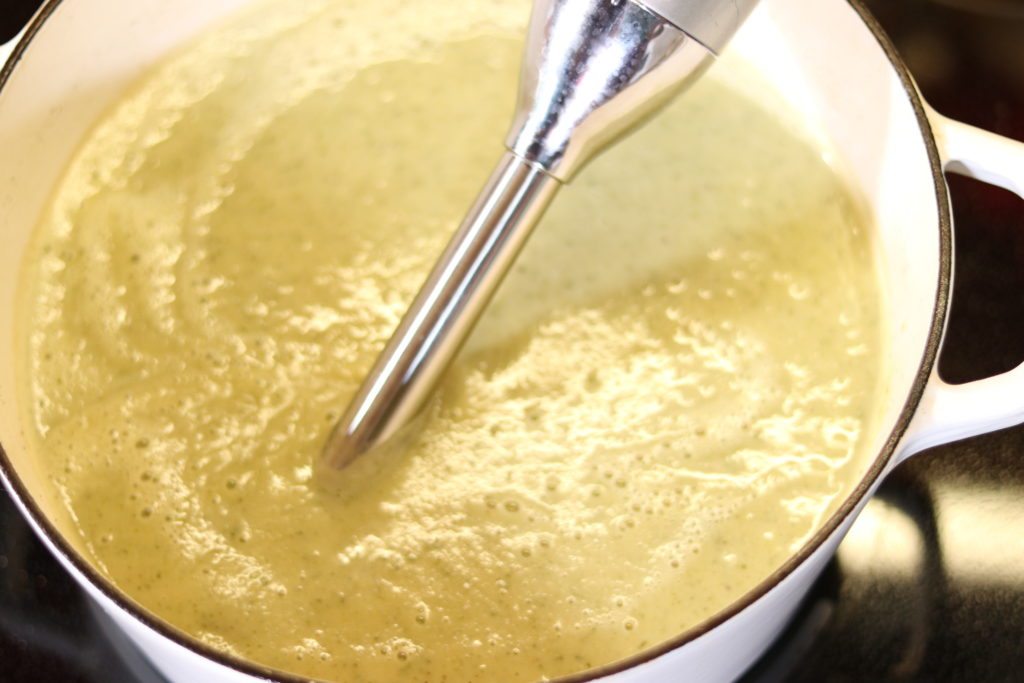 Consistency of finished zucchini soup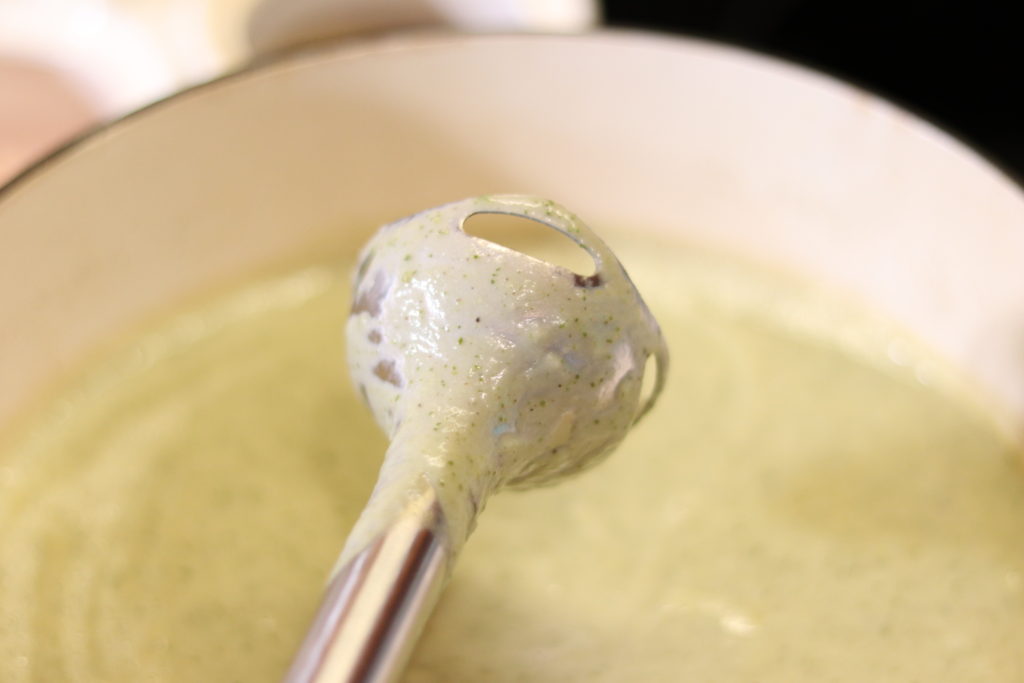 How To Make Silky Zucchini Soup Video
Variations
Vegetarian or Vegan– This soup can easily be made as vegetarian soup or vegan soup by replacing chicken stock with vegetable stock.
Gazpacho-To make this soup a gazpacho, make using following the directions and chill.
Garlic Silky Zucchini Soup– double the amount of garlic used and omit the ginger.
Tips
Check out your local Trader Joe's for the best deal on coconut milk or coconut cream I have found. It's organic and in a can so you can stock up on a few for later use. It's my absolute favorite and way less expensive than the grocery store.
Throw all the ingredients into a crockpot, set it, and forget it. When it's time for dinner, blend up your soup and serve!
Alternatively, throw the ingredients into your Instapot and you'll have a quick meal in a matter of minutes.
Make a double batch of soup and freeze it for later use. It thaws beautifully and heats up in minutes.
For this recipe, as well as other silkened soup recipes, an immersion blender really is a game-changer and worthwhile investment. Makes for less clean-up as you can puree your soup directly in the pot and serve.
Shop
Tools
Ingredients
More delicious recipes to try!
Pinterest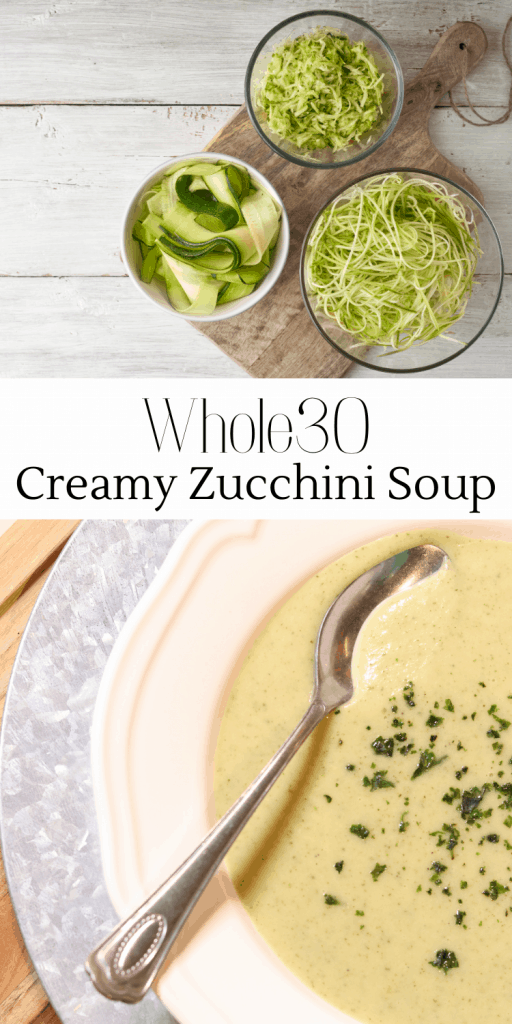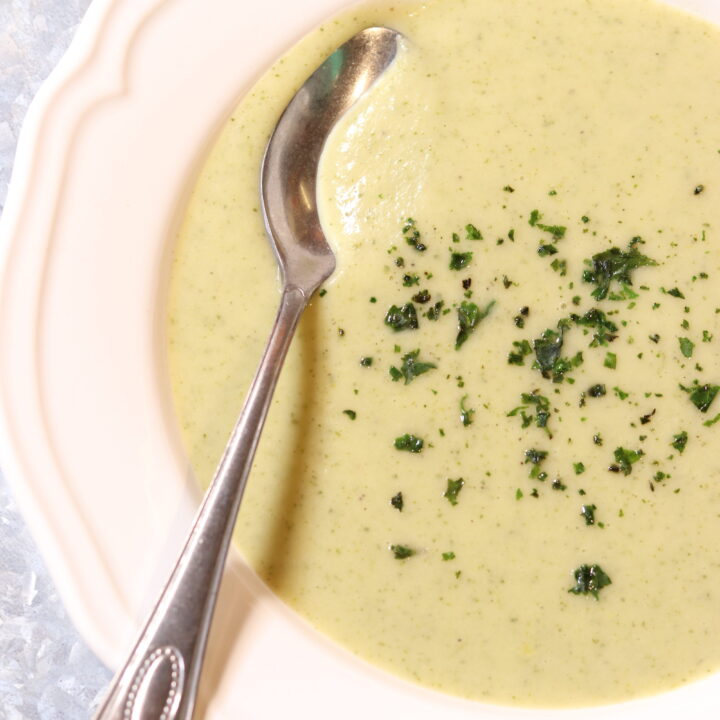 Silky Zucchini Soup
Additional Time:
10 minutes
A delicious creamy silky zucchini soup that is perfect for a quick meal or make-ahead and freeze for later recipe. Vegetarian option and Whole30 approved!
Ingredients
2 Tablespoons oil (coconut, olive or avocado)
5-6 large zucchini
1 sweet onion
4 cups chicken stock
1 Tablespoon ground ginger powder
2 Tablespoons garlic powder or 3-4 cloves fresh garlic
1 can of coconut milk or coconut cream (13.5 fluid ounces)
2 teaspoons black pepper (more to taste)
2 teaspoons salt (more to taste)
Instructions
Wash and rough chop zucchini.
Chop onion.
Add oil of your choice to a 4 quart pot and heat.
Once oil is heated, add zucchini and onion and brown slightly.
Add chicken stock, coconut milk or cream, garlic powder, ground ginger, salt and pepper to pot.
Allow soup to cook until vegetables are tender-around 15 minutes.
Once zucchini and onion are fork tender, use an immersion blender and blend until silky smooth.
Add more salt, pepper and garlic powder to taste. Mix.
Serve with desired toppings and sides.
Enjoy!
Notes
Use coconut oil, avocado oil, or olive oil interchangeably for this recipe or whatever is preferred for dietary needs.
Can omit ginger powder if desired.
Use chicken stock, bone brone or vegetable broth.
Can use garlic salt instead of garlic powder and omit salt. Add more to taste.
Coconut milk or coconut cream can be used interchangeably.
To make this recipe even faster, add all ingredients to a stock pot at the same time and cook until tender before you puree.
Immersion blender works best for this recipe but you can also use a blender or food processor-carefully.
Nutrition Information:
Yield:

6
Serving Size:

2 cups
Amount Per Serving:
Calories:

324
Total Fat:

23g
Saturated Fat:

14g
Trans Fat:

0g
Unsaturated Fat:

7g
Cholesterol:

5mg
Sodium:

963mg
Carbohydrates:

26g
Fiber:

5g
Sugar:

12g
Protein:

10g