All-Natural Vapor Rub With Soothing Essential Oils
When cold and flu season comes around, it's so nice to feel prepared. Making a batch of all-natural vapor rub with soothing essential oils means you can help control the cough and ease congestion and do it with clean ingredients that really work- and fast!
This recipe is safe enough for babies (2 months and older) and also works on adults. Petroleum-free too!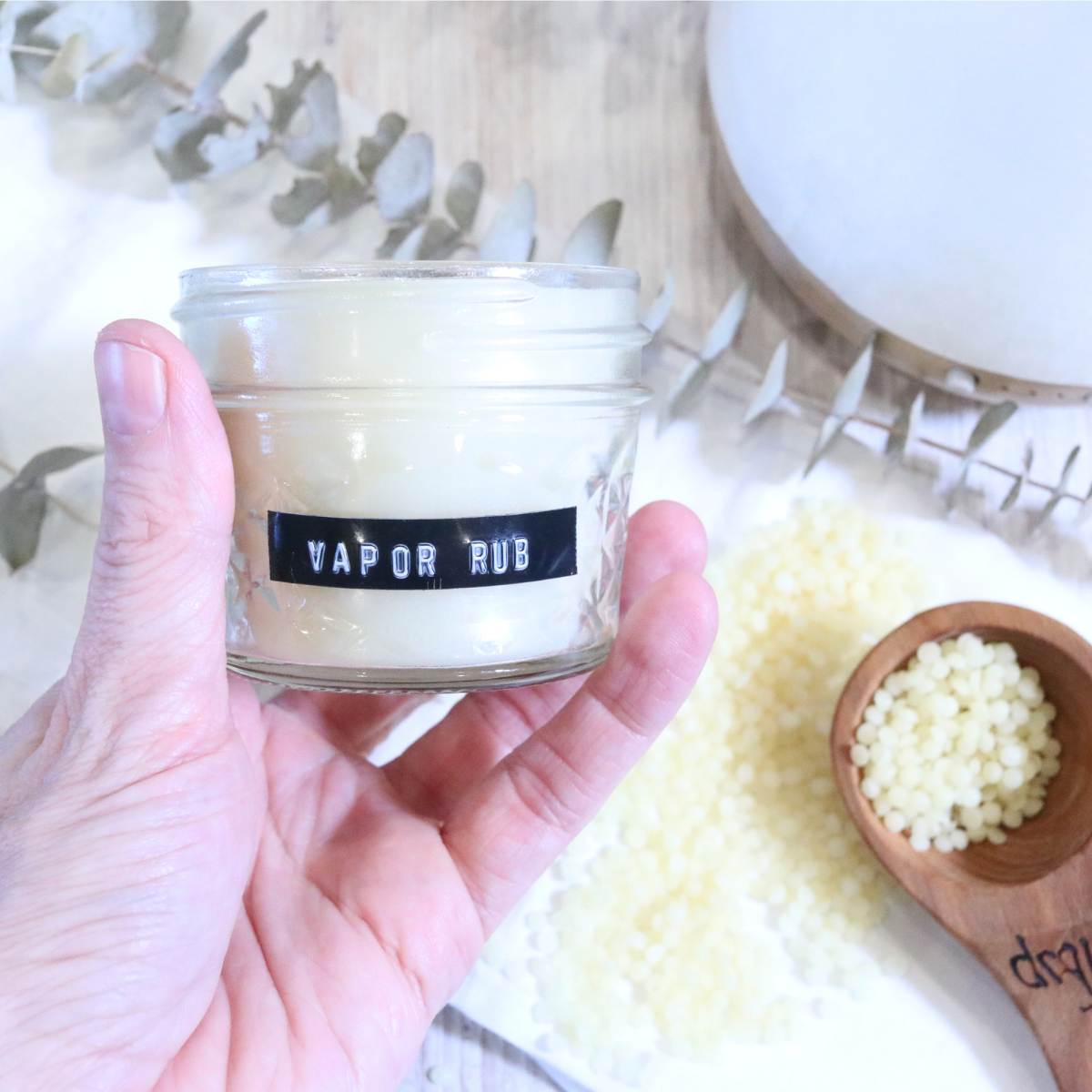 Some of these links are affiliate links. You can read my full disclosure HERE.
Why you'll like this All-Natural Vapor Rub Recipe
Safe to use on babies and toddlers
Because this all-natural vapor rub recipe contains completely natural ingredients, it is safe to use on babies, toddlers, and adults. No scary, toxic chemicals masquerading as helpful and safe ingredients.
Active ingredients in this recipe are essential oils. Some EOs aren't safe enough for babies delicate skin and bodies. I have included a baby-safe vapor rub recipe specifically for children under 2 years of age.
Effective
With soothing essential oils, this recipe is effective for helping control cough and works to clear congestion. Essential oils are so powerful and effective and can be even more beneficial when paired with other oils that treat other symptoms.
It really works! The essential oils in this recipe are known for their decongestant properties. They open up airways and can help boost the immune system to help clear cough and cold symptoms faster.
All-natural ingredients
A main ingredient in most store-bought menthol rubs is camphor. Camphor is a chemical made from turpentine. Yuck!
Camphor is highly poisonous when ingested and can cause symptomatic seizures in children. That is pretty scary to think that they put this in a chest rub for children, isn't it?
Easy to make
This recipe takes 10 to 15 minutes to make and should last you and your family all winter. I usually make 2 batches so if I have friends or family in need of cough or congestion relief, I can happily donate some homemade vapor rub to them too.
Ingredients
Ingredients For All-Natural Vapor Rub
Beeswax– Beeswax can help retain skin moisture. It was added to this recipe to help keep the natural vapor rub from being too runny.
Coconut oil– has anti-inflammatory properties and makes a really great and easily sourceable ingredient for most DIY health and beauty products.
Shea Butter– Is super rich in fatty acids and vitamins A, E, and F. It is extremely nourishing for the skin and known for its beneficial healing properties.
Essential Oils– Pure, quality essential oils are the key ingredient to making an effective vapor rub. Choose 4 to 5 oils from the list below. Essential oils are what give this DIY vapor rub recipe its amazing decongestant properties.
Be sure and check out the SUBSTITUTIONS section of this post if you are looking for other ingredients that you can use in this recipe.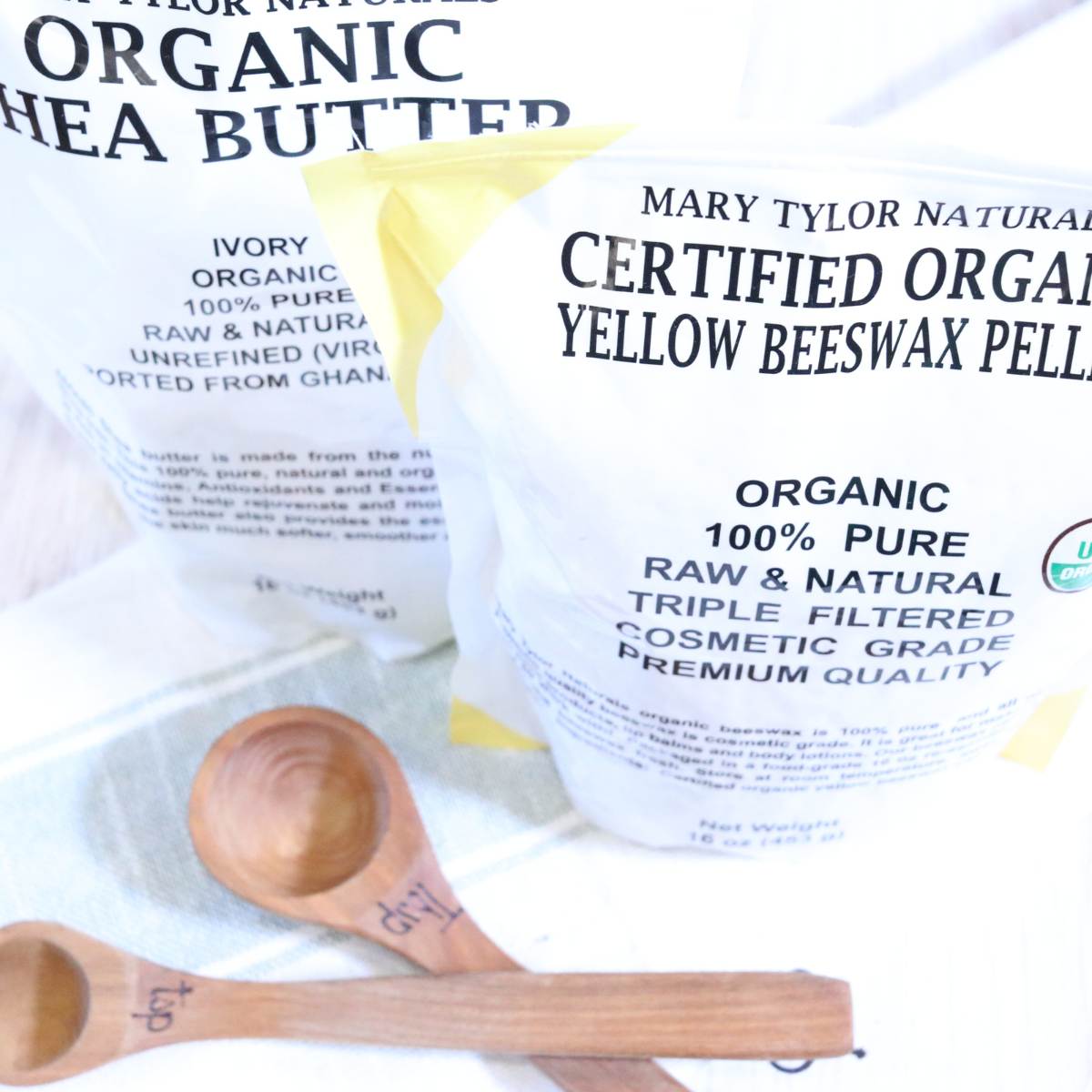 Variation for Children Under 2
Ingredients for children under 2
Supplies
Homemade Vapor Rub with Essential Oils Supplies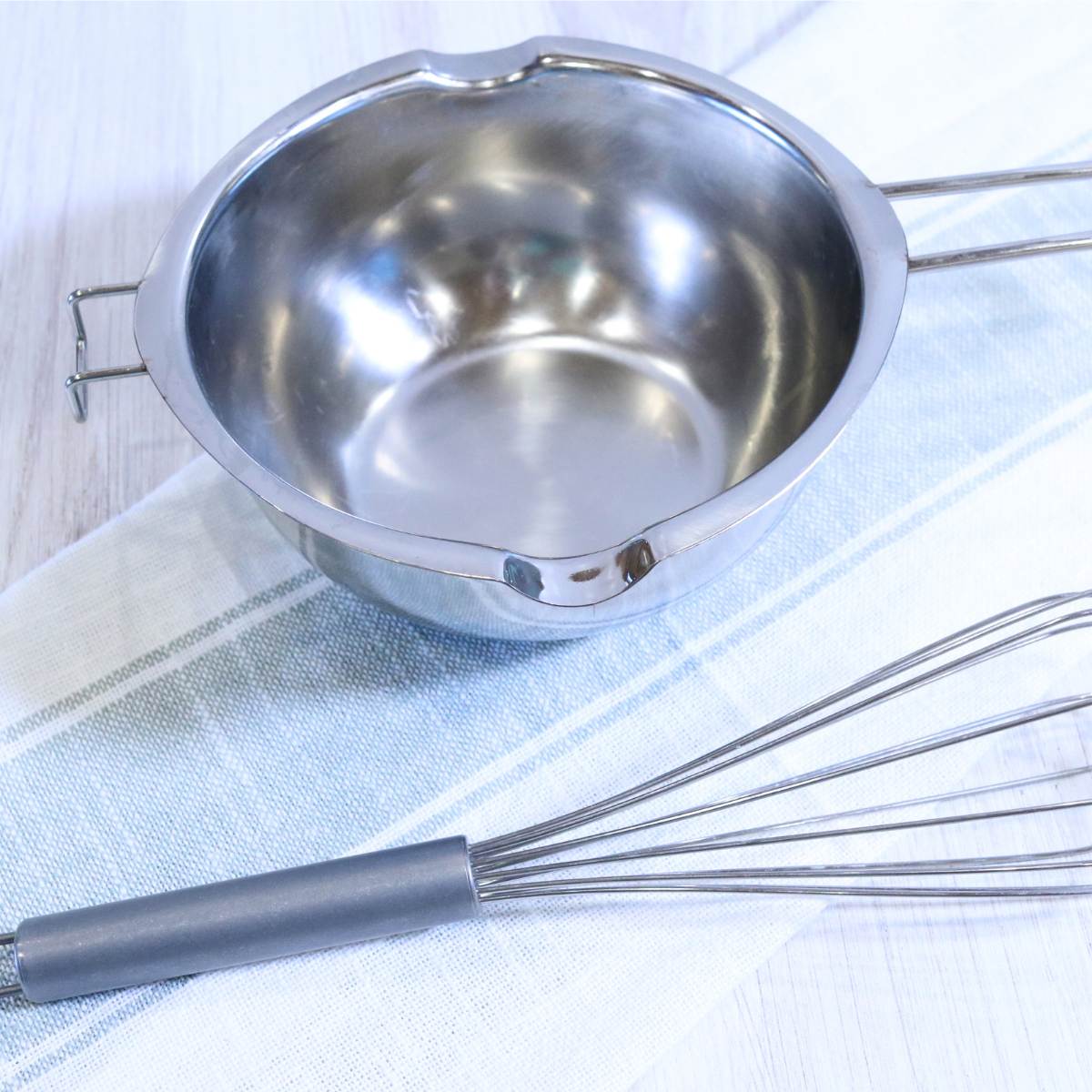 Consider checking your local thrift store for supplies you can use for all your homemade DIY health and beauty recipes to save some money and keep usable items from the landfill.
Did you know?
If you don't have a double boiler pot you can easily make one by placing a glass bowl over a pot of boiling water.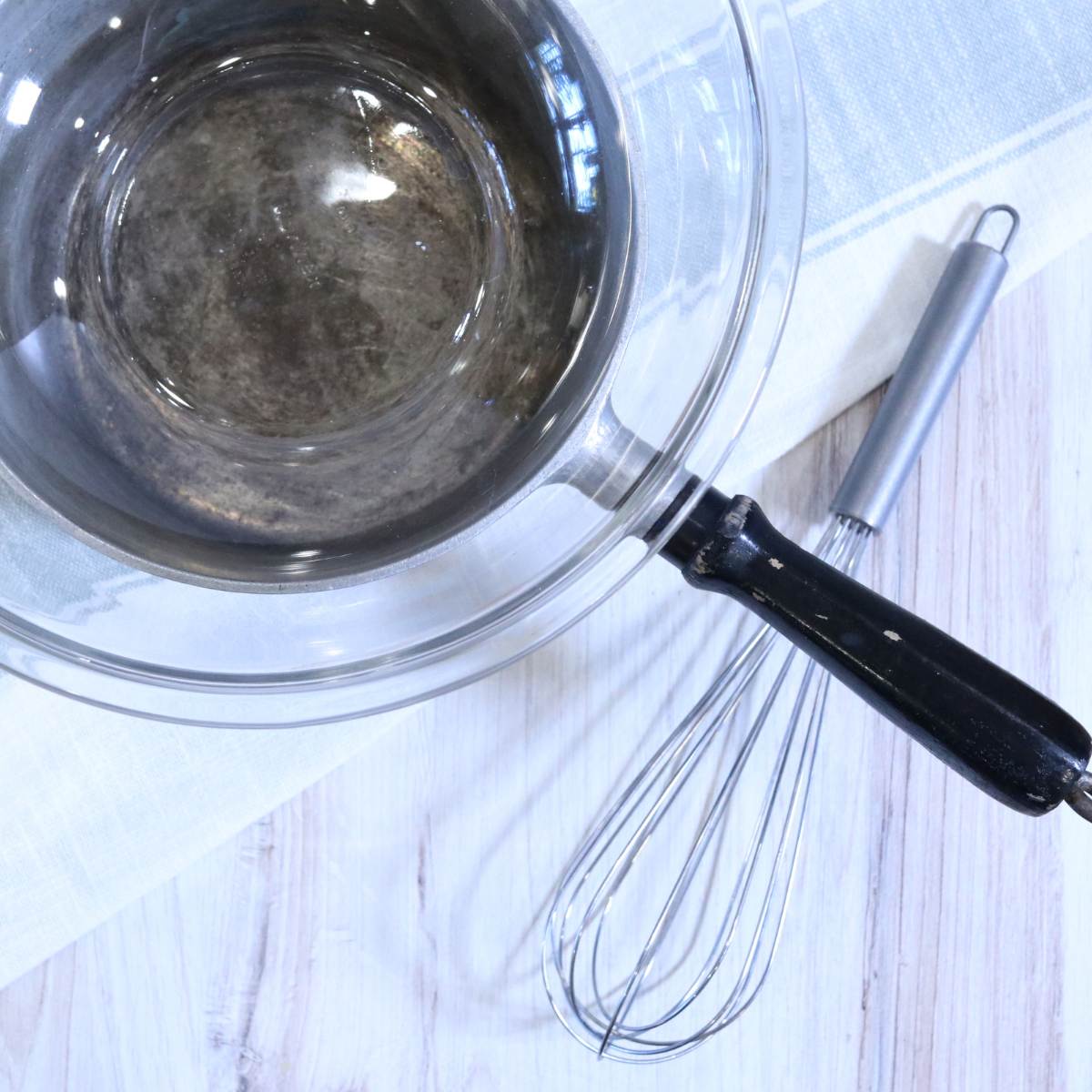 How To Make All-Natural Vapor Rub With Soothing Essential Oils
Step One- Add beeswax, coconut oil, and shea butter to a double boiler pot.
Step Two- Allow mixture to fully melt.
Step Three- Remove from heat and allow to cool for 5 minutes.
Step Four- Add in essential oil or essential oil blends.
Step Five- Mix until fully combined.
Step Six- Allow the mixture to cool before transferring it to an amber glass jar with air tight lid.
Find the measurements and full printable recipe below!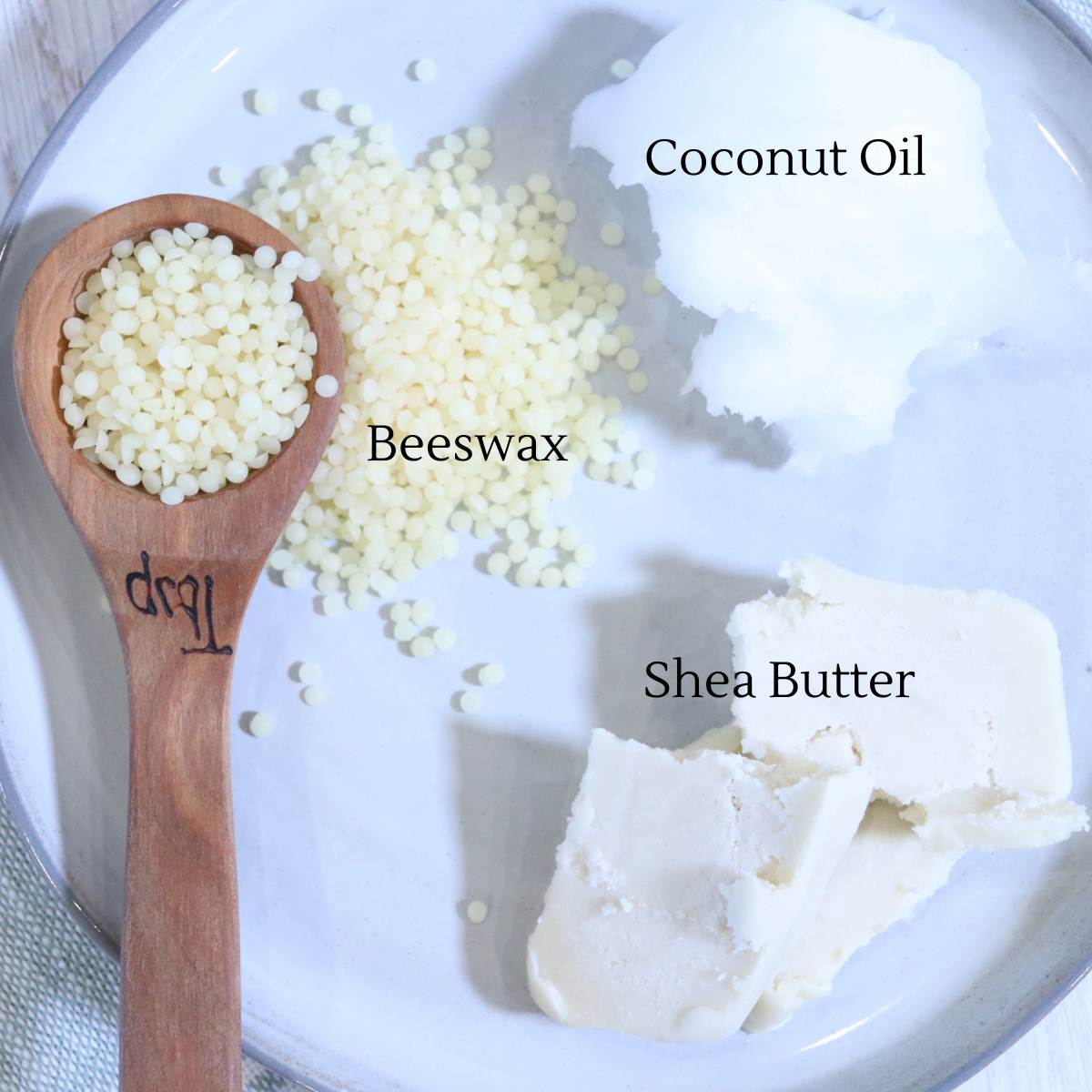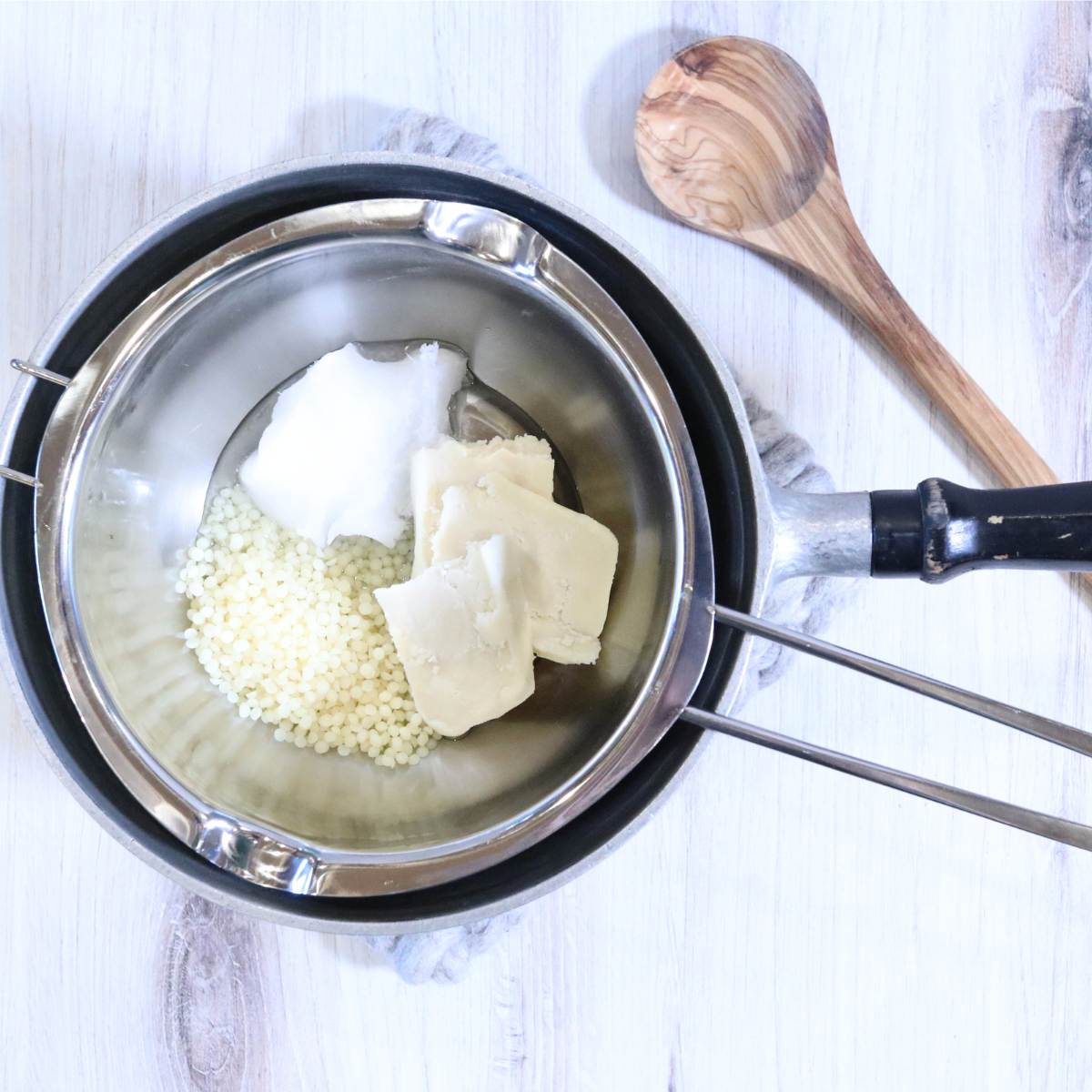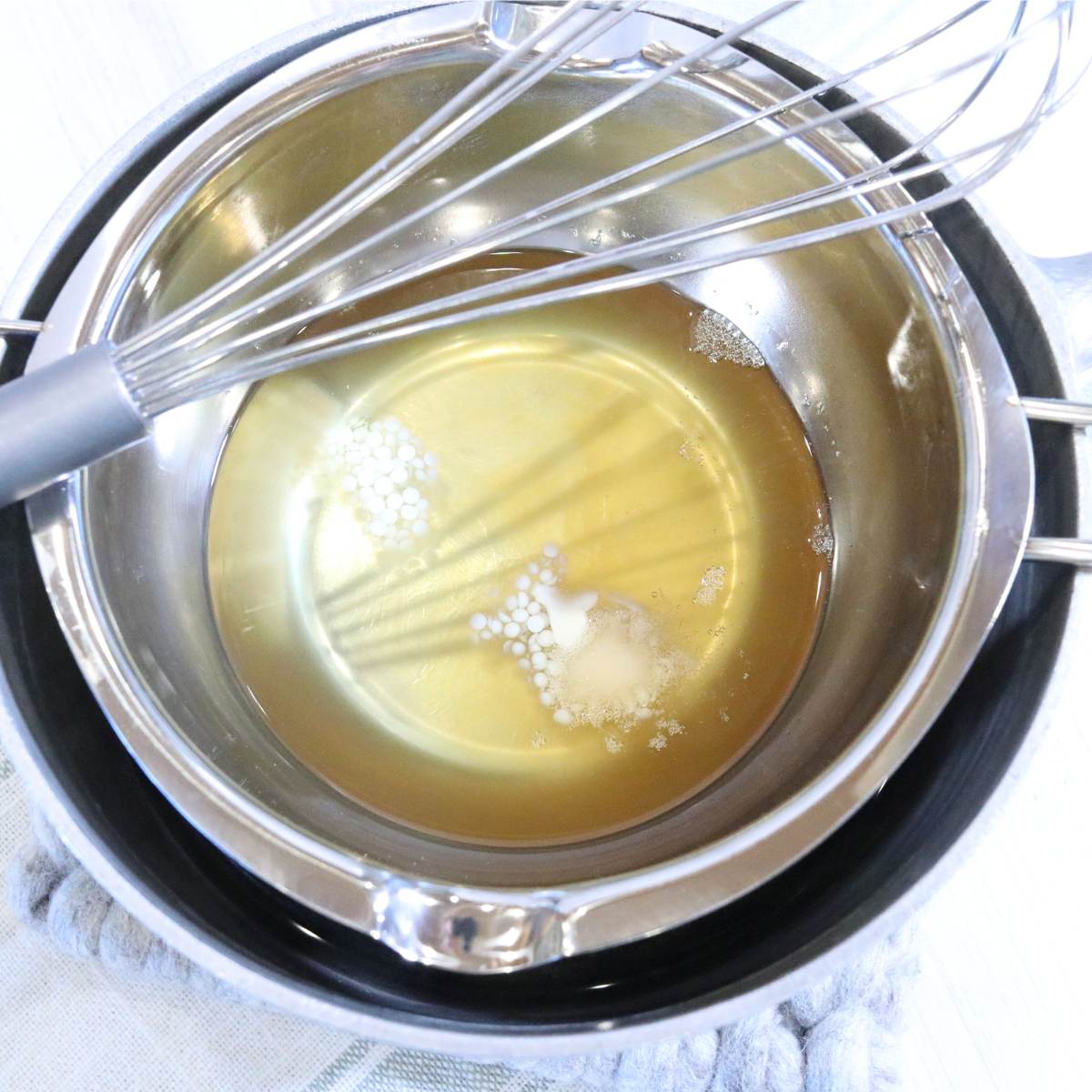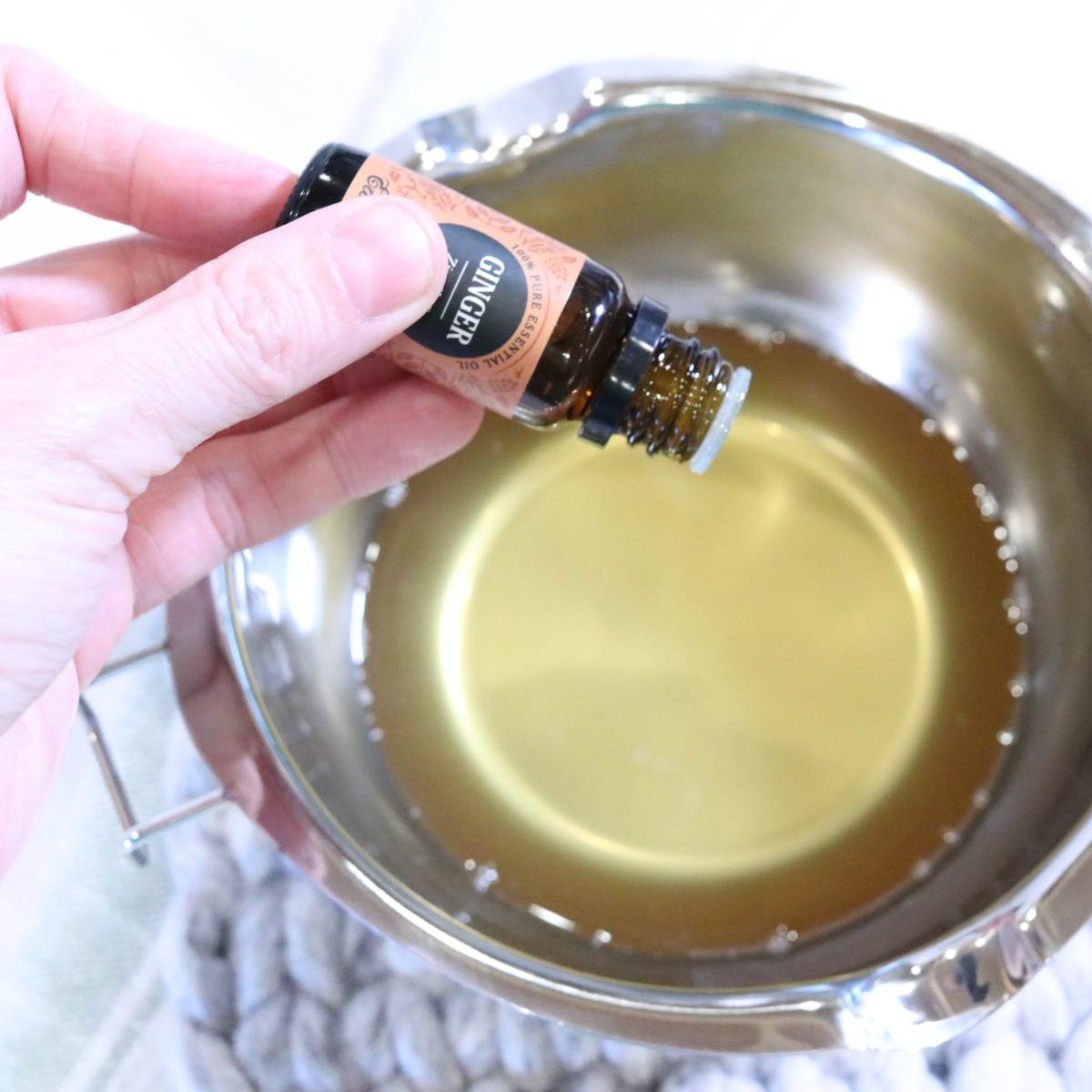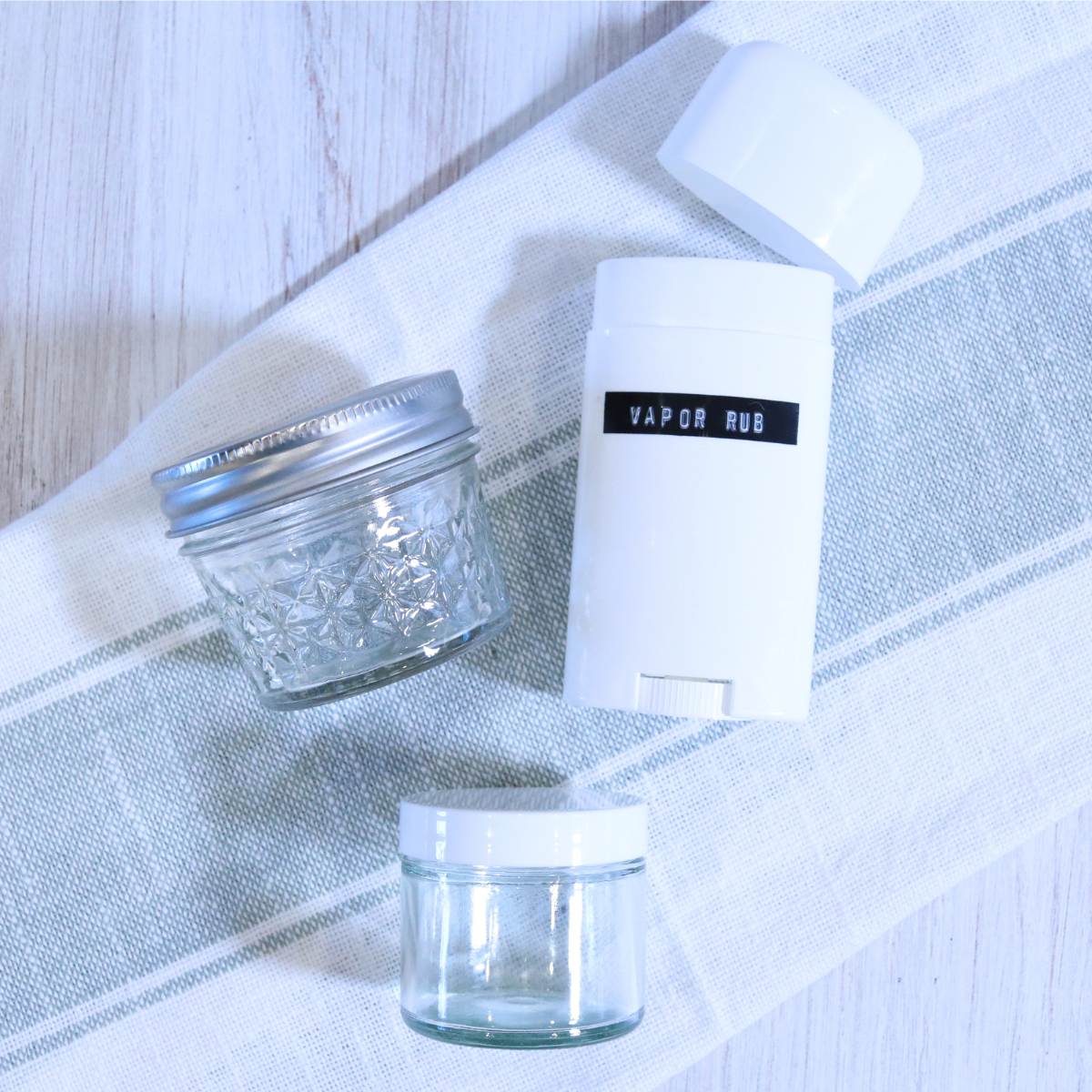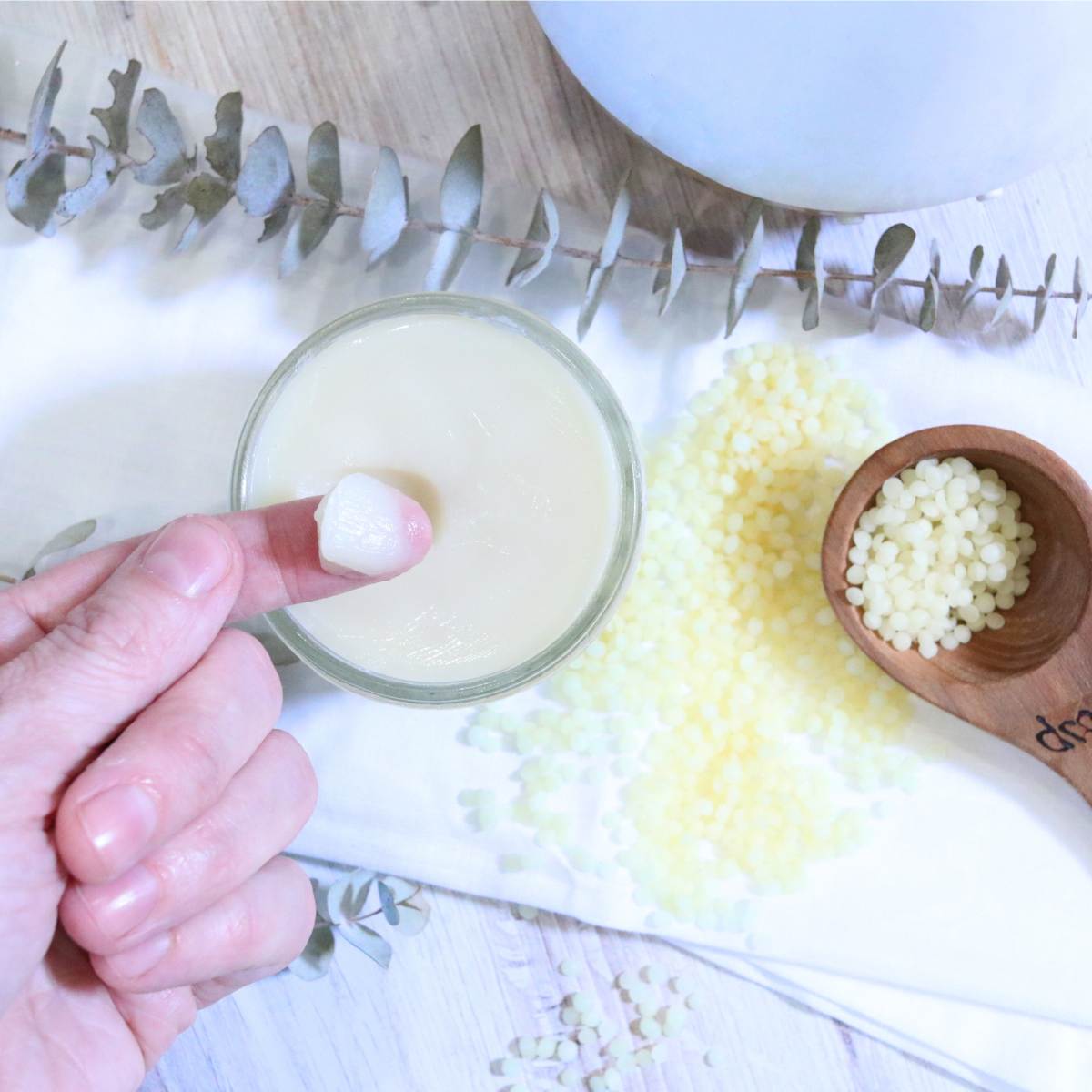 Using All-Natural Vapor Rub
Step One- Apply an all-natural vapor rub to the spine and chest. If you are applying on a child, have them put a shirt on after application to keep their hands off the rub then accidentally rub their face or eyes. This can cause burning and irritation.
Step Two- Gently rub onto the bottoms of the feet. Once the rub has been applied, put on a pair of socks to keep the vapor rub in place.
Step Three- Set up a cool mist humidifier to help with dry cough and congestion.
How To Store
Store in a small jar with an airtight lid.
Amber glass is best for storing products that contain essential oils.
A clear glass jar with a lid can be used to store homemade vapor rub too, just store it away from light.
Be sure and label your all-natural vapor rub with essential oils so it's easy to find when you need it.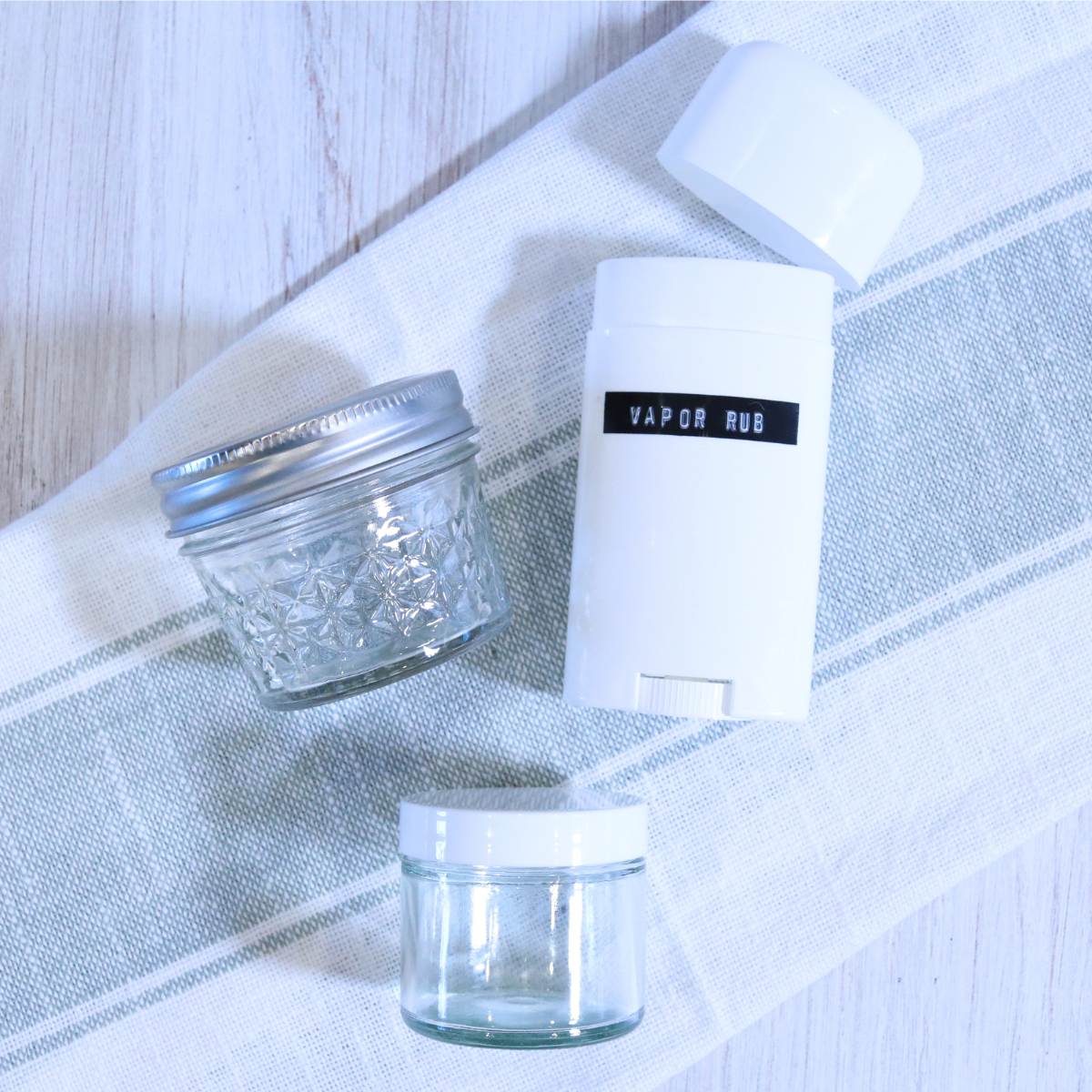 Substitutions
Substitutions for coconut oil
If you don't have any coconut oil, you can easily substitute it with olive oil, avocado oil, jojoba oil, or almond oil for this recipe.
Substitutions for Shea Butter
If you don't have shea butter, consider using cocoa butter. Mango butter will work too!
Essential Oils for Cough
Eucalyptus– Super effective at helping calm cough. Eucalyptus is used in many over-the-counter vapor rub recipes for this very reason.
Frankincense– Helpful for treating cough, bronchitis, and asthma.
Oregano- anti-viral properties to help fight off bacteria and viruses.
Thyme– Thyme contains a high level of carvacrol which can be beneficial in eliminating or protecting against viruses and bacteria.
Geranium
Bergamot– Contains camphene, which is similar to camphor. Can have a soothing effect on coughs.
Cypress oils– When inhaled they can have a cooling, soothing effect.
Cinnamon– Can protect against germs that cause respiratory problems. Provides relief from cough.
Tea Tree– Inhibits the growth of bacteria that can cause sinus infections and respiratory issues.
Essential Oils for Chest Congestion
Clary Sage
Rosemary
Lavender
Eucalyptus
Peppermint
Frankincense
Cedarwood
Best Essential Oils for Immune Support
Cinnamon– Naturally boosts the immune system.
Clove– Similar to cinnamon, this oil also naturally boosts the immune system.
Thyme– Protects against environmental threats.
Marjoram– Clears airways for easier breathing.
Rosemary– Calming and soothing.
Lemon– A naturally immune booster.
Lavender– Helps relax the body and promote sleep which is necessary for healing.
Frankincense– An immune stimulant. It promotes the body to help itself. Helps rid environmental allergens, viruses, and bacteria. It's a really good all-around immune-boosting oil.
Eucalyptus– Opens airways.
Peppermint– Promotes clear breathing by opening up airways.
Ginger– Strengthens the immune system.
FAQ
What are the best essential oils for cough or cold?
Eucalyptus– Works like menthol and can help reduce stuffy nose making it easier to breathe.
Peppermint– Peppermint contains menthol which helps work on mucous receptors in the respiratory tract. Using peppermint oil can help open airways making it easier to breathe by easing chest tightness.
Spearmint– Reduces inflammation and can provide temporary relief of cold symptoms.
Patchouli– Eases symptoms of colds, flu, headache, and upset stomach.
Lavender– Lavender oil can help with pain and swelling.
Rosemary– Contains antiseptic properties which can help fight respiratory infections.
Frankincense– Works really well at breaking up mucus.
Thyme– Thyme works really well for dry cough.
Oregano– Oregano oil is known for its antibiotic properties. It is a natural immune booster too.
Tea Tree– Tea tree oil can reduce inflammation caused by common infections like sinus infections. Tea tree oil is a "hot" oil and must be used with carrier oil only. Never apply to the skin directly as it can cause severe irritation.
The store-bought vapor rub I will use in a pinch contains eucalyptus, coriander, patchouli, dillweed, chamomile, and lavender. Because I know this vapor rub is super effective for coughs and colds, I will always try and include these oils or a blend of them in my homemade vapor rub recipe.
If you have certain blends of essential oils that you know work for your children, I encourage you to use those. You know your family better than anyone else. What works for some people, may not work for you. But it's good to know you have lots of options to choose from and try with this recipe.
How do you make vapor rub at home?
Mixing carrier oils and essential oils that have decongestant and anti-viral properties, will make a highly effective natural homemade vapor rub. This all-natural recipe is perfect for wet and dry cough as well as easing chest tightness due to congestion.
Combine Ingredients– Add coconut oil and shea butter in a double boiler pot and melt completely.
Remove from heat– Once removed from heat, allow to cool for 5 minutes before adding in essential oil or EO blends.
Mix to combine.
Pour and Store– Once your mixture has started to cool, carefully pour it into a glass jar with an airtight lid. Label your natural vapor rub.
Use as needed for cough, cold, and flu symptoms.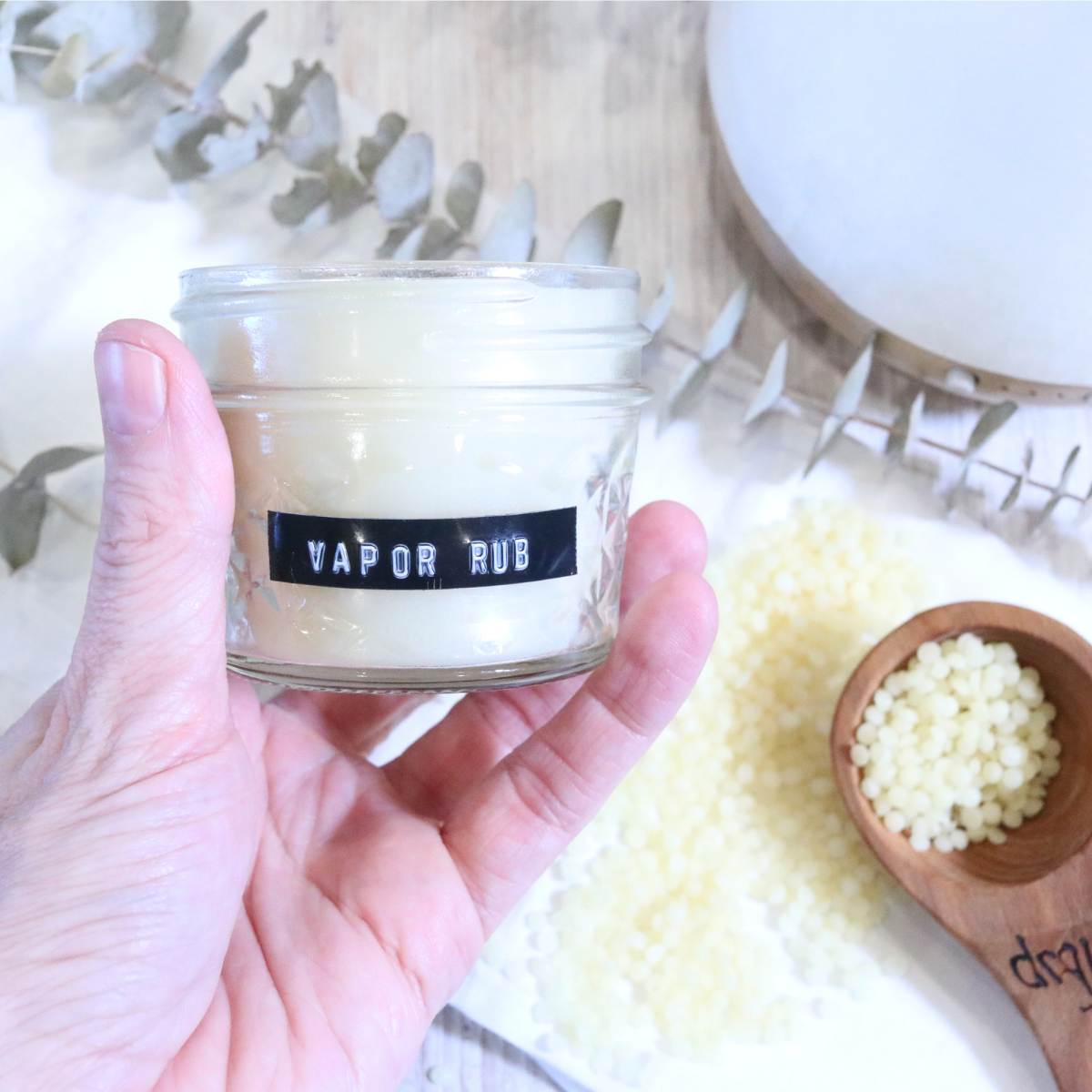 What essential oils are safe to use on toddlers with chest congestion?
There are a few oils that are safe to use on toddlers with chest congestion. These include:
Cedarwood (one of my favorites)
Lavender
Thyme
Frankincense
Tea Tree (this is a very strong oil and must be paired with a carrier oil before application).
Essential oils have so many wonderful, healing properties but should be used in combination with a carrier oil (coconut, almond oil, jojoba) to prevent skin irritation.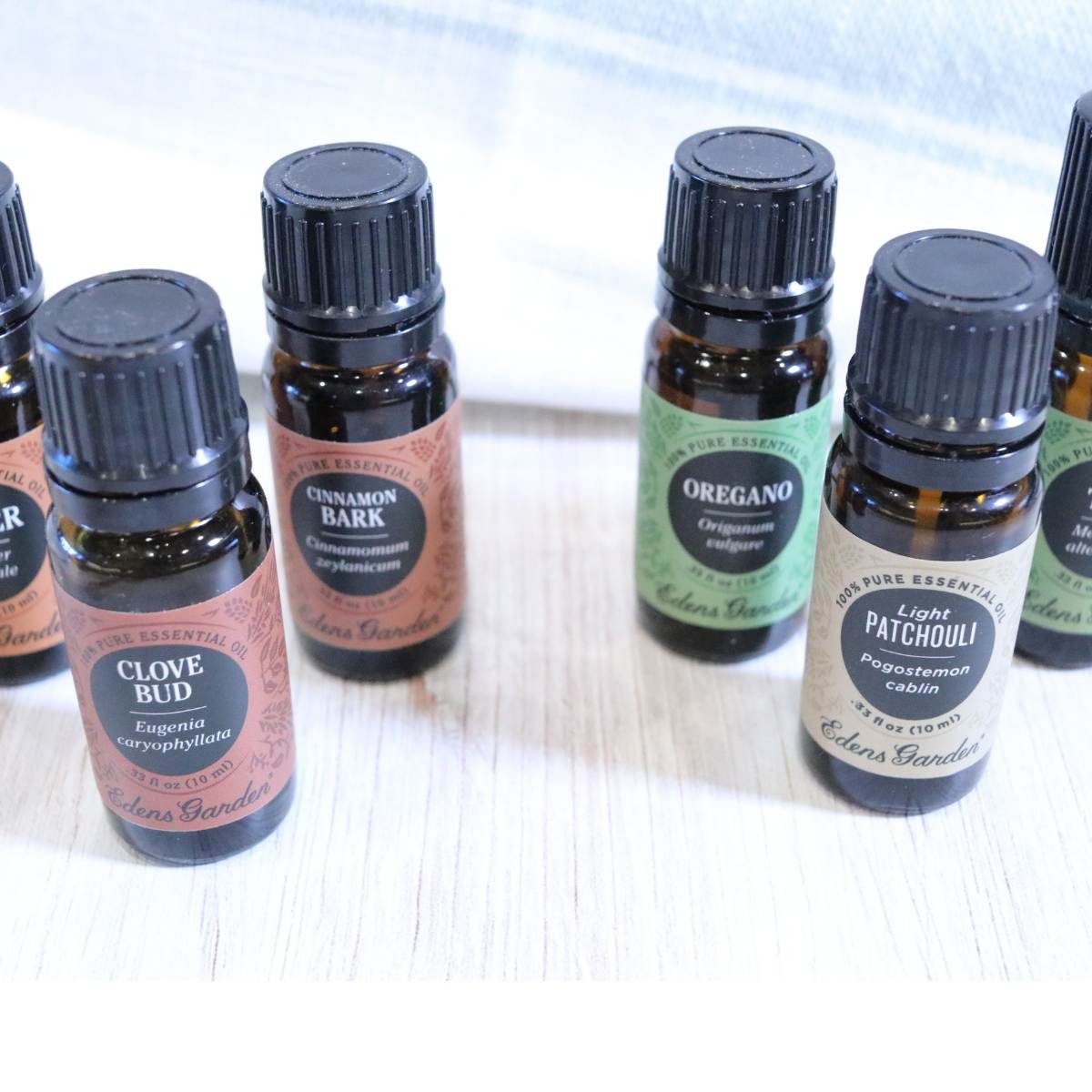 What is the fastest way to relieve severe cough in children?
There are several methods you can try to relieve severe cough in children. I will list them in the order that I have found the most effective.
A cool mist humidifier (use alone or diffuse with oils)
Applying all-natural vapor rub with essential oils to the chest, spine, and bottoms of the feet.
Taking some homemade cough syrup with honey and lemon.
Some people suggest drinking a warm glass of milk will help cough. However, as a nurse I am here to discourage this if your child has a wet productive cough, as milk tends to thicken mucus.
How long will homemade vapor rub last?
You can store all-natural vapor rub with essential oils indefinitely if you take care to store it properly.
Homemade vapor rub should be stored in an airtight container (preferably amber glass) in a cool dark place. Essential oils become weaker over time if not stored correctly. They should not be exposed to heat and light.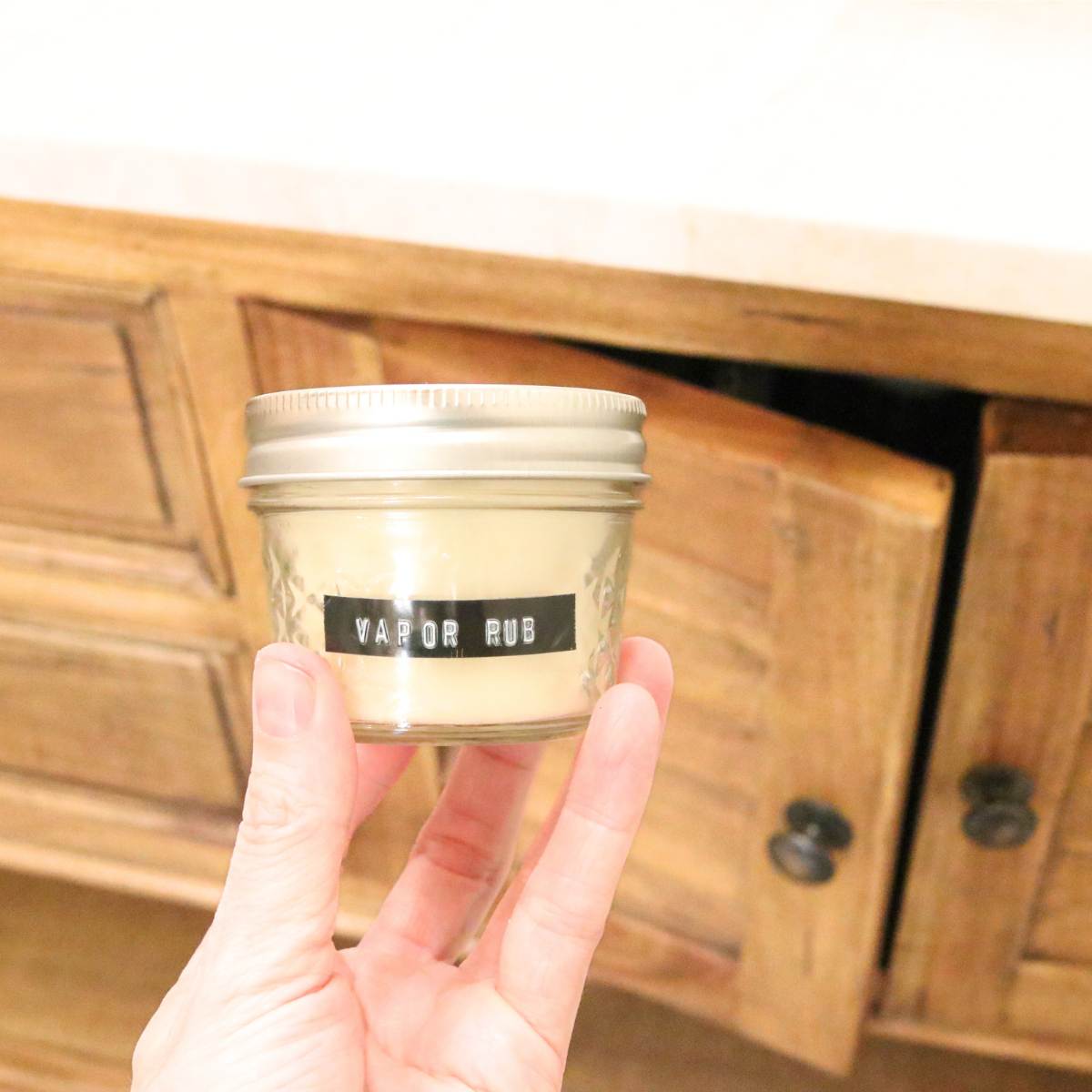 Where do you apply essential oils for cough?
Apply essential oils to the spine, chest, and bottoms of the feet for a cough. Essential oils must be diluted in a carrier oil before application to prevent irritation.
Keep essential oils away from the eyes and mouth.
Tips & Tricks
If you find yourself in a pinch and need a chest rub quickly, you can always use essential oils mixed with coconut oil. The coconut oil acts as a carrier oil and will work to get you by until you can make your own natural vapor rub recipe.
If you need your homemade chest rub to firm up faster, you can pop your storage jar into the fridge.
Thrift supplies to use when making DIY health and beauty products. You can often find a nice pot and bowl to double as a double boiler pot, silicone spatulas, storage jars, and more! You can also check out local Buy Nothing groups, Facebook Marketplace, and eBay too.
Make a large batch that you can divide into smaller jars to gift to friends and family during cold and flu season.
Plan ahead! Consider making this all-natural vapor rub BEFORE you need it. It's always better to be prepared than caught off guard.
For a mess-free application, pour the vapor rub mixture into an empty deodorant stick. If you are using this method, Add 1 extra Tablespoon of beeswax pellets to be sure the paste is firm enough.
Favorite All-Natural Store-Bought Vapor Rub
If I had to pick a store-bought natural vapor rub, there is only one that I would choose that I trust and really works as well as my homemade version.
It too has clean ingredients and works fast to help with cough and congestion.
Over the years I have tried many brands of vapor rubs, and this has proven to be the only one that works on my kids.
I apply on the chest, down the spine, and on the bottoms of their feet.
If you don't have time to make your own, I highly encourage you to give this brand a try. Most big box stores do carry this brand as well. It's also petroleum free!
Shop
Ingredients:
Ingredient Substitutions:
Supplies:
Cute jars for gifting homemade vapor rub:
Favorite Store-Bought Chest Rub with Essential Oils:
Humidifier:
I have owned this humidifier for more than 5 years and it still works just as well as the day I bought it. I own several natural stone diffusers as well and use them around the house instead of candles and when we are in need of extra immune support.
More DIY Natural Remedies To Try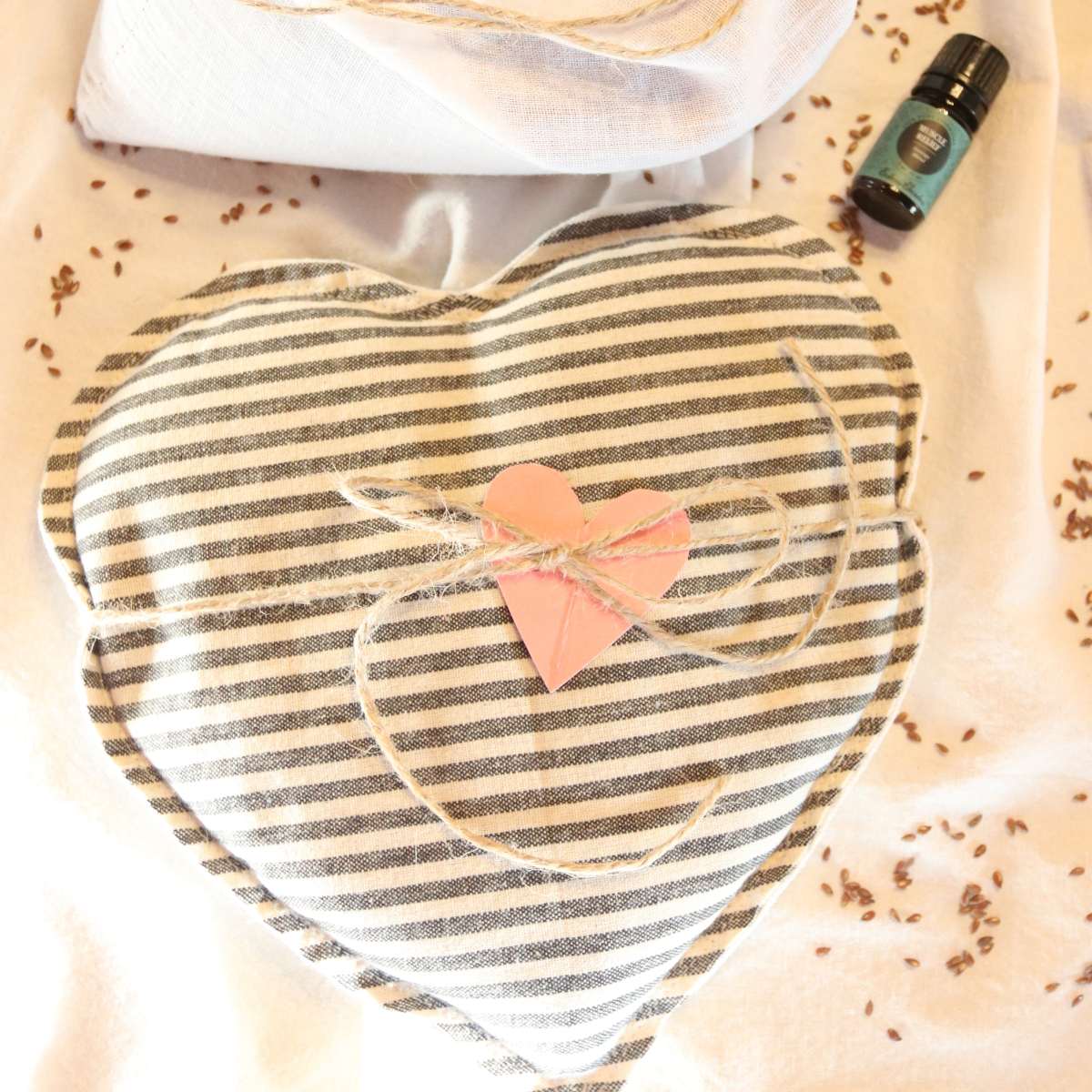 DIY Reusable Heat Pack
A comforting moist heat pack infused with essential oils for aches and pains.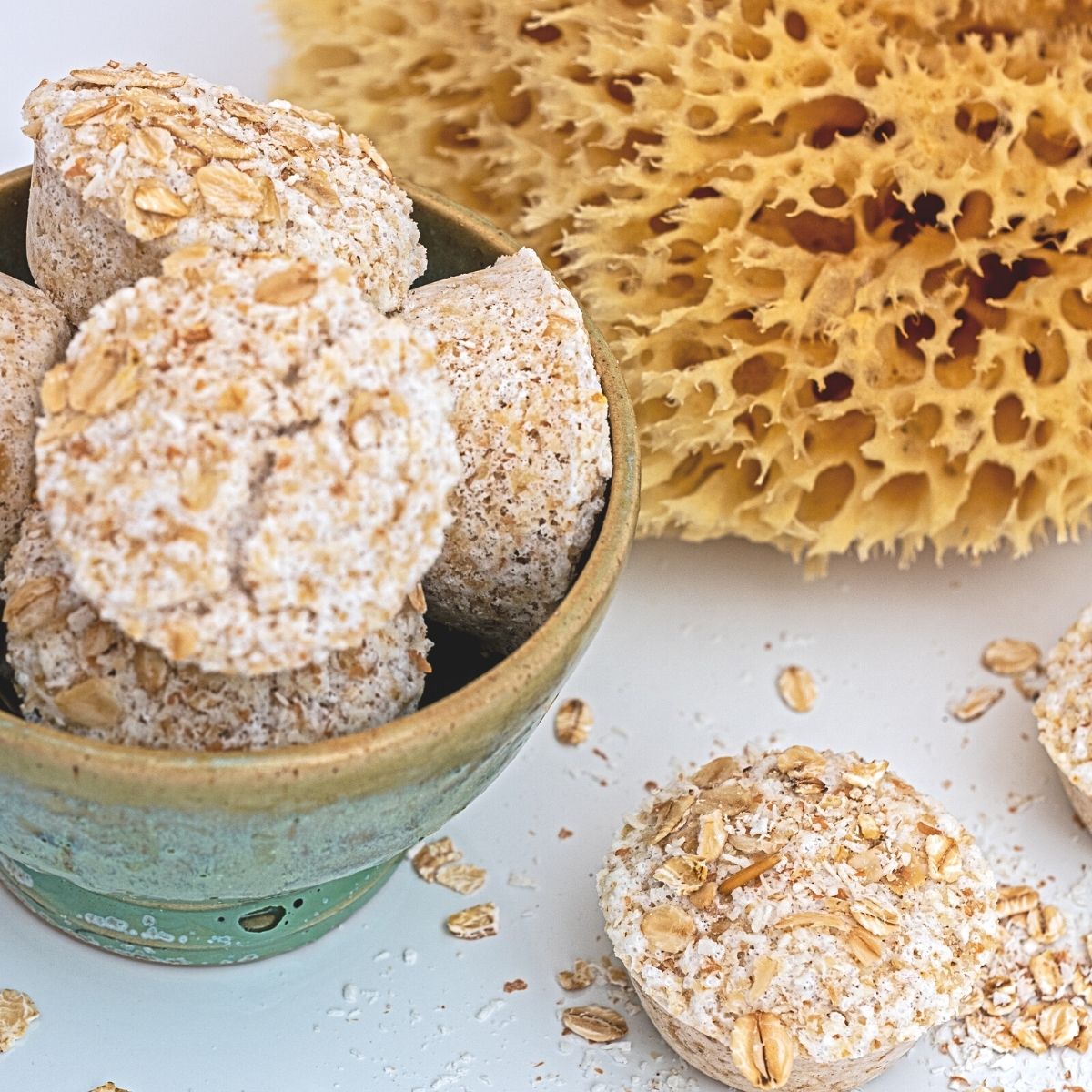 Homemade Colloidal Oatmeal Bath Soak
Healing colloidal oatmeal bath soak.
Pin It!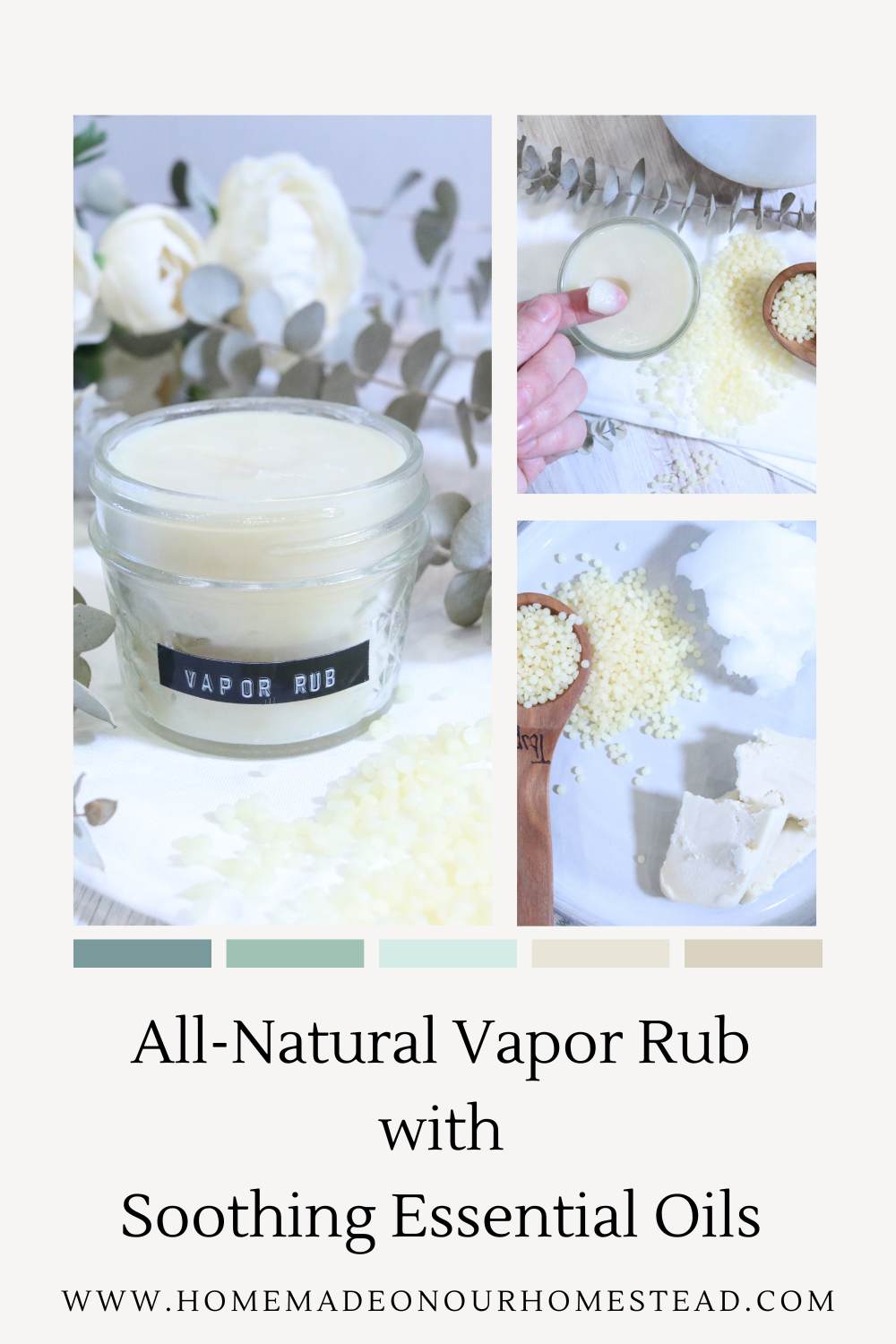 I hope this simple Natural Vapor Rub brings relief to you and your loved ones when you aren't feeling well. -Brie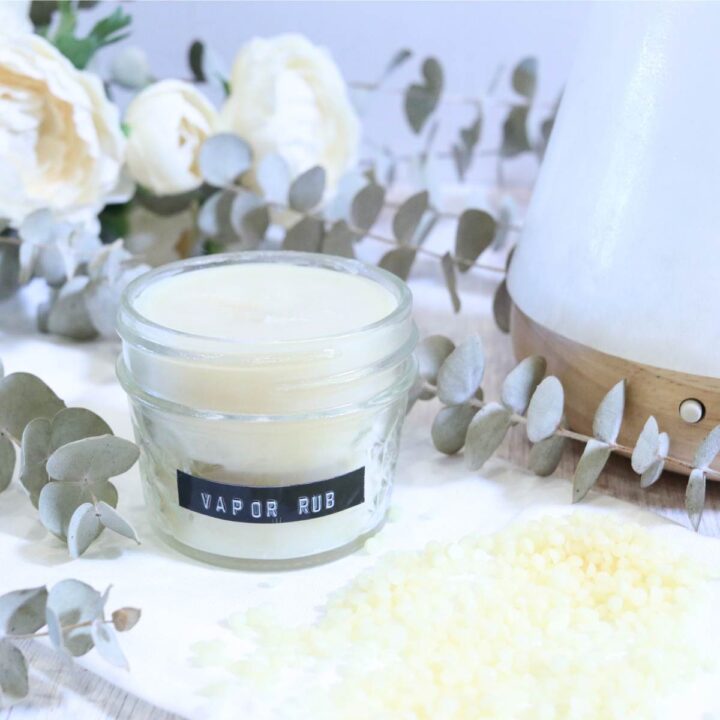 All-Natural Vapor Rub with Soothing Essential Oils
Total Time:
1 hour
10 minutes
A simple clean ingredient homemade all-natural vapor rub with essential oils for cough and congestion. Soothing for relief for cold and flu season.
Materials
1/4 cup Coconut Oil
1/4 cup Shea Butter
2 Tablespoons Beeswax
30- 40 drops of Essentail Oil or Oil Blend
Tools
Double boiler
Spoon or whisk
Storage jar with an airtight lid
Label
Instructions
Add coconut oil, shea butter, and beeswax to a double-boiler pot.
Allow ingredients to melt completely.
Remove from heat and allow to cool for 5 minutes.
Add in essential oil or oil blends of your choice.
Mix thoroughly.
Carefully pour the mixture into a storage jar with a lid.
Label your homemade vapor rub.
Use as needed to ease cough and chest congestion.
Notes
If you need your DIY vapor rub to set up more quickly, carefully transfer the jar to the fridge until firm.
If you don't have a double boiler, you can use a glass bowl over a pot with boiling water to melt ingredients.
Make a larger-than-normal batch and gift it to friends and family during cold and flu season. Be sure and include a copy of the recipe so they can make more when they run out.