How To Make Magnesium Oil
Making your own magnesium oil at home is really simple and can be used in many DIY health and beauty products. So today I'm going to show you how to make magnesium oil at home with a few simple ingredients.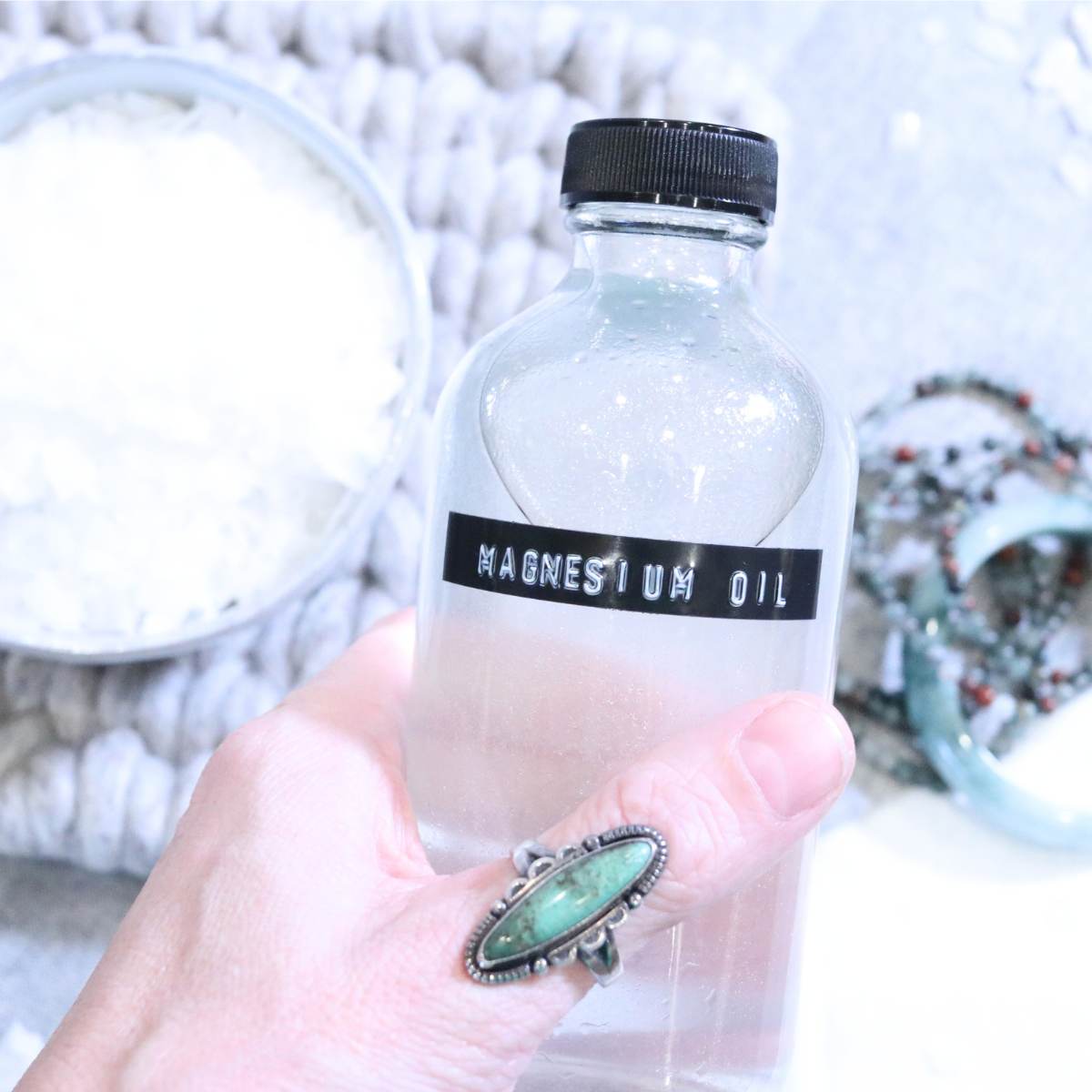 Some of these links are affiliate links. You can read my full disclosure HERE.
Information in this post is NOT medical advice and should not be used as such. Use your own judgment and speak to your doctor if you have any concerns or questions about using magnesium oil.
Ingredients and Supplies
Ingredients for magnesium oil recipe
Be sure and check out the SHOP section at the bottom of the post to get a list of the ingredients I used for this recipe.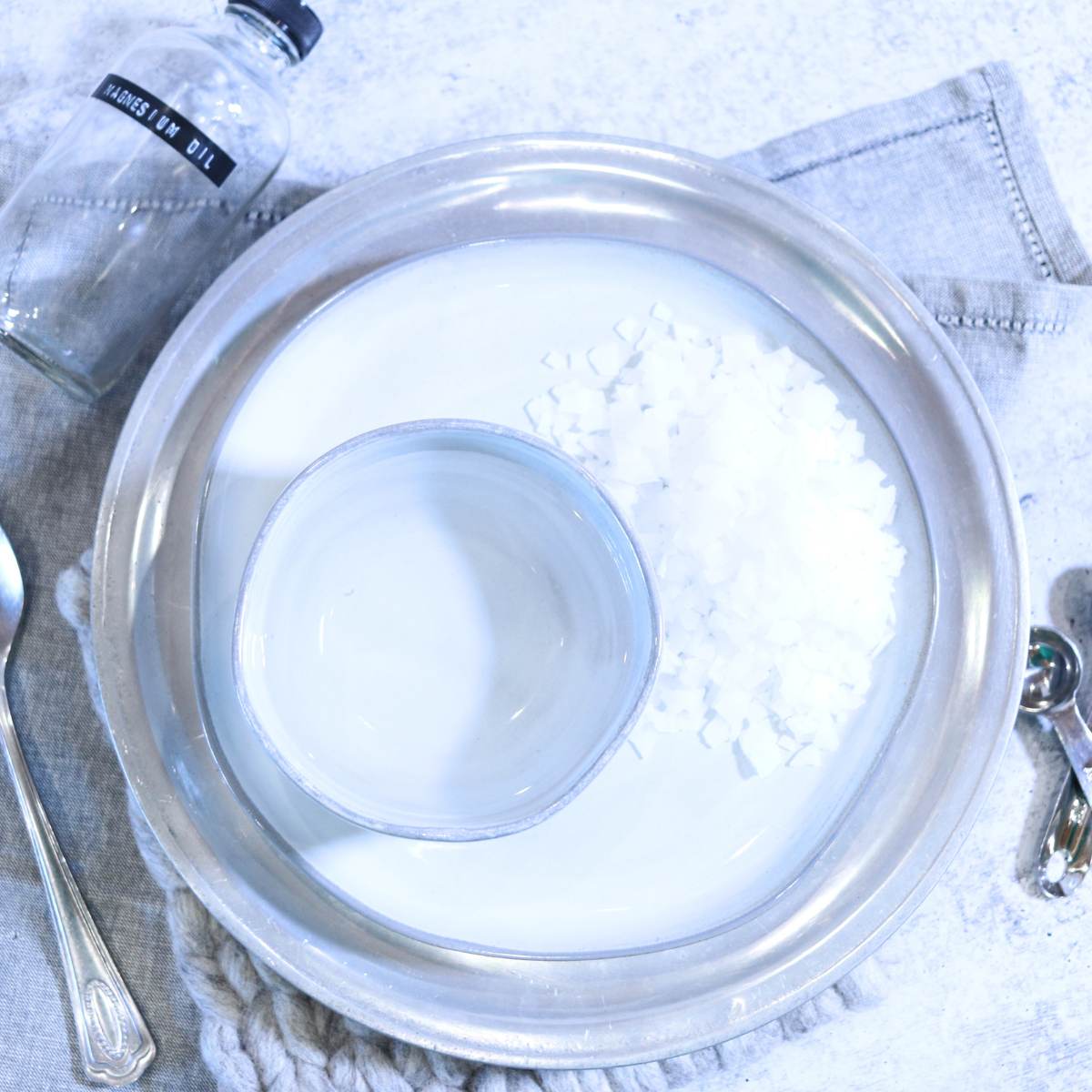 How To Make Magnesium Oil
Step One- Add distilled water to a pot and bring to a boil. Distilled water will help extend the shelf life of your Magnesium oil.
Step Two- Once your water is boiling, remove it from the heat and allow to cool for 5 minutes.
Step Three- After your water has cooled for 5 minutes, add in magnesium flakes and mix until fully dissolved.
Step Four- Allow mixture to come to room temperature.
Step Five- Transfer to a spray bottle and store for up to six months.
Find the measurements and full printable recipe below!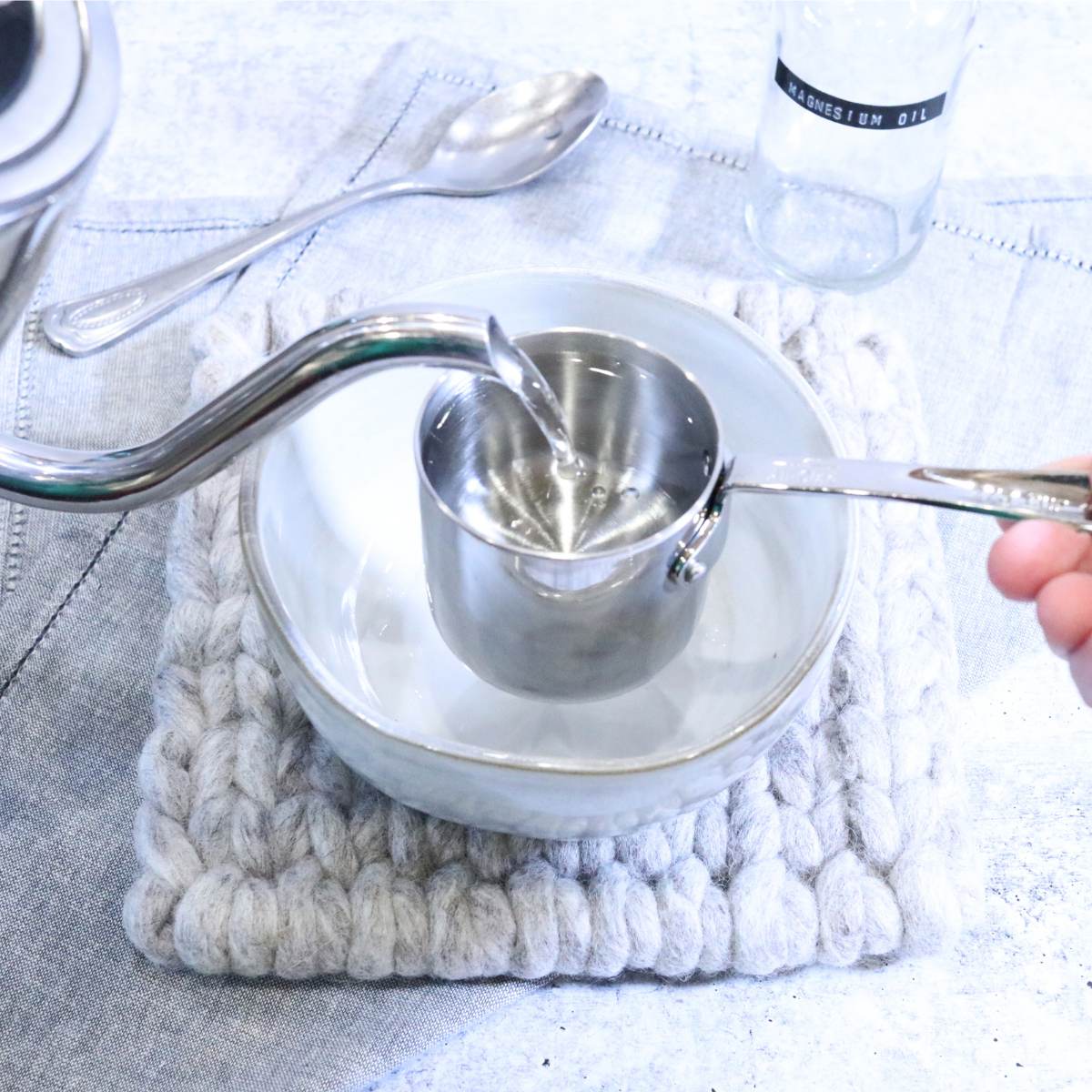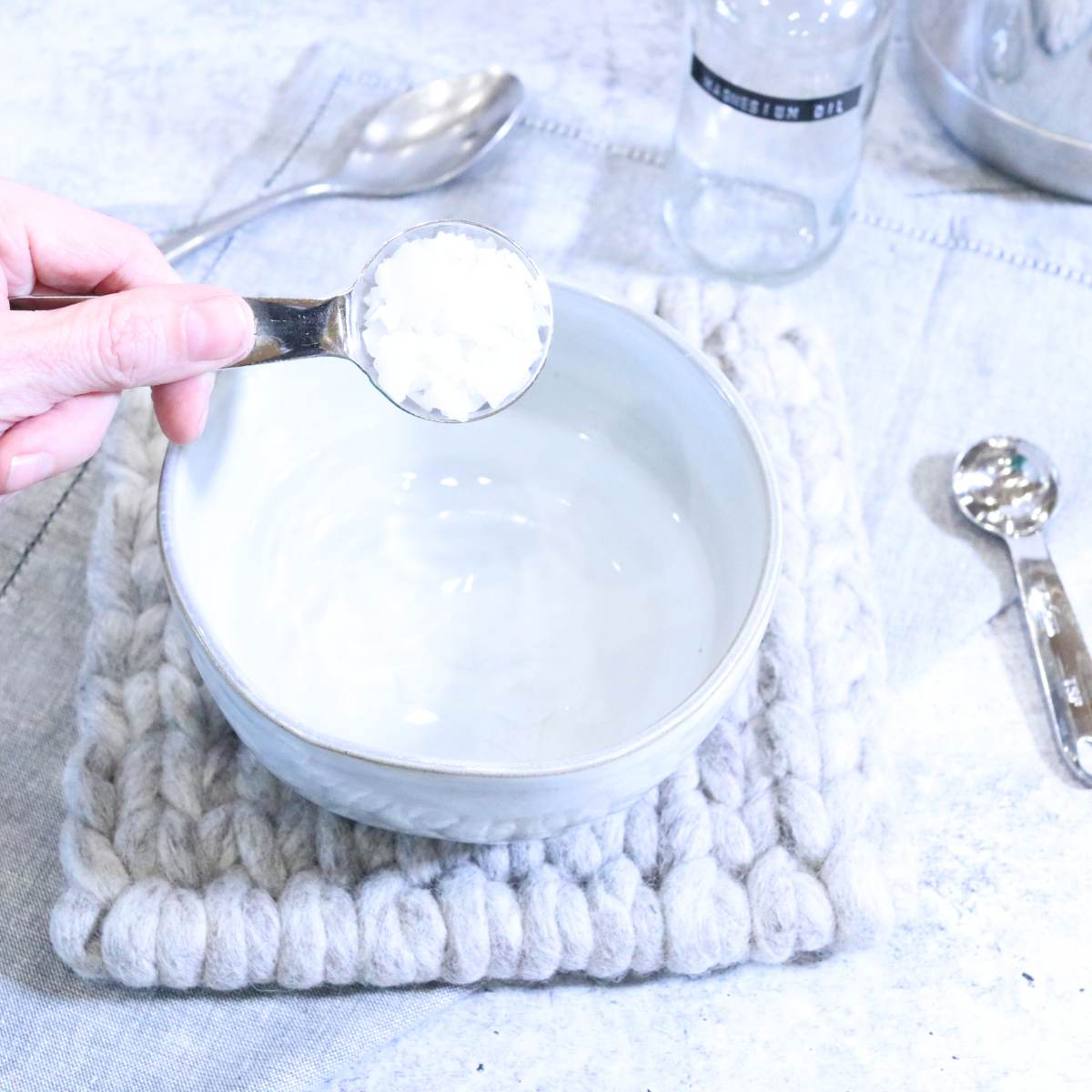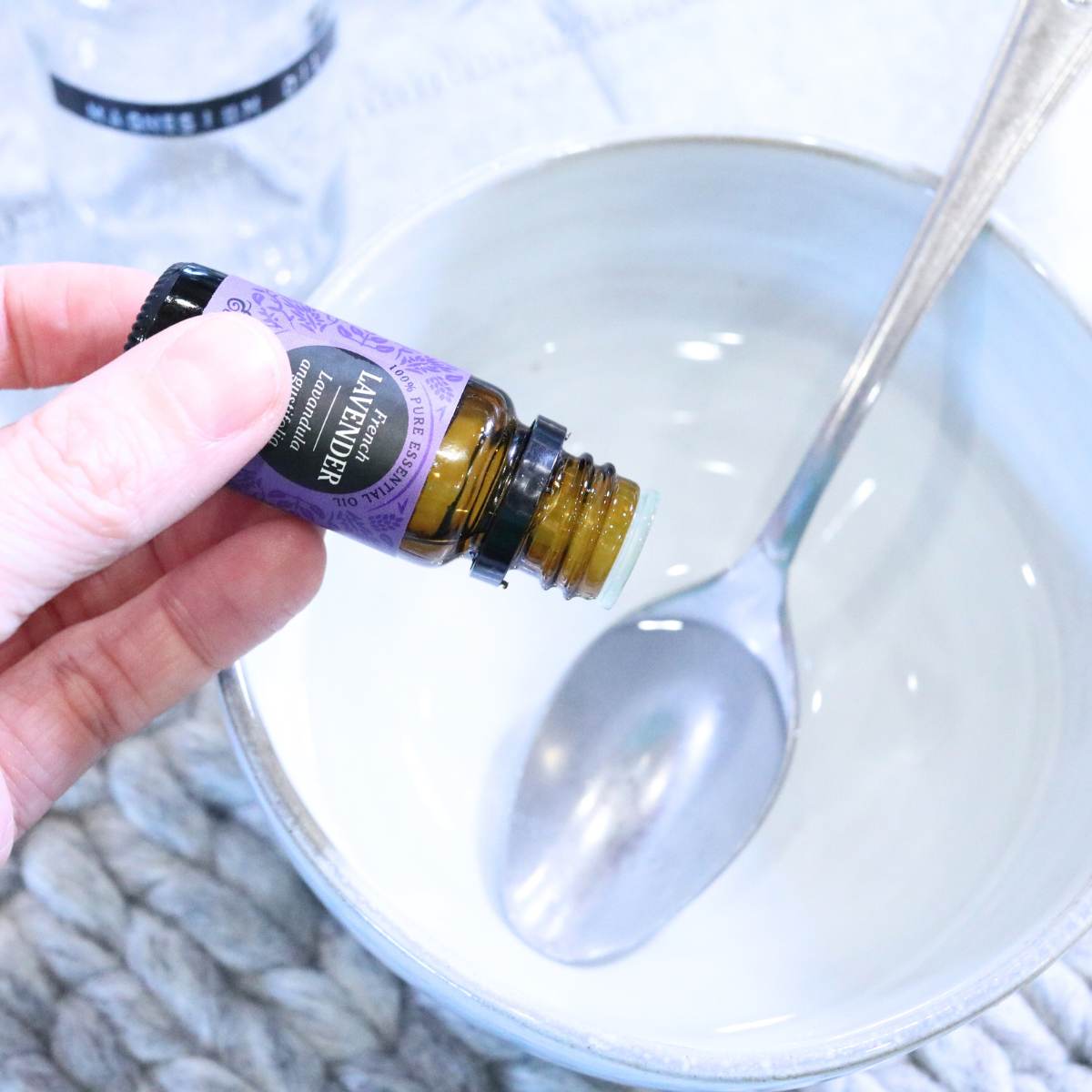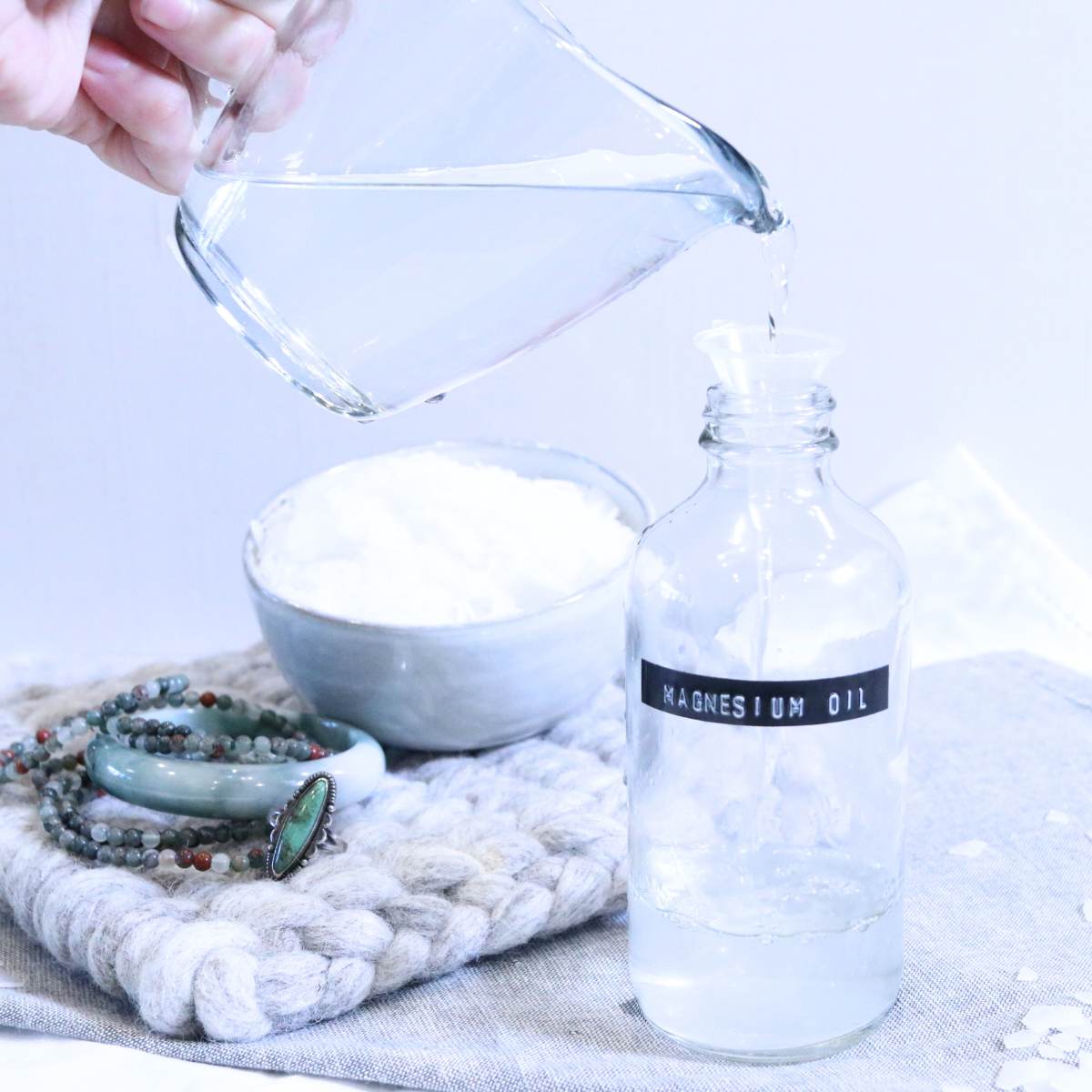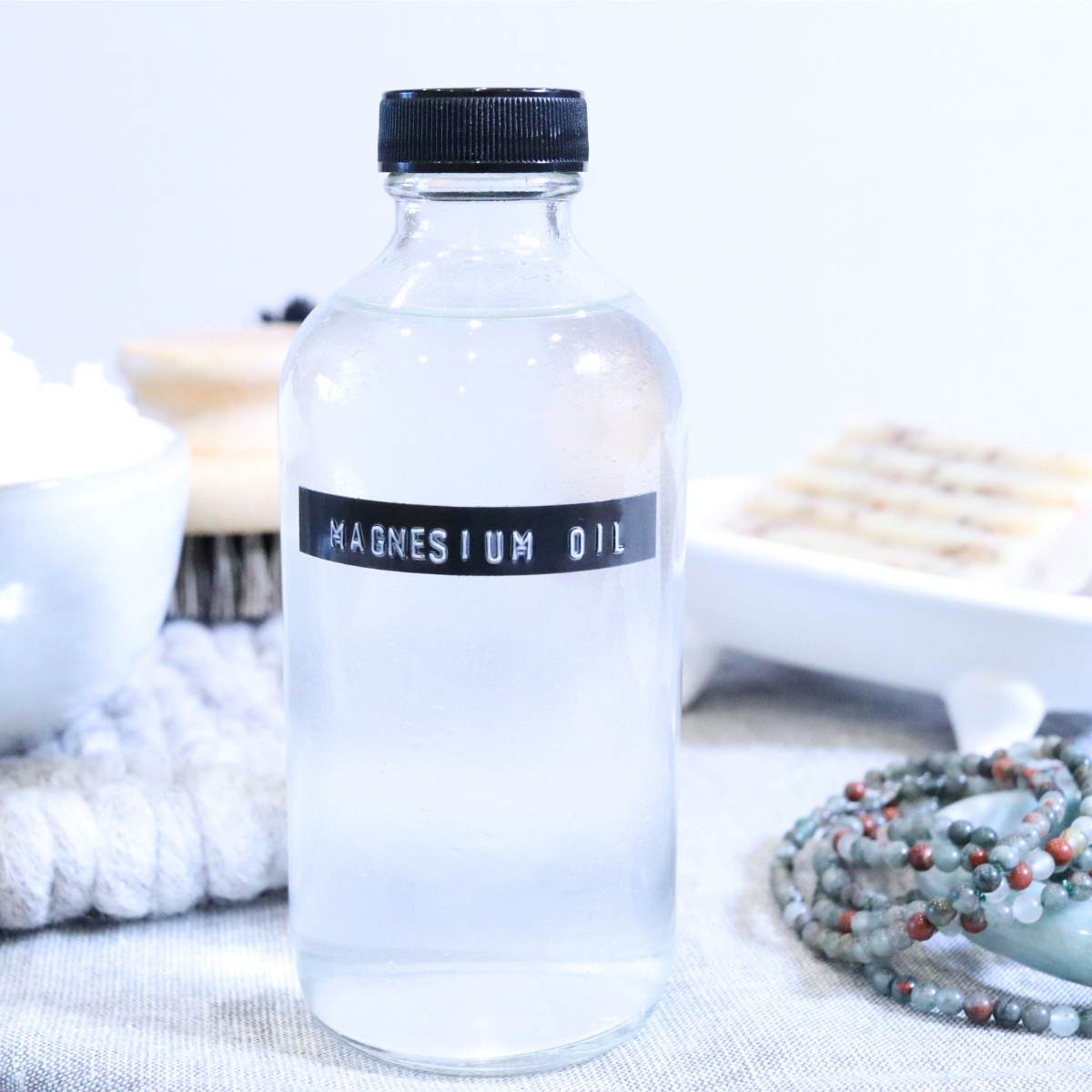 Benefits of Magnesium Oil
Magnesium is a very important mineral for most of our body's functions. It can help regulate blood sugar levels, and assist with muscle function, nervous system function, and energy levels. It has also been proven that magnesium plays an important role in cardiovascular health too by keeping heart rhythm normal and regulating blood pressure.
Getting magnesium transdermally (absorbed through the skin) is a really simple way to get the magnesium your body needs, without having to take an oral supplement.
While oral supplements can also be beneficial, the quality of the supplements you are taking affects the amount of magnesium you are actually absorbing.
Therefore, spraying magnesium oil on your skin after a shower, or before getting dressed in the morning is a really good way to get your daily magnesium in.
Improved magnesium levels
Using magnesium supplements in any form the goal is the same. To raise the body's magnesium levels to support healthy body functions.
Since it can be challenging to consume the recommended amount of daily magnesium, applying magnesium oil transdermally is an easy way to ensure that you are getting an adequate amount of magnesium without having to offset it with oral supplements, and is easily absorbed by the body.
Decreased muscle soreness and muscle fatigue
Muscle fatigue and cramping can often be caused by mineral deficiencies. By adding magnesium oil to the skin, you are adding back these important minerals that can help with muscle function. Supplying your body with these important minerals helps decrease muscle fatigue and soreness after workouts and increased physical activities.
Healthy, glowing skin
After dry brushing in the morning to help remove dead skin cells and increase circulation, I like to apply a light layer of magnesium oil at night before bed to help keep my skin healthy and glowing.
Fewer headaches and decreased frequency of migraines
People who suffer from severe headaches and migraines and have optimal levels of magnesium in the body have reported fewer instances of headaches and migraines than when their magnesium levels are low.
Regulated blood sugar levels
Magnesium is an important mineral in helping regulate blood sugar. Excessive sugar consumption actually depletes the body of magnesium. Magnesium is not a treatment for diabetes or blood sugar imbalances, but studies show that proper magnesium levels play an important holistic approach to blood sugar management.
Decreased risk of hypertension (high blood pressure)
As a nurse, we often treat patients with intravenous magnesium to assist with high blood pressure. While most people aren't treating blood pressure using this method at home, supplementing with magnesium at home can hopefully decrease your chances of needing hospitalization due to severe blood pressure issues.
Prevention is essential!
More restful sleep
Magnesium plays an important role on the GABA receptors in the brain. Magnesium encourages your body to have a more restful night's sleep and sleep longer.
Some people however report magnesium having the opposite effect on their sleep. People that take magnesium with this result should not take magnesium oil or supplementation at night before bed.
How To Use Magnesium Oil
Using magnesium oil daily can increase your body's magnesium levels over time. I encourage you to use it daily to achieve the maximum benefits of this amazing oil.
If you are new to using topical magnesium, start off with a small amount to test for skin sensitivities or reactions. Some people have found that magnesium can have the opposite effect on their sleep schedules. If you find this to be true for you, do not use magnesium oil at night before bed.
Spray directly onto arms, legs, and stomach. Enough to lightly coat the areas with 15 to 20 sprays. Massage into the skin where applied and allow to dry before getting dressed. This just takes a second.
Spritz magnesium oil on the body directly after a shower.
Leave on the skin or wash off after 20 to 30 minutes.
If you are using magnesium spray for sleep, apply 10-15 minutes before hopping into bed for the night.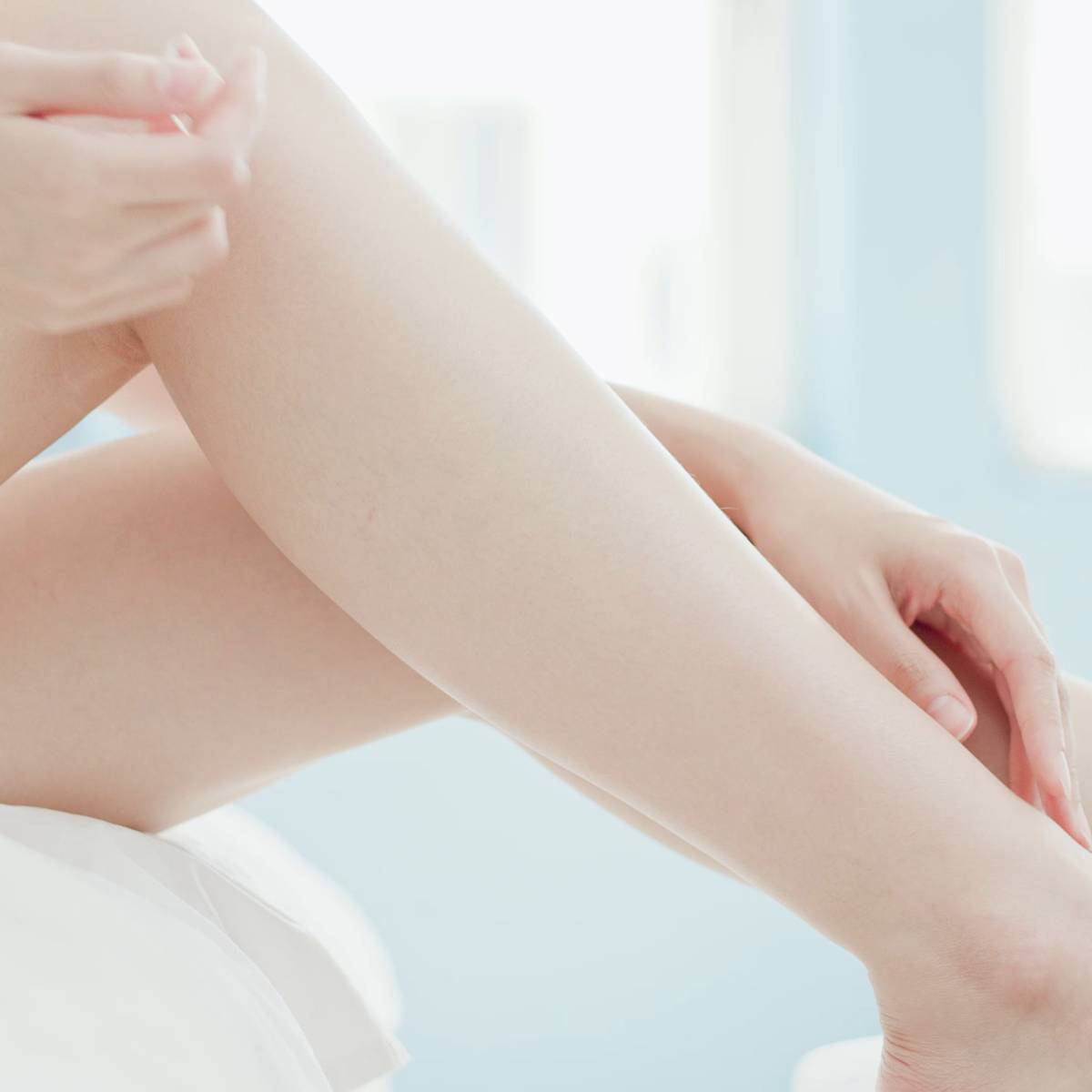 Slight irritation may occur with the first few applications. This should decrease or disappear over time. People with more skin sensitivities should test out on the arms or legs before applying to the other areas of the body. Start with a small area first.
Substitutions For Sensitive Skin
If you tend to have more skin sensitivities, I encourage you to try a more diluted version of this recipe until your body has had an opportunity to adjust to it. I tend to have more sensitive skin myself and I didn't have any issues when using this magnesium oil recipe at full strength.
Start slow, and increase the frequency of use and strength over time to avoid skin irritation.
How To Make Magnesium Oil For Sensitive Skin
Step One- Bring to a boil 2/3 cup distilled water.
Step Two- Once water is boiling, remove from heat and allow to cool for 5 minutes.
Step Three- Add 1 Tablespoon plus 1 teaspoon of magnesium flakes to hot water and mix well until fully dissolved.
Step Four- Allow mixture to cool to room temperature.
Step Five- Once magnesium oil has cooled, transfer it to a glass spray bottle.
Step Six- Use daily for maximum benefits.
Find the measurements and full printable recipe below!
How To Store Homemade Magnesium Oil
The easiest way to store homemade magnesium oil is in a glass spray bottle. You can keep the bottle in the shower for easy application or on the bathroom counter and apply it before getting dressed every day.
Be sure and label your bottle of magnesium oil if you make a lot of your own skin and beauty products. Ideas for this are listed below in the SHOP section of this post.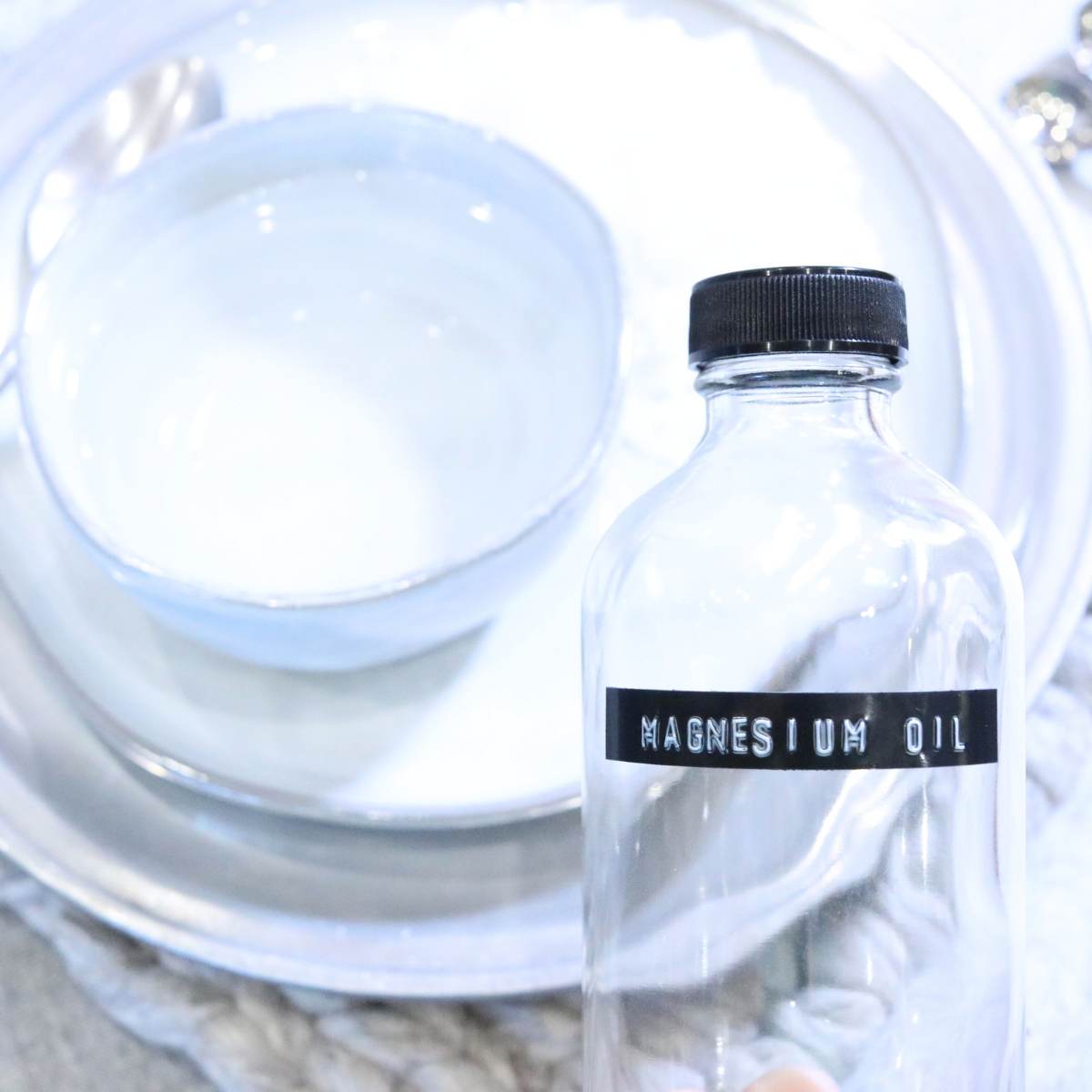 When making this recipe for homemade magnesium oil, I tend to double the batch to make some to store for later. This makes it really easy to refill your spray bottle when it gets low without having to make another batch. This is especially helpful if you and your spouse are using it.
I buy a larger glass bottle with a cap and store it in the bathroom under the counter.
FAQ
You may have a lot of questions about magnesium oil, so let's see if we can answer some of them here in the section.
Why is it called magnesium oil when it doesn't contain oil?
When magnesium chloride flakes dissolve they take on an oily form. So although magnesium flakes don't contain oil, when applied to the skin it feels like it does.
What type of magnesium is best for magnesium oil recipes?
Magnesium chloride is the most absorbable form of magnesium available and often the least irritating to the skin. This form of magnesium is also easy to source.
Is Epsom salt better than using magnesium?
Epsom salt has been found to be more drying on the skin than magnesium chloride. Epsom salts are magnesium sulfate and some report more irritation than when using magnesium oil.
Can magnesium be used as a deodorant?
Magnesium oil can be used as a deodorant. Having an adequate magnesium level in the body can actually help decreased body odor.
I recently did an entire post on How To Make Magnesium Deodorant Spray. Super simple to make and only uses 2-3 ingredients.
I recommend trying magnesium deodorant spray on your arm or leg to test for irritation prior to use on your underarms. If you are a first-time user, I would not recommend trying it right after shaving as this could cause increased irritation.
Is it normal for topical magnesium to cause burning and skin tingling for some people?
Sometimes burning or tingling sensation after application can indicate low magnesium levels. For others, burning or tingling can be related to skin sensitivities.
Be sure and always test out new products on a small inconspicuous place on the arm or leg before using them on larger areas of the body.
If you note a burning sensation, you can always wash it off to remove what hasn't been absorbed.
Can I add fragrance to magnesium oil spray?
Yes. It's super easy to add a custom fragrance to homemade magnesium oil recipes. If you are already a user of essential oils, you know that you can add fragrances or a combination of fragrances for a specific scent.
Adding fragrance to your magnesium oil recipe isn't something you have to do if you also intend on applying other body lotions or perfume. Having an unscented option is also nice to have on hand.
I don't wear perfumes, however, so I always add a light fragrance blend to my homemade DIY beauty products.
DISCLAIMER: Some essential oils can cause skin irritation and have photo sensitivities. So do some research on the brands of oils and fragrances you choose to use for your homemade skin products.
Is magnesium oil safe for babies & kids?
Check with your child's pediatrician before using magnesium oil on them. All bodies are different and some children are more sensitive to topical creams and oils than others.
There are many companies that make magnesium lotion for babies to help with a more restful night's sleep.
Magnesium oil during pregnancy and nursing
Magnesium oil is safe to use during pregnancy and while nursing. It can help with muscle aches and cramping. Like everything though, if you have any questions or concerns, be sure and address these with your doctor.
Information on this post is NOT medical advice.
Does magnesium improve sleep?
Yes! For most people, magnesium can greatly improve sleep and help you stay asleep longer.
However, some people report the opposite effect. If you are one of these people, do not use magnesium oil before bed.
Magnesium lotion for sleep can also work for people who tend to be more sensitive to magnesium oils.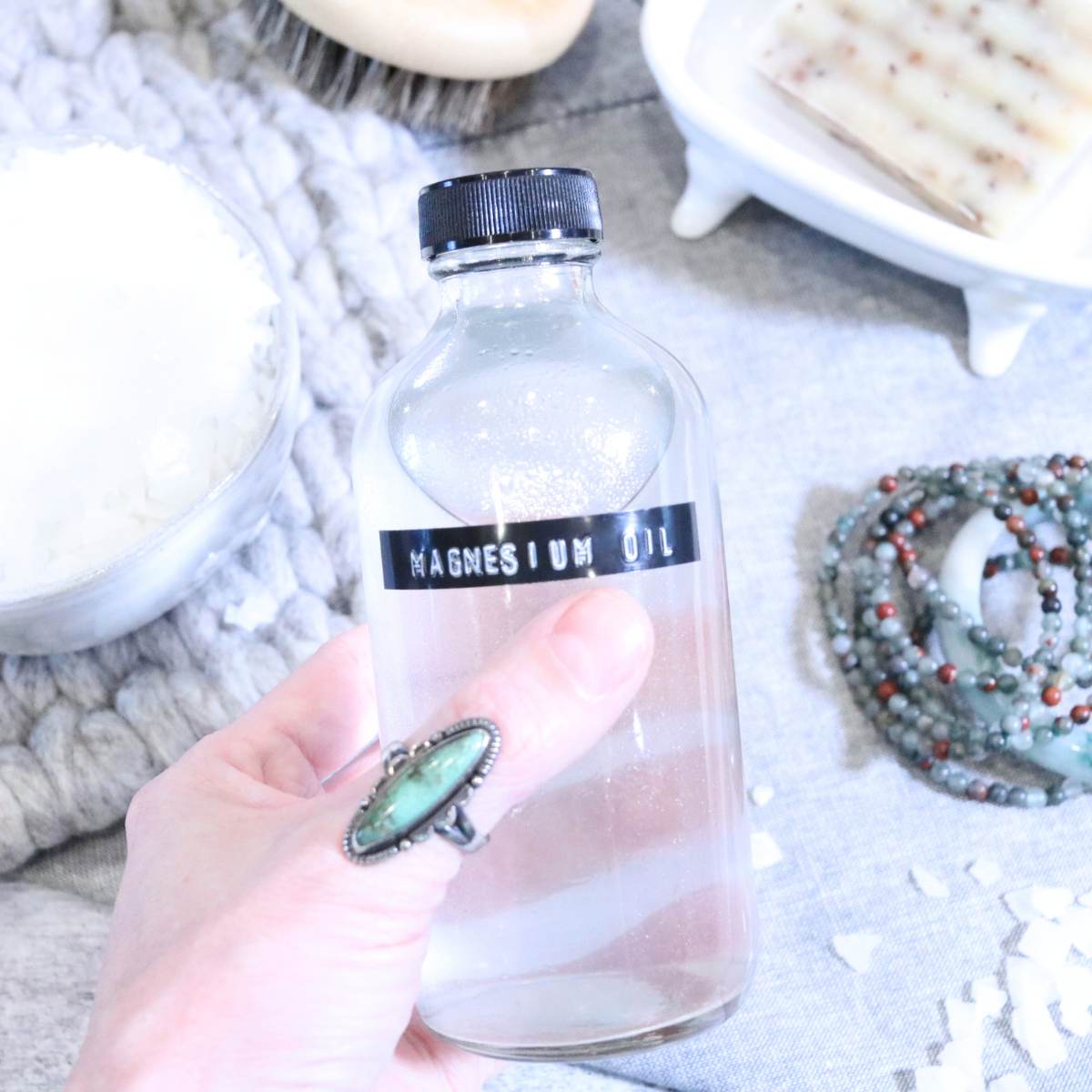 Books about Magnesium
If you are looking for more information about the beneficial mineral magnesium, I encourage you to check out these great books I have read. If you don't like to purchase books, you can download copies to your Kindle, check them out at your local library, or check Little Free Libraries around you too!
Shop
Ingredients:
Filtered or distilled water
Essential oils to add natural fragrance (optional)
If you don't have a water filter system at home, you can buy filtered or distilled water from the store to use for this recipe.
Supplies:
You can make homemade magnesium oil by boiling the water in a pot on the stove, or boiling water in an electric kettle and mixing the ingredients in a small bowl. Both methods produce the same result.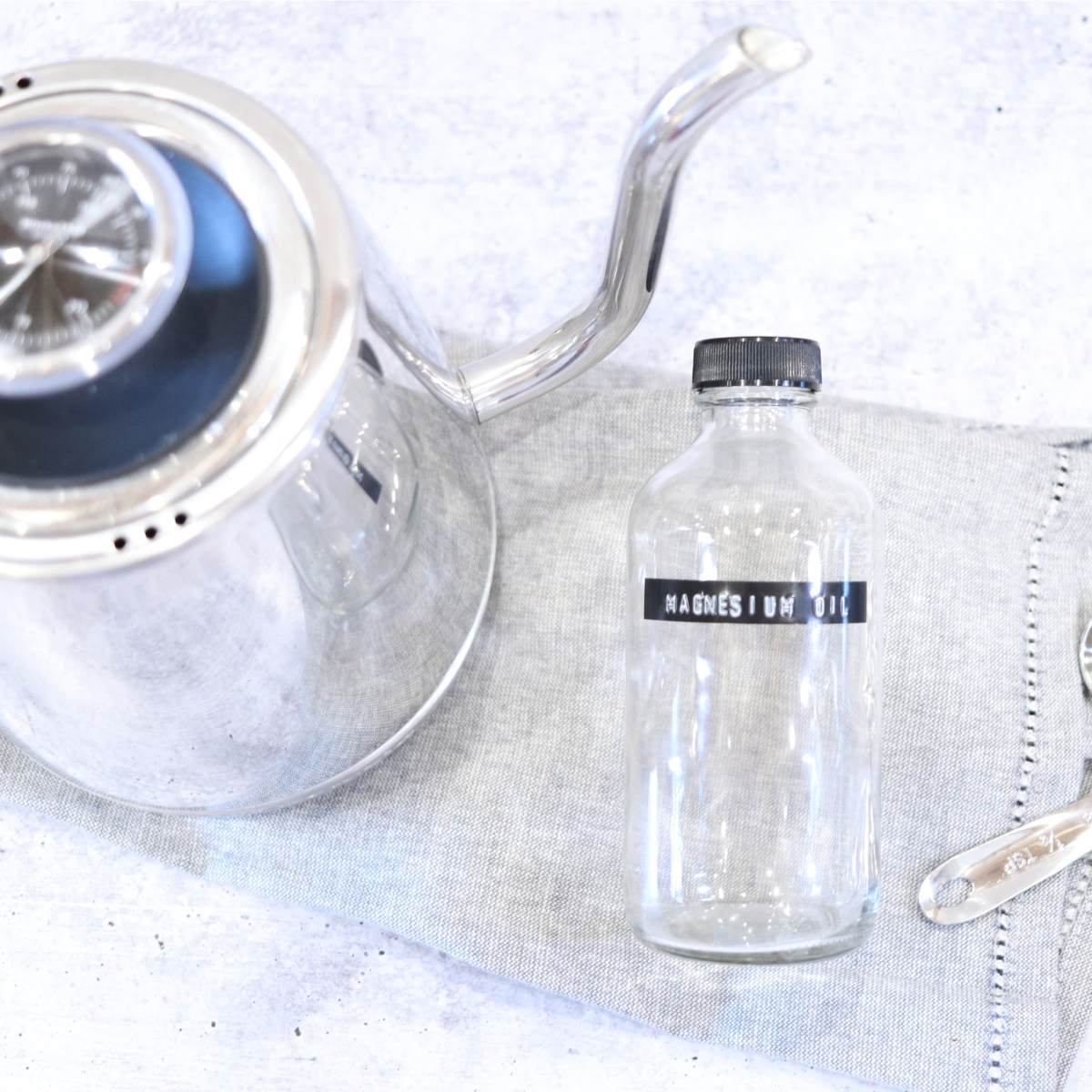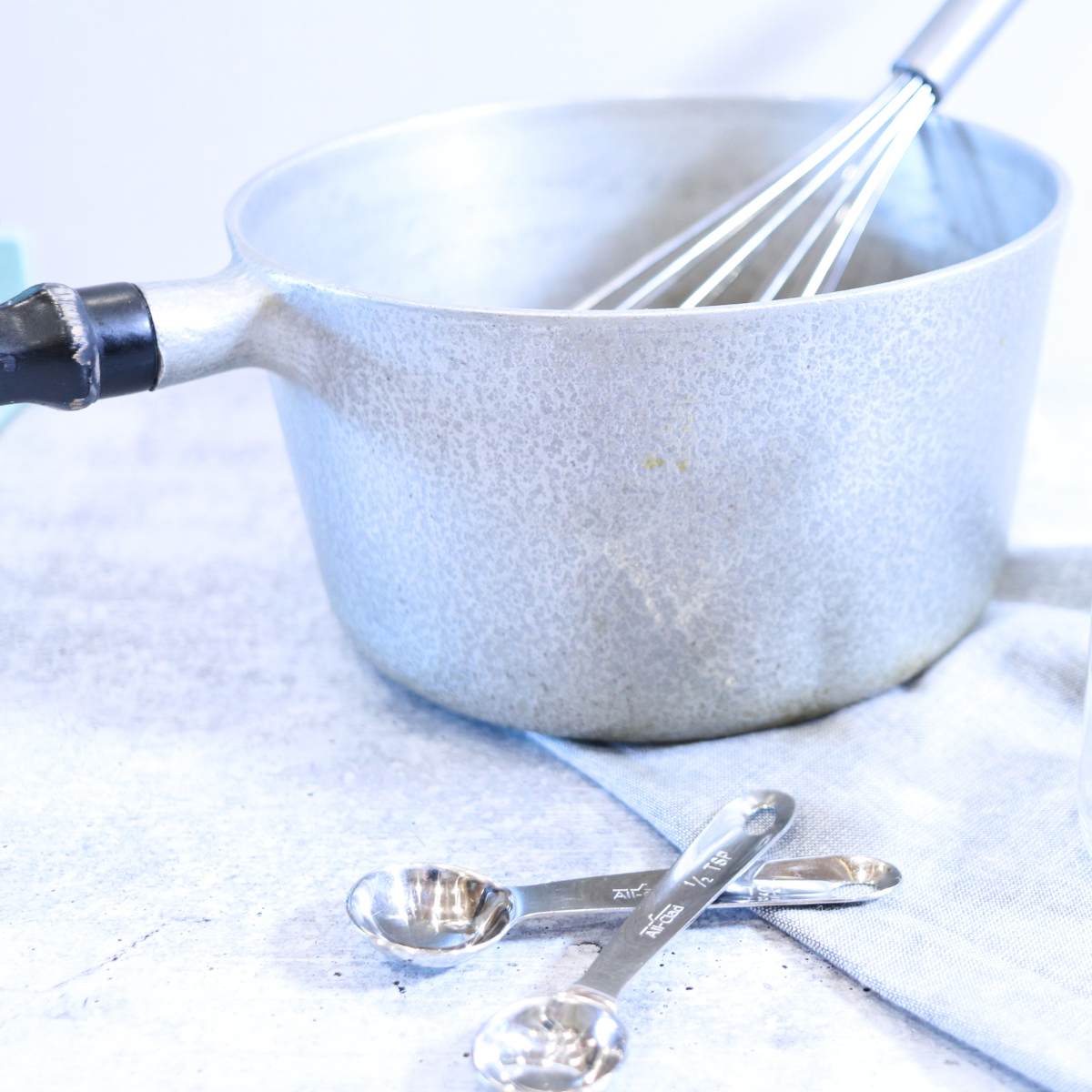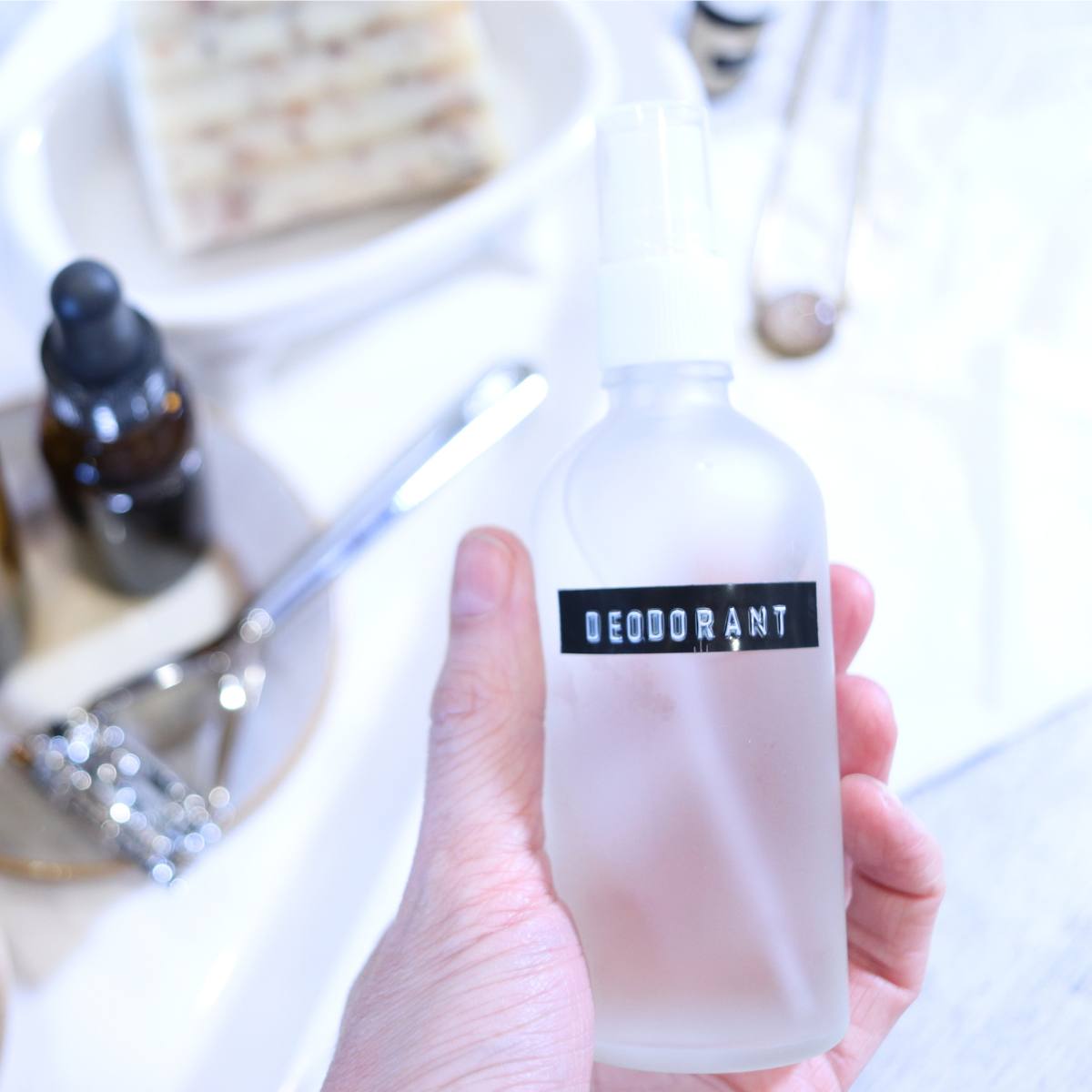 How To Make Magnesium Deodorant Spray
An all-natural magnesium spray deodorant that really works! Simple, clean ingredients and easy to make in minutes.
Pin It!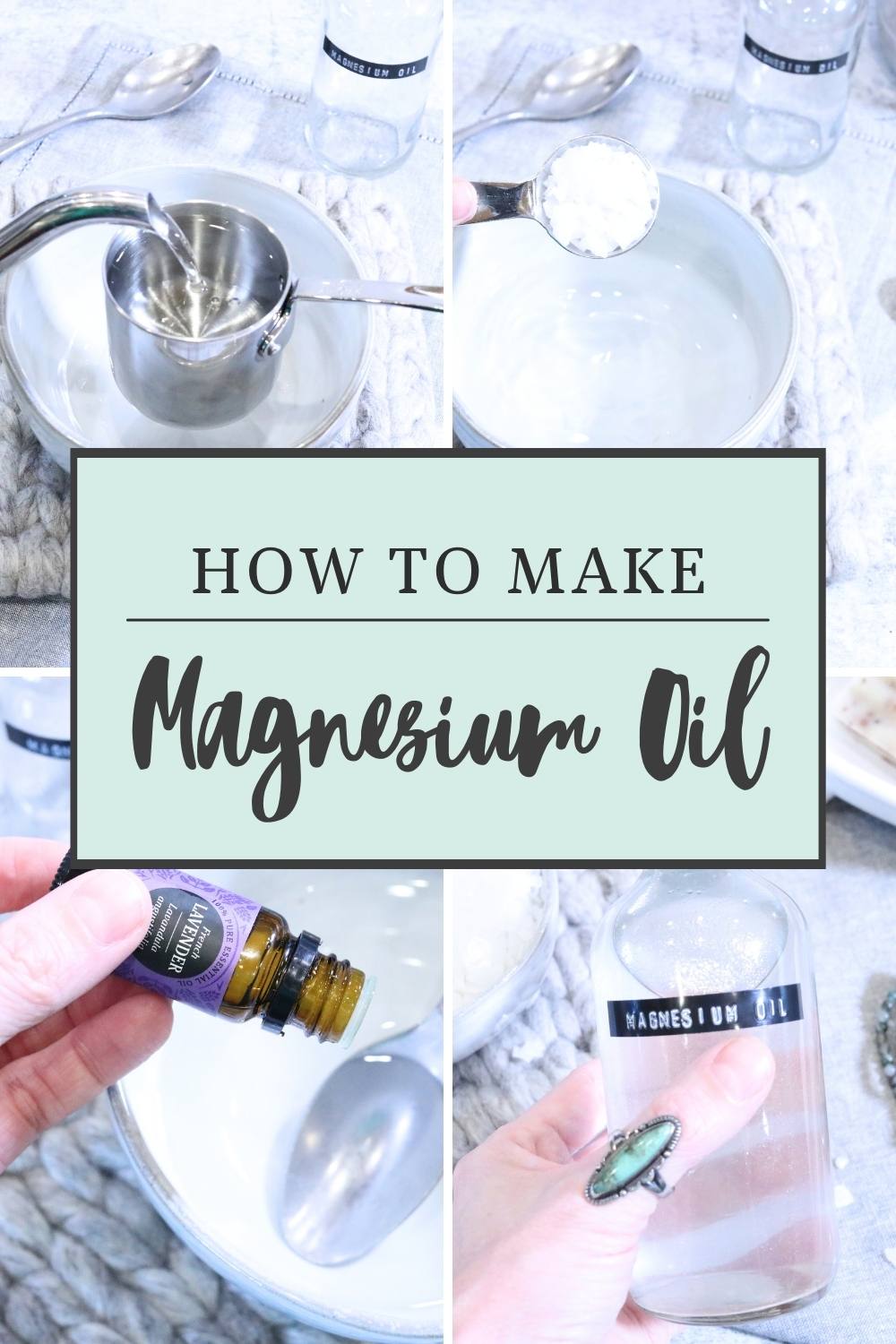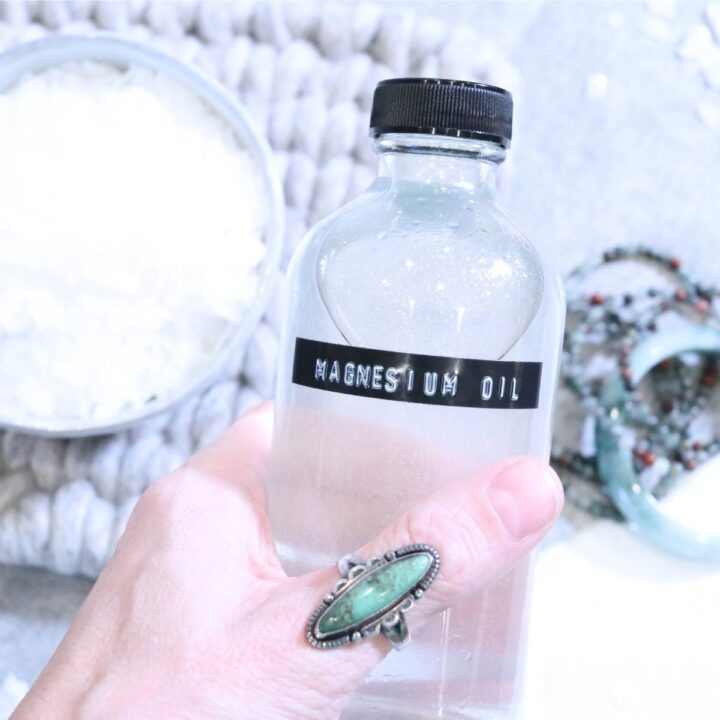 How To Make Magnesium Oil
Additional Time:
5 minutes
Simple homemade nourishing magnesium oil packed full of benefits for the skin and body.
Materials
2 Tablespoons plus 2 teaspoons of magnesium chloride flakes
2/3 cup distilled water
Essential oils (optional) 15 to 20 drops
Tools
Pot or tea kettle (to boil water)
Spoon
Spray bottle
Instructions
Bring distilled or filtered water to a boil using a tea kettle or pot on the stove.
Remove water from heat once boiling.
Pour 2/3 cup water into a mixing bowl.
Add 2 Tablespoons plus 2 teaspoons of magnesium chloride flakes to the bowl.
Mix until dissolved.
Add 15 to 20 drops of essential oil for added fragrance. If making a nighttime magnesium oil, try adding lavender for an added benefit.
Set mixture aside to cool.
Once fully cooled, carefully pour magnesium oil into a glass container with a spray cap. Pour any extra into a storage jar for later. Label your oil.
Use as needed.
Enjoy!
Notes
Magnesium Oil For Sensitive Skin:
Use 2/3 cup of distilled water and 1 Tablespoon plus 1 teaspoon of magnesium flakes. Follow the instructions listed above.
How To Use Magnesium Oil:
Spray on arms, legs, and stomach area and allow to dry before getting dressed.
Slight irritation may happen when first using. You can wash off after 20 to 30 minutes while still receiving the maximum benefits.
If irritation occurs, decrease the frequency of use or try the magnesium oil for sensitive skin version (listed above).
Thanks so much for stopping by!! -Brie