DIY Laundry Scent Booster
If you are looking for a more sustainable laundry routine that uses natural ingredients, this DIY laundry scent booster is the perfect addition.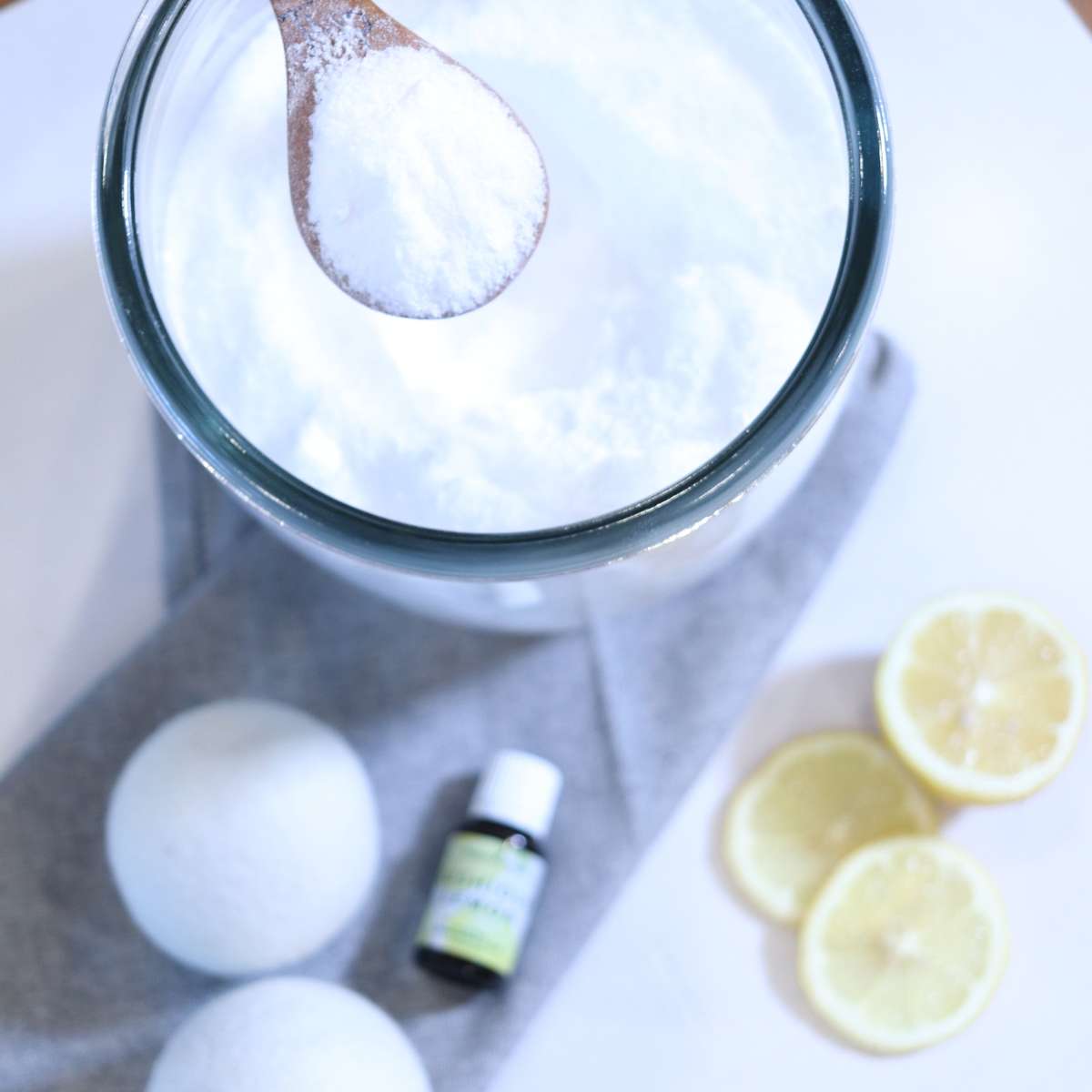 Made with eco-friendly, all-natural ingredients, you can feel confident using this to add natural fragrance to your family's clothing. Safe enough for babies as well as those with skin sensitivities.
Some of these links are affiliate links. You can read my full disclosure HERE.
As someone who is passionate about my family's health, making the ditch-and-switch from conventional store-bought cleaning products to more natural alternatives has become increasingly important to me over the years.
If you are looking to move away from harmful chemicals in most store-bought products, laundry detergents are a great place to start. Most DIY cleaning products contain just a few simple ingredients and can be put together in minutes. They are also easy to make in large quantities so you don't need to make them as frequently.
Ingredients
Ingredients for DIY Laundry Scent Booster
Epsom salt or coarse sea salt works as a carrier for essential oils and helps to soften the water in your washing machine. This is especially important if you have hard water.
Baking soda is an optional ingredient but can be added to improve the cleaning power and help neutralize odors.
Essential oils let you choose the desired scent for your laundry. You can use a single essential oil or blend multiple oils to create your ideal fragrance combination.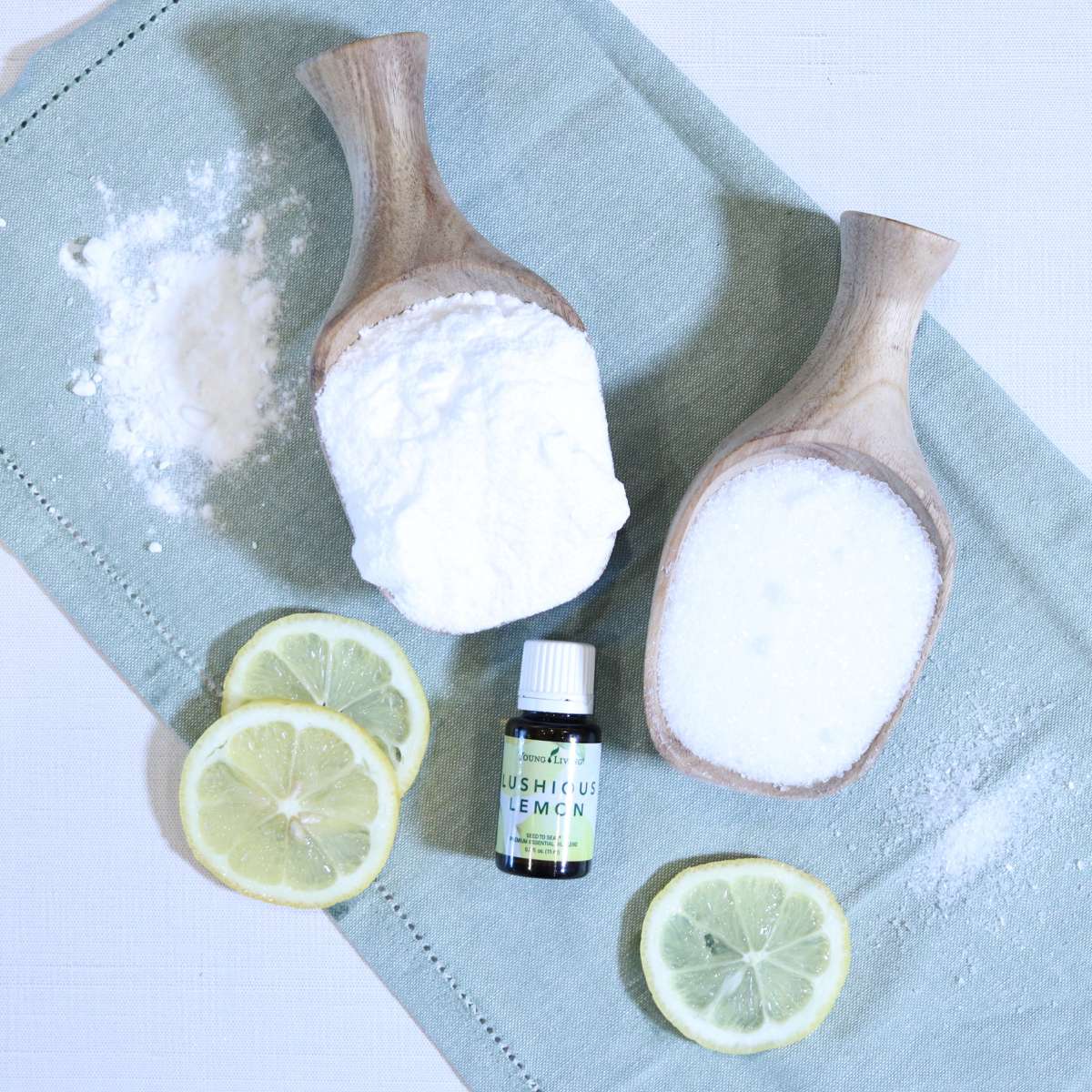 Supplies
Supplies for homemade laundry scent booster
Why Make DIY Laundry Scent Boosters
Save Money
Making your own laundry scent boosters and other DIY laundry products can help save money because the ingredients are often less expensive than purchasing conventional products.
Contains All-Natural Ingredients
Another very important reason is that you have full control over the ingredients you use which allows you to eliminate harmful chemicals like artificial fragrances as well as other toxic endocrine disruptors.
Customize The Fragrance
Having control over the ingredients used means you also get to control the fragrance of the products you are making. Because most DIY laundry recipes use essential oil for fragrance, you can use oils or EO blends you and your family prefer.
How To Make DIY Laundry Scent Booster
Step One- Add Epsom salt, and baking soda to a bowl and mix until combined.
Step Two- Add essential oil or essential oil blends to Epsom salt and baking soda mixture.
Step Three- Pour homemade laundry scent booster into a glass jar with a lid and label.
Step Four- Use as needed to make your laundry smell fresh and clean.
Find the measurements and full printable recipe below!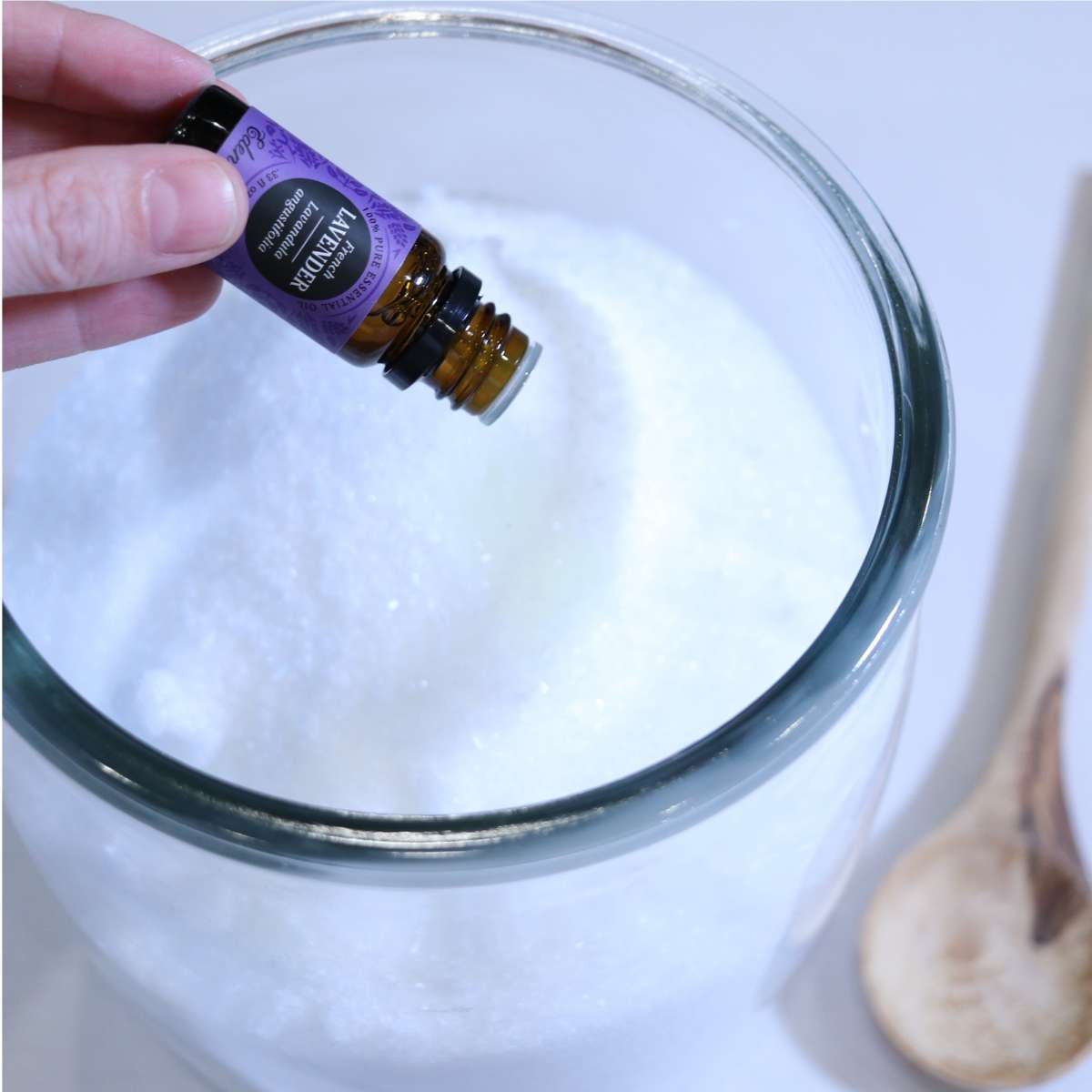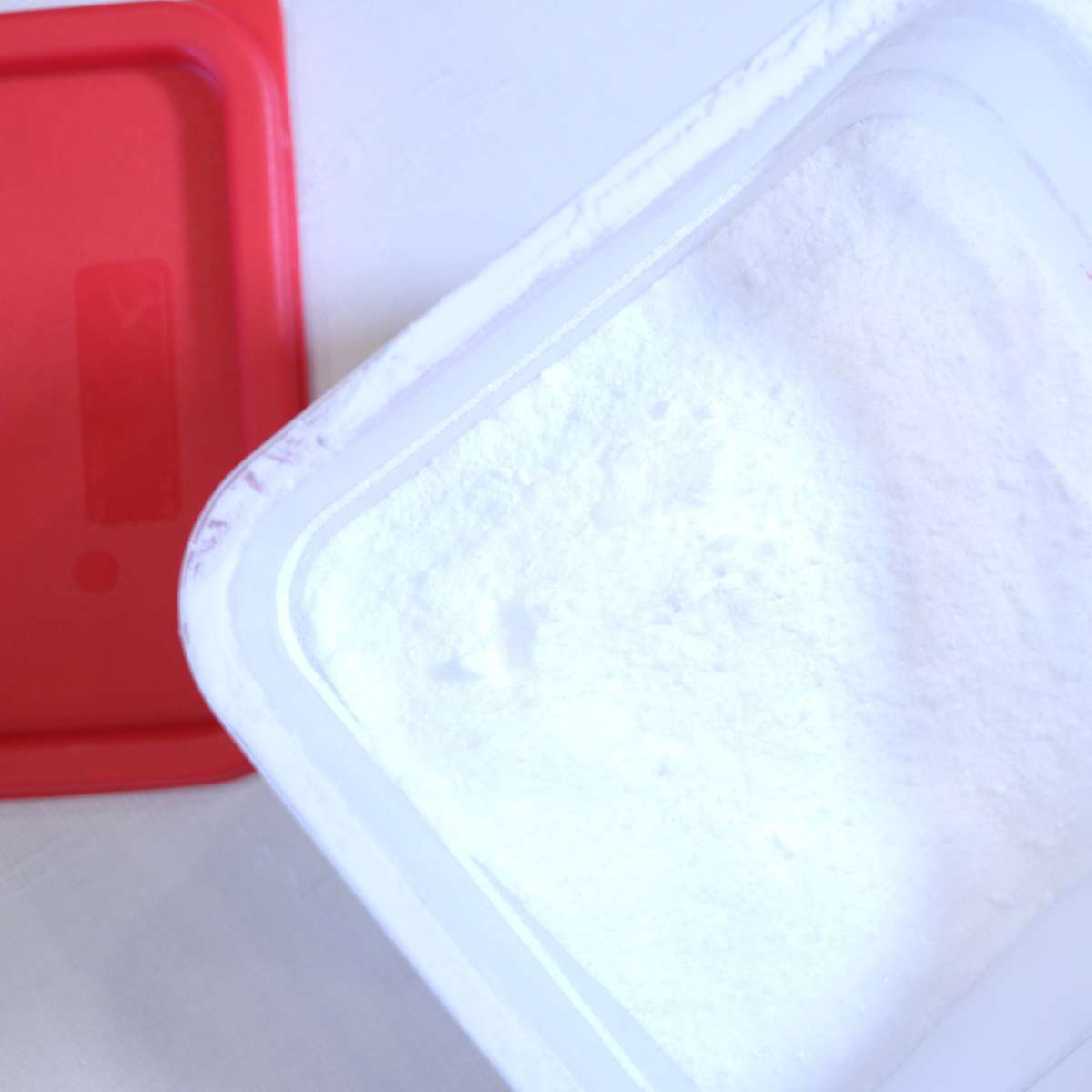 Tips for combining ingredients easily
Add all ingredients to a large container with an airtight lid. Agitate the container until all ingredients are combined. Transfer the homemade scent booster to a glass storage jar with a lid until needed.
Pour all ingredients into a large ziplock bag. Seal the bag and agitate the powder until fully combined. transfer to an airtight storage container.
Mix ingredients directly in the storage jar. Replace the lid until ready to use.
The only downside to mixing the ingredients directly in the storage jar is that if you are making a large batch of laundry scent booster, this can get messy.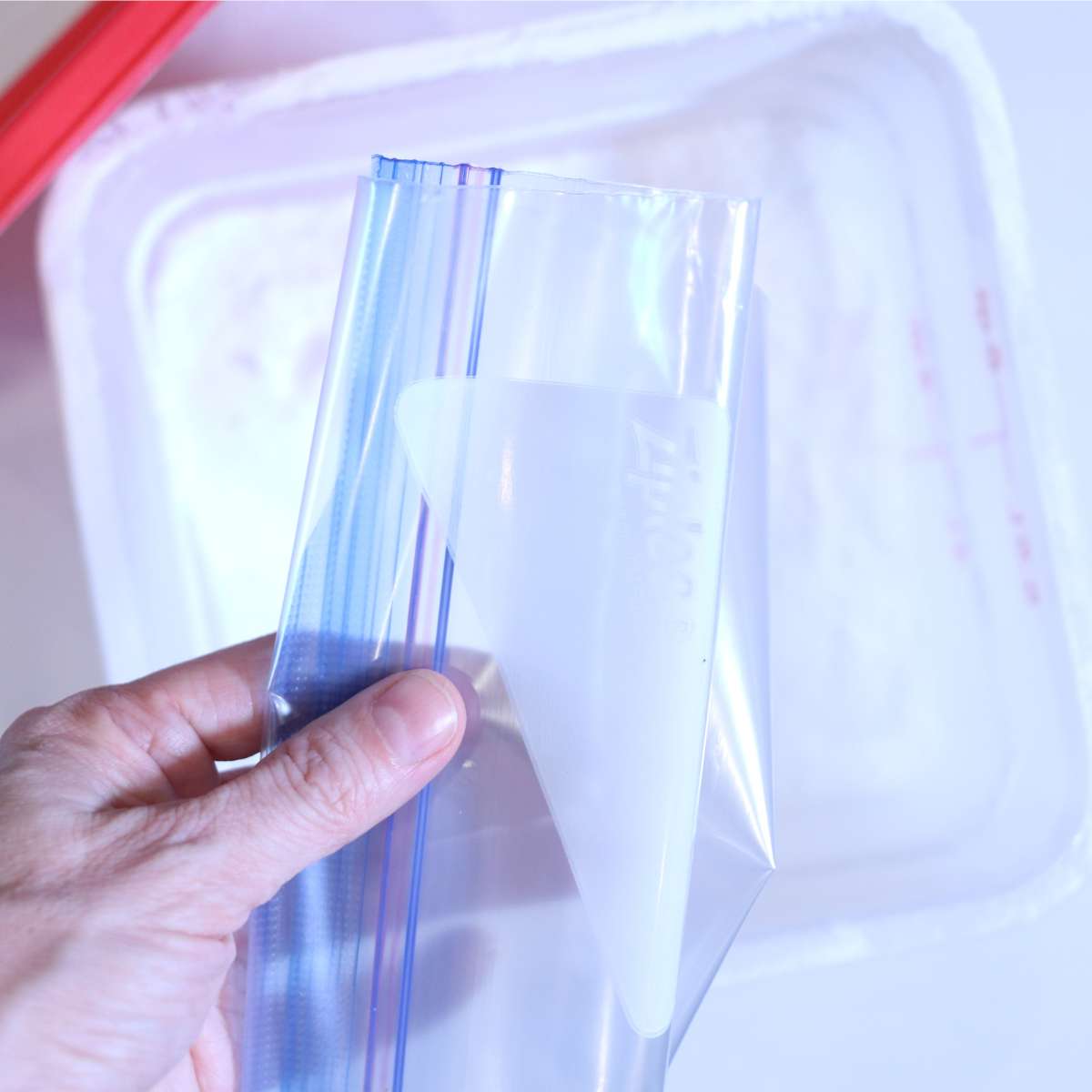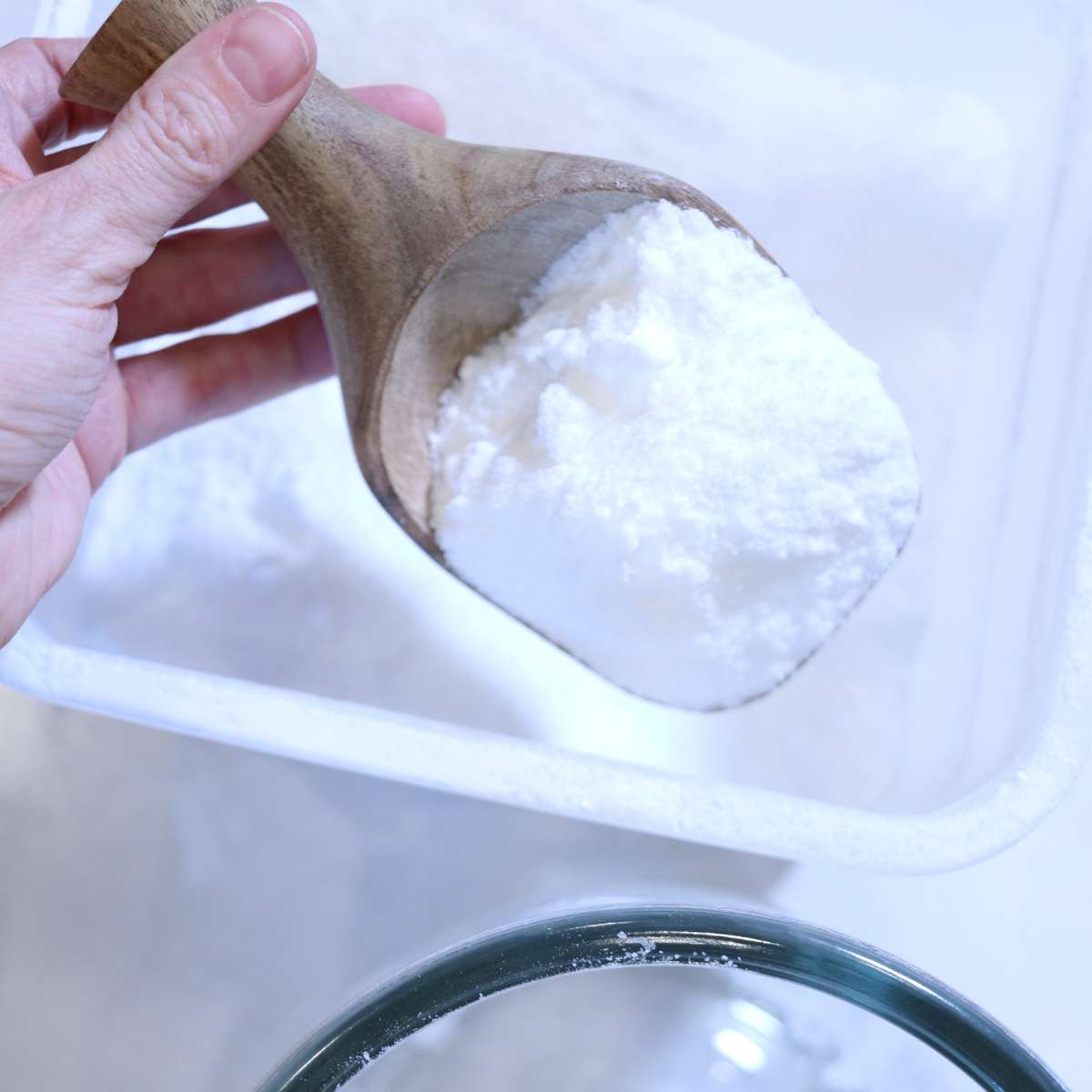 Essential Oils for Homemade Laundry Scent Booster
When choosing essential oils for your DIY laundry scent booster, consider pairing scents that have a clean and fresh aroma, like most store-bought products. Some ideas for essential oils include:
Lavender
Lemon
Eucalyptus
Orange
Peppermint
Essential Oil Blends For All-Natural Scent Booster
Energizing– 15 drops orange with 15 drops lemon essential oil.
Relaxation– 15 drops lavender and 15 drops chamomile essential oil.
Fresh Scent– 10 drops of eucalyptus, 10 drops of tea tree, and 10 drops of lemon essential oil.
These are some of the most popular oils for DIY laundry products but certainly not all of them. Certain brands of essential oils make blends specifically for that fresh laundry smell we all love.
New Beginnings– Set includes 3 essential oil blends Clean Slate (lemon, basil, peppermint, and lime), Fresh Air (spearmint, melissa, sage, jasmine, and lemon), Jumpstart (cinnamon bark, cardamom, sandalwood, jasmine, ylang-ylang, and orange).
Laundry Collection Blends– Included in this set are Petal Fresh (rose and smoky sandalwood), Still Breeze (lavender and jasmine), Citrus Clean (orange and lemongrass).
Unwind Blends– Set includes Seabreeze (peppermint, lemon, lime, lavender, and spearmint), Refresh (balsam, copaiba, geranium, lavender, eucalyptus, and clary sage), and Sunshine (grapefruit, bergamot, cinnamon, peppermint, and rosemary).
The best part of using pre-blended essential oil fragrances is that it takes the guesswork out of it. Just choose a fragrance you like, and add it to your DIY scent booster!
Of course, if you already own a collection of essential oils, feel free to make these blends yourself.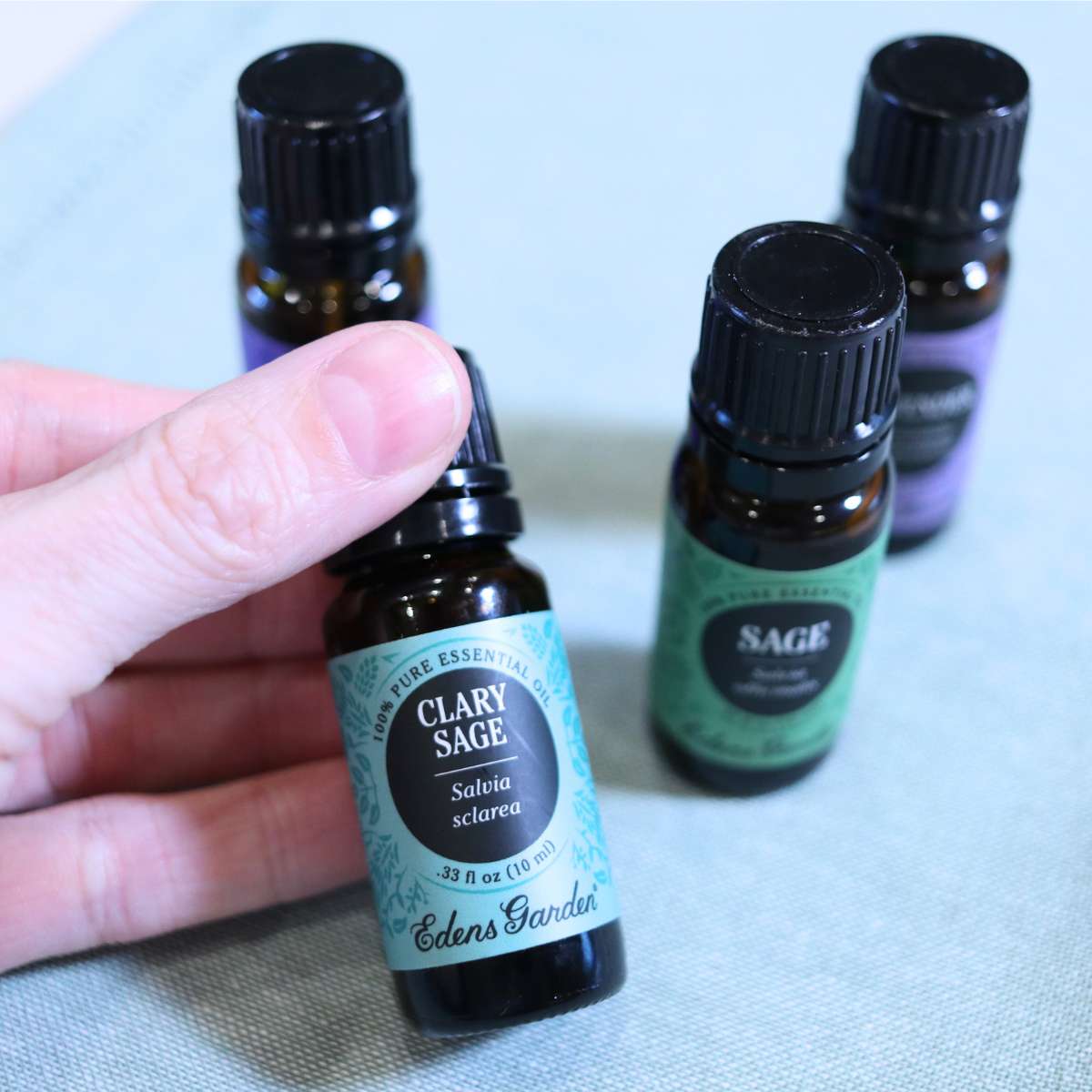 How To Use Laundry Scent Booster
Homemade laundry scent boosters don't need to be used in every load of laundry you wash. Of course, you can if choose but I tend to save it for the really smelly loads that need a bit of extra cleaning (workout clothes, gardening, or chicken-keeping clothing) to name a few.
But if you have a really active family, this recipe is safe and effective enough to use in every load. How often you use it is up to you.
Note: I always encourage people when trying new recipes, to first test on a small, inconspicuous area of your laundry before using it on a full load to ensure there are no adverse reactions or staining. Especially if you are using a store-bought laundry detergent with your DIY products.
If you are looking to switch to a natural homemade laundry detergent, I have a recipe for that as well. This is also budget-friendly, eco-friendly, and easy to make in large batches.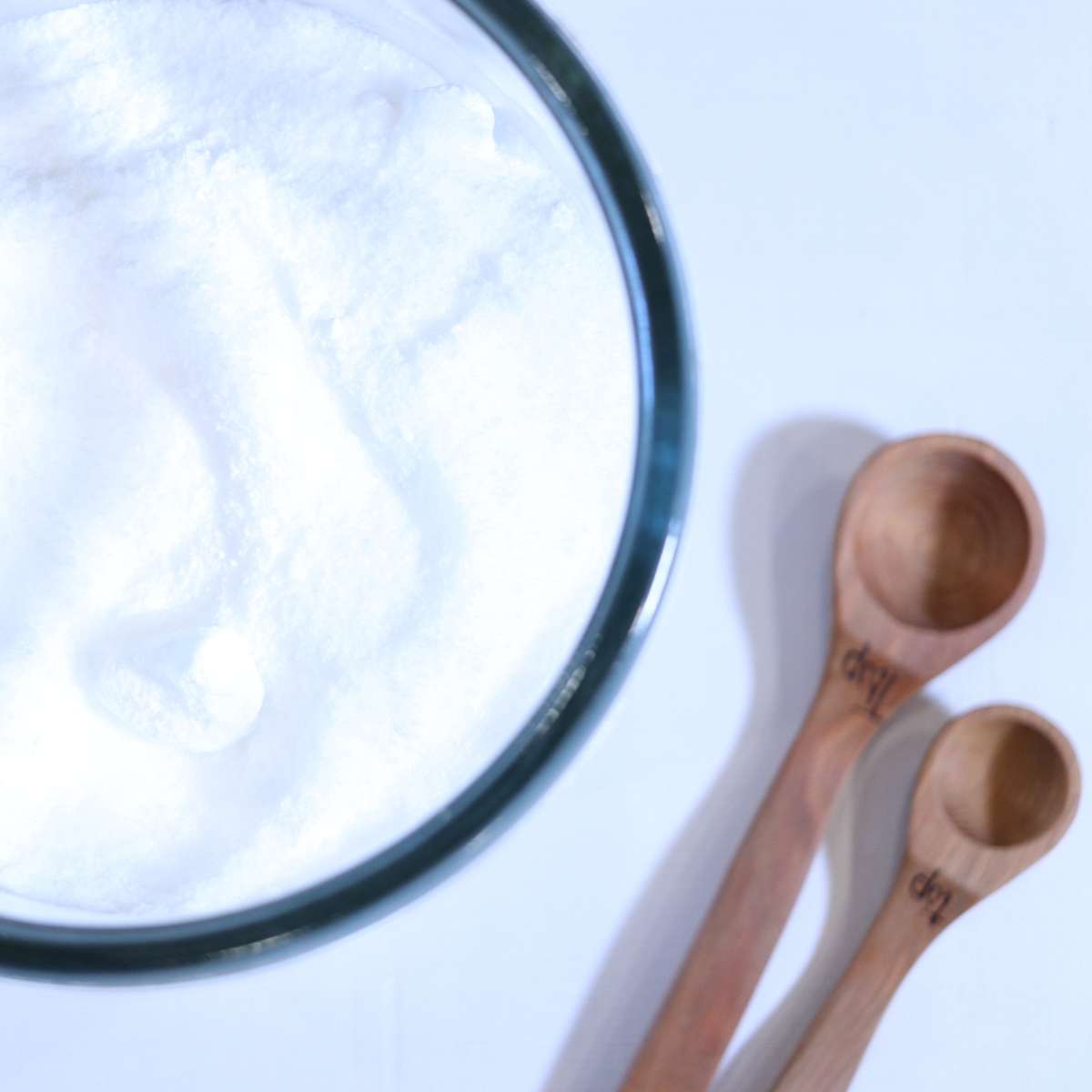 More DIY Scent Booster Recipes
Here are some other easy-to-follow DIY laundry scent booster recipes using natural ingredients. These are great to use if you don't have all the ingredients on hand.
Baking Soda-Based Recipe
Ingredients for Baking-Soda Scent Booster
How to make Baking Soda Laundry Scent Booster
In a bowl, mix the baking soda and essential oil drops thoroughly.
Allow the mixture to sit uncovered for a few hours to absorb the oil.
Transfer the scent booster to an airtight container.
To use this booster, add 1-2 tablespoons to your washing machine before starting the laundry cycle.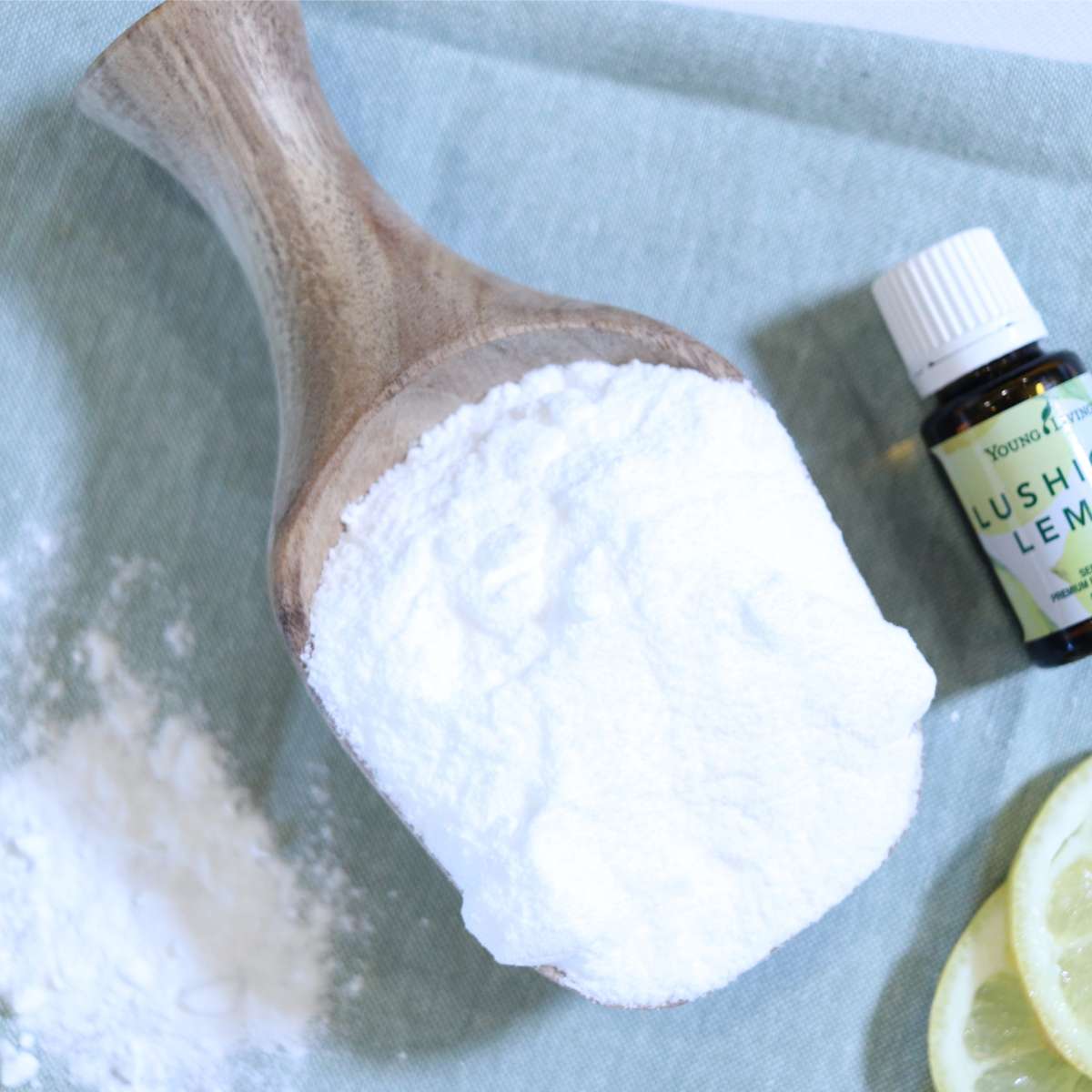 Epsom Salt-Based Recipe
Ingredients for Epsom Salt Laundry Scent Booster
How to make Epsom Salt Laundry Scent Booster
Measure out the Epsom salt into a bowl.
Add the essential oil drops and stir to combine.
Let the mixture air dry for a bit before transferring it to an airtight container.
Add 1 tablespoon of the laundry scent booster directly to your washer and wash as usual. This recipe adds a subtle, clean scent to your laundry and works well with sheets and towels.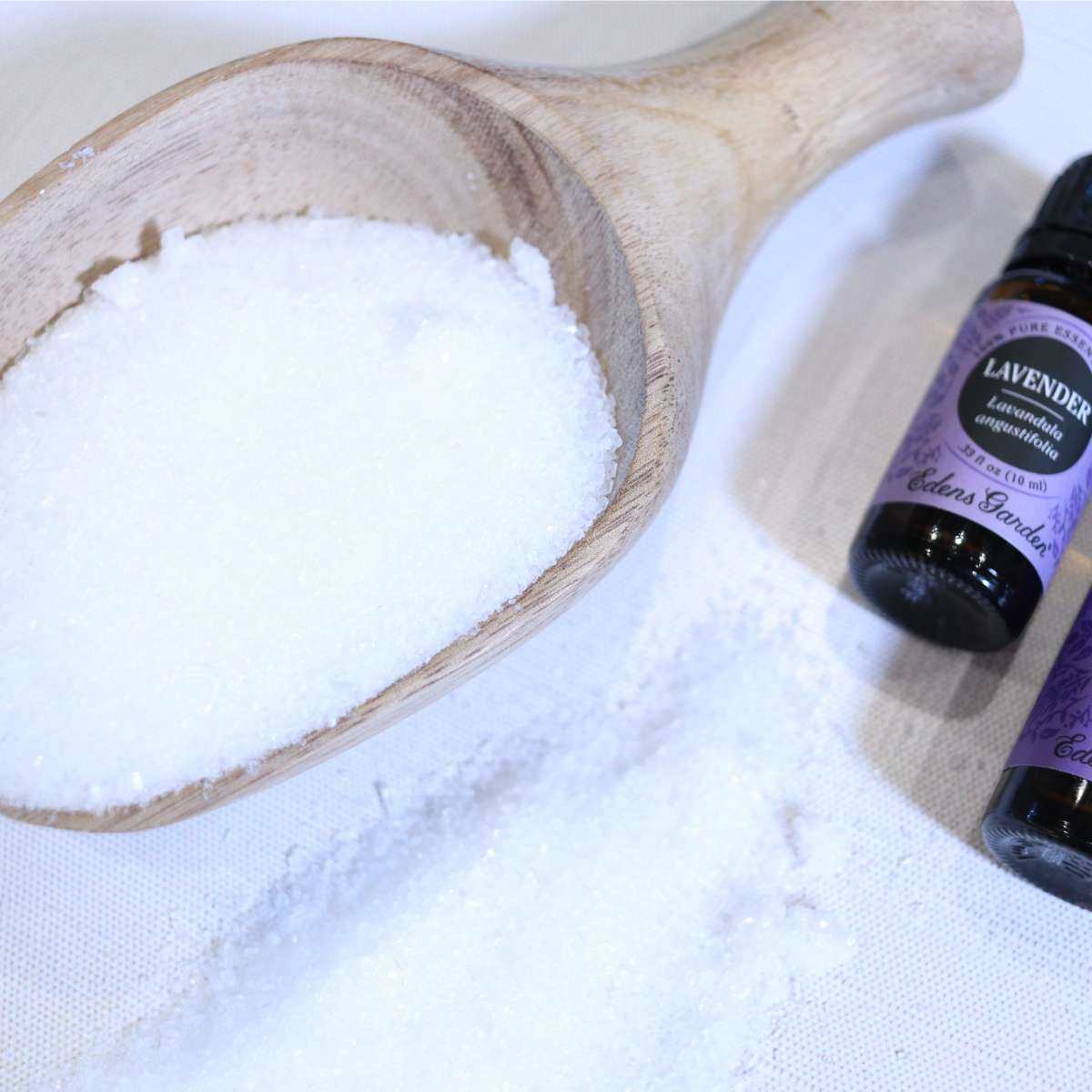 Tips
Save money
To make this homemade laundry scent booster even cheaper, consider buying the ingredients at a big box store in bulk. You can often get a much better price for almost double or triple the amount of product, saving you even more!
Save time
Save even more time when making your own cleaning products by making large batches so you don't have to make them as frequently. This can be especially helpful for large families. Store in 5-gallon buckets with easy twist-off lids. Refill smaller jars in your laundry room from your bulk bucket as needed.
Shop
Ingredients
Supplies
More DIY Laundry Recipes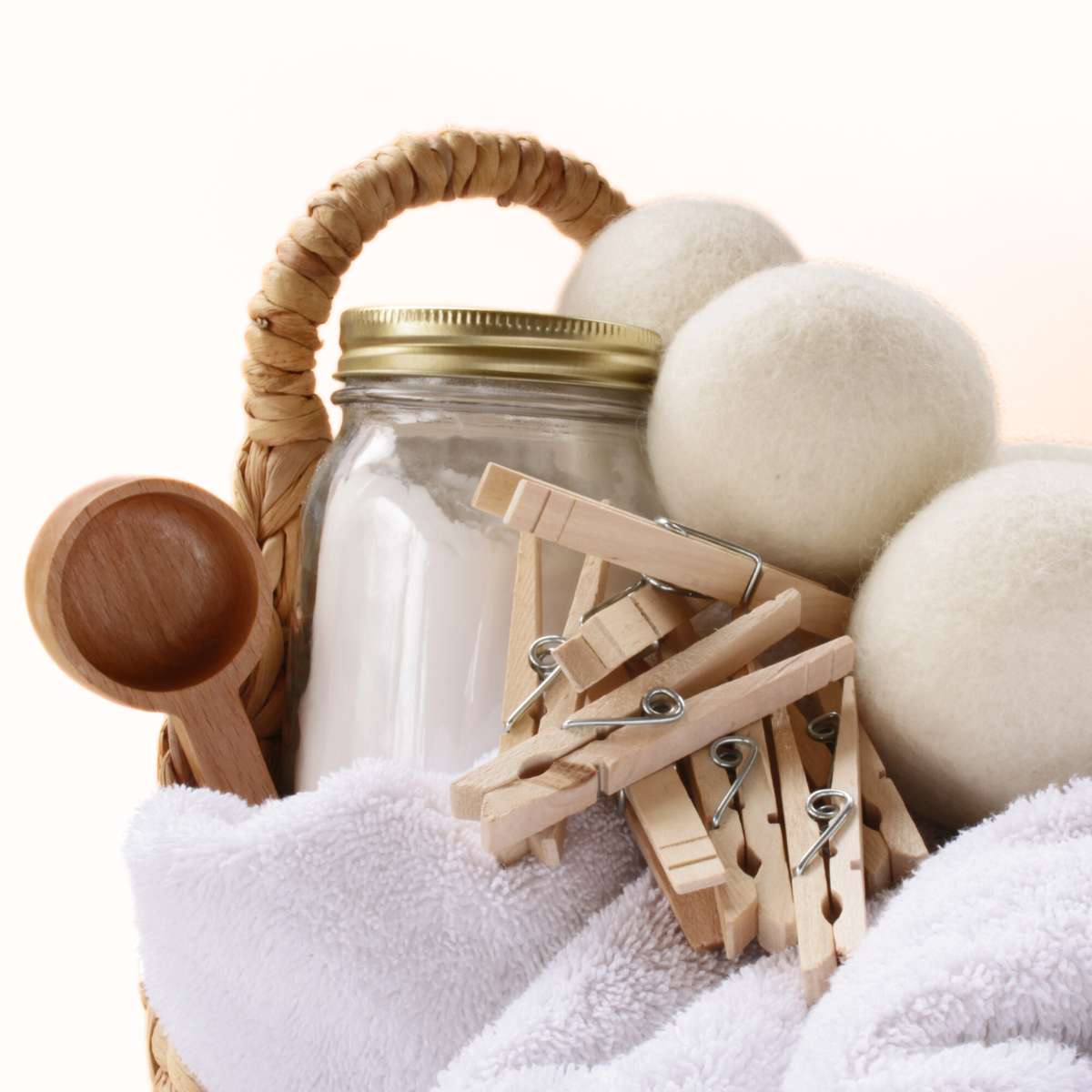 Homemade Laundry Detergent
DIY non-toxic laundry detergent recipe.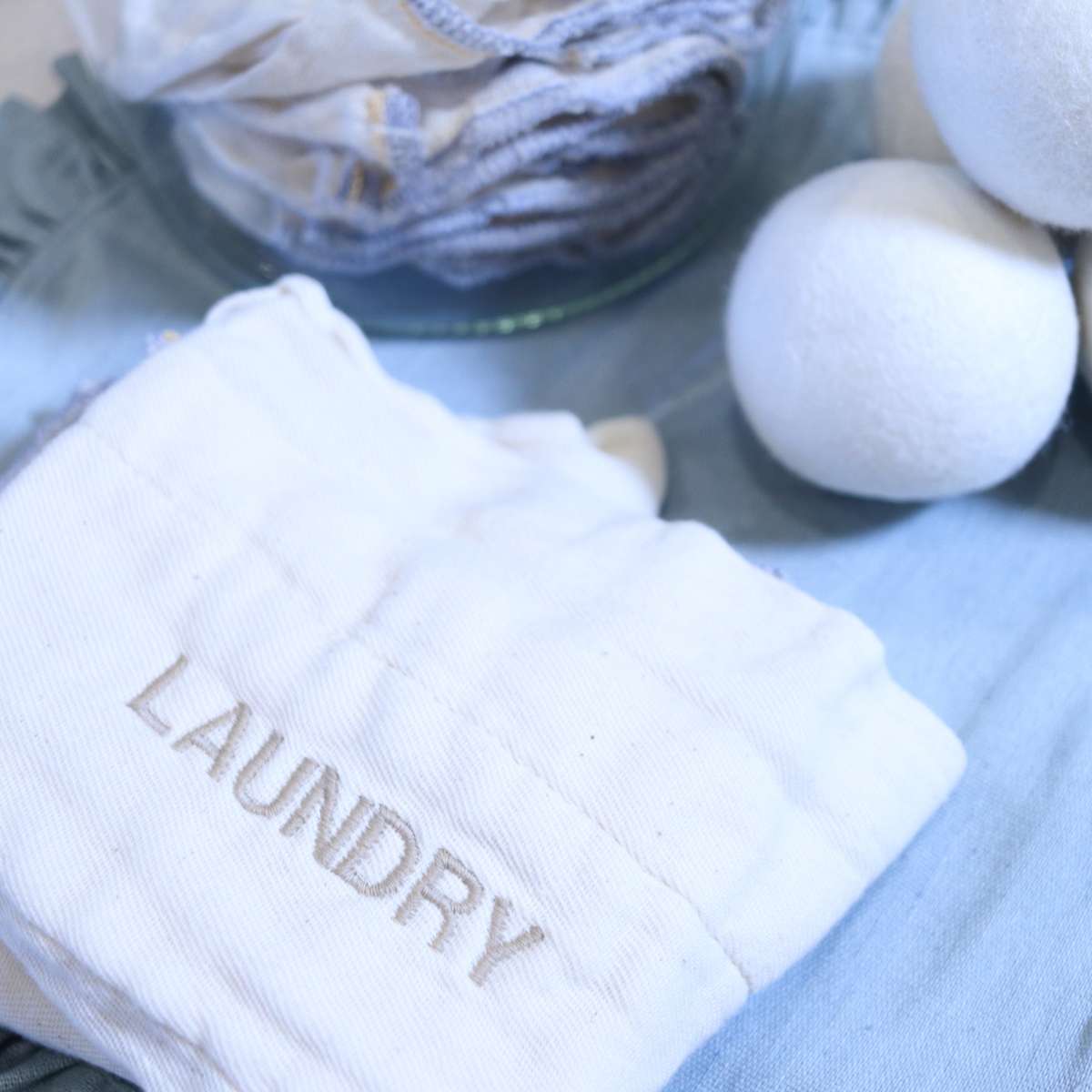 DIY All-Natural Dryer Sheets
Learn how to make your own eco-friendly all-natural dryer sheets. Save money and ditch the toxic ingredients in store-bought dryer sheets for good.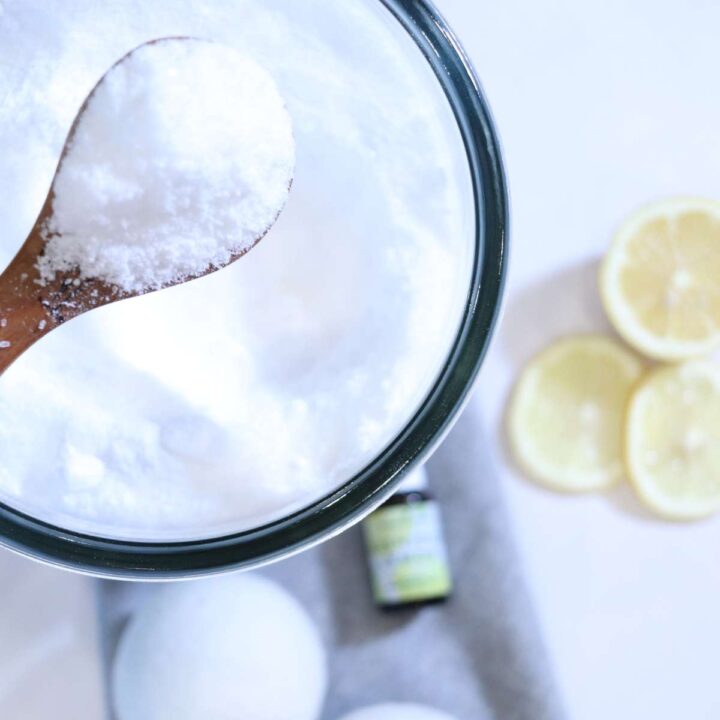 DIY Laundry Scent Booster
All-natural DIY laundry scent booster is made with simple household ingredients and essential oils to add a fresh clean smell to your laundry routine the natural way.
Materials
2 cups of Epsom salts
1/2 cup Baking soda
20-30 drops Essential oil or oil blends (optional)
Tools
Storage jar with lid
Mixing spoon
Measuring cup
Instructions
Add epsom salt, baking soda and essential oil to storage jar.
Mix ingredients until combined.
Replace lid and store until ready for use.
Notes
Add 1 Tablespoon to washing machine for regular size load of laundry.
Use 2 Tablespoons for larger or more saturated clothing.
See variations section of post for more DIY laundry scent booster ideas!
The cost of this recipe will vary depending on the brand of the ingredients you use. I encourage you to use whatever fits your budget best. Buying in bulk will save you even more!