DIY Toilet Bowl Cleaner Tablets
It's so easy to clean your toilet the natural way using these DIY toilet bowl cleaner tablets. They work better than any store-bought cleaners and are non-toxic. Best of all, they get your toilets sparkling clean with minimal effort!
Who knew when I posted this how-to over two years ago on Pinterest that it would get thousands of saves! More and more people are looking to ditch the toxins and switch to more natural, safe cleaning products and I'm all about it.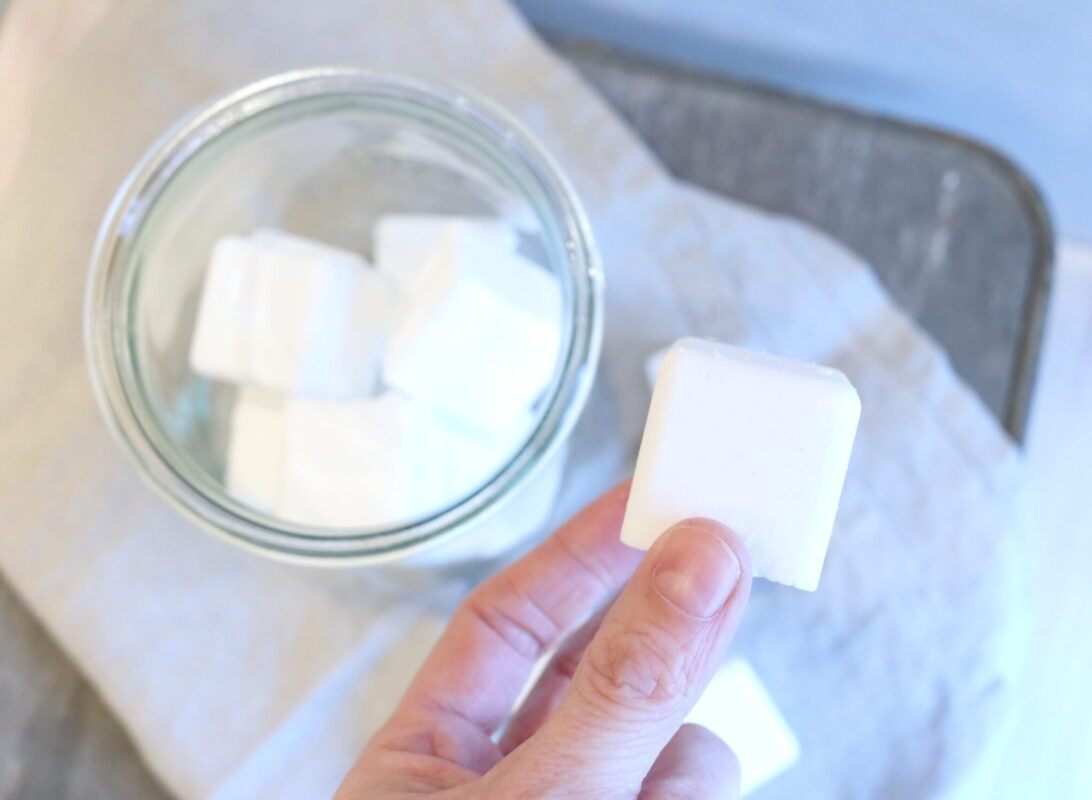 Some of these links are affiliate links. You can read my full disclosure HERE.
Why Swap Out Store-Bought Toilet Bowl Cleaner With A DIY Cleaning Tablet?
Most commercial cleaners on the market are full of toxic chemicals like bleach. Making my own cleaning products gives me comfort and peace of mind knowing that I don't have to worry about exposure to these chemicals for my children.
Like many things, a DIY household cleaner is far more affordable than anything store-bought.
So many DIY cleaning products utilize the same ingredients too. So if you can buy the ingredients you need in bulk, you'll save even more!
Ingredients
Ingredients you'll need for this recipe
Baking Soda has a deodorizing effect and is mildly abrasive. This is why it is used for so many household cleaning products.
Citric Acid is an all-natural ingredient. It is similar to vinegar when used for cleaning. It is an acid so it works well against mildew, mold, and other spores.
White Distilled Vinegar works really well for hard water stains that can sometimes happen in toilet bowls and sinks. It is one of my favorite cleaning agents to use in our home. I know some people don't like to use vinegar because of the smell, however, the smell fades very quickly.
Essential Oil (optional) is an optional ingredient when making these homemade toilet cleaner tablets. It adds a nice lingering fragrance to your toilet bowl. The best thing about using essential oils is that you can use any oil (or a blend of oils) that appeals to you. I change up the scent of the oil I use depending on the season.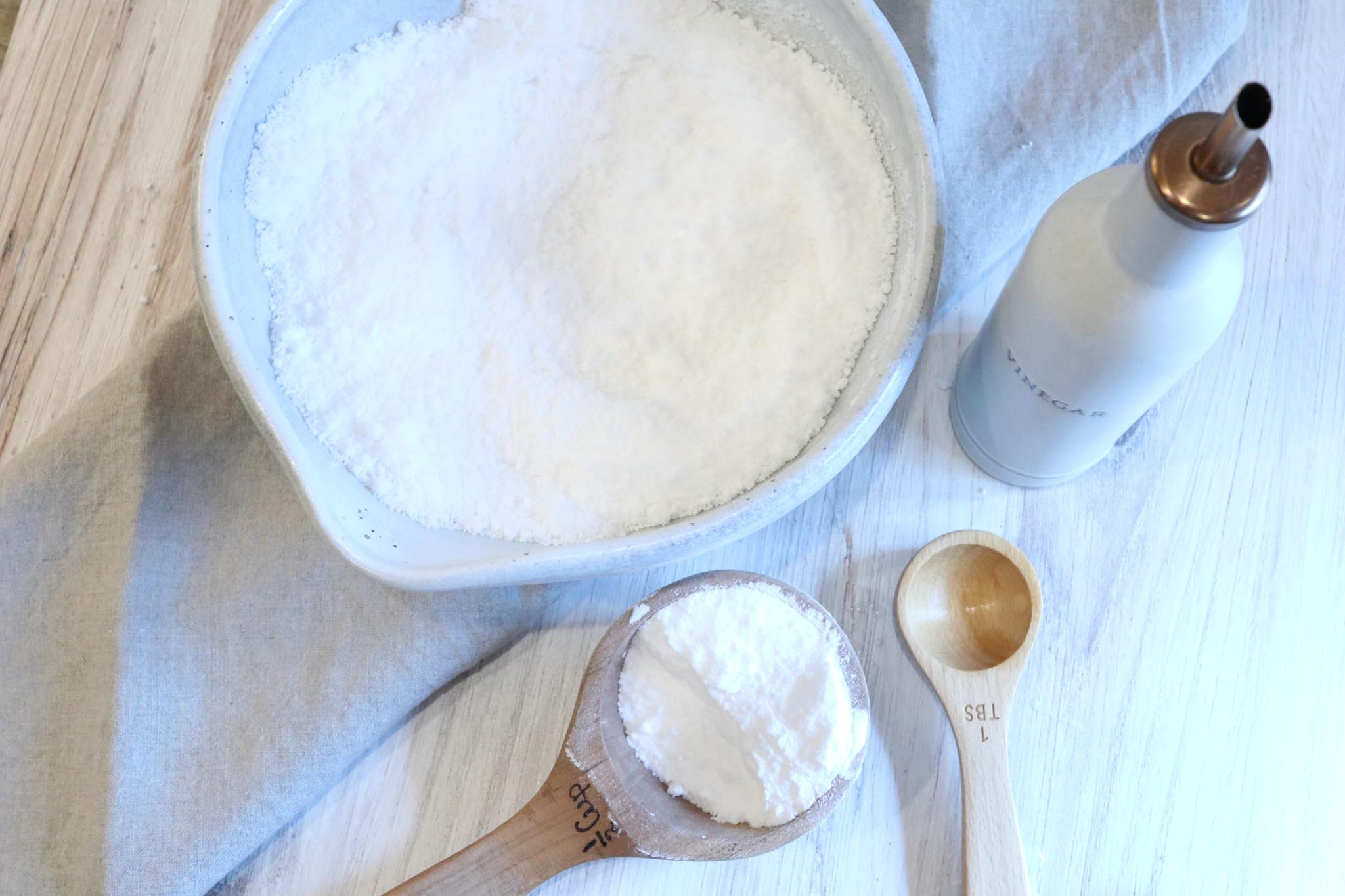 Supplies
Supplies you'll need for this recipe
See the shop section at the bottom of this post or the resources page for more ideas.
Alternative: If you don't have regular ice cube trays or silicone ice cube trays, you still have options. Try using an ice cream scoop or a mini muffin pan. No extra steps are needed to use either of these options. Complete the steps as indicated.
Do They Work?
Using a homemade toilet cleaning bomb is a really great natural way to refresh your toilet bowl. Just drop in one (or two) of these DIY toilet bombs into your bowl and let it do it's magic. After the tablet had fully dissolved, use your toilet brush to help scrub away any lingering stains before flushing.
These DIY toilet cleaner bombs not only clean your toilets well, but they also smell so good. What a great way to naturally refresh the air in your bathroom.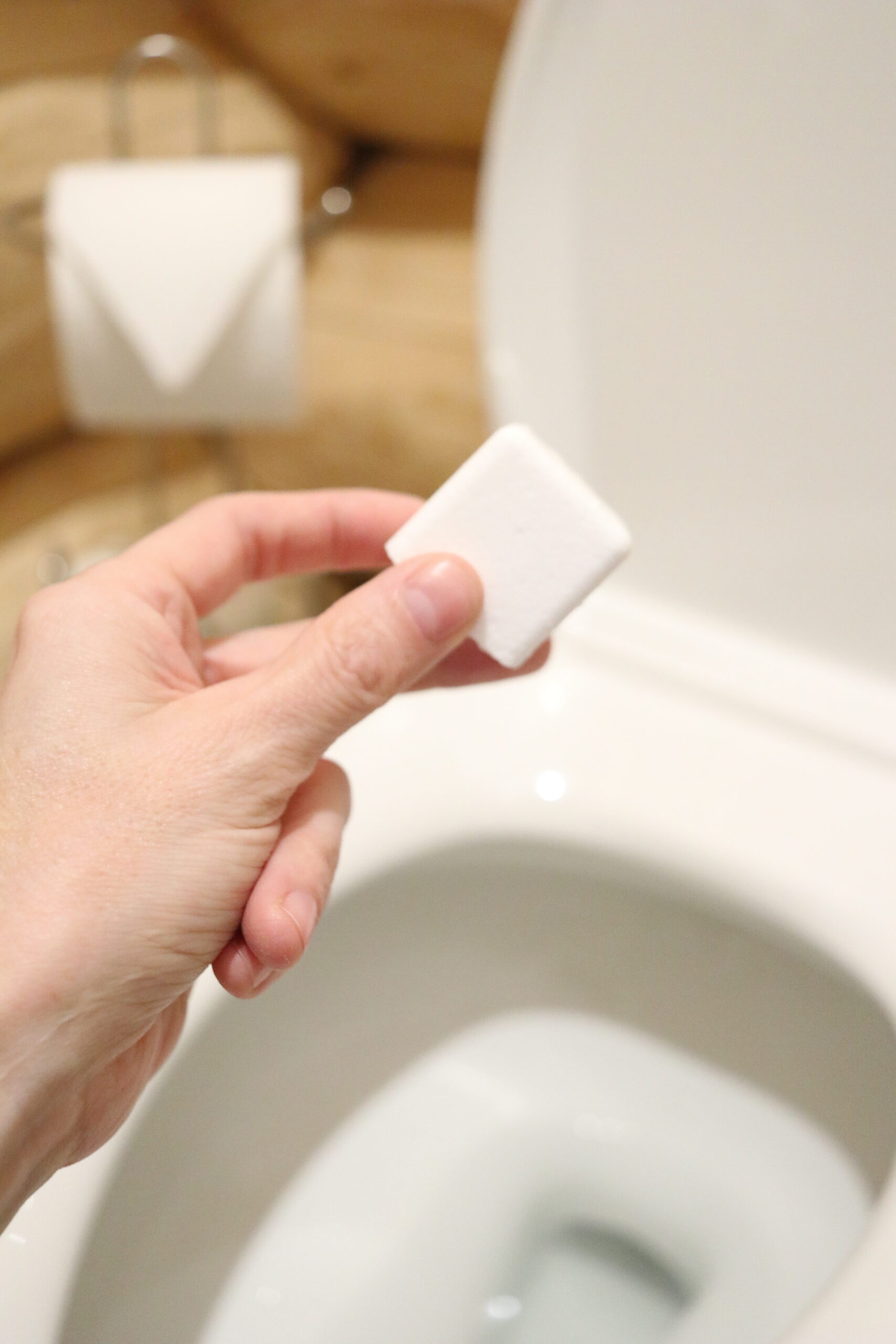 How To Make DIY Toilet Bowl Cleaner Tablets
Step One– Begin by mixing your baking soda and citric acid together in a bowl.
Step Two– Slowly add your white distilled vinegar into the bowl 1 teaspoon at a time. Incorporating well after each one. This step can be a little time-consuming, but if you want to make sure your toilet bombs fizz when you drop them into the toilet bowl, you need to add the vinegar slowly to your baking soda and citric acid mixture. You can use a whisk, or your hands for this step.
Step Three– After you have added all your vinegar, add in your choice of essential oil. This step is optional but will make your bathroom smell so fresh and clean.
Step Four– Scoop the mixture into your ice cube tray. Pack each cube firmly. How many toilet bombs you get from each batch will vary depending on the size of the ice cube tray you are using for this DIY.
Step Five– Allow the tray to sit and cure for a couple of hours. You'll know that they are ready to remove them when they feel completely hard to the touch.
Step 6– Remove DIY toilet cleaning bombs from the silicone molds and store them in an airtight container until you're ready to use.
Find the measurements and full printable recipe below!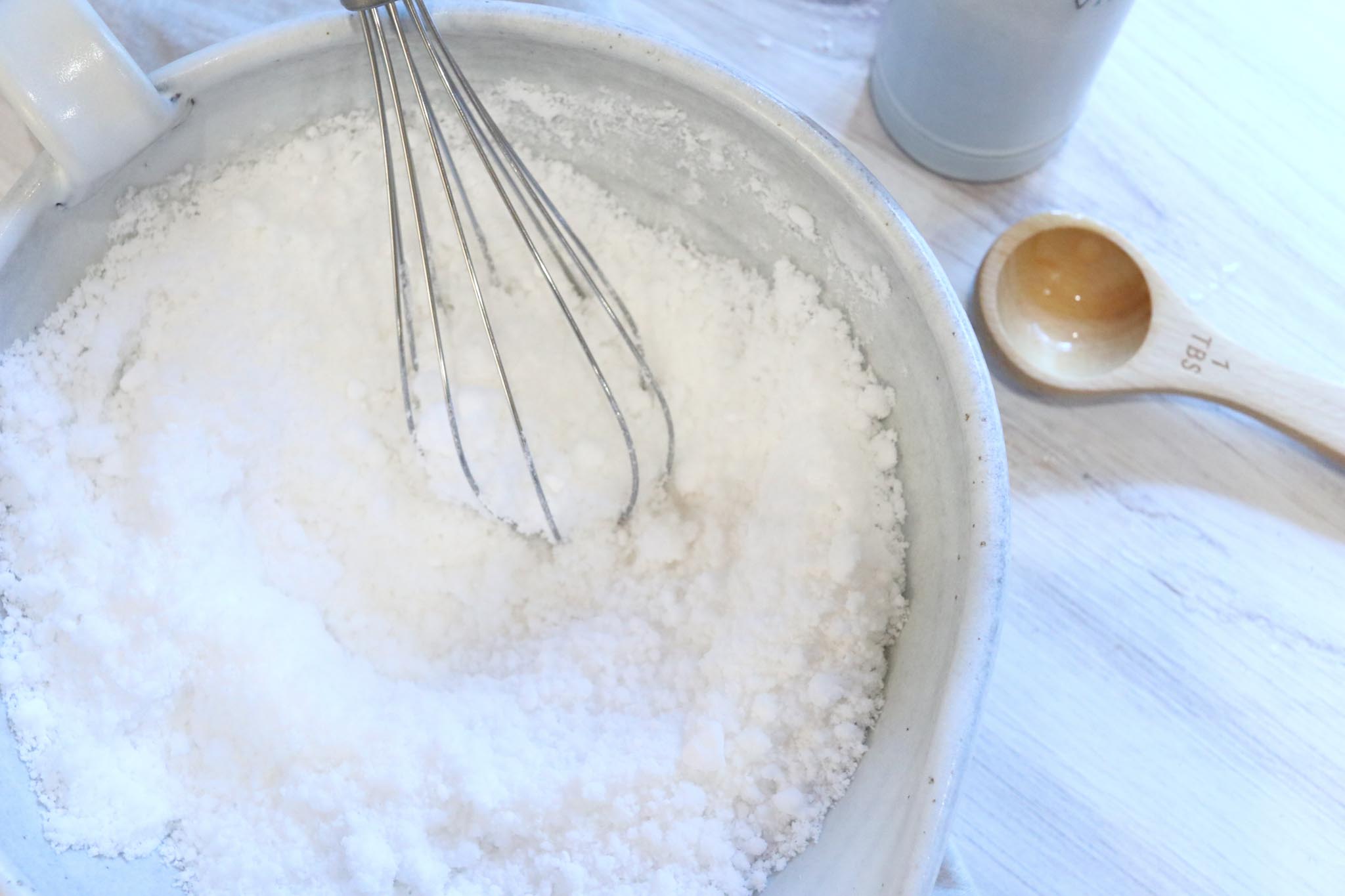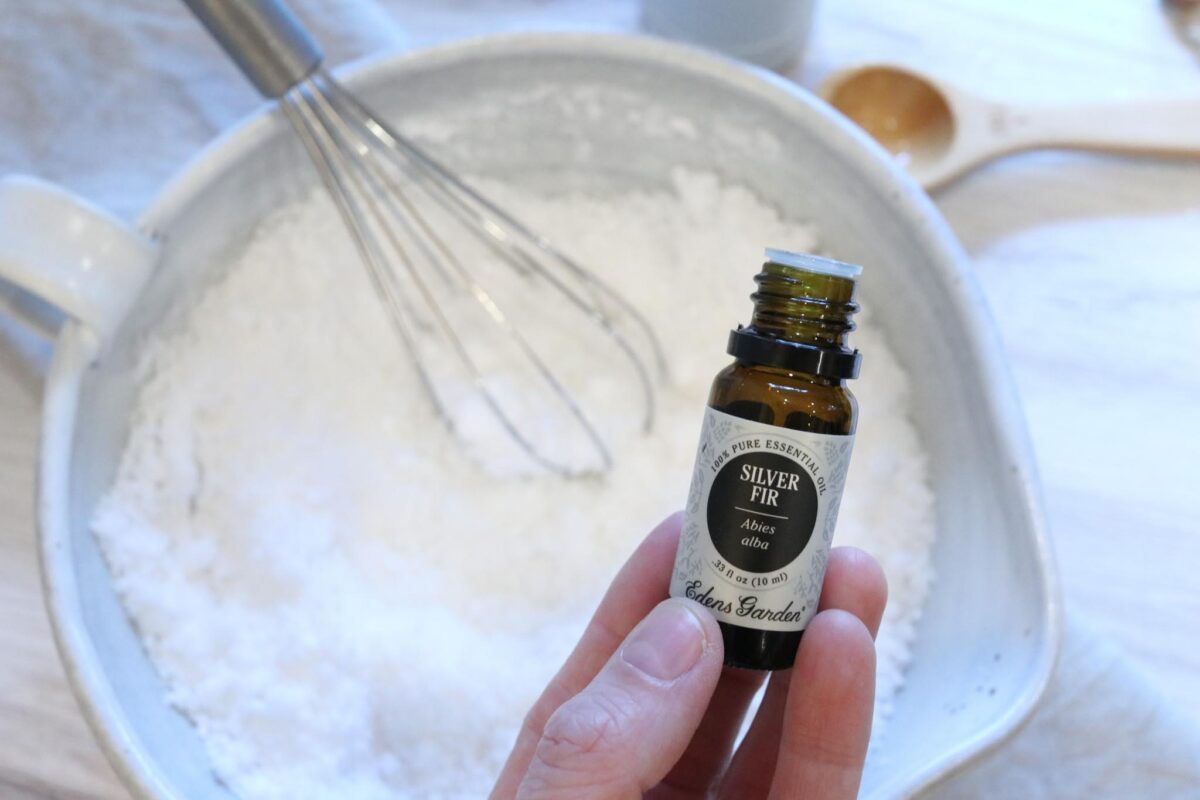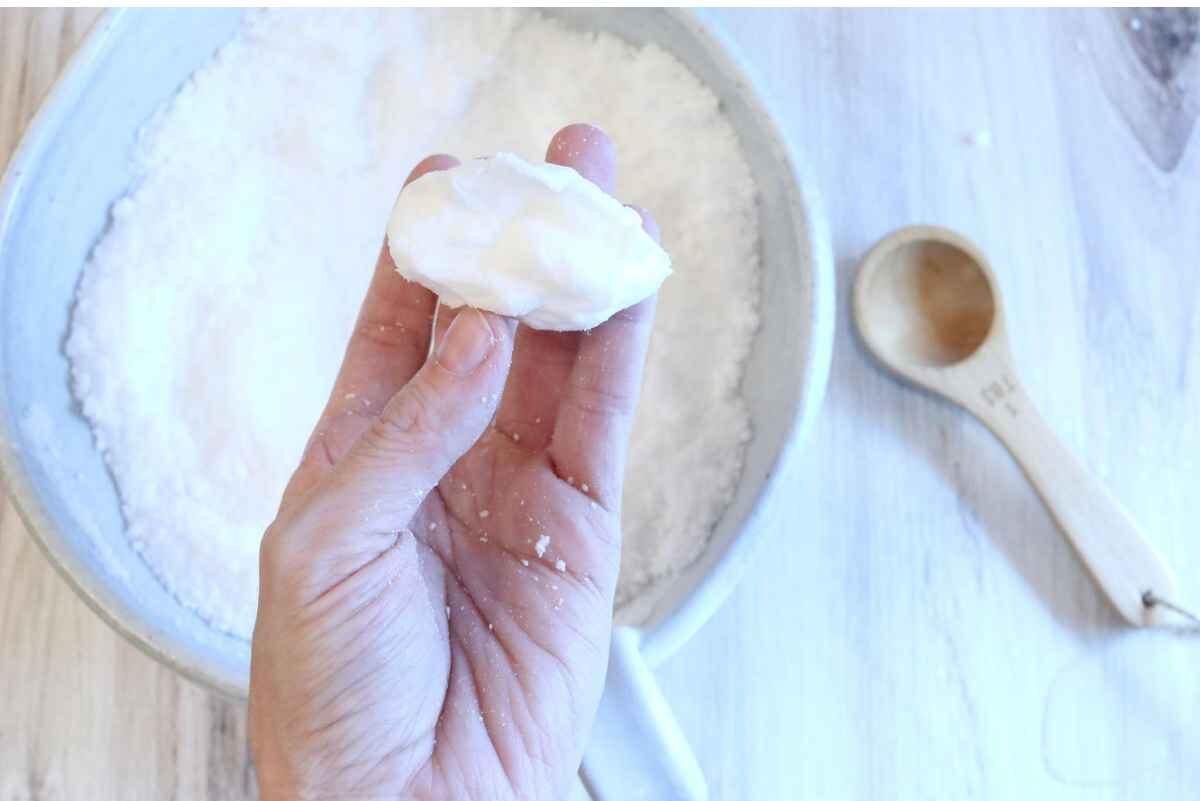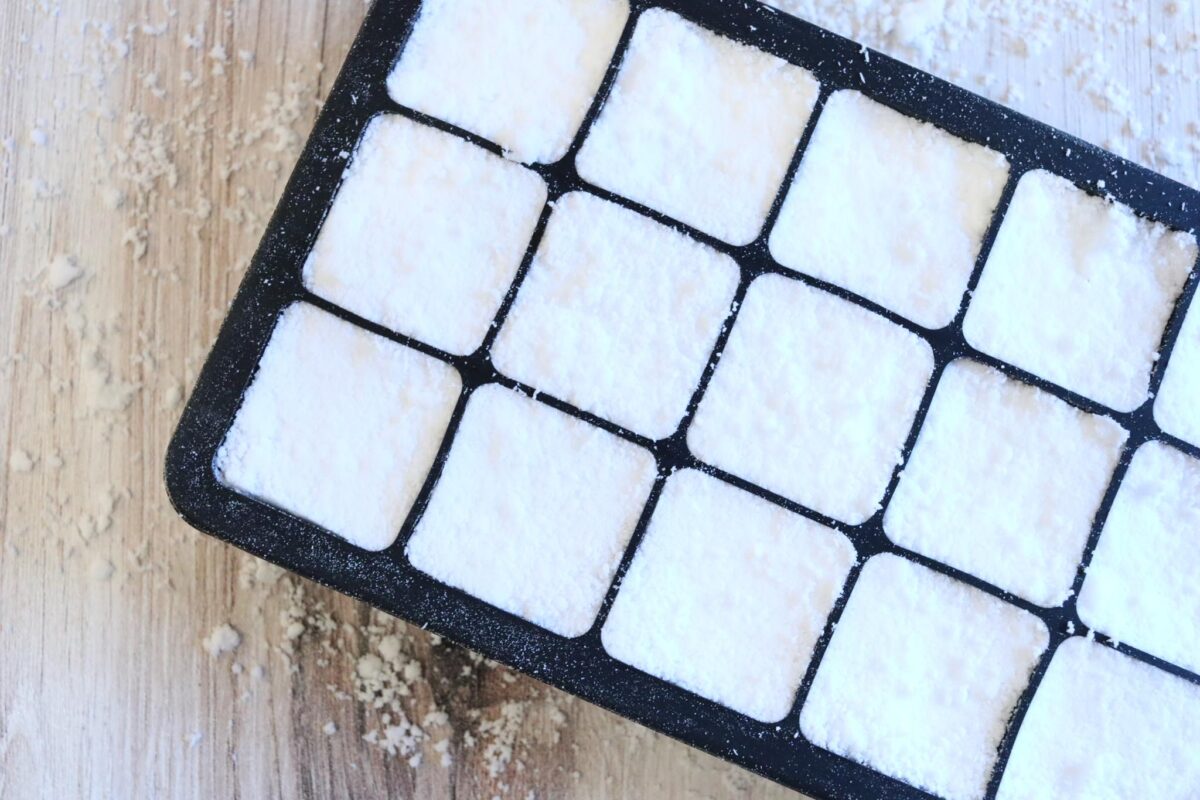 Helpful Tips When Making DIY Toilet Bowl Cleaner Tablets
Be sure and add your vinegar to the baking soda and citric acid mixture slowly. This will ensure that your toilet cleaning bombs fizz when you drop them into your toilet tank.
Drop one into your toilet tank just before having guests over to be sure your bathrooms smell nice and fresh.
If you have more than one bathroom in your home, store a small jar of these cleaning tablets in each bathroom for easy use.
Make a couple of batches of these homemade toilet-cleaning tablets at a time. This will make it so you aren't having to make them as frequently if you live in a larger house with multiple bathrooms.
If you are having trouble removing your tablets from the silicone molds, place them in the freezer for an hour or so. I found this to be so helpful.
Want your DIY toilet bowl cleaner tablets to dry out faster? Pop them in the freezer for this step too. One hour in the freezer and you should be good to go.
How To Use
Drop one or two tablets into the toilet bowl. Let the tablet dissolve completely.
Take a toilet brush and give it a quick swish around the tank.
Let sit for 20 to 30 minutes if you have a lot of hard water stains, or you can flush them immediately.
How To Store
Store your homemade DIY toilet bowl cleaner tablets in an airtight container under the sink or right on top of your toilet tank. Storing them in an airtight container will ensure the essential oil smell stays the strongest.
Hard Water Stains
Hard water stains can be more difficult to remove. These homemade toilet cleaning tablets work well for regular cleaning and upkeep but will not fully remove hard water build-up stains.
Variations
I love to change up the scents of these toilet bombs for the different seasons. Lemon is always a favorite, but sometimes I want something a little different depending on the weather.
Thieves cleaner is one of my favorite cleaners to use in our home. With smells of citrus clove and cinnamon, I really enjoy making toilet cleaning bombs that smell like Thieves during the cold winter months.
Some of my other favorite scents include:
Lemon
Peppermint
Tree Oils- fir balsam, silver fir, pine, and cedar wood.
Immunity and Zen (REVIVE brand essential oils)
Out in the Woods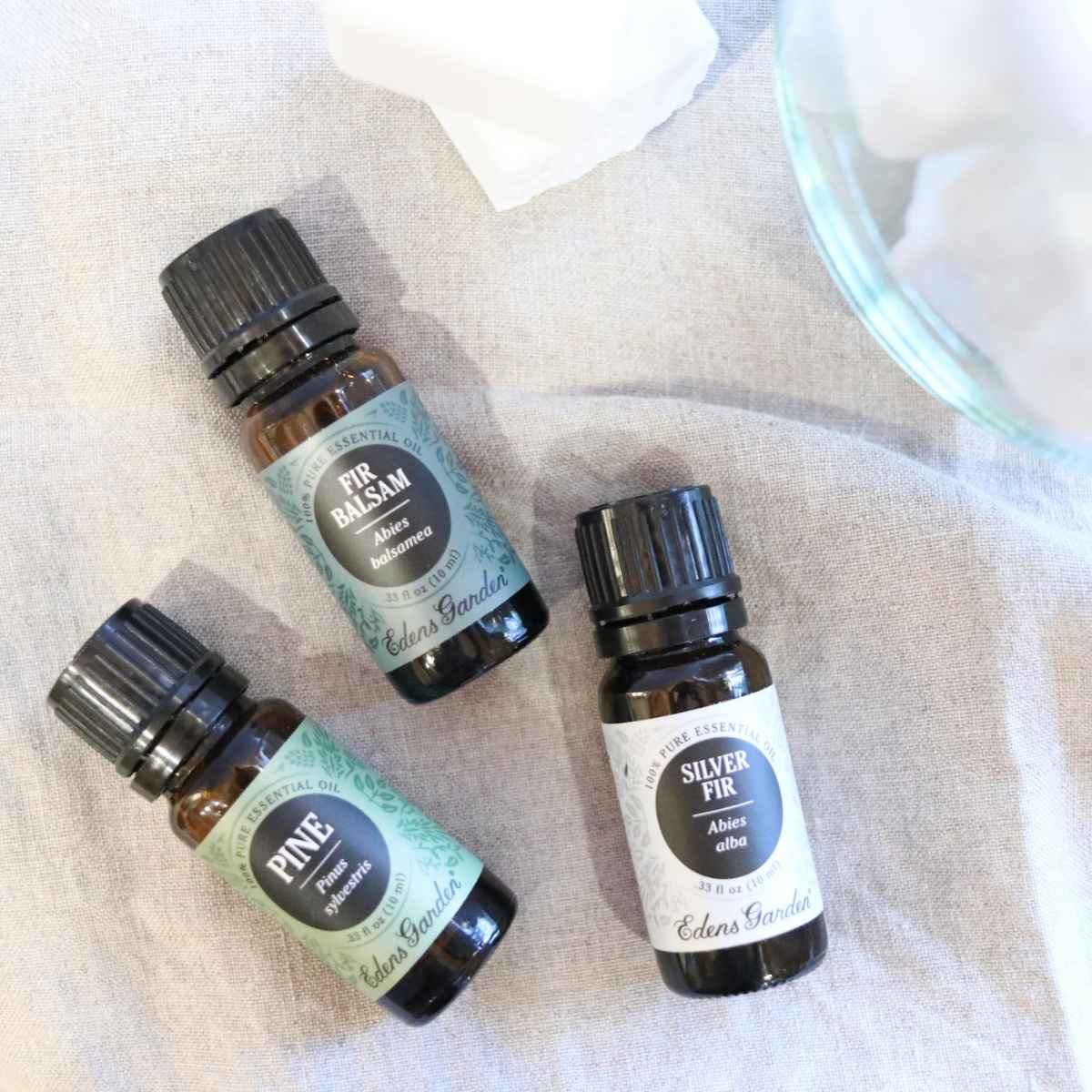 More DIY Cleaning Products
If you enjoy making your own cleaning products as much as I do, you might be interested in making your own DIY Laundry Detergent as well. It's the only detergent we have used in our home for years. Safe, effective, and also toxin-free! Works with HE and regular washing machines too.
Homemade Laundry Scent Booster
Easy Non-Toxic Fabric Softener Sheets
All these DIY cleaning products come with printable how-to cards so you can save them for later.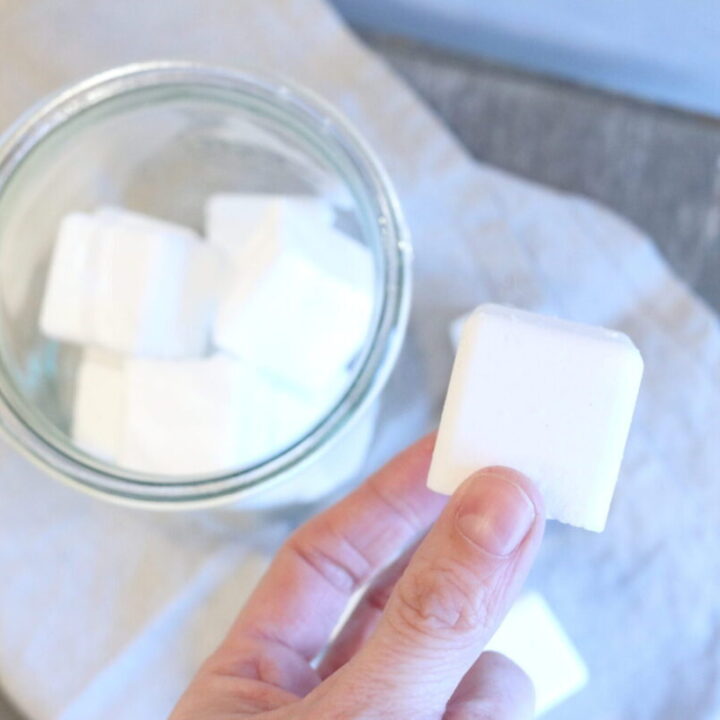 DIY Toilet Bowl Cleaner Tablets
Yield:
Will vary depending on mold size used. Roughly 12- 15 tablets.
Total Time:
3 hours
15 minutes
Clean your toilet the natural way with these DIY toilet bowl cleaner tablets. Simple, effective and made with non-toxic ingredients.
Materials
2 cups Baking soda
1/2 cup Citric acid
1-2 Tablespoons White distilled vinegar
30-40 drops of Essential Oils (optional)
Tools
Bowl
Whisk
Silicone mold or ice cube tray(s)
Instructions
Mix baking soda and citric acid in a bowl.
Slowly add vinegar to baking soda and citric acid 1 Tablepspoon at a time. Dumping all the vinegar to the bowl at once will cause the mixture to foam and will conseqently not have the same reation when dropped into the toilet later when you want to clean. Go slow! This step is important.
Add just enough vinegar to the mixture so it will clump and stay together in your hand.
Add desired scent or combination of essential oil scents to the mix and stir together until full incorporated.
Place toilet bowl cleaner mixture into a silicone ice cube mold. Press mixture down into each space so that it is compact. Fresh hard! Keep filling each cell of the ice cube tray until it has reached the top. Again, continue to pack down as you add more mixture.
After you have filled as many trays as you can, set aside and allow mixture to harden in the trays. You can speed up this process by placing them in the fridge until formed.
Remove DIY toilet cleaner tablets from tray and place into an airtight jar with lid until ready to use.
Notes
Make a large batch and store some in all your bathrooms for easy use.
Pop one into the toilet bowl for a quick refresh when having guests.
Great for college students moving into a dorm.
Store in your camper for a quick tiny toilet refresh when needed.
SHOP
INGREDIENTS
STORAGE
TOOLS
I hope you enjoy making these simple homemade toilet-cleaning bombs. Stay tuned for more DIY household cleaning products!
Pinterest