DIY Non-Toxic Dryer Sheets
Making your own DIY non-toxic dryer sheets is easier than you might think. So if you are looking for a more natural, eco-friendly dryer sheet then you've come to the right place. I'm going to show how you can make your own, save some money and ditch the toxic chemicals in store-bought dryer sheets for good.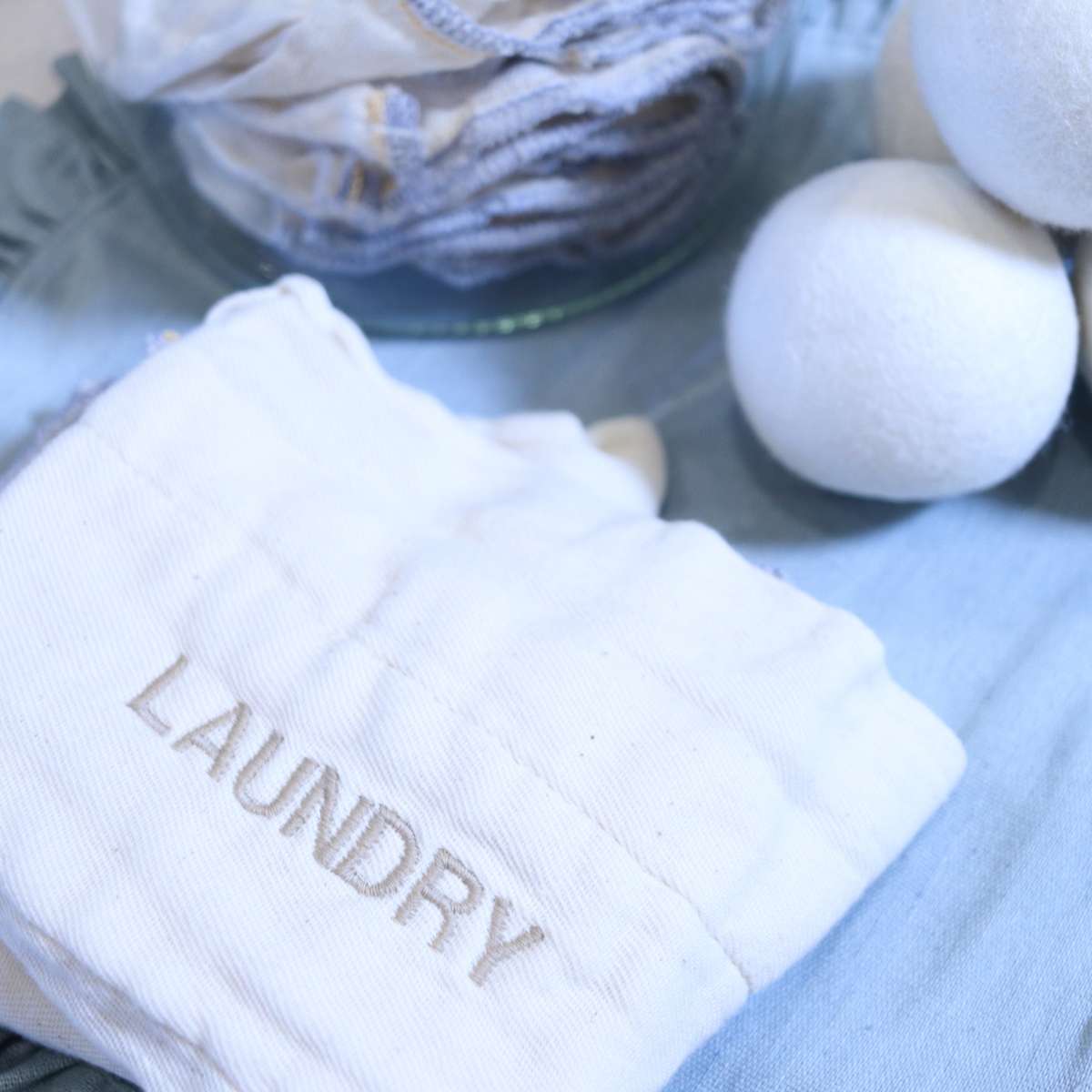 I love the smell of fresh, clean laundry. However, I don't like all the harmful chemicals in store-bought laundry products. I make my own laundry detergent, so it was time to start making homemade dryer sheets too.
Some of these links are affiliate links. You can read my full disclosure HERE.
Why make non-toxic dryer sheets
There are many reasons why people choose to DIY household cleaning products. Here are a few reasons why you might want to consider making homemade dryer sheets too!
Store-bought dryer sheets can vary greatly in price depending on the brand. Making your own can save you over one hundred dollars per year. Obviously, this will vary depending on the size of your family and how many loads of laundry you do in a given week.
Using homemade dryer sheets is so much more eco-friendly. You aren't contributing to the landfill.
There are limited ingredients in most homemade laundry cleaning products. These DIY dryer sheets are no exception. When you know the ingredients in your cleaning products, that's less exposure to harmful chemicals that can cause loads of health problems later on.
Because of the minimal non-toxic ingredients in this recipe, these are safe and gentle enough for baby's laundry too. Having baby-safe dryer sheets is really important so you can avoid exposure to potentially harmful chemicals early on.
If you are like me and tend to have more sensitive skin, these are great options with clean ingredients. No skin irritants or endocrine disrupters.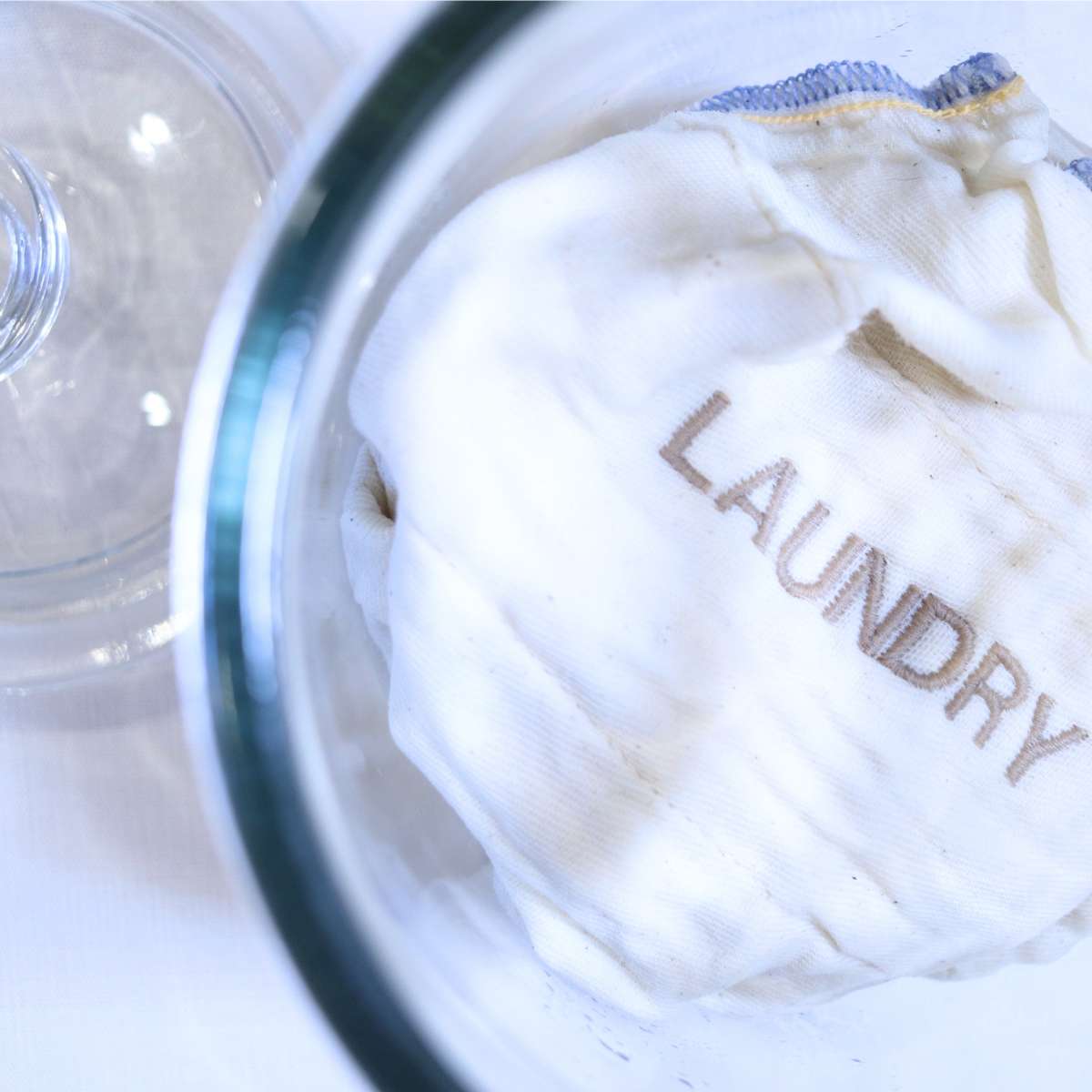 Ingredients
Ingredients for DIY non-toxic dryer sheets
I add filtered water to my dryer sheet recipe to help the material I'm using for my laundry sheets last longer. Vinegar is acidic and may degrade some fabrics more quickly.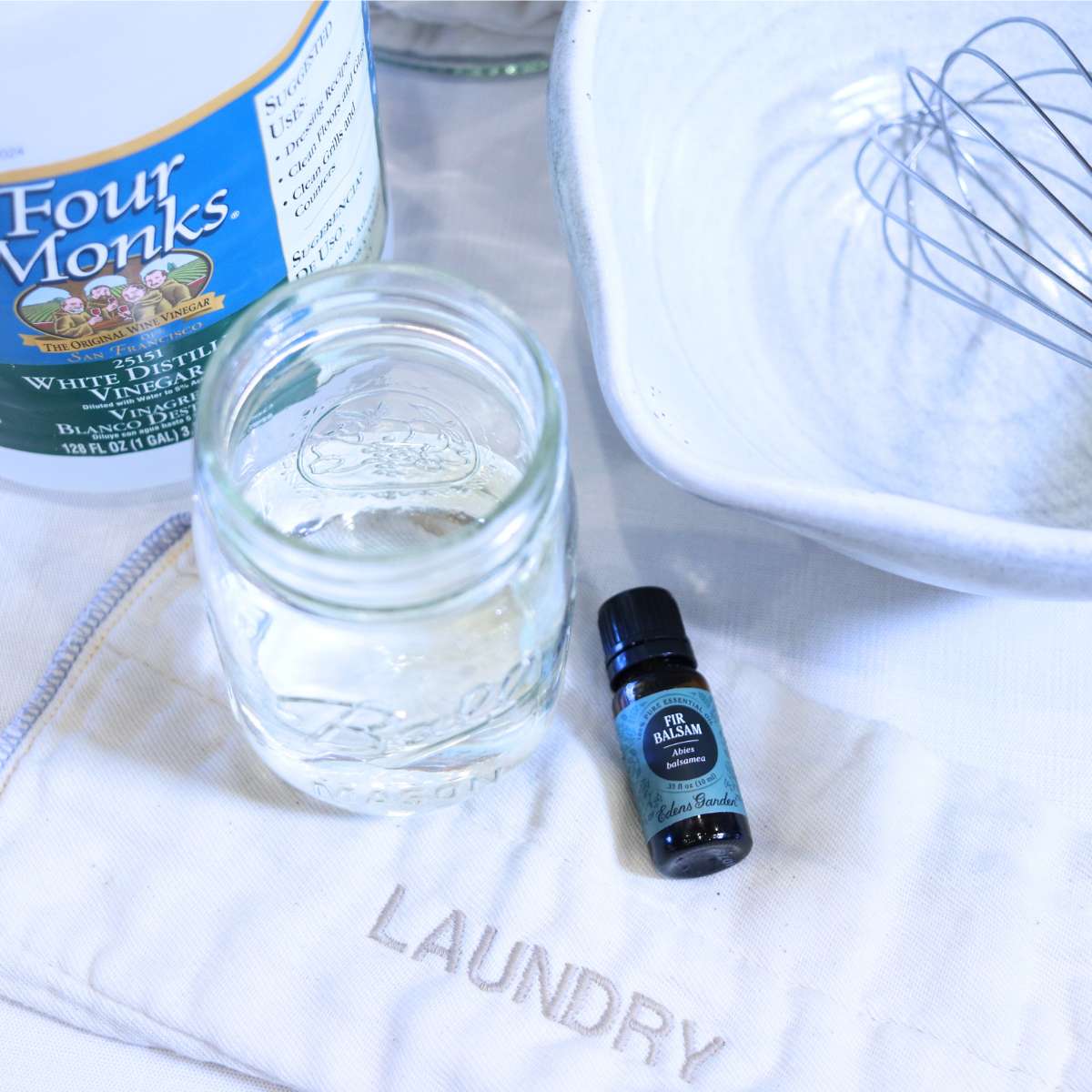 Supplies
Supplies for eco-friendly dryer sheets
What are dryer sheets
Dryer sheets are just fabric softener sheets that are placed in the dryer barrel when you are drying a load of laundry. Unlike liquid fabric softeners that are added to the washing machine with detergent, dryer sheets can be added at any time during the dry cycle, although most people add them in at the start for ease.
Conventional dryer sheets are usually made of a synthetic polyester fabric material that is durable and stiff before being placed in the dryer.
After you have dried your load of laundry, you will find the dryer sheets are no longer stiff but rather soft, thin-feeling fabric.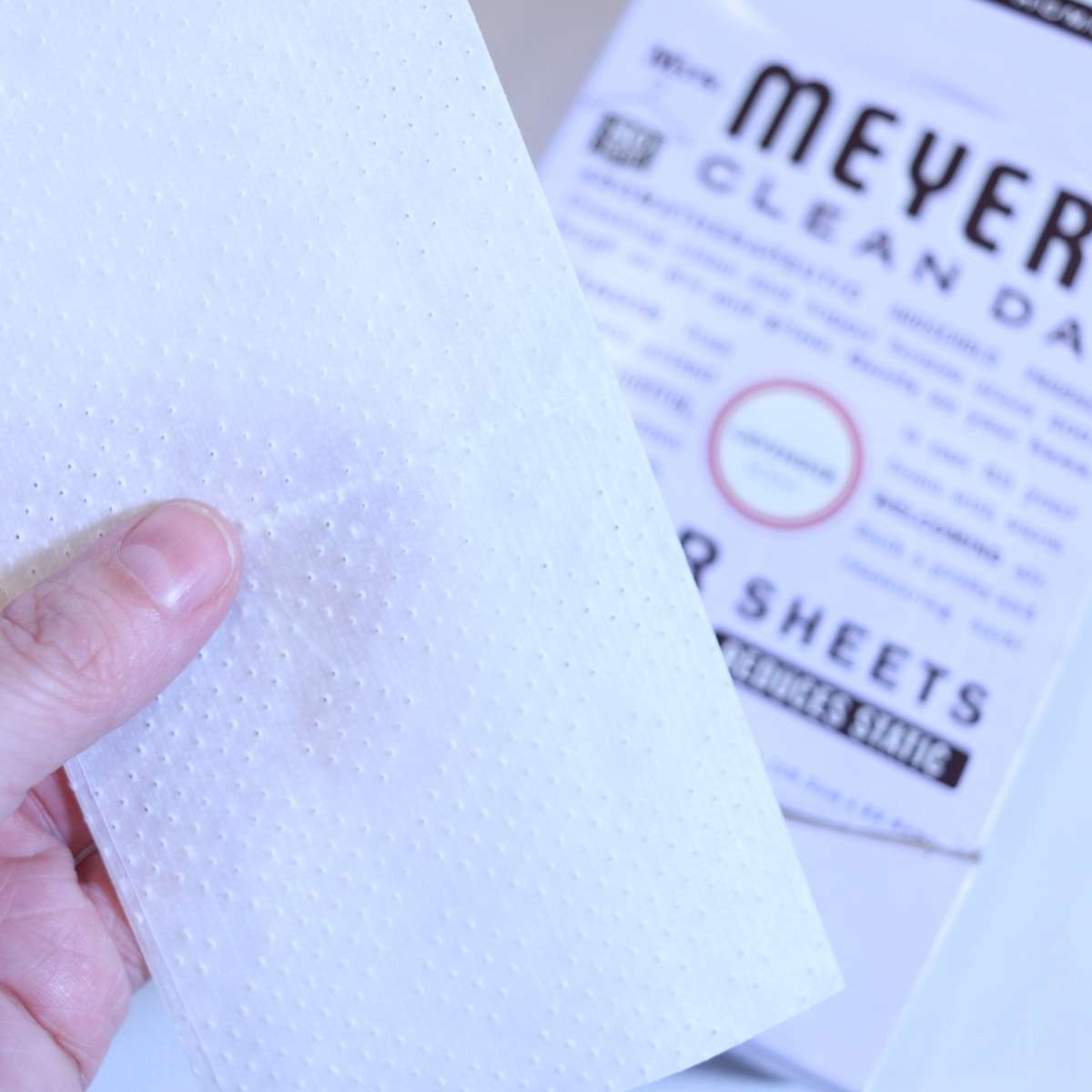 Are dryer sheets necessary?
In a nutshell, no. Dryer sheets aren't necessary to dry your clothes or make them smell fresh and clean.
So many alternatives are on the market these days that are a more natural option. These are a couple of my favorites though.
Wool dryer balls– Add a few drops of essential oil or oil blends to mimic dryer sheets. Better for the environment, has no chemicals, and can cut drying time which saves on electricity.
Homemade Dyer Sheets– Non-toxic ingredients infused with essential oils.
Instructions
How to make homemade dryer sheets
Step One- Cut material or use clothing scraps roughly 7 inches by 7 inches
Step Two- Add DIY dryer sheet mixture to storage jar with sealing lid.
Step Three- Place dryer sheets into a jar and be sure they are saturated with liquid. They should be damp but not submerged.
Step Four- Place the lid on the jar until ready to use.
Find the measurements and full printable recipe below!
The purpose of dryer sheets is to reduce static, soften clothing and sometimes mask unpleasant smells that can linger in clothes.
Using vinegar and essential oils in this DIY dryer sheet recipe helps reduce odors and offers a natural fragrance.
The vinegar smell does not linger on clothing, in your dryer, or on your hands after handling the dryer sheets. The smell is very temporary.
Adding fragrance to DIY non-toxic dryer sheets
If you are looking to replace the conventional, store-bought dryer sheets but don't want to sacrifice the fragrance, consider adding some essential oils to your dryer sheets.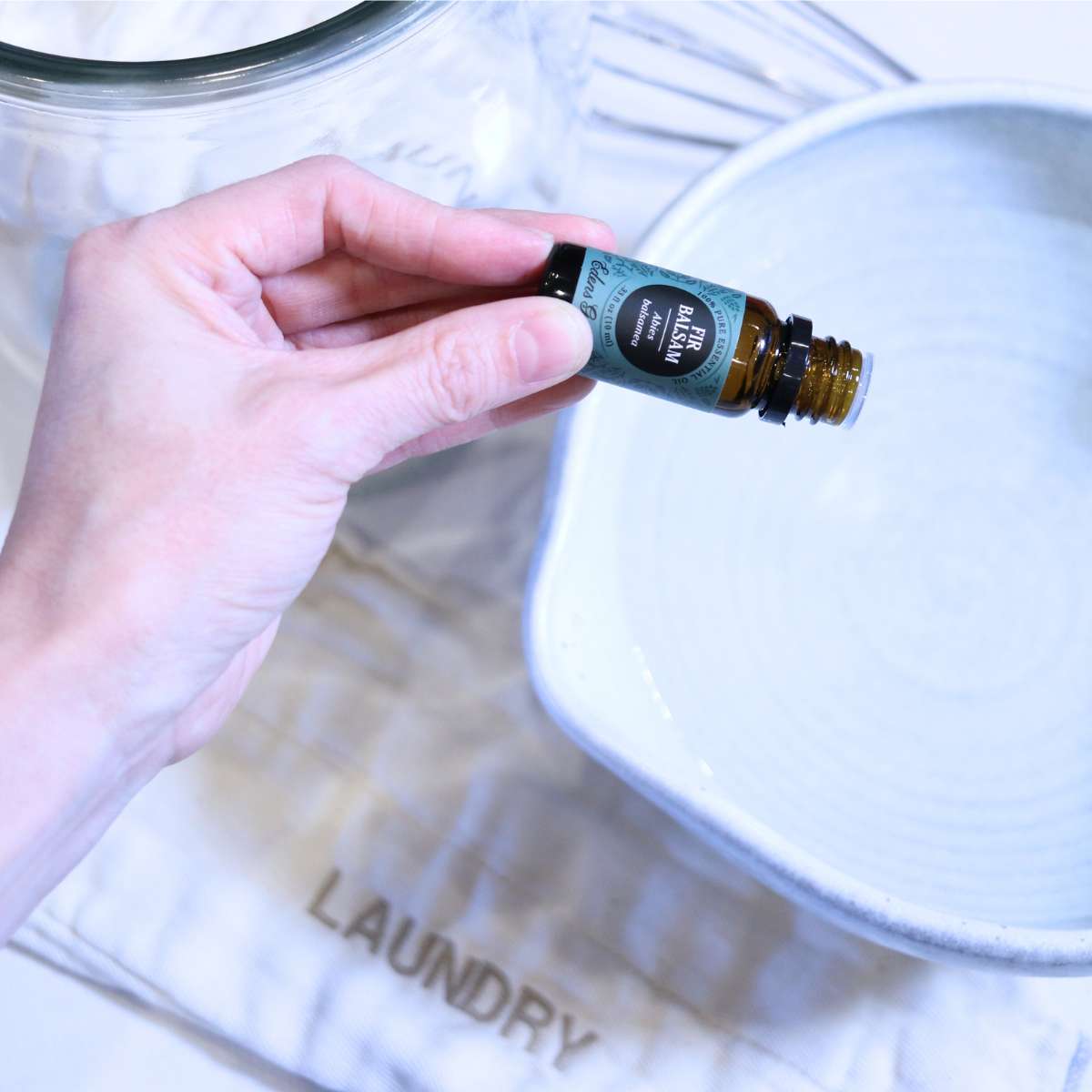 Essential oil blends for homemade dryer sheets
Still Breeze (lavender and jasmine), Citrus Clean (lemongrass, and citrus), Petal Fresh (rose and smoky sandalwood).
Good Mood (lavender, cypress, geranium, lemongrass, clary sage), Citrus Blast (Lime, orange, lemon, mandarin, tangerine, bergamot, grapefruit), Blissful Magic (jasmine, rose, neroli, vetiver, white lotus).
Refresh (geranium, lavender, clary sage, eucalyptus, balsam copaiba), Sea Breeze (spearmint, lavender, lime, lemon, peppermint), Sunshine (grapefruit, cinnamon, bergamot, rosemary, peppermint).
Immunity (clove, lemon, cinnamon, eucalyptus, rosemary, tangerine, and nutmeg), Cold Stopper (lavender, chamomile, orange, copaiba, sandalwood, white lotus, vetiver, blue tansy, patchouli, ylang ylang, and bergamot), Goodbye Germs (tea tree, peppermint, lavender, thyme, and eucalyptus).
(vanilla, sandalwood, cedarwood oils)
(lavender, vanilla, and sandalwood oils)
Cheers (tangerine, lavender, sandalwood), Bless (orange, mandarine, patchouli), Joy (bergamot, ylang-ylang, lemon, coriander, mandarin, jasmine, and rose), Gratitude (orange, bergamot, clove, and ginger).
How to use DIY non-toxic dryer sheets
Small load 1 dryer sheet
Larger load 2 dryer sheets
Place 1 to 2 dryer sheets into the dryer with damp clothing. The amount of dryer sheets you use per load is up to you based on the size of the load you are drying.
For normal load sizes, I use 1 homemade dryer sheet. Extra large loads I use 2. This is based on using this size of flat folds as my actual dryer sheets.
If you are using smaller scraps of re-purposed clothing or rags, I'd recommend using 2. Again, this is a personal preference.
I found that using these flat folds makes it easier to find my laundry sheets in the dryer once the laod is finished. They aren't small enough that they get stuck in pieces of clothing when drying, and they don't shred apart like some material can after a few uses.
Fabric softener or dryer sheets
Fabric softeners and dryer sheets are both intended to soften clothes, reduce static and reduce the appearance of wrinkles due to washing.
Dryer sheets are added to the dryer during the dry cycle. Sometimes less expensive than fabric softener detergents can be but often filled with similar harmful ingredients.
Fabric softeners are used in the washing machine with detergents during the wash cycle.
What to use instead of dryer sheets
If you decided to give a DIY dryer sheet recipe a try and determine it isn't for you, you can also use wool dryer balls to help reduce static, reduce wrinkles, and reduce drying time.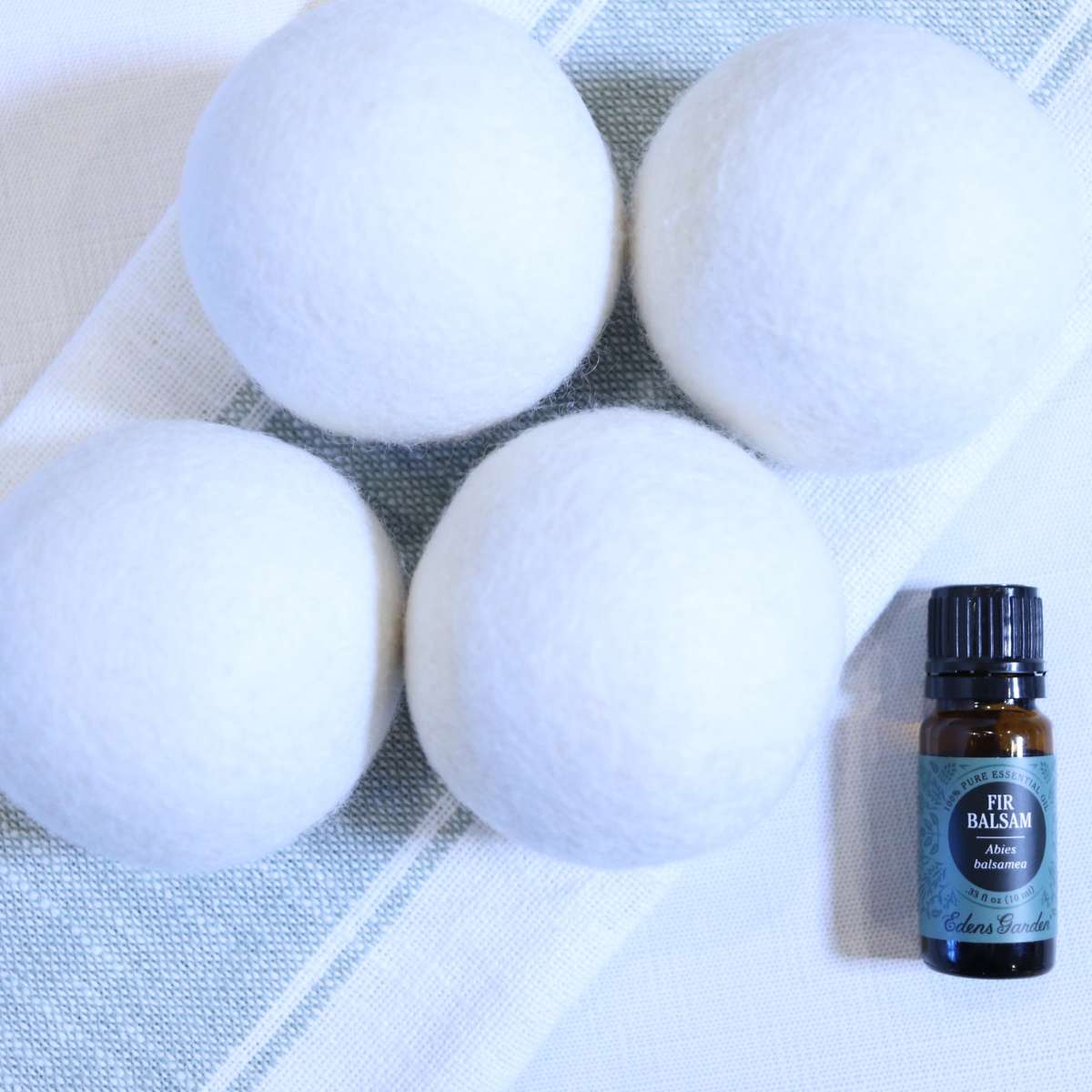 Dryer balls can be really inexpensive when you compare the cost of them to store-bought dryer sheets, they are well worth it.
Over time wool dryer balls can also save money by decreasing drying time which in turn saves on electricity.
Other dryer sheet alternatives
There are quite a few options to try instead of store-bought dryer sheets. Some of these laundry hacks don't require you to purchase anything at all-just use what you already have.
Aluminum foil in the dryer
Aluminum foil balls in your dryer are another great option to reduce static. My husband has a few shirts that seem to always be clingy after a dry cycle no matter what I do.
So one way I like to help reduce the static cling is by adding a ball of aluminum foil to the dryer. Works every time. No more clingy shirts.
Tennis balls drying hack
Just like wool dryer balls can reduce static, drying time and be a wrinkle reducer, so can tennis balls. So if you don't want to make the investment yet, consider adding 1 to 2 tennis balls to the drying cycle.
If you are wanting to fluff pillows or a comforter, this is a great laundry hack to try.
Socks for dryer balls
Grab some old socks. Maybe you have a few pairs of socks that need to be retired due to holes. Repurpose them into easy dry balls.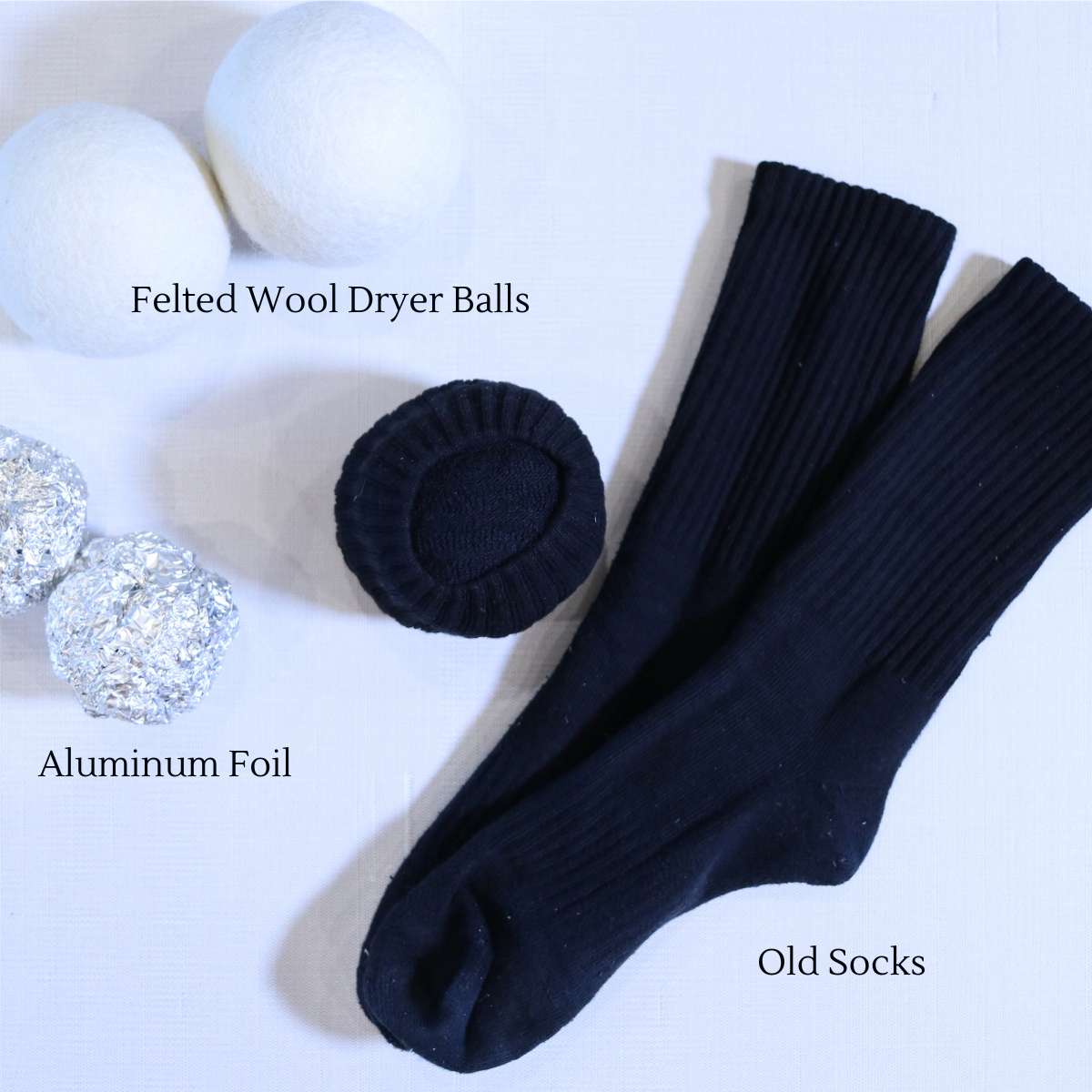 Ideas for making homemade dryer sheets
When it comes to making your own DIY dryer sheets, there are so many options out there. Below you'll find a list of things you can use that are sustainable, eco-friendly, and will last a very long time.
Re-purpose old clothing items to use dyer sheets (flannel and tee shirt material work well)
Old washcloths and towels. Cut towels into squares the size you'd like for your dryer sheets. These do fray a bit for the first few loads but after that, you won't notice it. If you are a sewer, you can always use a serger and serge the edges to prevent fraying during washing.
Buy new, unbleached flat folds.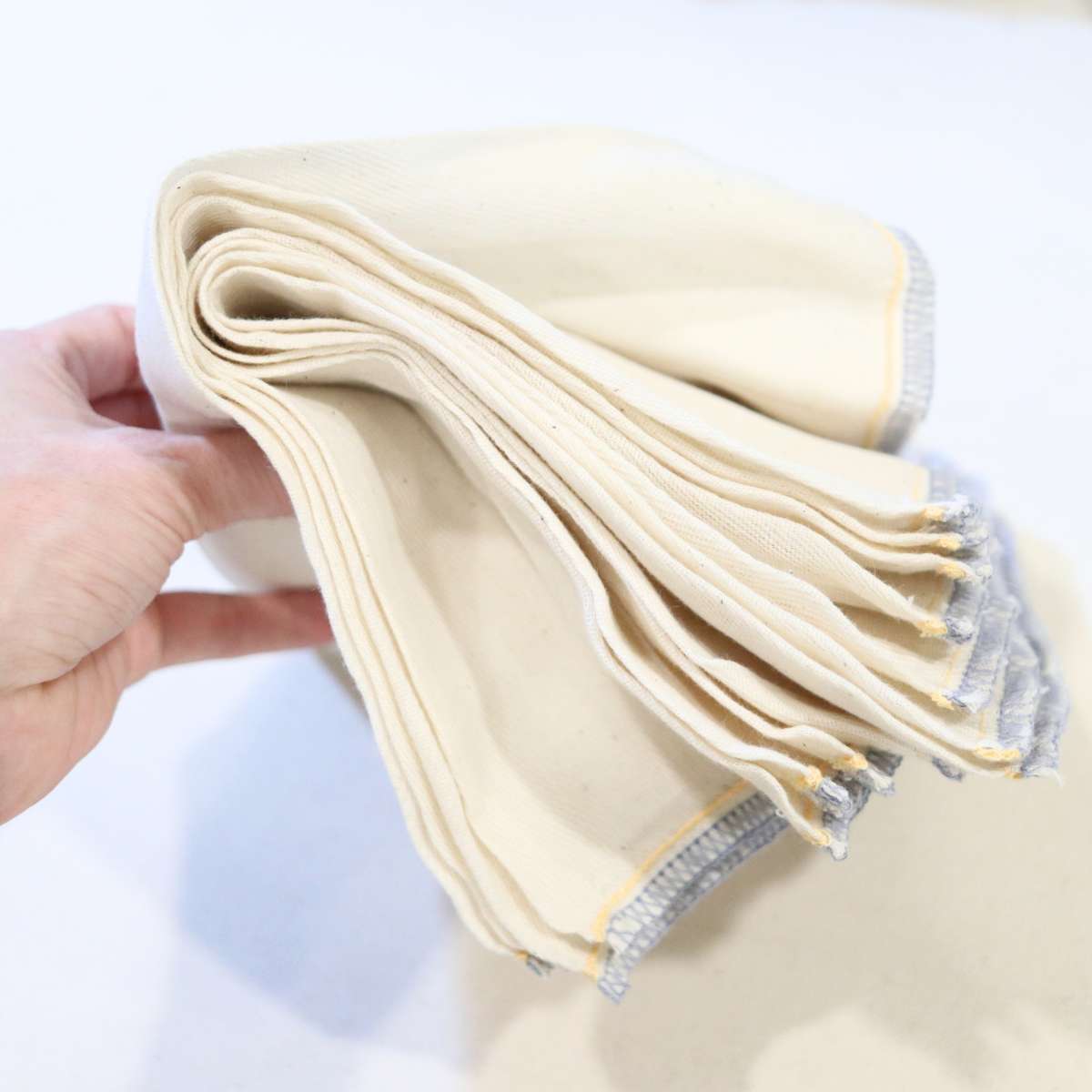 Re-purpose flat-fold diapers (these are great for many cleaning DIYs). I used flat folds and diaper covers when my kids were babies and I have loved re-using these.
Thrift some clothing that is absorbent and doesn't easily fray when washed (flannel and tee shirts are among the top)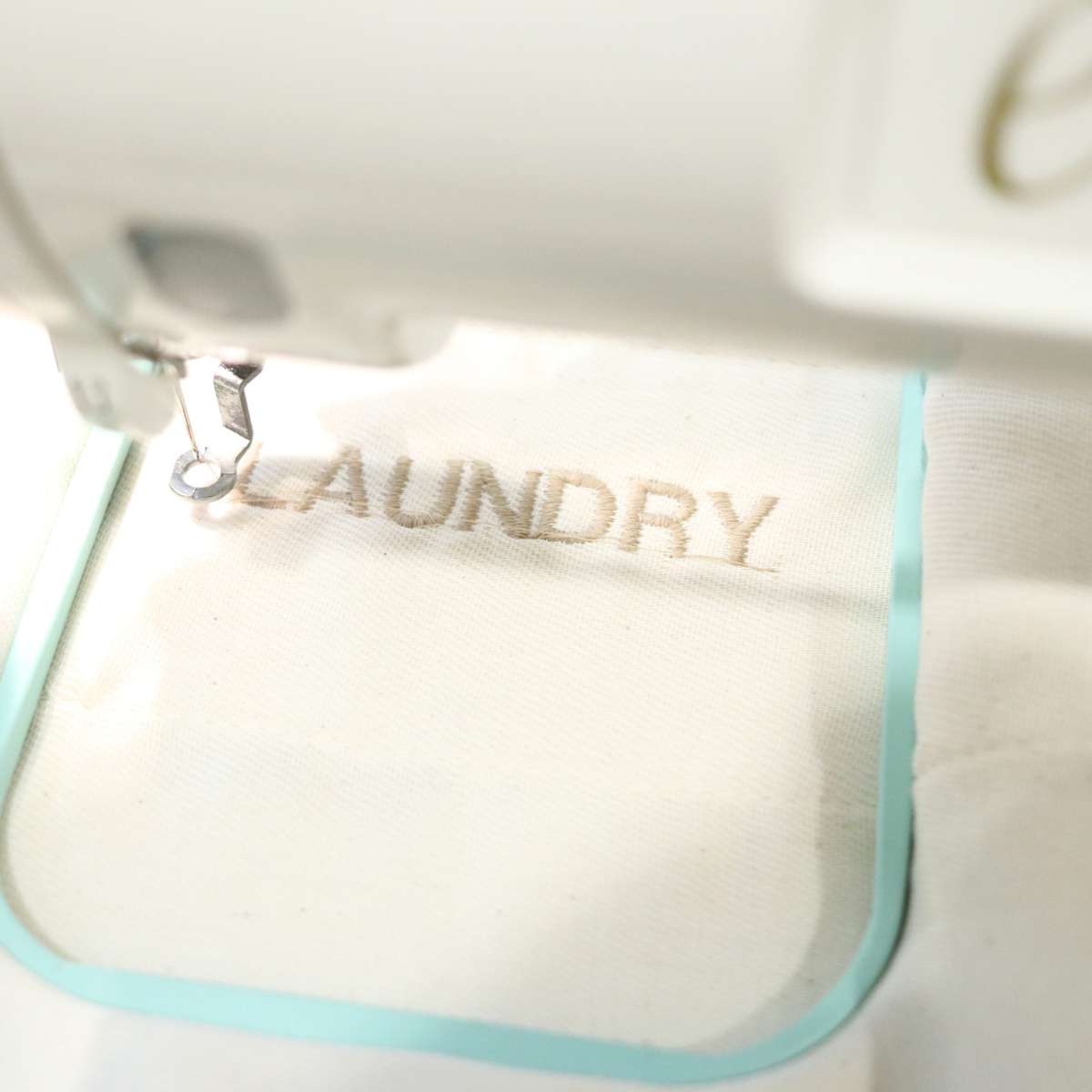 Use worn-out socks that no longer have a mate. You know when you end up with one sock because one got lost or ended up with a huge hole so you threw it out and now only have 1 lone sock? These are perfect for that.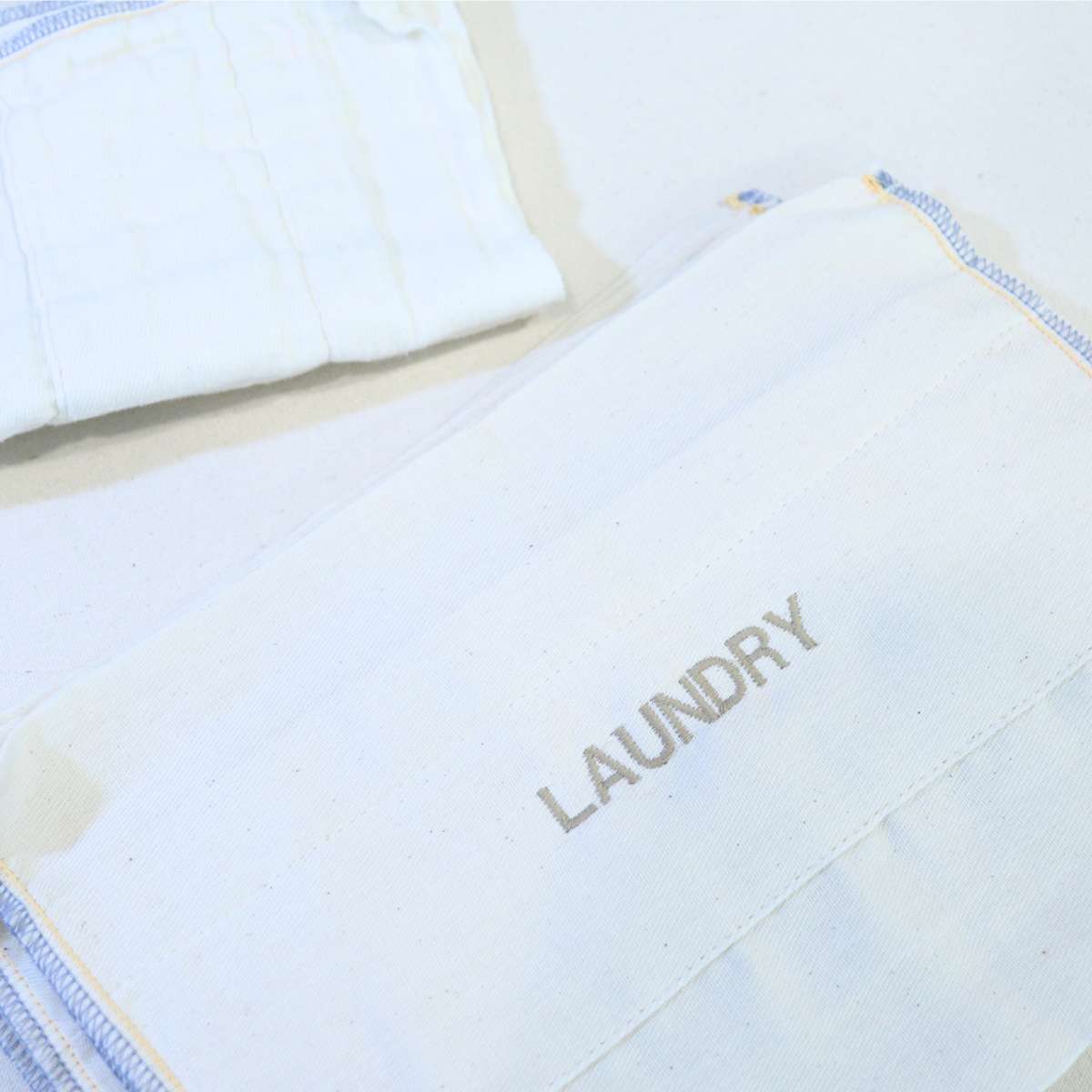 I chose to embroider my dryer sheets so they don't get mixed up with flat folds that I use for other household cleaning projects. If you are interested in doing this as well, call you local sewing shop and see if they have a recommendation for inexpensive embroidery.
Homemade dryer sheet material
FAQ about dryer sheets
Regular store-bought fabric softeners and dryer sheets contain loads of harmful chemicals and fragrances. Skin irritations and other long-term health effects have been reported with regular use. If you are looking for a healthier alternative for you and your family, consider making the switch to homemade laundry sheets.
DIY dryer sheets are really good options for people who:
want to ditch and switch
have sensitive skin
want to help reduce waste
save money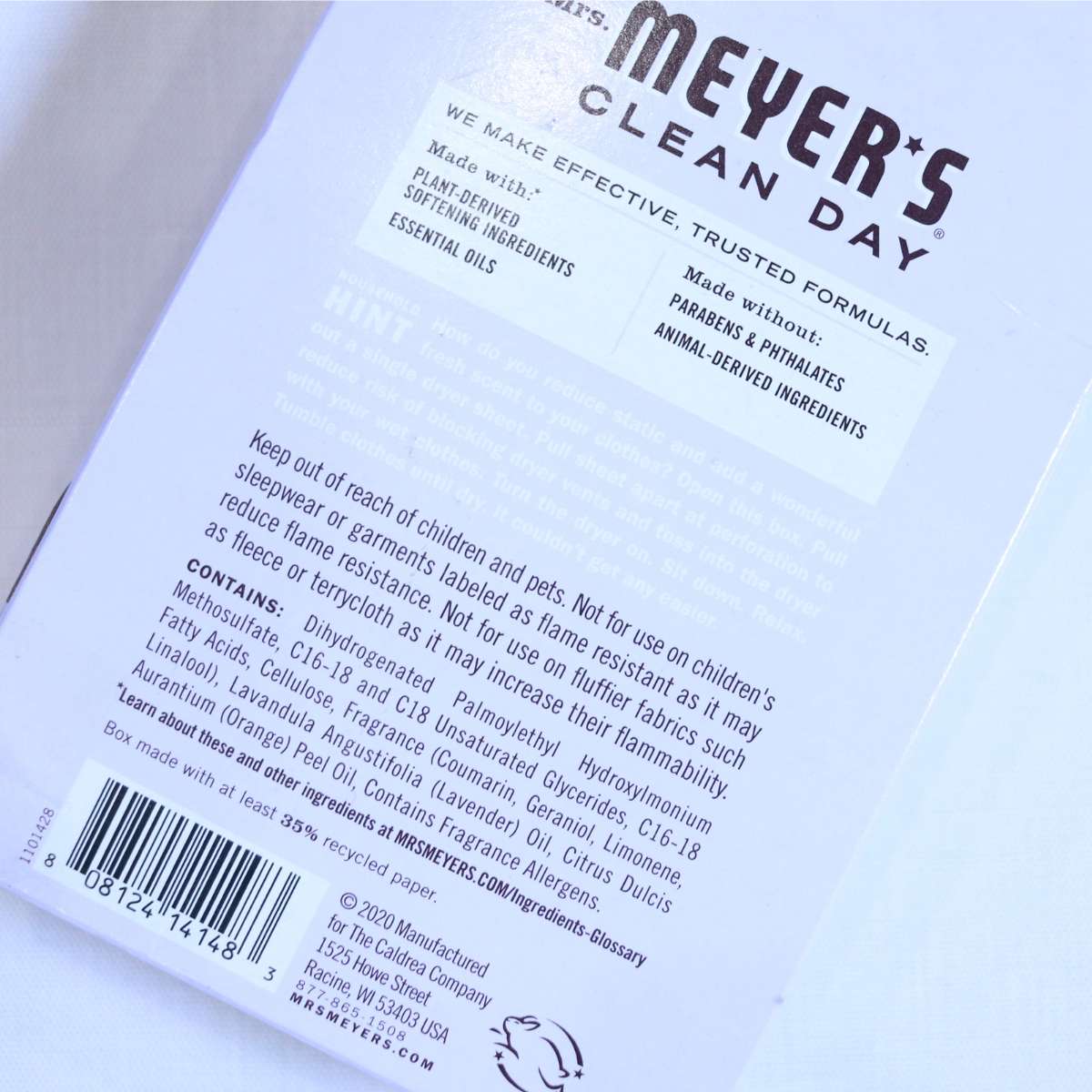 Shop
Ingredients
Supplies
Other Homemade Dryer Sheet Options
You can also re-purpose old socks and washcloths too!
More DIY Laundry Essentials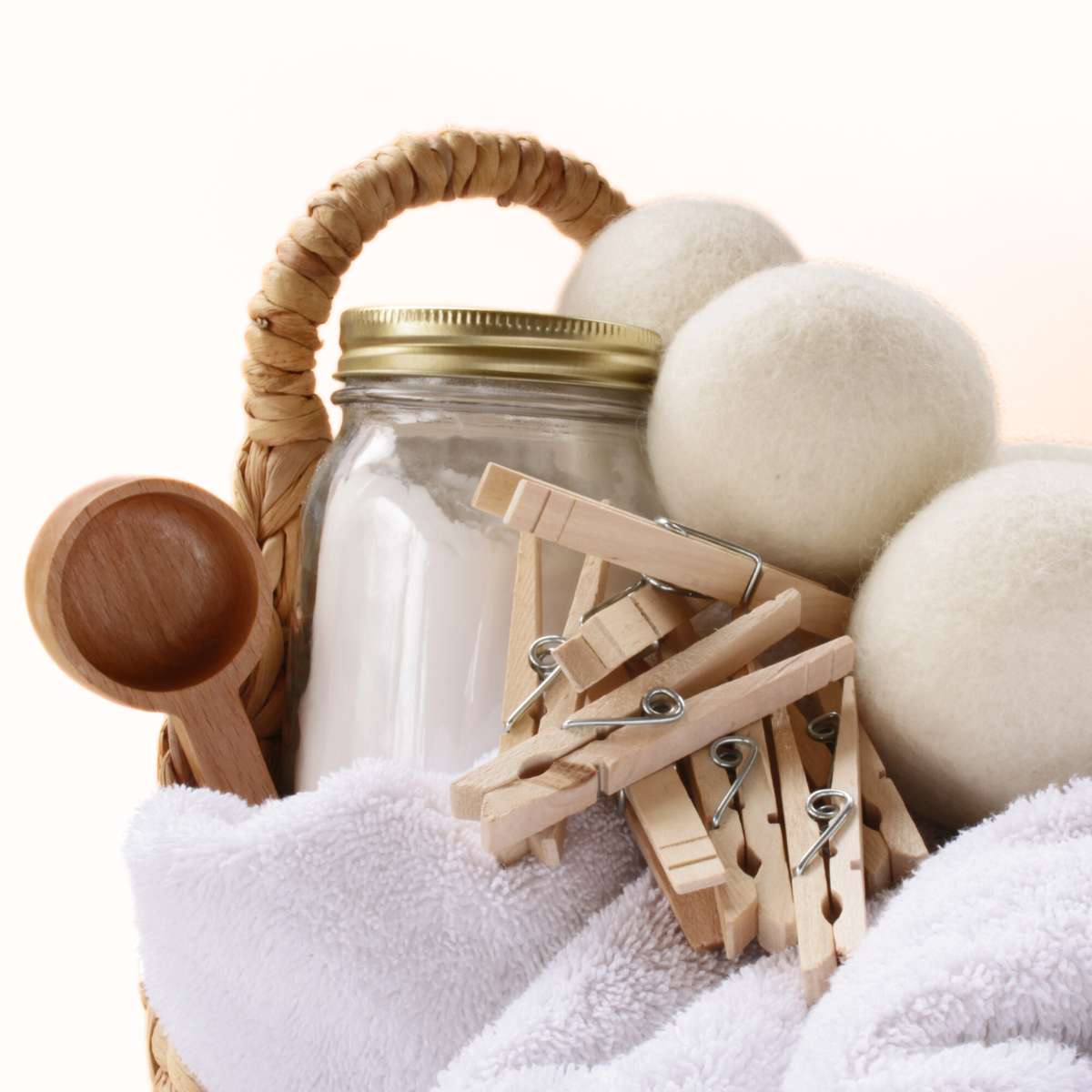 Homemade Non-Toxic Laundry Detergent with Essential Oils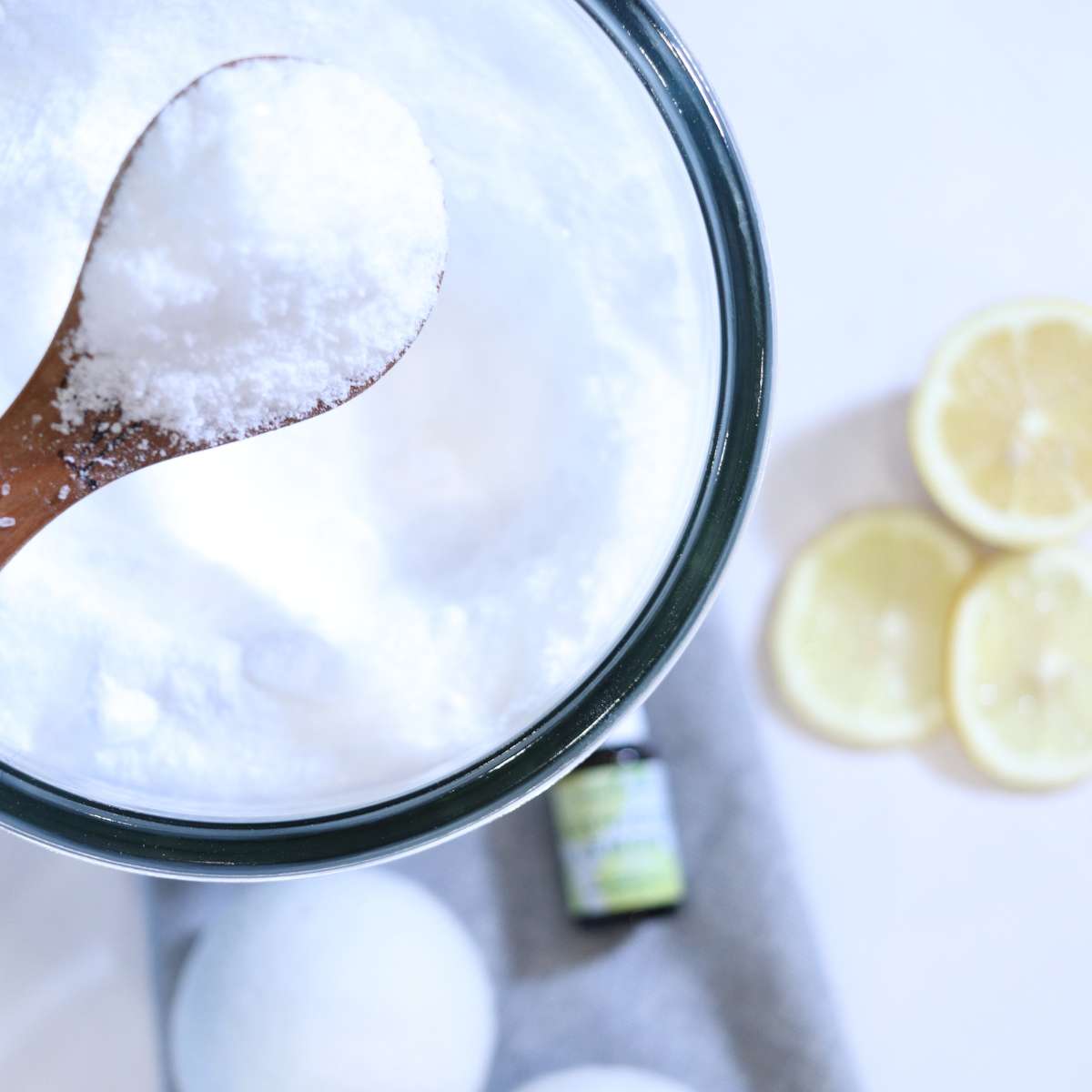 DIY Laundry Scent Booster
Add fragrance to your laundry without the harsh chemicals. This recipe is budget-friendly, eco-friendly, and simple to make.
Pin it for later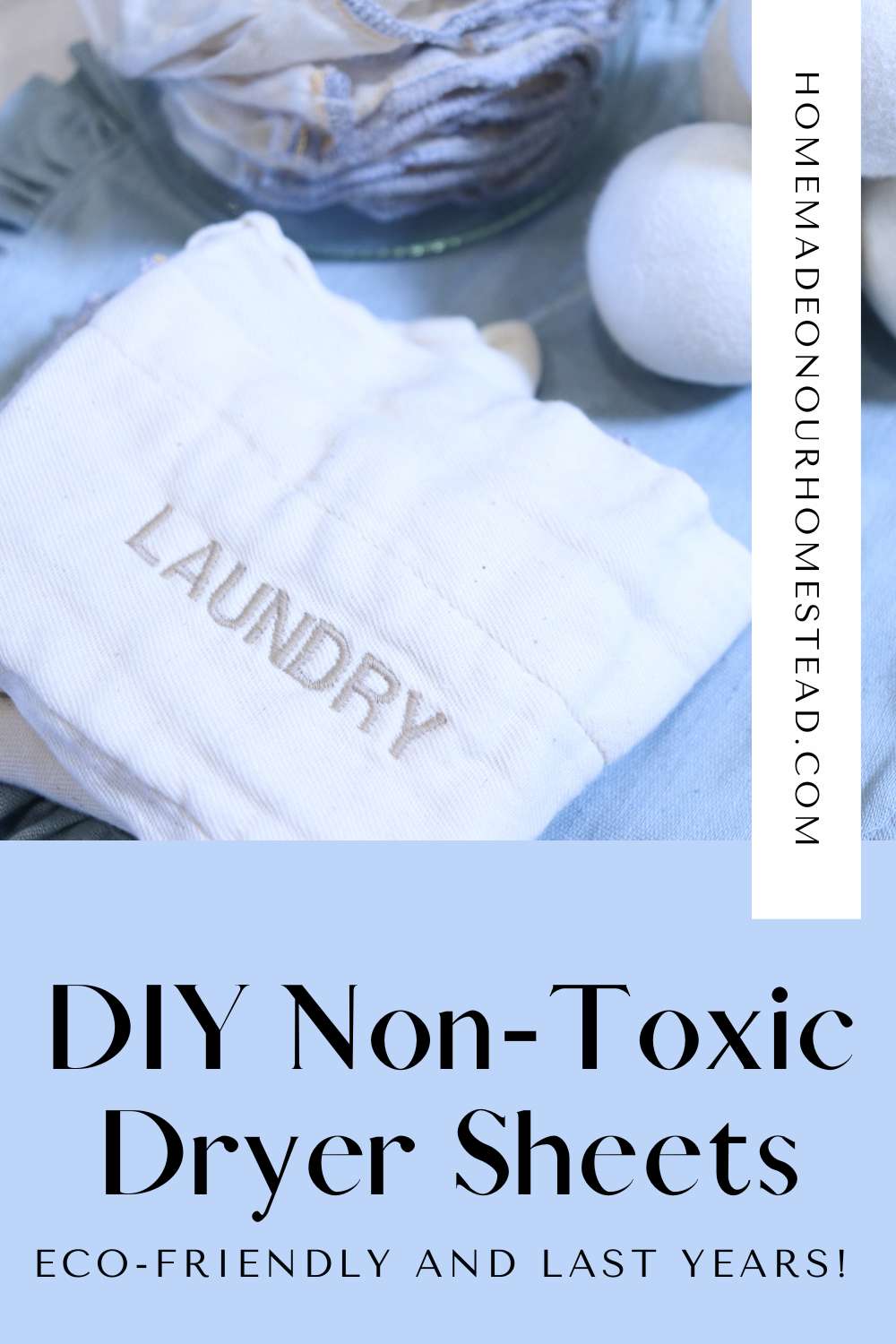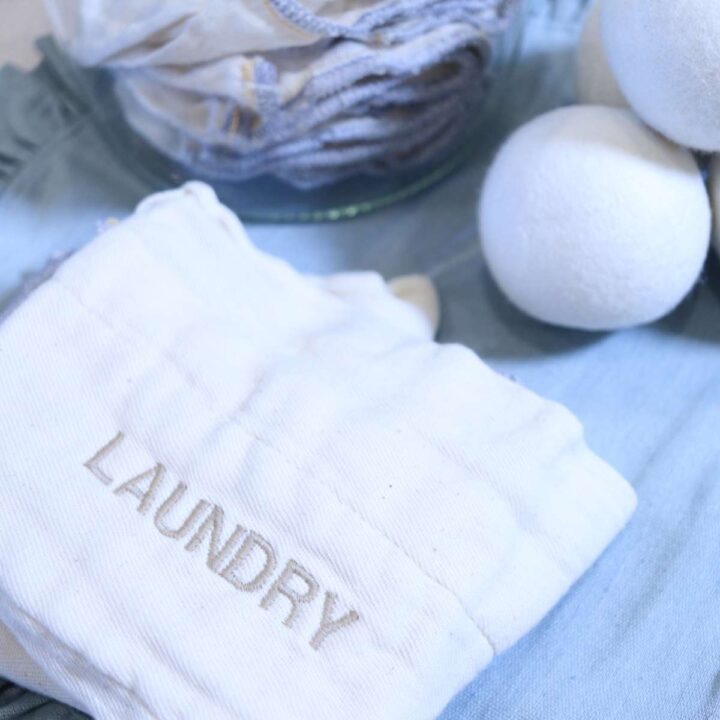 DIY Non-Toxic Dryer Sheets
Yield:
1 batch of homemade dryer sheets (6)
Materials
Unbleached flat-folds
White distilled vinegar
Filtered water
Essential oils (optional)
Instructions
If using new flat-folds, be sure and was pre-wash 1 to 2 times before using for best absorption of dryer sheet mixture.
In a glass jar with a lid, add 1 cup of filtered water and 1 cup of distilled white vinegar.
Add 15-20 drops of essential oil to add fragrance to homemade dryer sheets (optional)
Mix dryer sheet solution.
Add pre-washed flat folds until mixture is fully absorbed by homemade dryer sheet material. The amount of liquid needed will vary depending on the material you are using for your dryer sheets.
Place the lid on the jar until ready to use.
Notes
If you are using flat folds like I did, be sure and pre-wash. The size of the flat folds will shrink quite a bit once washed a few times.
Select the size of flat folds based on the size of the loads you are drying to avoid using multiple DIY dryer sheets at one time. Of course, you can always do this as well. (see the supplies section of the post for sizing options).
Use pieces of old clothing cut into cloth squares to save even more money.
Cut up old towels or use washclothes for material you don't need to cut.
Material can be cut to any size you prefer for your dryer sheets. The larger the piece of fabric, the larger your homemade dryer sheet will be.