Tis the time of year again for all the cookie baking to begin amongst family and friends. So today I'm sharing a recipe for the best sugar cookies ever! I promise. These cookies are deliciously buttery, soft, not too sweet, and bake to perfection every time. So grab your ingredients and let the season for excessive baking (and eating) commence!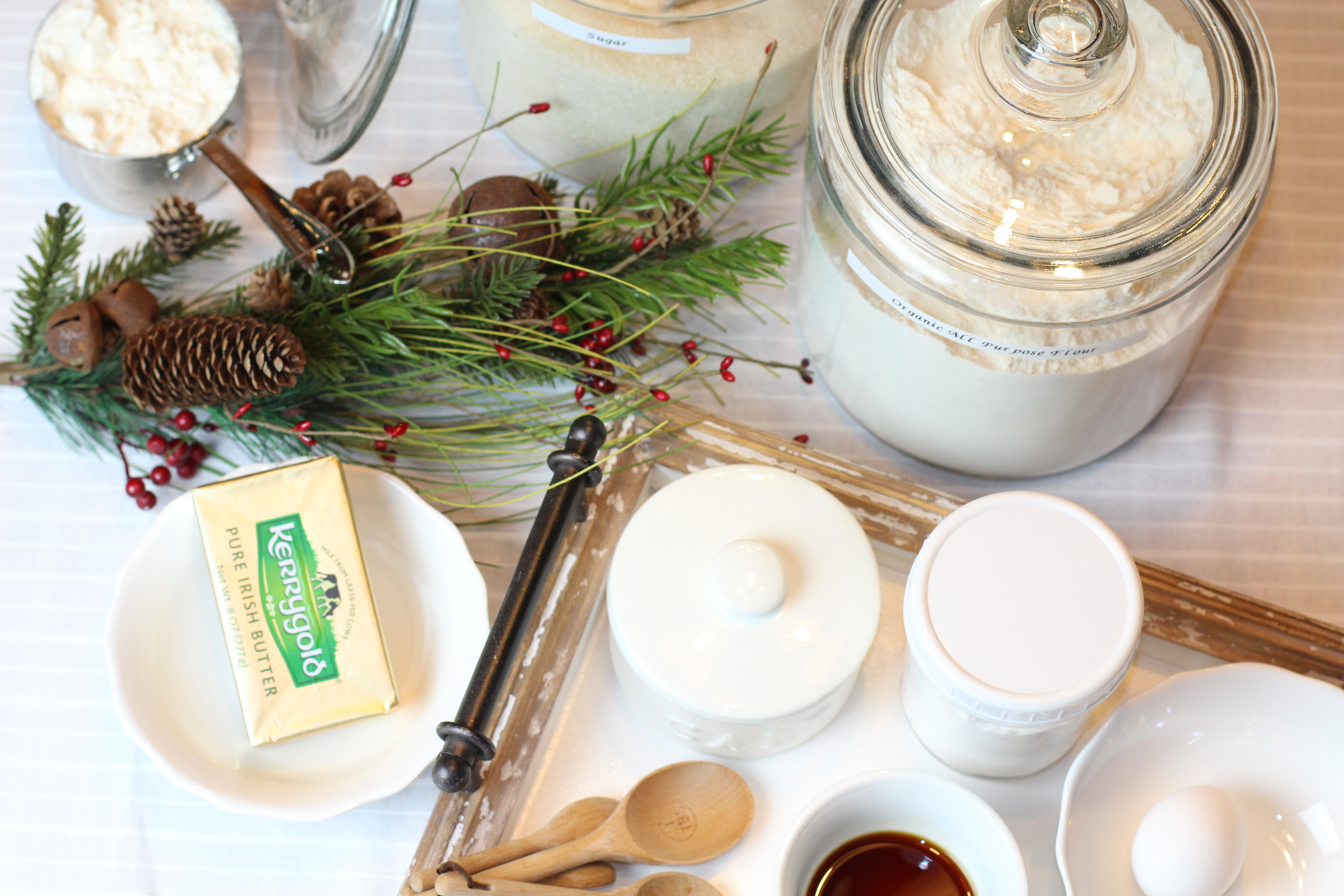 Tips and tricks for the best sugar cookie recipe:
If you are planning to make these cookies, take out the butter you will need the night before so it will be softened when you begin baking.
Measure and set out all other ingredients you will need (besides the egg(s).
Make sure you are using baking SODA, not baking powder.
Use a stand mixer or hand mixer if you have limited time. A stand mixer will always be my go-to just for ease and speed.
You can make the dough the night before. Then chill in fridge until ready to bake.
Make cookie recipe ahead of time and freeze in cookie ball form (using the ice cream scoop). Remove from freezer and refrigerate the day before you intend on baking. This way, you always have cookies on hand-just bake!
Use an ice cream scoop to make cookies even in size and shape. This is optimal for baking. The cookies will all bake evenly and to perfection.
Ingredients
**The ingredients listed below will yield approximately 18-20 cookies**
2 ¼ cups of all purpose flour
1 cup granulated sugar
1 cup (2 sticks) softened salted butter
Farm fresh egg (1)
1 tablespoon vanilla extract
1 teaspoon baking soda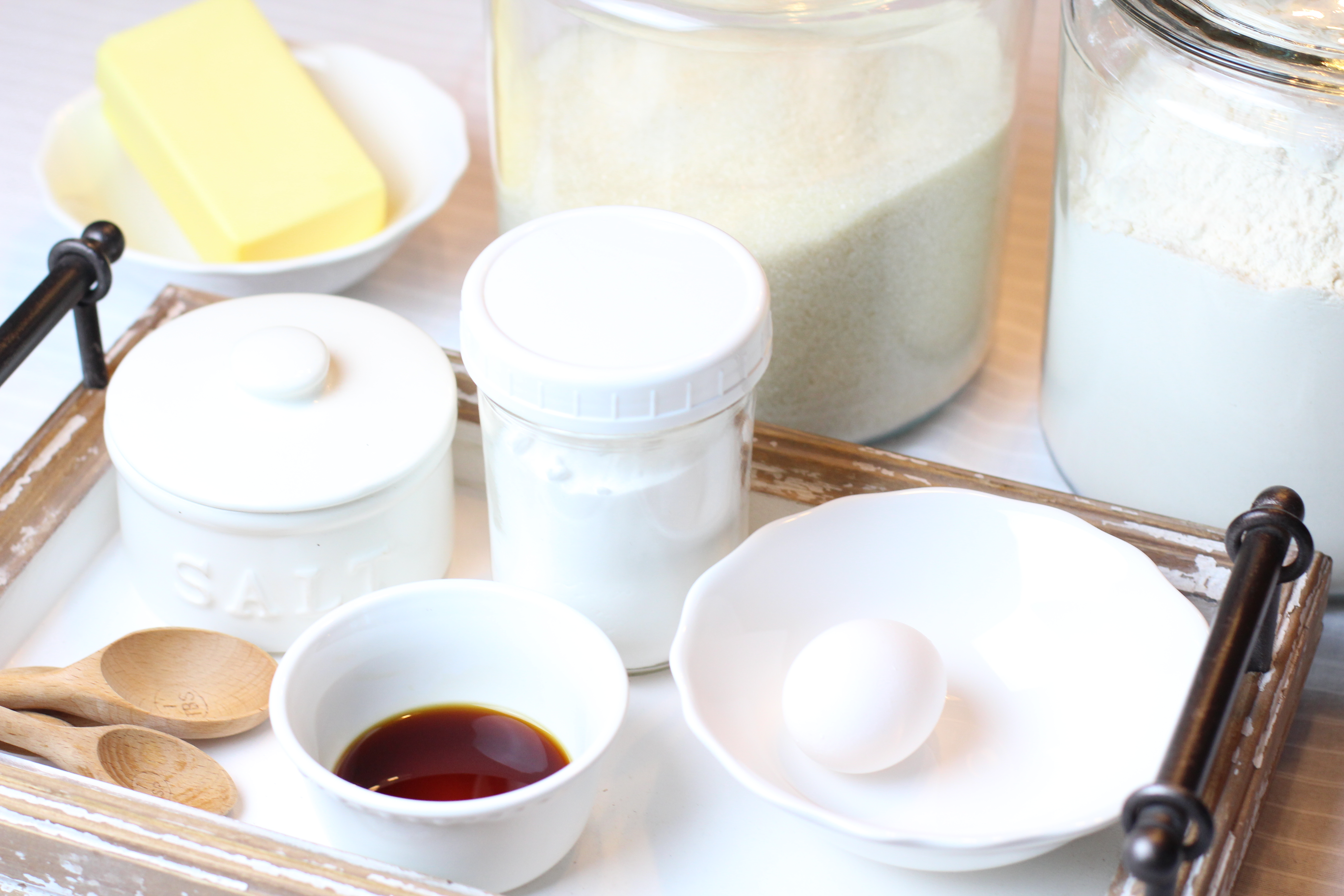 Inspiration for making a designer inspired hobo sling bag
Other items you'll need for this recipe
Timer (if you don't have one built in to your oven).
Thin edged spatula for removing cookies without smashing up the edges.
Cooling rack for after you remove the cookies from the oven.
Friends or family to enjoy cookies with (optional:)
Cookie cutters (optional). If you would prefer to cut out shapes and decorate cookies with the kids, roll dough (without over working) into log form, cover with parchment and place in the fridge for at least 2 hours (3 is better). After refrigeration, remove and roll dough out to at least ½ to ¾ inch thick.
Frosting (optional). Betty Crocker thick and creamy cream cheese frosting is my absolute favorite with these cookies if you're short on time and can't make from scratch.
Food Coloring (optional). If you intend to decorate cookies with the kids, you'll need food coloring for the frosting to make different colors.
Other cookie toppings (optional). Sprinkles and chocolate chips come to mind.
Directions for making the best sugar cookies:
If you haven't pull out your ingredients for this recipe, do so now. No need to pre-heat the oven just yet. The cookies chill in the fridge for 1 hour before baking.
In a large mixing bowl, or stand mixer bowl, blend sugar and butter.
Beat in egg(s) and vanilla extract until thoroughly mixed.
Slowly add in flour and baking soda until incorporated. DON'T over mix! This makes the cookies tough. And nobody wants a tough cookie.
When all ingredients are mixed together, use cookie scoop and butter knife to evenly scoop from bowl onto plate (flat side down).
After you have scooped all the dough from the bowl and onto a plate or baking sheet, take to the fridge and let chill for 1 hour. It isn't necessary to cover them unless you are letting them sit for an extended period of time.
Pre-heat oven to 375 degrees Fahrenheit. This will ensure its ready to bake when you are.
Cont.
Line your baking sheet you'll be using with parchment paper or a silicone baking sheet to prevent sticking.
After the cookie dough balls have chilled for at least an hour, remove from the fridge and place onto a baking sheet 4" apart. I'm usually able to bake half of the cookies at one time with the sized baking sheet I use. Keep the cookie dough balls you're not baking yet in the refrigerator.
Place cookie sheet into a pre-heated 375-degree oven for 10-12 minutes. This may vary slightly depending on the baking altitude. Here in Washington, I have found that depending on the weather, yes-because weather affects baking, 10-12 minutes is perfect!
After 10-12 minutes of baking, remove cookie sheet from oven and immediately transfer cookies to cooling rack. Do this with a thin edged spatula as to not damage the cookies perfectly round shape.
Remove the last of the cookie dough balls from the fridge and space 3-4" on baking sheet.
Place in oven for 10-12 minutes until fully baked. Edges shouldn't be really brown. Cookie should have the same color throughout.
Remove cookies from baking sheet immediately after removing from oven. Doing so will stop the baking process which would otherwise continue if left on the baking sheet.
Serve with cold glass of milk. Enjoy! Because...well, why not. They're delicious! Feel free to share (or not) no judgment 🙂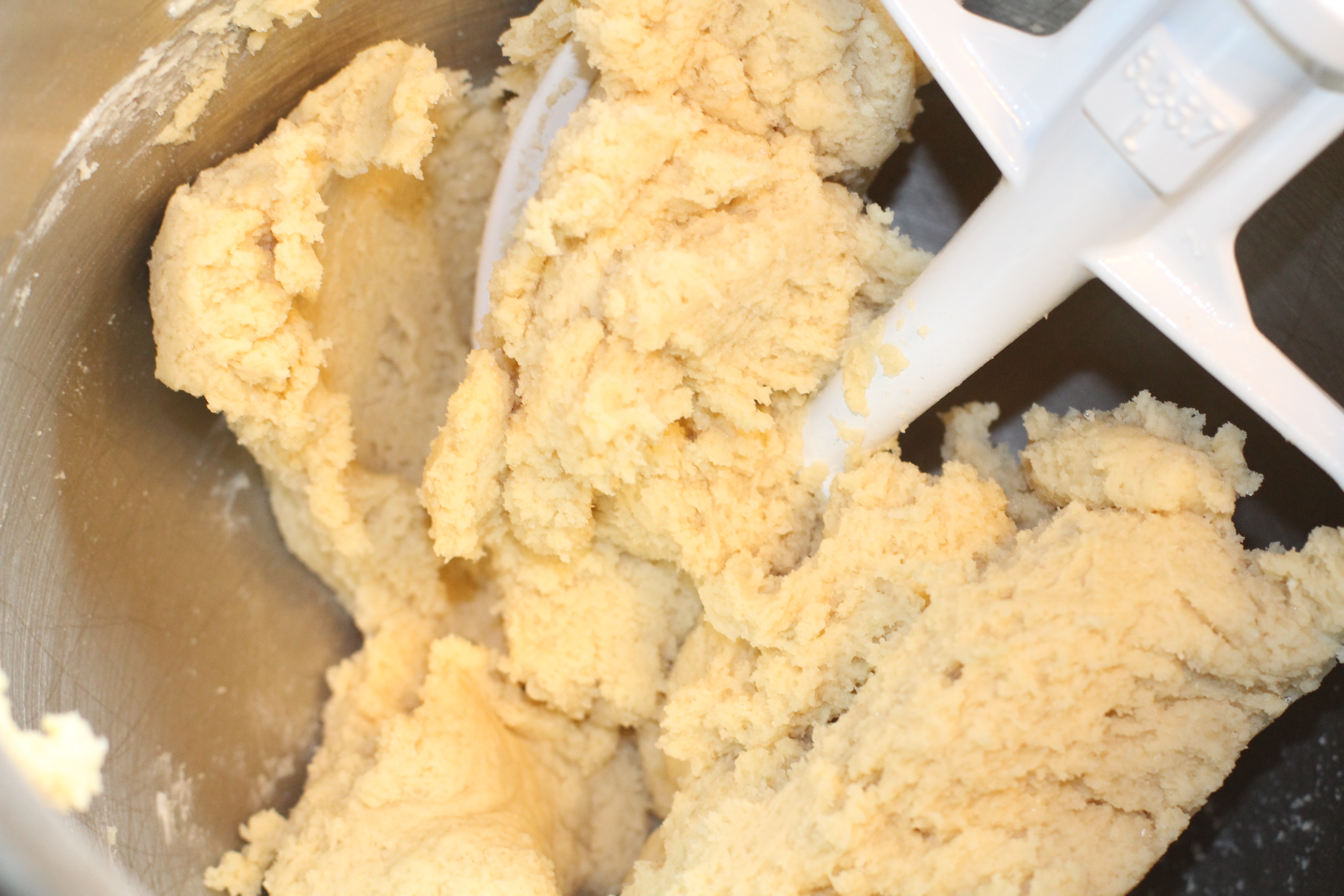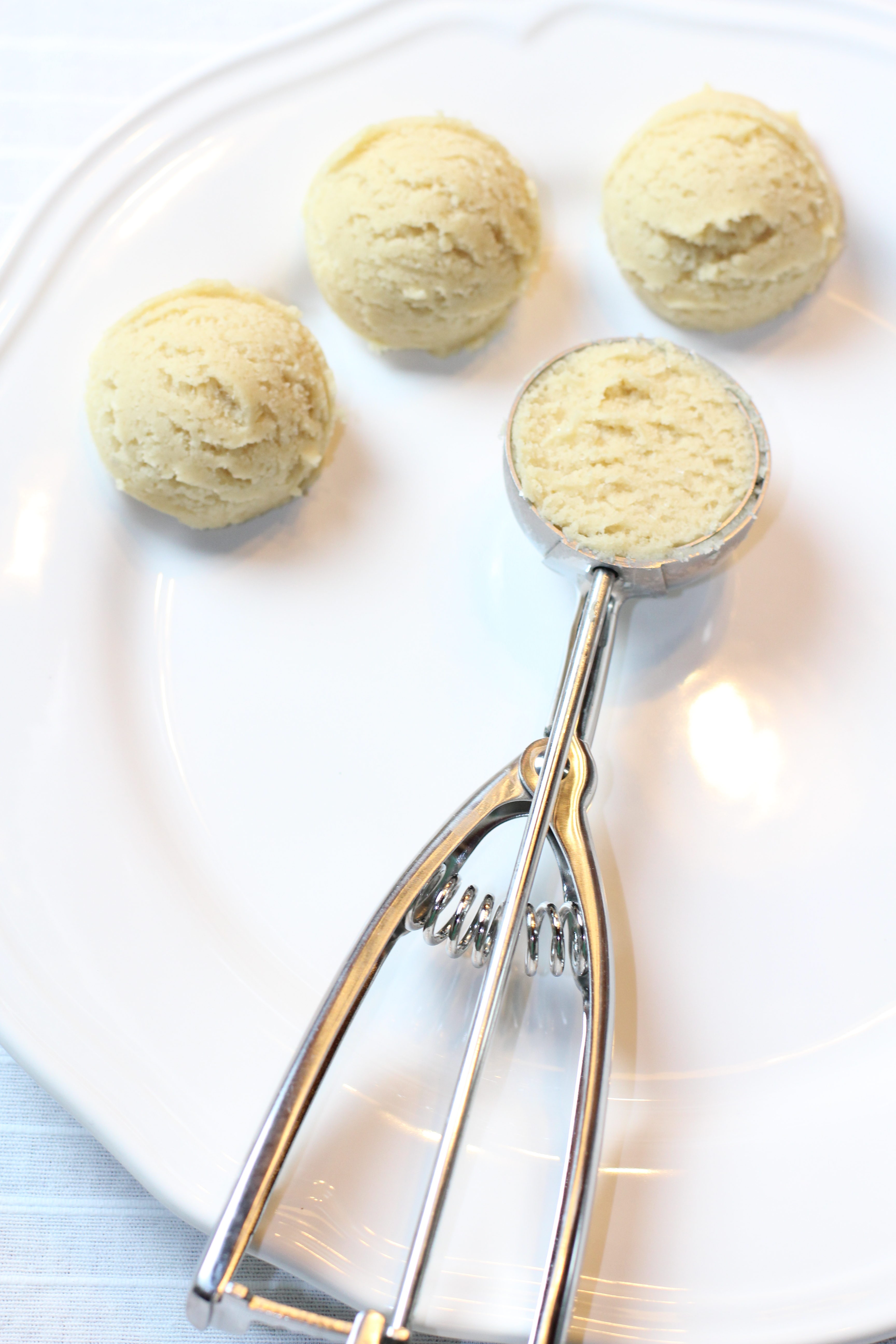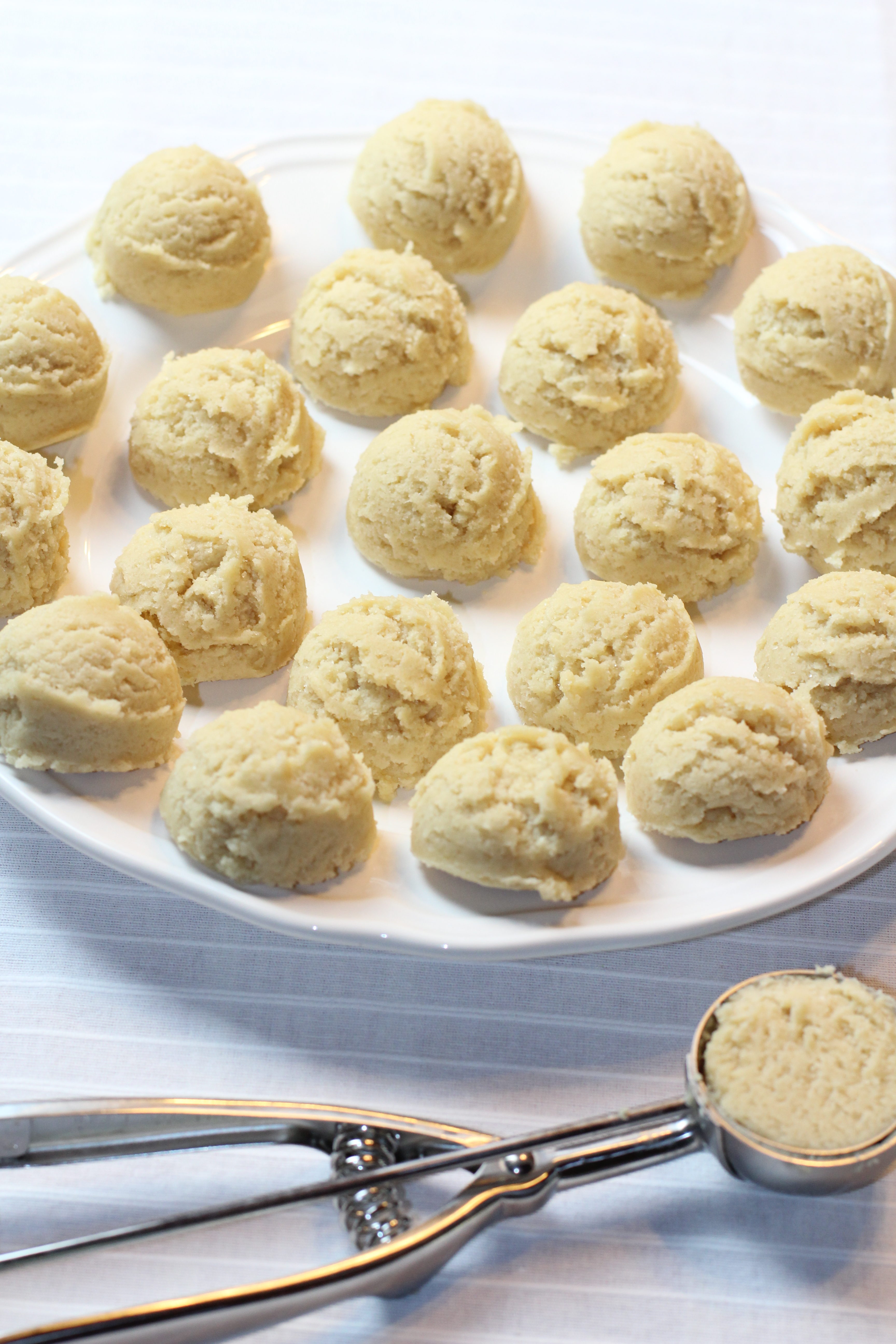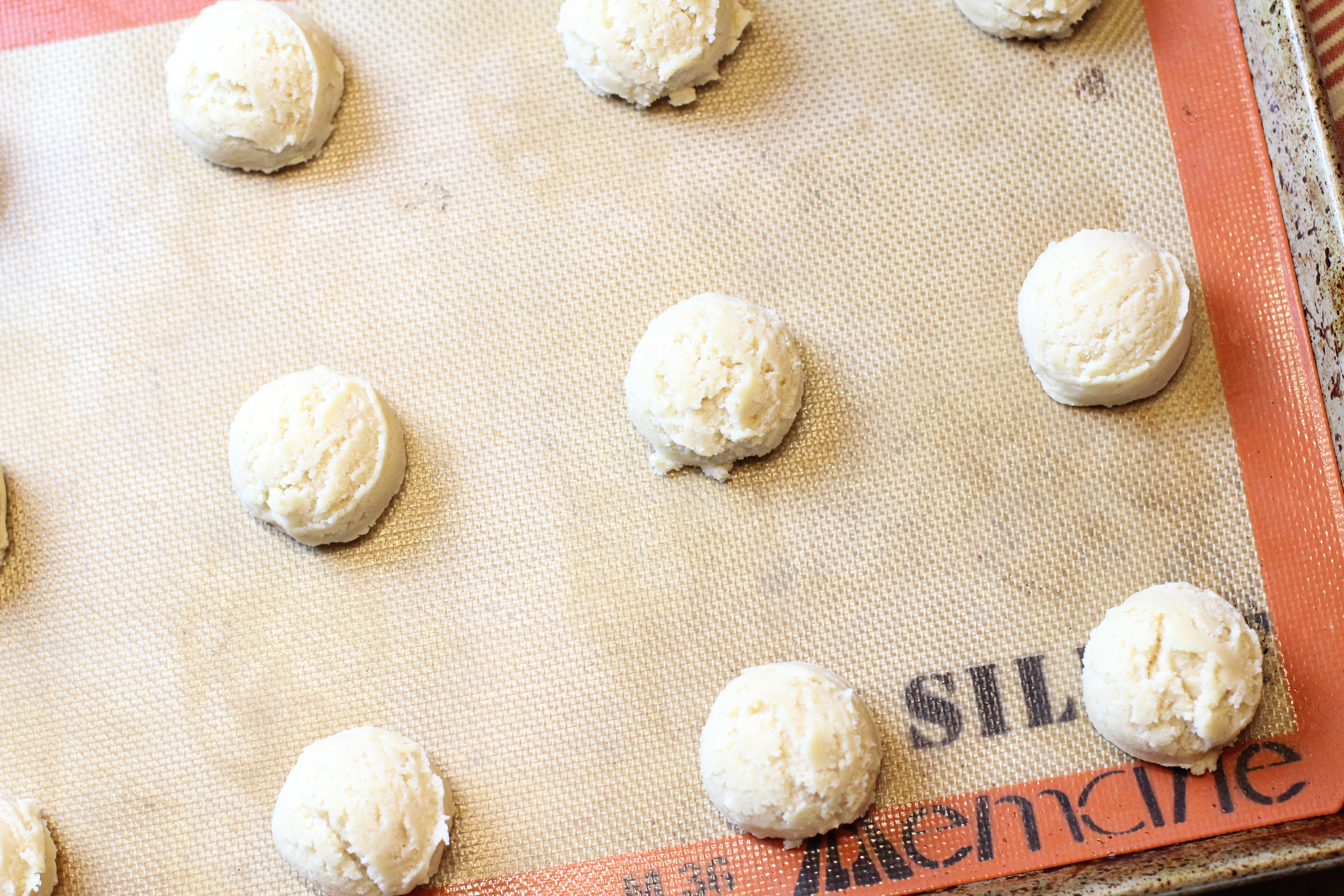 And here we have the BEST sugar cookies for any and all occasions. Yum!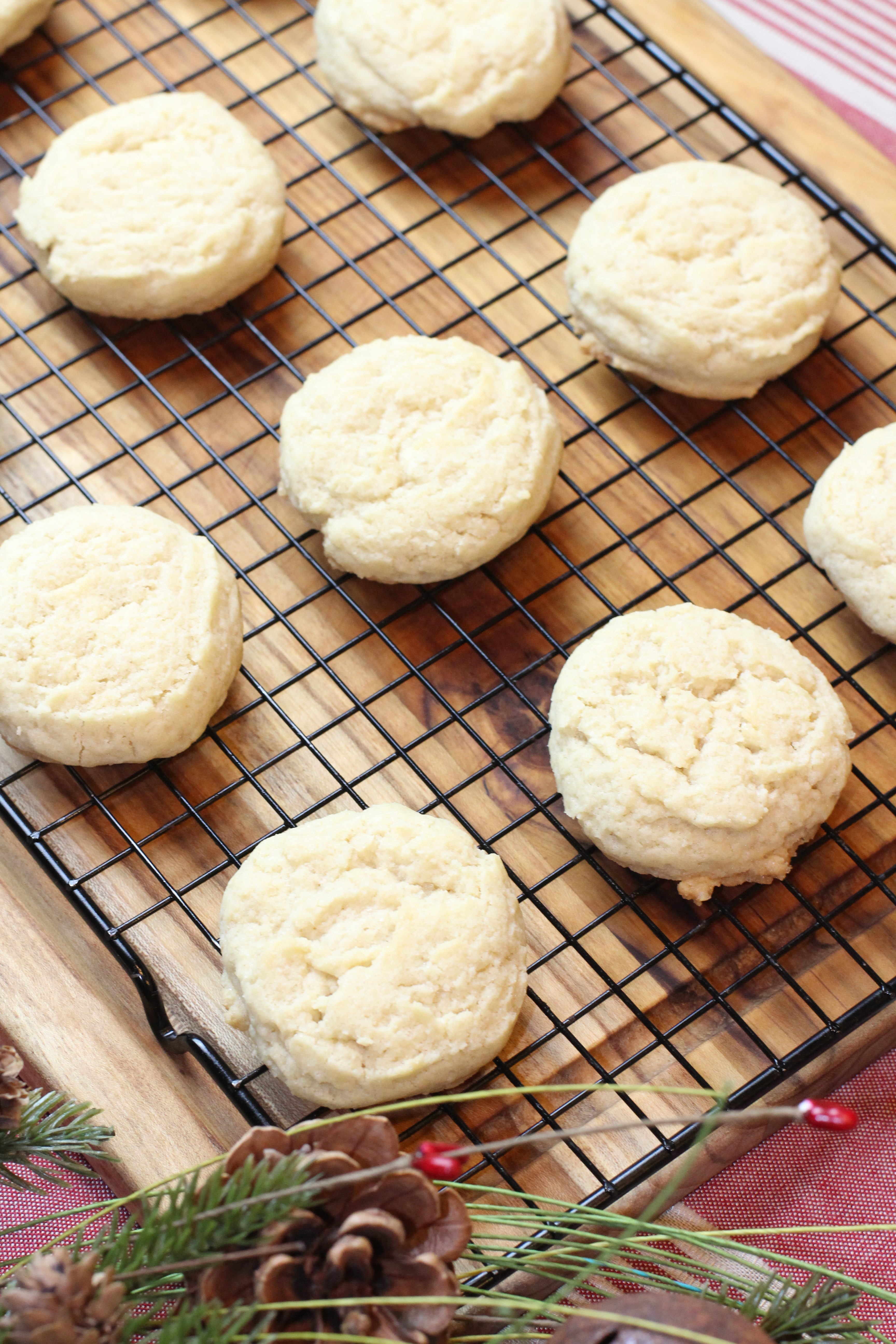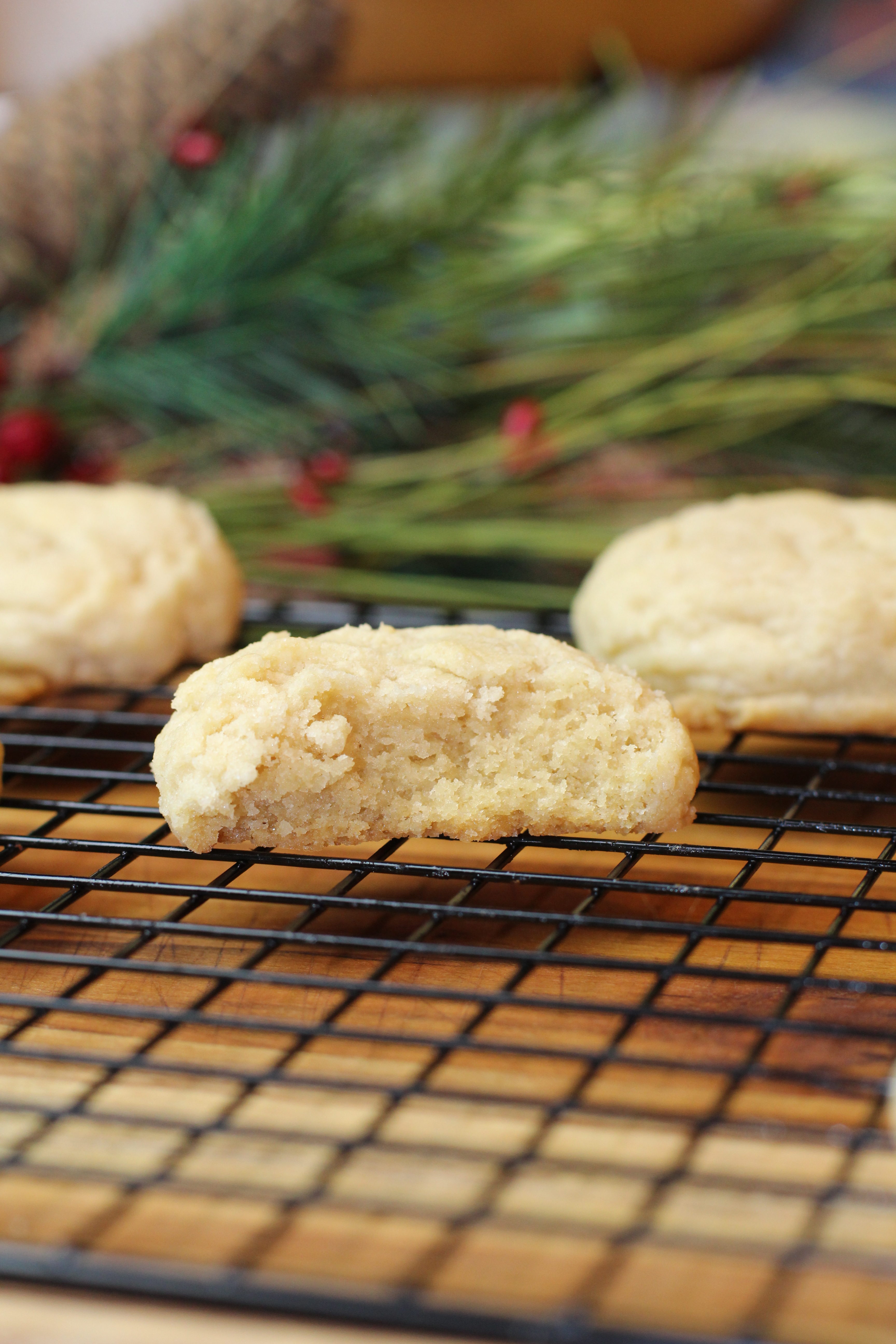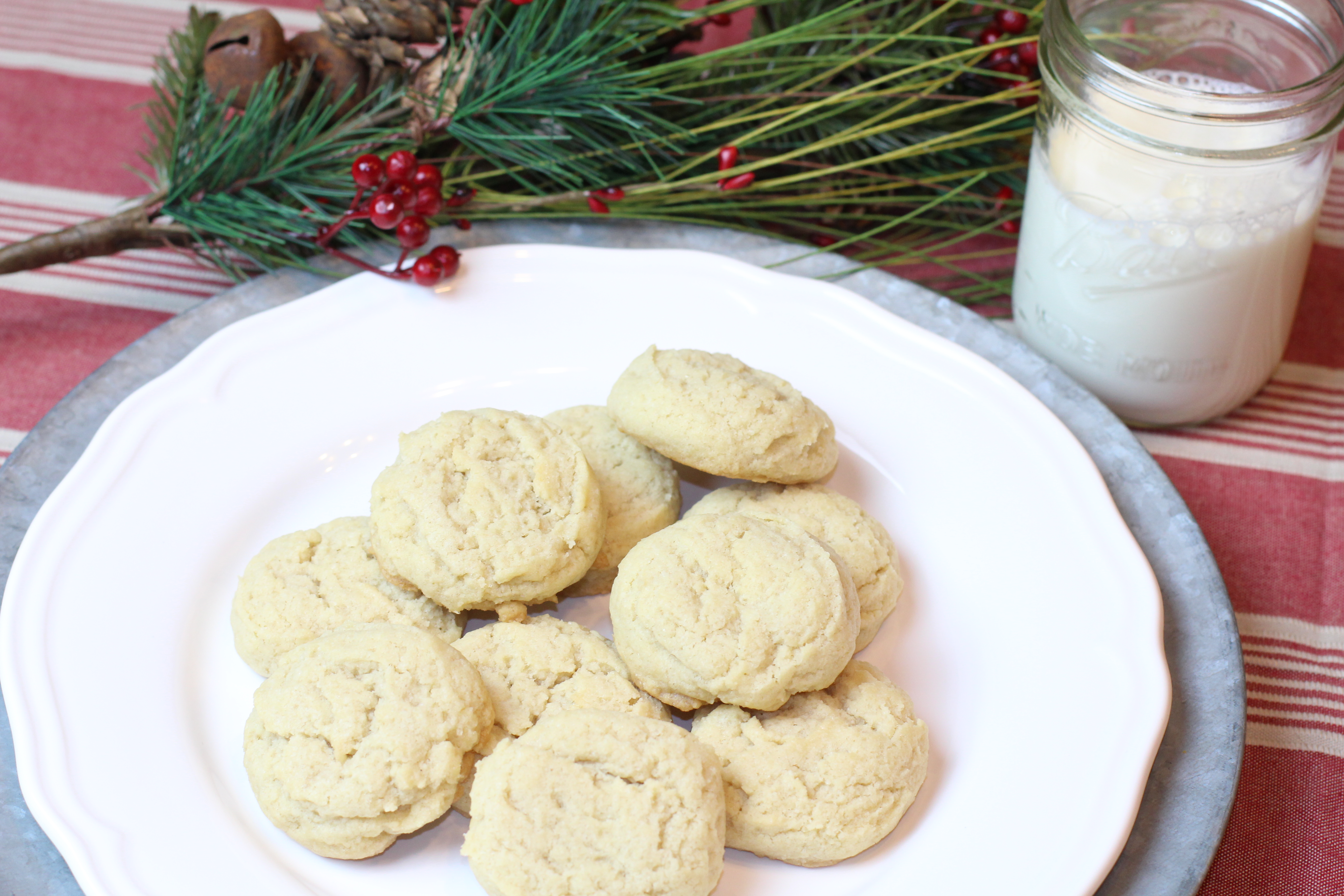 What variations for the BEST sugar cookies have you tried?
Because this is just a basic sugar cookie recipe, try adding a few mini chocolate chips or peanut butter chips to the mix. The addition of extra ingredients could lead to a new fave cookie recipe.
Try adding some frosting (cream cheese frosting is my favorite and doesn't add any extra sweetness).
Place in the freezer in a log form instead of in ball form. After refrigeration, roll out and let the kids use cookie cutters. After cookies have baked and cooled, spend an hour (or two) decorating the cookies with family and friends. Make it a holiday tradition!
What variations of sugar cookies have you tried that your family loves? What traditions do you have for cookie baking with family and friends? Share in the comments below. Don't forget to post pictures as well. We love to see fellow bakers in action!
Check out all the cookie creations shared for our virtual cookie exchange below:
Mondays cookie recipes:
Tuesdays cookie recipes to share:
We hope you enjoyed all the cookie recipes shared this year for the cookie exchange. Make sure you like, share and subscribe all the recipes we've shared so you never miss an update.
Other supplies pictured in this post:
Print: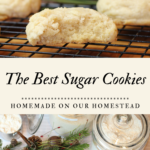 Sugar Cookies
Ingredients
2 ¼

cups

all purpose flour

1

cup

granulated sugar

1

cup (2 sticks)

salted butter-use unsalted if you prefer

(softened)

1

tablespoon

vanilla extract

1

teaspoon

baking SODA
Instructions
In large bowl or stand mixer bowl, blend sugar and butter.

Beat in egg and vanilla extract.

Add flour and baking soda. Mix again. Don't over mix.

Using an ice cream scoop, scoop dough from mixing bowl to form cookie balls.

Place formed dough balls onto plate and put into refrigerator for 60 minutes. If you intend on leaving them for longer than 1 hour, cover with plastic wrap.

Pre-heat oven to 375 degrees Fahrenheit.

Line baking sheet with parchment paper or silicone baking mat to prevent sticking.

Once cookie dough balls have chilled for at least 1 hour, remove from refrigerator and place on lined baking sheet at least 3-4" apart.

Put into 375 degree pre-heated oven for 10-12 minutes.

Once you remove from oven, immediatly place onto cooling rack using a thin edged spatula.

Enjoy!

*Makes 18-20 cookies per batch*
Recipe Notes
Consider making 2 batches and freezing 1 batch of the pre-formed cookie dough balls for later. Will last 2-3 months in the freezer. 
Pin for later: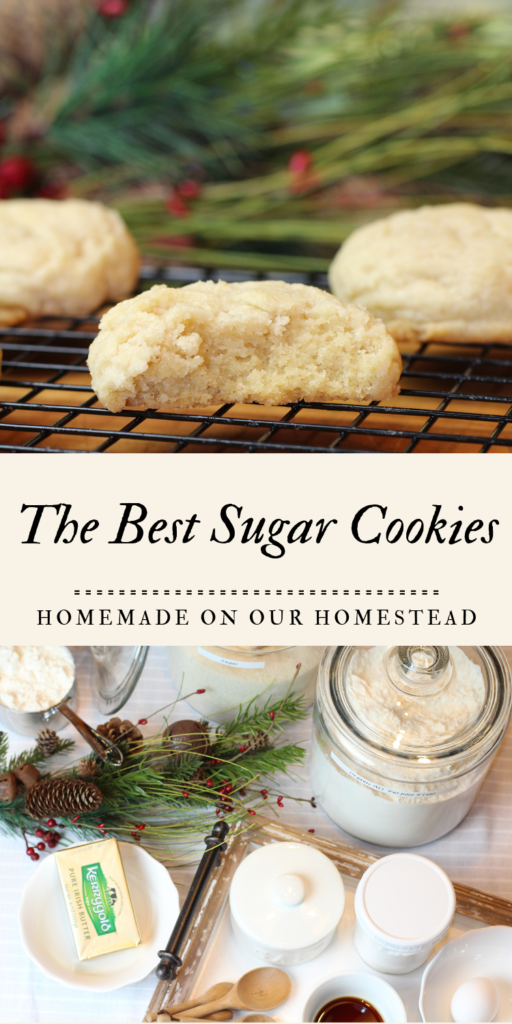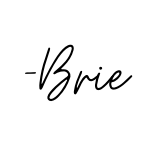 Happy baking season friends! Enjoy.