Learn how to make waterproof canvas fabric for sewing and craft projects.
Waxed canvas fabric has so many uses when it comes to sewing and craft projects.
Video of how to make waterproof cotton canvas fabric:
Why waxed canvas fabric?
Well there's a coupe reason why you may want to use a waxed waterproof canvas.
It's waterproof! This makes it a great alternative fabric for bags and jackets. Especially if you live in a rainy state like I do.
Waxed fabric is super durable. It won't rip, tear or stain easily.
Waterproof cotton canvas is far less expensive than leather. When canvas fabric is waxed, it takes on the appearance of aged leather, but it obviously isn't as expensive.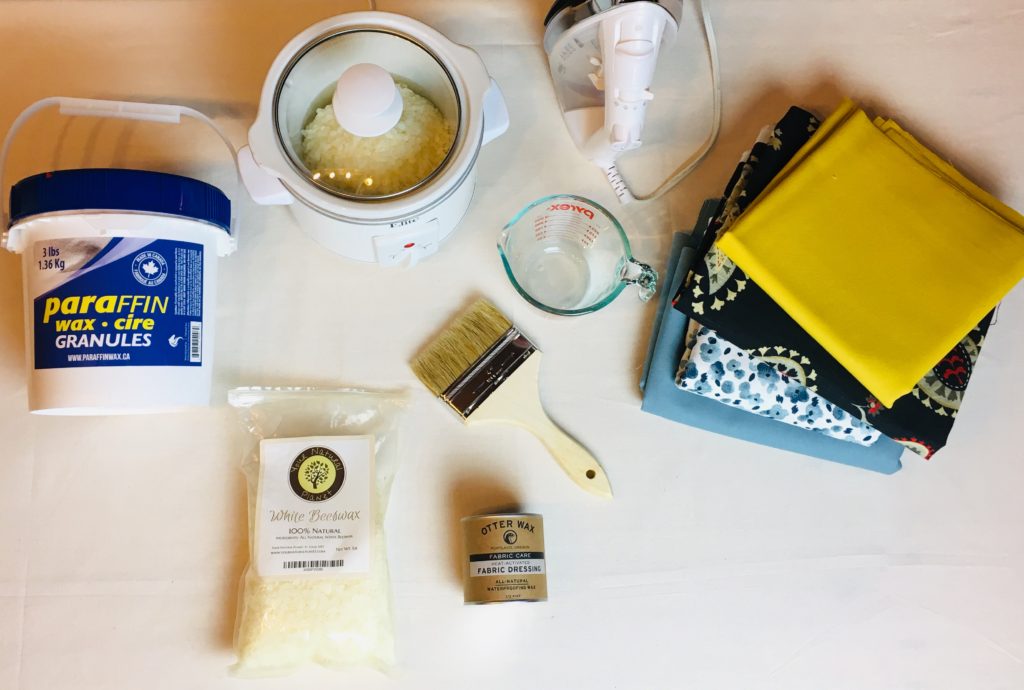 Looking for a tutorial on how to wax canvas fabric for sewing and craft projects? You've come to the right place. If you're looking for a more cost effective way to incorporate waxed canvas elements into your sewing projects, look no further. In this tutorial, I'm going to walk you through the process from start to finish, share some tips and tricks that I've learned along the way, in hopes that you can avoid the same mistakes I did when learning how to do this. Once you've mastered the steps, you'll be wondering why you did't learn how to do this sooner!
Tips and suggestions BEFORE beginning to wax canvas fabric:
I prefer to cut out the specific pieces to my projects before I wax. This is because I have found that not only can this save time, but money as well. If you feel like you'll use an entire 1 yard (or more) cut of a particular color waxed, by all means save the time and wax it all at once. I don't always want canvas waxed for my projects so this is just what has worked well for me.
If you'd like to follow along this particular journey with the canvas I'm waxing and the bag it's going to become, I'll put a link in the description below to the book I'll be taking a pattern from. It's the Noodlehead Zip Top Tote pattern in Anna Grahams new book. Great book chalked full of great patterns. Not a regrettable purchase either way.
Do not wash the towels you are using for waxing canvas in a home washer or dryer, especially with other items (clothing especially). The wax will melt, make a huge mess, and leave oily spots on whatever you wash and dry them with. It will then stick to the side of your dryer barrel and will cause way more headache than it will be worth. Trust me on this one.
You may want to do this in a ventilated area or bring in a fan. The smell of the paraffin isn't the best and you'll have that smell of burning wax when you start ironing.
To get started even quicker, I found that you can also add the ratio of paraffin to beeswax into the crock pot pot, and put it in the microwave to jump start the melting process. You do want to make sure not to leave it in the microwave unattended. If it starts to pop, it will make a huge mess that will result in long clean up. Again, this is just a suggestion and not necessary. Use caution! The pot will be extremely hot when removing!
If you are going to be waxing an entire yard at a time, I recommend folding the yard in half while waxing. This is so that any wax thats permeated the top layer will soak through to the bottom layer making it so you'll use less wax on the backside when it comes to flipping the piece over. This step can be done for smaller pieces as well. Just creates less waste.
Wear an apron the first time you do this just to make sure you protect your clothing.
Waxed canvas takes 24-48 to cure before use. The piece should feel totally dry, not sticky or damp. If at anytime in the curing process you see an area that looks heavy, you can always iron it out to distribute the wax more evenly.
If you begin to paint the melted wax on and it immediately turns white-have no fear. Its just because the surface wasn't warmed enough or the wax wasn't hot enough so it cooled really quickly. Let the wax heat longer and or warm the surface with the iron before applying. It doesn't really matter as you will be ironing it anyhow. The process is just a lot smoother when all the surfaces are warm.Disclosure: Some of the links below are affiliate links, meaning, at no additional cost to you, I will earn a commission if you click through and make a purchase.
Supplies needed to wax cotton canvas:
An iron with high heat setting. (If you happen to have an old iron laying around-use that. Just know that once you use it for this process you likely won't want to be using it to iron your clothes. Purchasing one at a thrift shop is another way to save money with this process. I wasn't able to find one at my local second hand store so I purchased a really inexpensive one on amazon that works great for crafting).
Mini crock pot. Again, if you can find one second hand that's a great option. I purchased a brand new one that was the size I needed for craft projects really inexpensively. You can also use your stove and an old pot. I just found it to be a hassle to have to head to the stove to re-heat my wax mixture every time it started to cool off and harden. When it starts to cool its really difficult to paint on smoothly. Again, this just adds time as well.
BeesWax pellets (or any form of natural beeswax you prefer will work). I have tried several brands and forms of wax and the ones I use now I have determined give me the results that I'm looking for. Some waxes will leave a residue on the canvas regardless of how many times you wax it. Some will also leave a white film on the surface of the canvas. All of which are not that desirable. Feel free to try options, and let me know if you find a mixture that has worked well for you and yields great results.
Paraffin Wax. Again, what has worked for me has been chosen after a lot of trial and error. This has been time and money to figure out the best ratios of each. But do what works best for you and your needs.
Natural bristled brushes. I typically buy these by the pack on amazon as I find that they are cheaper than buying them at the local hardware store. I prefer the 4″ wide brushes because they can cover more surface area faster. Make sure when selecting brushes for this project, that you choose brushes that are wide but not super dense. The more dense the brush, the more wax will build up in the bristles towards the top of the brush. Not a big deal since it can be melted out of the brush when your finished. Do NOT use brushes with plastic bristles-they will melt in the hot wax.
Old towels (1-2). I purchased towels from a thrift shop long ago that I use for misc things around the house. I wouldn't recommend using good towels as they will get ruined. Once you've used a towel for waxing canvas, you wont want to use it for anything else. Wax can leave an oil residue (and spots) on clothes. So for that reason I wouldn't recommend washing and drying this in your home washer and dryer. Especially with other items (clothes).
Measuring cup. Needs to have a 4 oz and 8 oz measurement lines. I prefer glass because its easy to wipe out if something sticks. Also, you can place it in the microwave to heat to wipe out. I use the glass pyrex 2 cup measuring cup with handle myself.
Cardboard. I used an old Amazon box folded over. This is to help protect your table from the heat of your iron.
Canvas. 10 oz 100% cotton canvas. *If you prefer to dye your own, I'd recommend using a 100% cotton 8oz drop cloth. You can dye it yourself so you can get really specific with the color you want, and you you can get a piece of drop cloth (6′ x 9′) really inexpensive. I still prefer the 10 oz canvas as its more rigid and dense, but if you are trying to save money, this can be a good option. I'll link in the description below which one I buy. You can also buy these at the hardware store, but what I have found is that they can be expensive.
Step by step instructions on how to wax cotton canvas:
**A word of caution. This wax gets extremely hot! Be careful! I would not recommend having children around while doing this. It can result in burns.**
Use a ratio of 8 oz paraffin to 4 oz of beeswax pellets. I'd recommend doing at least double the mixture needed to wax a yard of canvas if you are intending on doing a full yard cut. Some colors of canvas seem to require more wax than others (no idea why). I have found that it takes at least an 8oz to 4oz ratio to do almost a full yard. Again, it could be more, could be less. Better to have to much than not enough. If you do have to stop to heat more wax because to you didn't do enough, thats just added time. It takes about 45-50 minutes to heat (this is referring to a 16oz/8oz batch). See tips and suggestions section above (#6) for jump starting the wax melting process. Again, use extreme caution if you're going to do this.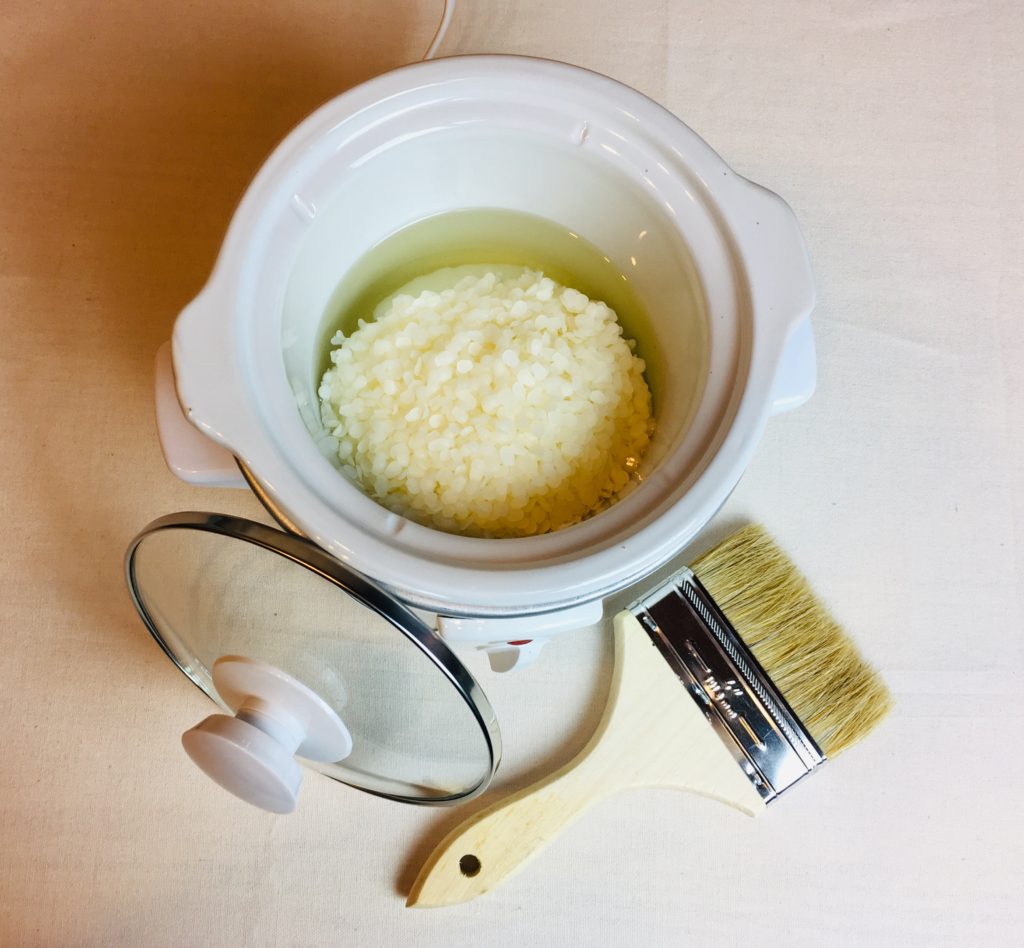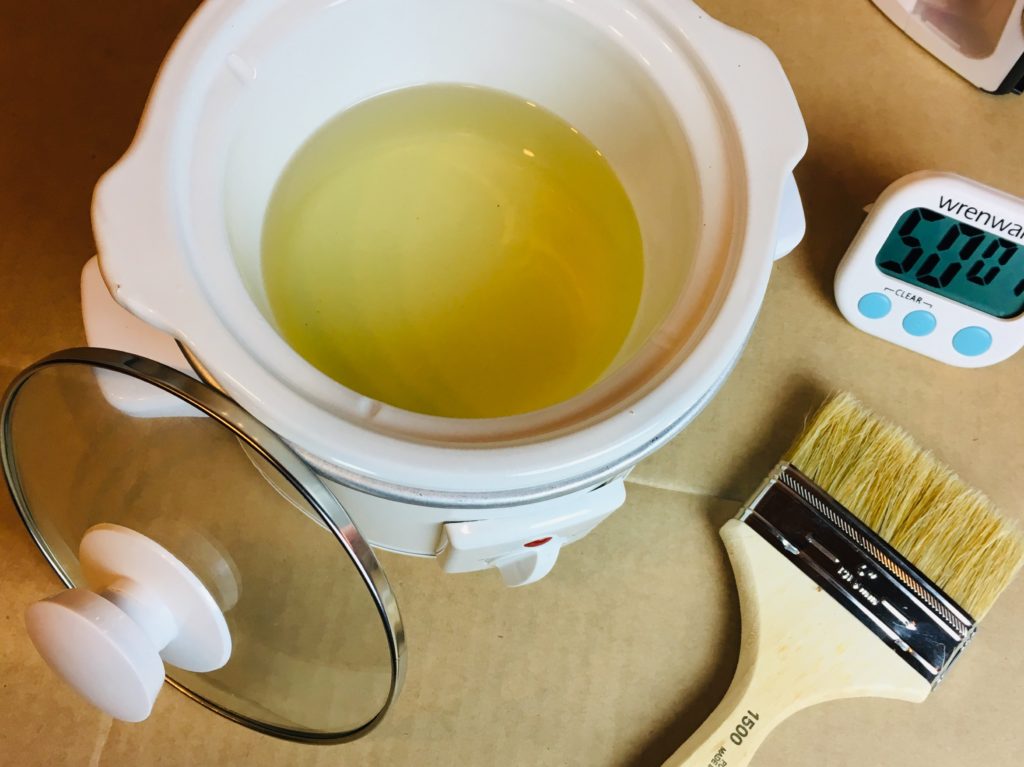 Turn iron on. High heat/NO STEAM! If you're using an iron with auto shut off, make sure to check it frequently to avoid it shutting itself off and not being hot when you need it to be.
Prepare the work surface you'll be using. Cover a table top with cardboard, followed by an old towel, then the canvas you intend to wax.
If you are waxing a full yard at a time, see tips and suggestions area above (#6). Can also be helpful for small pieces and helps eliminate wax wasted.
Begin by ironing the canvas to heat it all the way through-this step isn't at all necessary. I just found that trying to paint wax onto a cool surface made it more difficult and resulted in the wax beginning to harden before I wanted it to. This just helps distribute the wax easier and helps it to more quickly absorb into the weave of the fabric. You don't need to iron the canvas to try and remove wrinkles. It doesn't make a difference. Once you apply the wax, you'll be ironing it again. So the purpose of this step is to heat the surface, not remove wrinkles.
Dip brush into melted wax. Working from an area away from your body and working towards you, paint the wax on the canvas. I prefer doing small sections at a time (24″ x 24″).
Once you have a small section painted with wax, set your brush down on a protected surface and begin to iron the waxed area. This steps help to distribute the wax and pushes it into the surrounding area.
Repeat until all pieces are done.
If you have folded a piece in half to wax, you'll want to be sure and open the piece up to check for areas where wax hasn't been applied.
Before the pieces that have been waxed begin to fully cool down, lifts them from the work surface. You'll want to do this multiple times to be sure that the wax from the canvas and the towel aren't stuck together. Again, if this happens-don't panic! Just iron to heat and remove.
Once pieces have cooled, hang on a drying rack or over a shower rod until cured. 24-48 hours is recommended. Just depends on how heavily you've applied the wax. 24 hours usually seems sufficient for the pieces I've done. Lighter application seems to be better than super heavy.
You're done! Congratulations!! Now get to creating something with the beautiful pieces of waxed canvas you just created. Please share your creations in the comments below. I always love to see what people have made with a new found skill.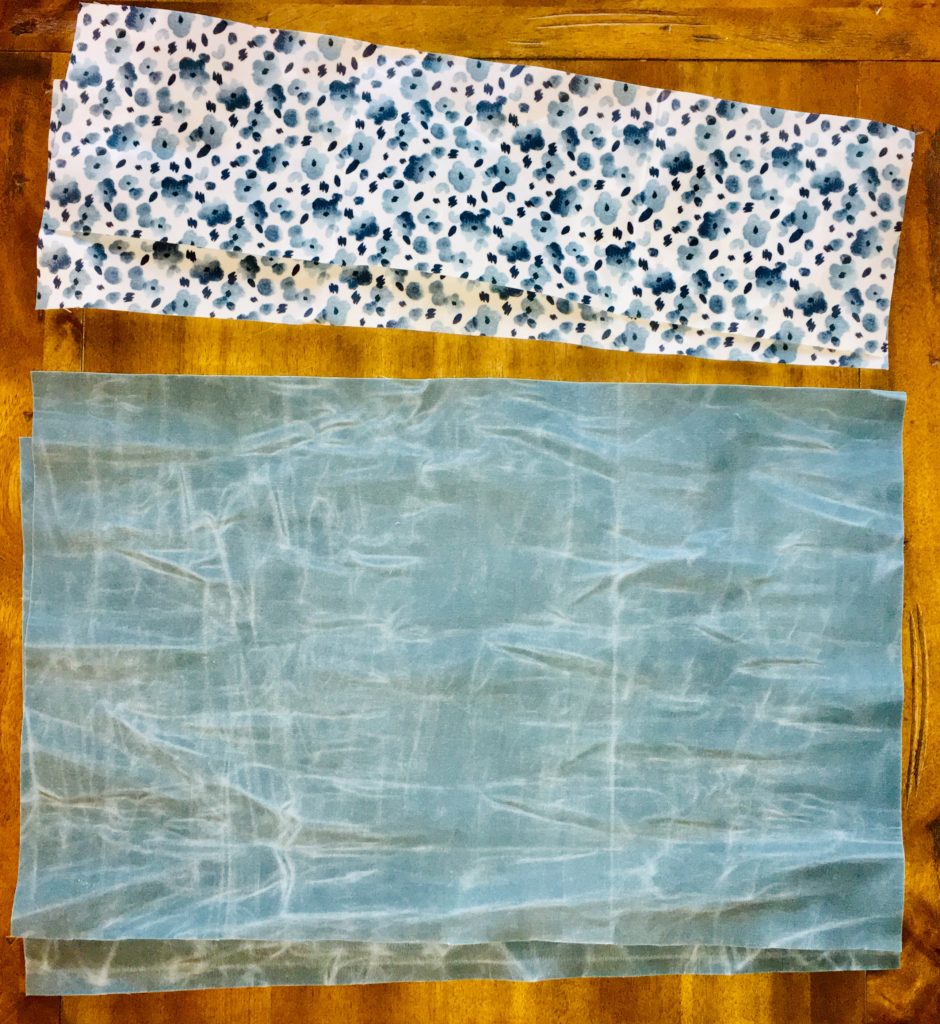 What combinations of wax have you used that worked for you? Share your tips and tips with us!
What types or variations of wax have you tried that worked well for you and yielded amazing, workable results? We'd love for you to share in the comments below. Also, if you used this tutorial to create your own waxed canvas, share your creations!!
Shop the supplies:
The supplies listed above have yielded the highest quality results of all the variations I've tried.
Pin it for later: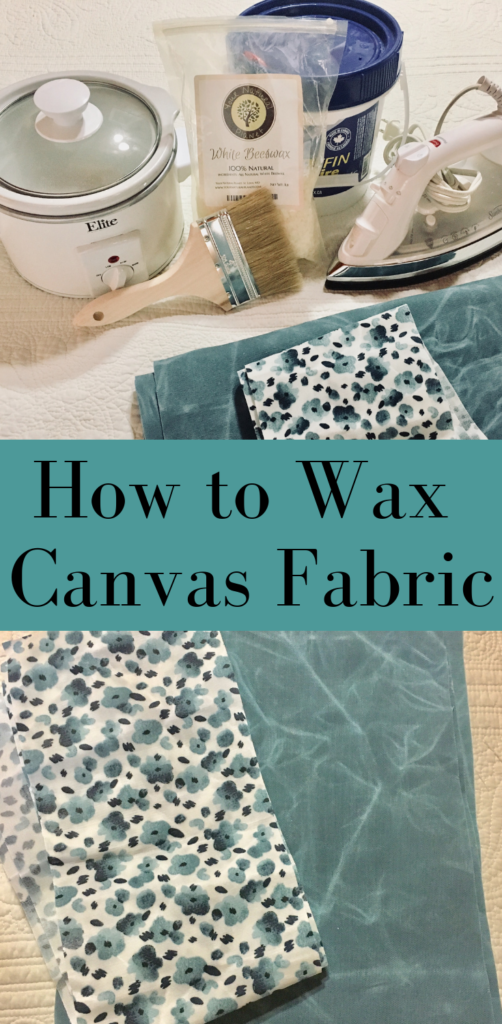 I hope you found this post useful and will give this method a try for waxing your own cotton canvas fabric.
Keep on crafting.
Brie