Today I'm sharing all the best sewing essentials for every beginner sewer or quilter.
It has taken me quite a few years (12 to be exact) to figure out what works the best for me when sewing a new article of clothing for my wardrobe, a bag or quilt. A good set of basics will make sewing a little easier and far more enjoyable, especially if you are just starting out on your sewing journey.
So I thought since I shared all about this on my YouTube Channel, that I should write a detailed post about it too.
I tried to include a sewing equipment list with pictures for the folks like me who prefer to see what it is rather than just a list.
Basic beginner sewing essentials are the foundation of a good relationship with sewing, quilting and clothes making so let's jump right in!
Some of these links may be affiliate links, you can read my full disclosure HERE.
You do not NEED all of these things to begin sewing. However, most of these things that I will be discussing are listed because I have found that they make my time sewing a lot easier, therefore more enjoyable.
The Best Sewing Essentials For Beginners Video
Click on the links in the table of contents to take you directly to a certain section of the post.
What Do I Need To Sew As a Beginner?
Obviously as a beginner sewer or quilter you aren't going to need everything on this list that I'm reviewing/discussing today. But these are some things that should be on your list of future purchases if sewing becomes a more serious hobby.
Like everything, having the right tools to complete your sewing tasks will make things so much easier and more efficient.
What Are Sewing Accessories?
Basic sewing accessories are the things that you need that will help you complete your sewing projects. Accessories can include things like scissors, pins, rulers and so on.
Gadgets have the ability to make things so much easier. Am I right? If you are a sewer, quilter or crafter then obviously you know this is true. Notions are just one of those things that have the ability to simplify. When I find a new one I always think, "why didn't I think of that?!"
Am I the only one that gets giddy when I find that new special tool at a craft or hobby show? Gosh I hope not. Let's get to my list of top ten sewing essentials that I personally think you can't live without. Let me know if you have any of these tools and how you like them.
Can You Teach Yourself To Sew?
Absolutely!
There are so many resources available on the internet these days that get started sewing is easier than ever!
If you don't know anyone that sews, and still want to learn, don't be intimidated. Start small. Get the basics you need to complete, small, simple projects and work your way to more complex sewing endeavors.
Books are another great resource. Whatever sewing looks like to you whether it's sewing quilts, handbags or clothing, you can find wonderful resources for all of them.
Don't forget about classes. If you are looking for a more comprehensive way to get started all in one place, check out platforms like Craftsy. You can preview courses you want to take for very specific things and it's a great way to learn at your own pace.
The Best Sewing Essentials For Beginners
Beginner Sewing Machine
I guess it's pretty obvious to say that if you want to sew, you need a sewing machine.
That being said, there are so many machines on the market these days that it may seem overwhelming to find one that is going to suite all your sewing needs, and last you a while.
This is the machine I started with. It last me a couple years, before I finally decided I was ready to sell it and buy something a little more advanced.
It's a great sewing machine for beginners. It has a zig zag stitch, can sew button holes, and I found it to sew through layers without an issues.
If you aren't ready to invest in a sewing machine brand new, don't forget to check out your local FB marketplace, Offerup and Craigslist. You may be able to find somethings similar for a fraction of the price.
The Best Sewing Machine For Beginners
You can find this machine HERE.
4 in 1 sewing tool: Seam Ripper, Stiletto, Presser, Turning Tool
To get started with our sewing essentials list, I thought I'd show you this multipurpose sewing tool.
The elusive Alex Anderson 4 in 1 tool. This is probably the number one notion I get asked about in my YouTube sewing videos. It seemed like an obvious choice to put it first.
What is it you ask? Let me explain the jobs it can do.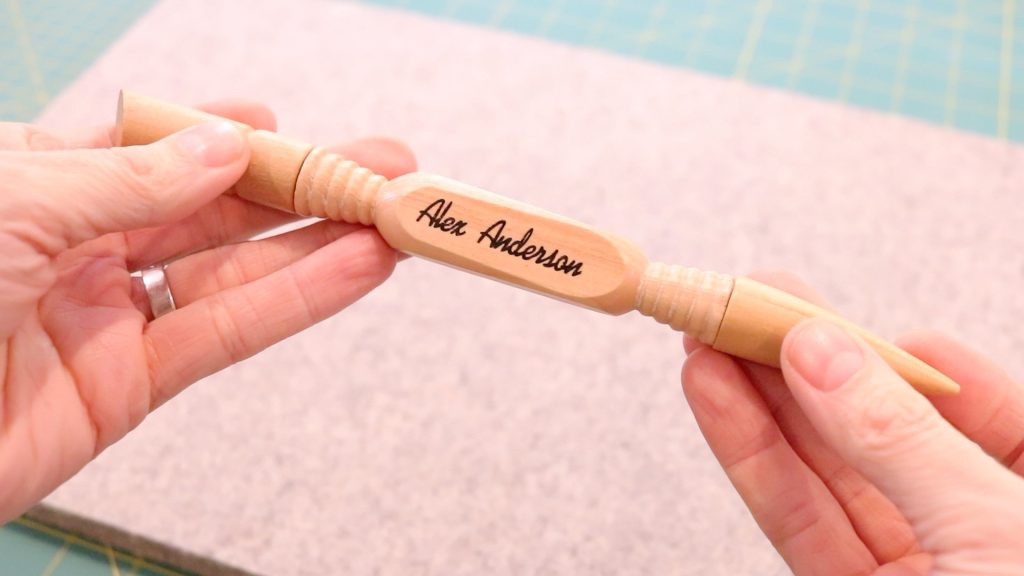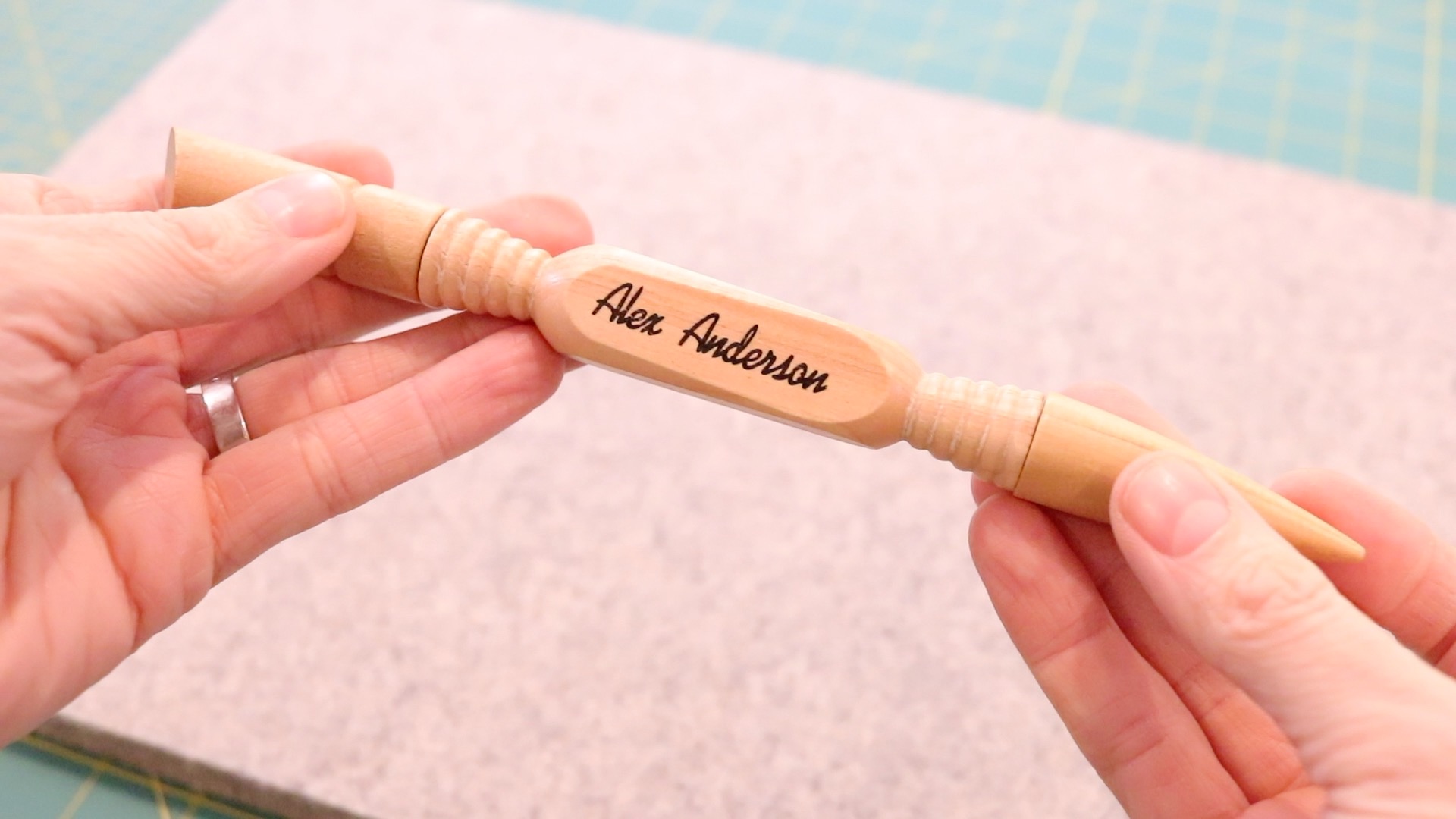 This tool is exactly as it says. 4 tools in 1! Thats a win for me. Alex Anderson did us all a great service by making something so compact that can do the job of four-and in one handy tool no less.
Let's start by listing all the things this handy sewing gadget can do:
Seam ripper.
Stiletto.
Presser.
Turner.
This 4 in 1 tool is made of smooth wood it's simple and beautiful.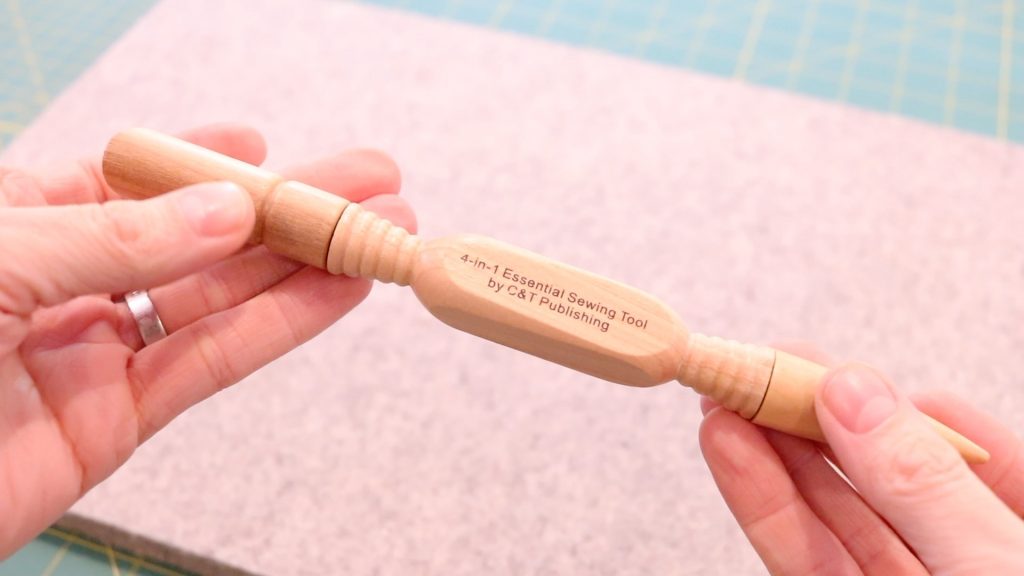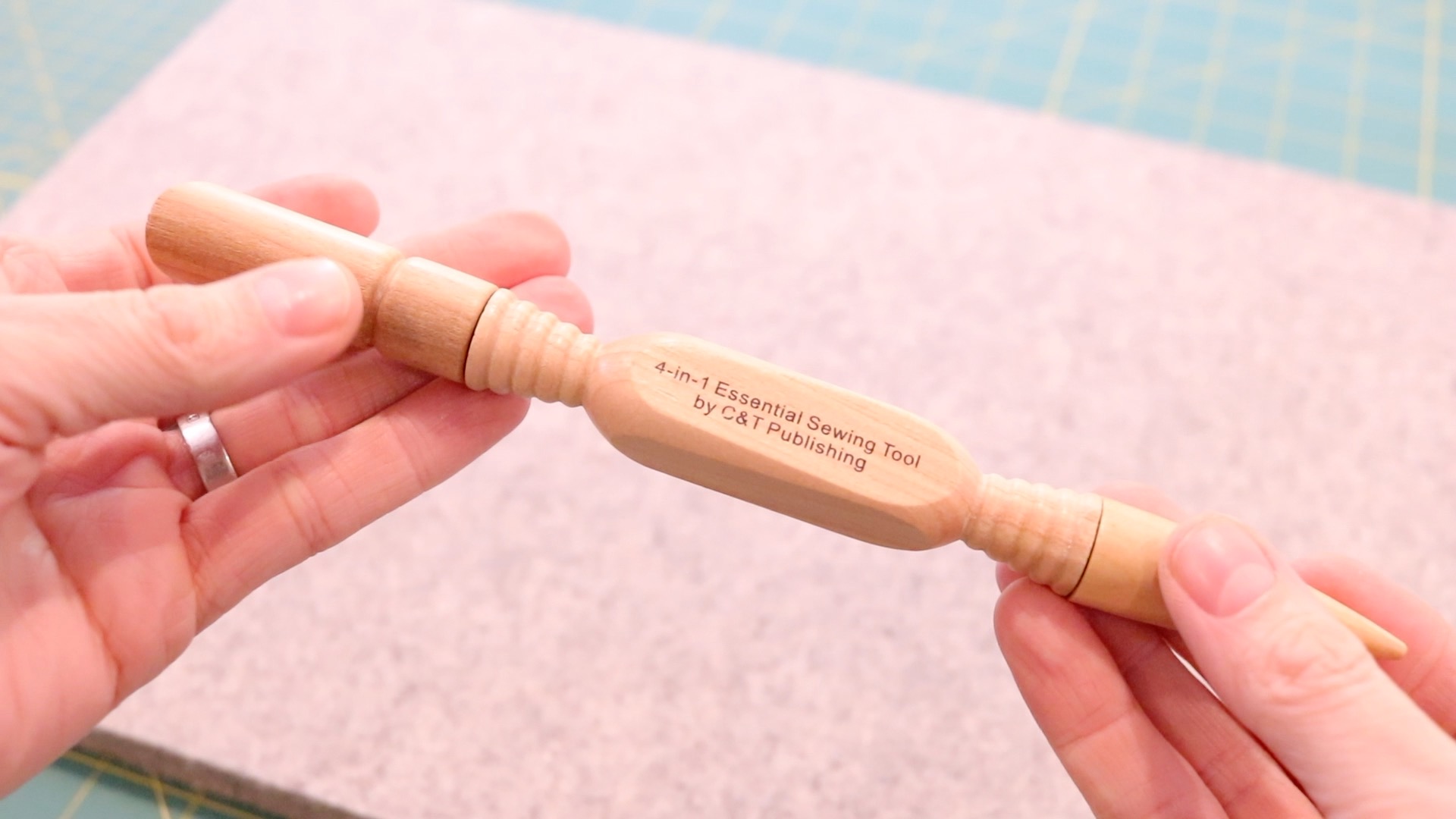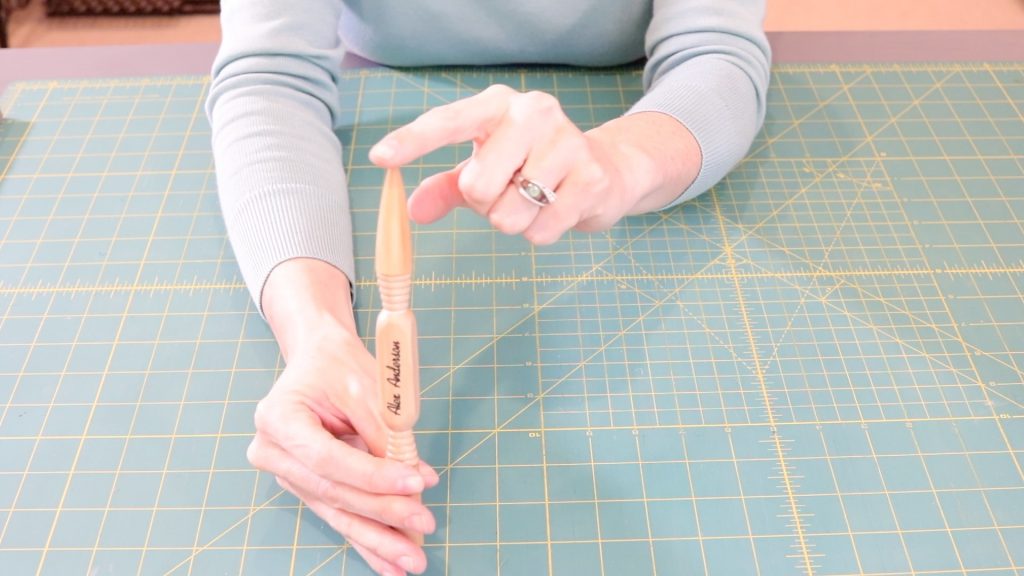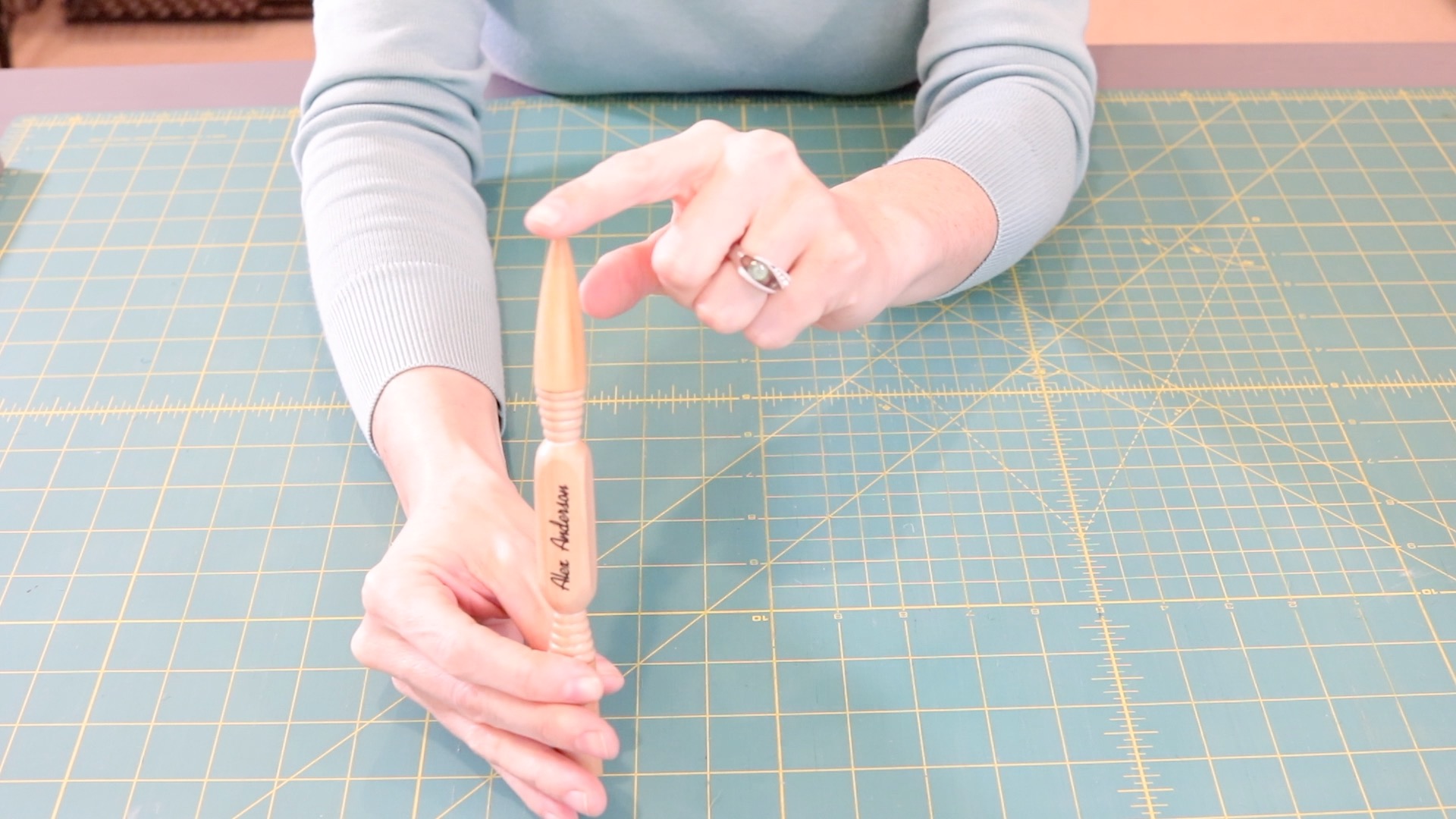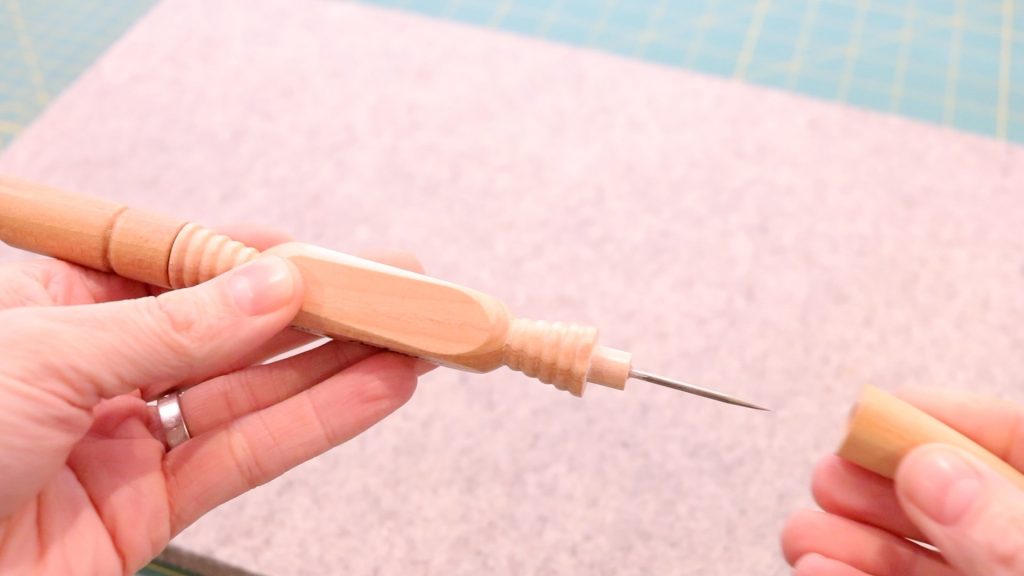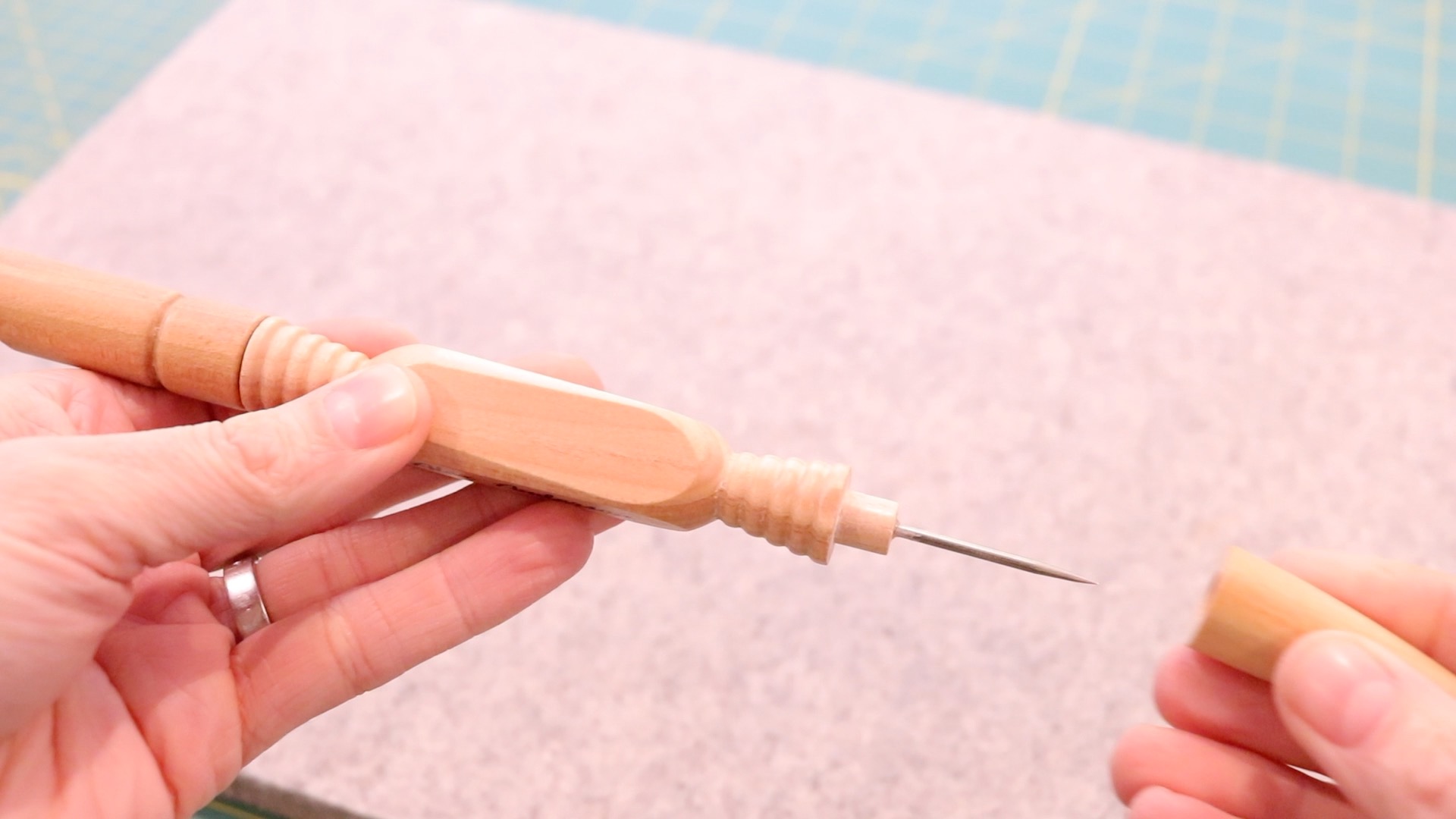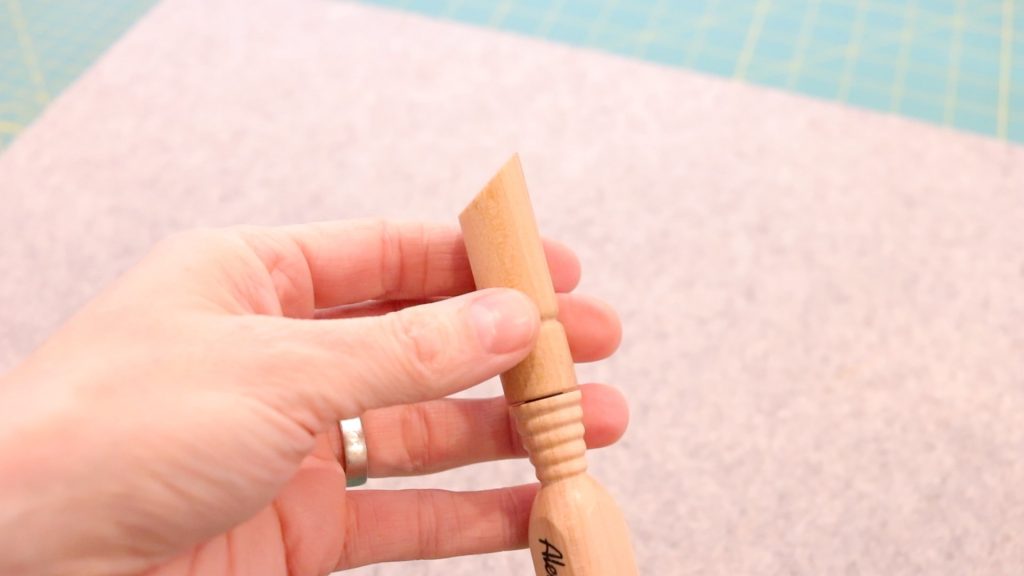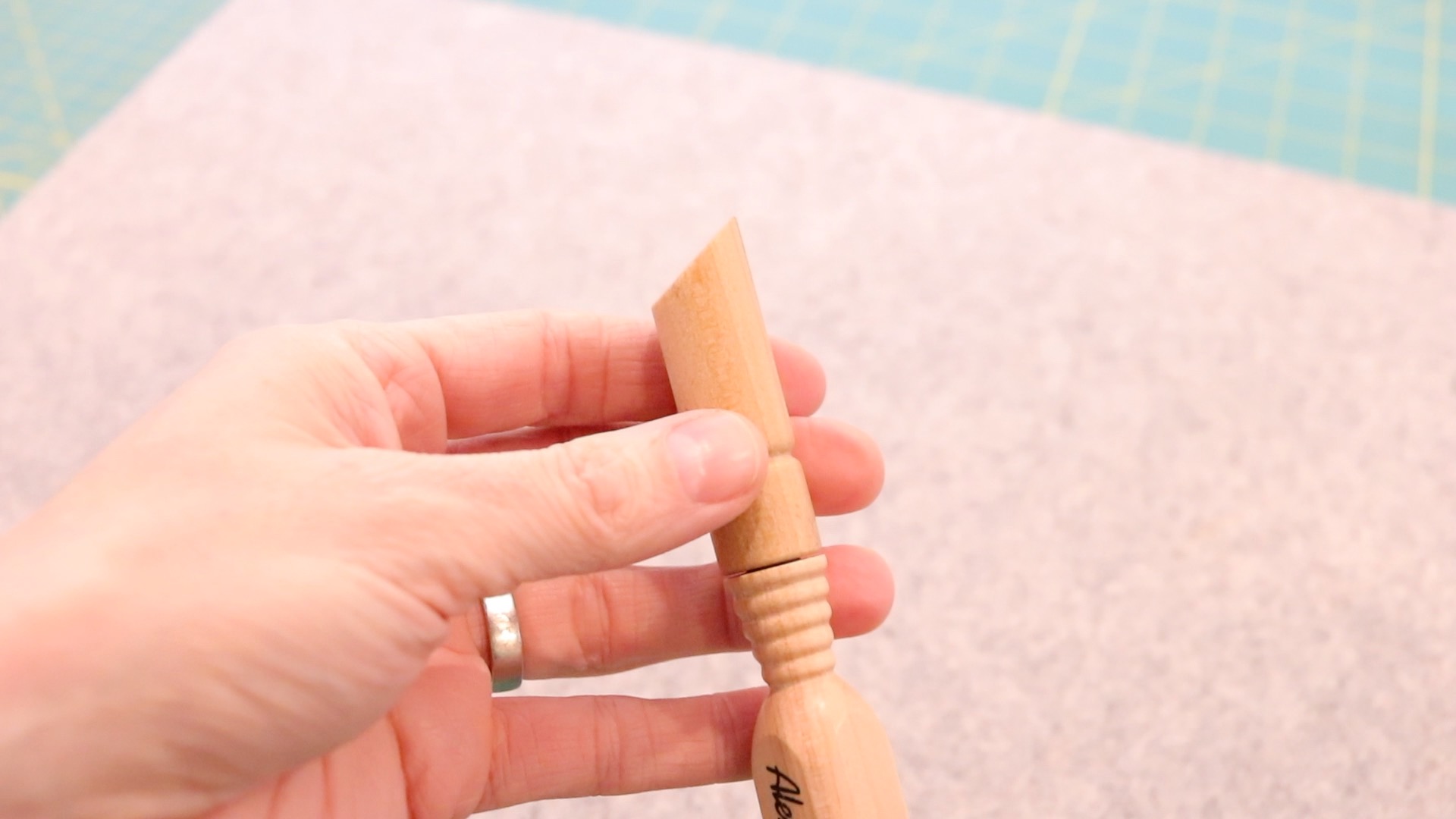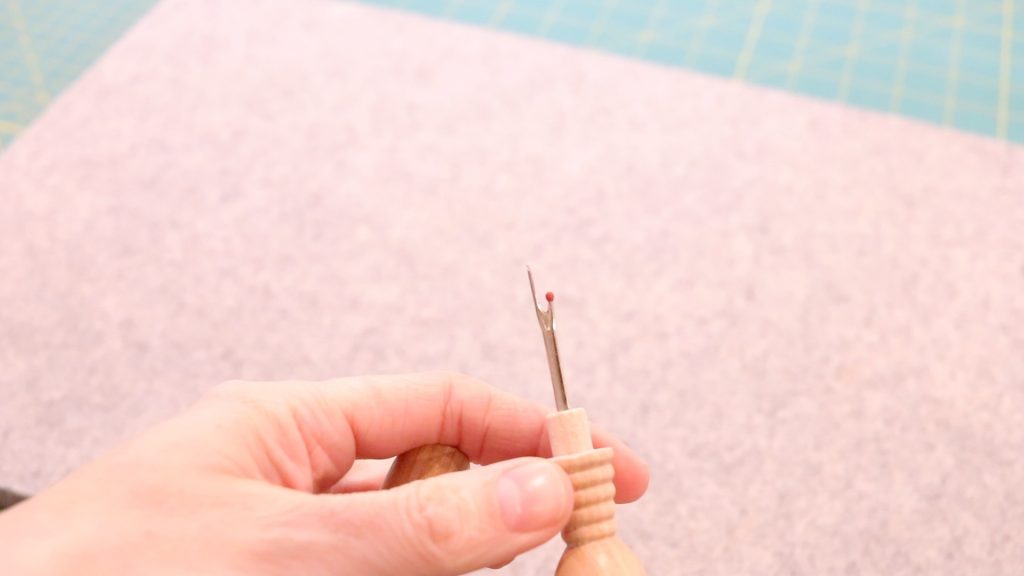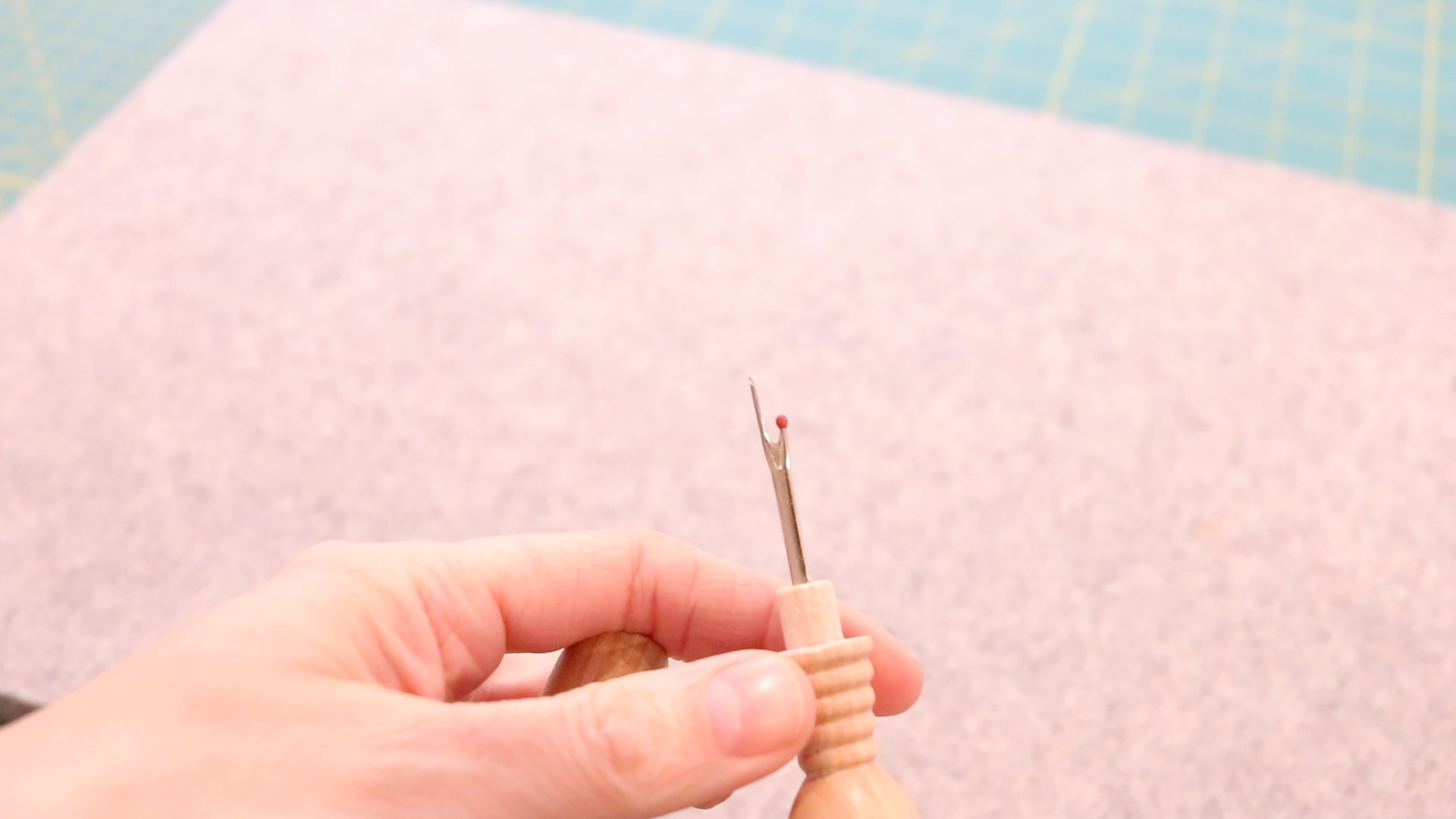 The Alex Anderson 4 in 1 tool
This tool has an ergonomic grip as well. The middle part of the handle is square cut, but the edges remain smooth so it doesn't hurt your hands to have to hold it for a prolonged period of time. Say ripping out?
Final thoughts on this tool? Get one, and you can thank me later.
Cutting Mat
If you plan on using a rotary cutter to cut your fabric, then a cutting mat is essential.
A cutting mat will protect the surface of your counter top or table so the blade of the rotary cutter doesn't slice right through it.
Rotary cutters are extremely sharp and all caution should be taken when using them to protect fingers and furniture.
I have used many cutting mats over the last 12 years, and I always go back to the Olfa self healing mats.
The price will vary greatly depending on the size of the mat you purchase. I have 6 of them in different sizes. I would say that if you buy just one, I recommend the 24 inch by 36 inch size. It is the one I use the most.
You can find it HERE.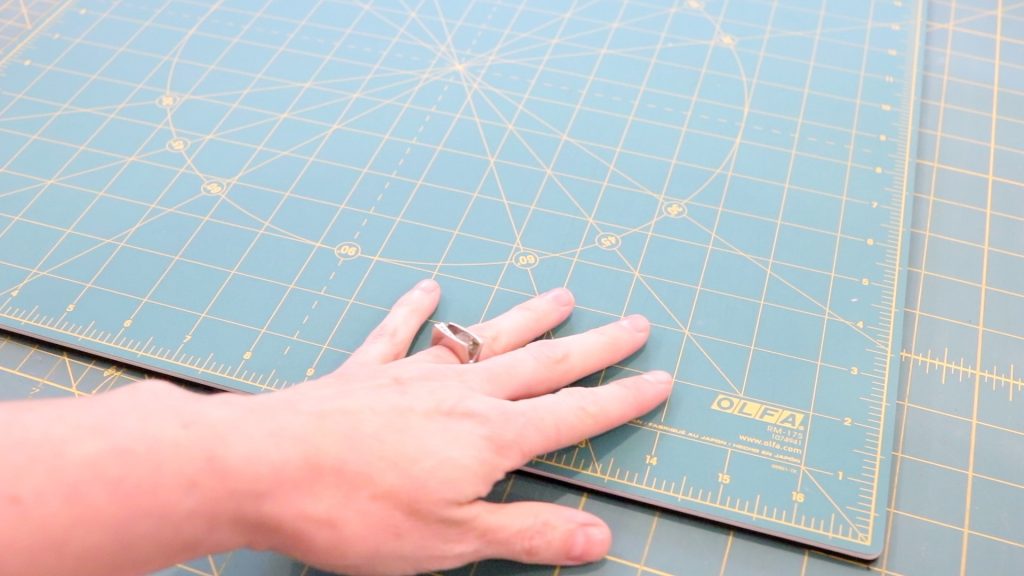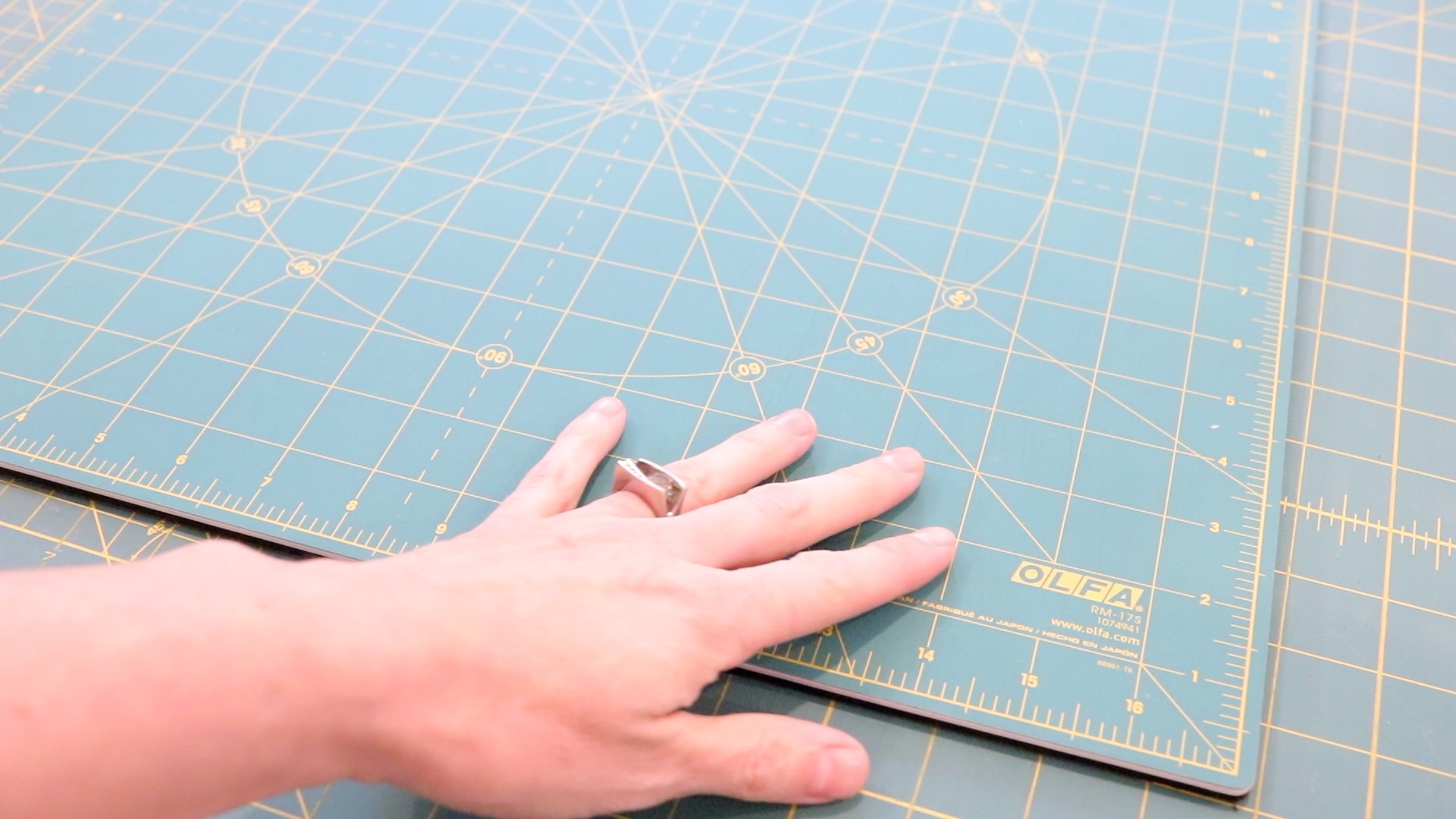 These cutting mats are a really great addition to any sewing room. Heres a few of the reasons why may want to consider upgrading to one of these mats.
Olfa Cutting Mat
Self healing mat. This just means that when you use your rotary cutter to cut your fabric, the mat isn't left with deep grooves that inevitably your rotary blade will find in the future with ease. These mats heal themselves so the groove lines aren't noticeable.
Longevity. These mats have lasted me much longer than any of my other cutting mats.
Size availability. These mats come in quite a variety of sizes.

Functionality. My 12 inch by 12 inch rotating cutting mat makes cutting small quilt squares far less painful. No more lifting the fabric to make another cut. Spin the cutting mat (like a lazy Susan), and make your next cut. You can find that cutting mat HERE.
Iron
Like everything when it comes to sewing, quilting and clothes making, you'll find certain things that you love and certain things that are a nuisance.
For me, I do not enjoy having a cord from my iron that gets tangled up when I'm trying to get things pressed. I personally have really enjoy cordless iron.
Features of the Panasonic cordless iron
Steam or dry iron options.
Low, medium and high heat setting.
Retractable cord for easy storage.
Removable water well (for easy filling).
Retails for $55-$89.00. Price will vary depending on where you find it.
I have had both of my cordless irons for 5 plus years and they are still going strong.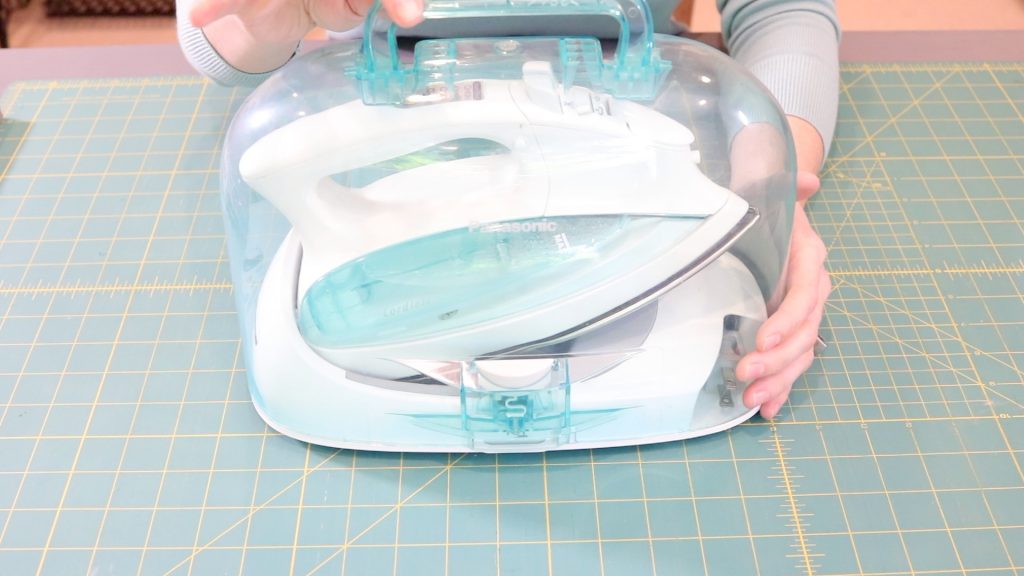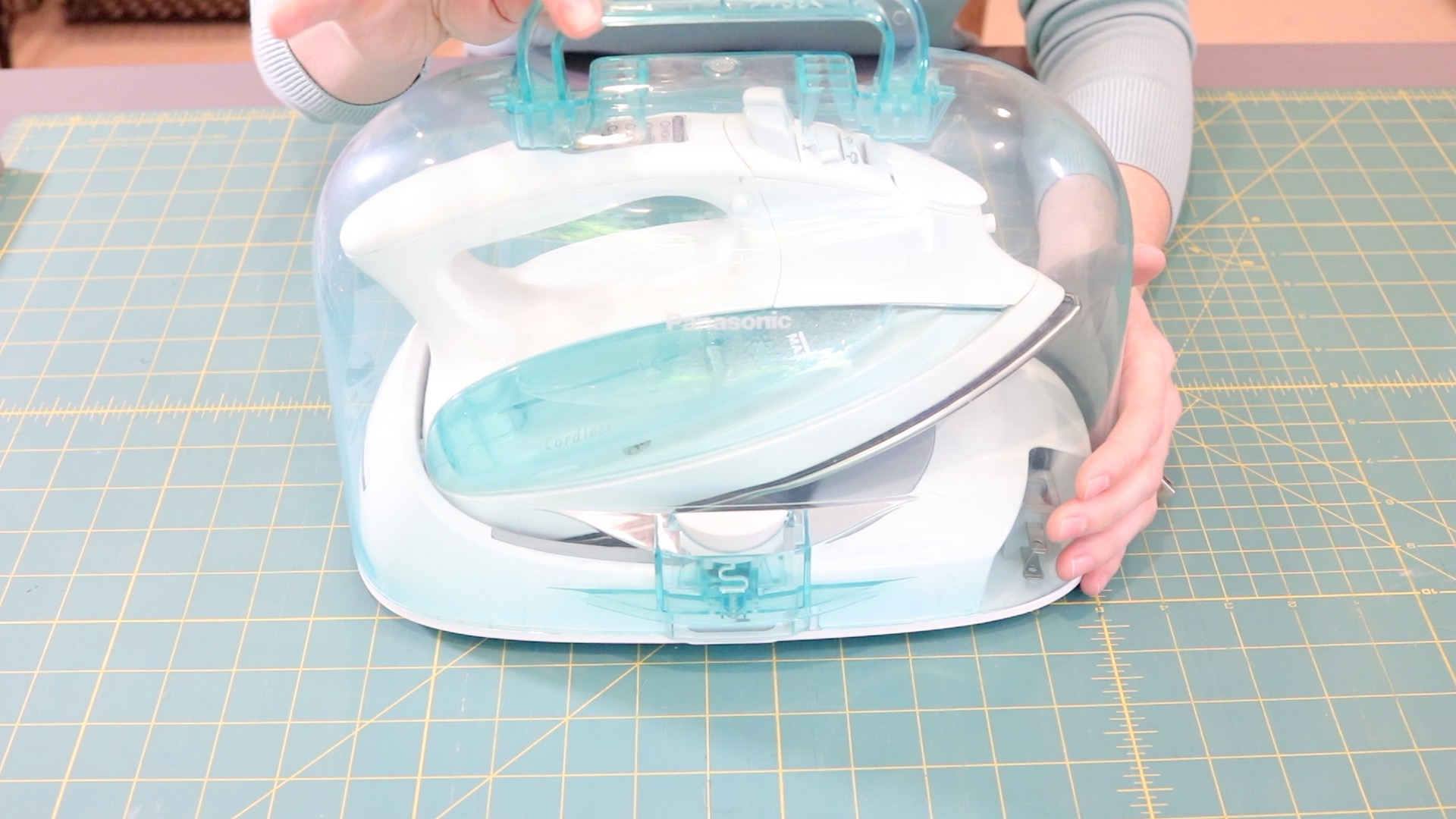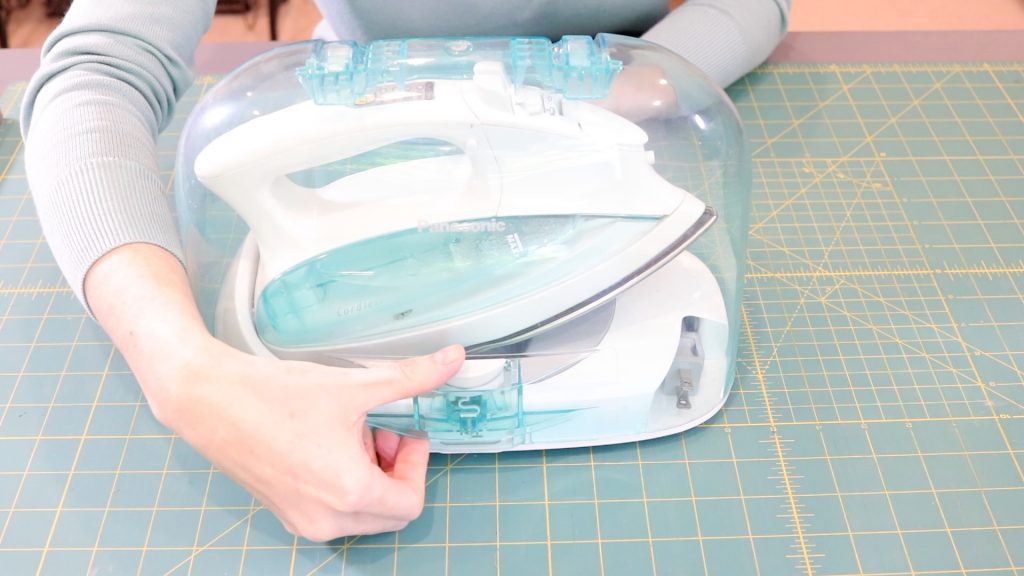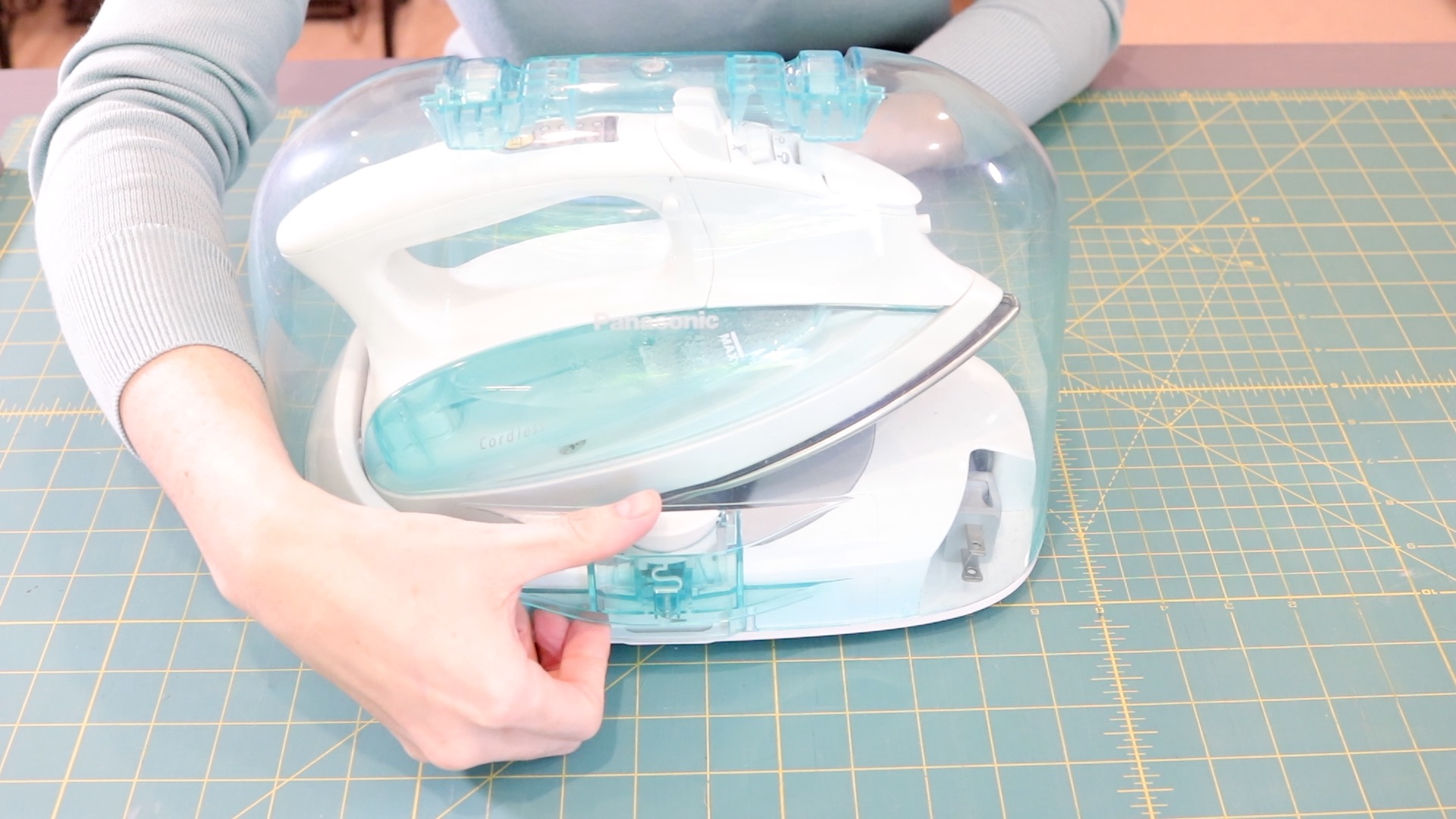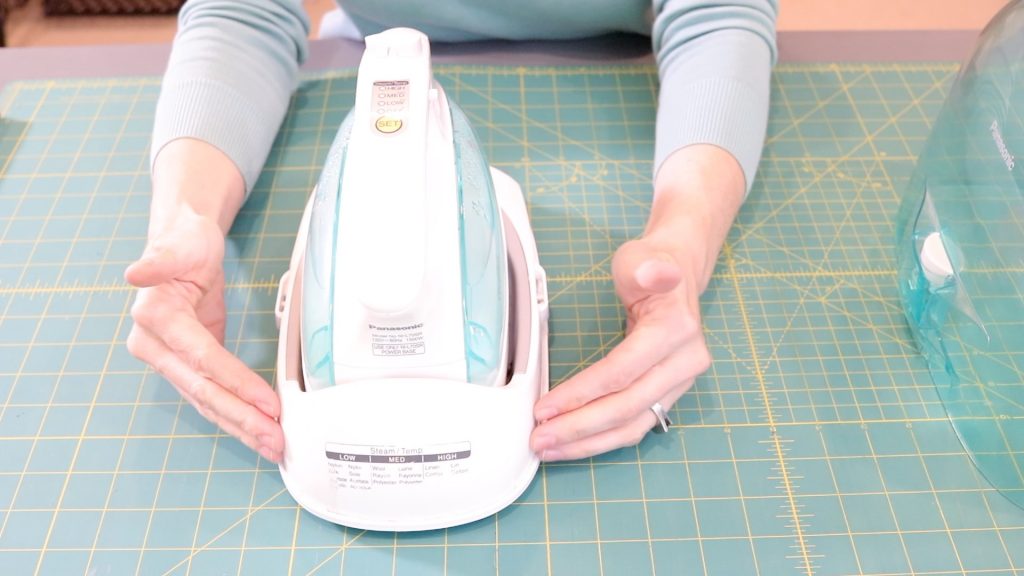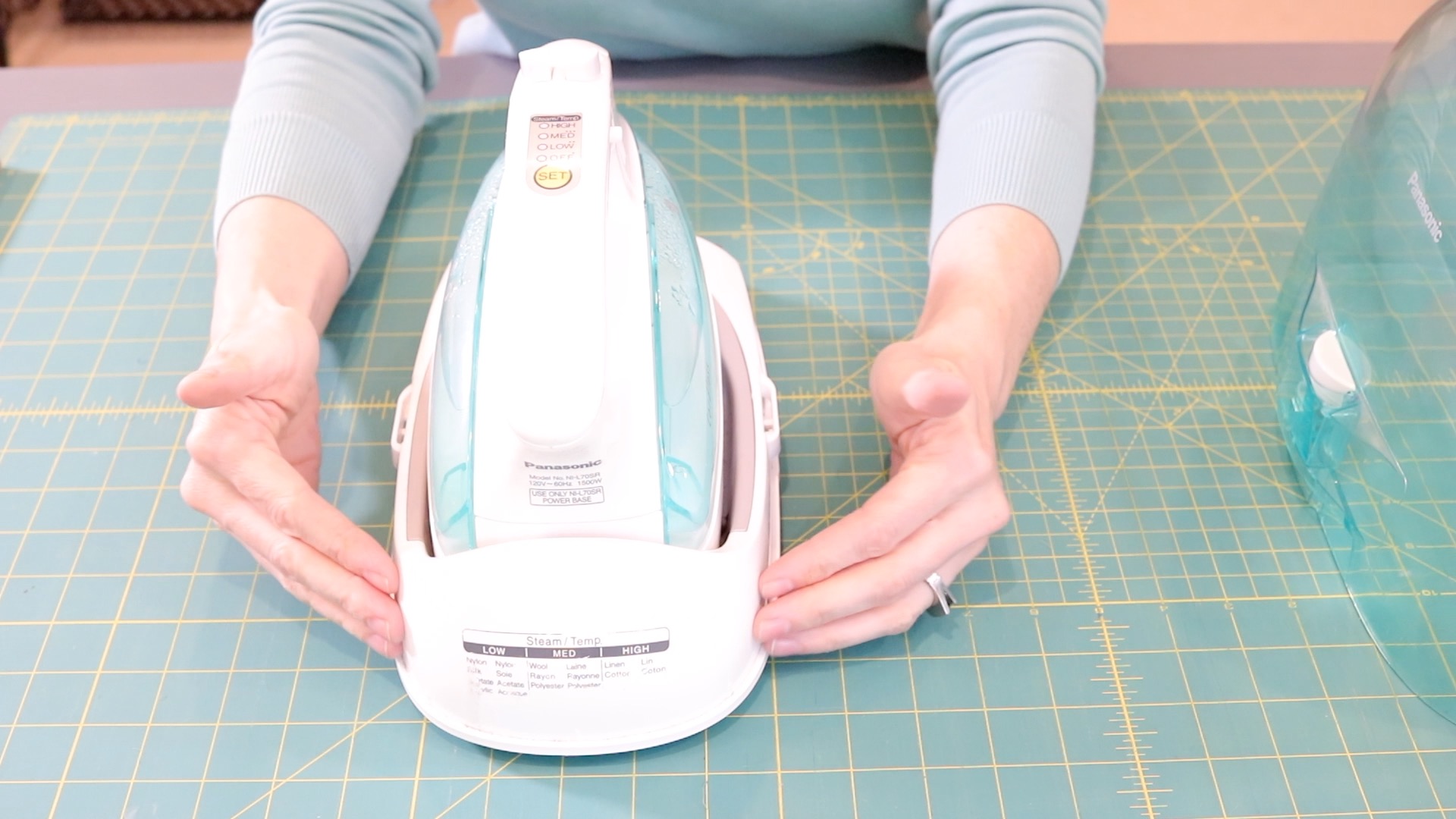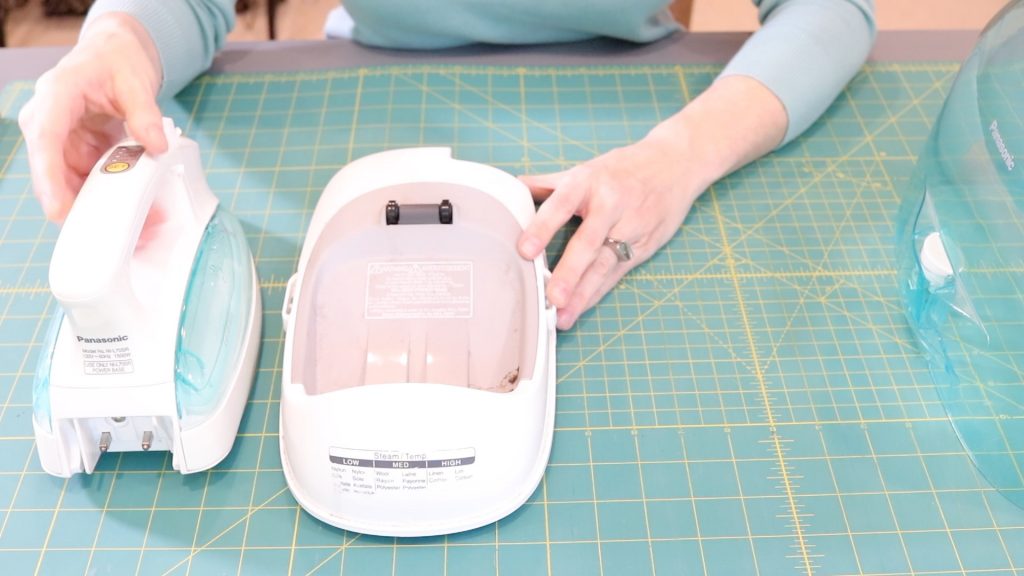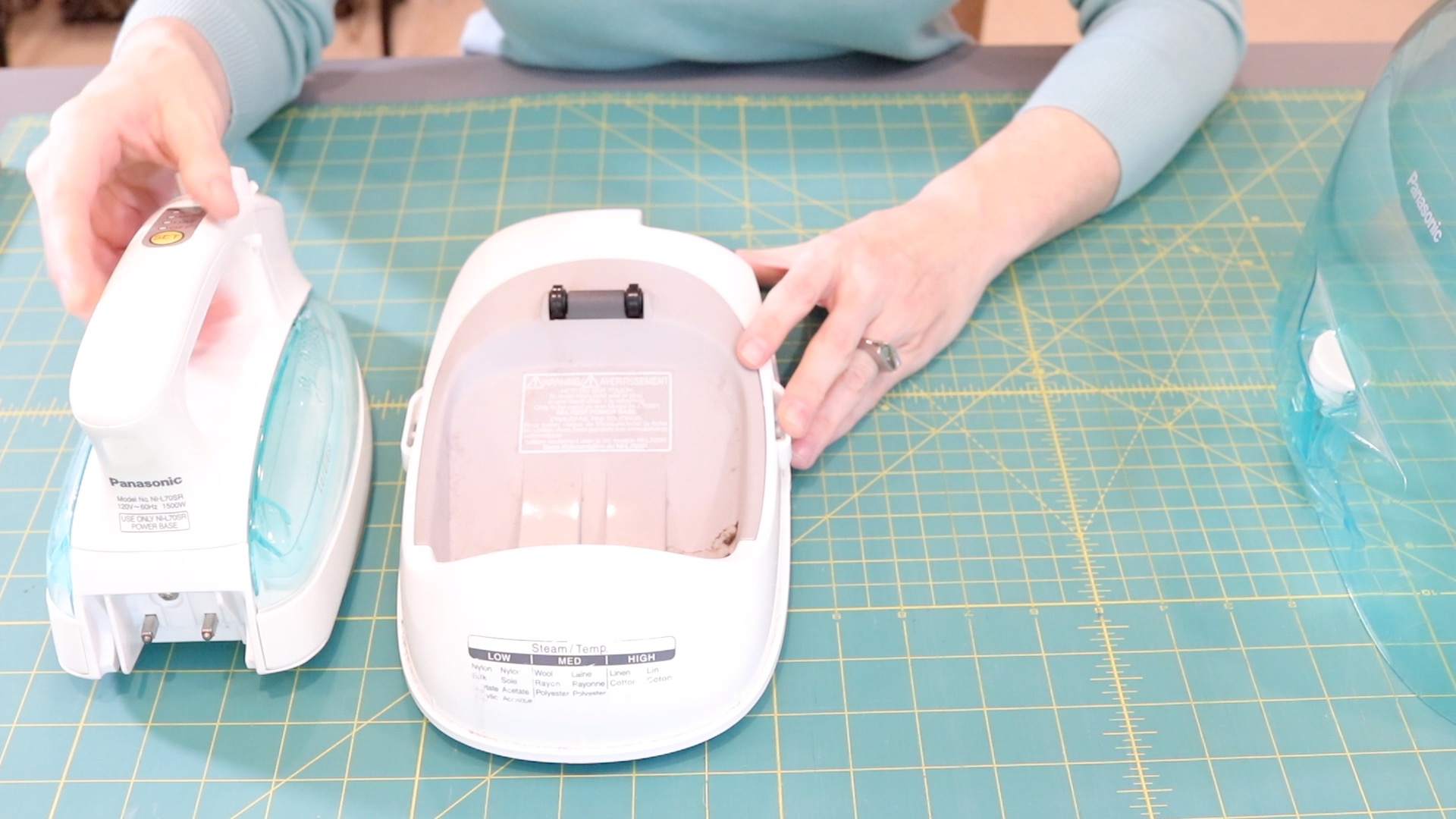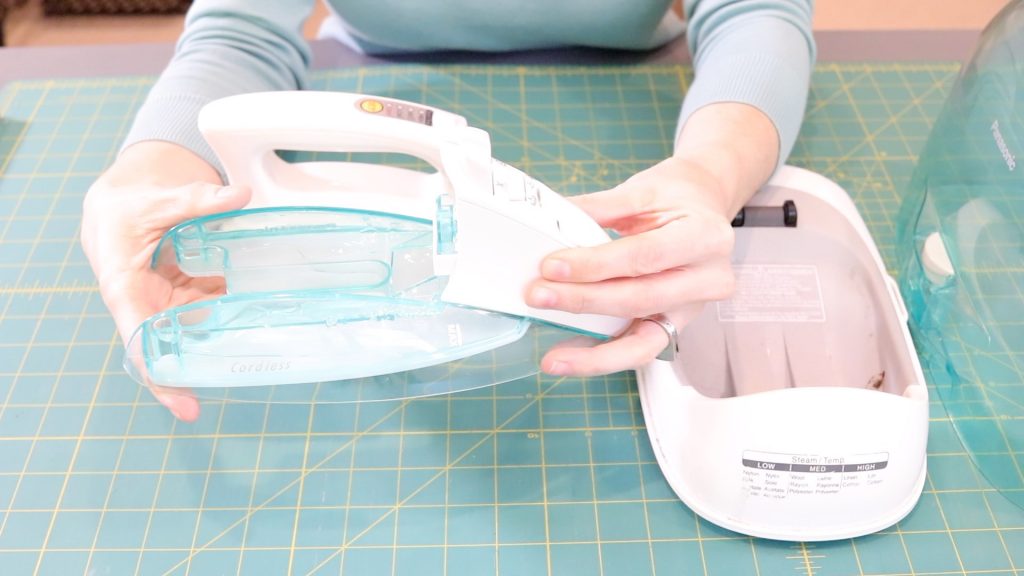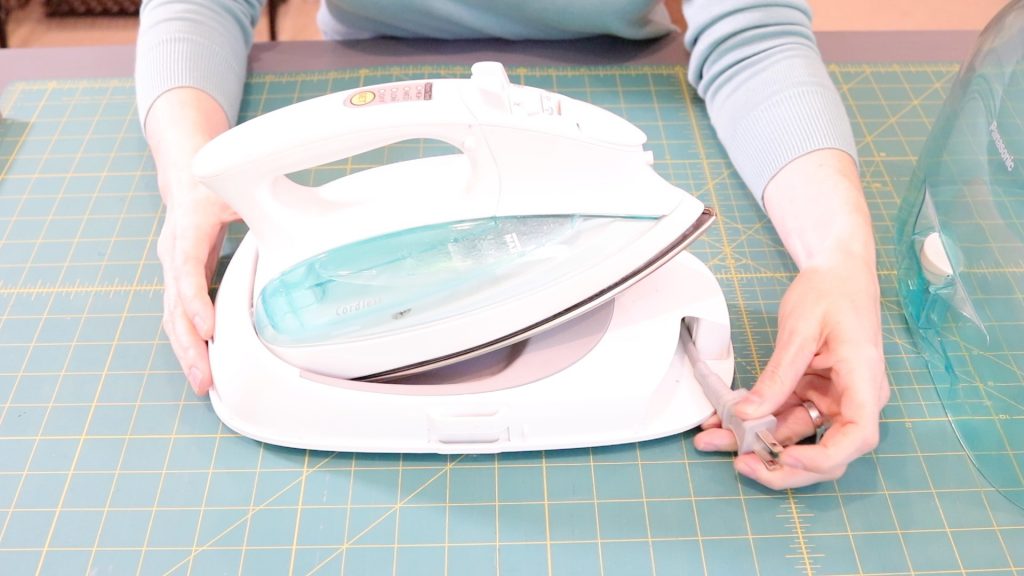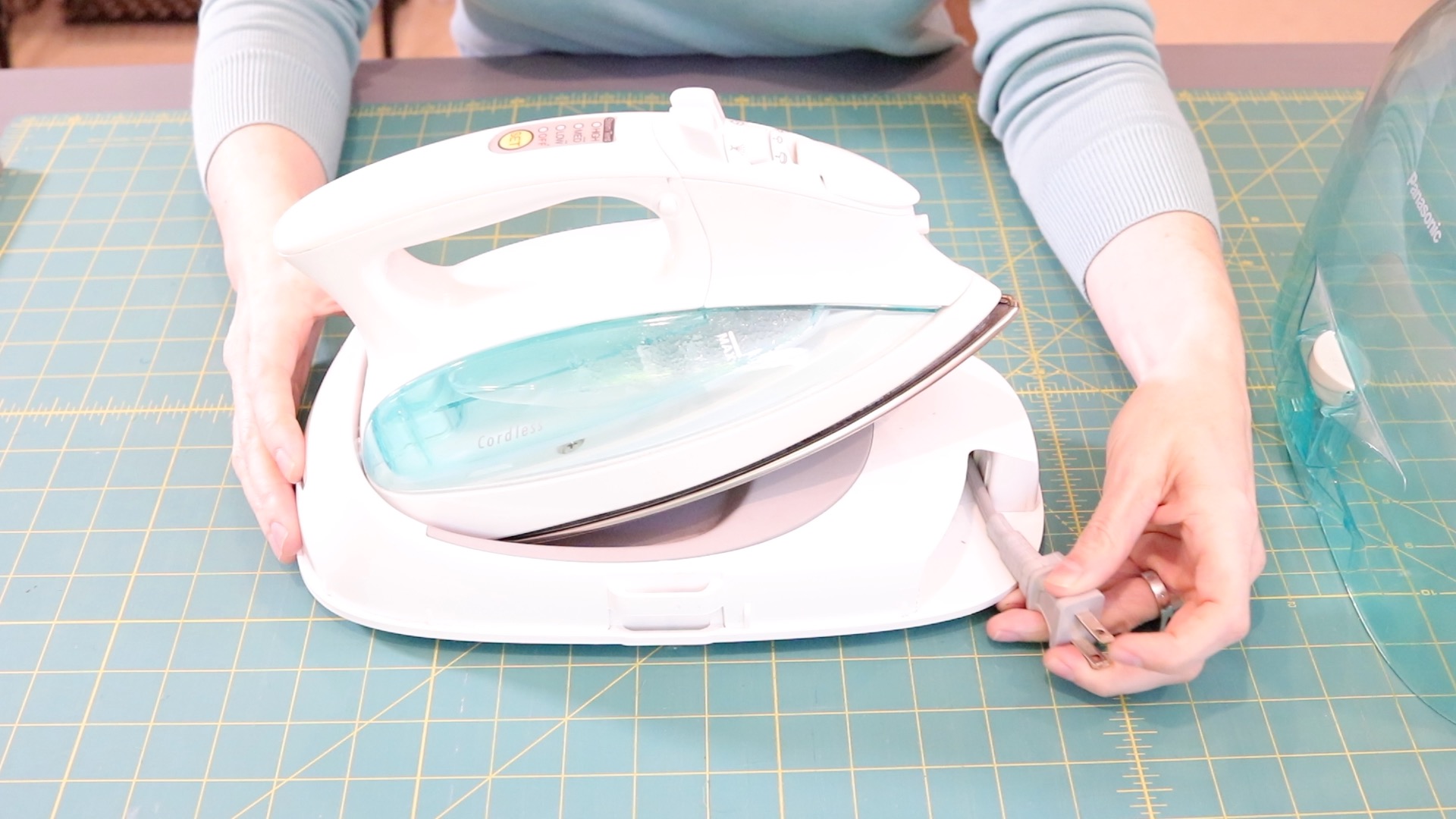 Magnetic Pin Cushion with Pins
Magnetic sewing pin cushions are so helpful in a room full of sharp pins. If you've ever dropped a regular pin cushion on the ground and later found a lost pin with your foot, this may be the thing for you.
The magnetic grabs hold of those sewing pins and keeps them nicely in place. If you drops pins on the ground while sewing it's also much nicer to pick them up with this then with your hand.
Retail $12-$14.00.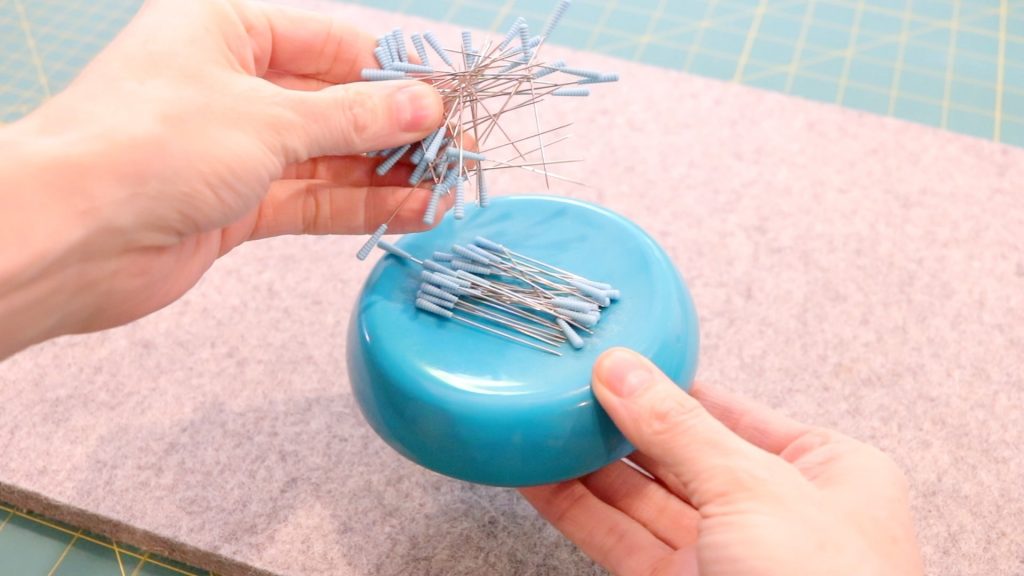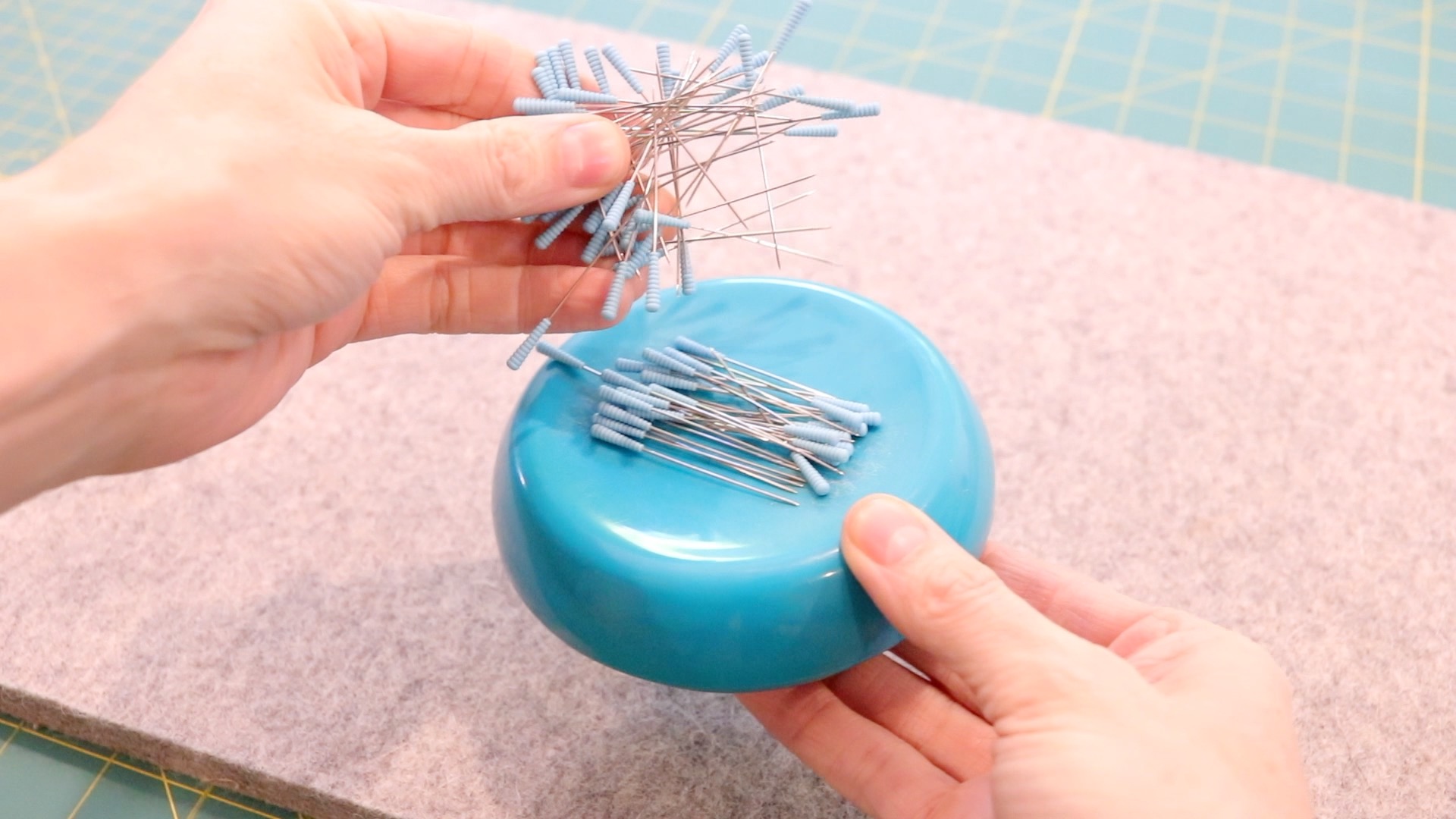 Grabbit Magnetic Pin Cushion
These pin cushions come in a variety of colors.
Most brands magnetic pin cushions come with sewing pins. The ones pictured on my pin cushion are sold separately. Because these particular pins have a silicone top, they won't melt if you touch them with the iron.
If you are interested in these "magic pins," you can find them HERE. However, the pins that come with these pin cushions work just fine too. So don't feel like you need to purchase separate ones.
The pins won't ever just fall off.
Place a couple ruler grips on the bottom like I did to keep your pin cushion from sliding around on your sewing table.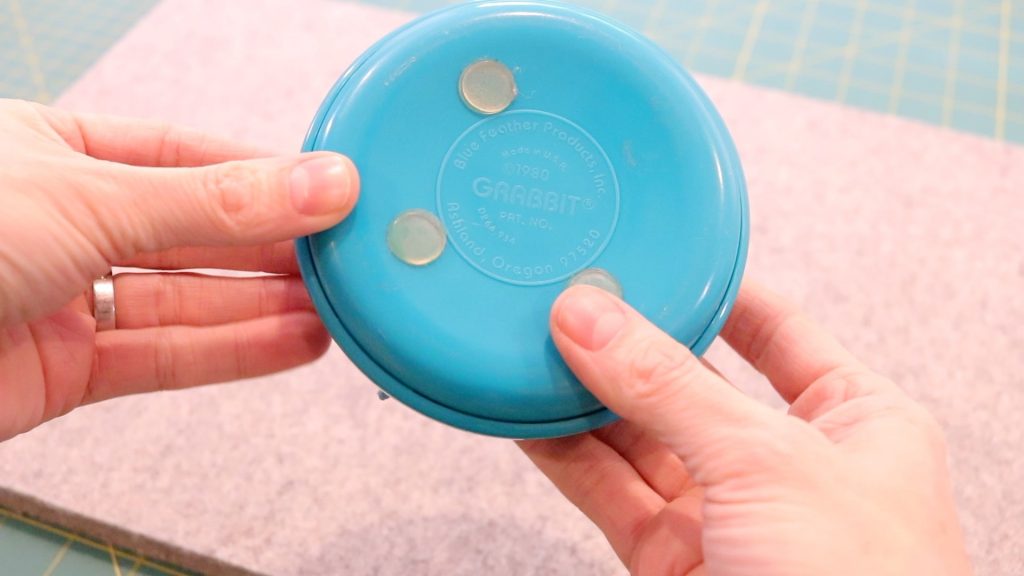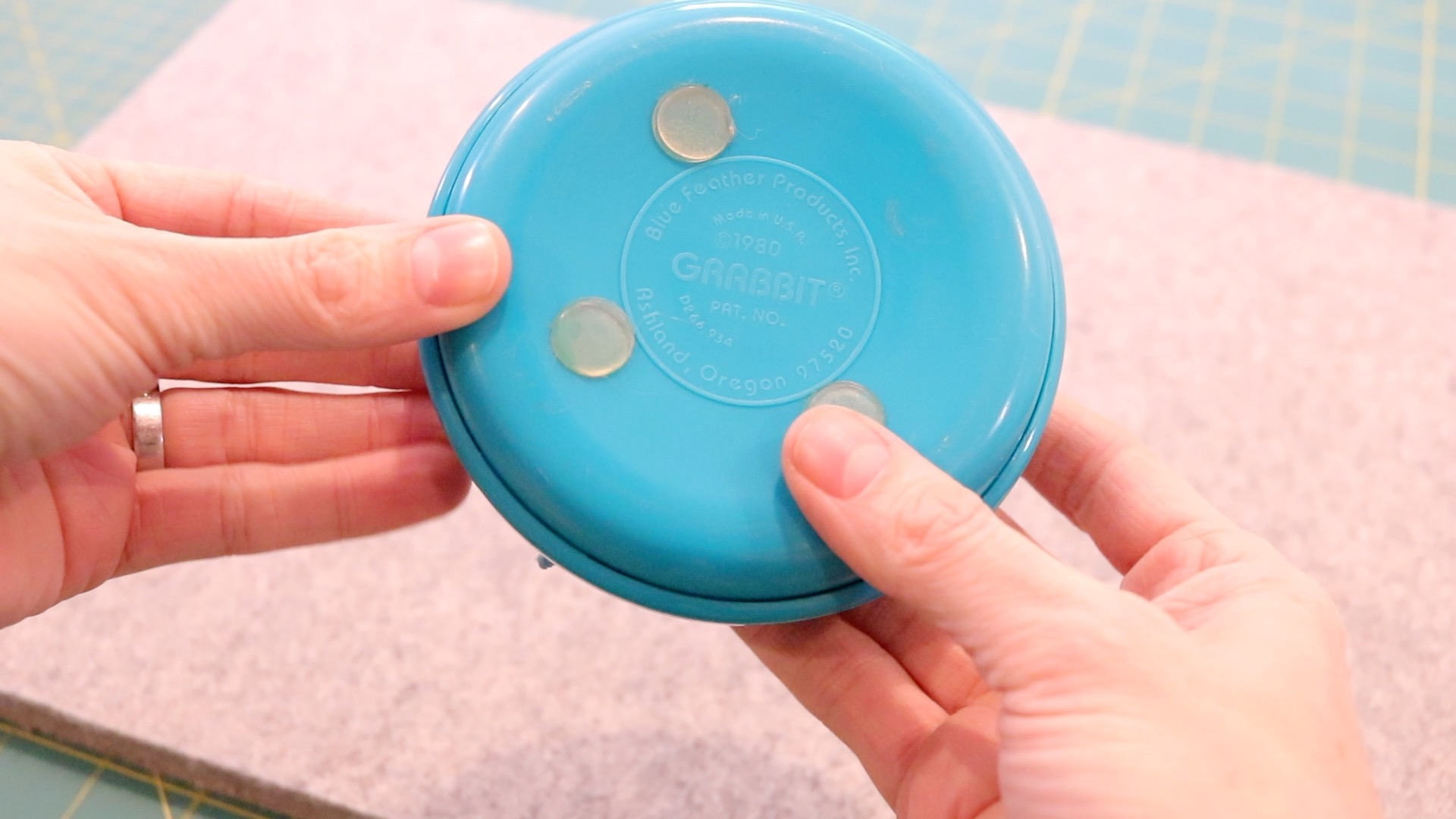 Sewing Clips
I didn't discover sewing clips until much later on in my sewing/quilting journey. Once I saw someone using them to bind a quilt I knew that I would never use pins again for binding.
I bought some for myself and they are truly magical.
Sewing clips can also be used in place of pins for most projects.
Pros and Cons of Clover Sewing Clips
Clips are more expensive than pins.
I have had better luck with brand name clips than generic brands that didn't clip as tightly and seemed to break easily.
You will need quite a few to do a large quilt IF you want to clip it all at once instead of doing one side at a time.
The clipping mechanism is really strong and holds fabric tightly.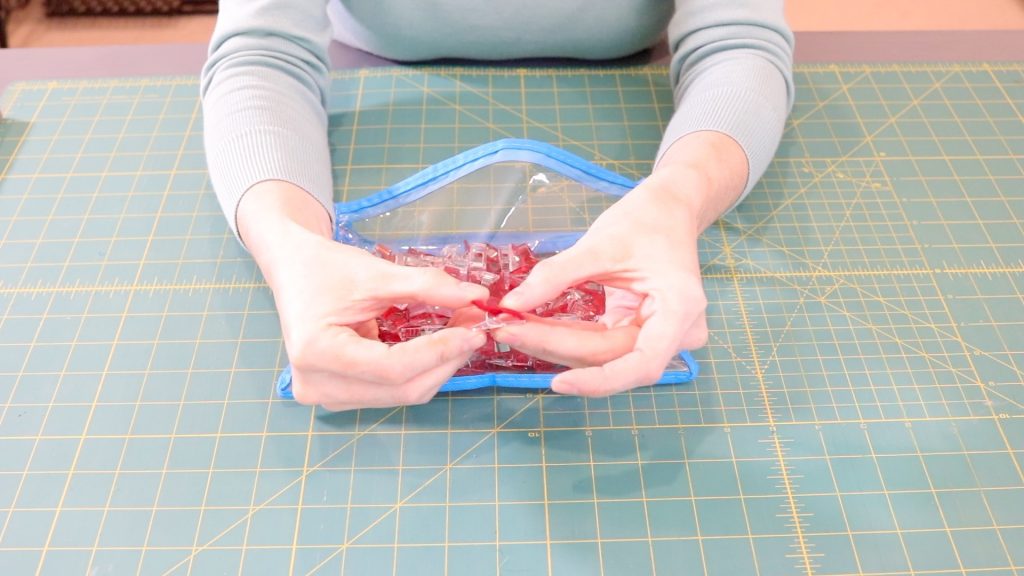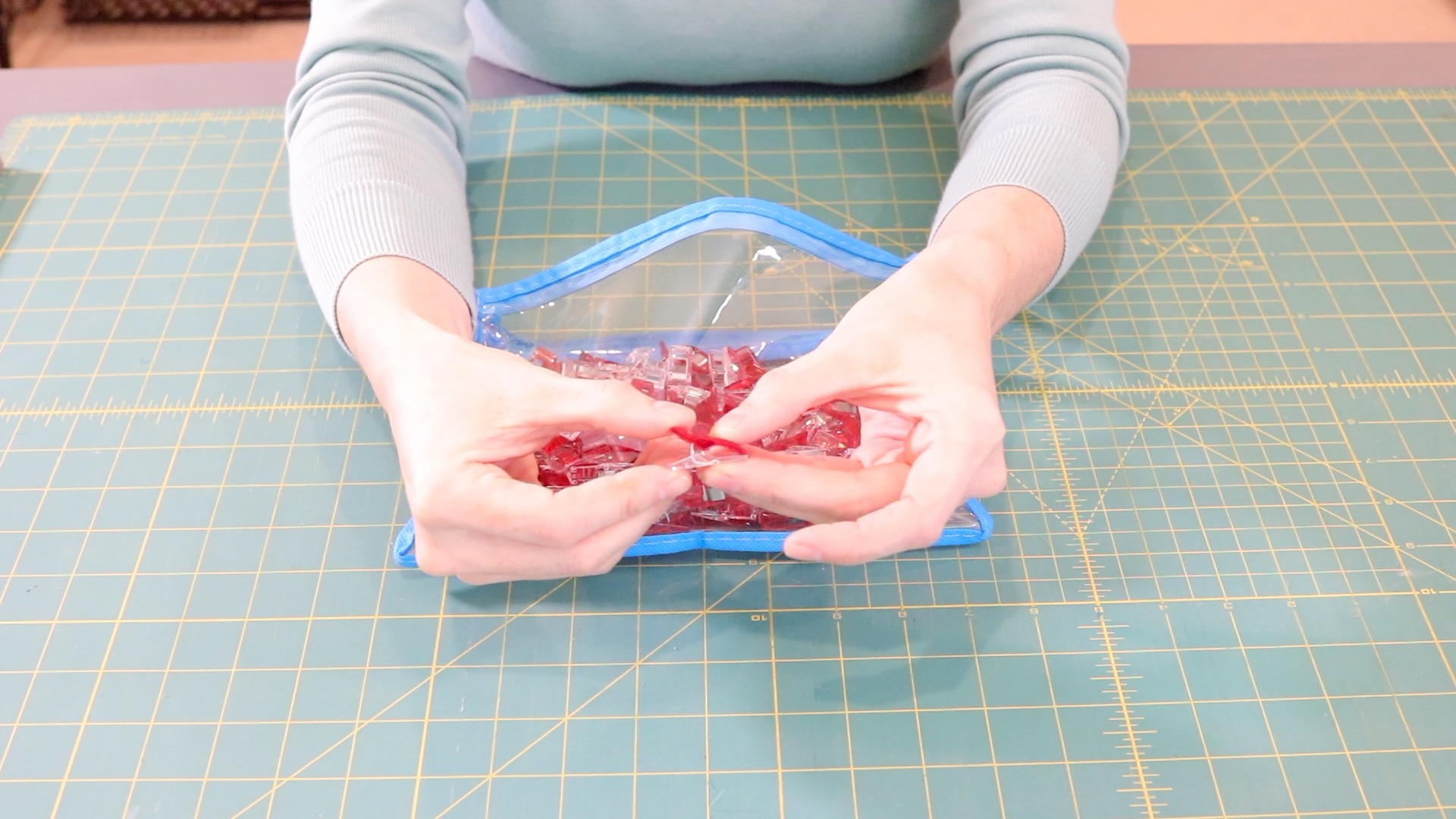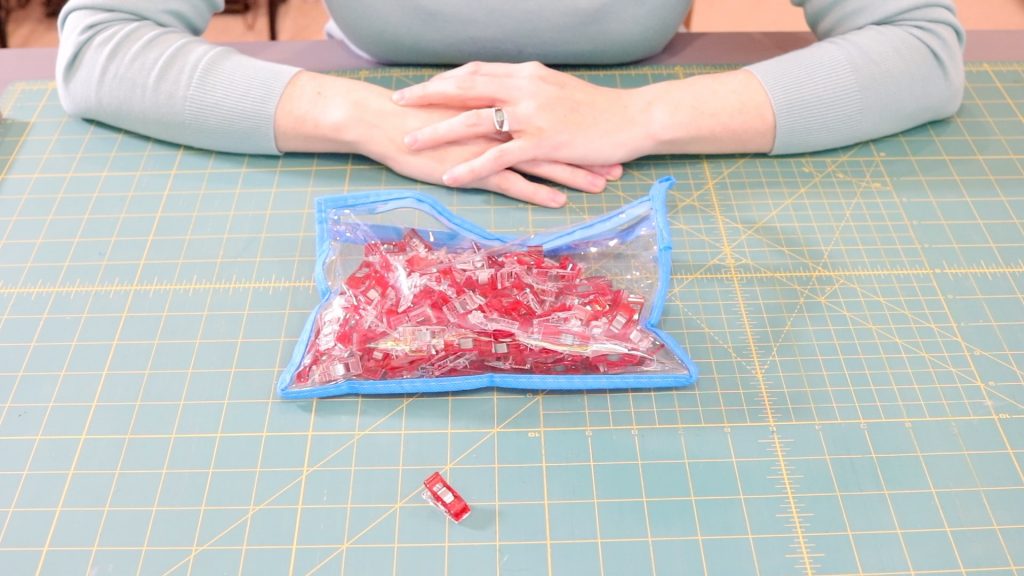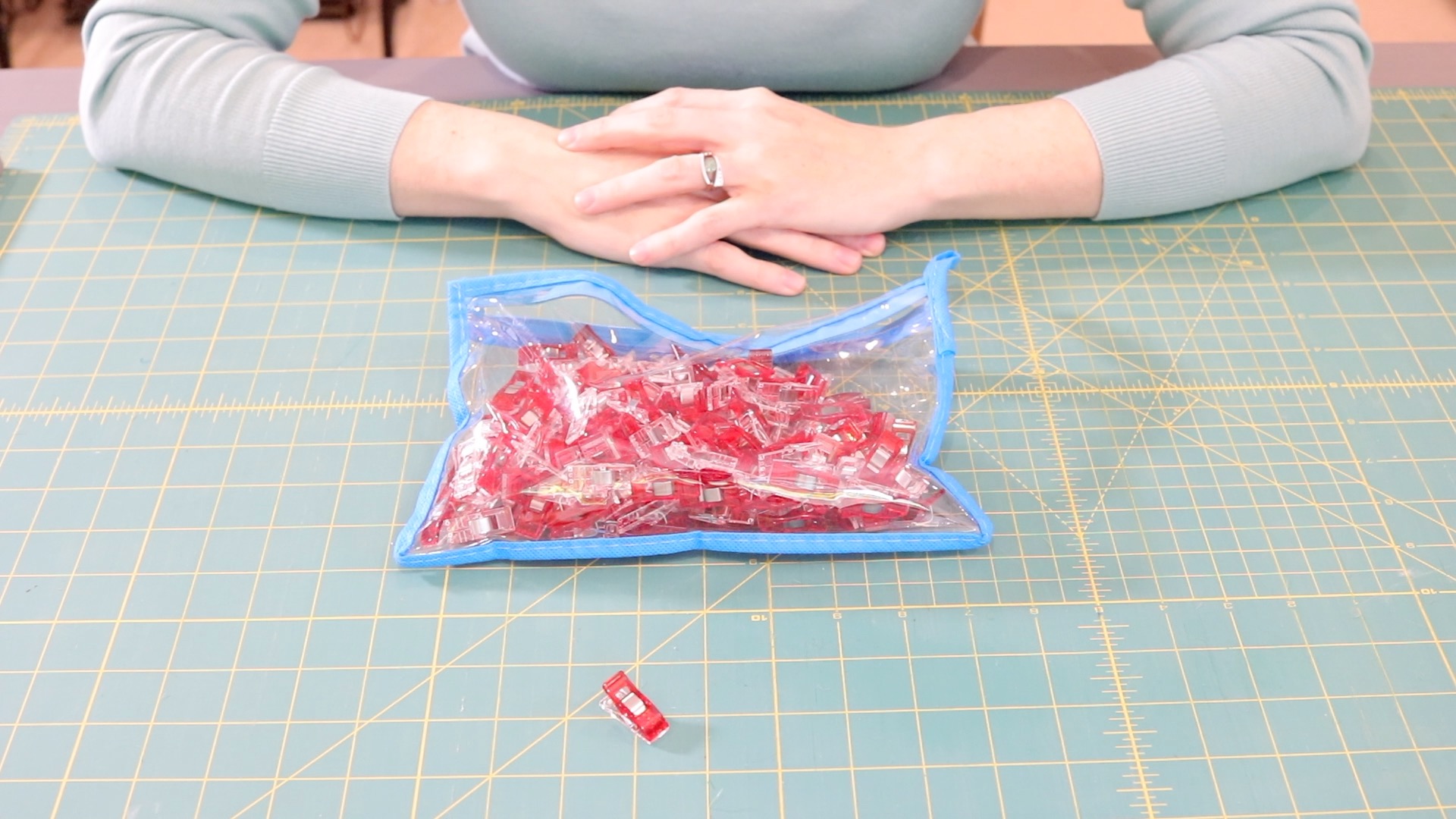 Thread Scissors
I have a pair of thread snips hanging from each one of my sewing machines. I adore these particular ones.
You can also use a regular pair of scissors to clip threads. I just found that these little thread snips work better for my needs.
Havel Mini Thread Scissors
Made of stainless steel.
Lightweight.
Spring like snipping action causes less hand fatigue with use.
Curved blade makes it easy to trim threads super close to your fabric without poking your fabric with the end of your scissors.
Affordable? I didn't think so at first, but they are so worth the money and glad I made the investment. I haven't bought snips in such a long time that I really don't have anything to compare the price to.
You can find the thread snips HERE.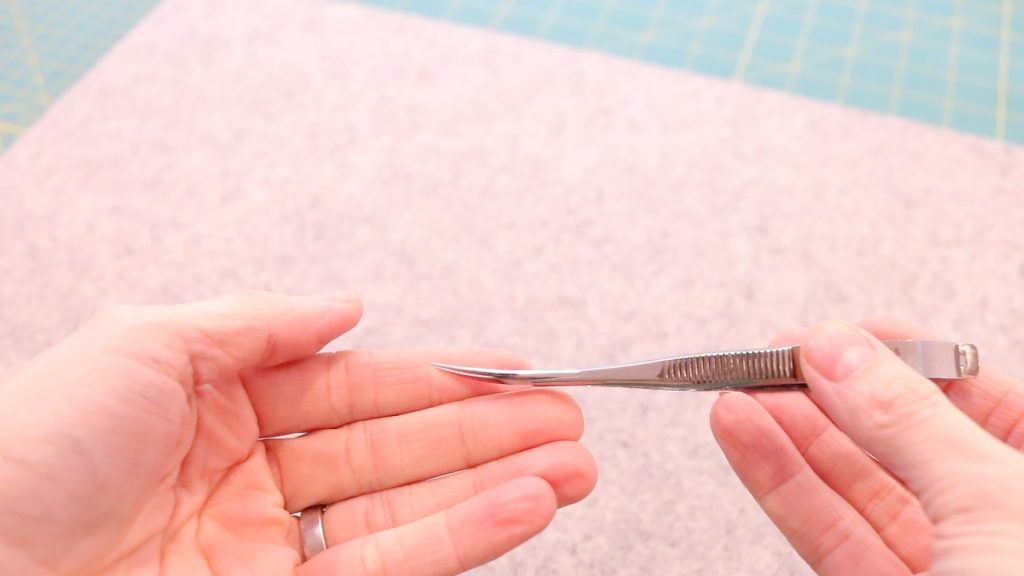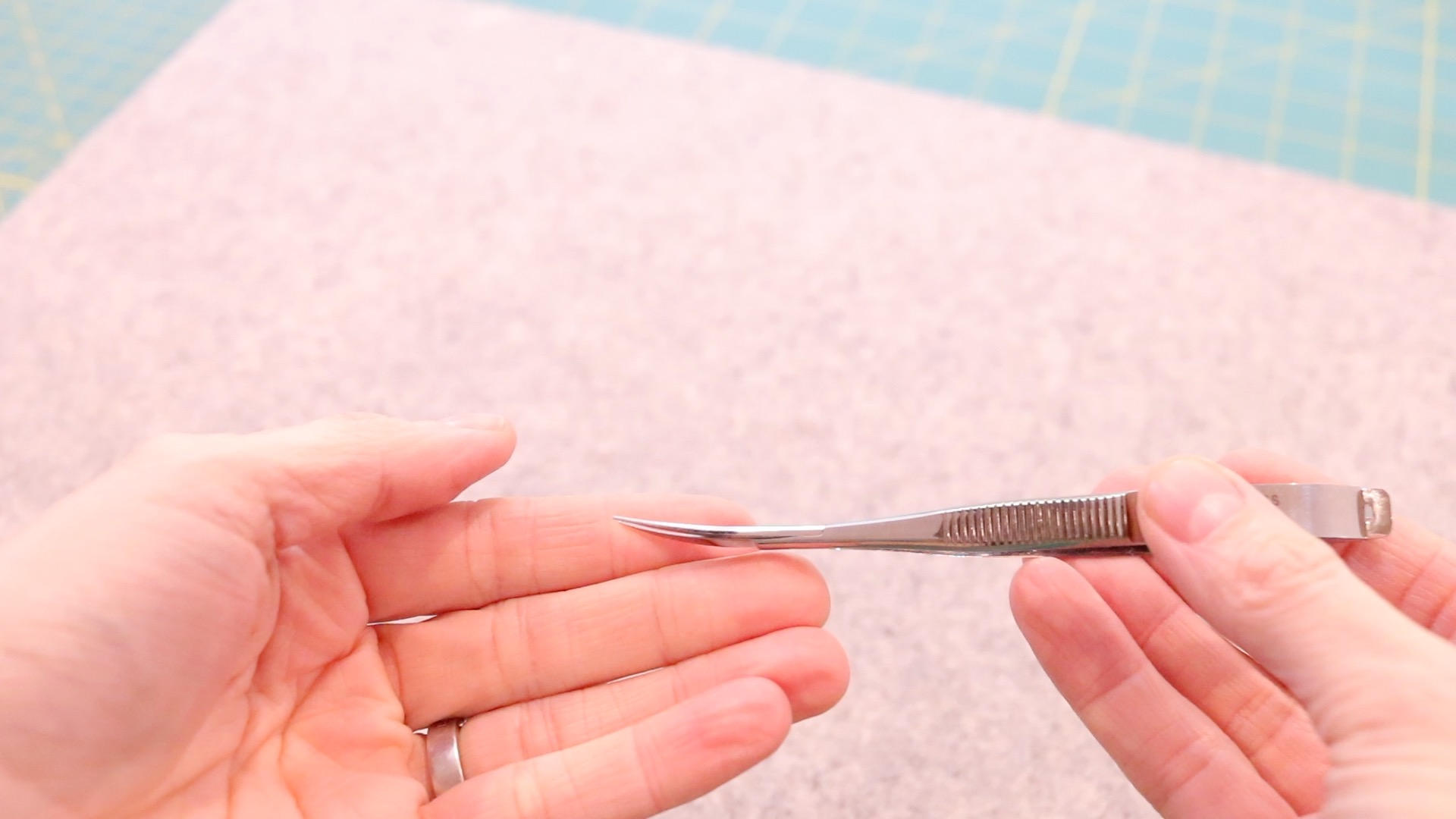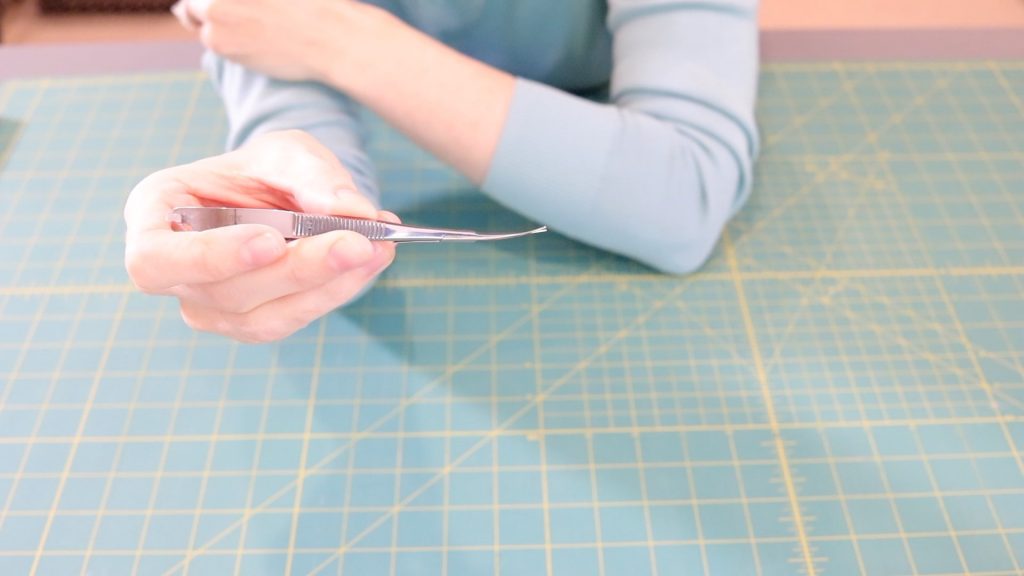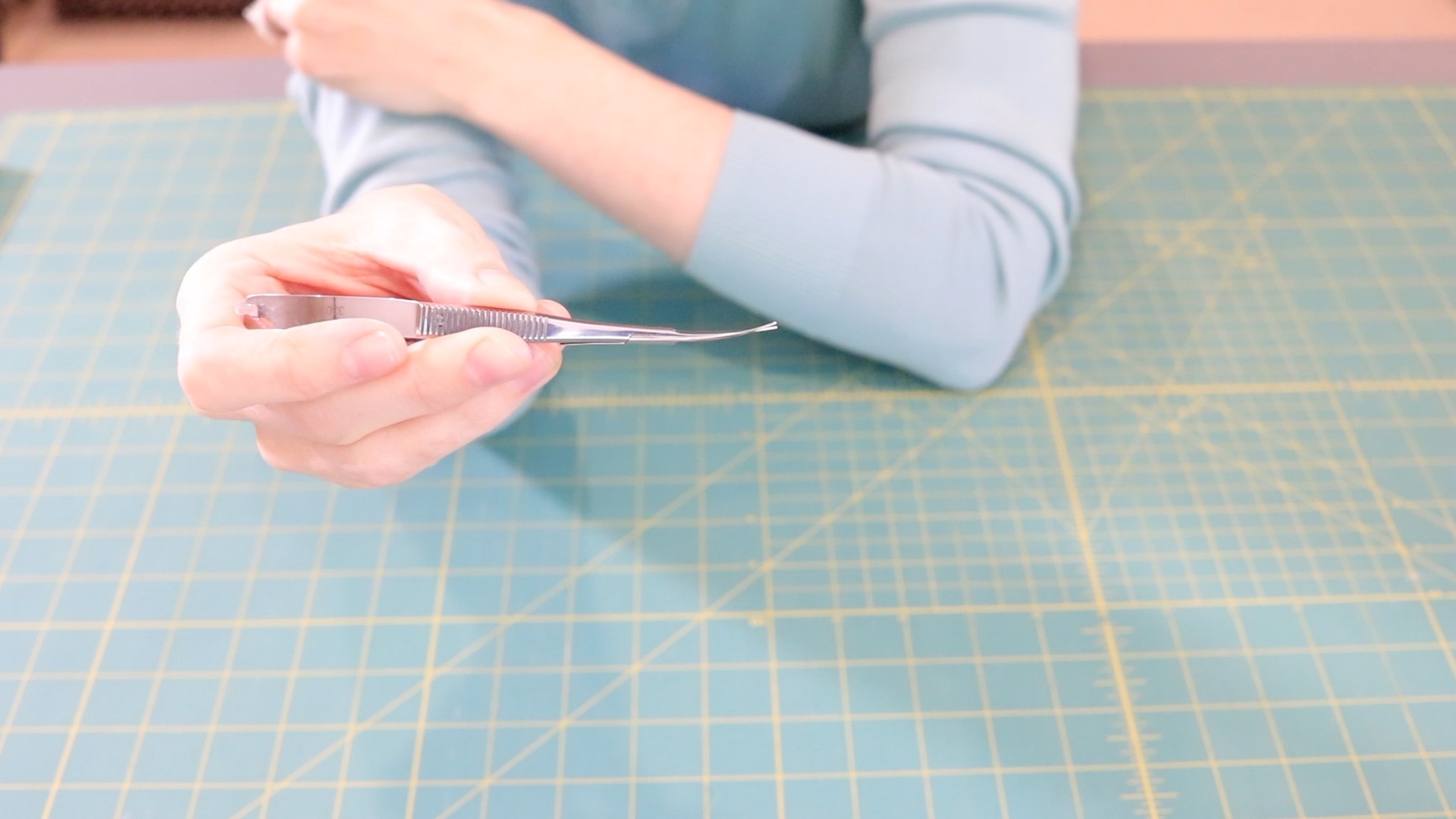 If you are needing to purchase some new thread snips, give these a try. I think you may be surprised at just how much you love them.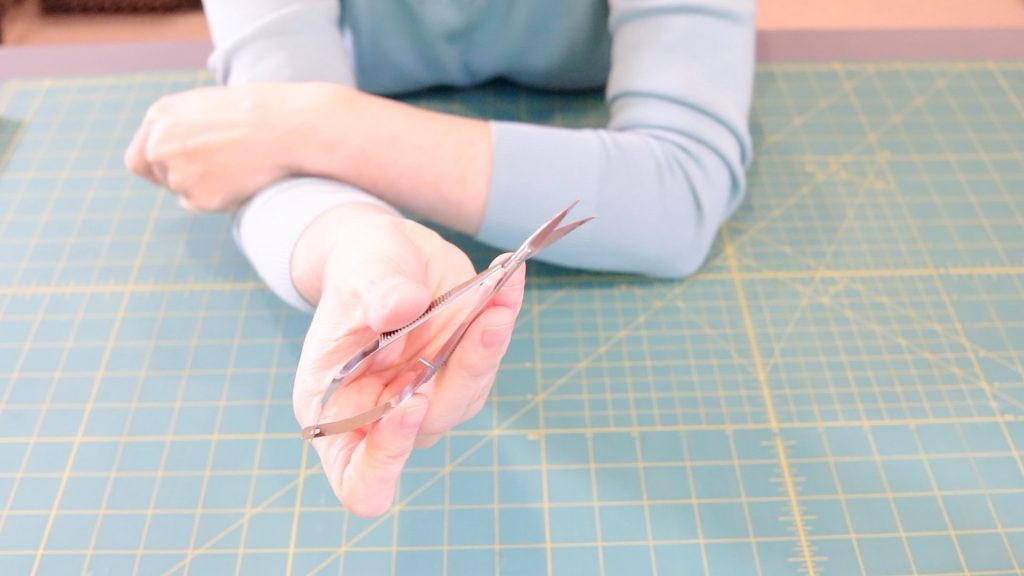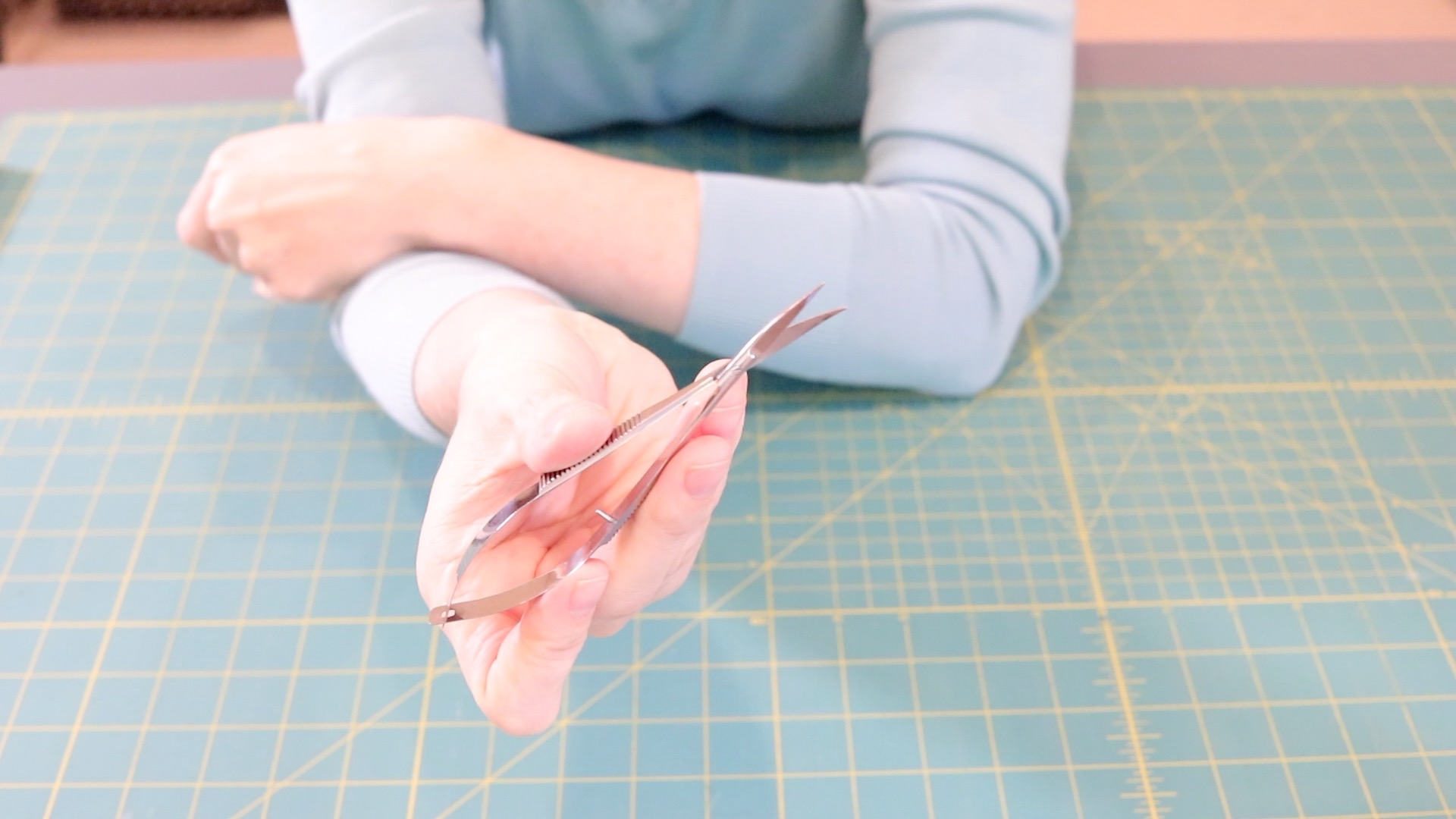 The Best Rotary Cutter
I have quite a collection of rotary cutters. This is the newest one to my collection and the only one I really use anymore.
At first I was hesitant to spend the money, but I'm really glad I did. It is by far my favorite and the only one I find myself reaching for.
I will be sharing two different rotary cutters with you, and you can choose the one that best suites your budget.
Pros of the Quilters Select Rotary Cutter by Alex Anderson
This rotary cutter weighs more than the standard rotary cutter. It's all metal parts.
The handle is really nice to hold. Has silicone inserts for a comfortable grip that won't slip.
Easy to change the blades.
Press the button on the handle and "tap" the blade on your cutting surface to engage the blade to cut.
Quilters Select Rotary Cutter
When you're finished cutting, just flip the rotary cutter over and give it a quick tap to disengage the blade back into safety mode.
The weight of the rotary cutter helps prevent fatigue when cutting. You don't have to press your weight down as hard to obtain an accurate cut. The weight of this helps with that. I think thats the number one reason I like this so much.
Pretty expensive for a rotary cutter? Yes. Yes indeed. But my dad has always taught me that if you buy quality up front, you won't have to replace it later. So I made the investment.
These rotary cutters have a hole on the end of the handle so you can hang them on a notions wall in your sewing or craft room. Love this feature. I don't personally hang my rotary cutters or scissors but most of my sewing fiends do. So I'd consider this a bonus.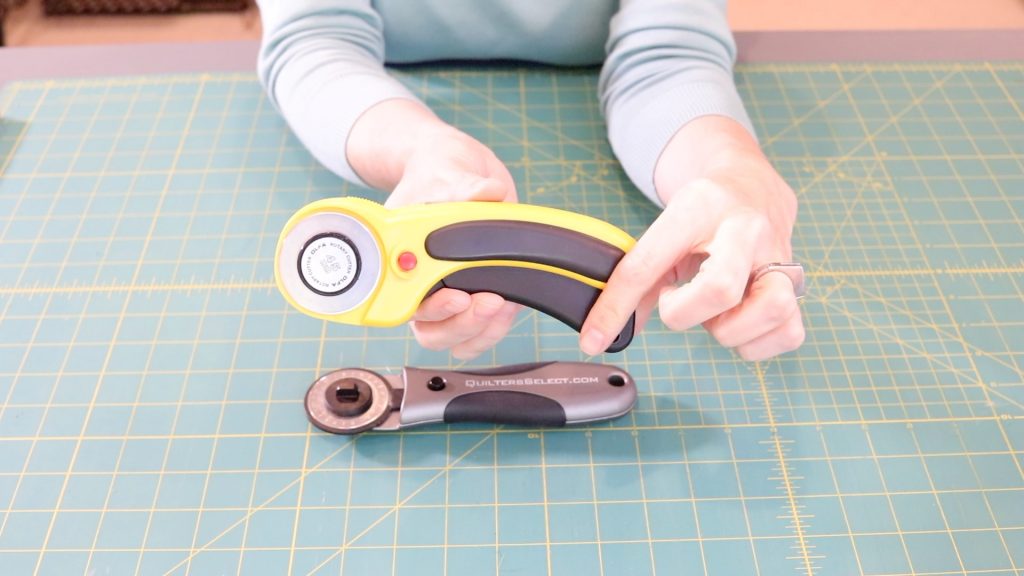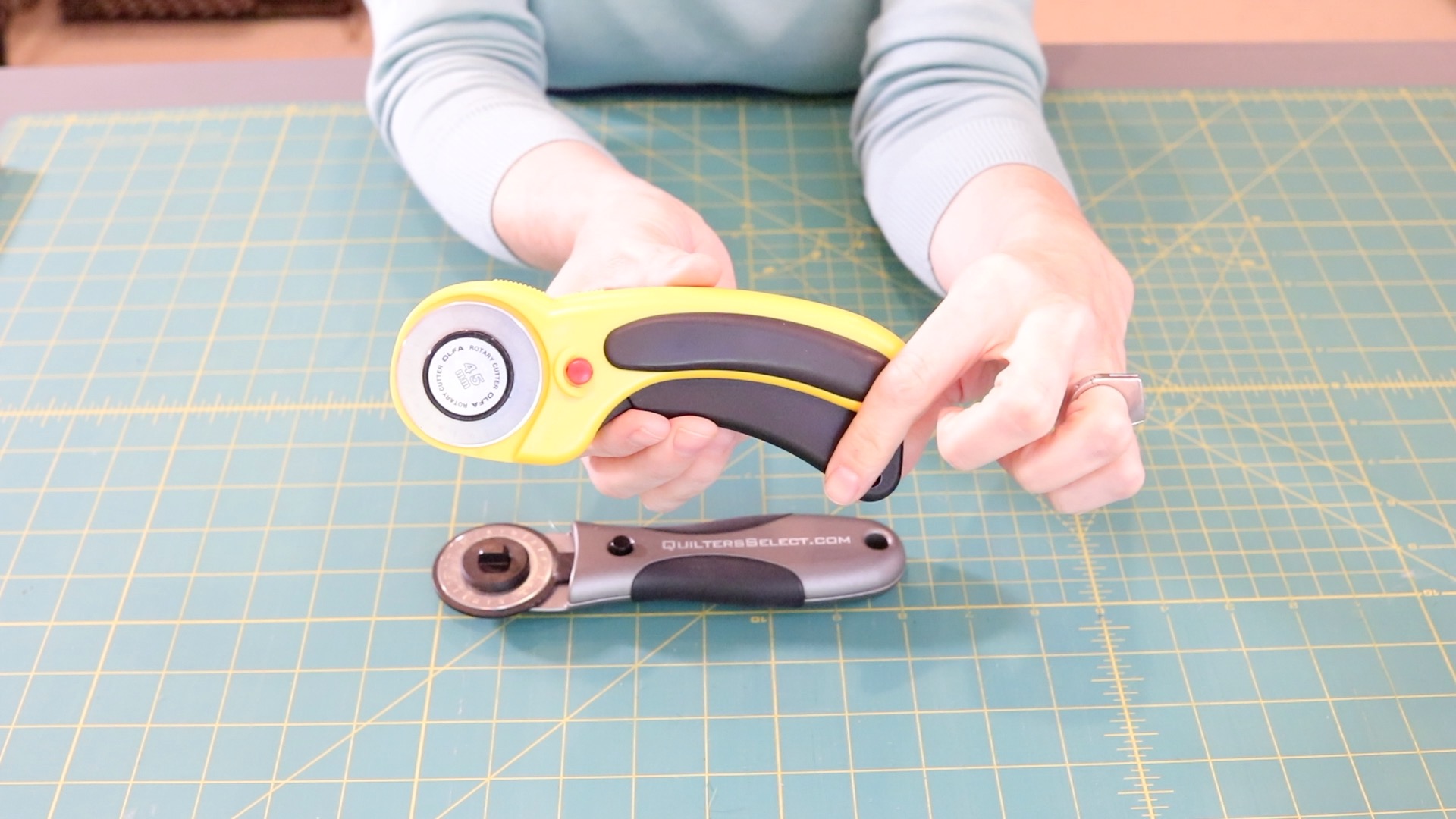 If you are looking for a more affordable, but ergonomic rotary cutter, try one of THESE (same brand as the cutting mats I shared). These are the only rotary cutters I used prior to purchasing the quilters select one.
These are a fraction of the price, ergonomic and easy to use.
Squeezing the handle engages the blade to cut, release the handle and the blade returns to safety mode. I honesty believe that these are a close favorite to the quilters select brand. If I hadn't have found the other one this year at the sewing expo, I'd still be using my Olfa cutter and that would be just fine.
Acrylic Quilting Rulers
Clear acrylic quilting rulers make cutting pieces and strips for quilts so simple.
Like everything, there are many different versions of these rulers, but the lip edge rulers are my all time favorite.
O'Lipfa Ruler with Lip Edge
These rulers are going to help with accuracy and change the way you look at all your other rulers.
These rulers are made of clear acrylic plastic. This makes them really easy to read and use. The lip edge on the end of the ruler hooks onto the edge of your cutting mat making it easy to keep your cutting lines super straight.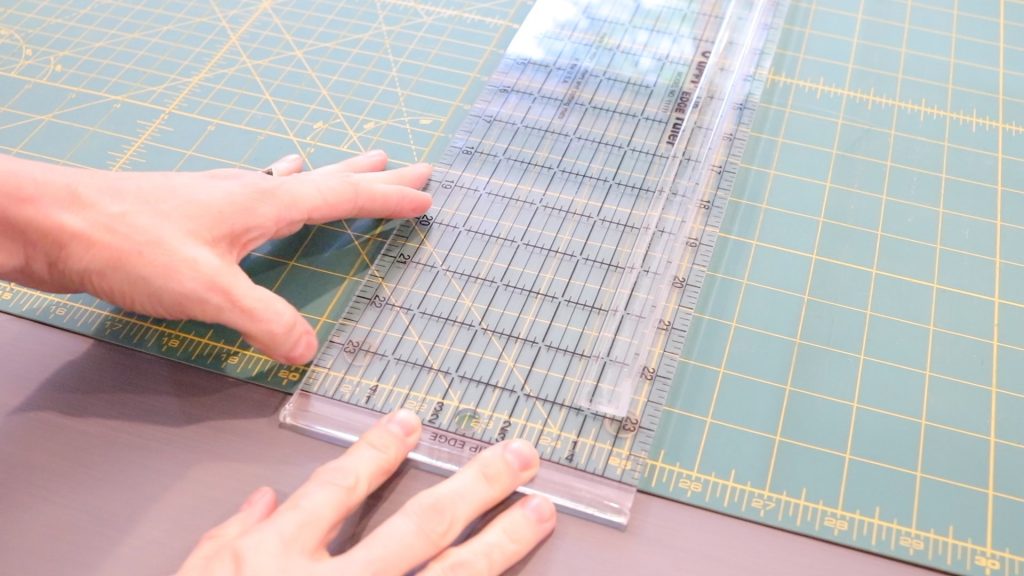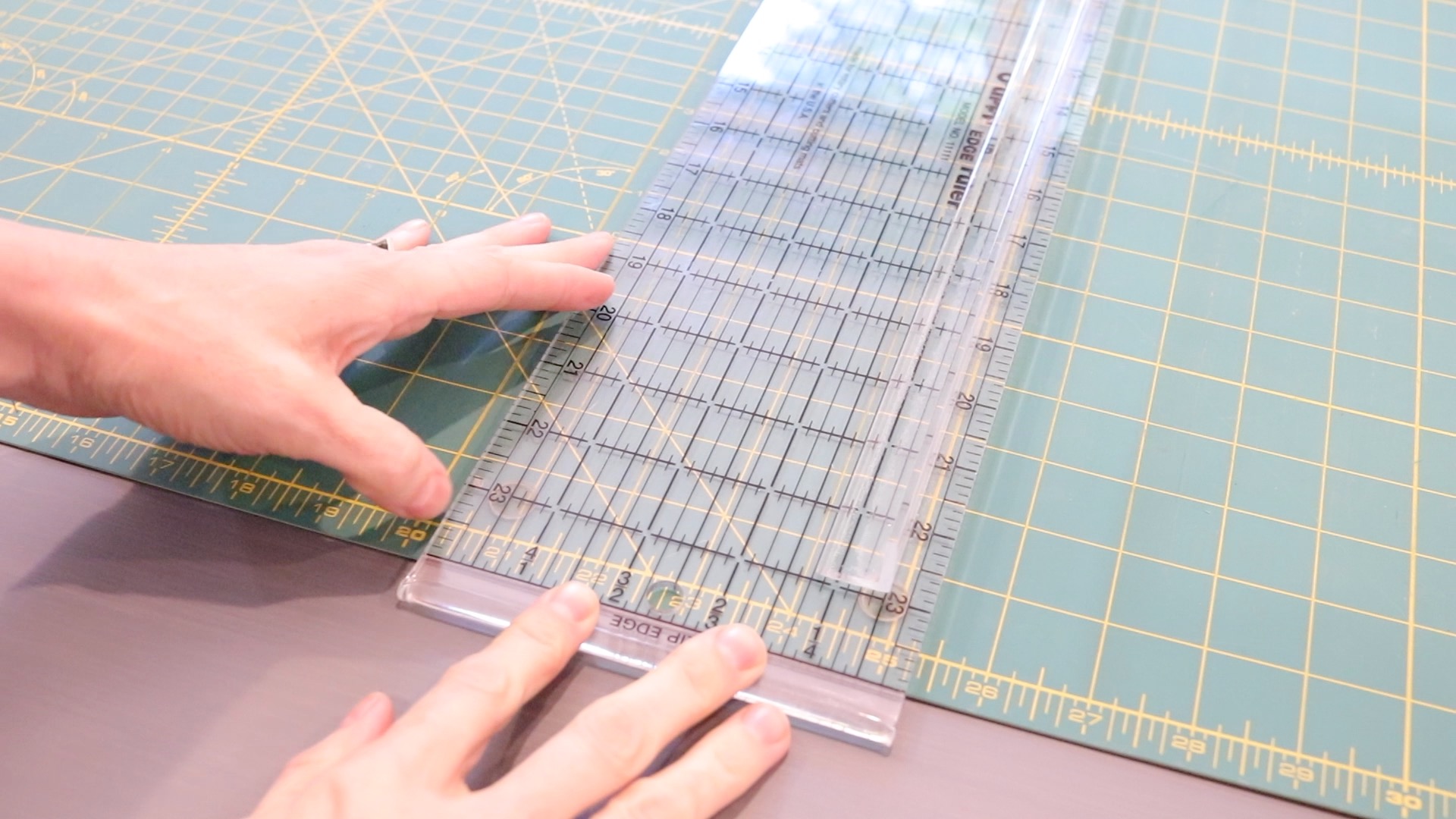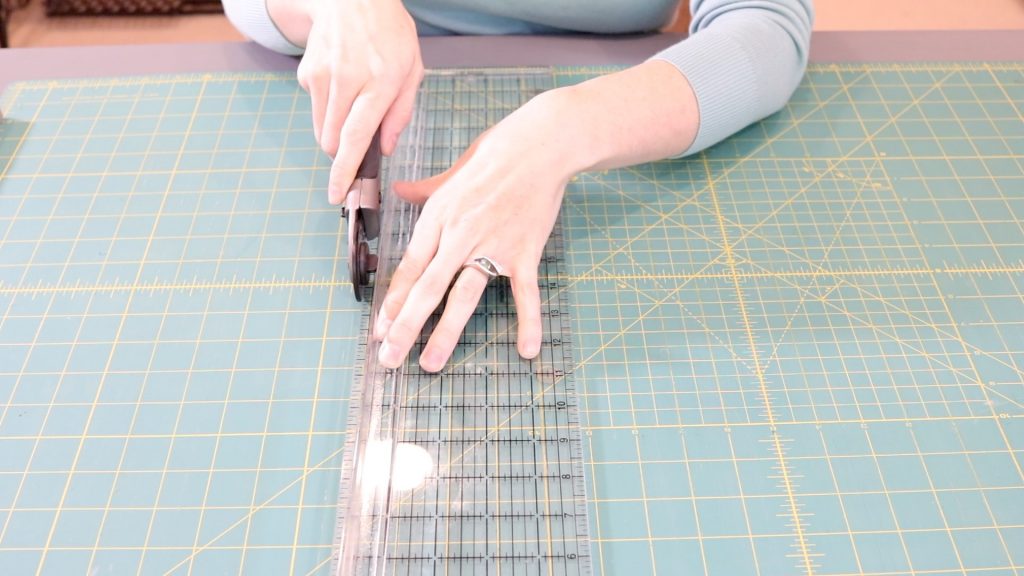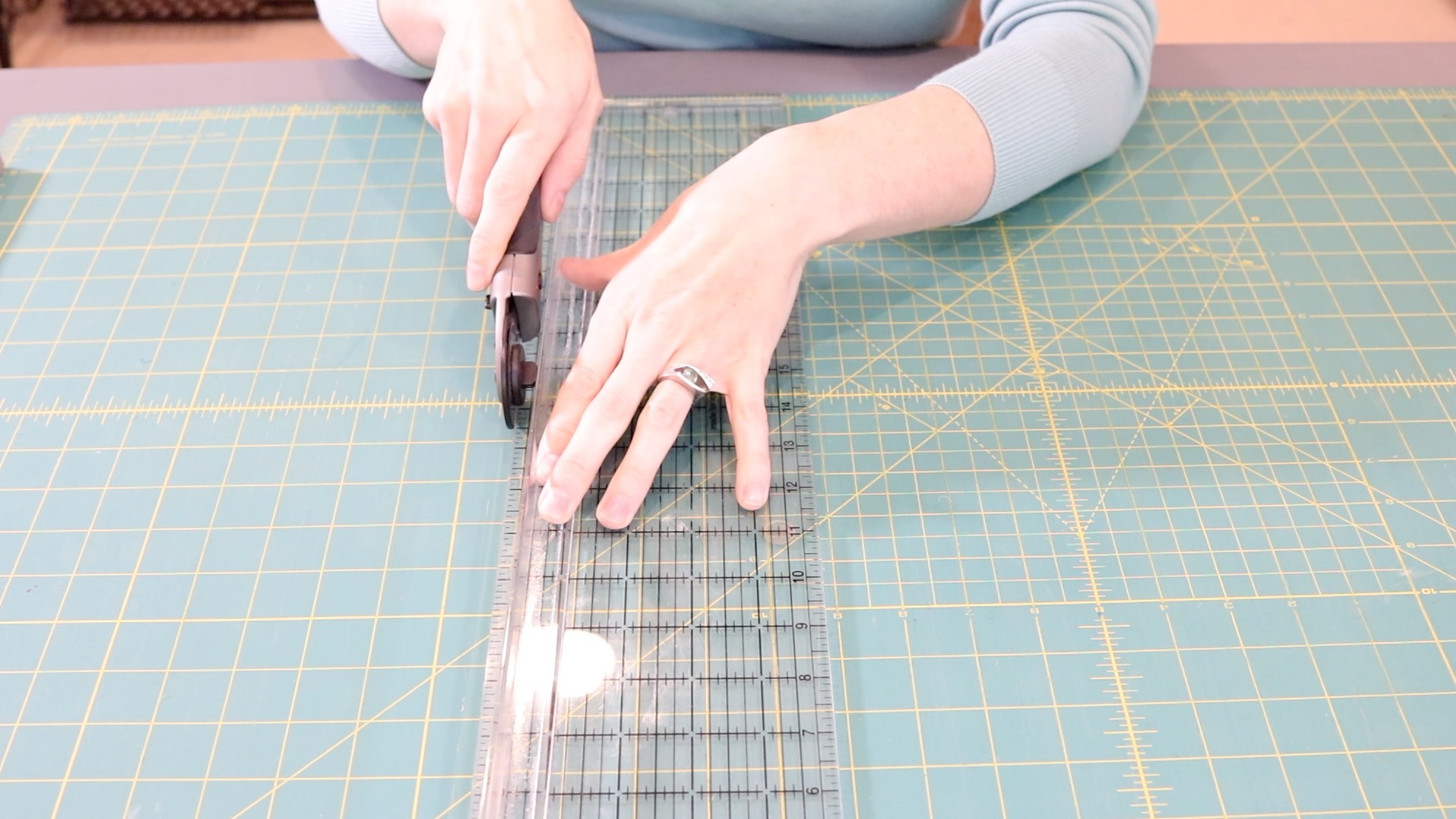 You can find the guide to attach your rotary cutter HERE. It's also made by O'Lipfa (pictured below).
Wool Pressing Mat
Wool pressing mats have only recently become really popular. I have had mine for only 6 years or so.
The Pam Damour Wool Pressing Mat and Clover Mini Steam-less Iron.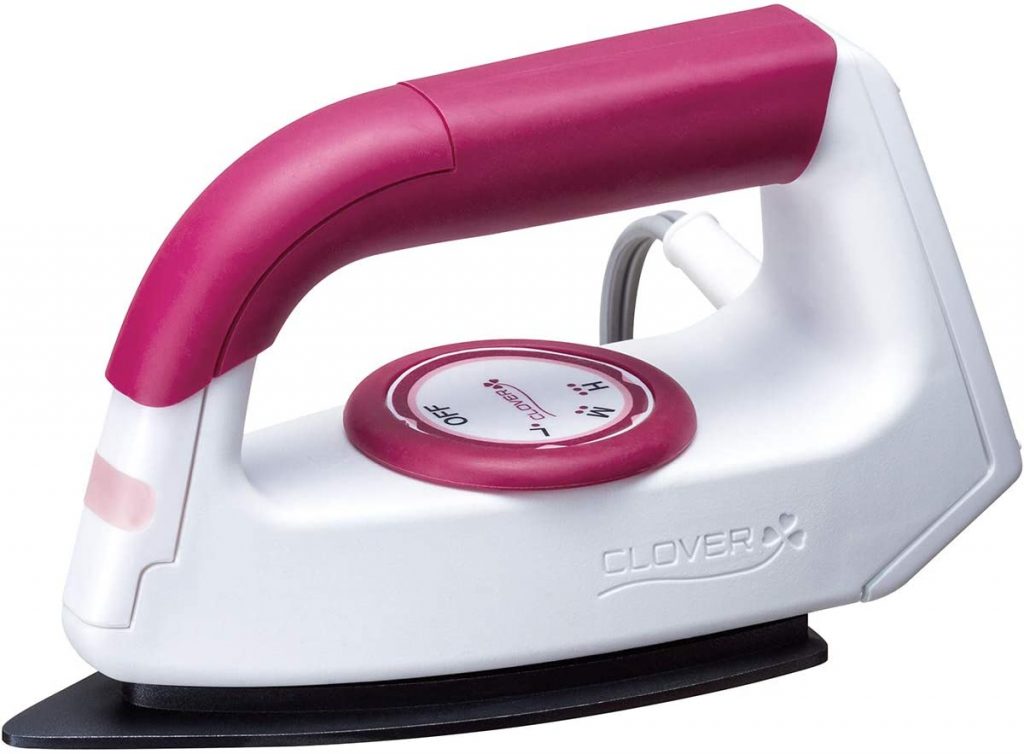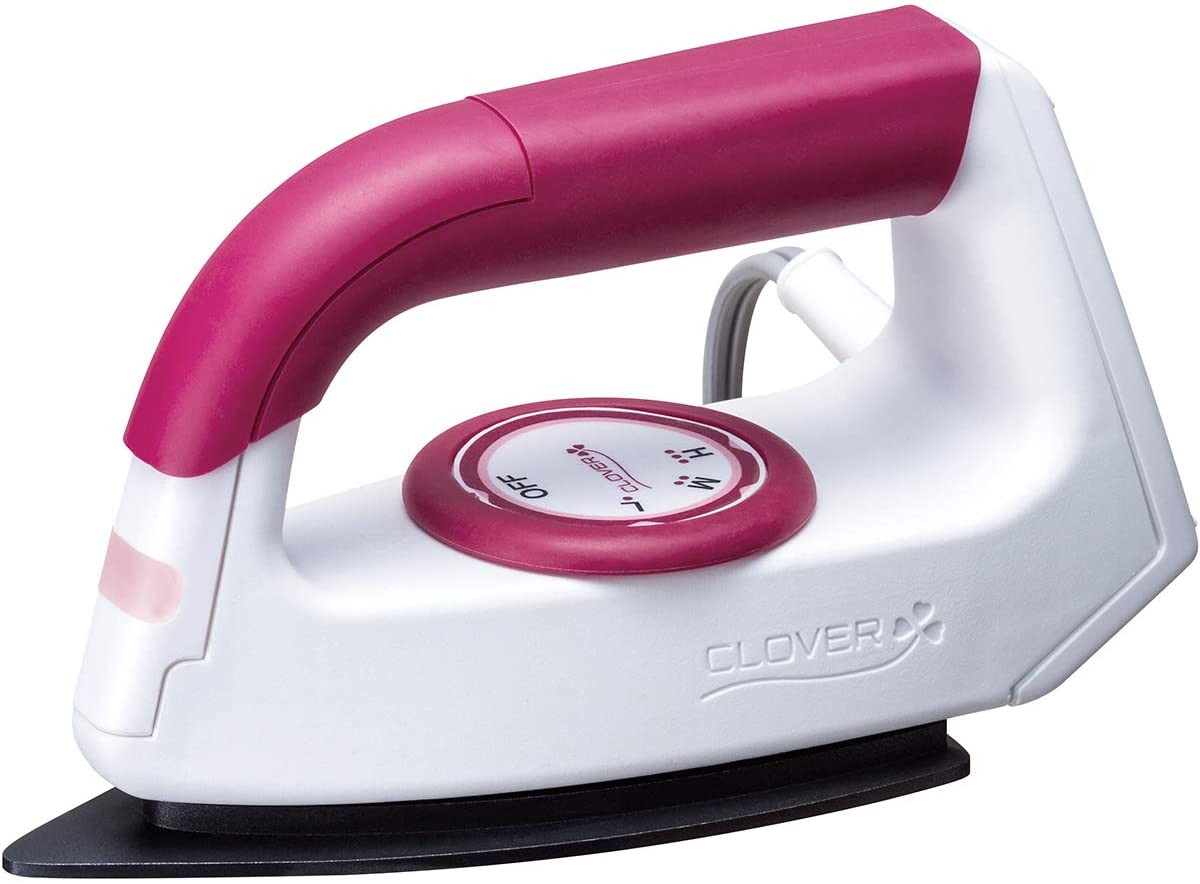 OK. First things first. The wool pressing mat. They are NOT all created equal. How do I know? I have purchased three other mats that were definitely lacking in quality before I settled on the Pam Damour version.
Don't make the same mistake I did and try to purchase a slightly less expensive one. The other versions I got were not very dense and honestly didn't smell like wool. This led me to believe that they were not 100% felted wool.
I also wasn't able to find anything on the packaging that said they were in fact wool. Oddly enough they were advertised as such, but when I received them I was really disappointed.
Benefits of using a wool pressing mat
This mat contains dense wool fibers that trap heat. This allows you you to press both sides at the same time.
Because these are felted wool, they provide a firm surface for pressing quilt squares without stretching your fabric.
Disclaimer: Because I want to be totally transparent, when using steam on these they do give off a smell like wet wool. I personally don't mind the smell. I'm a knitter and I love the smell.
It's not strong enough to be offensive by any means, but it is wool. Wool is a natural fiber. So if you are sensitive to smells or allergic to wool, obviously I don't recommend these as safe to use for you.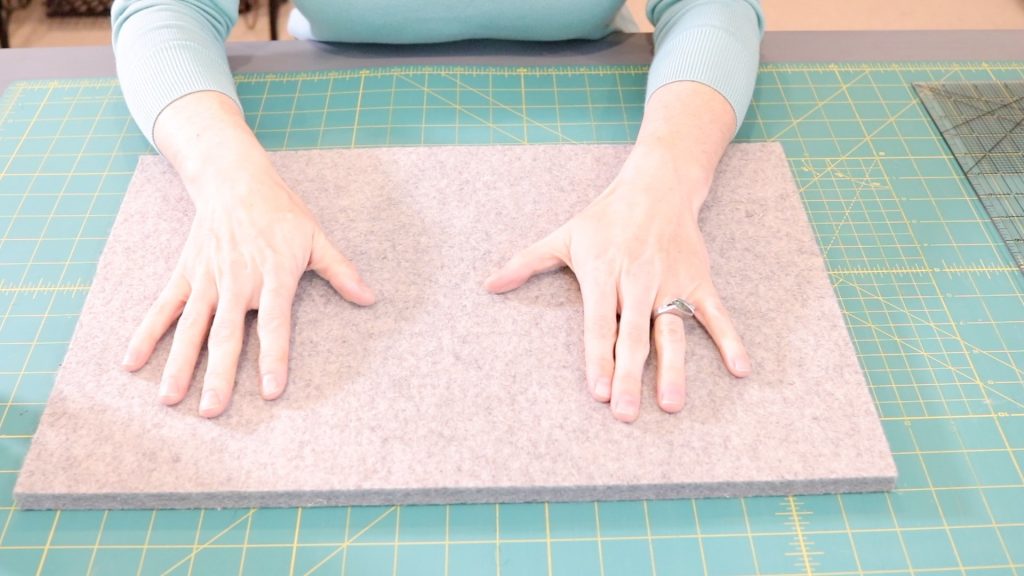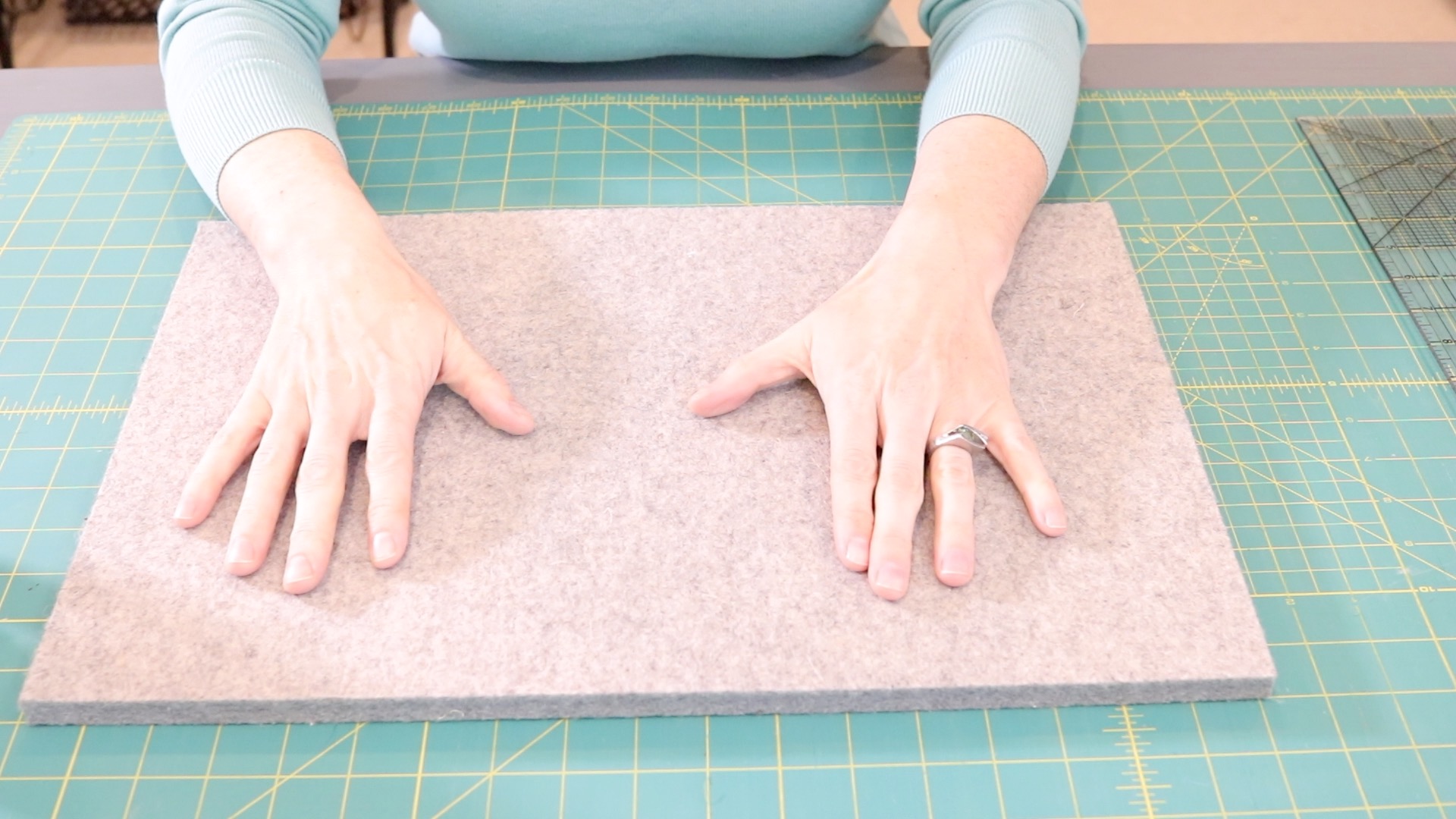 Mini Pressing Iron
Next up is the Clover wedge iron. I just call it my mini iron.
I currently own two different mini irons. This is the one I reach for most but both of them work great.
You can find the other one I use HERE. The only one I'm covering today is the Clover brand because it's the one I use most.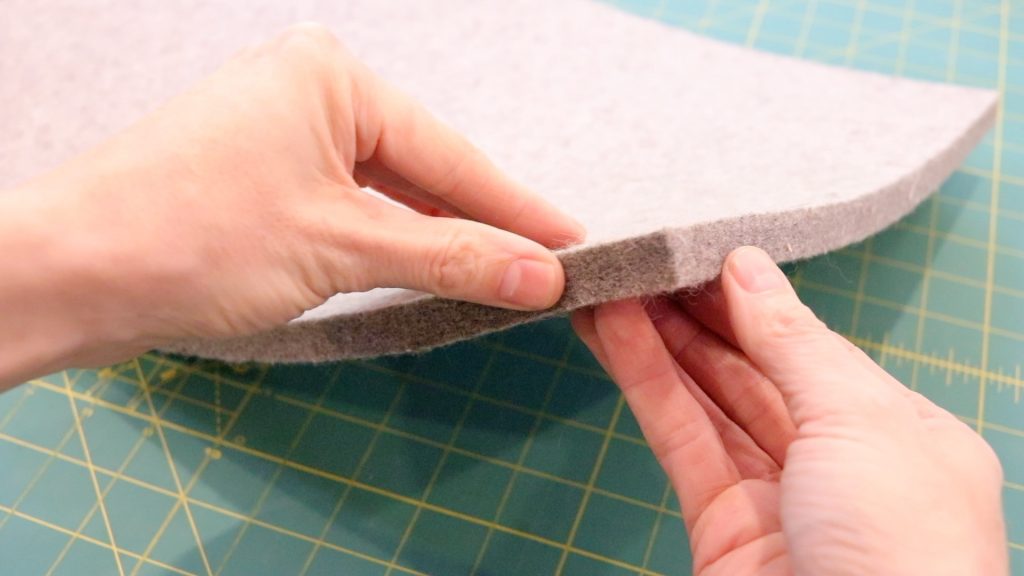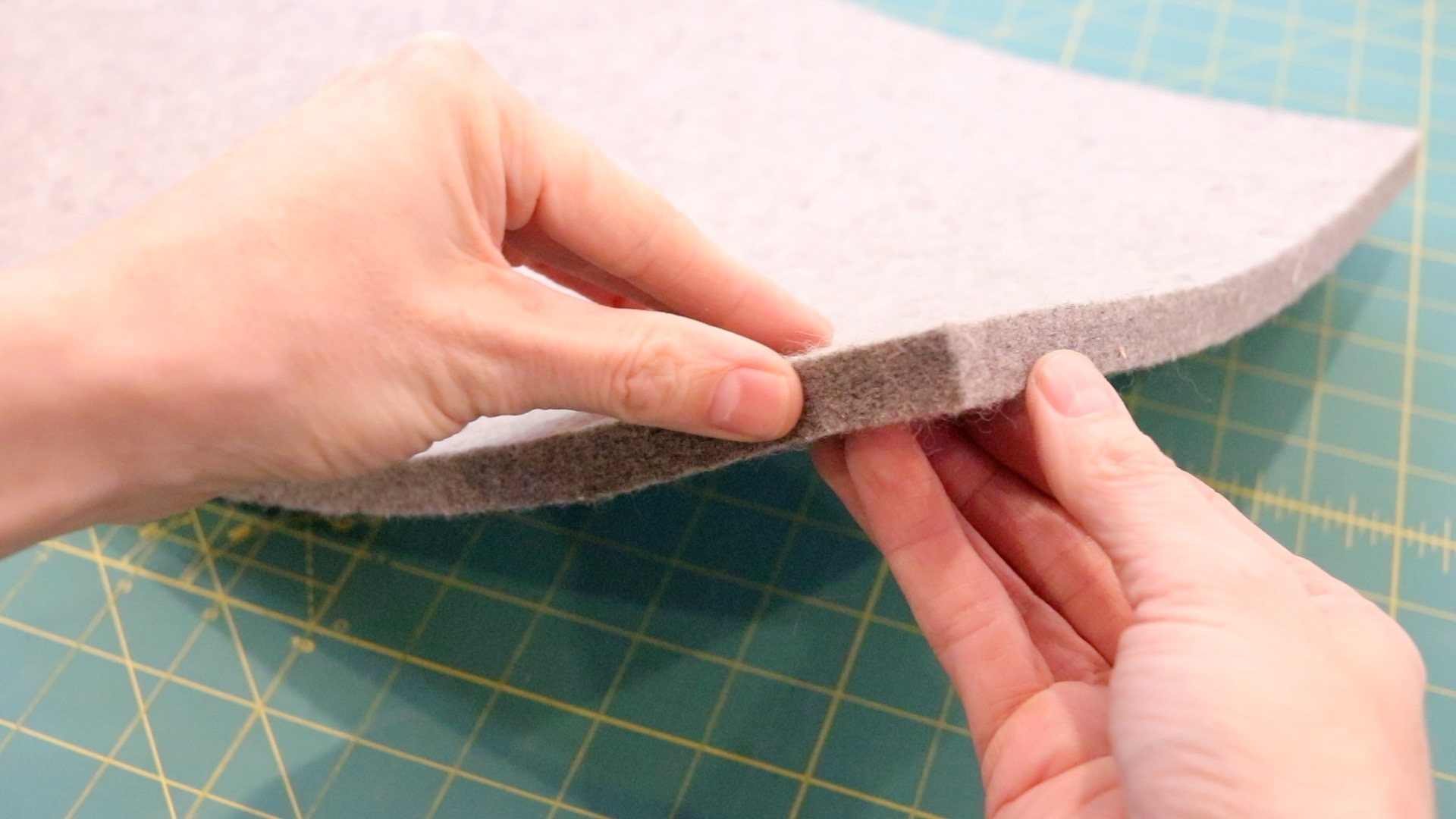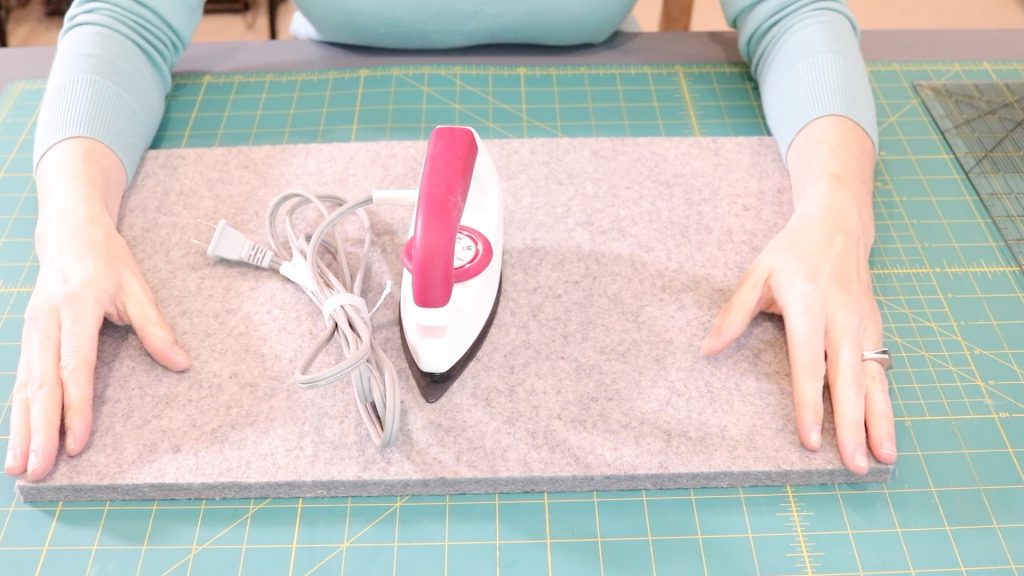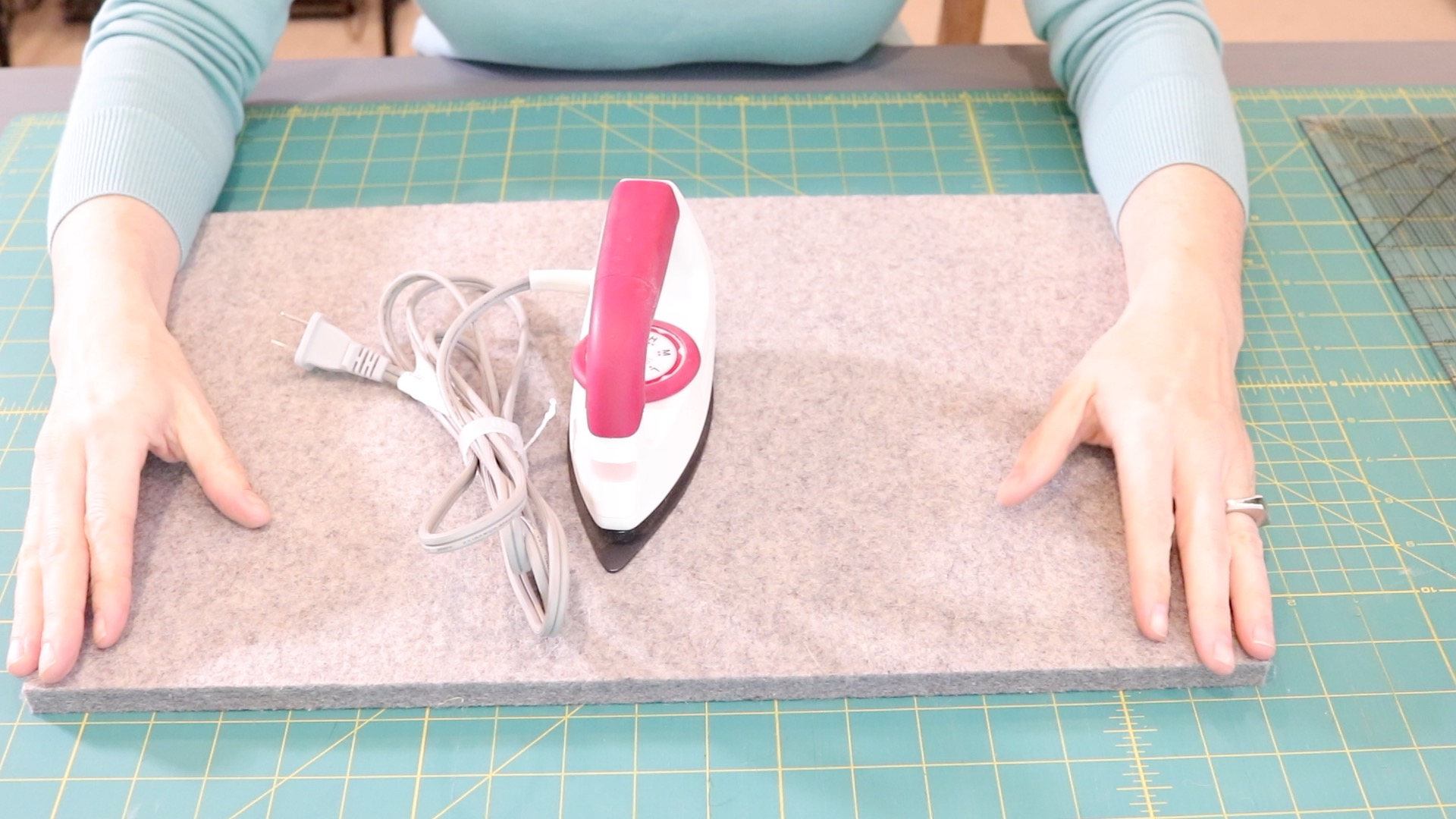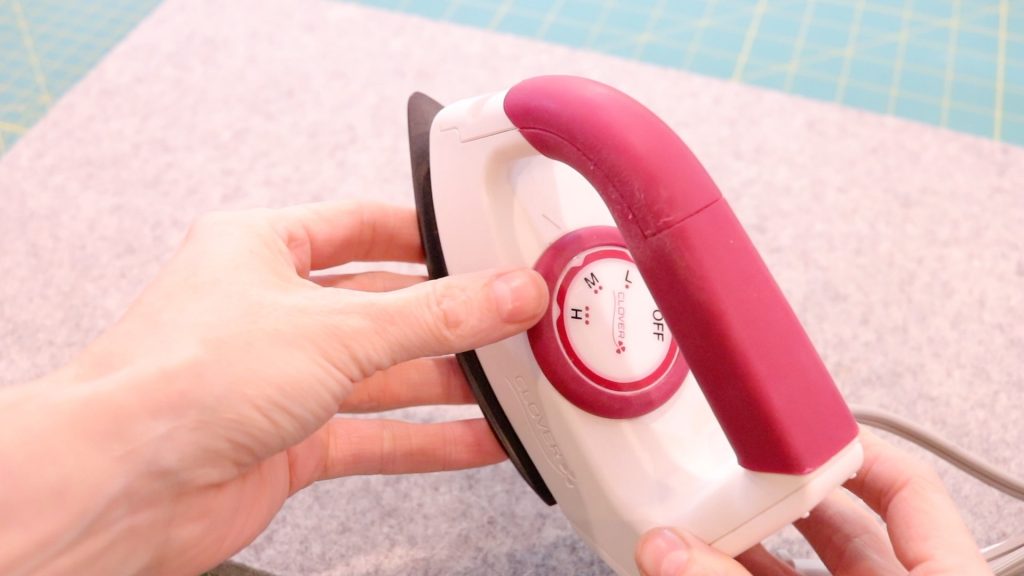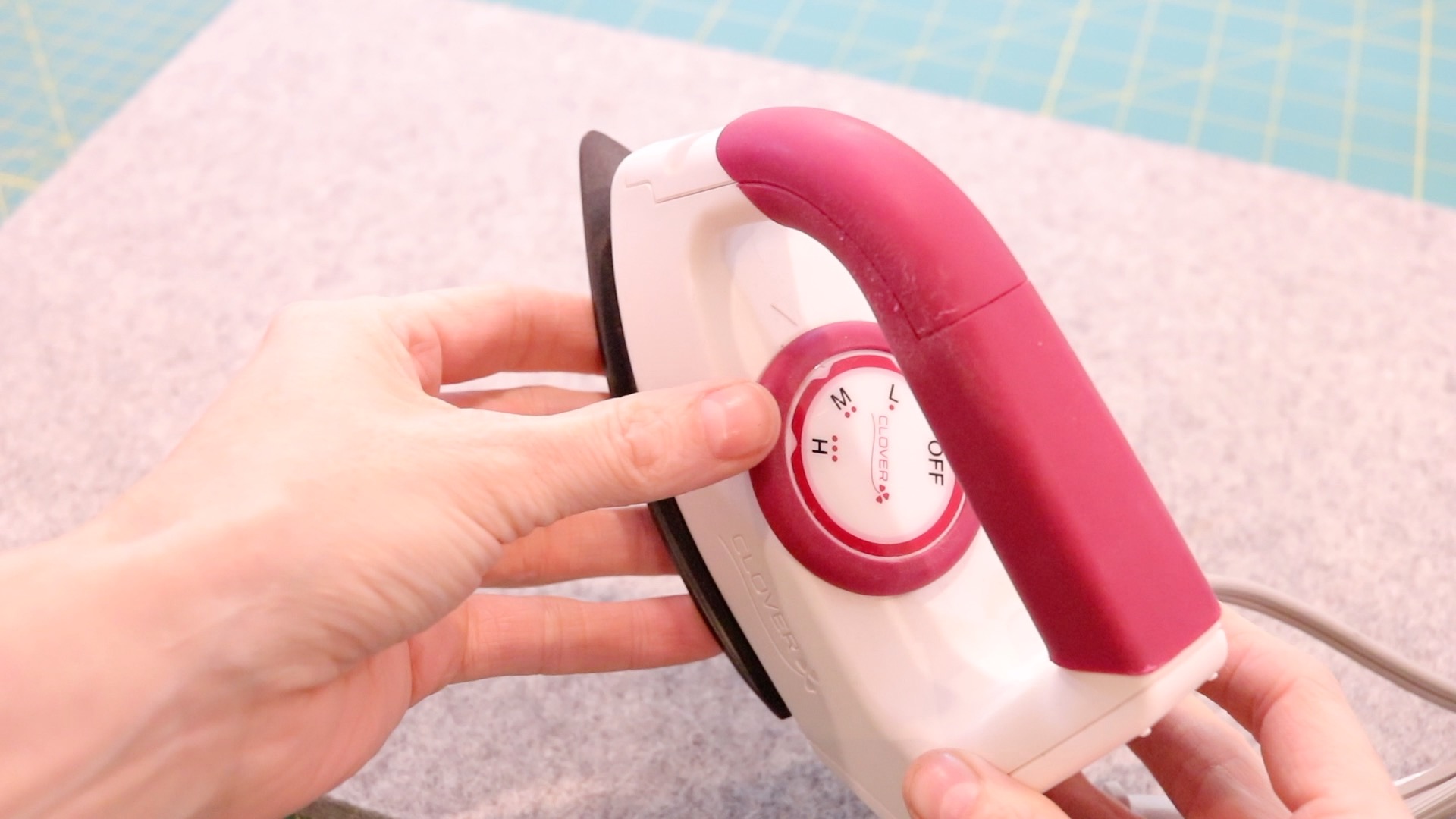 Height Adjustable Sewing Table
The Ikea Skarsta sit to stand desk makes the perfect sewing table (in my own opinion).
I love that it is height adjustable. This feature makes it easy to use as a cutting table or a sewing table in any height that is comfortable for me.
Often times when I'm spending hours sewing, it's nice to be able to stand a sew for a bit.
I own two of these tables and have never regretted the purchase.
These tables are available with a white base or a dark (almost black) color. I opted for white with a solid wood top.
You can also purchase this desk with a melamine top (in white). Check your local Ikea store for availability.
If you are looking to buy one of these desks but it isn't in the budget? Check your local Facebook marketplace or craigslist for a slightly used one.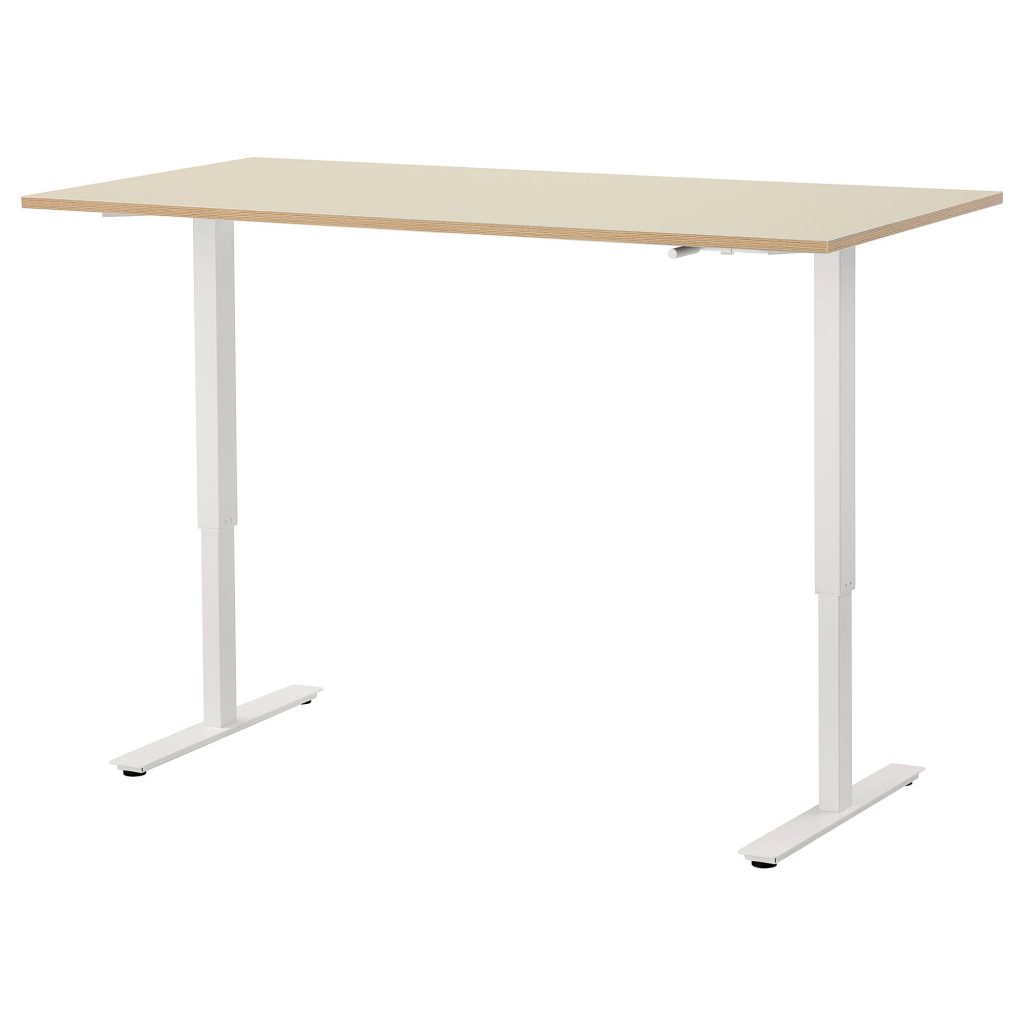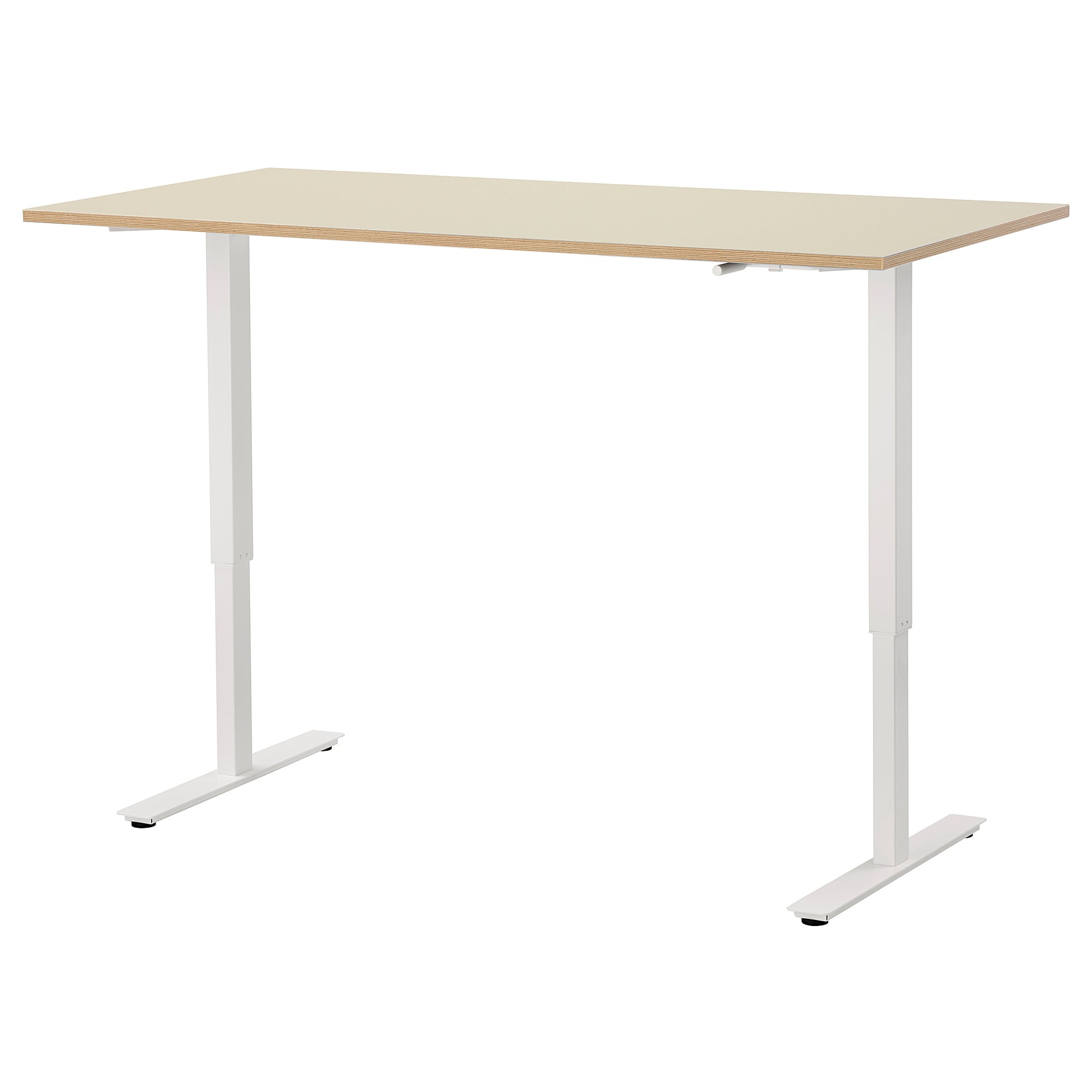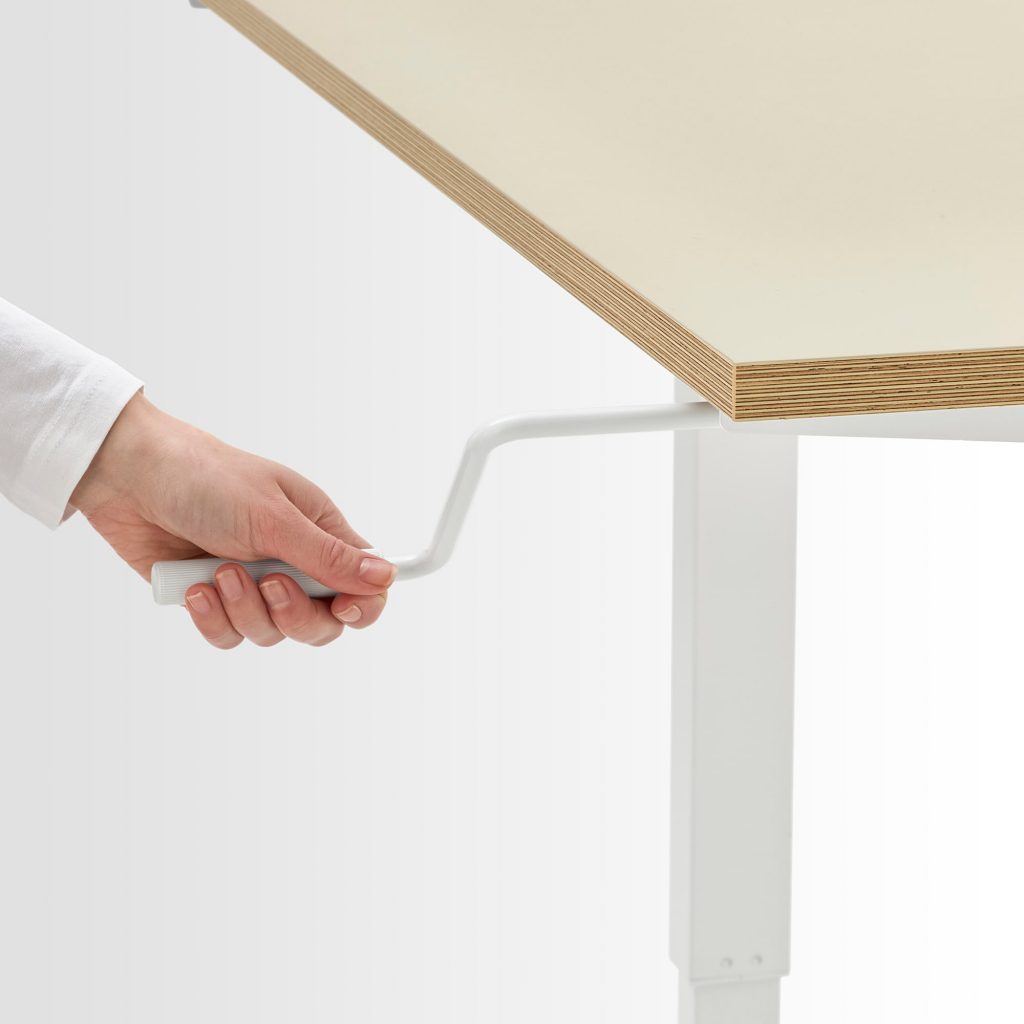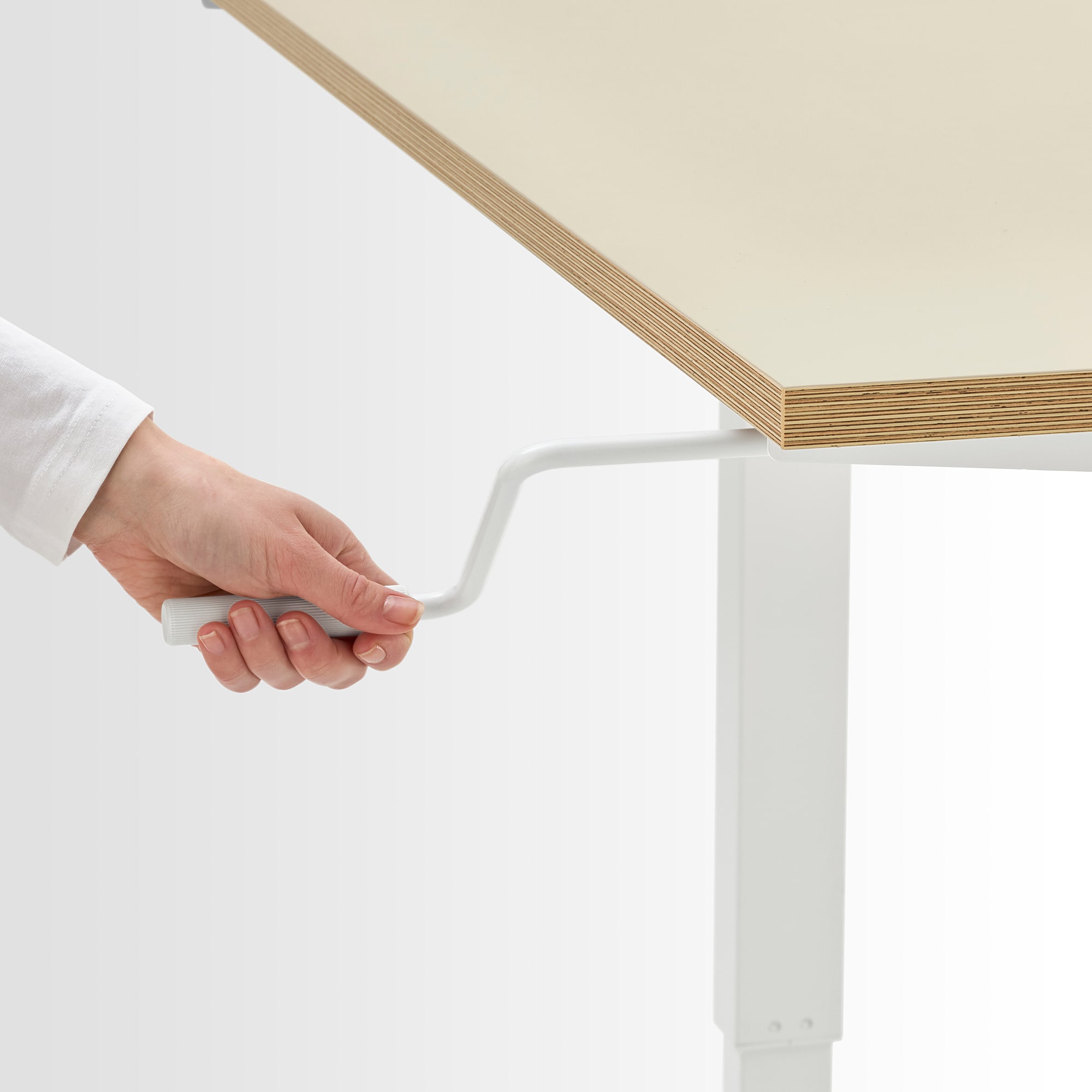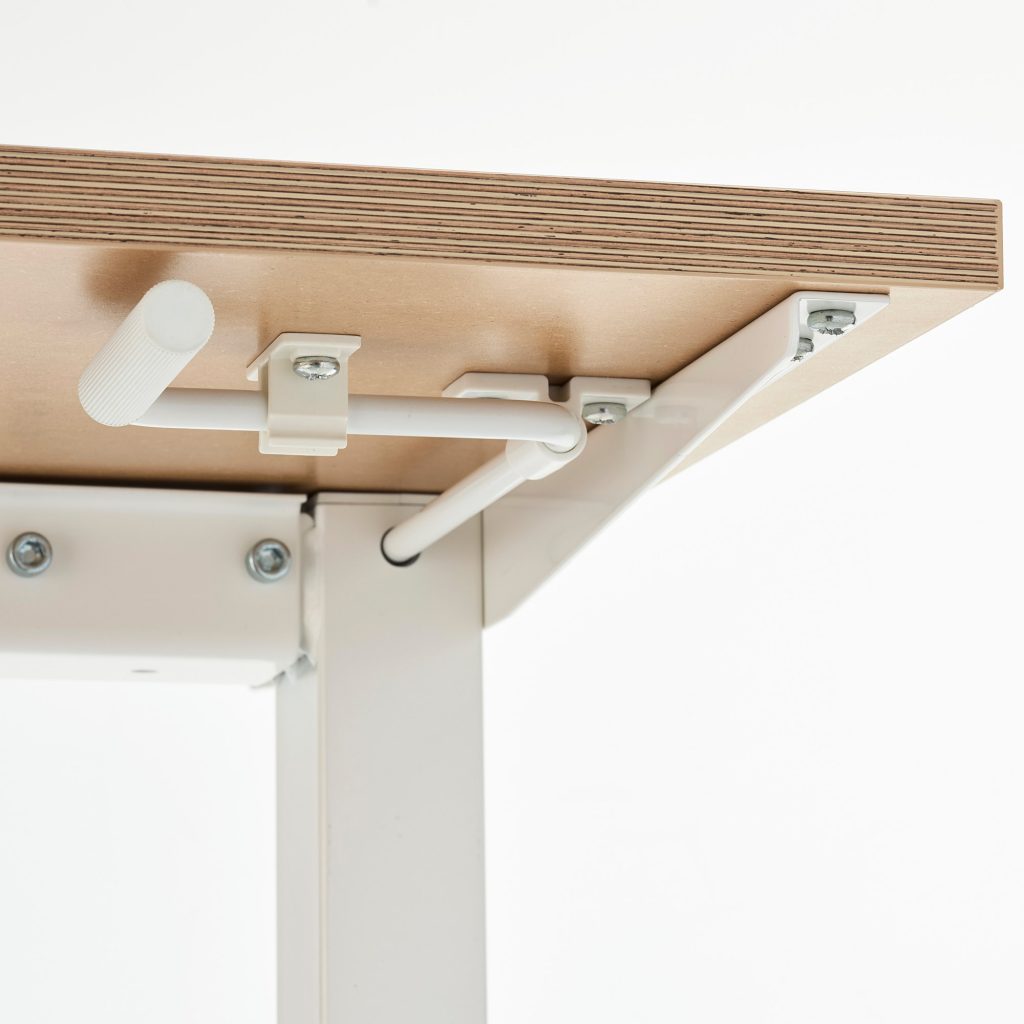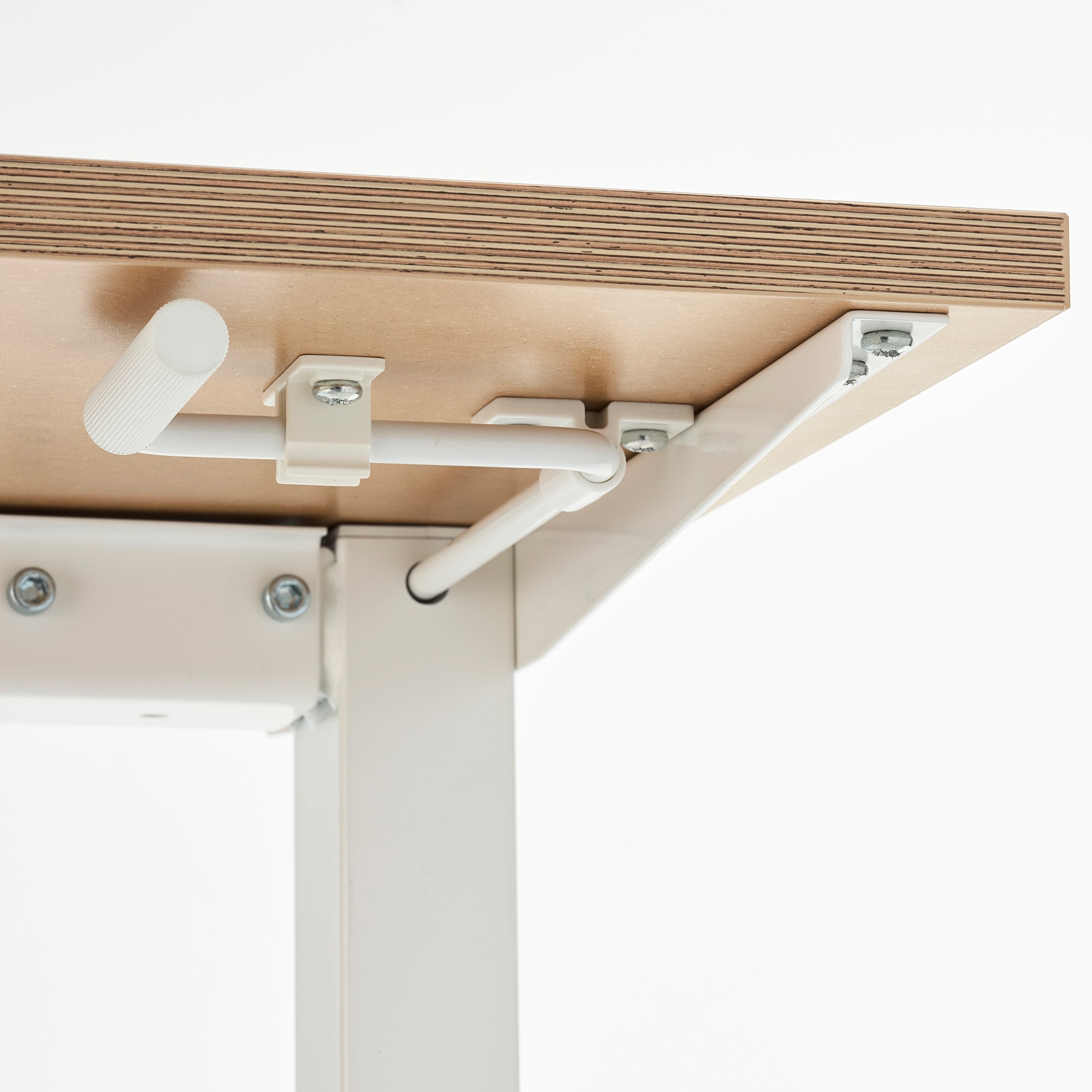 The smaller IKEA table retails for $249.00 for the smaller table (47.25 inches long by 27.5 inches deep).
Retails for $279.00 for the larger version (63 inches long by 31 inches deep).
Height adjustable.
Perfect height for a cutting station or to stand and sew.
The Skarsta desk is also available in an electric model. However, it's quite a bit more expensive. For this reason, I chose to purchase the crank model instead.
Ikea Skarsta Desk for a Sewing Table
You are able to purchase the top and base of the desk separately. I opted to purchase the butcher block top from IKEA instead. I felt like having a desk top of solid wood would
It's really heavy. Won't tip over easily. Roughly 75 pounds for the larger version.
It has a large work surface. Can hold multiple sewing machines.
White color with white top or white base with faux wood top.
Another plus? It's available at IKEA so you can order online for home delivery (for a fee). Or order online for in-store pick-up (free).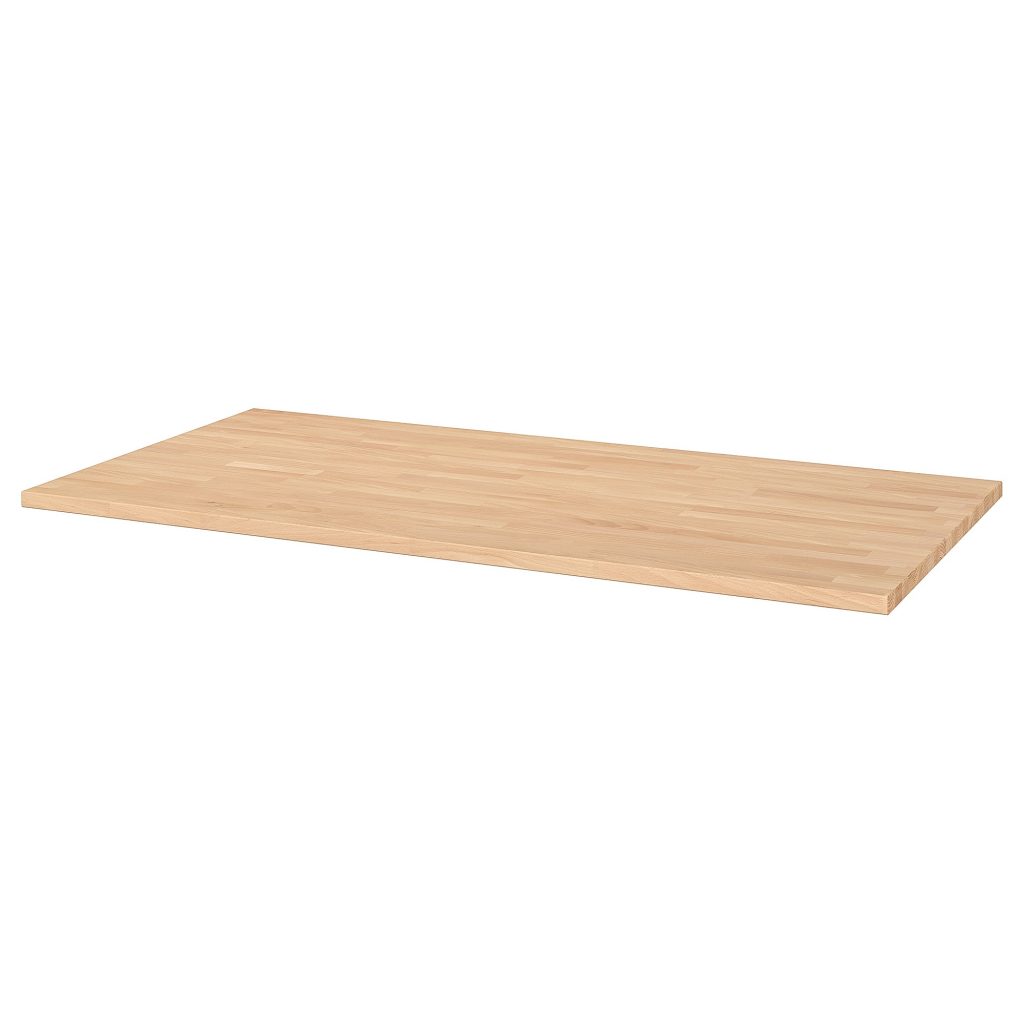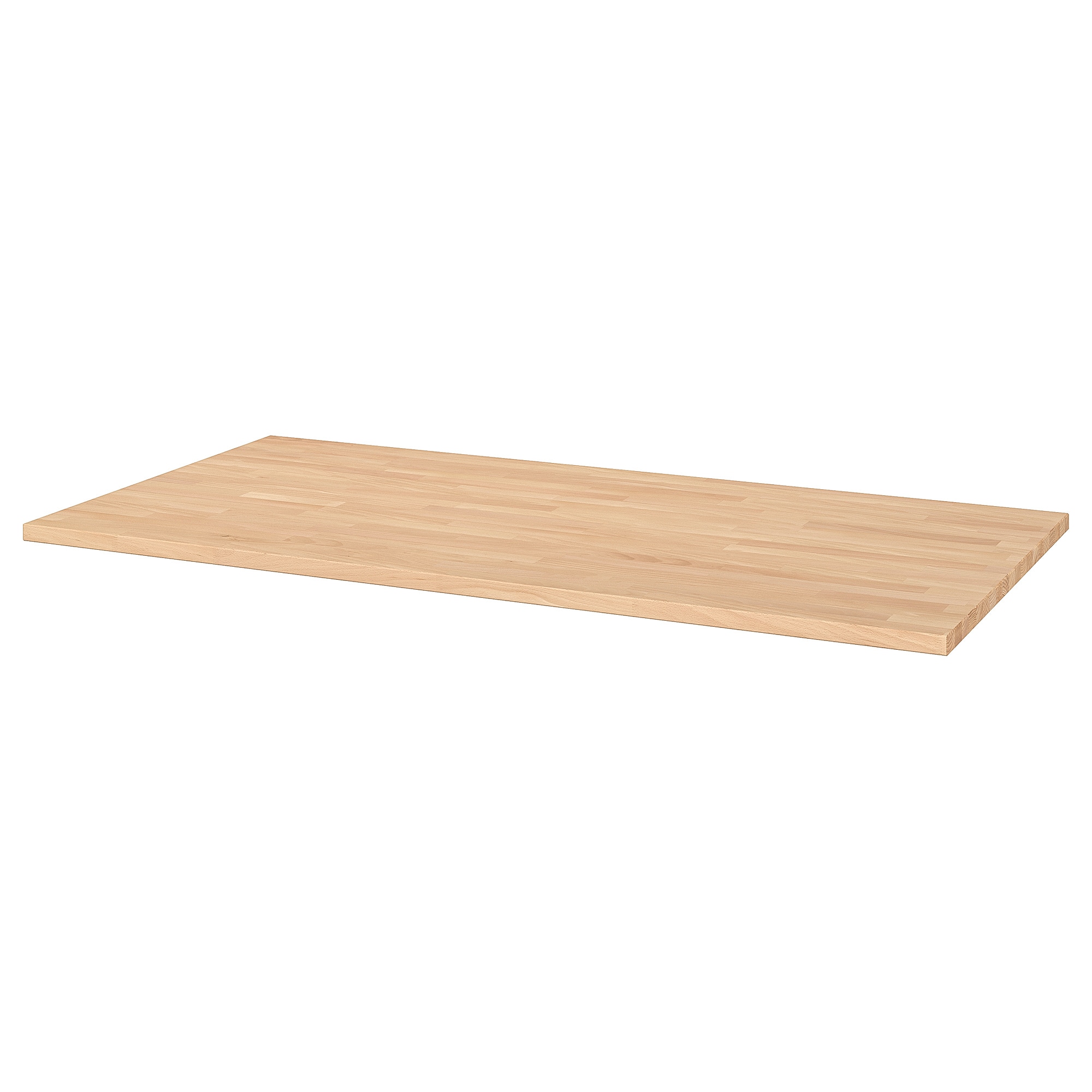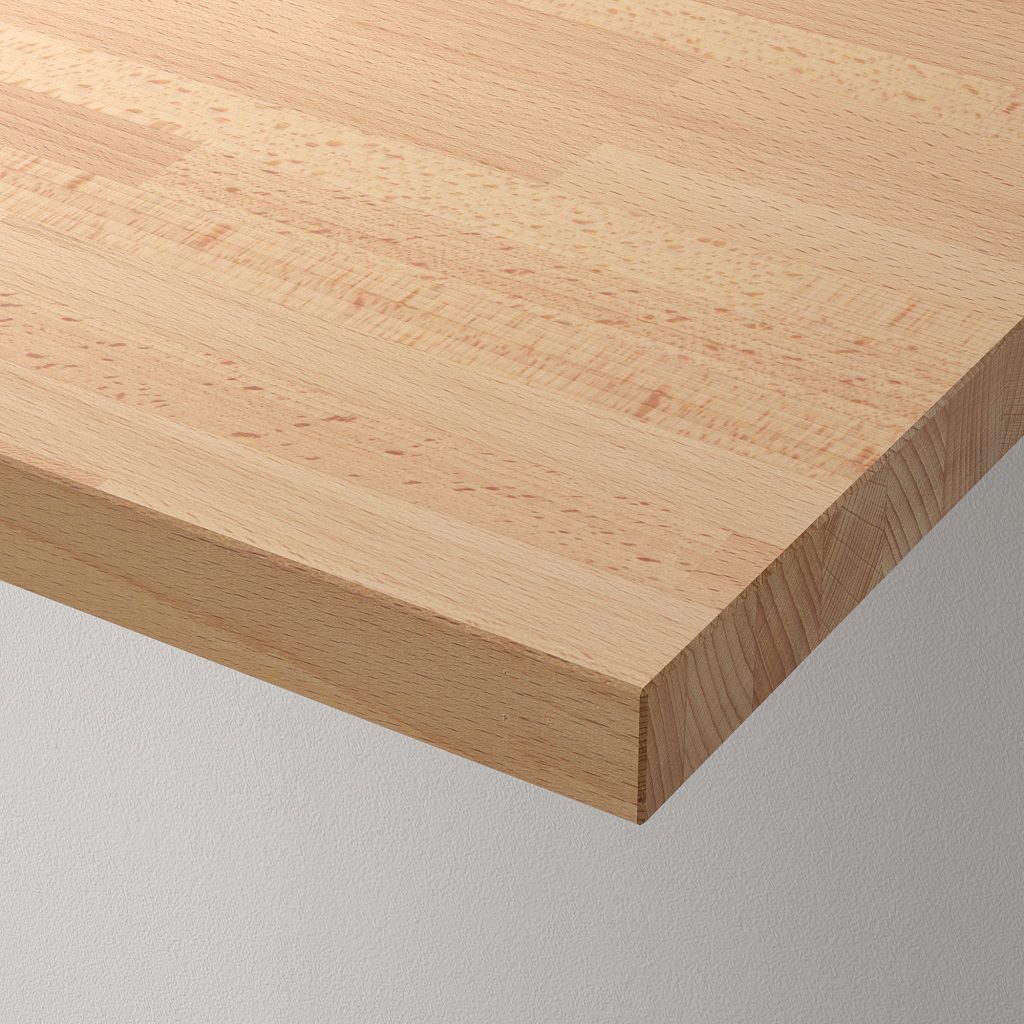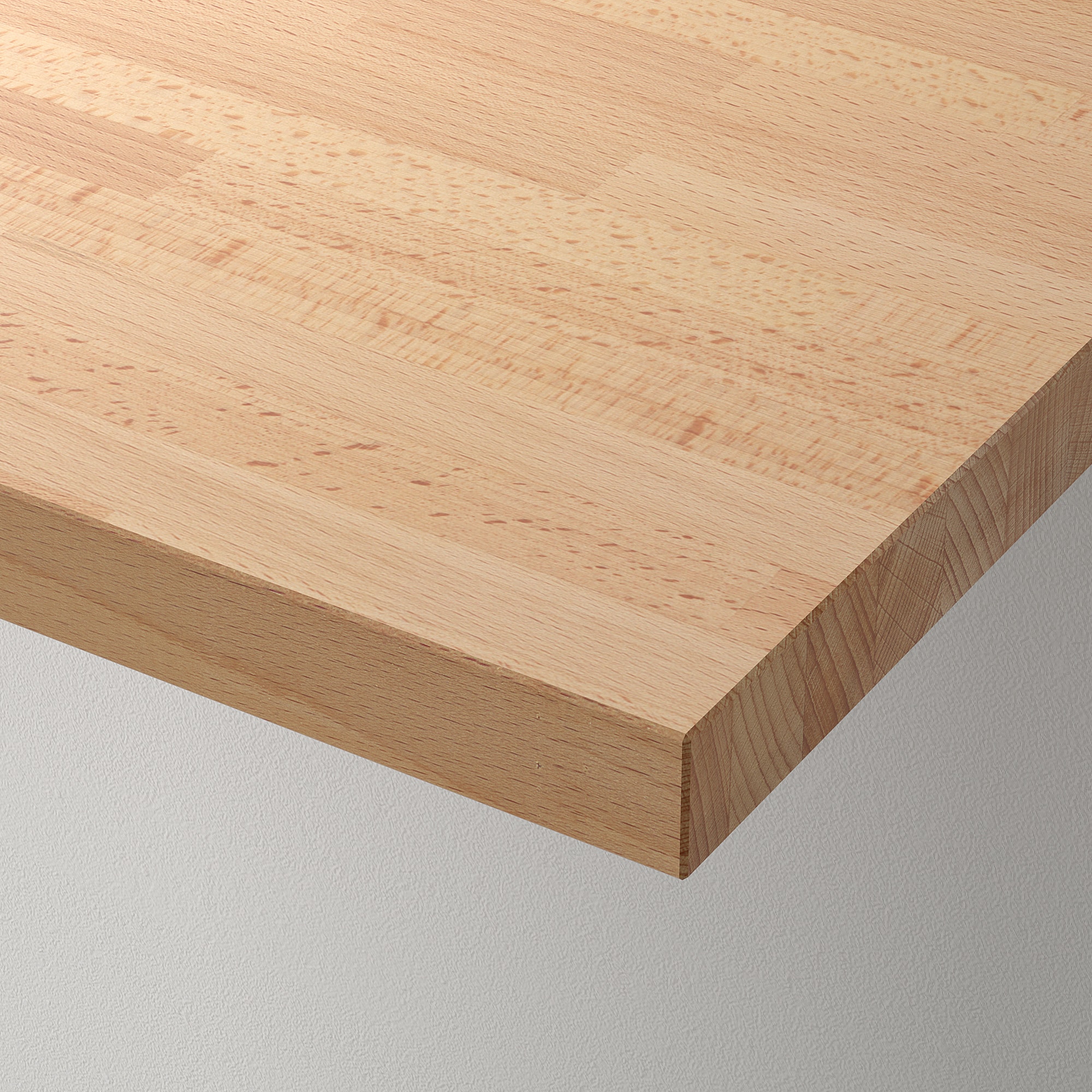 Hope you all enjoyed seeing this list of my top 10 sewing essentials. I truly love each one of these items and have used most of them for years.
Shop This Post for the BEST BEGINNER SEWING ESSENTIALS
Any firm surface will work for a sewing area. But if you are looking for a height adjustable option, be sure and check these two out!
I own both, so I can say that they are both equal in value, price, and functionality.
Here are a couple extra things that can help if you are a beginner sewer.
What Are Some Of The Easiest Things To Sew As A Beginner?
I have done quite a few tutorials on my YouTube Channel as well as here on the blog that are great beginner sewing projects.
Under the "handmade" or "sewing" tab you'll find more projects that I've done.
What Do I Need To Start Sewing My Own Clothes?
Most of the items I have mentioned above you will need to begin sewing your own clothing.
But let me share a quick list that may vary slightly if you are intending on sewing mostly clothes.
Sewing Machine Needles (size and brand may be specific to your make and model of sewing machine-check your users manual)
Thread (buy the color you need to coordinate with your sewing project)
*you can use the same pair of scissors to cut your patterns and fabric but I do NOT recommend this option long term. Using scissors to cut both pattern paper as well as fabric will result in dull scissors that will need to be sharpened frequently*
Cutting Mat (if you are intending on using a rotary cutter)
Clips (pins are fine if you aren't ready to invest in alternatives)
Seam Gauge (really helpful for beginners)
OPTIONAL ITEMS FOR CLOTHING SEWING:
TIP: You don't have to use sewing specific pattern weights. I like to use marble drink coasters instead. They were the same cost as pattern weights, just as heavy and I find they actually work better. Here is one of the sets I have.
Pin It!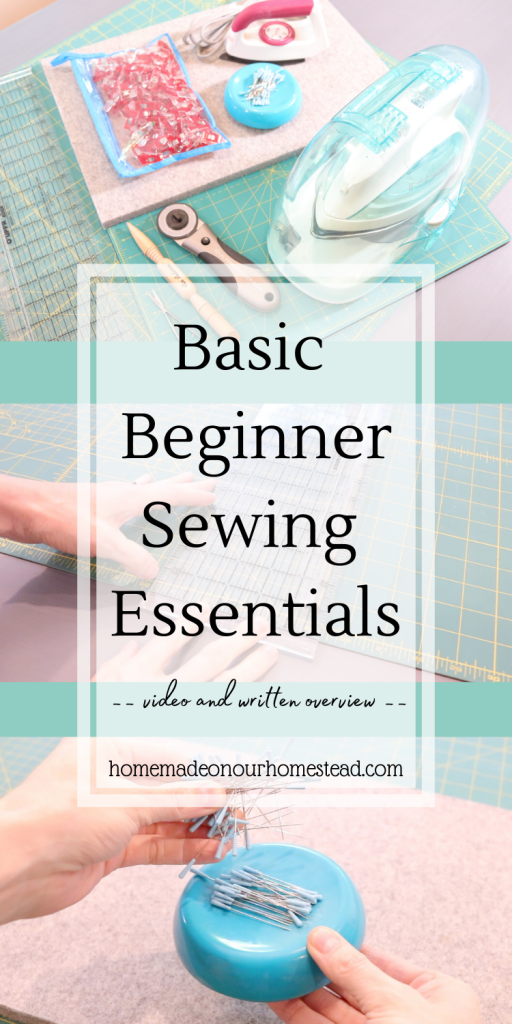 As always I will only recommend products that I know, use and trust.
Thanks so much for stopping by.