Learn how to make this really simple linen bandana neck scarf with this easy-to-follow sewing tutorial.
Does anyone else love and adore (everything) linen as much as I do?
I feel like linen is one of those fabrics that just go with everything. Literally everything!
It's a gorgeous fabric that just drapes beautifully. You can dress it up, dress it down. Style it any way you like and it looks (and feels) amazing.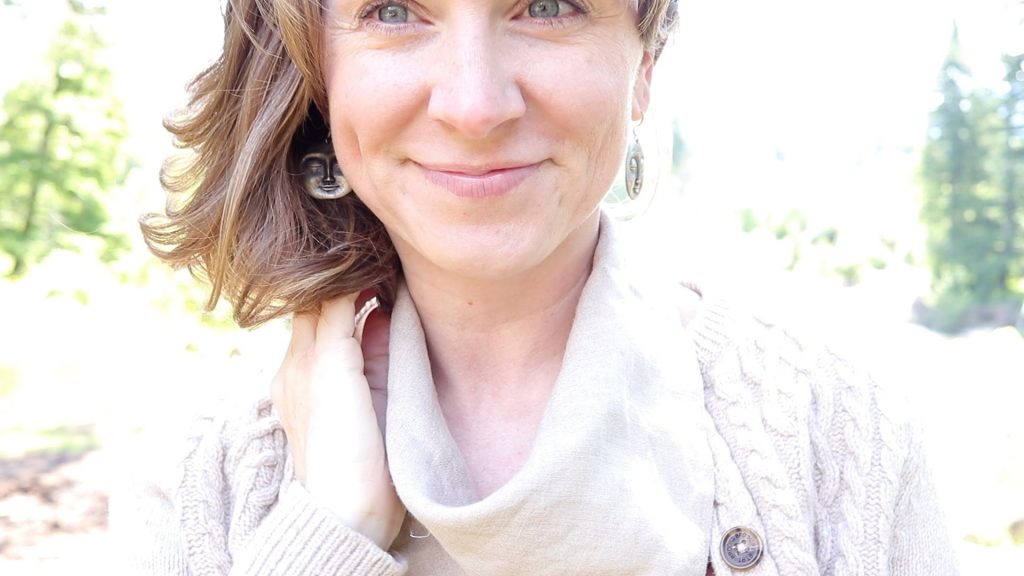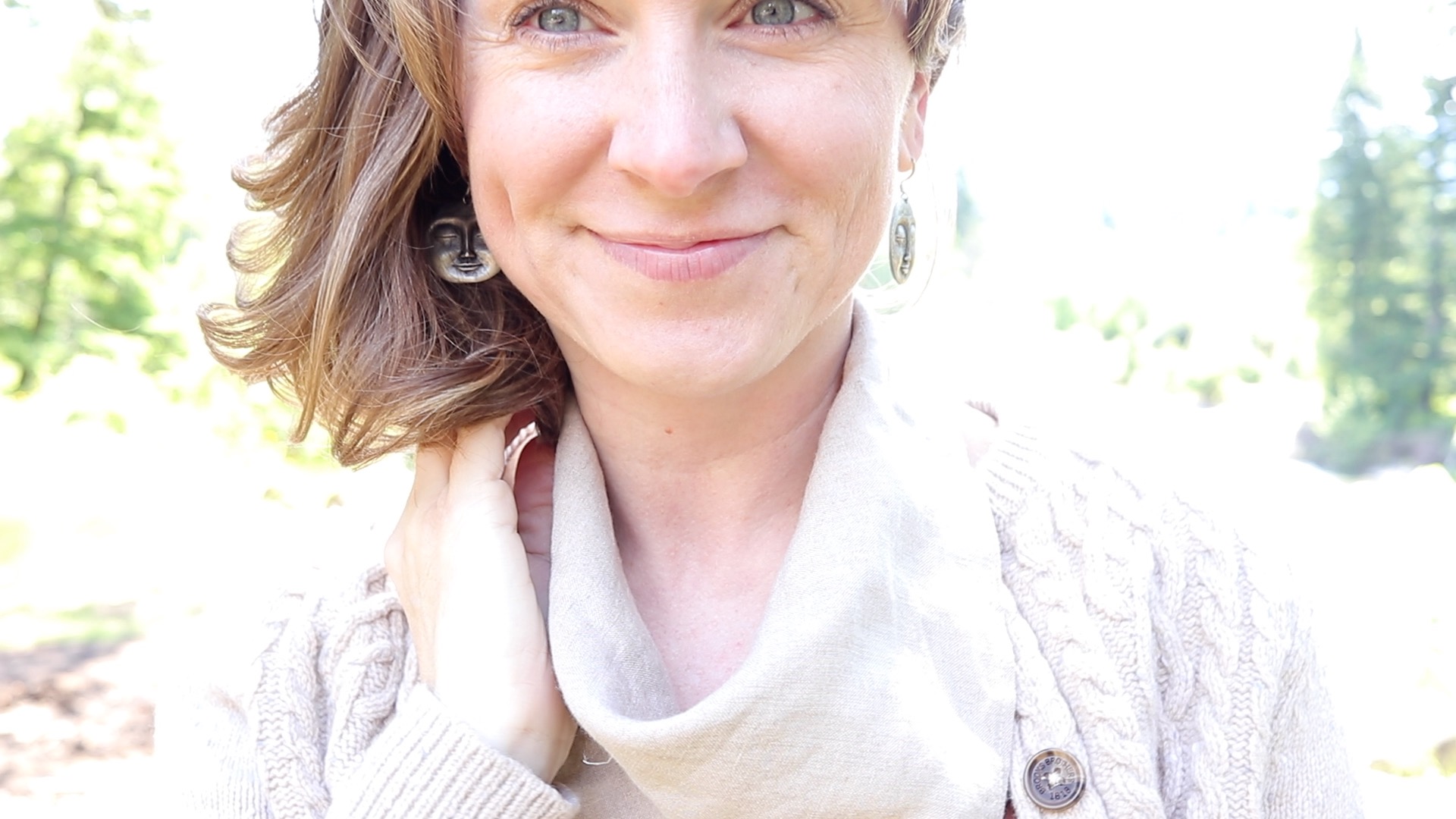 But there's a twist to this sewing project.
Curious? I made this bandana to have a snap closure instead of the typical bandana that is tied. Brilliant (and easy).
Some of these links are affiliate links. This simply means that if you click on a link and make a purchase, I may receive a small commission at NO EXTRA cost to you. As an Amazon affiliate, I earn from qualifying purchases.
Want to see the tutorial video? You can watch that here too. I'll walk you through step by step.
Where can I buy linen fabric that's actually affordable for projects like these?
First things first. Getting some linen fabric. I love linen, like a lot. But if you've purchased linen before you know just how expensive linen fabric by the yard can be. But there is good news! I've found a great source for linen fabric and it's actually affordable. So I'm going to put the link below where you can find linen fabric for such a great price. Want to know a little secret?
It's actually not from a fabric store. It's from Target! Who doesn't love Target?! I found these great tablecloths that are 60″ x 120″ for $27.00. They are 100% linen and you can buy it in a gorgeous taupe/tan color or white. The best part is that if you purchase white, you can dye the linen any color you like to suit your needs. They also frequently go on sale for $23.99. I have found that when they go onsite though that they sell out really fast. So I usually don't wait.
But now you at least know where you can get quality linen fabric at a great price. Be cautious when buying linen fabric online. The item you think maybe linen may only contain a percentage of linen. This fabric source is 100% linen. This is what I use to sew all my linen DIYs.
LINEN FABRIC for bandana neck scarf:
SUPPLIES:
**click the hyperlinks to shop the supplies I used**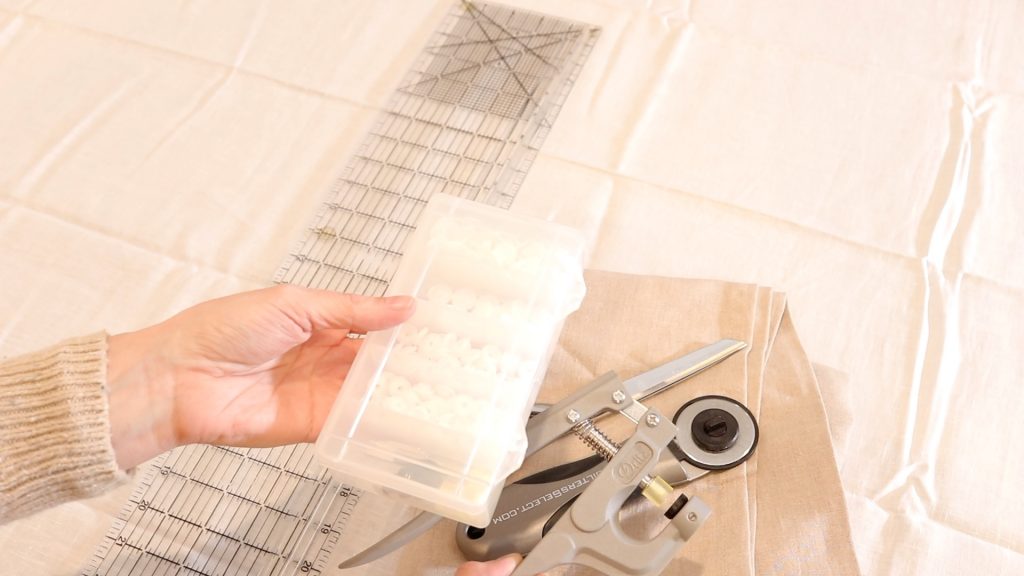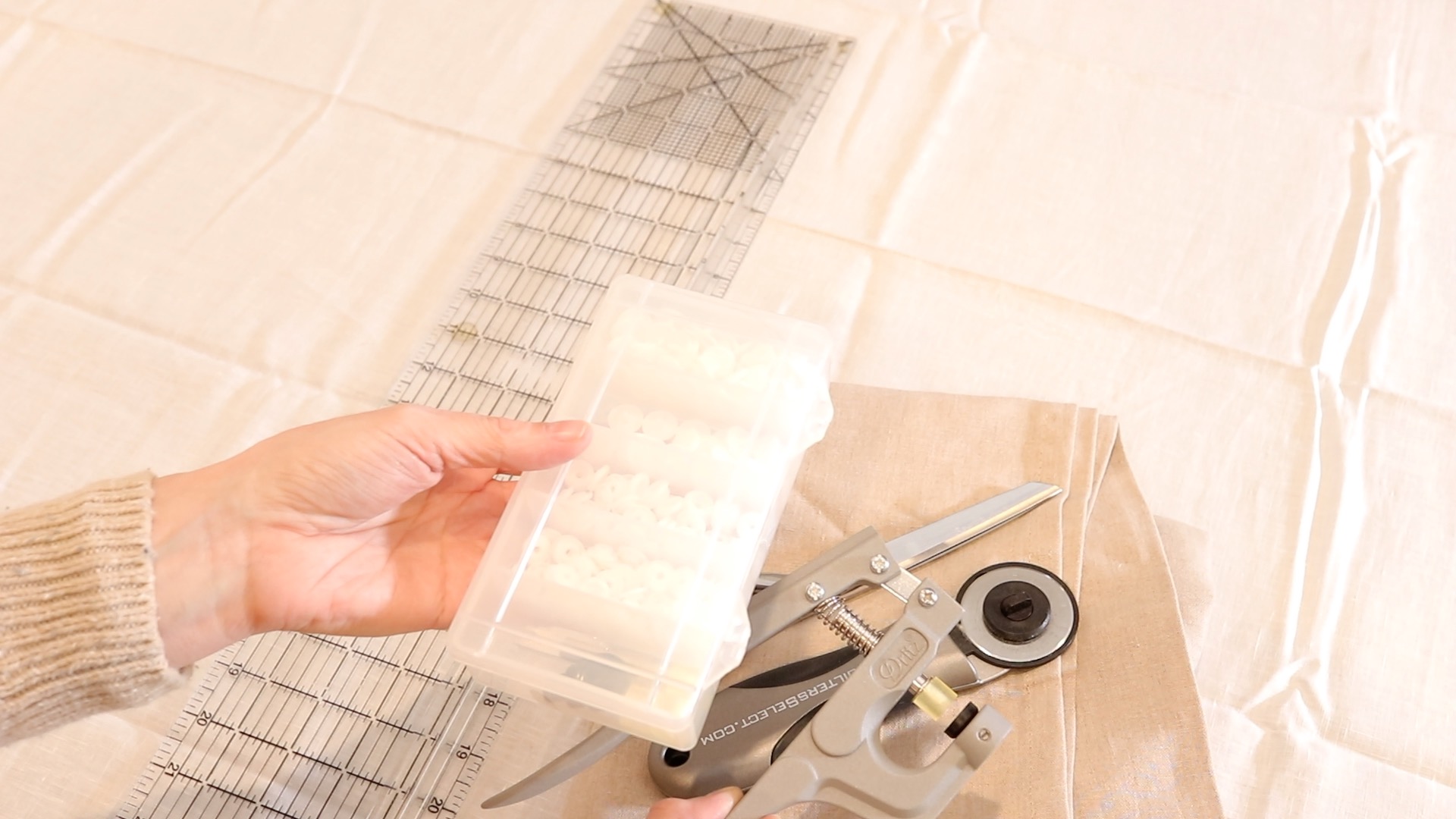 CUT YOUR FABRIC:
REGULAR SIZE: cut (2) pieces of linen fabric 15″ x 15″ (finished size is 14.5″ x 14.5″)
MEDIUM/LARGE: cut (2) 18″ x 18″ pieces of linen (finished size is 17.5″ x 17.5″)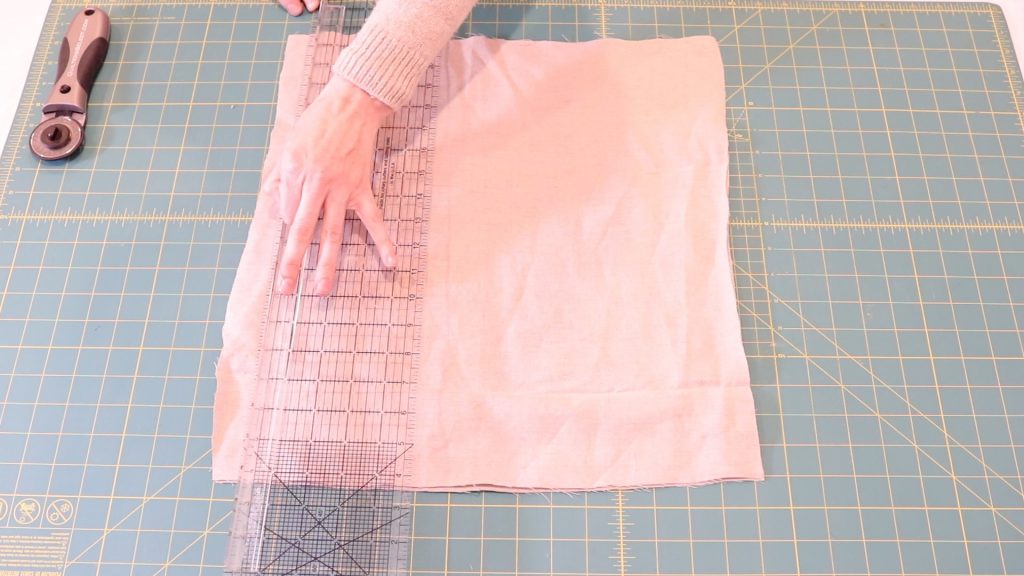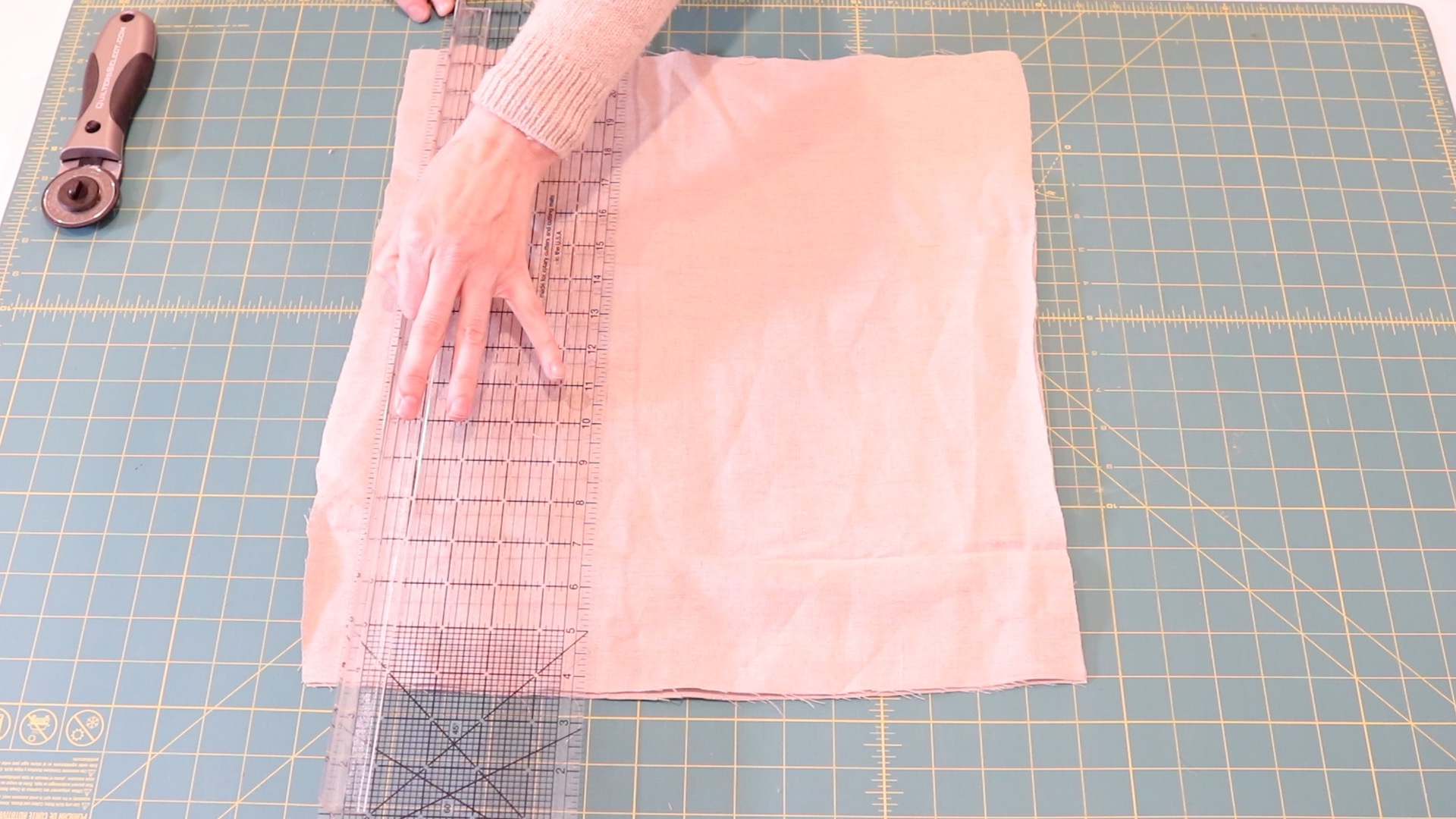 Time to sew.
Once you have your pieces cut to the dimensions you want, it's time to sew.
When sewing with linen I prefer to use a thread that blends in (coordinating). This is a personal preference so you could definitely use a thread that contrasts the linen so you see it. It's up to you. I used Gutterman thread #506 (for reference).
Thread your machine and bobbin with the thread color of your choice.
You can use pins or clover sewing clips to keep your pieces held in place, but since this is a small-scale project I just opted to sew it without pinning or clipping.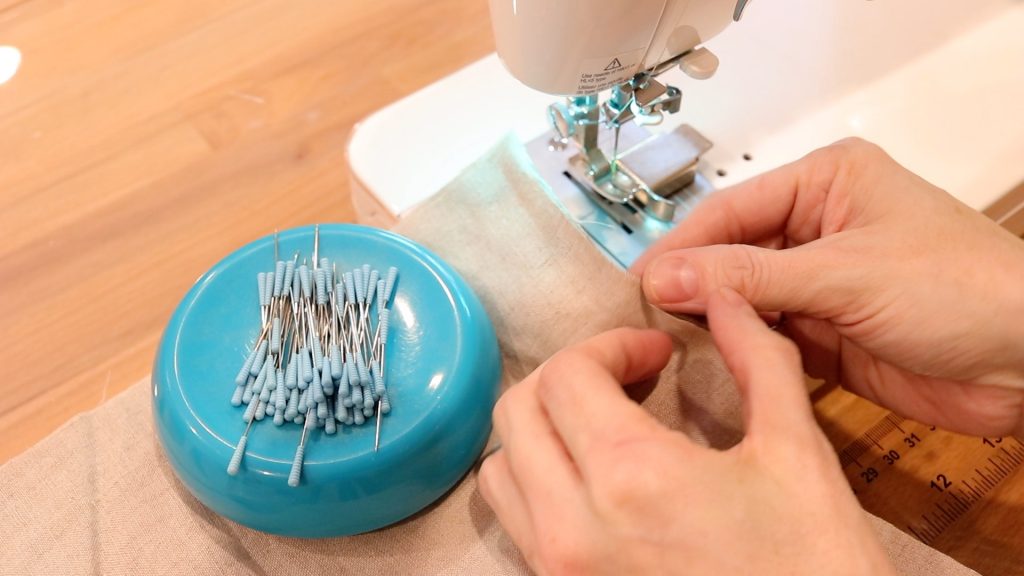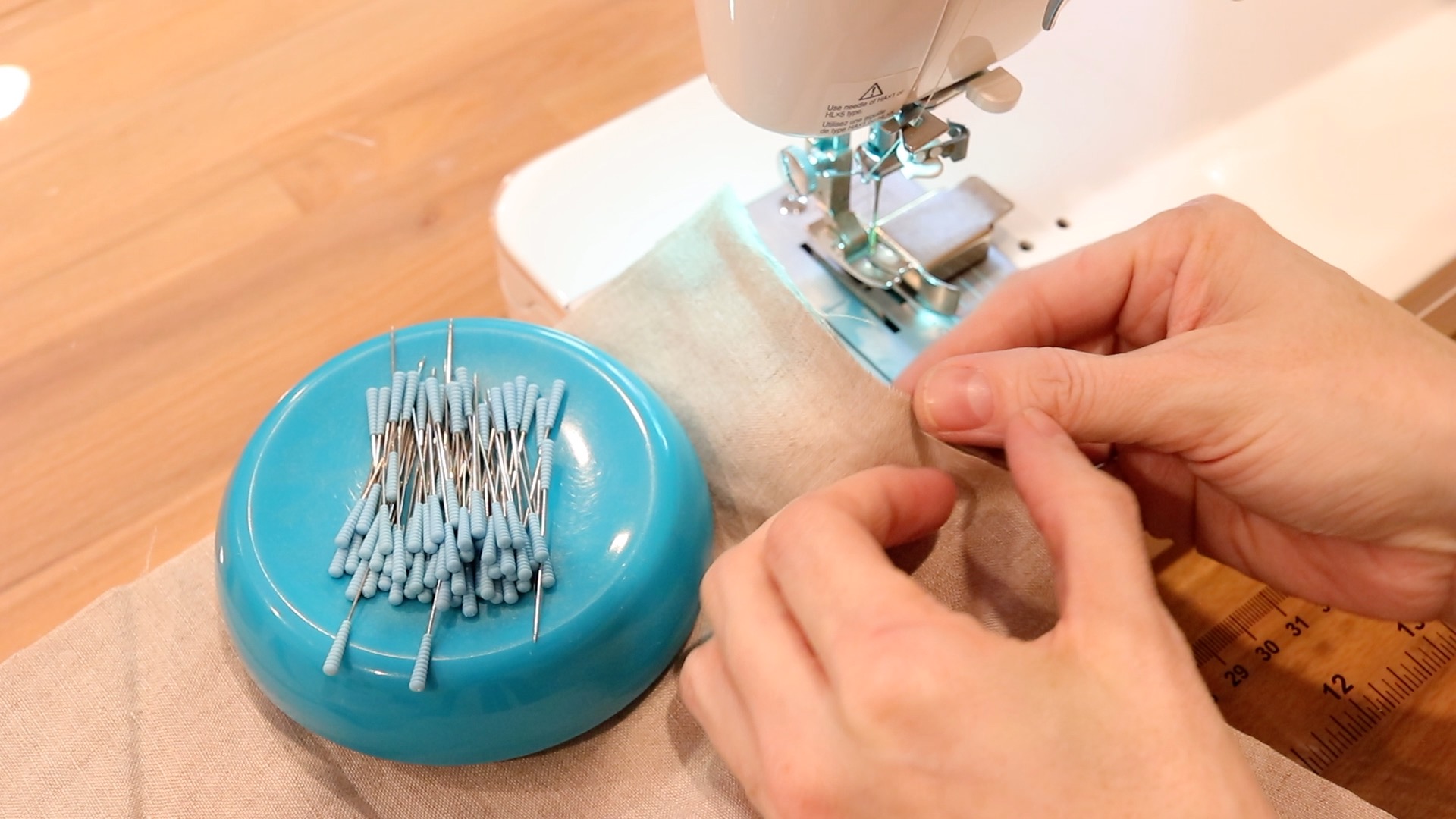 Using a 1/4″ sewing foot or just a 1/4″ seam allowance, sew around the entire edge of your bandana leaving a 3-4″ opening to turn your bandana right sides out. This will hide the raw edges and make your bandana look nice and finished.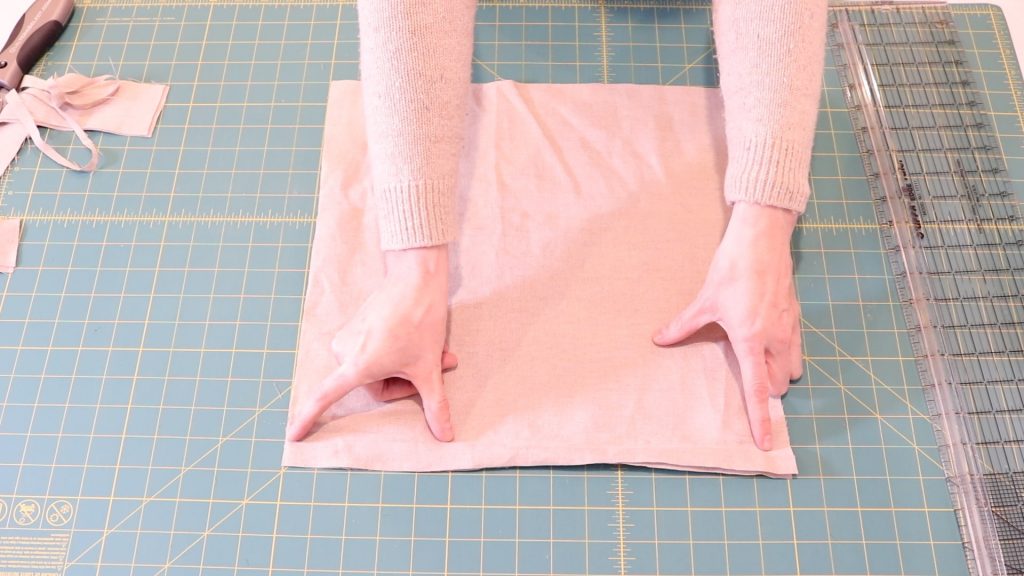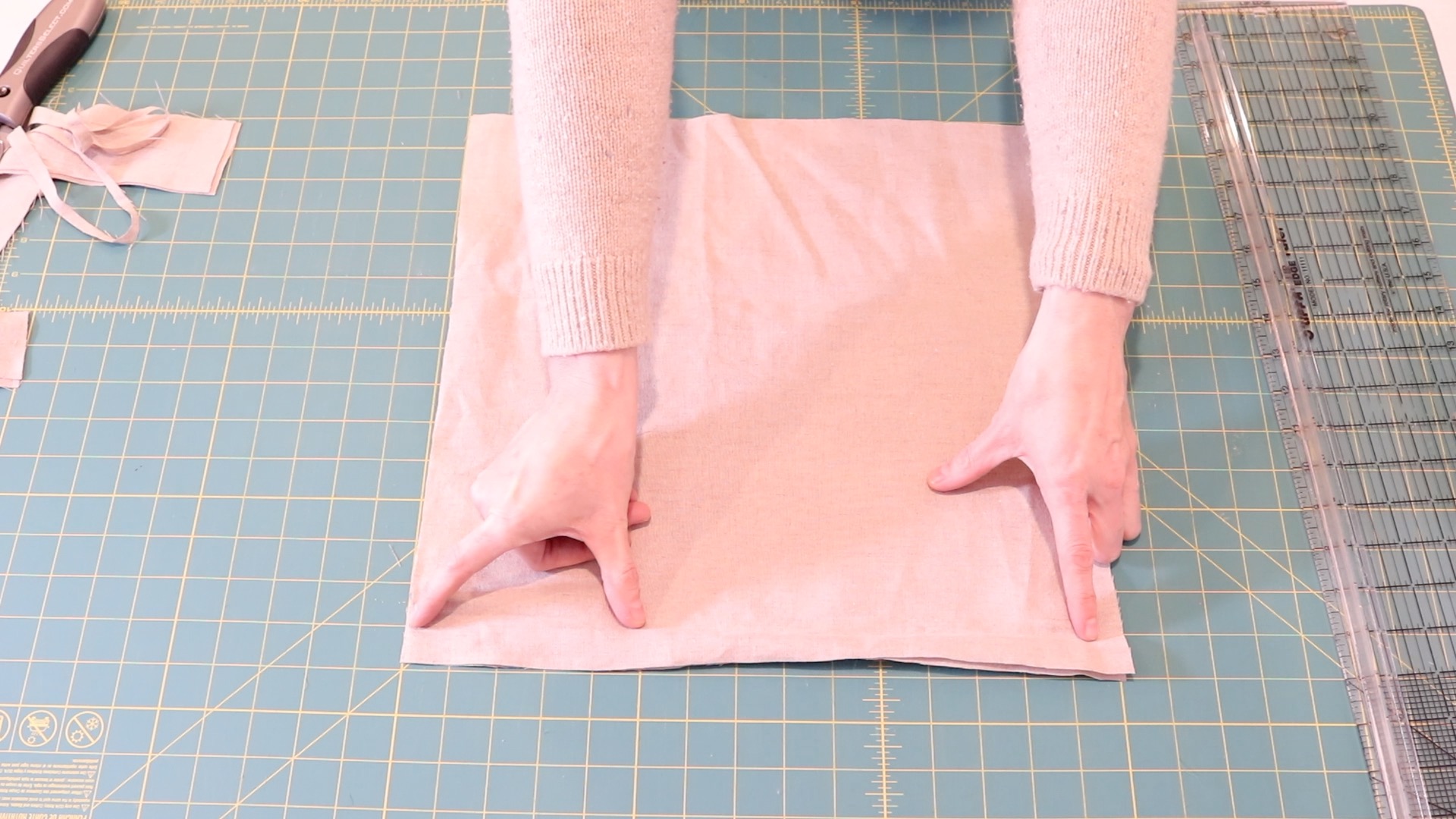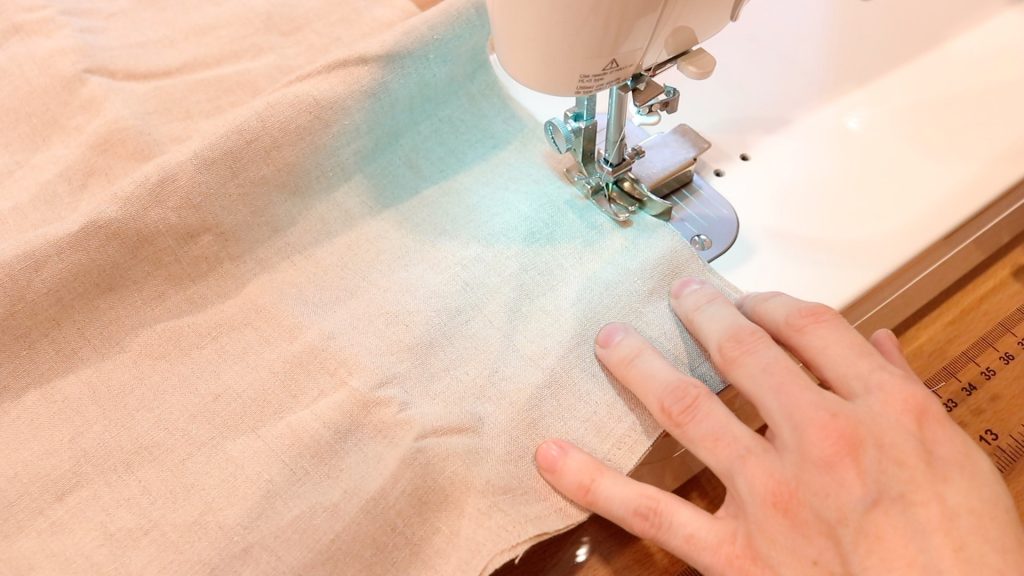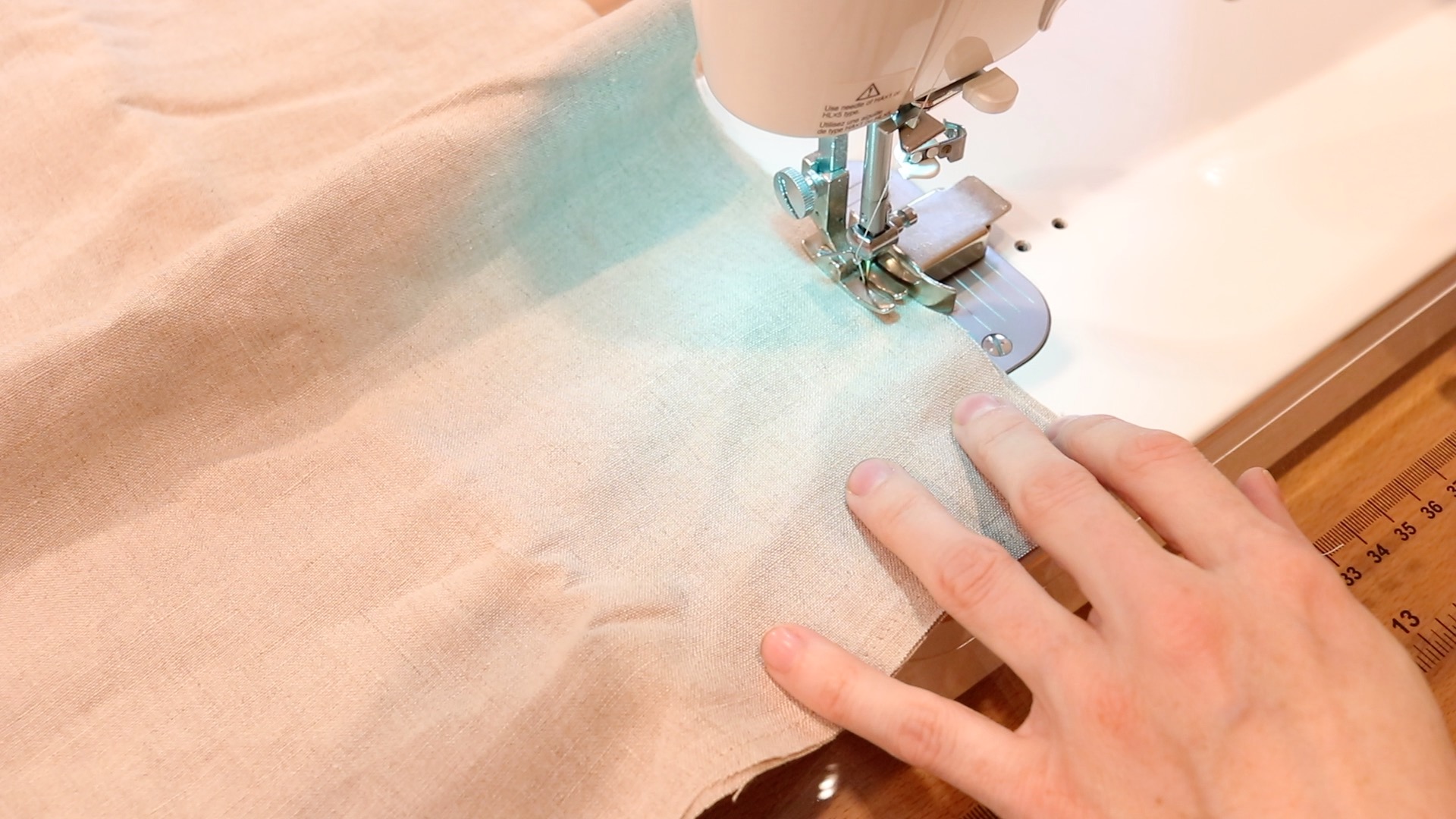 Don't forget to backstitch at the beginning and the end of your lines of stitching.
Once you have sewn all the way around and left your 3-4″ opening to turn, head back to the ironing board with your turning tool and a pair of scissors.
Before we turn the bandana RSO (right sides out), take a pair of scissors and carefully clip the corners of the bandana. Be sure NOT to clip through the lines of stitching. By trimming off the corners, your bandana will have much cleaner and sharper looking corners because you are removing the bulk from that area.
After clipping all (4) corners, it's time to turn.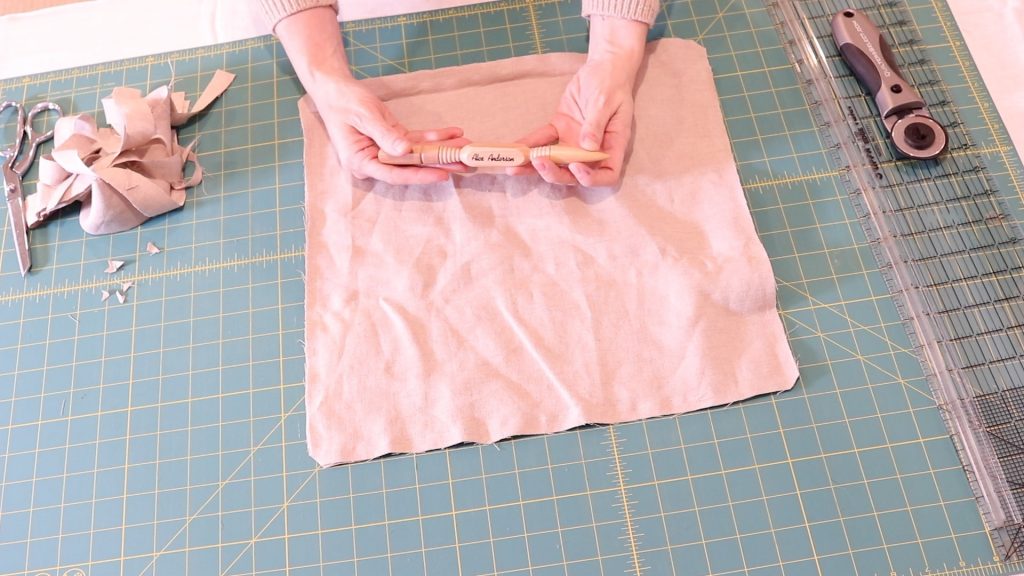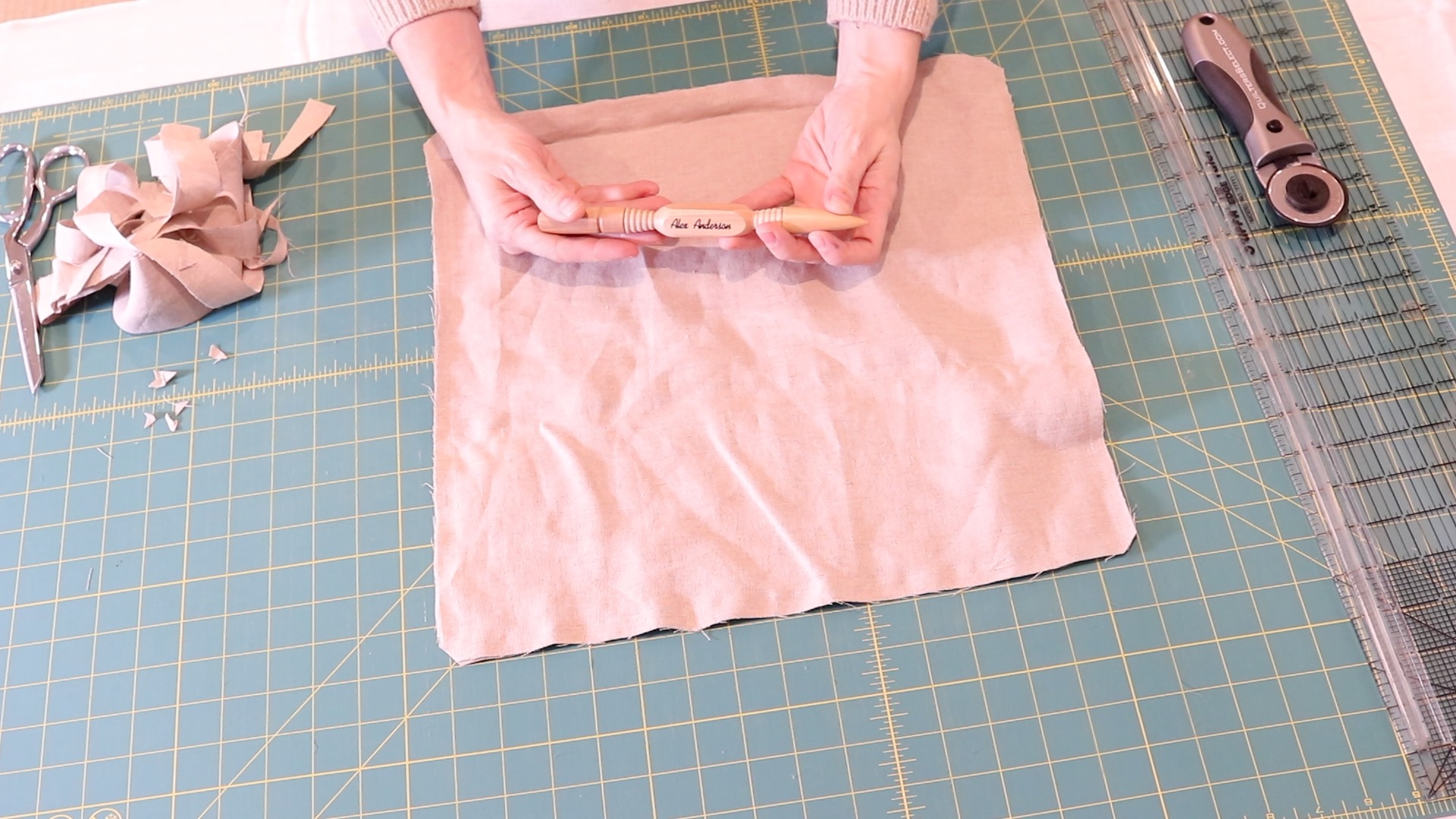 Using a turning tool of your choice, turn your bandana RSO and then use your tool (this is the one I use and prefer), to push the corners of your bandana out. Be careful not to push out too forcefully as it could push right through the woven linen material.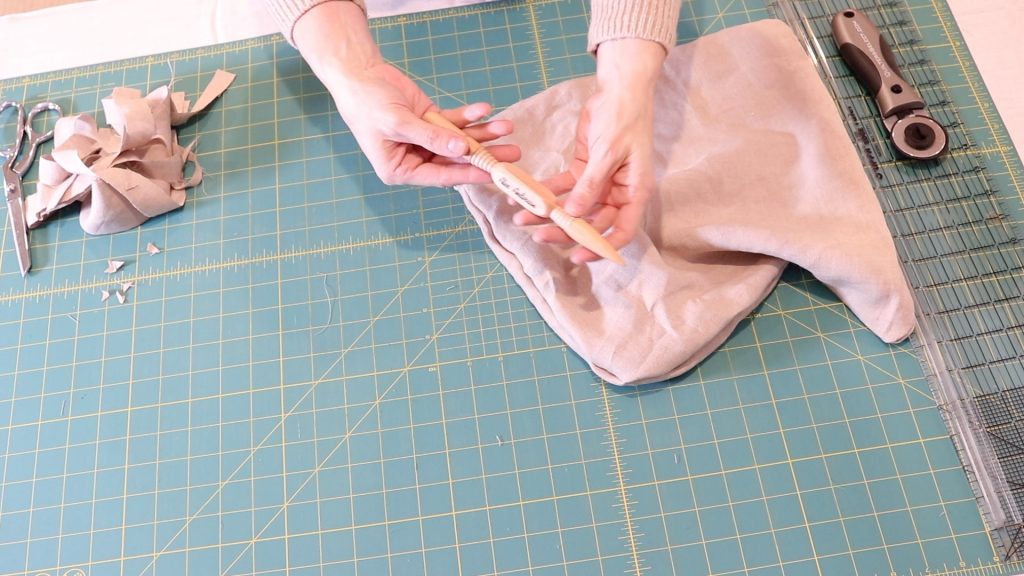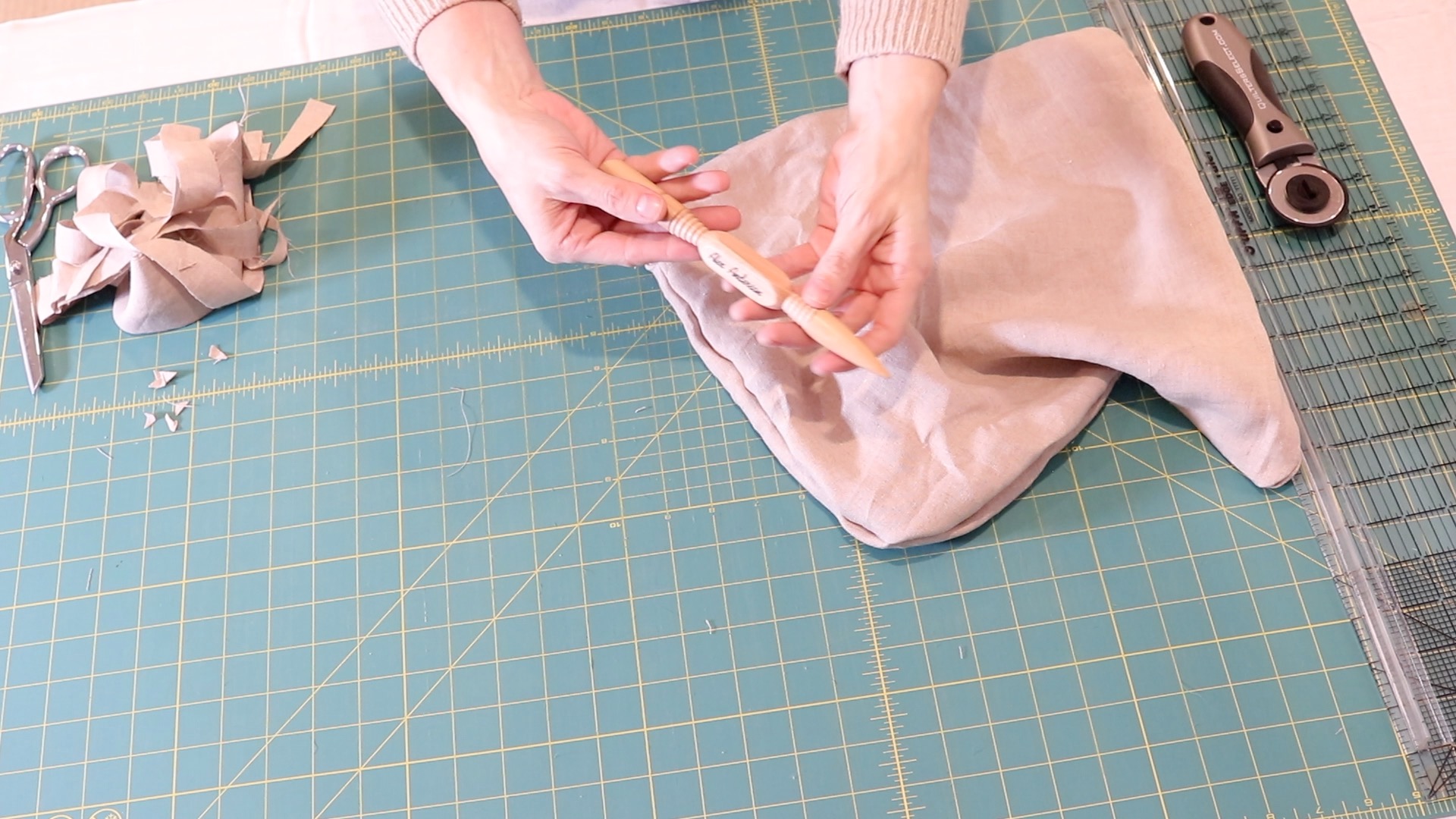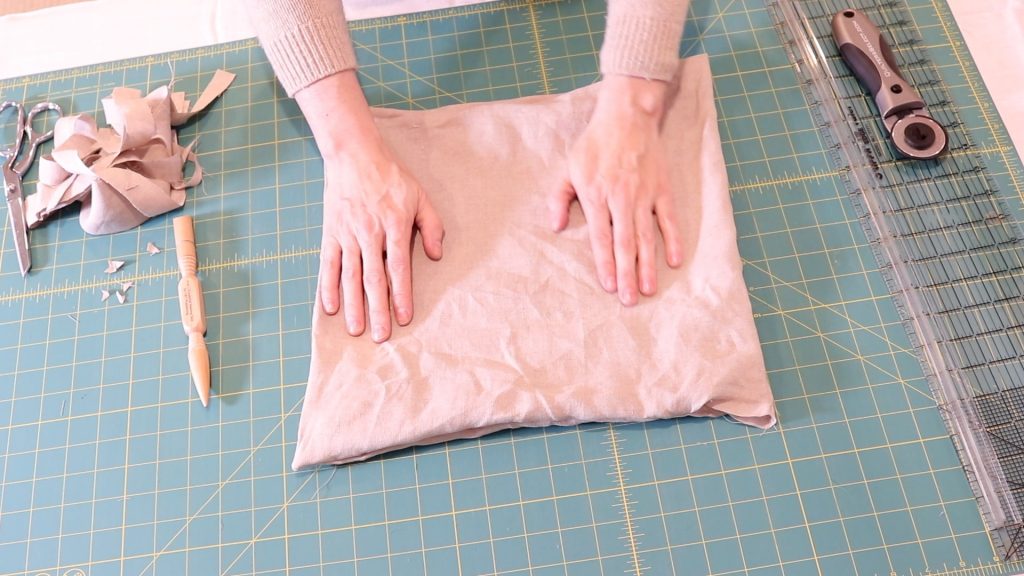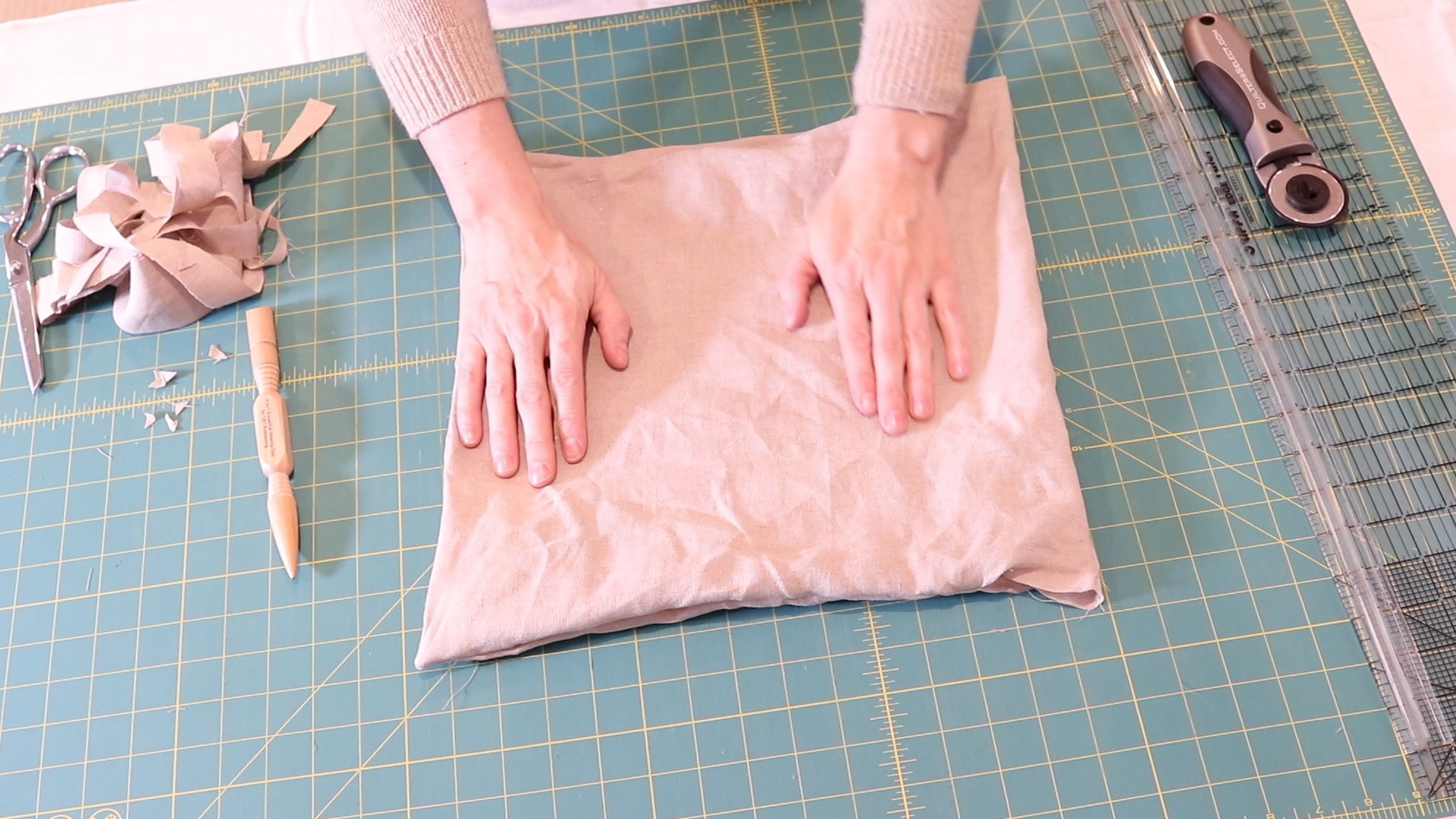 It's time to roll! Roll out your seams that is.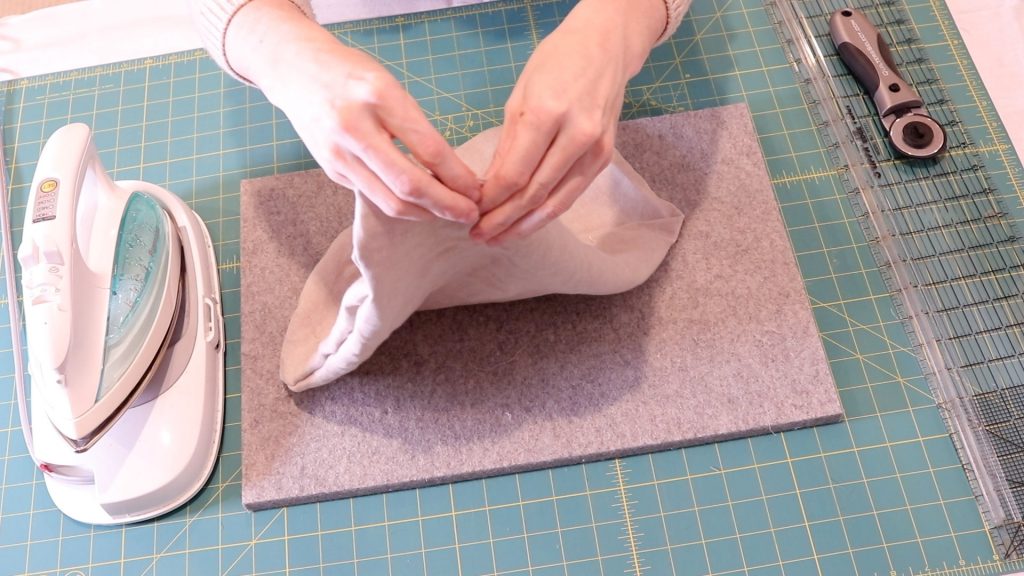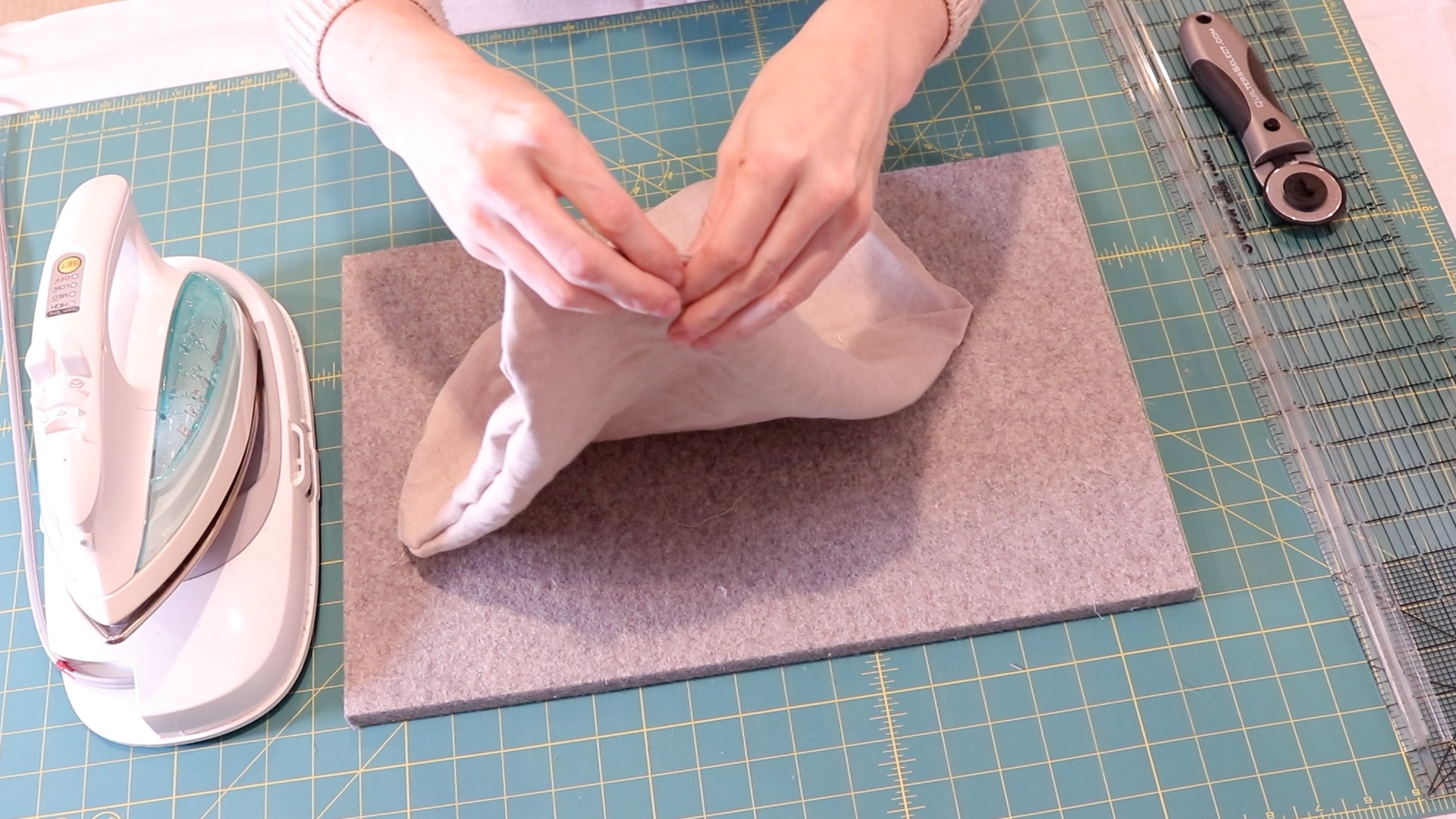 Around the entire edge of your bandana, take and "roll" your seams out. this helps to push the seam out so it lays nice and flat to iron. Rolling out the seams and finger pressing will usually provide a nice crisp edge all on its own without the need to iron. I still iron because that's just how I've always done it.
Once you have finger pressed all your seams out after you have rolled the seams out, gently give the edges a press. This will ensure things are laying nice and flat for topstitching.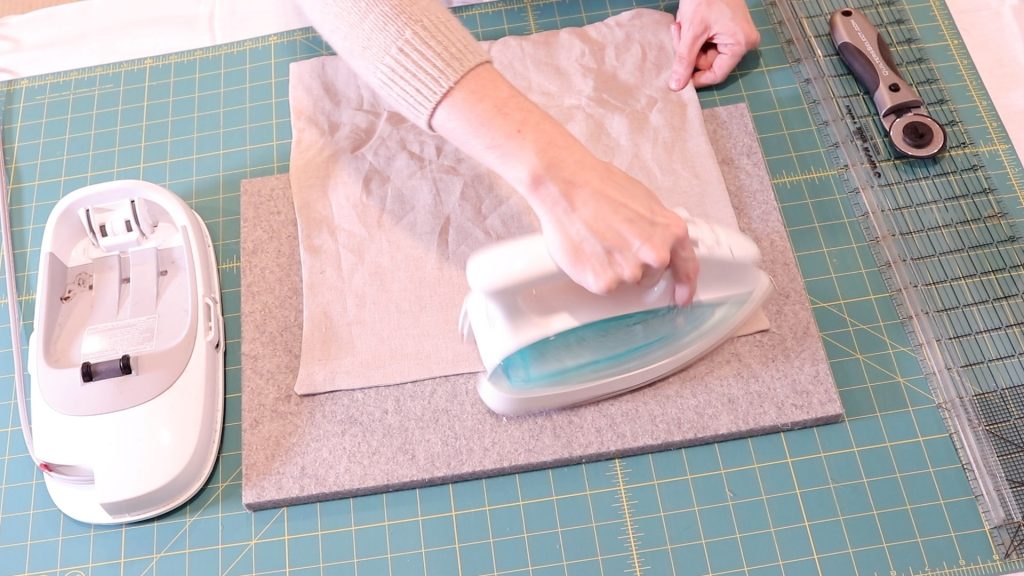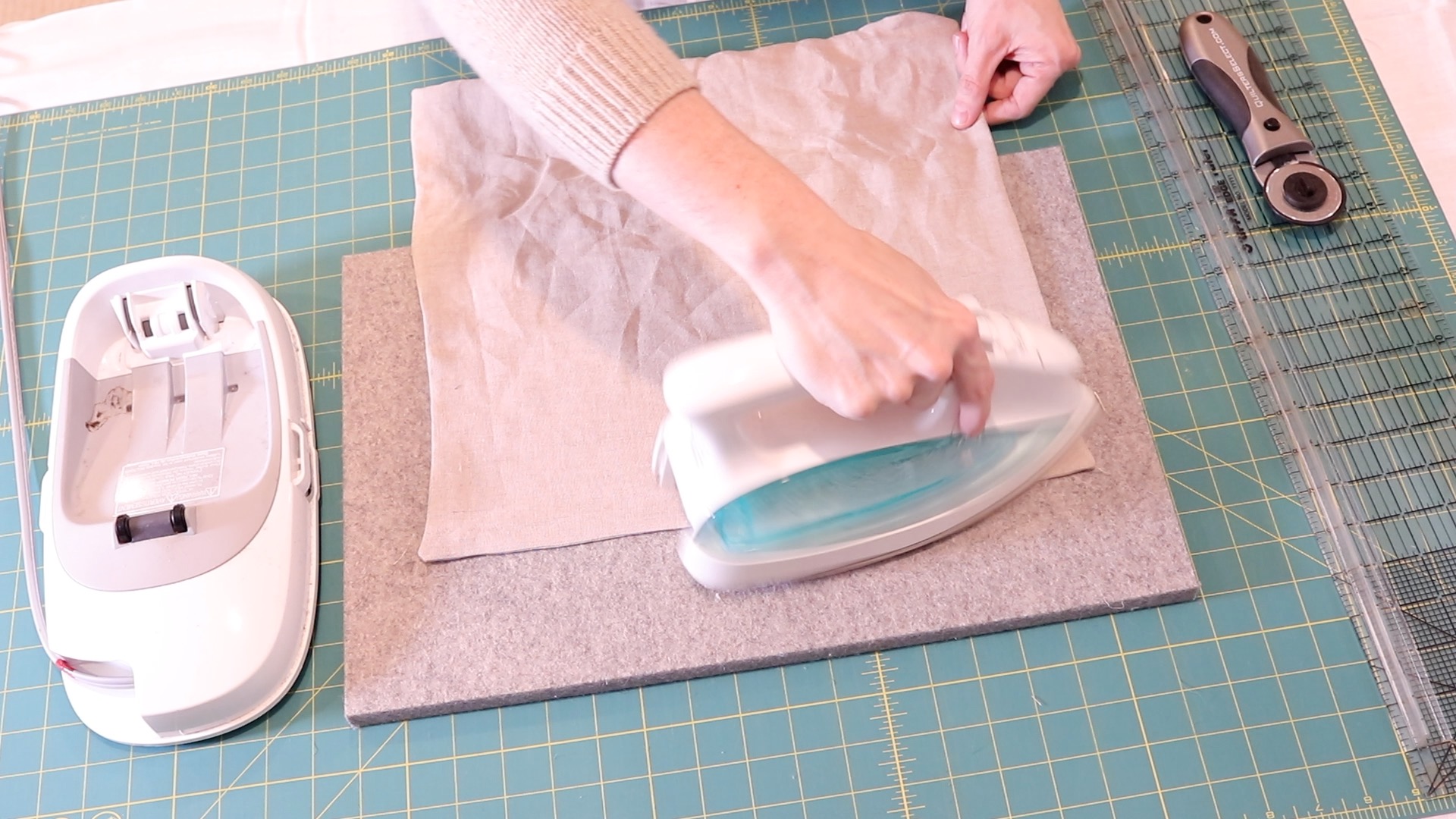 When you get to the edge where you have left your opening that you turned your bandana through, make sure the edges are all folded towards the center and pressed towards the inside. This will ensure that you won't see any of the raw edges when you topstitch.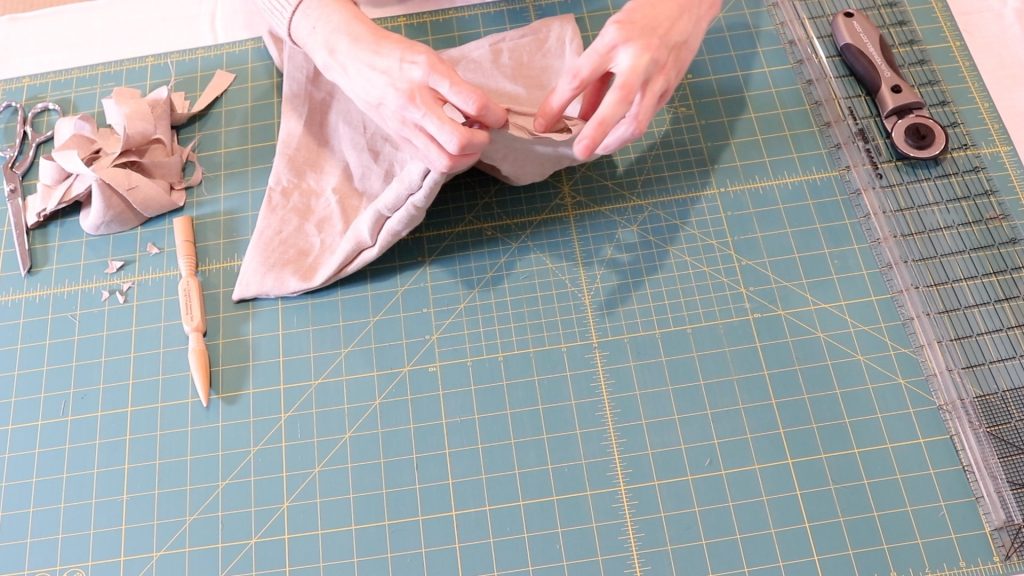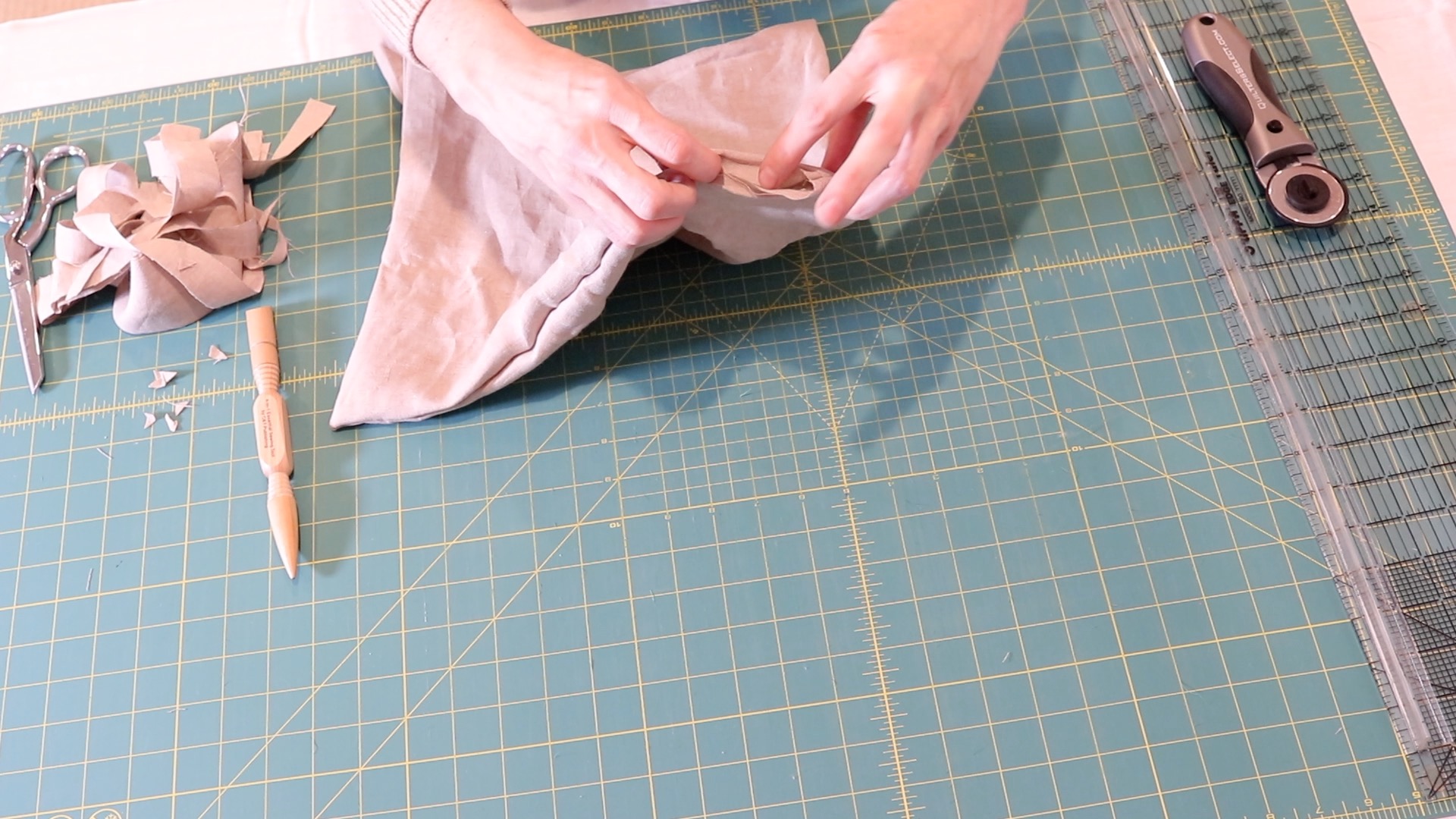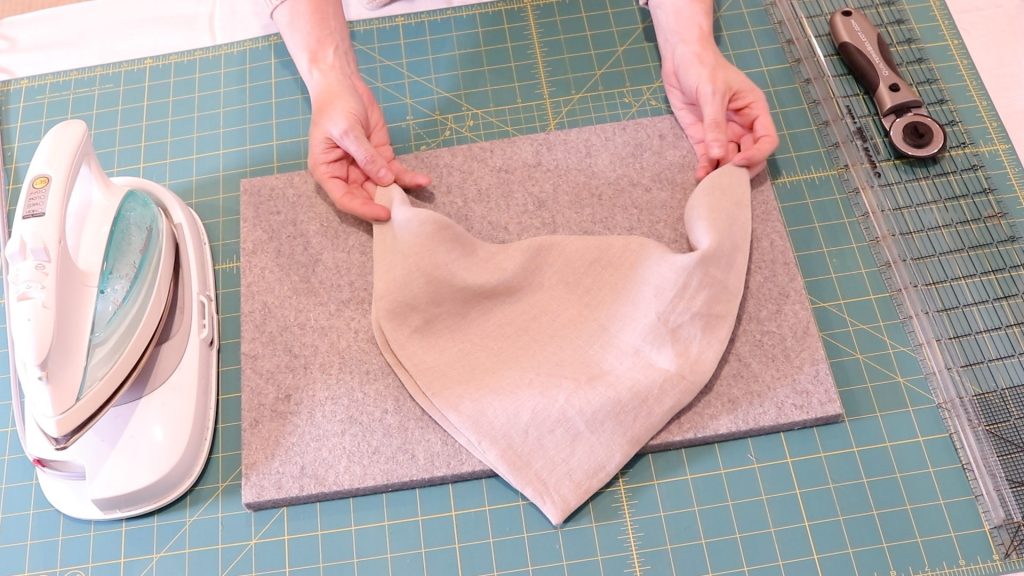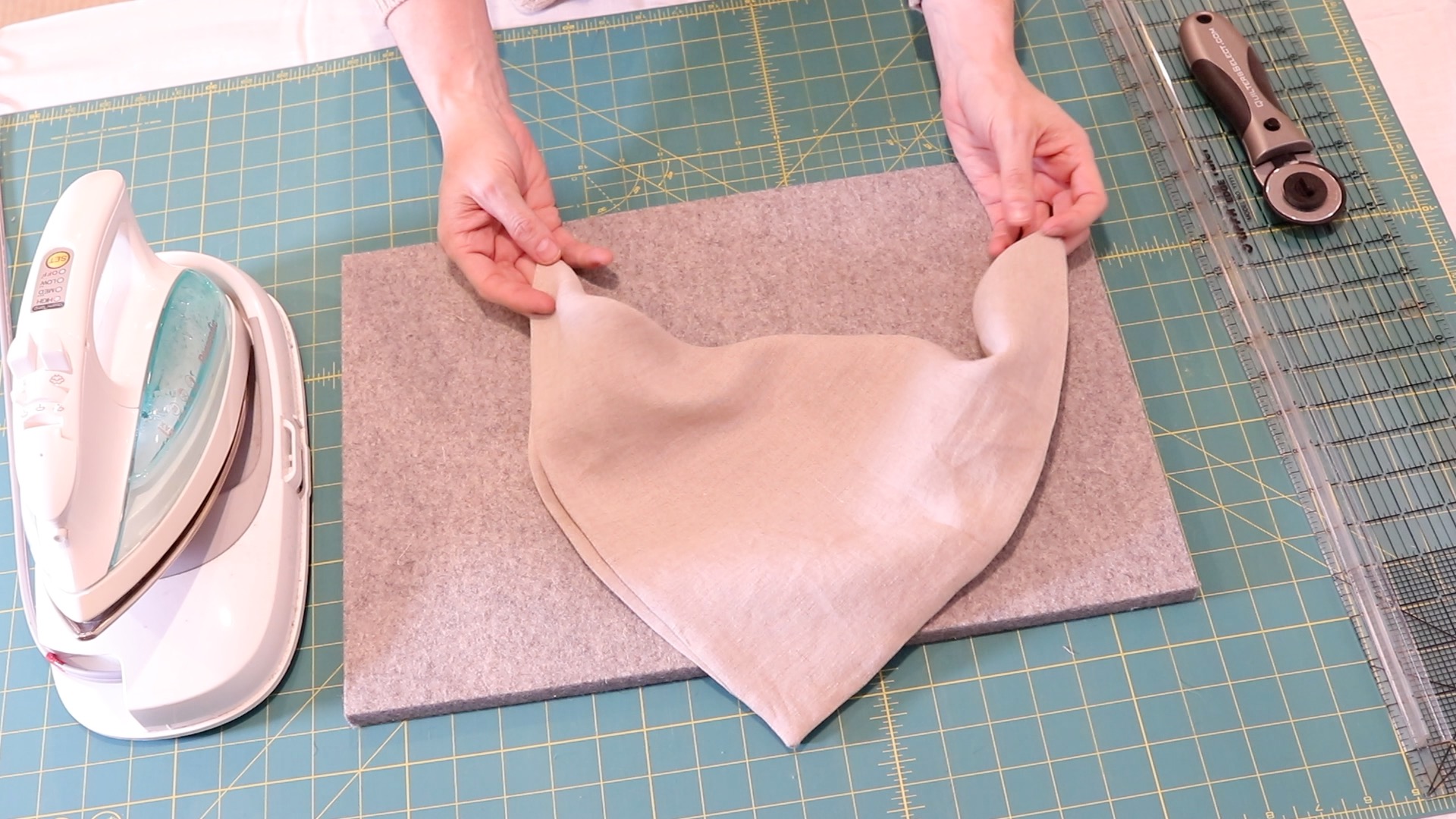 Time to topstitch!
After you have ironed your bandana, it's time to topstitch. This part of the project I guess could be optional too, but if you washed your bandana, the seams are going to puff out and you'll need to iron them flat again. I personally love the look of topstitching. I feel like it really gives projects a finished look.
Using that edge of your bandana as a guide, sew 1/4″ topstitch around all the edges of your bandana. Be sure that when you are topstitching the area you left open for turning that the raw edges are completely sewn down. I usually start my topstitching on this side for that reason.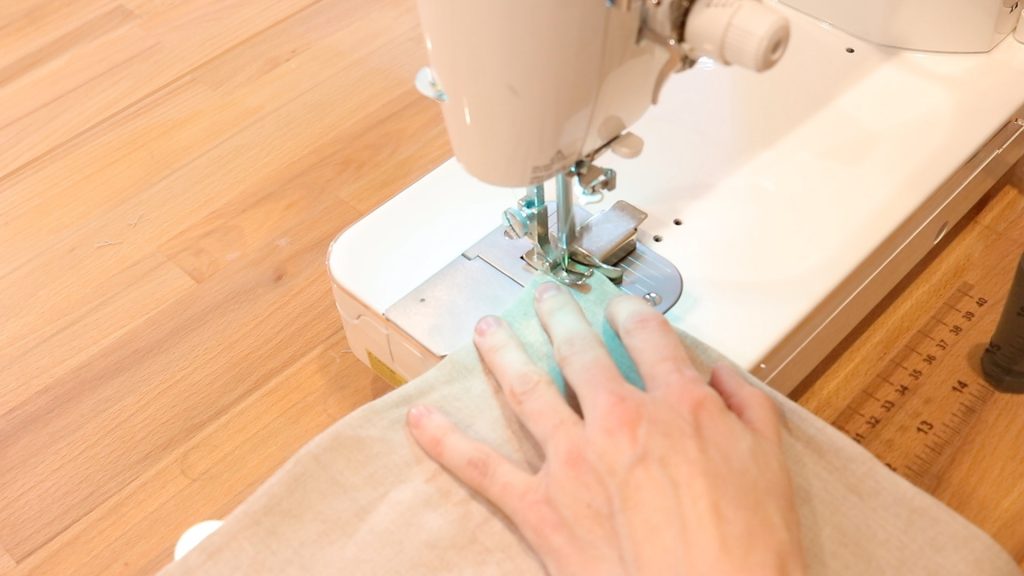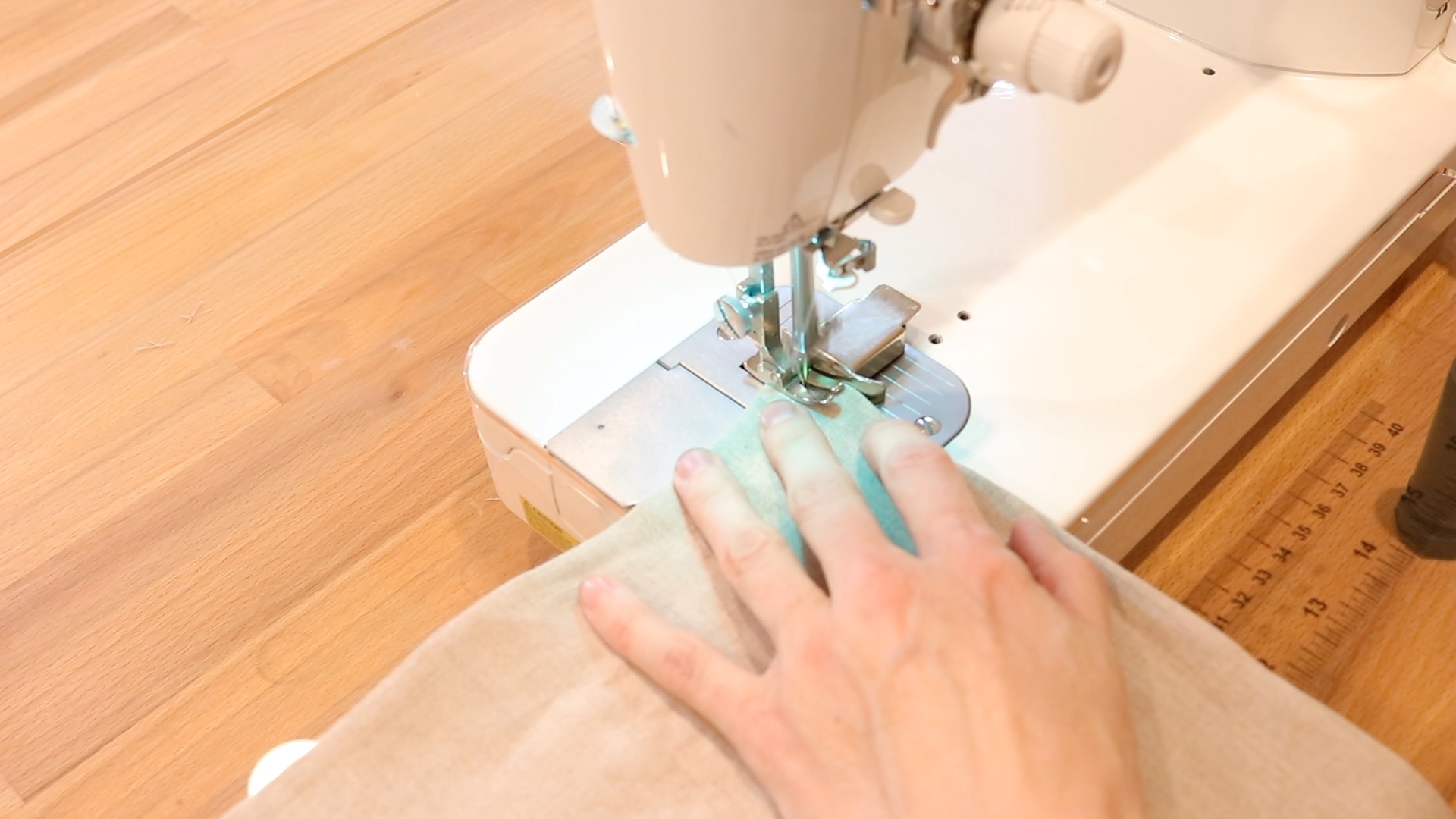 After I completed topstitching around the edge one time, I decided to do one more topstitching line 1/4″ in from the first line. Again, this is necessary. I wear bandanas a lot in the summer and when I'm hiking and gardening so I just really wanted this to look nice.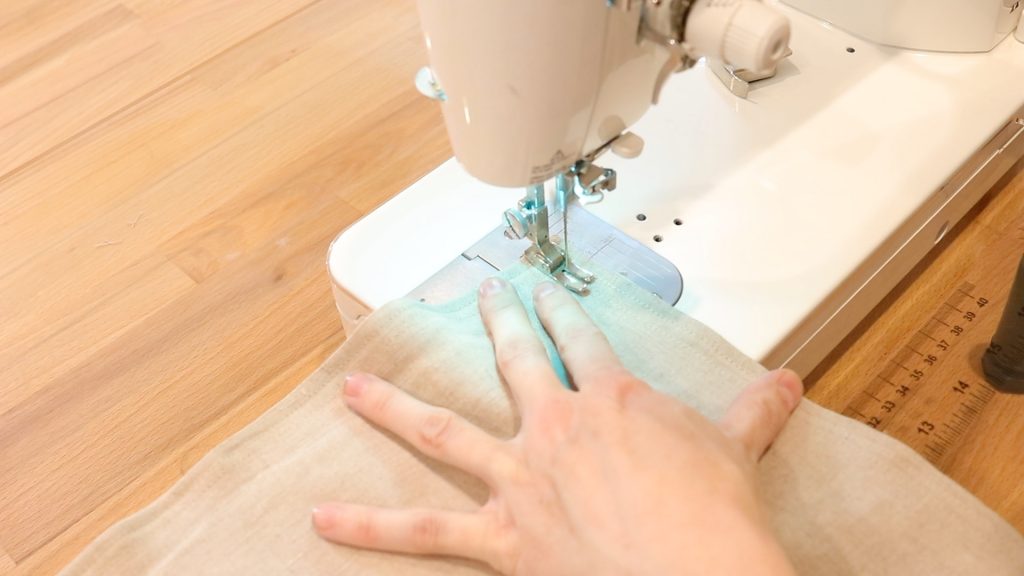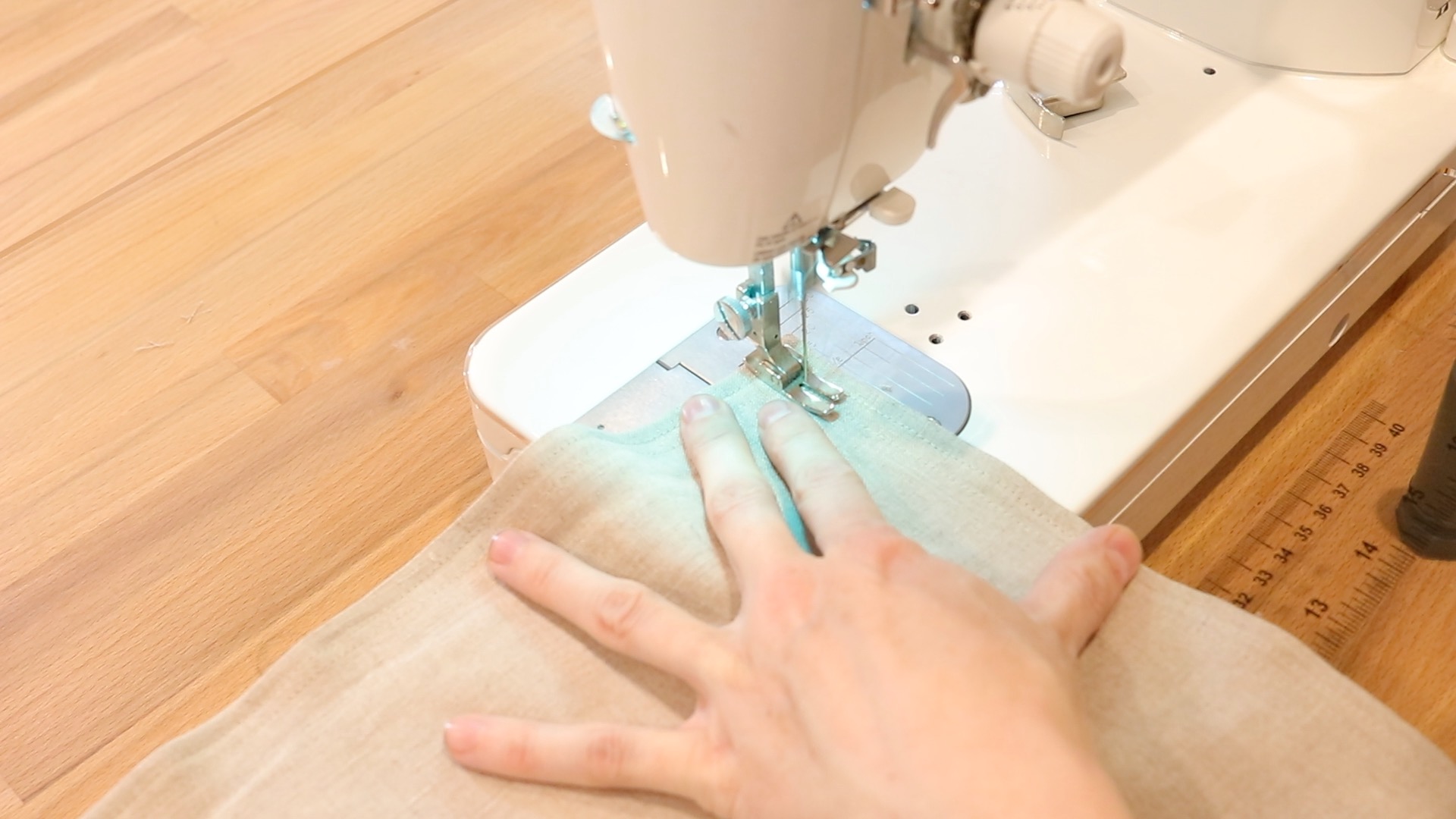 Snip your threads.
Once you have finished all the topstitching you want to do, trim all the loose threads. I use these thread trimmers and they are my favorite. The tips are turned up so it makes it easy to trim super close to your projects. Highly recommend.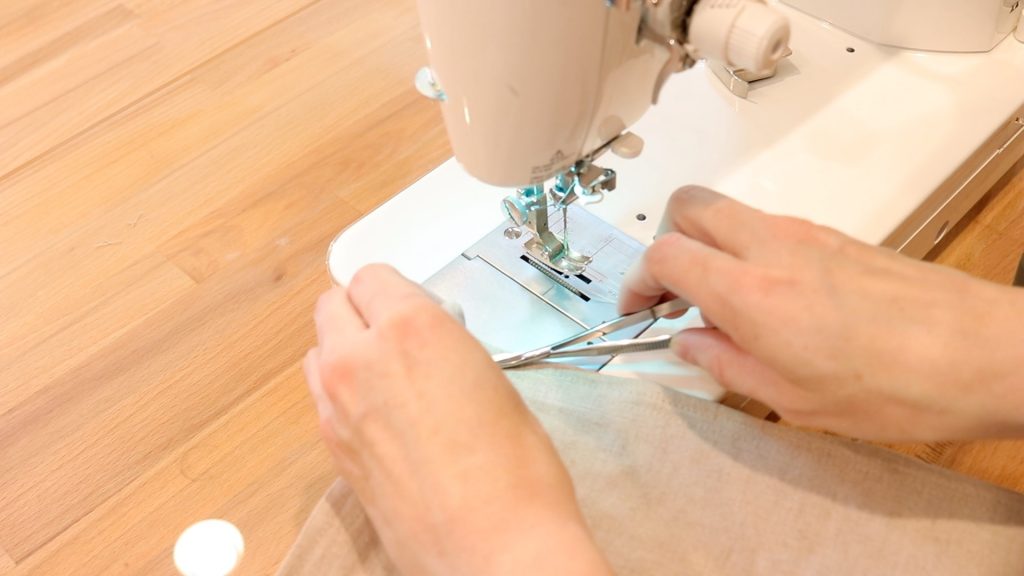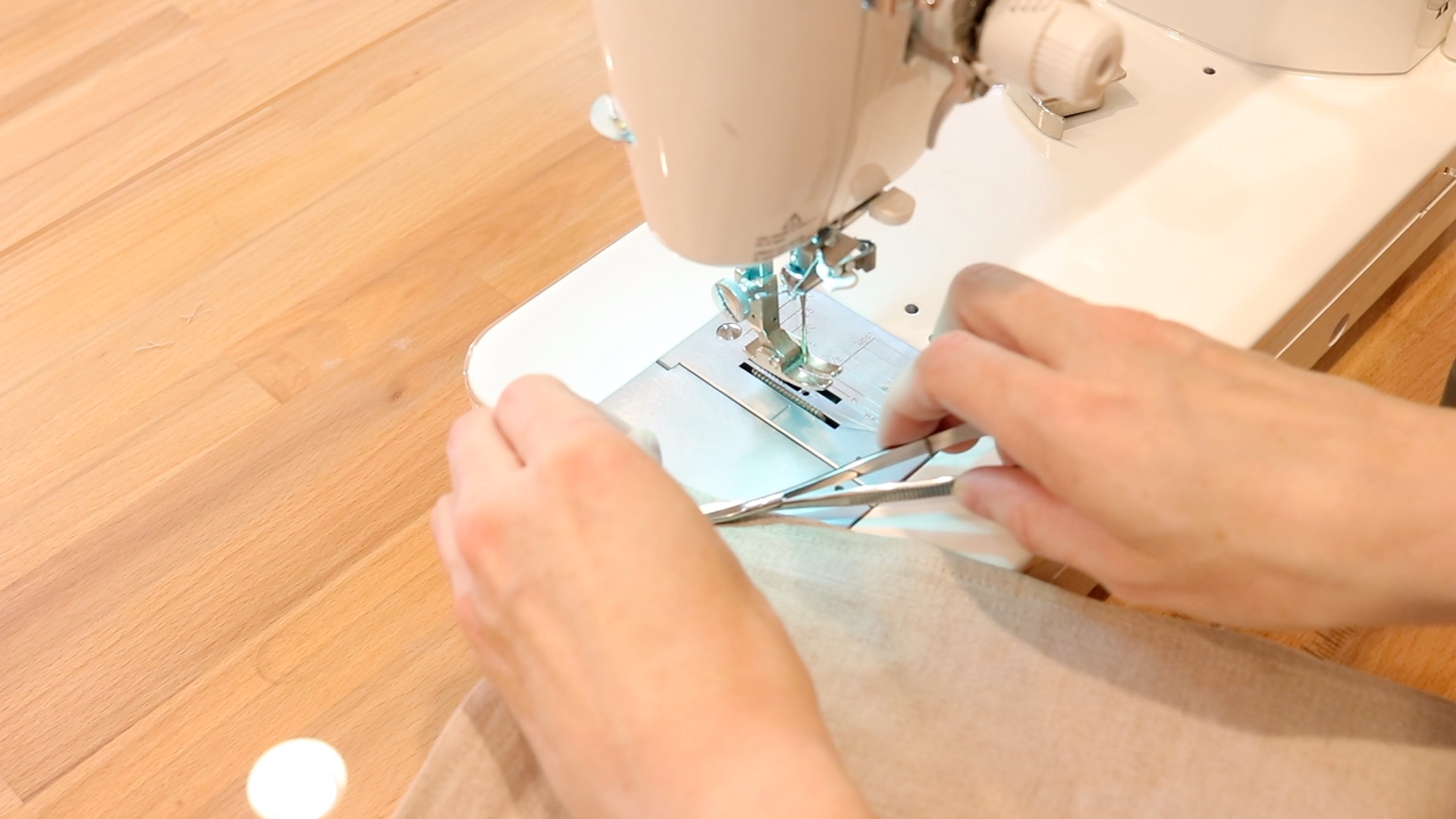 Here's what your bandana should look like once you have it all topstitched.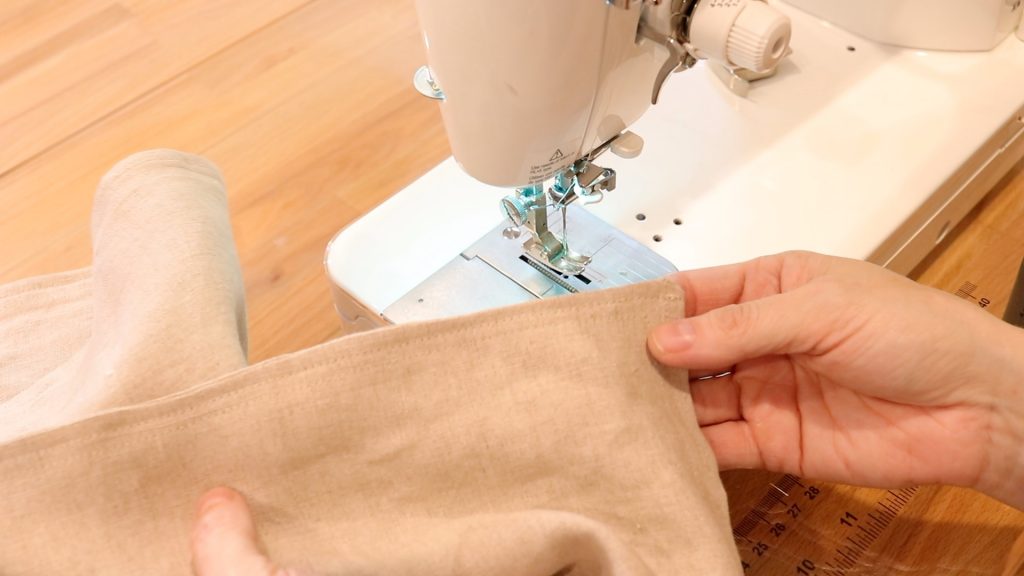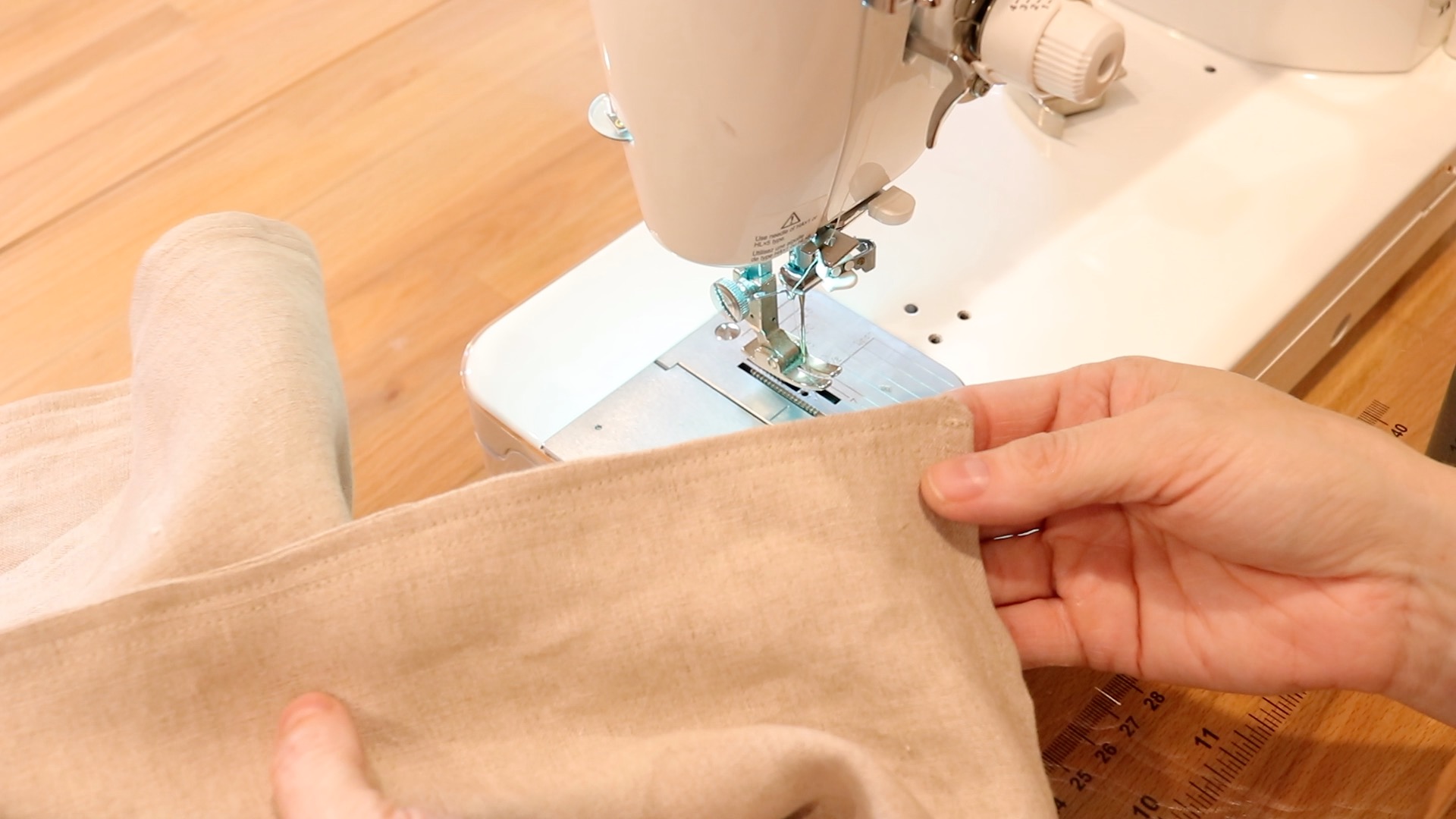 Let's add the snaps to our linen bandana neck scarf-we're almost finished!
Grab your KAM snaps tool and the plastic snaps. You can use any snap color of your choice. I just prefer neutral tones.
NOTES: most of the snap tools come with really great directions on how to use them. I always take a piece of scrap fabric and do a test BEFORE I punch holes into my project to install snaps. Especially if it's been a while since I last used it.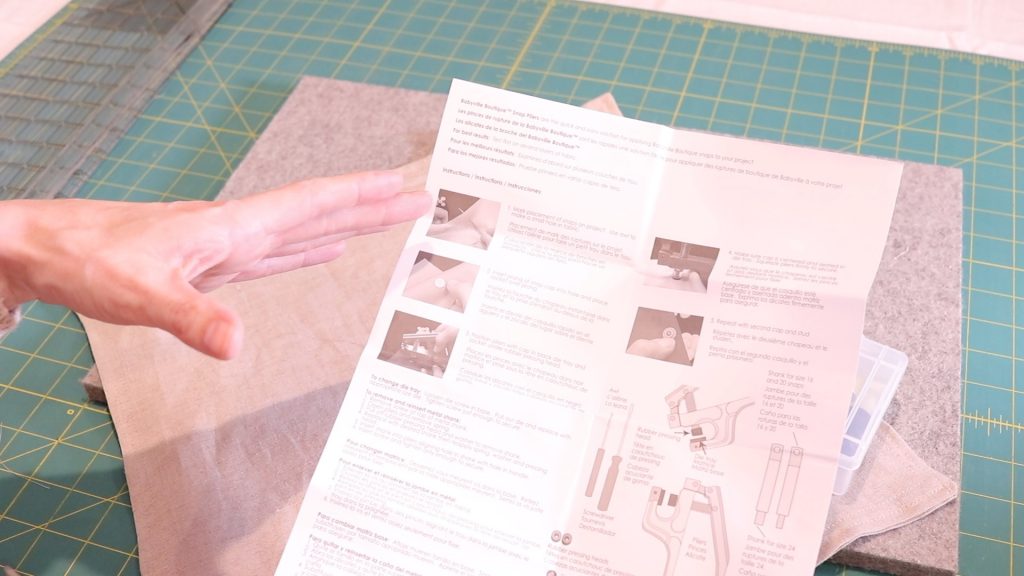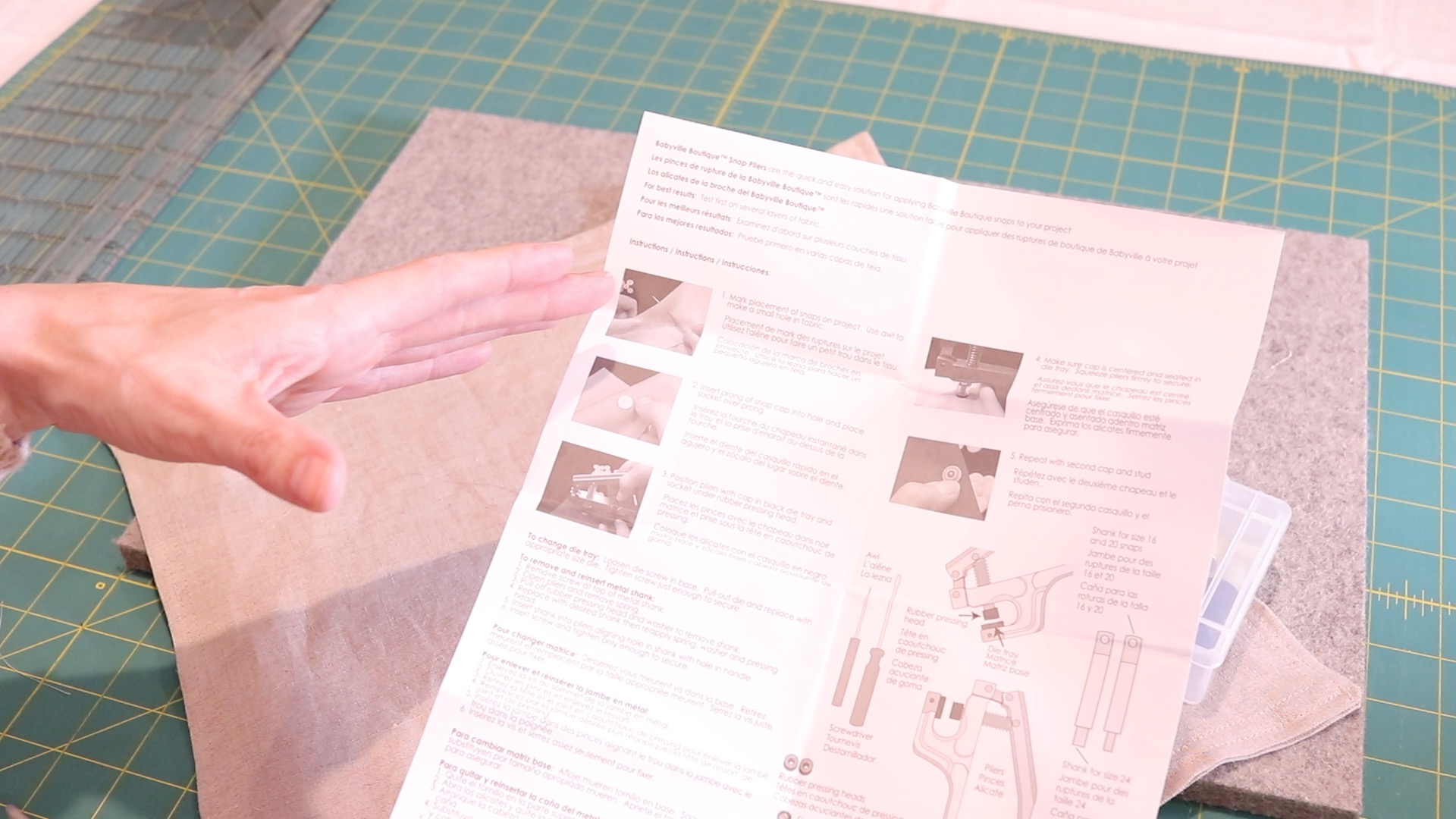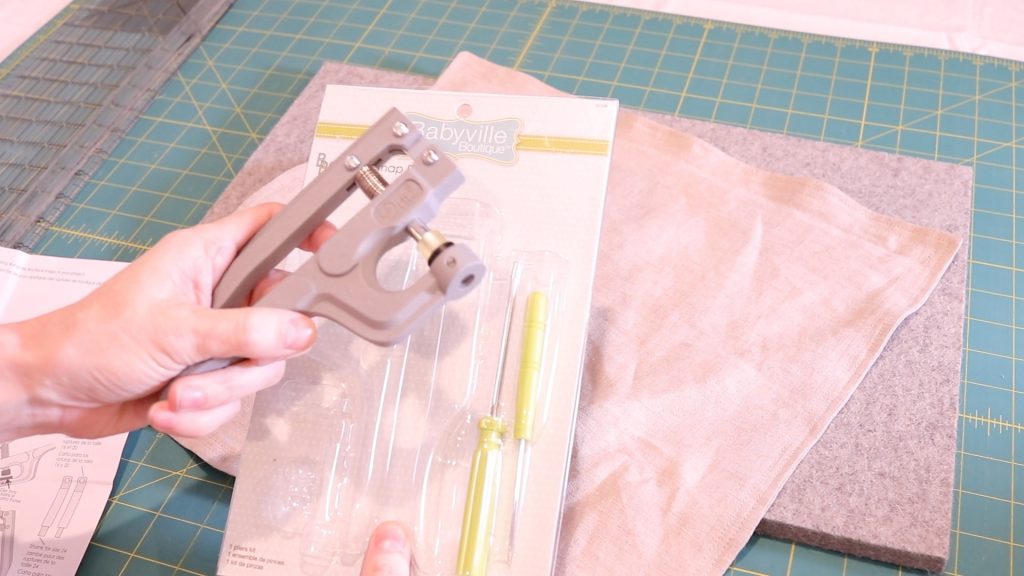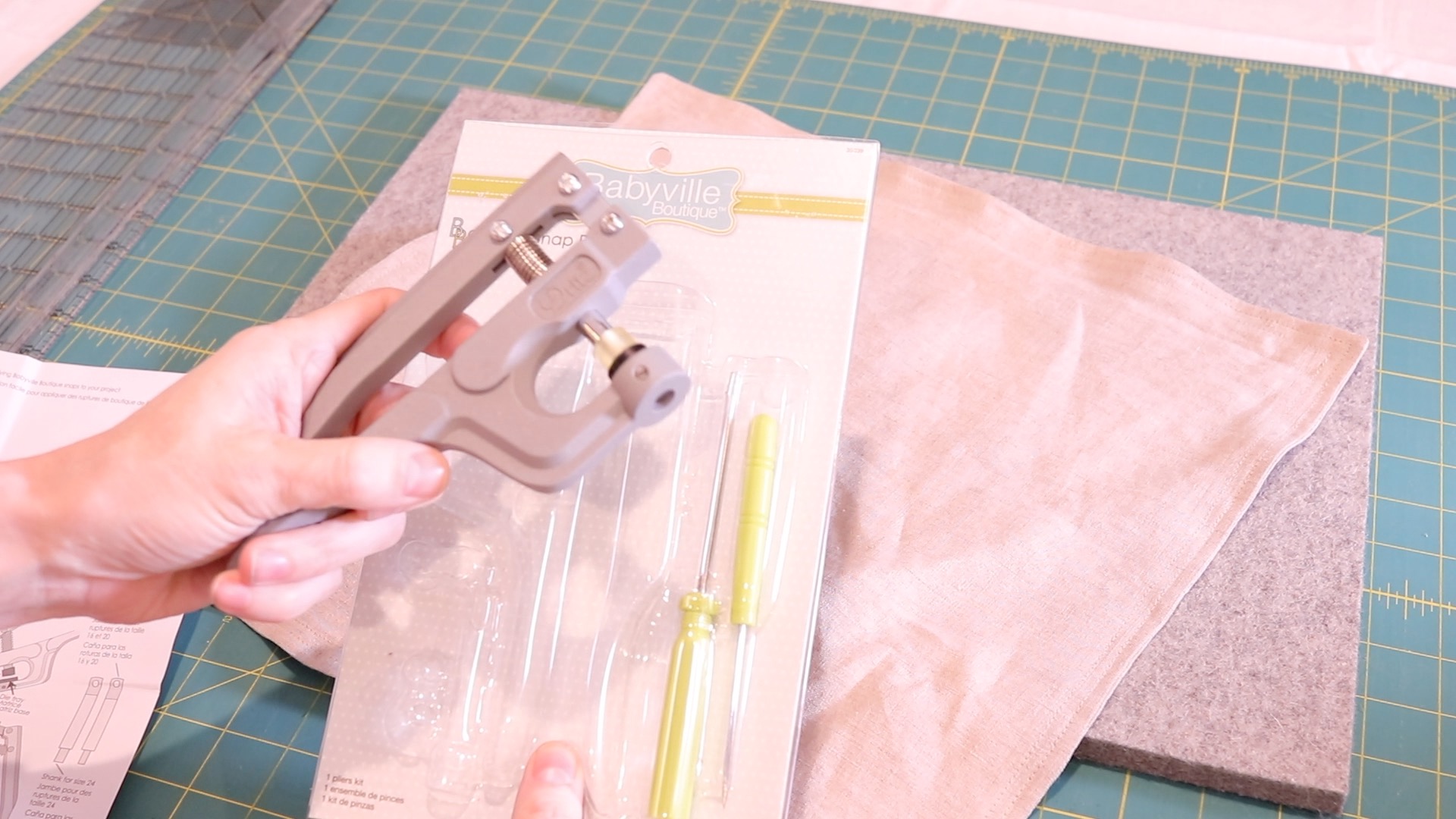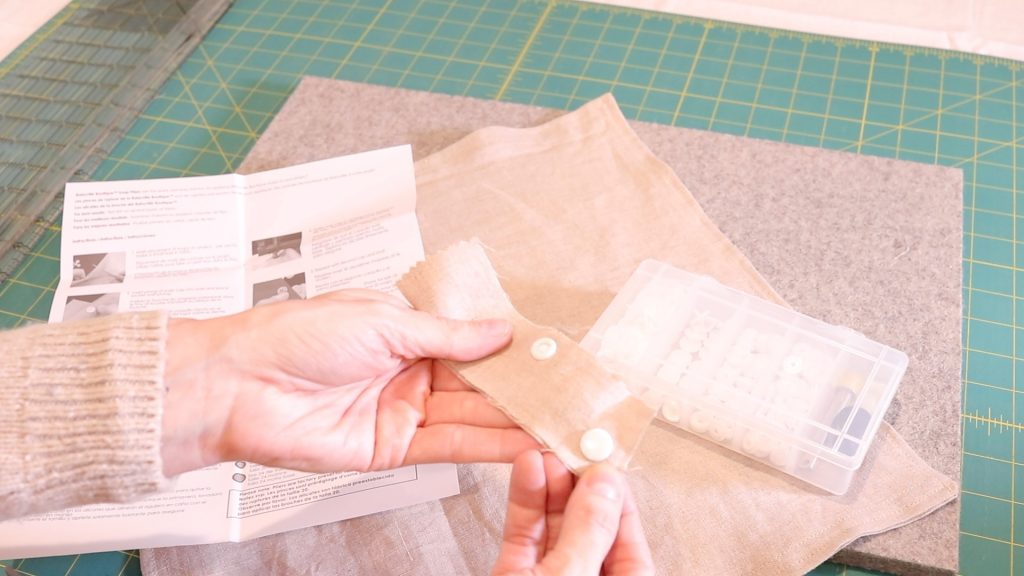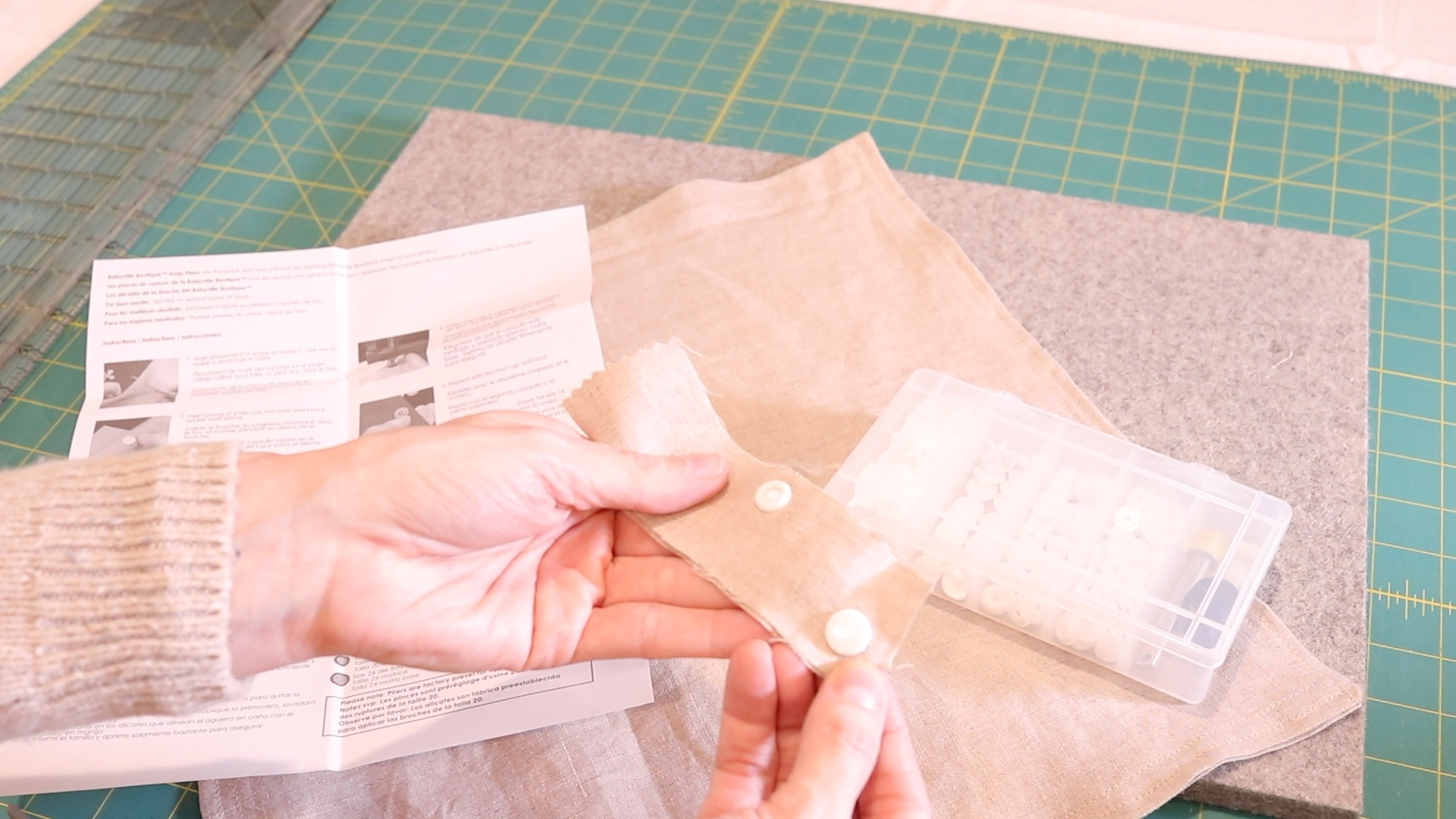 Disclaimer: You can usually find these snap tools at your local craft store too. These are commonly used to make cloth diapers as well as baby bibs of all sorts. I found that this one (pictured above), doesn't seem to secure the snaps as well as my KAM snap tool, but I'm still unpacking all my craft supplies in my new sewing/craft room and couldn't find my KAM tool (sad). So this is what I'm using today. However, I don't favor this brand at all.
Decide what (2) corners opposite of each other you'd like your snaps to be on. I like to include the corner that I left open for turning. This will make sure it's hidden since it will be snapped behind you. But it really doesn't matter.
Lay your bandana down in a diamond shape on your cutting surface.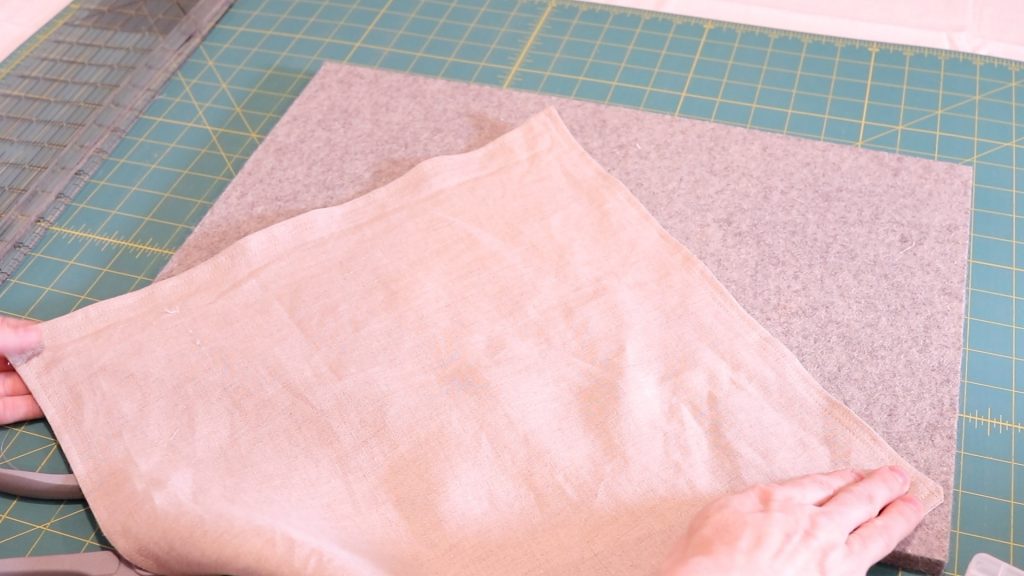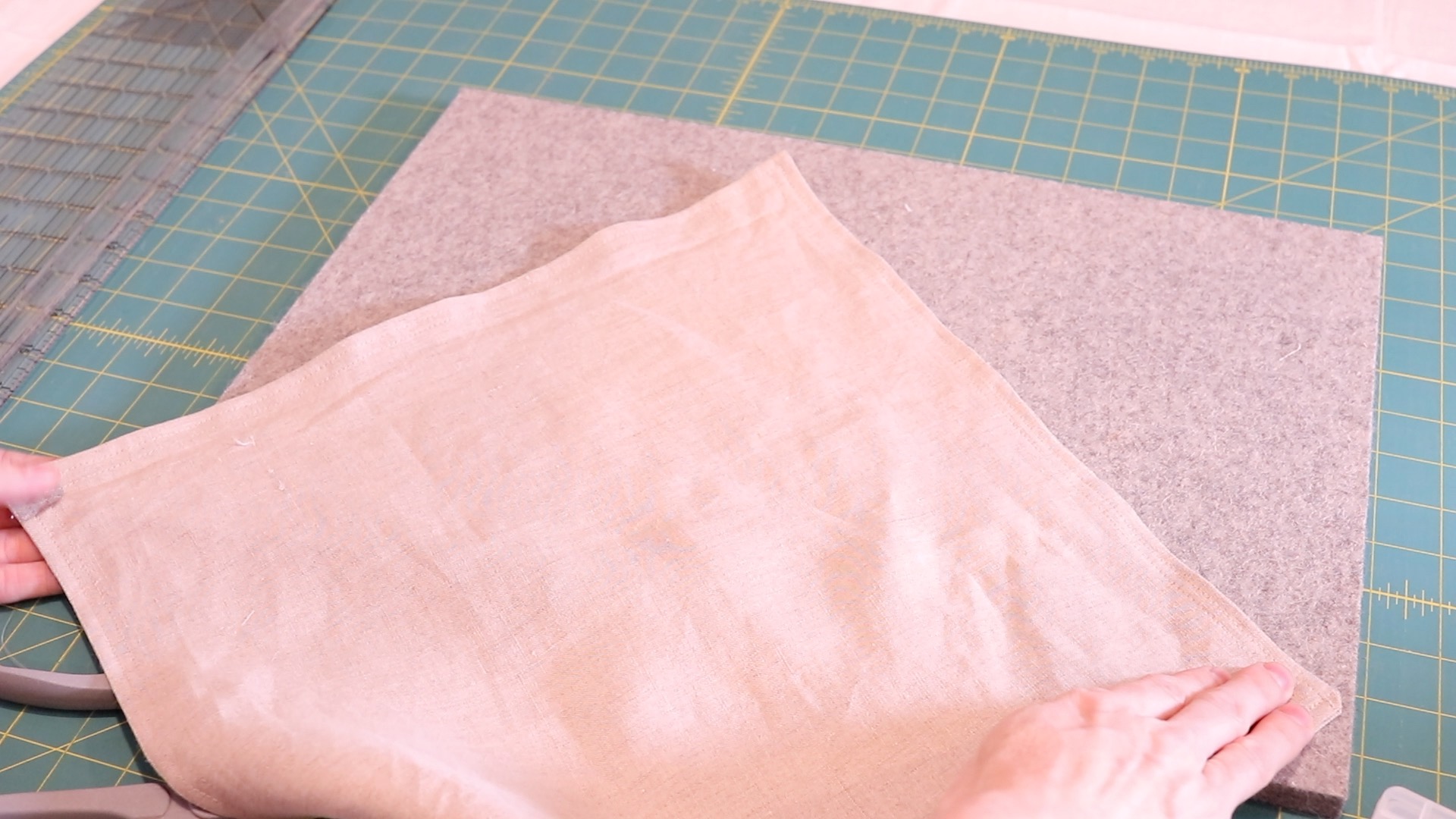 After you have consulted the directions for use, grab the snaps you will need as well as your snap punch tool.
Carefully take the sewing awl included in your snap punch kit, and puncture the fabric where you would like your snap to go. I placed my snap 1/2″ in from the corner (for reference).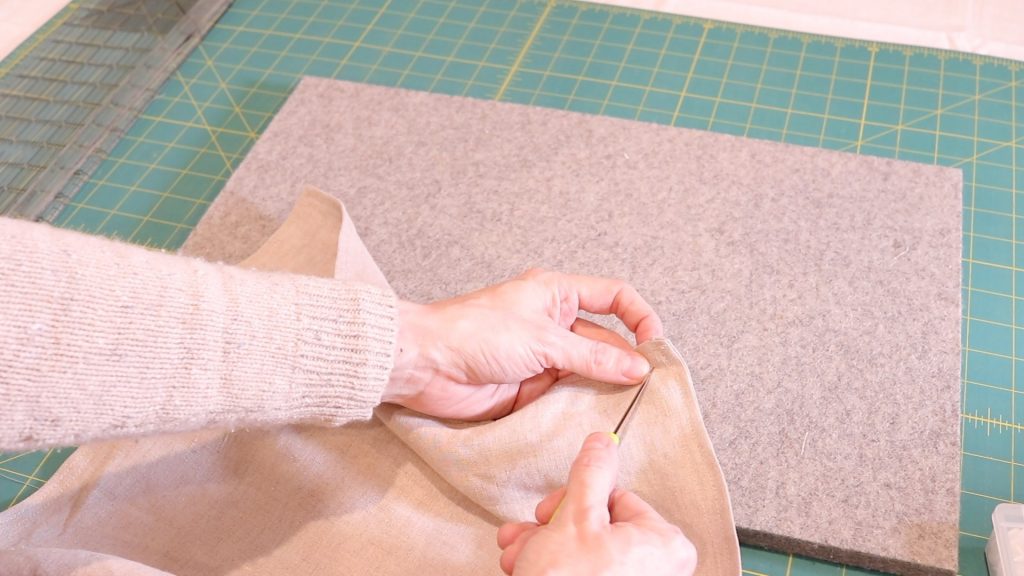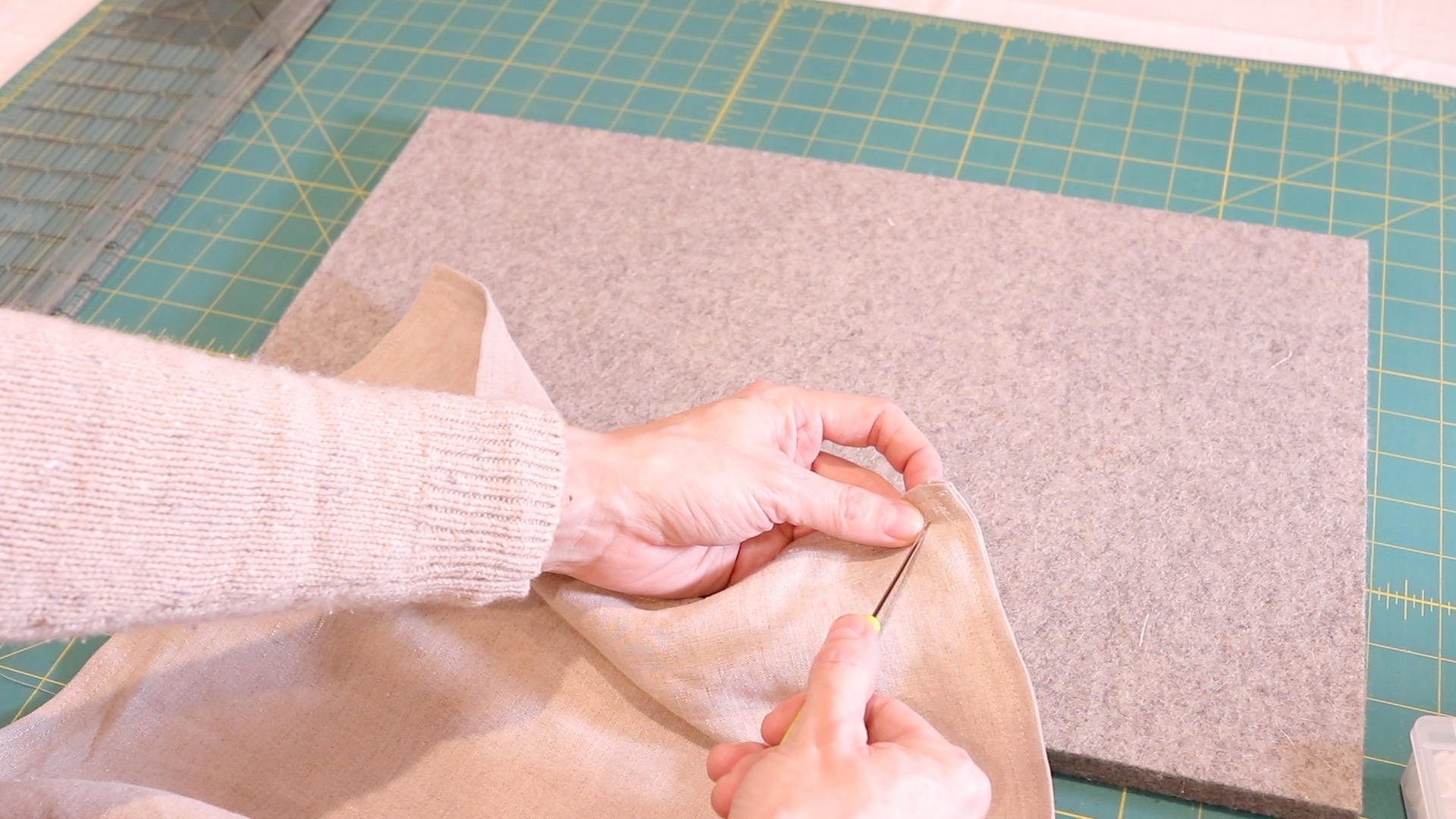 After you have made the hole with your awl, carefully take the piece of the snap that has one smoothie/flat side and a side with a spike on it, and poke the spike side up through the hole.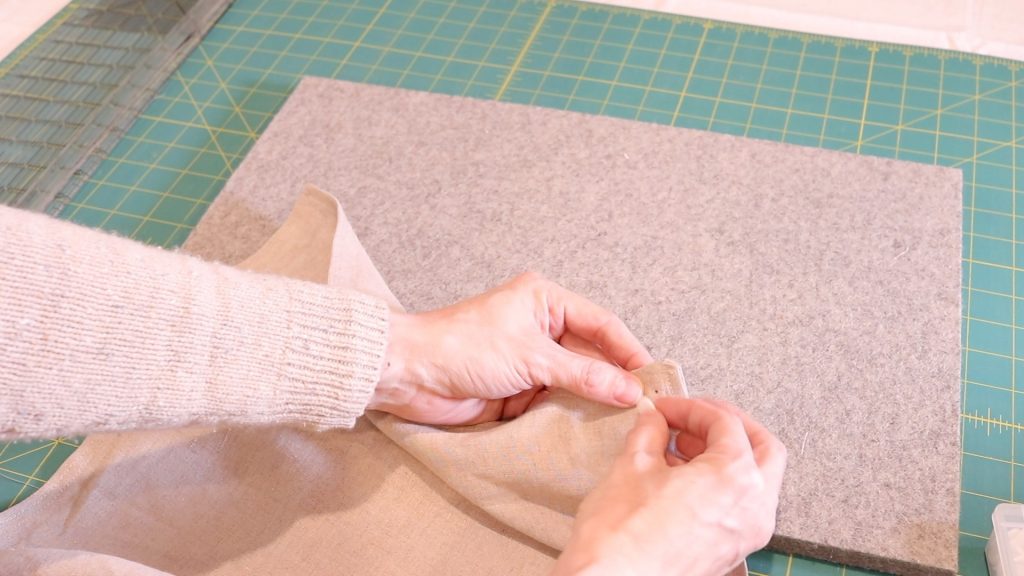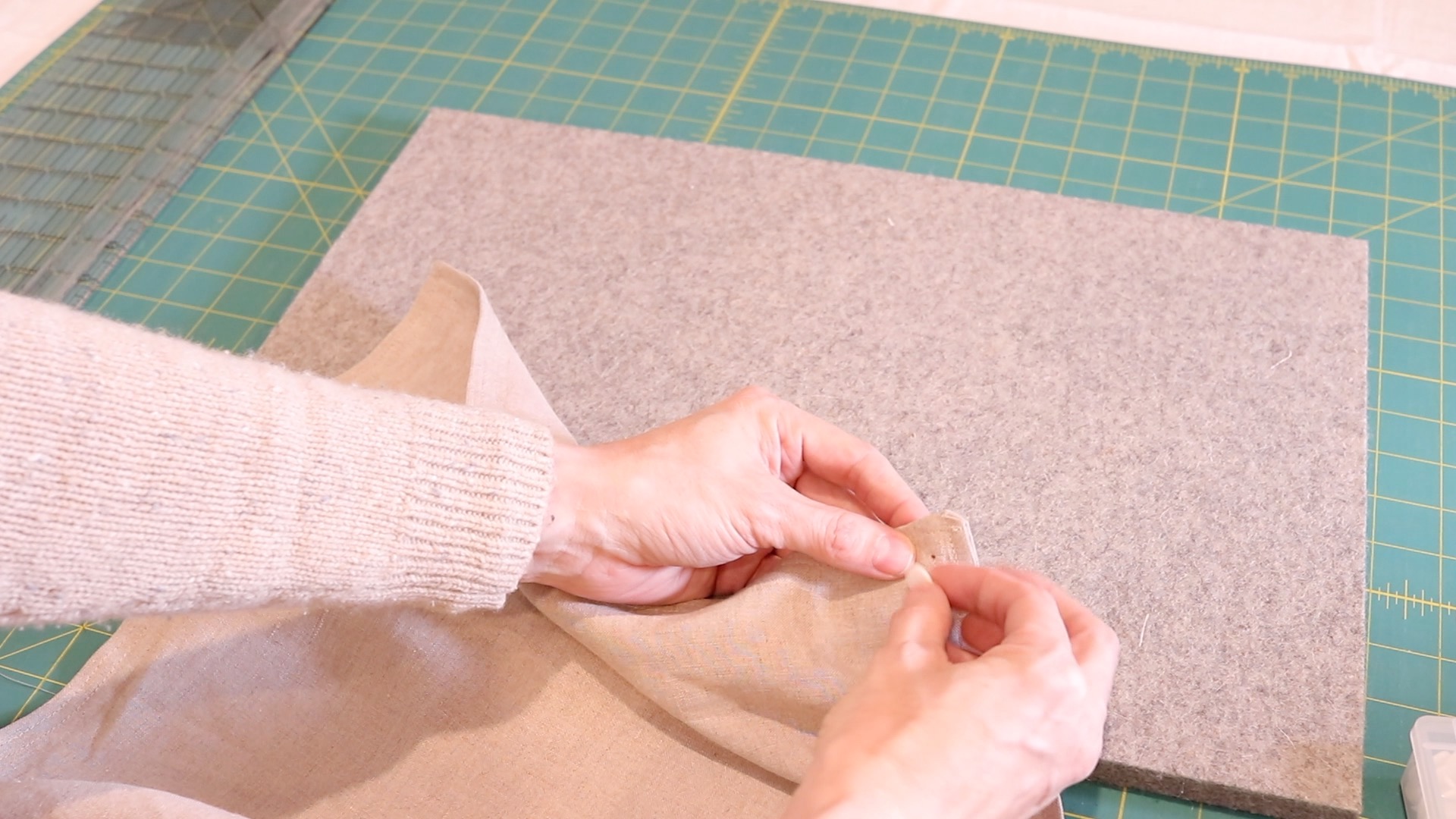 Now take the corresponding snap to that piece and place it over the top of the spike that's coming through your linen fabric.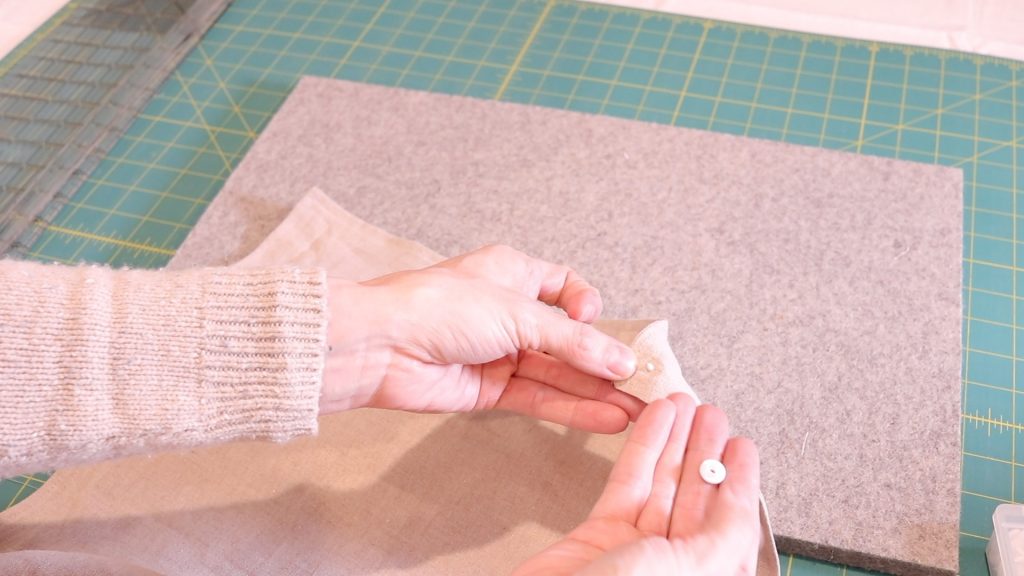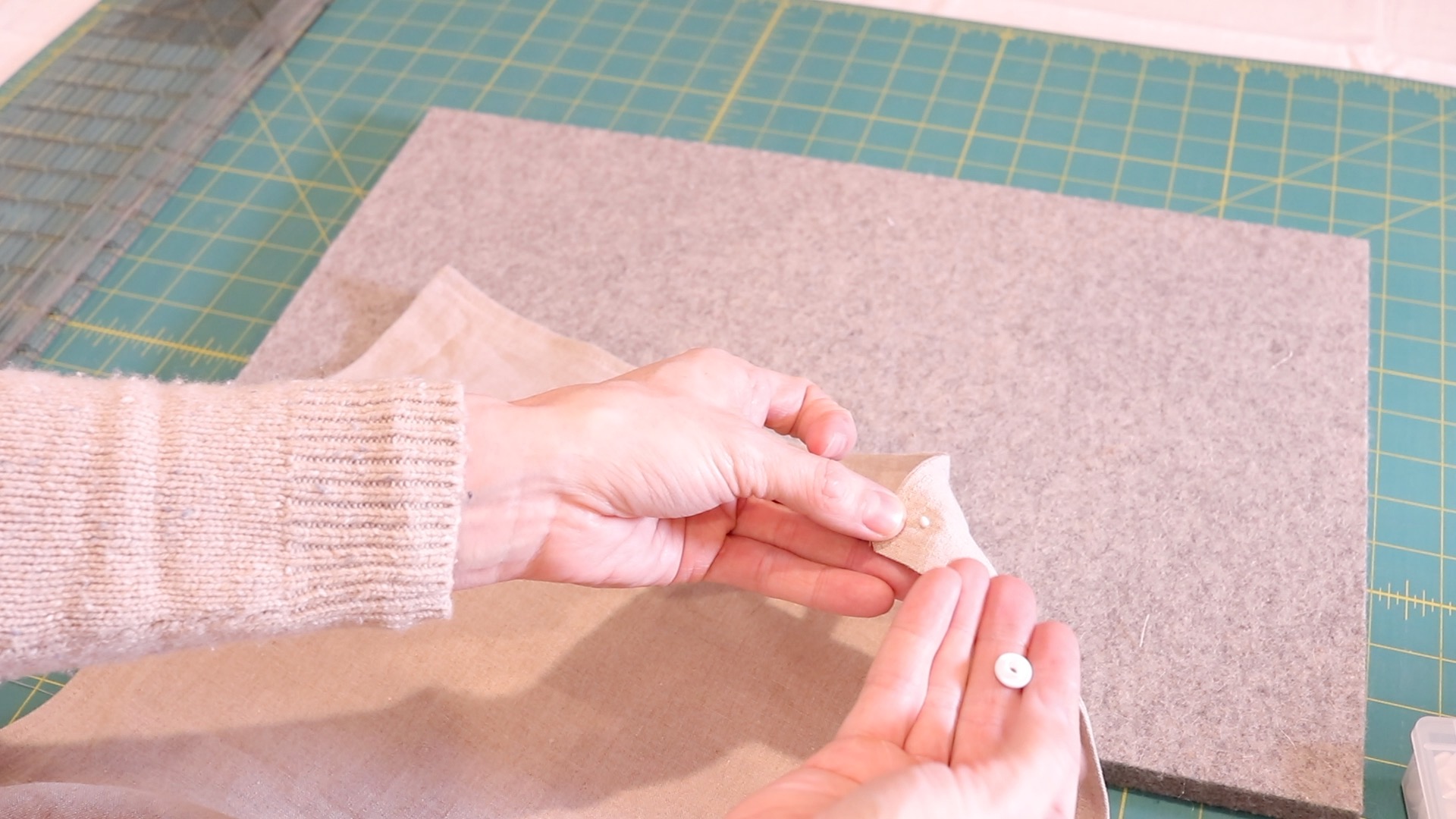 Now take your KAM tool and seat the flat side of the snap into the little black cap on the snap tool. Make sure it's all the way centered in the cup. THIS IS IMPORTANT because pressing down on the tool when the snap is in the wrong place can cause the snap to break in half when trying to install it.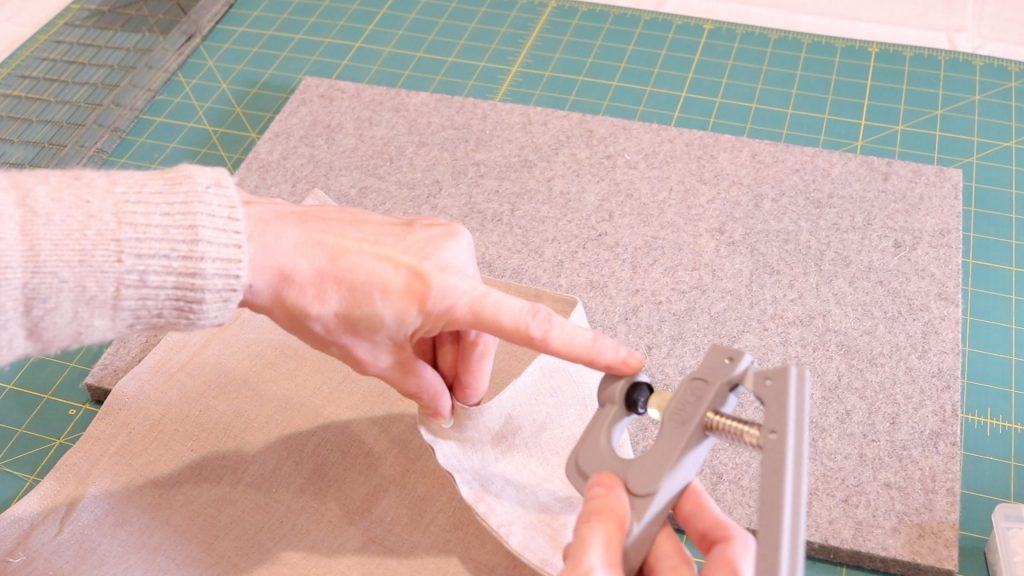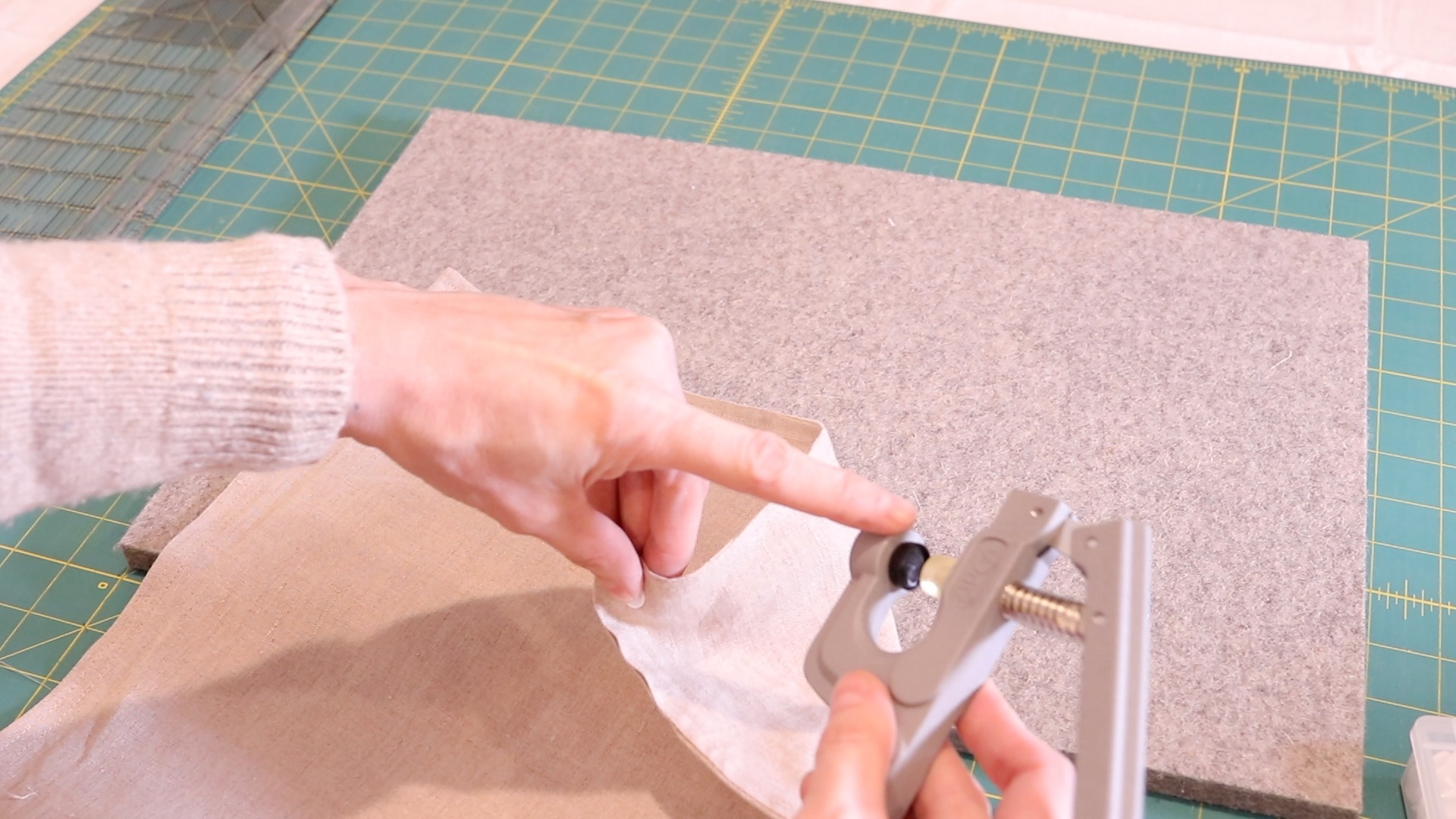 Once you know your snaps are in the tool properly, go ahead and squeeze down HARD multiple times to be sure the snap is really secured.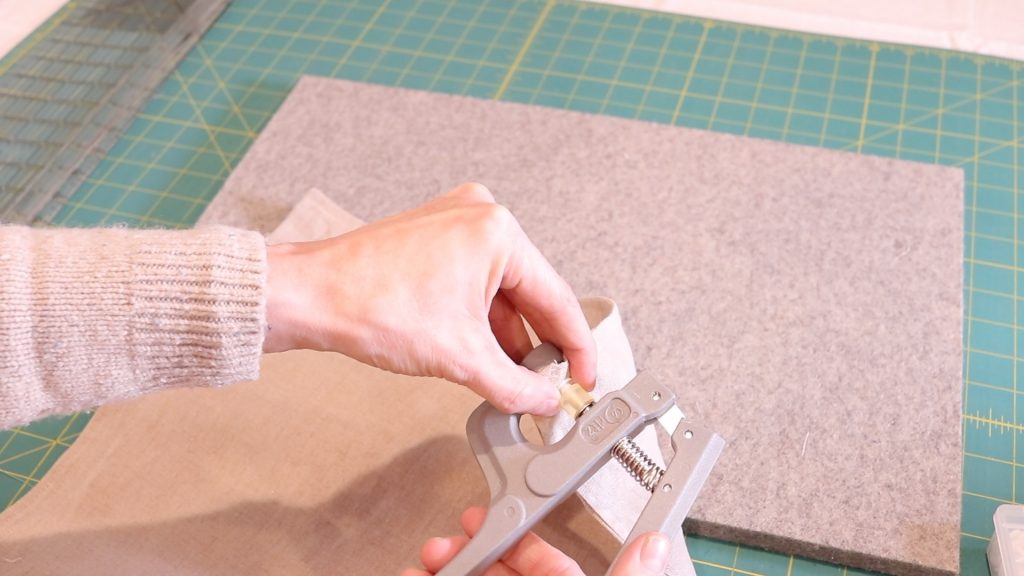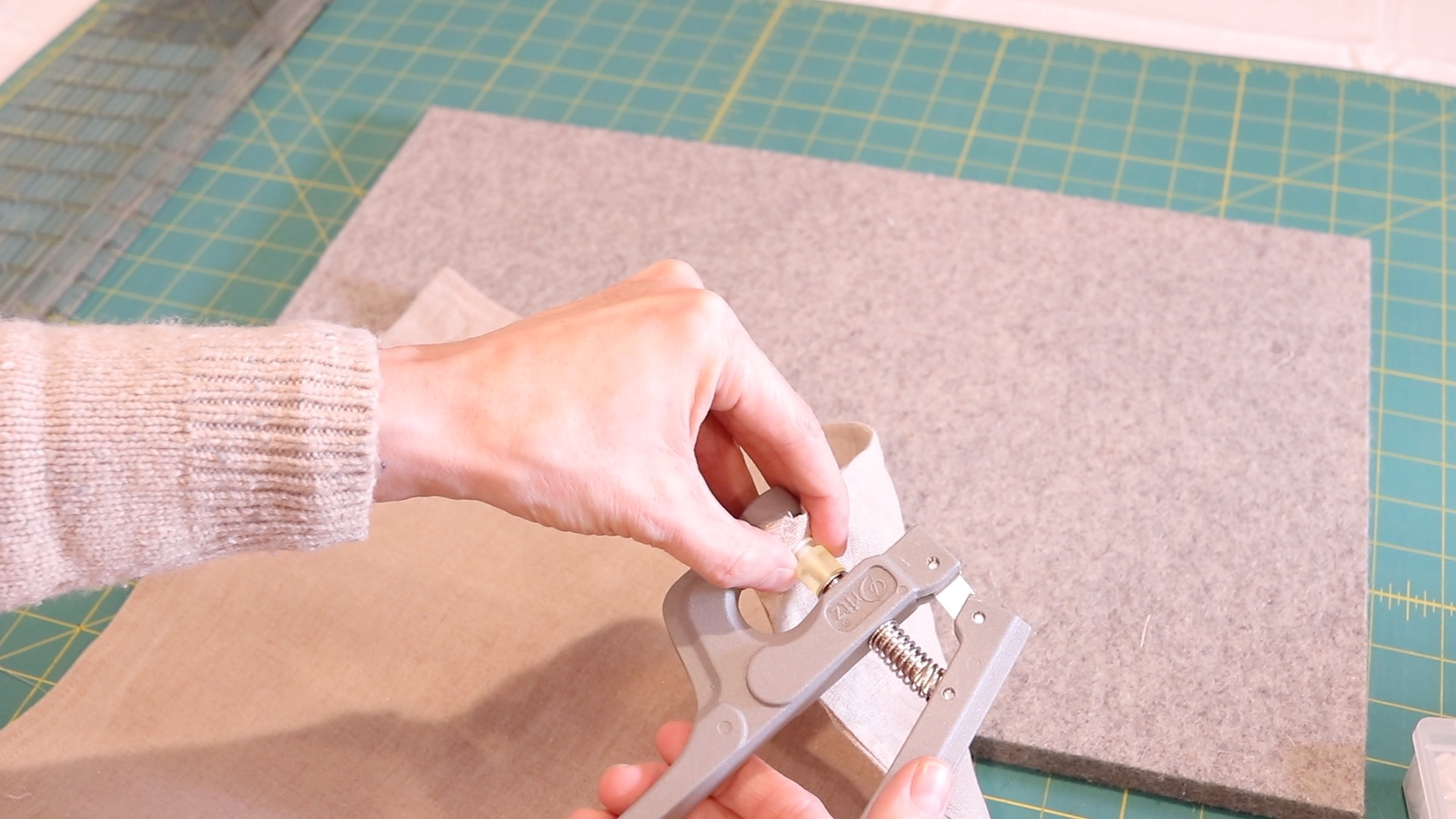 You have now completed one side, let's move on to the other side.
To install the other snap, you'll want to make sure that the flat side of the snap is on the OPPOSITE SIDE of what you did to the previous side.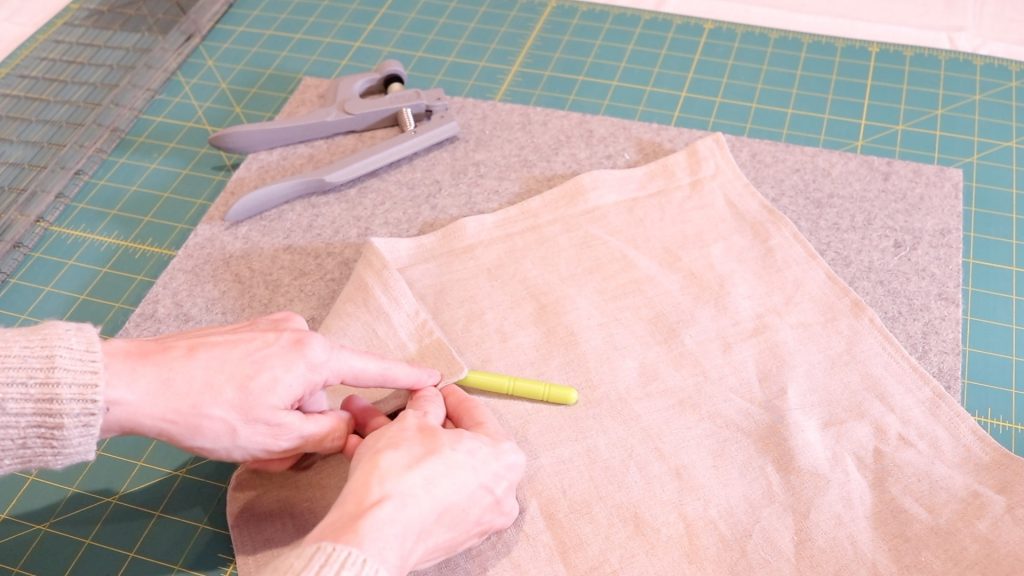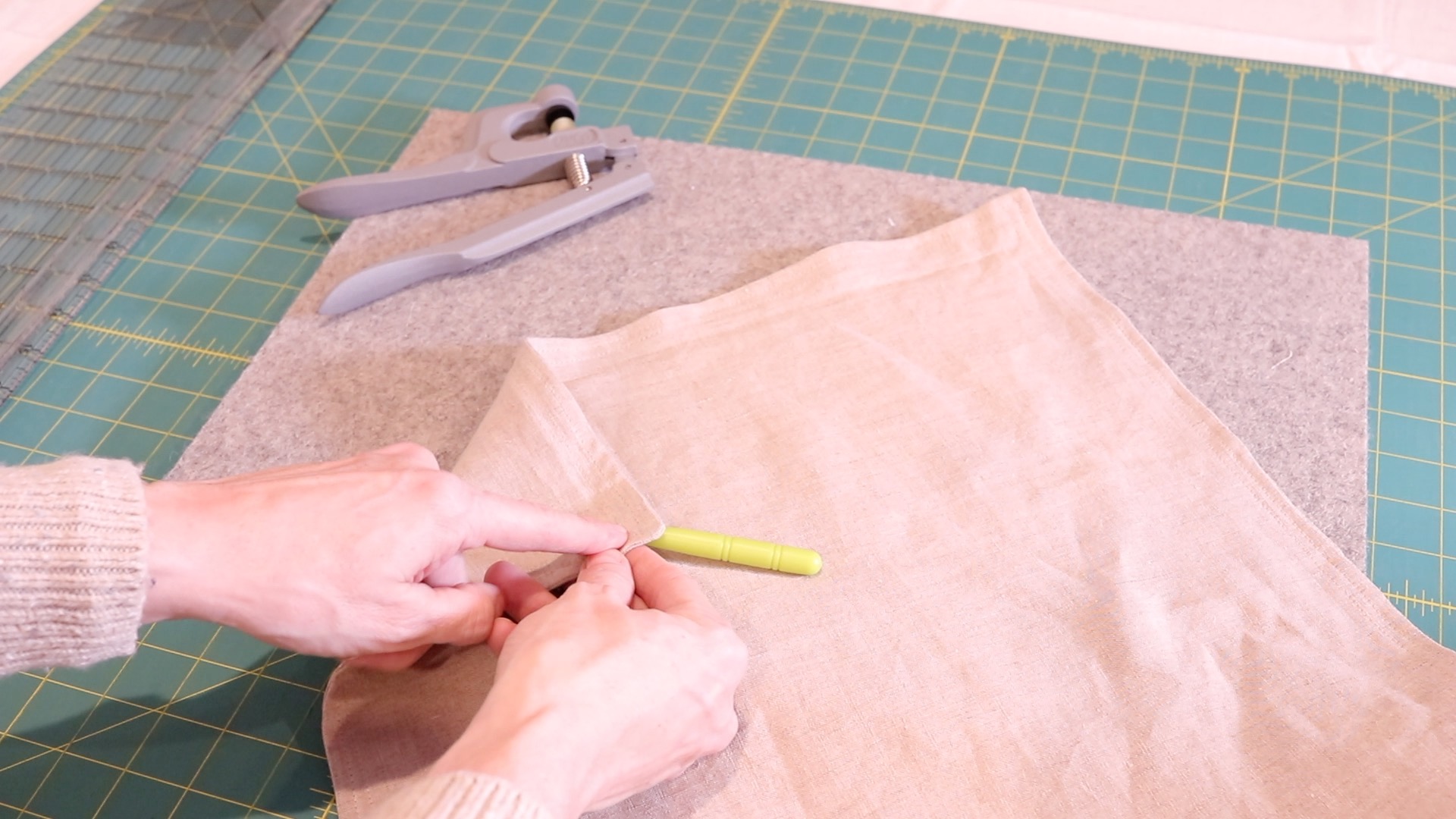 Make the hole with your awl the same distance from the corner as you did with the other snap. BEFORE you secure it down with the tool, bring the corners of your bandana together (how you would if you were going to wear it), and check to see that the snaps would lay flat when snapped together. Then you'll know if you have them installed correctly.
Install this snap the same way you did the first one.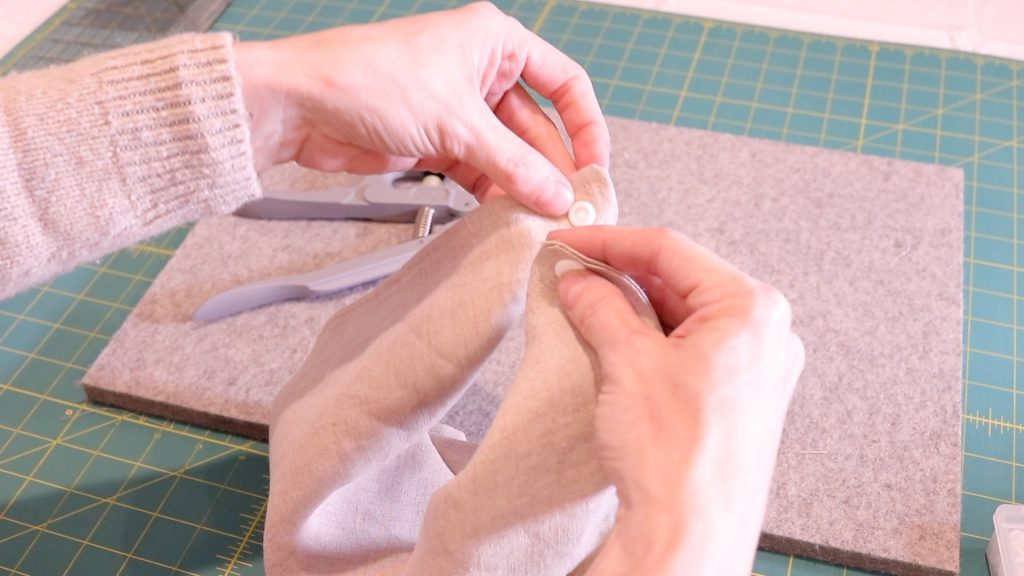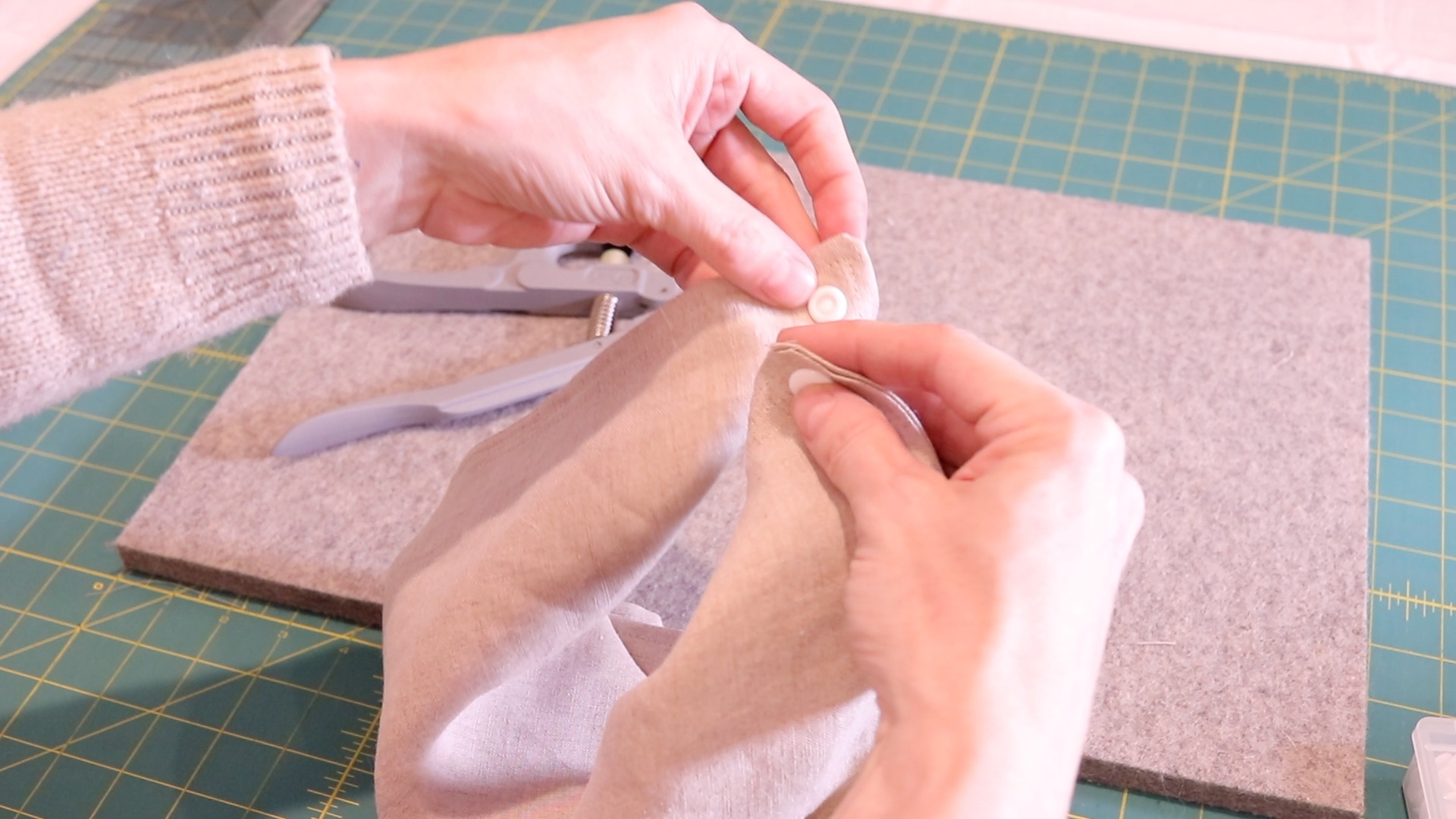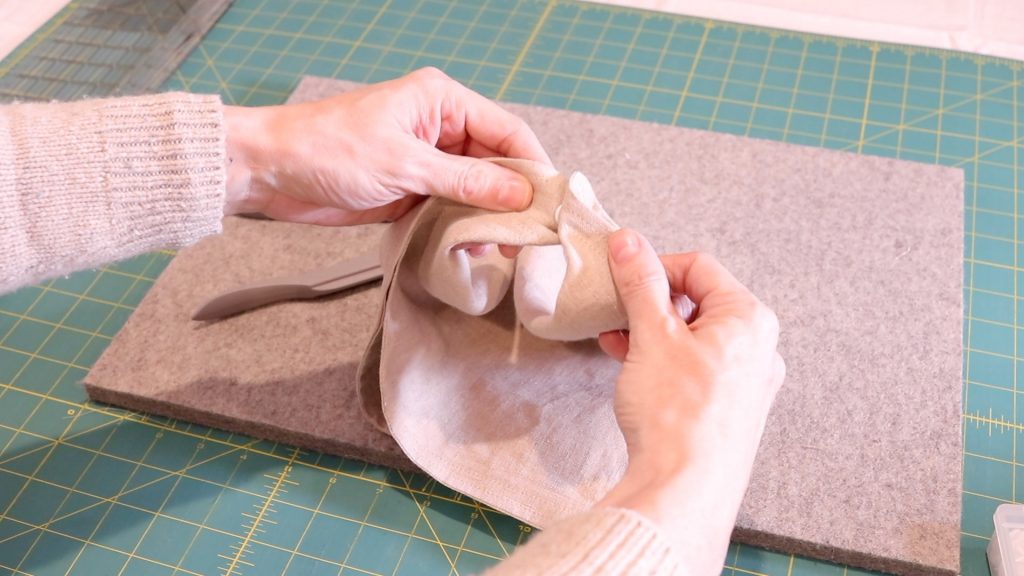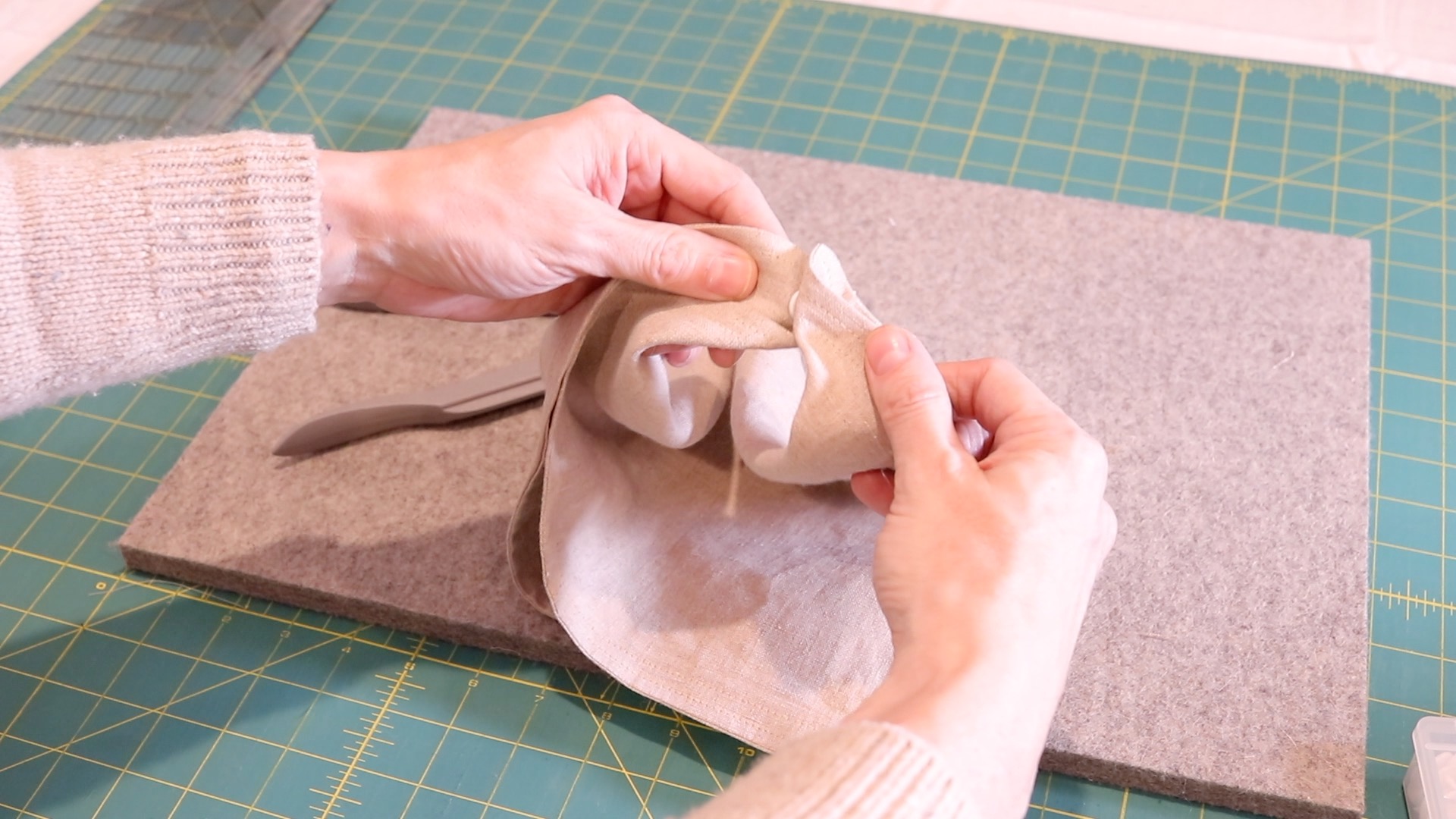 Congratulations! You have just completed your simple linen bandana neck scarf. Just in time for summer.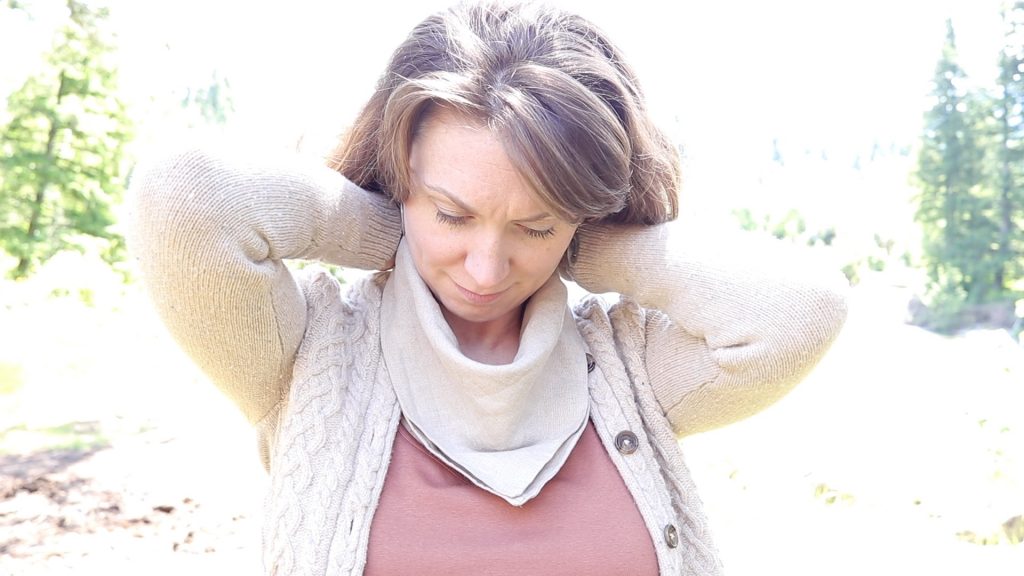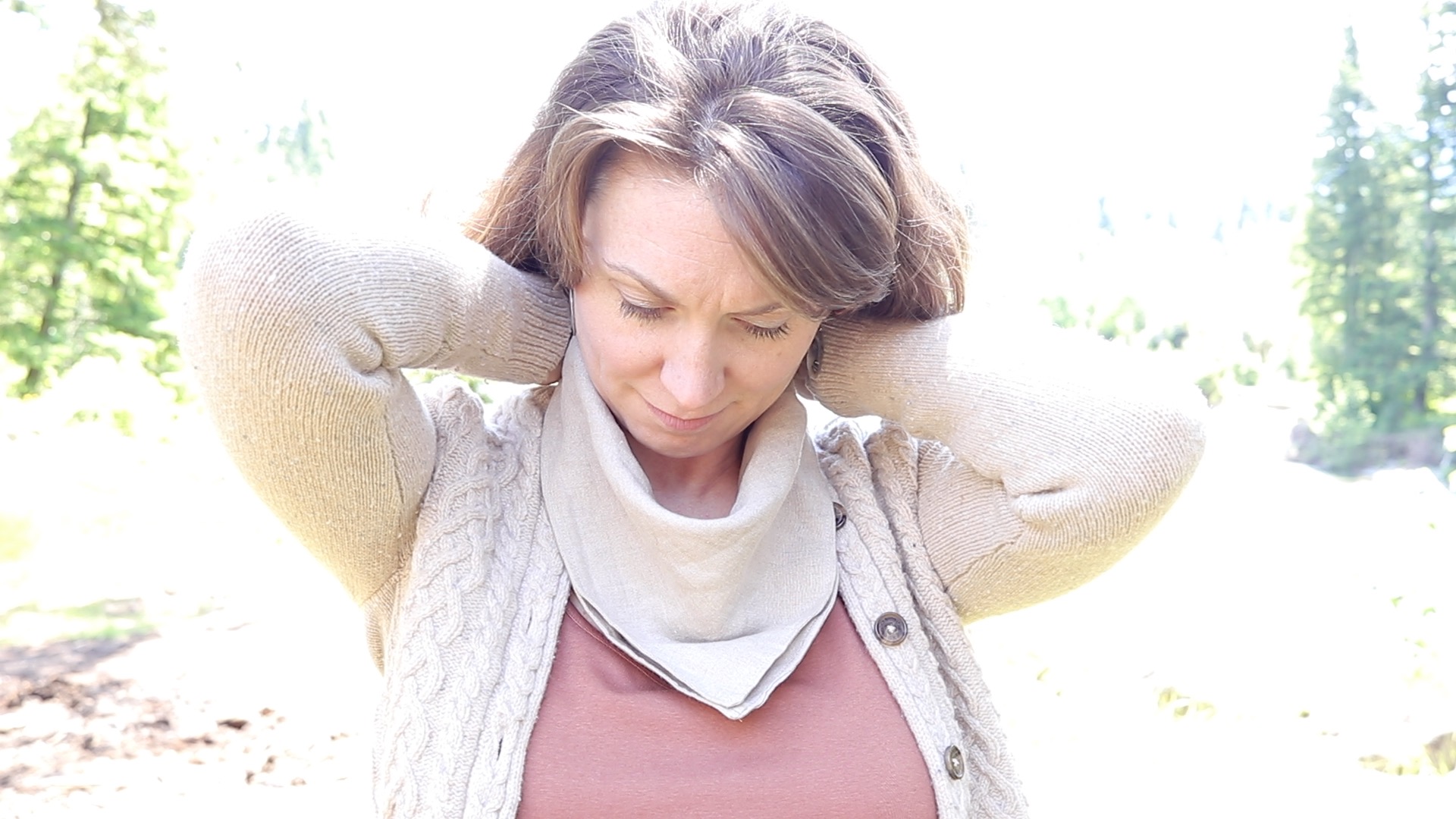 Thanks so much for tagging along for another sewing tutorial. Hope you enjoyed making this simple linen bandana neck scarf. See you all next week.
PIN it for later:

Interested in more SEWING related tutorials? You can watch them here:

Subscribe to my channel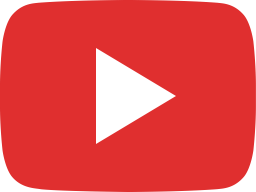 EASY PAPER SEWING PATTERN HACK | sewing pattern tips and tricks you need now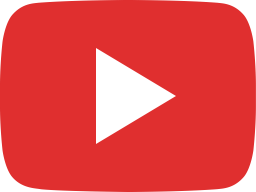 SIMPLE DIY SEWING TOOL IDEA | DIY magnetic pin holder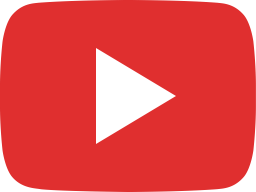 HOW TO MAKE A THIMBLE | IMPROVE YOUR HAND SEWING | HAND SEWING ESSENTIAL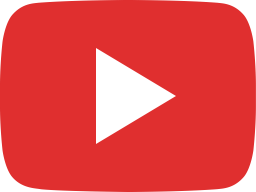 HOW TO MAKE A LOG CABIN BLOCK FOR BEGINNERS | SEW WITH ME | SIMPLE LOG CABIN BLOCK TUTORIAL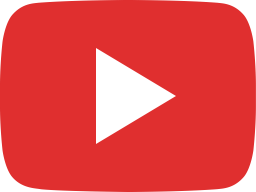 SIMPLE SEWING TOOLS YOU NEED FOR BETTER SEWING | the best essential sewing supplies | SEW WITH ME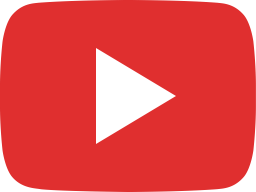 SEW WITH ME | HOW TO SEW A KITCHEN SCARF | HOW TO SEW A KITCHEN BOA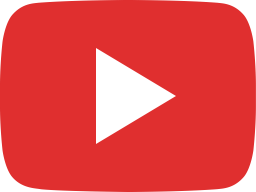 SEW WITH ME | SIMPLE BEGINNER HOW TO SEW HAIR SCRUNCHIES TUTORIAL | HAIR SCRUNCHIE DIY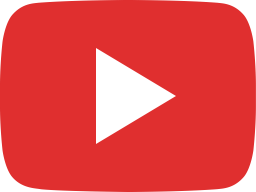 DIY SCRUNCHIES | how to make scrunchies | how to SEW hair SCRUNCHIES | simple sewing tutorial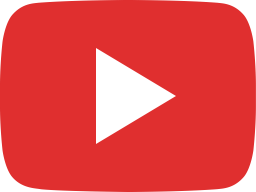 HOW TO SEW A REUSABLE FABRIC BOWL COVER | Zero waste DIY idea | Bread Bowl Cover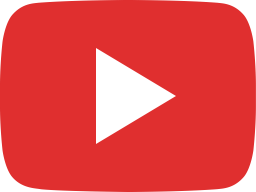 10 SEWING ESSENTIAL SUPPLIES YOU CAN'T LIVE WITHOUT | Beginner sewing tools | BASIC SEWING SUPPLIES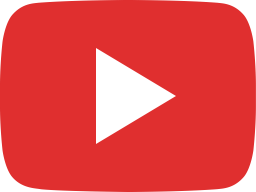 10 SEWING ESSENTIALS YOU CAN'T LIVE WITHOUT | Sewing Supplies you need | ESSENTIAL SEWING TOOLS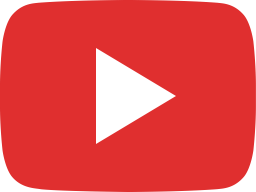 How to MAKE a LINEN BANDANA | Easy SNAP LINEN Neck wrap | How to SEW a LINEN SCARF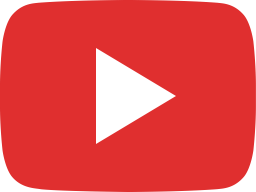 How to make a HANGING CHAIR from a DROP CLOTH | DIY HANGING CHAIR | Easy SENSORY Swing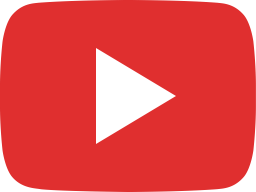 HOW TO MAKE SIMPLE DIY FABRIC PICTURE COASTERS | how to SEW fabric coasters | Easy DIY Gift Idea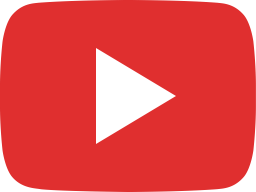 HOW TO MAKE QUILTED FABRIC COASTERS | DIY FABRIC COASTERS | how to SEW a COASTER