The Best Food Processor Salsa
The best food processor salsa you can throw together in 5 minutes!
Yup, you read that right-5 minutes!
I love having simple, healthy recipes that I can pull together quickly. It makes snack and mealtime a cinch, rather than a chore.
This simple Cuisinart salsa is packed full of fresh ingredients you can get at a local farmers market or the grocery store to right out in your garden.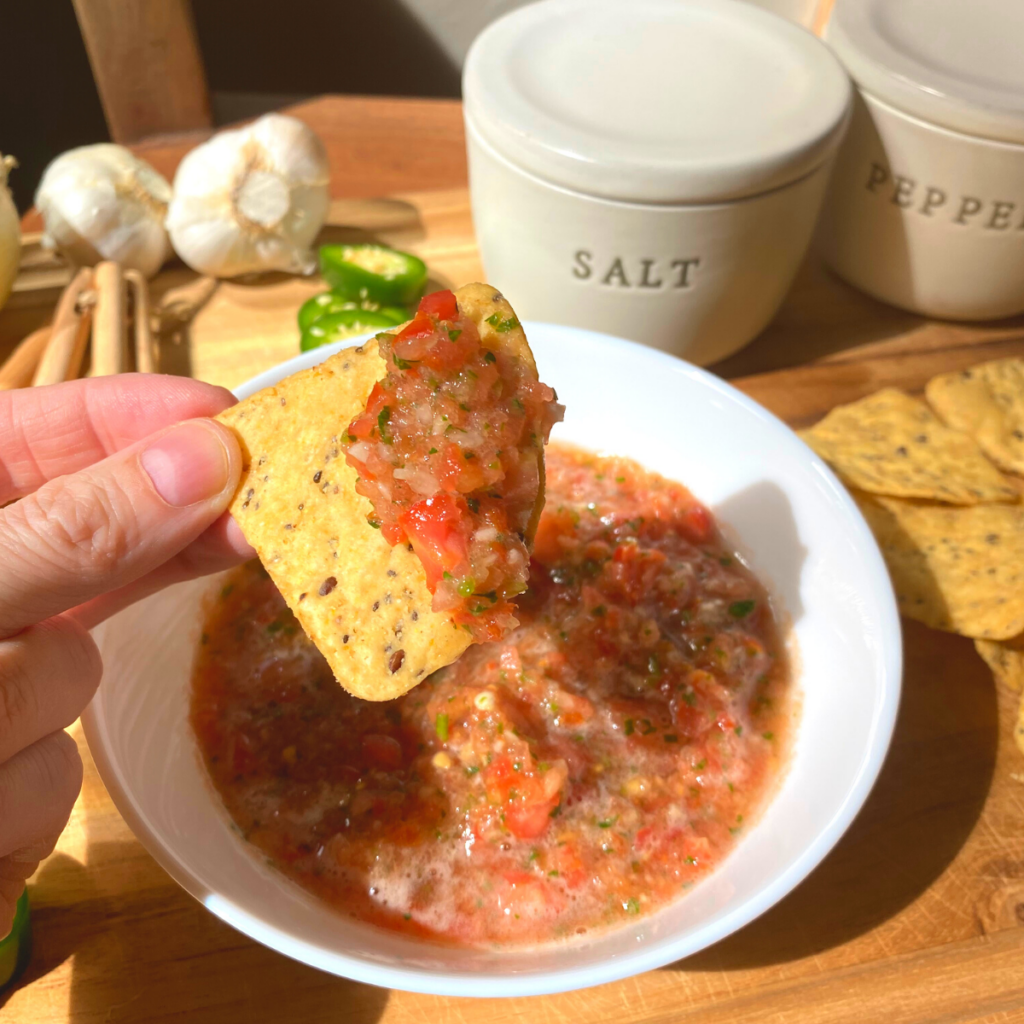 Some of these links are affiliate links. You can read my full disclosure HERE.
Watch the video
Is salsa healthy?
If you are using the best, organic ingredients you can find, then yes it's very healthy.
It's full of fresh vegetables and greens, and if you are using a Himalayan salt then you are also getting extra key minerals as well.
Ingredients for Food Processor Salsa
With the ingredients provided, it yielded a 1/2 gallon batch of restaurant-style salsa.
If you'd like to increase (or decrease) the amount, adjust accordingly. Just follow similar proportions of each ingredient to achieve the same taste and flavor.
10 medium-sized tomatoes (I used heirloom, vine tomatoes, Roma, and cherry tomatoes). Any variety will work for this recipe as long as they are fresh.
1-3 jalapenos. Amount needed will vary depending on how spicy you prefer your salsa.
1 small bunch of cilantro
6-8 cloves of fresh garlic
1 medium yellow onion
Salt
Pepper
How much hot salsa will this recipe make
1/2 gallon of fresh restaurant-style salsa.
What will I need to make this recipe
That's it! This recipe is so simple, and clean-up is a cinch.
How to make salsa in a food processor
Wash and prepare all your fresh ingredients.
Prepare your food processor. Make sure you have the chopping blade on.
Rough chop your cilantro, jalepeno, onion, and cloves of garlic and add them to your food processor.
Place the lid on your processor and use the pulsing button to pulse up the ingredients.
Using a knife, cut your tomatoes into quarters. Remove the stems. Add the tomatoes 1-2 at a time into your food processor bowl. Pulse until blended but not over processed. Continue adding the tomatoes until they have all been added.
Start with 1/2 Tablespoon (TBS) IF you are making the same size batch I did. Otherwise, start with a small amount and add to taste. You can always add more, but can't take it out once it's been added. If you prefer a low to no sodium salsa, feel free to omit all together.
Add pepper.
Continue pulsing all ingredients together until its the consistency you like.
Enjoy! Serve with tortilla chips, tacos or try it on this delicious southwest breakfast bake.
Can you make 5 minute salsa in a Vitamix blender instead?
Absolutely! If you don't have a food processor but have a blender, use it!
Making salsa recipes in a blender is just as easy as the alternative.
How do I make salsa in a blender?
To make this recipe in a blender instead of a food processor, you'll follow the exact same steps listed above.
Wash all your produce.
Add the greens (cilantro, jalepeno), garlic and onion to the blender pitcher and pulse.
Slowly add your tomatoes one by one and pulse after each one until its the consistency you prefer.
Add salt and pepper to taste.
Is this a salsa recipe for canning?
If you are looking to preserve your garden harvest by making salsa, this is a great recipe for that.
I make it quite frequently throughout the year, and at the end of the gardening season, I make a huge batch to preserve for us to enjoy all winter long.
I know some people say that canning tomatoes are dangerous. But if you follow canning guidelines, it shouldn't be a problem.
Here is one of my all-time favorite canning books.
But if you aren't comfortable with that, then just make it fresh.
Can I use canned tomatoes instead of fresh tomatoes for this salsa?
If you aren't able to find some good organic tomatoes at the store and Farm stands aren't open in your area right now, you can for sure use canned tomatoes as a substitute. Here are a couple things I would recommend if you are going to do this:
If you can, try and buy a fire roasted canned, tomatoes. I personally found the flavor to be better.
DO NOT add any extra salt until after you have blended your ingredients and tasted it. Canned foods contain sodium and you'll end up with some really salty salsa.
Because these tomatoes are already cooked, be sure and not over process them. Add them last. Especially if you are making this in a blender and not a Cuisinart food processor.
Canned tomato salsa can be just as delicious if the right ingredients are used. It's also great if your in a pinch and need more tomatoes to complete the recipe but don't have time for another trip to the store
Ideas for using your homemade salsa
You can literally add salsa to so many different things. The fresh, spicy combo really livens any dish it's added to.
Shop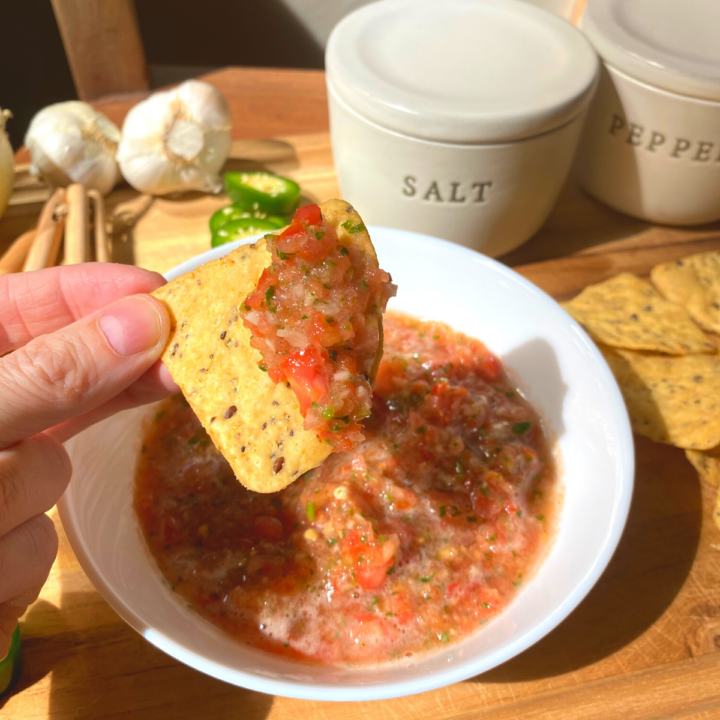 The Best Food Processor Salsa
Additional Time:
5 minutes
This simple food processor salsa recipe is ready in minutes. You can use all fresh ingredients or make it a canned tomoto salsa recipe in a pinch.
Don't have a food processor? No problem! You can also make this healthy salsa recipe in a Vitamix blender too!
Perfect recipe for canning.
Feel free to omit the salt if you need a no sodium option.
Ingredients
10 medium sized tomatoes
1 medium white onion
1 to 3 jalapeno peppers 
1 small bunch of fresh cilantro
6 to 8 cloves of fresh garlic
1/2 Tablespoon salt (to taste) optional
1 Tablespoon pepper 
Instructions
Add 1 bunch of cilantro, 1/2 a jalapeno, 1 onion (cut into quarters) and garlic cloves to your food processor and pulse until very roughly minced.
Quarter your tomatoes and add them 2 at a time to the food processor pulsing after each addition.
Continue adding your tomotoes until they are all fully incorporated into the food processor salsa.
Add salt and pepper to taste. Feel free to omit the salt completly if you are on a sodium restriction.
Enjoy!
Notes
Perfect addition to Taco Tuesdays!
I recommend starting off with 1/2 jalapeno and adding more to taste. Depending on the pepper, some are alot hotter then others.
Be sure and wash hands thouroughly after handling peppers.
Nutrition Information:
Yield:

12
Serving Size:

1 cup
Amount Per Serving:
Calories:

28
Total Fat:

0g
Saturated Fat:

0g
Trans Fat:

0g
Unsaturated Fat:

0g
Cholesterol:

0mg
Sodium:

10mg
Carbohydrates:

6g
Fiber:

2g
Sugar:

3g
Protein:

1g
Pinterest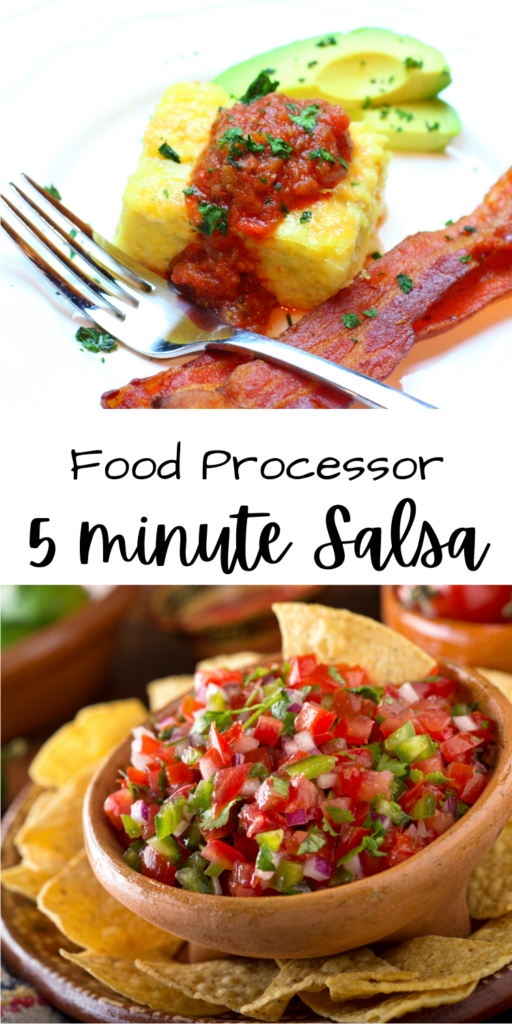 Need a quick recipe to accompany that fresh, hot salsa?
The cheesy southwest breakfast bake is perfect topped with fresh salsa. It's also a really simple make-ahead recipe for busy mornings.
I hope this simple food processor salsa recipe spices up your Taco Tuesdays. Enjoy!