DIY Colloidal Oatmeal Bath Soak
Learn how to make this really simple, soothing DIY colloidal oatmeal bath soak.
If you stumbled onto my post about my son's molluscum contagiosum, you'll know that colloidal oatmeal baths have been a staple in keeping his secondary eczema in check.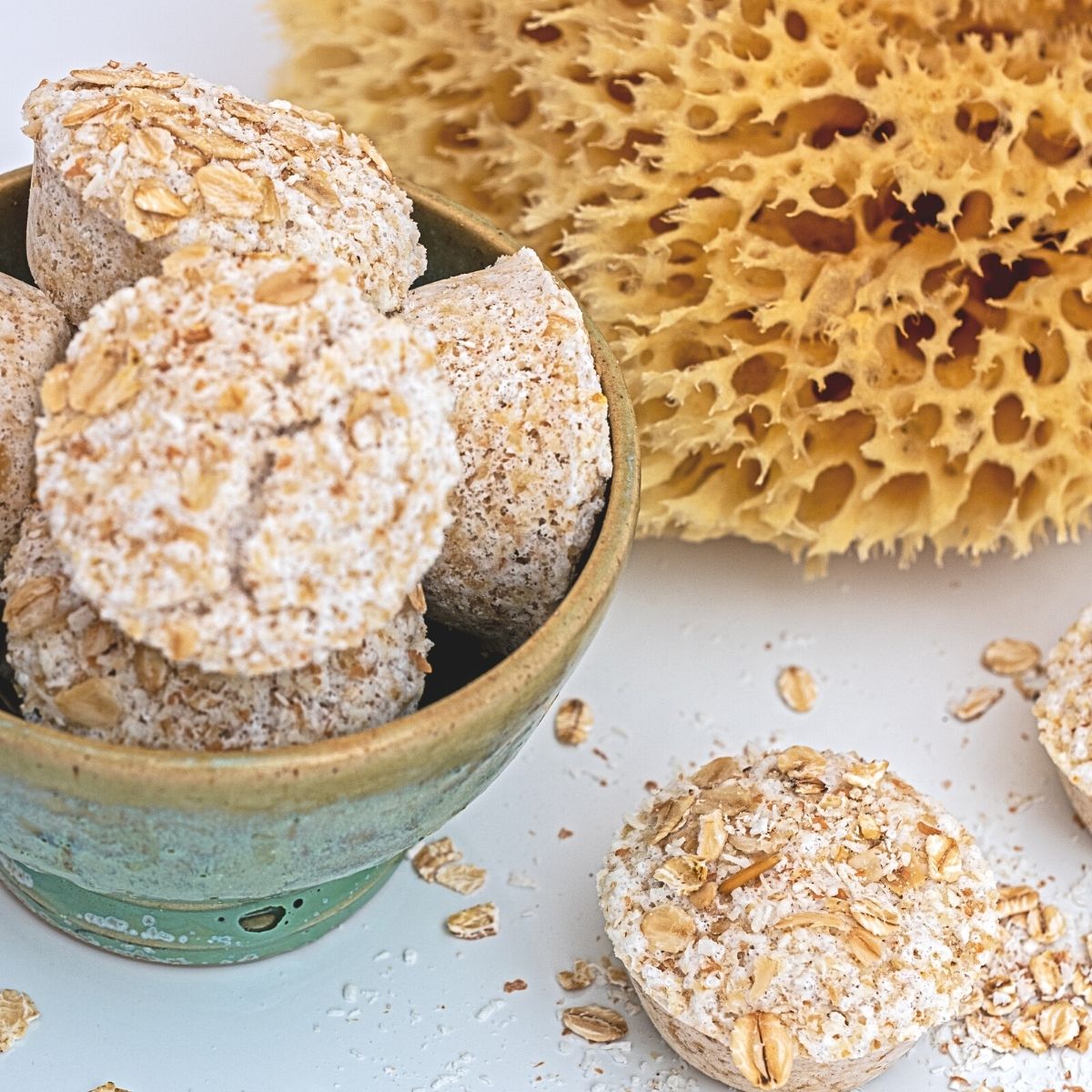 Oatmeal skin products have been used for centuries to soothe irritating skin conditions, and I can see why. They work!
Some of these links are affiliate links. You can read my full disclosure HERE.
What is colloidal oatmeal?
Colloidal oatmeal is just oats that have been processed into tiny particles (1/100th of a millimeter).
Manufacturers of colloidal oatmeal and colloidal oatmeal products have used special grinders to process the grains into nano particles. The grains are cooked, dried, and then processed for sale as a colloidal oatmeal instead of regular rolled oats.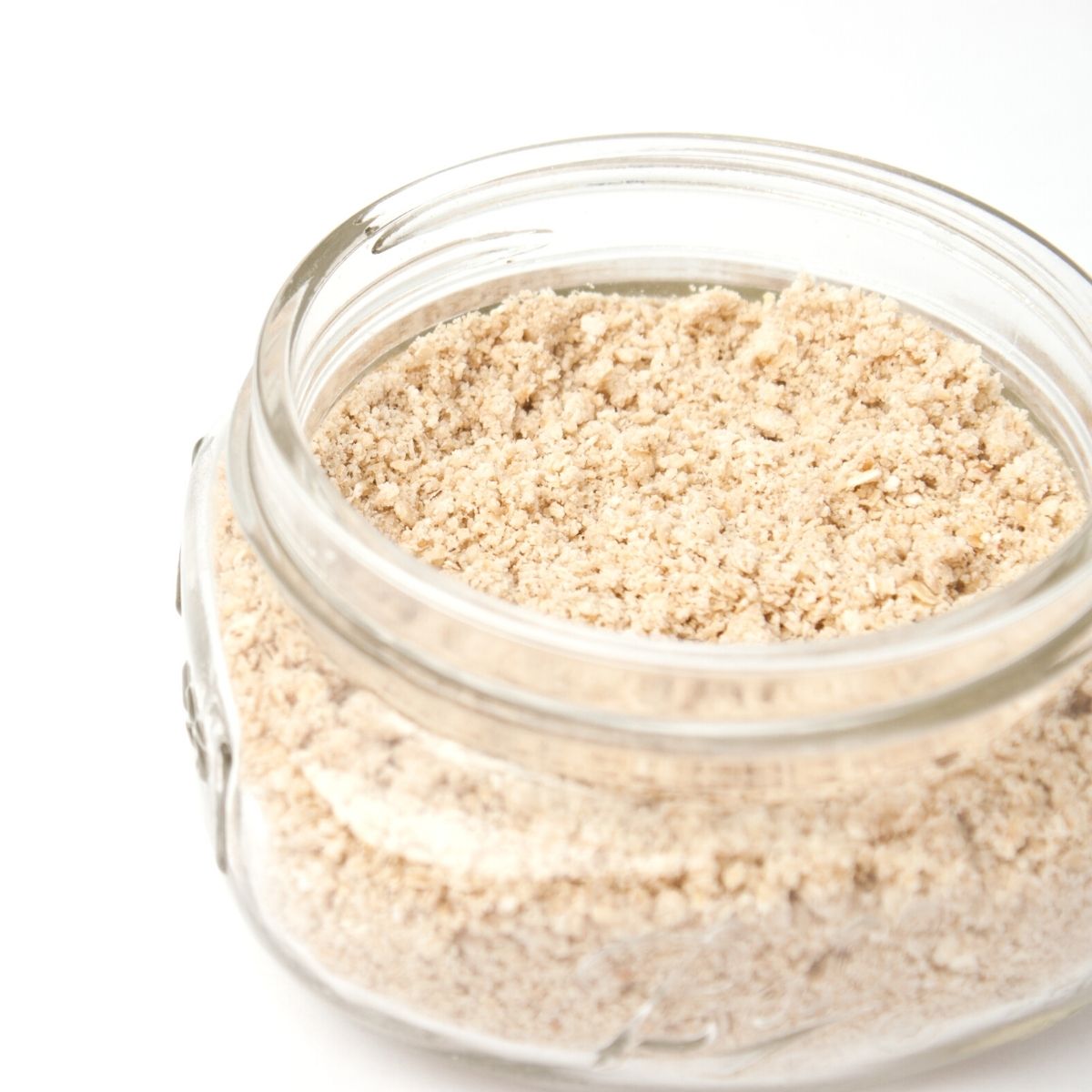 Why is oatmeal recommended for skin conditions?
Colloidal oatmeal has been proven beneficial for dry, damaged skin. Oats act as an emollient which provides a moisture barrier.
Oatmeal baths have the ability to reduce inflammation.
Oats contain phenols that can help absorb UV rays and reduce some damaging inflammation.
Colloidal oatmeal offers a soothing moisture moisture barrier for irritated skin.
Help control inflammation
Contains antioxidant properties
Skin conditions and oatmeal baths
There are so many skin conditions in which colloidal oatmeal can be beneficial. Here are a few of the conditions that they are most commonly used for:
Eczema or psoriasis (can be primary skin irritation or secondary from a skin condition such as molluscum contagiosum)
Rashes from plants (poison ivy, stinging nettles)
Bug bites (spiders, mosquitos)
When both of my kids were babies, a soothing oatmeal milk bath was the first step in treating diaper rash. Thankfully we didn't have this often as we primarily used cloth diapers. But when we needed it, it was so helpful.
Who shouldn't use a colloidal oatmeal bath?
People with Celiacs disease should not use oatmeal bath soaks unless they are using a certified gluten free oatmeal.
What type of oats should I use for a colloidal oatmeal bath soak?
If you are making your own DIY oatmeal bath soak, use an organic steel cut oat or rolled oats.
Instant oats and oatmeal are not good options for this recipe. They are over processed and contain a lot of unhealthy chemicals and ingredients.
Ingredients in DIY oat bath
Recipe makes enough for 1 bath soak.
I make usually make enough to have 3-4 batches ready at a time and store it in a jar like this near my tub.
1 cup of organic rolled oats
5-10 drops of skin soothing essential oil (lavender, frankincense)
Essential oils are optional but I highly recommend.
Essential oils contain some really wonderful healing properties and can be nourishing and soothing for the skin.
However, if you don't have any on hand, you can make this recipe without them.
If you grind the oats too fine, they can turn into a paste. So if you find that they are ground to fine, you can add the oats to a small cloth drawstring bag or cut the leg off a pair of tights. Making sort of a tea bag for your oat soak.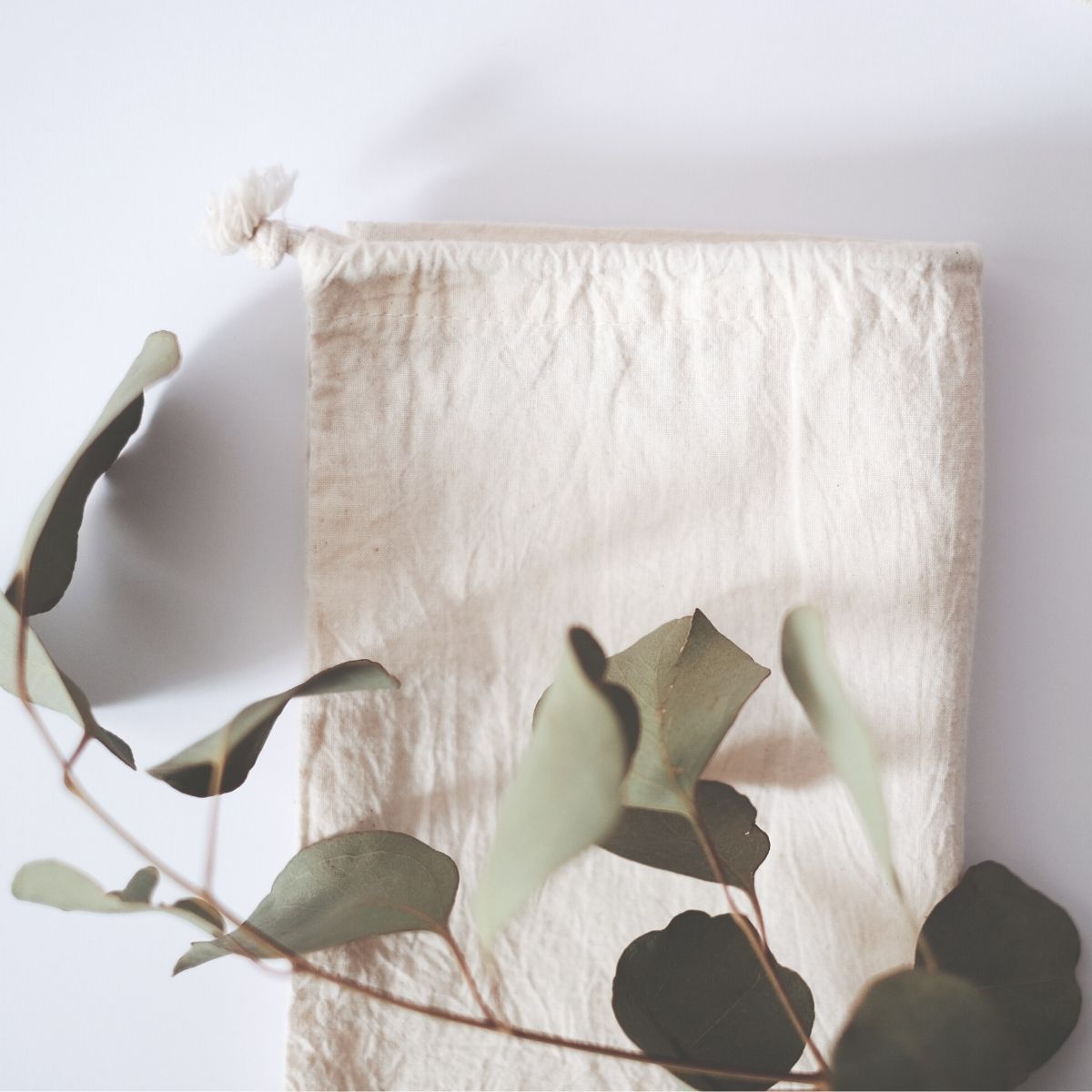 How to make DIY colloidal oatmeal bath soak
Add organic rolled oats to a coffee grinder, food processor or blender.
Blend until it becomes a really fine powder.
Transfer oat powder to a bowl and combine with baking soda and essential oils.
Mix until incorporated.
Transfer to a storage jar or dump the mixture straight into a warm bath for immediate soaking.
Makes enough for 1 bath soak.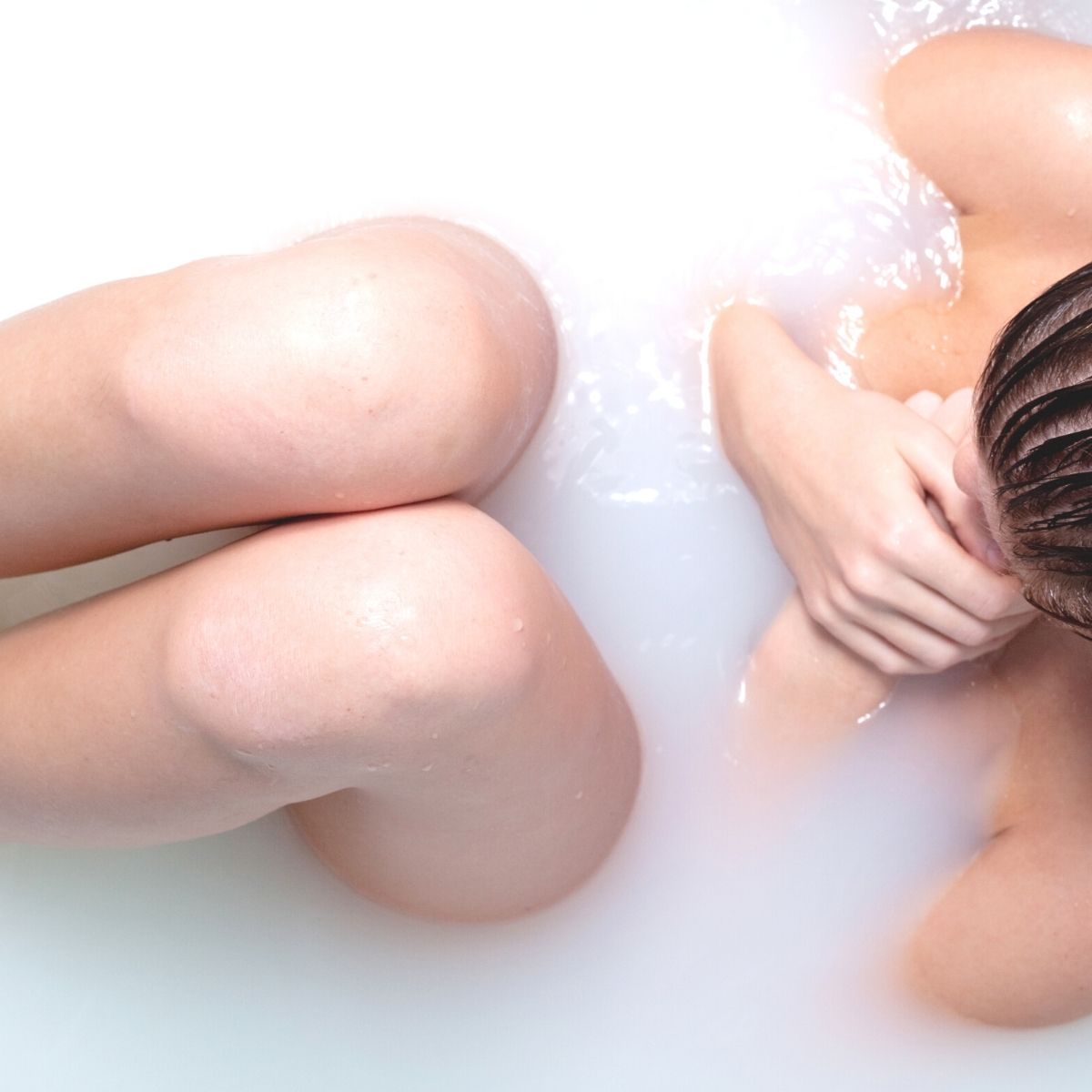 How to use oatmeal bath soak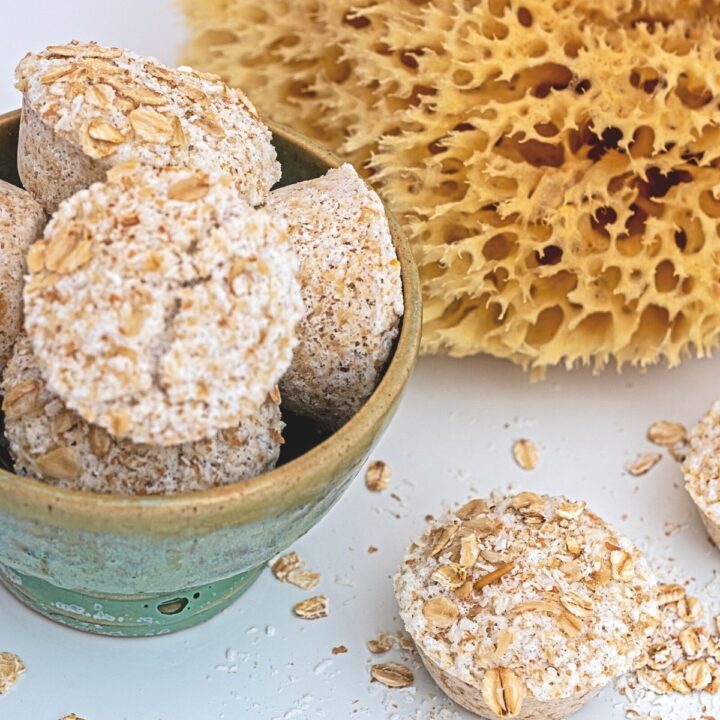 DIY Colloidal Oatmeal Bath Soak
Yield:
1 batch oatmeal bath soak
A relaxing and benefical colloidal oatmeal bath to help treat dry, irritated skin conditions.
Ingredients
Organic Rolled Oats
Baking Soda
Essential Oil (optional)
Mini muslin drawstring bag (optional)
Instructions
Add organic rolled oats to a food processor, blender or coffee grinder.
Blend until oats become a very fine powder.
Transfer to a mixing bowl. Add baking soda and optional essential oils.
Mix until fully incorporated.
Transfer to a storage jar or dump oatmeal bath soak directily into warm bath for soaking. You can also add the mixture into a mini muslin pouch and add the pouch into your bath water. This will help make clean up a cinch.
Enjoy your oatmeal bath water for 15-20 minutes. Soaking for extended time can have the opposite effect on the skin.
Notes
This recipe is not for consumption.
Be sure your bath water is warm, not hot.
Be sure and check with your doctor to make sure that colloidal oatmeal bath soaks are right for you.
Where to buy Oatmeal Bath Soak
I know not everyone has the time or even desires to DIY everything. So I've included a few oat milk bath soaks you can purchase ready made.
I have personally tried all three of these before I decided to make it myself.
Shop This Post
Here you'll find a list of all the products that were mentioned in this post.
Oats (regular and gluten-free)
Baking Soda
Essential Oils
Storage for Oatmeal Bath Soak
These are my favorite storage jars for almost all my DIY skincare and handmade products. Any storage jar with a sealing lid will work.
I hope you found this information helpful. Colloidal oatmeal bath soaks can have a very soothing effect on dry, itchy, irritated skin if used appropriately.
If you have any questions about whether or not colloidal oatmeal baths are right for you, ask you doctor.
-Brie
Pin it