How To Make Homemade Sour Cream Fast
Today I'm sharing how to make a delicious homemade sour cream using only 2 simple ingredients.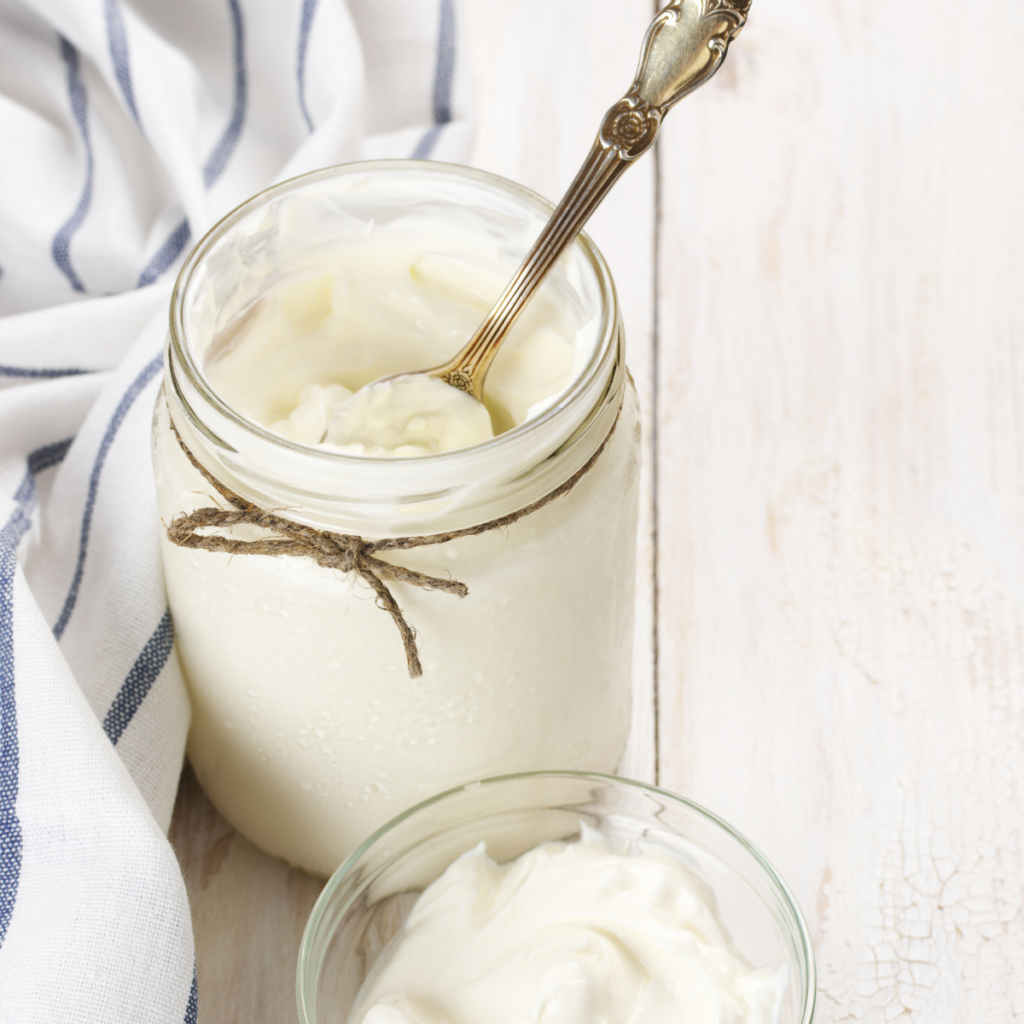 Some of these links are affiliate links. You can read my full disclosure HERE.
Sour cream is something we always have on hand at our house. We use it a lot. Taco Tuesdays, chili, and don't get me started on all the yummy fall soups we put it on.
My kids love to slather homemade sour cream and my restaurant-style salsa all over the breakfast casserole I make as well. Gives sort of a southwest spin on it. So good.
What do I need to make homemade sour cream?
Like I said previously, this recipe requires only 2 ingredients. I will give alternatives to the second ingredient so you have some options depending on what's available to you locally.
Heavy Cream (you can also use raw cream as well)
1/3 cup of Organic Probiotic Yougurt (plain whole milk yogurt).
Plain Organic Whole Milk Yogurt
If you don't have access to yogurt like this, you can also use:
or
*(1) cup of sour cream with live, active cultures*
*if you are using the (1) cup of sour cream with live cultures, you will only need (3) cups of heavy cream, not (4)*
I will have printable recipe cards for both options below.
How to make homemade sour cream fast
You can mix this together in a bowl and then transfer it to a mason jar or just place ingredients in a sealable jar from the start. Less mess is always best. At least that's my motto.
I always prefer the method that creates less mess and is easy to cleanup. Therefore, the mason jar method it is. But feel free to do what works best for you.
Pour 4 cups of heavy cream into a quart sized mason jar or a bowl.
Add 1/3 cup of a probiotic plain whole milk yogurt into the jar (or bowl) with the heavy cream.
Give it a stir or place the air tight lid on the jar and shake vigourously until combined.
Once the cream and yogurt mixture are combined, wrap your mason jar (with lid on tight so it doesn't leak)into a towl so it's fully covered.
Place the towel into the oven with the oven light on. This will help keep the temperature consistent and warm but not cook the culture youre trying to ferment. DO NOT TURN THE OVEN ON. The light is enough.
Leave the sourcream starter in the oven with the light on 12-14 hours. If it's a bit longer, that's ok too.
After 12-14 hours has passed, remove the sourcream starter from the oven and carefully unwrap it from the towel.
Give it a quick stir, and then place it in the fridge to enjoy.
Homemade sour cream recipe
If you are using RAW CREAM, you can just leave it on the counter at room temperature to sour. Check every 12 hours until the desired "sour-ness" is achieved, then place in the refirdigerator. You can NOT do this method with pasturized cream. All the beneficial bacteria is gone from the cream.
If you buy pasturized cream from the store, just try and avoid UHT cream if you can. UHT just stands for ultra-high temperature processing. This is a food processing technology that almost sterilizes liquid. Beneficial bacterial in your food is good.
If you are using raw milk to make your homemade sour cream, just know that the end result will be less thick then store bought sour cream. It will still taste just as deliecious and will offer more beneficial bacteria then most store bough brands though. Most store bought sour creams also contain artifical ingredients to help preserve them and contain thickening agents.
Is homemade sour cream safe to eat?
Yes. homemade sour cream is safe to eat and more beneficial than most store-bought sour creams that contain thickening agents and preservatives to make them last longer.
Plus, you have the added benefit of knowing you made it yourself which is always better and usually healthier.
How long does it take to make homemade sour cream?
The first batch of anything from scratch takes the longest. Once you have your first batch of sour cream made, you can use that to make any further batches you need BEFORE you end up needing more.
The initial batch will take anywhere from 12-16 hours, depending on how sour you like your sour cream.
I recommend tasting it after 12 hours. If it tastes "sour" enough for you, then place the mason jar with the lid on in the fridge.
If you'd prefer it more sour, then check it again after 14 or 16 hours. Refrigerate when the desired amount of tanginess is achieved.
After you have made this once, you'll know for the next batch exactly how long you need to let it ferment.
I recommend making notes on your printable recipe card for easy and quick reference.
Do I need to buy a sour cream culture or yogurt every time I make homemade sour cream?
No. Once you have your first batch complete, you won't need to buy these with every batch you want to make.
Like most things that are fermented, you only need a culture to get you started.
If you stop making your sour cream for a while and then start up again at a later date, then you'll need to have a culture to get started again.
How long will homemade sour cream keep?
Homemade sour cream will keep in the refrigerator for just as long as a store-bought sour cream-30 days (give or take a few).
We never have a batch of sour cream last that long in our house, so I'm unable to verify this. However, this is what I have found with some research.
Can I substitute milk and vinegar?
Yes. There are quite a few other options and substitutions for sour cream as well as different ways to make it.
Taking milk and adding vinegar to "sour" will produce something that tastes similar to sour cream, but will be far runnier in its consistency.
Can you make plain yogurt taste like sour cream?
Plain yogurt is by far the easiest substitute for homemade sour cream. It is similar in flavor and consistency. For the best results in a recipe, I recommend replacing homemade sour cream (or store-bought) with equal part Greek plain yogurt at a 1:1 ratio replacement.
Example: If a recipe calls for (1) cup of sour cream, replace it with (1) cup of Greek yogurt instead.
How do I make homemade sour cream with yogurt?
If you are wanting to make homemade sour cream, use the recipe and method provided above.
Add 4 cups of heavy cream to an air tight container or mason jar.
Add 1/3 cup of a whole milk probiotic yogurt to the heavy cream.
Mix (or shake) ingredients together.
Wrap jar in towel.
Place in the oven with the LIGHT ON for 12-16 hours.
Once your sour cream is as sour as you'd like, place jar in fridge.
Enjoy on all your favorite dishes.
Where can I buy a sour cream culture?
Sour Cream cultures can be purchased from serval different fermenting websites.
Again, the culture isn't necessary if you are using the method provided above to get your homemade sour cream started. But if you would prefer to just use a starter, I'll link one below.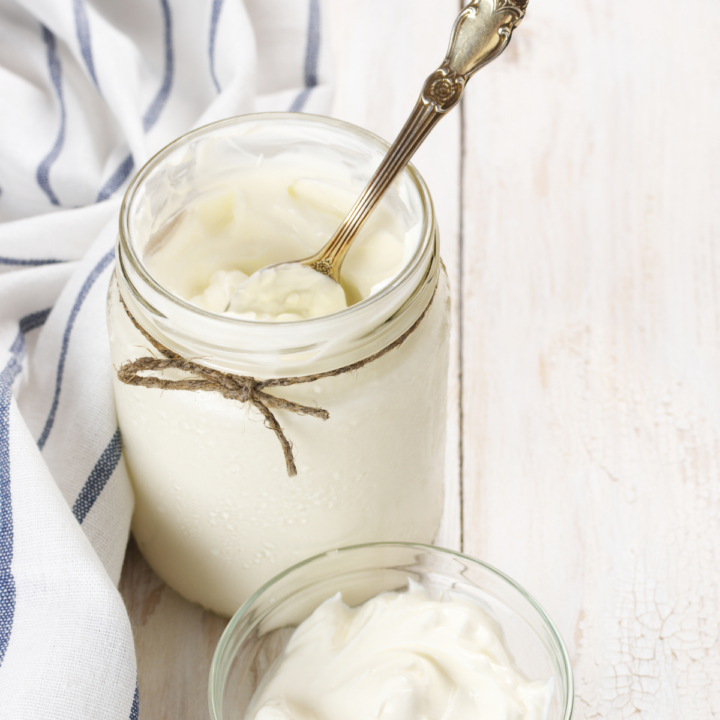 Homemade Sour Cream
Additional Time:
12 hours
Total Time:
12 hours
5 minutes
Make homemade sour cream with just 2 simple ingredients. Healthy alternative to store bought and tastes even better!
GAPS diet approved.
Materials
Mason jar with airtight lid (you can use a canning lid and ring)
Spoon for stirring
Towel (bath towels work great)
Instructions
Begin with a clean mason jar and airtight lid.
Pour heavy cream (or raw milk) into the mason jar and fill 3/4 full.
Add 3 Tablespoons (roughly-no need to measure) of an antibiotic rick plain whole milk yogurt. This needs to have live active cultures in it.
Stir to incorporate.
Place lid on jar tight. Be sure it doesn't leak when it's laying on it's side.
Wrap jar tightly in a towel.
Place in the oven (with light on) for 12 hours. The light in the oven provides a slight amount of warmth for the cream to ferment.
After 12 hours, remove the jar from the oven. Open carefully and taste to see how sour it is. If you prefer it slightly more sour tasting, place it back in to the oven for another 4-6 hours. Once the desired amount of sour is achieved, place it in the refidgerator.
Serve on all your favorite dishes. Enjoy!
Notes
Be sure and use an organic, whole milk, probiotic rich yogurt. The less ingredients in the yogurt the better. It shouldn't contain thickening agents and other fillers.
Pin it!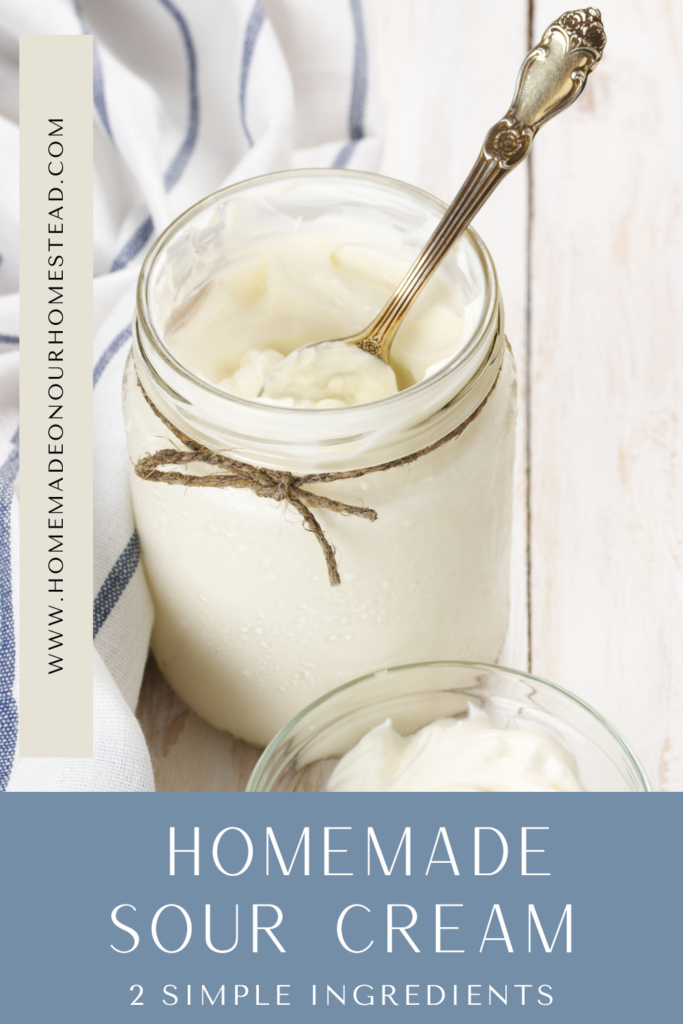 I hope you give this simple recipe a try.
Sour cream makes a great topping for so many dishes. We really love it with fresh salsa on the Southwest Breakfast Bake topped with fresh chopped cilantro-so delicious and filling.
Enjoy other favorite from scratch recipes from our homestead kitchen
Be sure and check back soon for more delicious recipes.