Ever wonder if you could make your own butter at home? Well, I'm going to show how to make homemade butter from the comfort of your kitchen.
You only need 2 ingredients, a stand mixer or a food processor (my personal favorite). Let's get into the kitchen so you can try this out for yourself.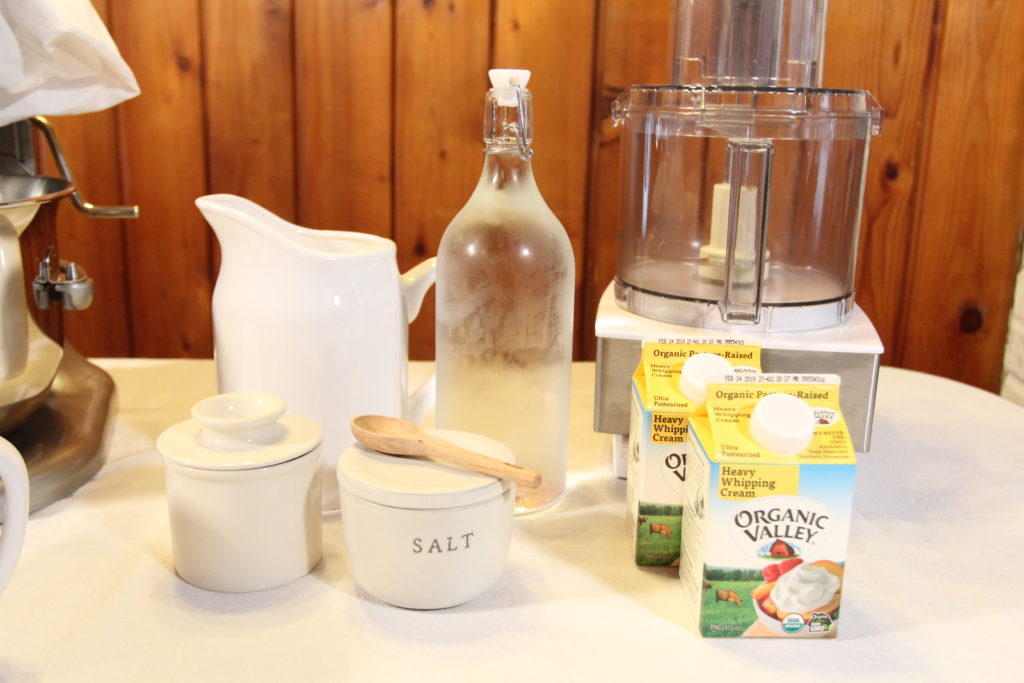 Let's quickly run through the things you'll need to make homemade butter in your food processor:
Disclosure: Some of the links in this post are affiliate links. This just means if you click on a link to make a purchase, homemade on our homestead may make a small commission at no extra cost to you. You can read our full disclosure policy here.
Well if that first picture didn't give it away, I'll make the list for you as well: Want to skip over the written tutorial and watch the video? You can find that here. Or you can scroll to the bottom of this post as well.
Video:
Shopping List:
Heavy Whipping Cream (organic or non-organic is up to you). The amount you'll need will depend on the size of your food processor. My food processor is a 14 cup model. It holds an amazing 3 cups of liquid. The side of most food processor containers will have a "liquid max fill" line. We make so much of our own sauces and salsas, that it only made sense for us to have the largest one. I've never once regretted that decision to purchase the biggest one I could find on Amazon. You can find the one I have here.
Salt. I prefer Himalayan pink salt, but regular salt will work just as well. I use 1 teaspoon for 3 cups of heavy cream. This will literally give you the same flavor as store-bought salted butter. If you prefer unsalted butter, just leave this out.
You'll need a few Tablespoons of ice cold water. This is just to rinse your butter solid off after your done processing it.
Heavy whipping cream and salt.
Isn't that the smallest grocery shopping list ever? Oh if only I could leave the store with 2 items in my shopping cart and a bill less that $5.00. Sorry honey, not going to happen...EVER!
So here's a quick breakdown of what kitchen appliance and other things you can use to make and store your homemade butter:
Cuisinart 14 cup food processor. Trust me, this thing is good for everything! It's on my top ten list of things in my kitchen I can't do without. This is my preferred way to make butter because it keeps the mess totally contained.
KitchenAid Stand Mixer. This is another one on my top ten list. I have a serious love for all things KitchenAid. If you are going to use a stand mixer, I'd recommend using the splatter shield or a bowl to cover the bowl. This does get messy. Excuse me as I head over to Amazon myself to purchase one of these.
Hand Mixer. Little disclaimer here. I have tried to make butter using my hand mixer before. It got very, very messy. Not only is the mess more obvious when using a hand mixer, but you'll also need arms like Gorgeous George. Holding onto the bowl when the fat solids start to separate from the liquid can be quite a challenge. All the while of course trying to keep the mess to a minimum. If you've mastered the technique using a hand mixer, please, please impart your wisdom. I literally have tried twice then given up and put into my food processor. But I guess if you're looking for an arm workout, here you go. Butter and a workout! What could be better?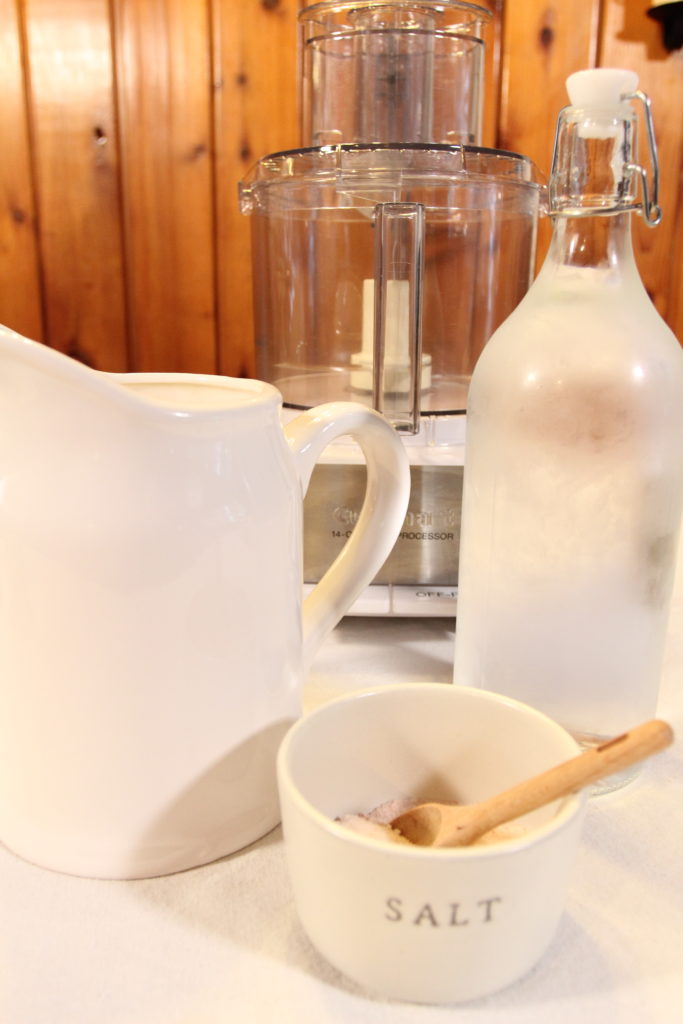 Oh yes, there's more. I'm almost done I promise. I'm just a detail kinda gal.
Tea towel. Some people say they use cheesecloth for ringing their butter out. If you already have cheesecloth at home, use it. I just found that when I used cheesecloth, quite a bit of butter was squeezing through the cheesecloth, getting stuck, and therefore wasted. Why on earth would anyone want to waste butter?! So I found that using a white tea towel or flour sack towel worked the best. When I'm done draining my butter this thing can go straight into a white load to be bleached.
Butter bell. I adore my butter bell for storing butter. What I love even more is having people come to stay at our house and watching them spend ten minutes digging through our cupboards and refrigerator looking for the butter. After admitting defeat, they finally ask, "wheres the butter?" I point to the cute little jar in front of them and say, "it's right there in the butter bell." With a blank stare on their face and a phrase similar to, "what the hell is a butter bell?" I pull up the lid of my adorable little jar and say, "this is!" Its usually followed with, "oh my gosh I need one of those!" So I'll save you the time of having to ask (if you too are one of those people). This is the exact butter bell I have and again, I totally adore it.
Cont.
Salt. I love keeping my salt in this adorable little salt pot (and the pepper pot if you're like me and need the set) from Hearth and Hand. Damn you Joanna Gaines and your cute stuff at Target! Gets me Every. Single. Time. You can buy one here. I also own this cute set from Mudpie (of course on Amazon) that I love equally.
Wooden measuring spoons. Since I am always getting emails in regards to these cute little measuring spoons, figured I might as well post them too. If you prefer a longer handle on your measuring spoons, I have these as well. Same look, just longer handle.
Spatula for scraping the bowl when your butter is done processing.
The best water filter for your home
Berkey water filter. Since we always get asked about this big "silver thing" in our kitchen. We filter our water through the Berkey and chill in the refrigerator. It's like jewelry for your kitchen. Optional, but beautiful. Plus, it actually serves a purpose. Clean, filtered delicious drinking water.
So the quick breakdown:
Heavy Whipping Cream
Salt
Ice cold water
food processor (or a stand mixer)
Yup, thats it. Told ya there wasn't much to it.
Tips and tricks I've learned along the way:
If you take your heavy whipping cream out of the refrigerator 20 minutes before you plan to make butter, it will speed up the process a bit. But it isn't necessary unless you're in a big hurry.
Buy a food processor that has dishwasher safe components. Mine is dishwasher safe on the top rack so I really have no excuses as to why I can't make my own butter. I don't even have any dishes to hand wash when I'm done.
Chill water the night before. It really does work best to have ice cold water.
Once you have made your butter a couple of times and know exactly how much salt to add, try adding it to the liquid BEFORE you process it. That way you can skip the step of having to hand mix it in at the end.
Have some homemade bread ready to come out of the oven when you're butter is finished. After all, you'll need something for your homemade butter to sit on 🙂
Once you've mastered how to make your own butter, the skies the limit. We use this as our base recipe for making compound butters. You can freeze these in small portions in ice cube trays and use when you want. Great for sautéing, grilling and roasting. Compound butters are wonderful and so full of flavor. Subscribe to our blog and I have an ebook of compound butter recipes coming soon for subscribers only.
Save the buttermilk and use it for baking.
How to make homemade butter
Take out your food processor and attach the regular chopping blade. Figure out how much liquid you're food processor will hold and add heavy whipping cream to the "liquid max fill line." Secure the lid.
Have your salt pot and cold filtered water on hand nearby. If you'd like to do it all in one step, go ahead and add your salt BEFORE you begin processing. If this is your first time making homemade butter, you may want to wait until your butter is done and add salt to taste. I have made this so many times that I know that 1 teaspoon of salt is exactly what I need for 3 cups of heavy whipping cream.
Turn on your food processor. Depending on the make and model of food processor you have, the time to make butter can vary. But I'll post pictures so you'll know exactly what it should look like each step of the way.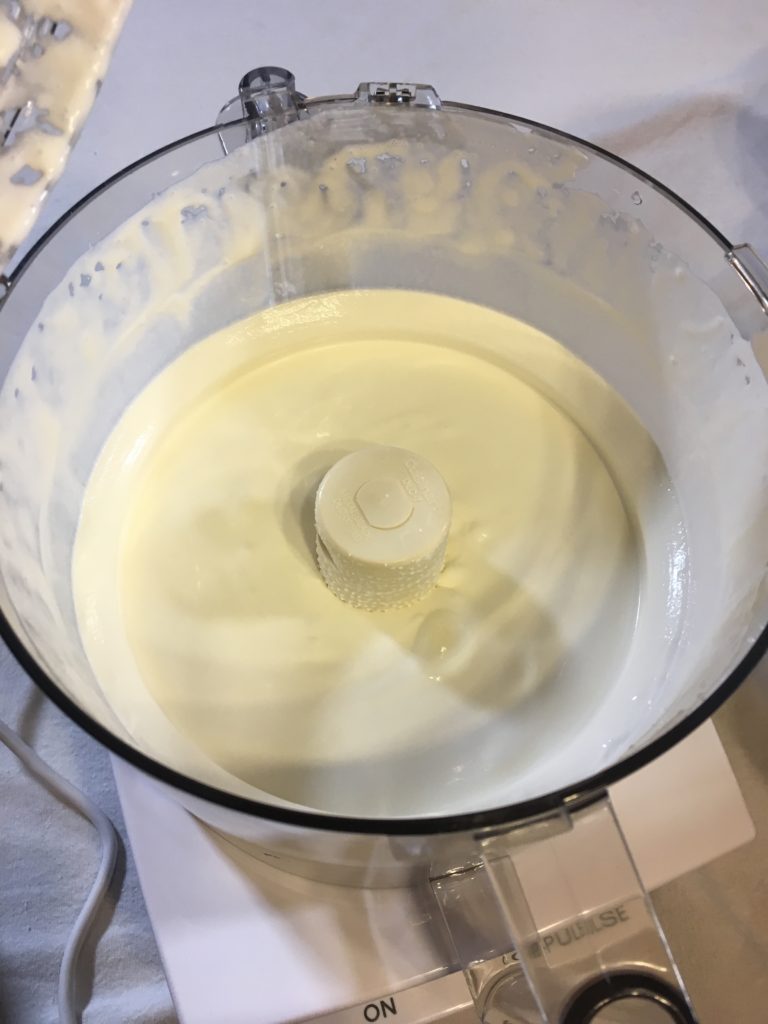 It's ok to stop it frequently to check the progress. Just know that it will take at least 4-5 minutes. My food processor is about 8 minutes.
Continue letting the heavy cream process.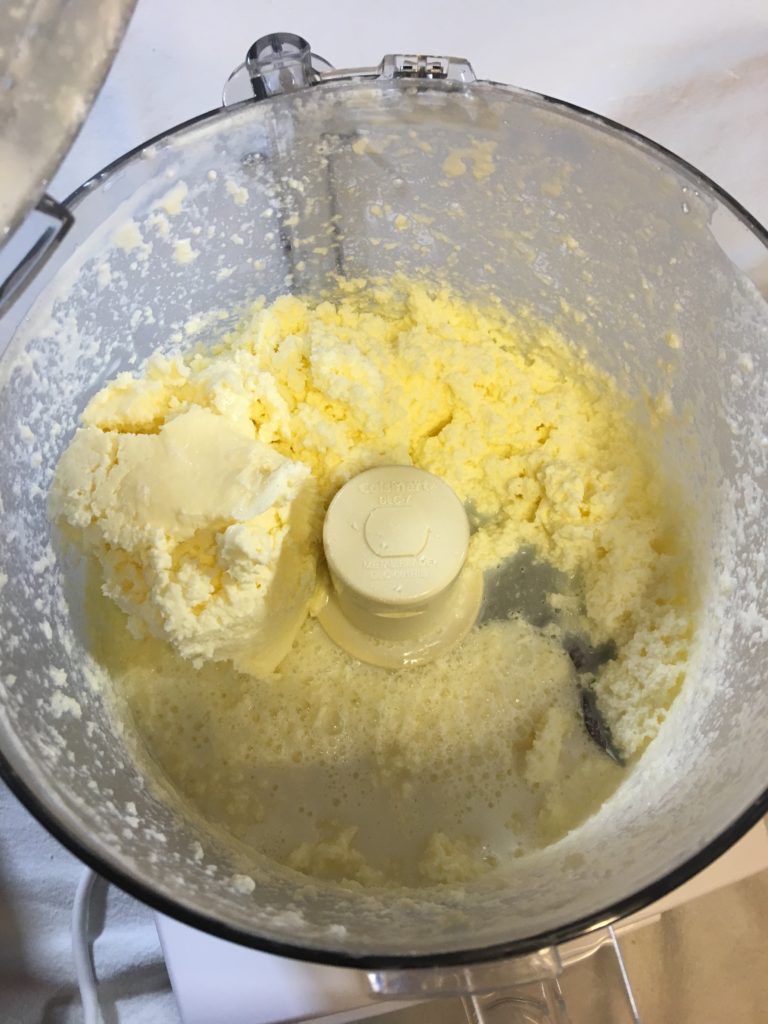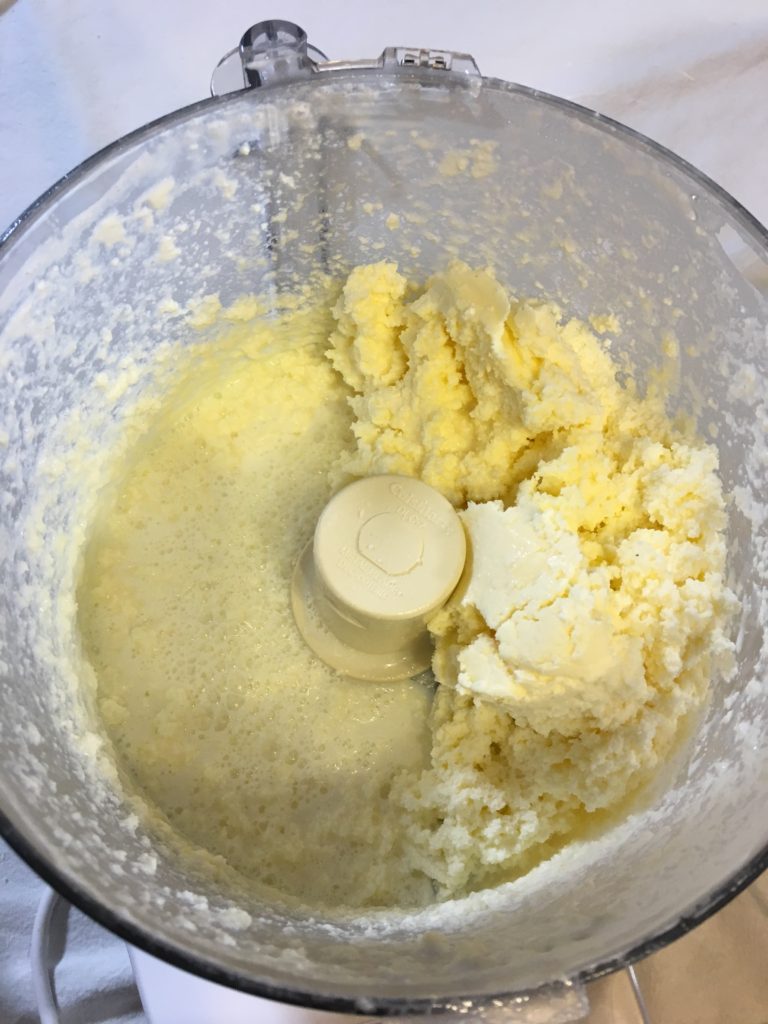 Almost done.
Replace the lid on your food processor and turn it back on. Remove the plunger piece from the lid, and slowly add about 2-3 Tablespoons of your ice cold filtered water. If you add a little more, its ok. You're just doing this to rinse the solid off. It will just remove any excess buttermilk from the butter.
After you've added the ice-cold water and run your food processor for another 20-30 seconds, go ahead and add another 2-3 Tablespoons of water for the final rinse.
Lay a tea towel or flour sack towel in a bowl. I don't find it necessary to dirty a strainer as well. Remove your food processor bowl from the base and slowly (being careful of the blade), begin to transfer the buttermilk and butter solid into the towel. Use a spatula if necessary to remove it.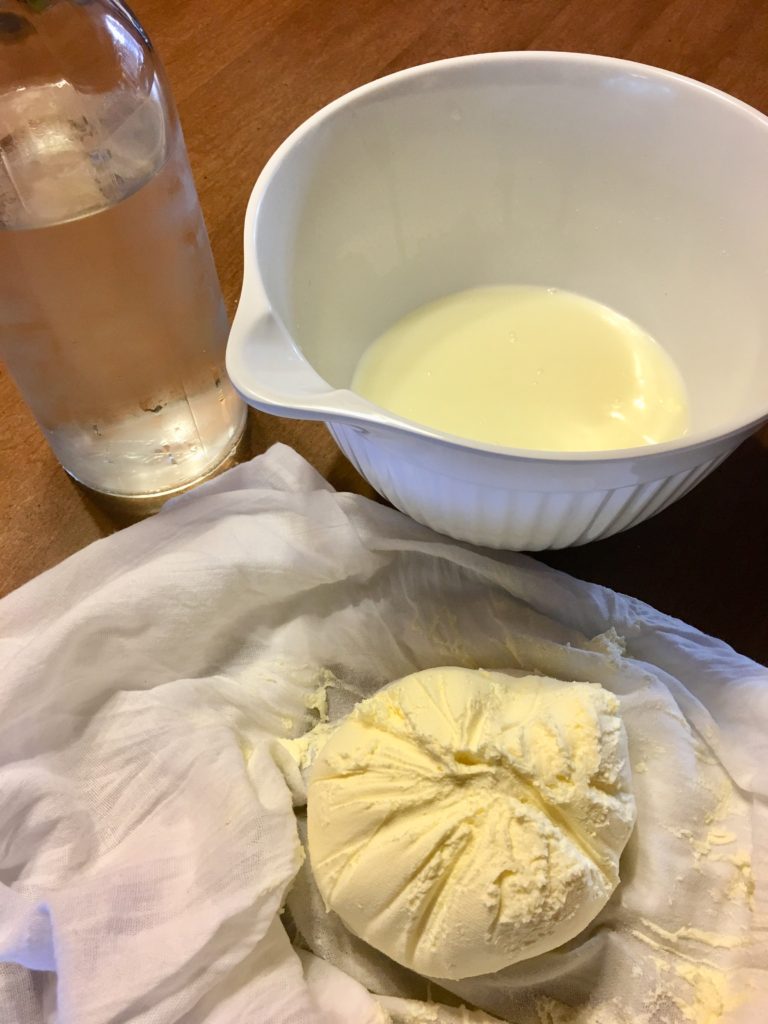 Once the contents of the processor bowl are emptied into the towel, slowly begin to twist the towel to remove all the excess liquid. Ring out as much as you can. Open up the towel and look at the beautiful golden butter you just made in less time than it will take you to read this entire post lol. If you want to add salt, and haven't done so already, do that now. Add to taste.
Done!
Transfer your butter to your cute butter bell, butter dish, or wherever you like to store your butter. I usually keep the extra butter in a mason jar with a plastic lid in my refrigerator and refill my butter bell from it when I need to replenish.
Now go and slather that delicious goodness on a piece of fresh homemade sough dough bread. Bonus: If you are interested in learning how to make a sourdough starter from scratch, subscribe to our blog and you'll have access to the ebook as well as any future ebooks that we create. Enjoy!
What's your favorite thing to do with homemade butter?
I love butter on everything. Fresh sourdough bread, scones, roasted vegetables, you name it. As the late Julia Child used to say, "everything is better with butter." Couldn't agree more Julia, I couldn't agree more.
Do you have a favorite recipe using homemade butter you'd like to share? Please post in the comments section below. I'm always looking for new recipes to try.
Shared Recipes:
A couple of my lovely blogging friends have great recipes for homemade sourdough bread and how to make your own whole wheat flour. If you want to learn how to make a sourdough starter, subscribe to our blog, and claim your FREE ebook. Already have an active starter and want a delicious bread recipe? Check the links below.
Jayme from Faith and Family Farmhouse will show you how quick and easy it is to make your own flour to use for bread making and other recipes. You can find here how-to here.
Anja from Our Gabled Home has a delicious recipe for sourdough bread from scratch. You can find her recipe here.
Shop
Pin it!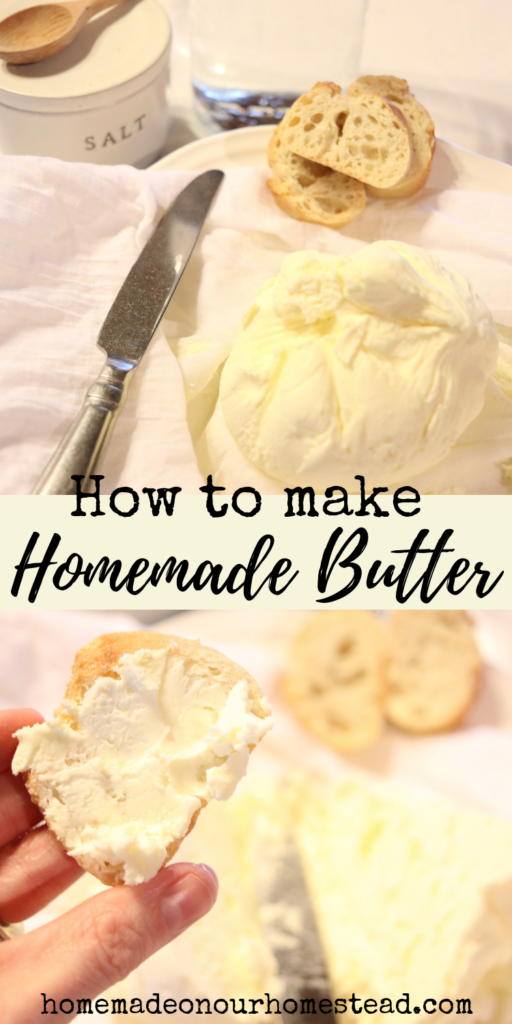 Enjoy!