Make your own hot chocolate mix with this simple and delicious recipe! Learn how to put together this simple cocoa recipe in under 10 minutes.
If you are wondering how to make your own homemade hot cocoa mix, I'll show you how step-by-step.
This recipe is so simple and it makes rich, creamy hot chocolate that everyone will love in minutes.
Homemade hot chocolate mixes also make a great handmade gift during the holidays for family, friends, and neighbors.
Grab your ingredients for this simple hot chocolate recipe and let's make something delicious together!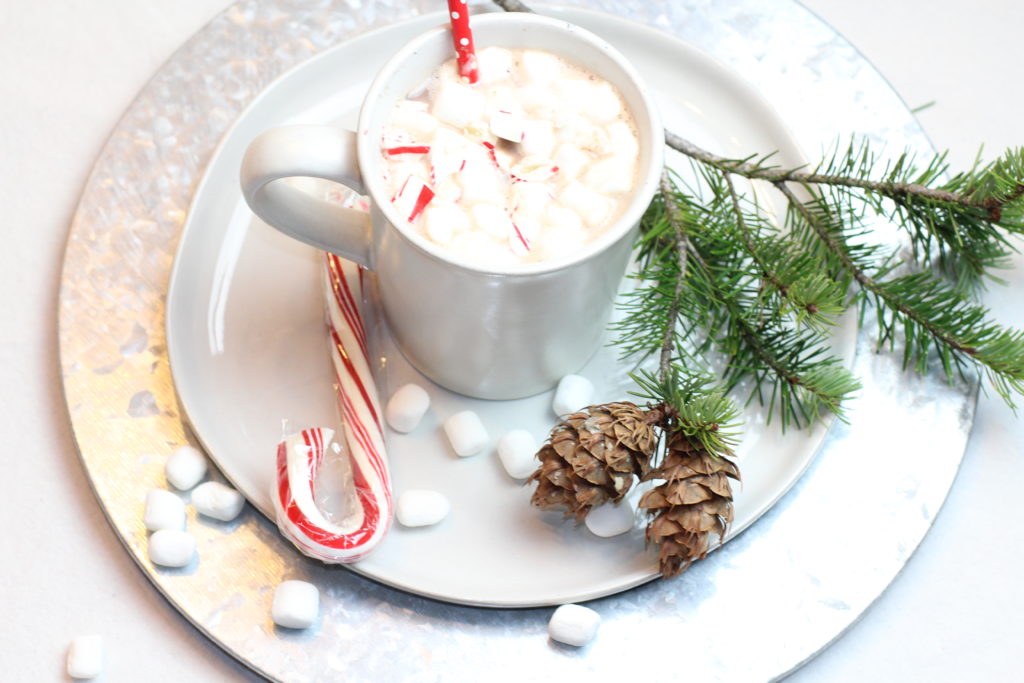 The story behind the hot cocoa mix recipe I'm sharing:
Welcome again dear friends and family to another homestead Christmas. This recipe is one I received from my sweet mother-in-law, Beth. She was kind enough to share the recipe that my husband and his three sisters have fond memories of enjoying while growing up. Many times over the last almost eight years of Mark and I's relationship, he has mentioned this recipe to me and how special it was to enjoy a cup after skiing or playing outside in the snow.
Beth learned of the recipe while living in Riverton, Wyoming (1973-1976). At the time, she only had two of her four children and did a lot of cooking from scratch. Later moving to Germany in 1976, she continued to make food from scratch for her family. Not being able to speak or understand German, she would encourage visitors to stop by and asked for basic cooking ingredients so she could keep up the food from scratch lifestyle to which her family had become accustomed to. All her children (Deidra, Amy, Michelle, and Mark) love this hot chocolate and thought it was great to dip their peanut butter toast in. The kids started calling the treat "dippy stuff" and that's what they still refer to it as today.
The Original hot cocoa recipe card: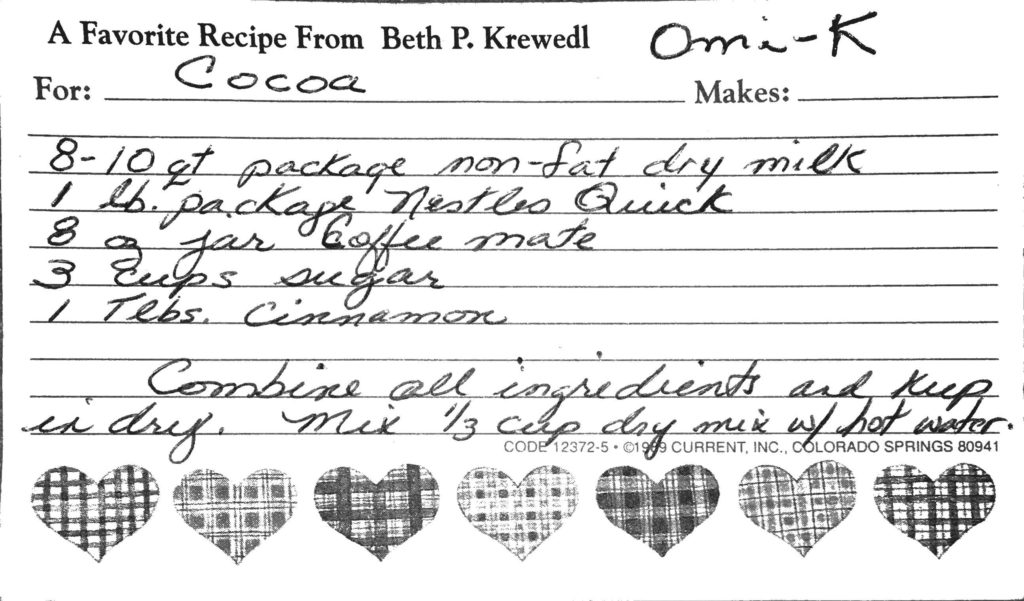 Ingredients:
**The amounts for the ingredients listed yields a LOT of hot chocolate mix. So, if you are only looking for a few cups to have and store, I'd recommend cutting the recipe in half or quarter it. I'd say the recipe (in full) listed above will give you about (36-38) 8 oz cups of hot chocolate. So it's perfect if you're looking to make as gifts as I did with this batch.**
(1) 35.3 oz container of Nestle Nesquick
(1) 10 quart box of non-fat (or regular) dry milk powder (usually found in the baking aisle)
8oz container of Original Coffee Mate powdered creamer
3 cups of sugar (can be omitted if you are looking to cut down on sugar content) still tastes just as good without it.
1 tablespoon cinnamon
mini marshmallows (optional)
1 candy cane (crushed-optional)
Extra items & ingredients needed to make the perfect little gift: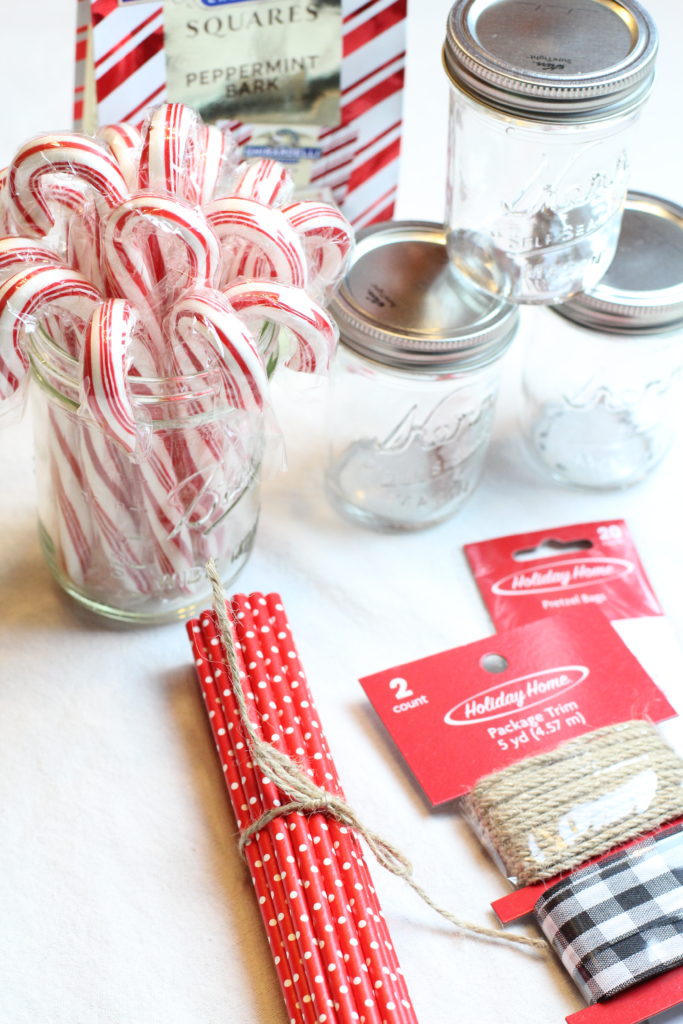 (12) Small Jars with lids (if making the entire batch as indicated).
(12)Biodegradable straws.
Twine or ribbon.
Gift tags.
Candy canes (optional).
(12) mini bags for straws and marshmallows.
1 bag peppermint bark chocolates (optional).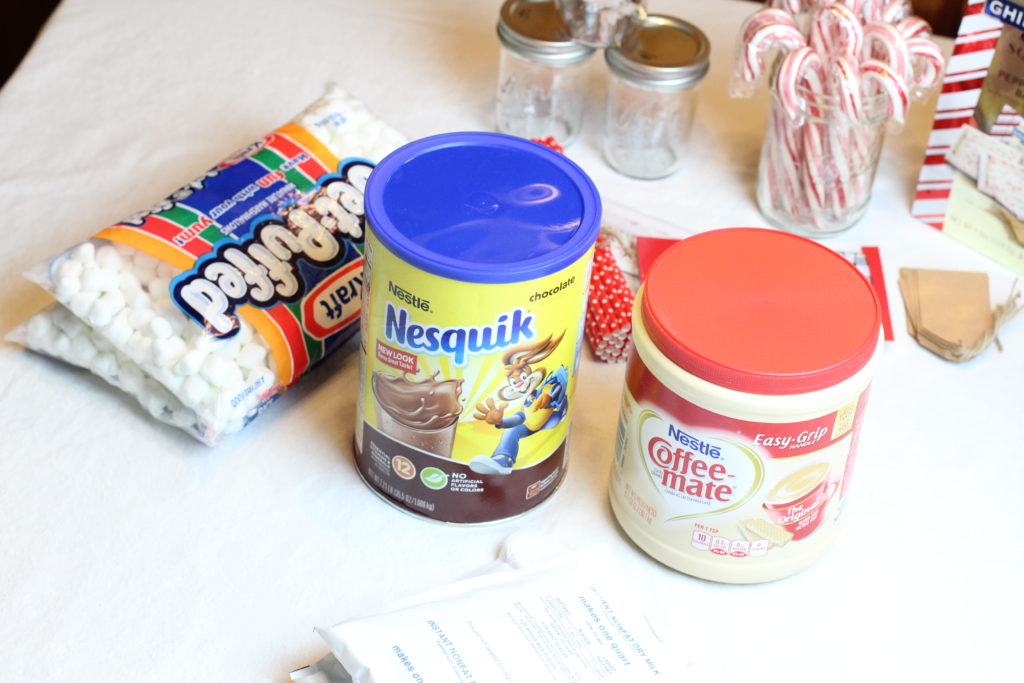 Directions for the homemade hot cocoa mix:
Add all dry ingredients to extra-large bowl.
Mix ingredients together.
Store in an airtight container.
Mix ⅓ cup (or more to taste) with 8 oz of warmed or water (whichever you prefer).
Add 1-2 drops (again, to taste) of peppermint essential oil if you prefer a mint hot chocolate. Make sure if you are going to do this, the EO you are using is of ingestible quality. Not all EO's are created equal. If you are uncertain about the use of EO, use some crushed up candy cane instead.
Top with marshmallows and serve with a delicious warm sugar cookie. You can find our most popular recipe for sugar cookies here.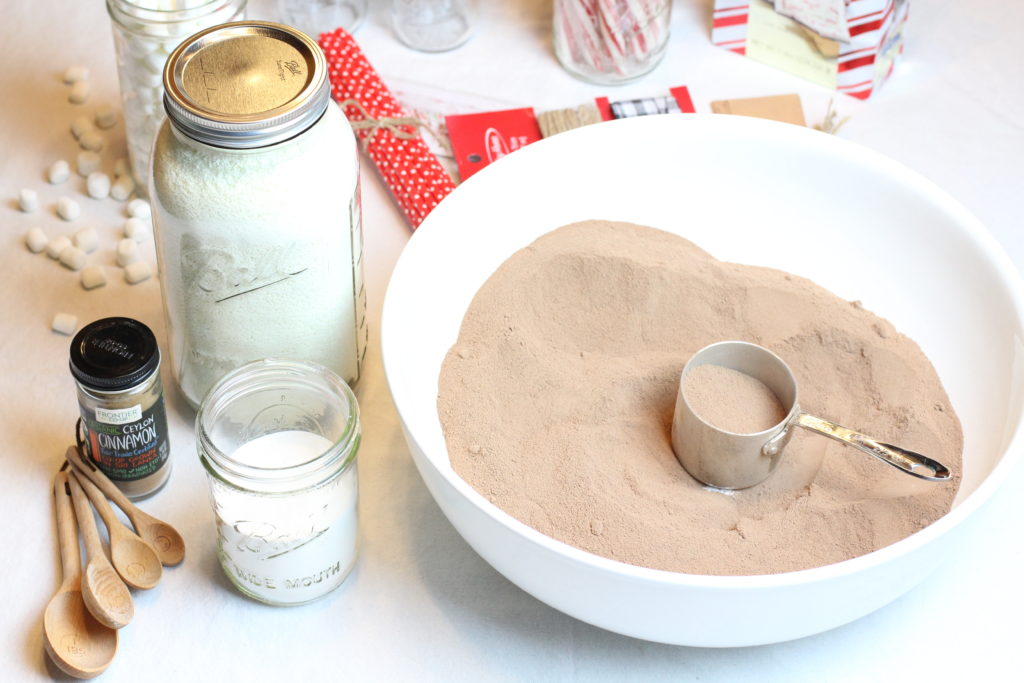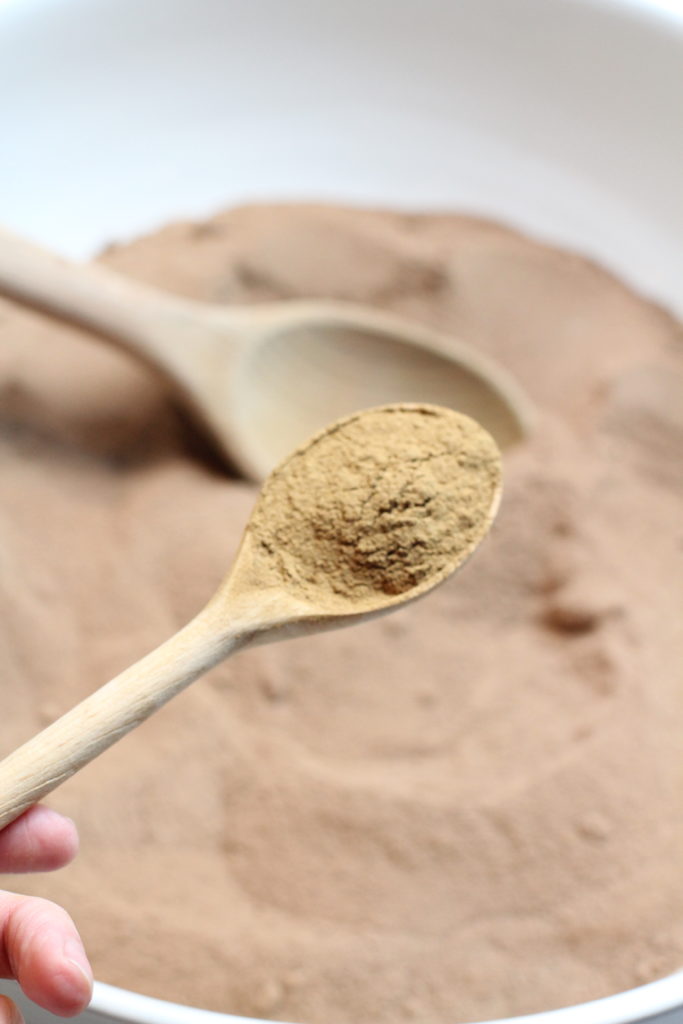 Ceylon cinnamon into the mix. Yum!
To make this homemade hot cocoa as a gift:
Pour hot chocolate dry mixture into jars (use whatever size jar you'd like to gift). The jars I used provided 2 servings in each. I used these ones.
Put mini marshmallows, biodegradable straws and any extra treats you'd like to include into mini paper bags or cellophane treat bags and tie the top closed with ribbon or twine of choice.
Attach gift tag (with directions for milk/water to hot chocolate ratio) and candy cane to bag containing marshmallows and other goodies.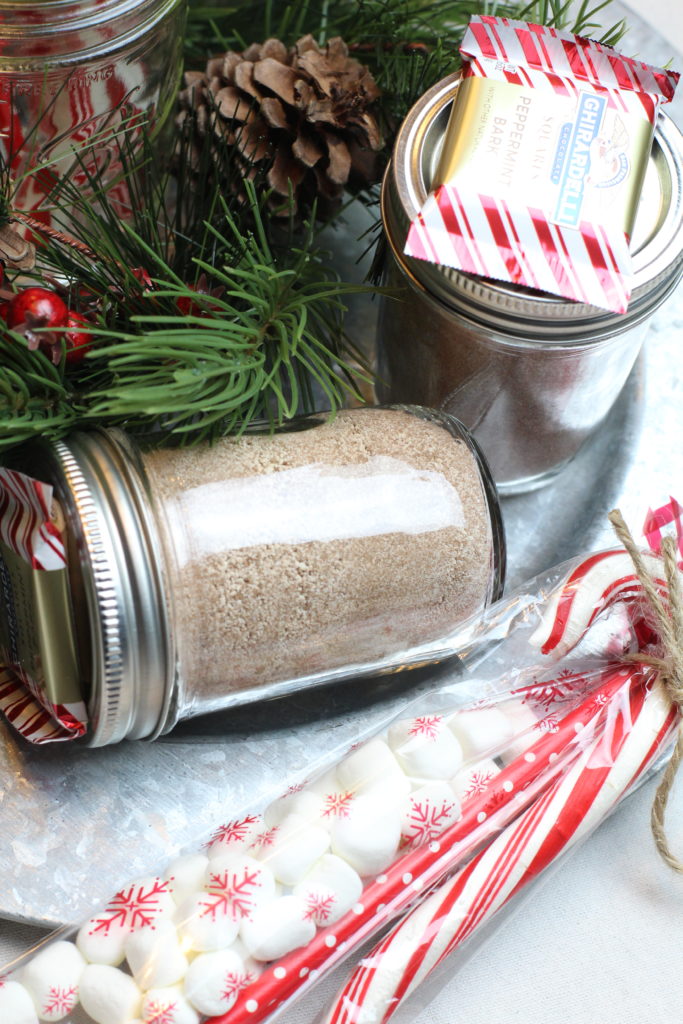 What's your favorite homemade hot cocoa mix recipe?
We always love to hear the stories of other family/friends and recipes that have become a family favorite or tradition. Feel free to share with us as well as the story that's behind it (if there is one). Share in the comment section below! If you have a recipe similar to the one above, please share your variation as well.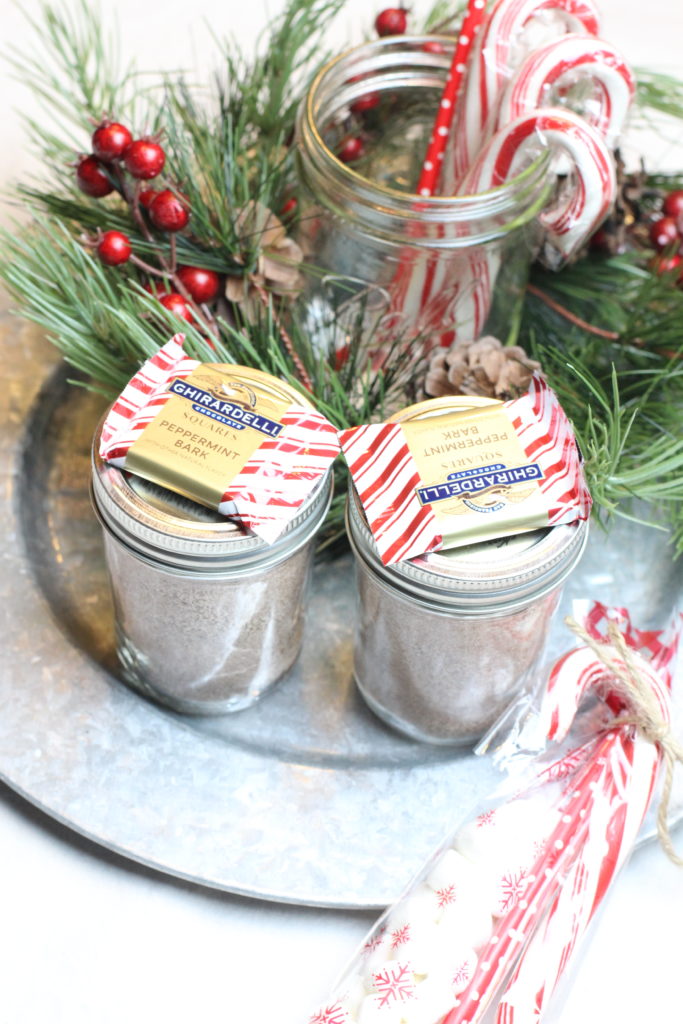 Shop for miscellaneous items used in this post:
Disclosure: Some of the links below are affiliate links, meaning, at no additional cost to you, I will earn a commission if you click through and make a purchase.
Print Recipe: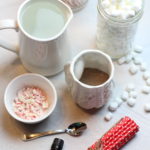 Omi K's Hot Chocolate Mix: A family recipe since 1973
Ingredients
10

quart

box of non-fat powdered milk

(usually found in the baking aisle of most grocery stores)

35.3

ounce

container Nestle Nesquick Mix

(2 lb)

8

oz

container original coffee mate powdered creamer

(usually in the coffee aisle)

3

cups

sugar

(can be omitted-tastes just as good without it)

1

tablespoon

cinnamon

10-15

mini marshmallows

(optional)

1

candy cane

(crushed into to small bits-optional)

8

oz

hot water or hot milk

(its your choice-both work great)
Instructions
1. Mix all dry ingredients together in extra large bowl.

2. When ready to serve, mix ⅓ cup dry hot chocolate mix with 8oz hot water or hot milk (its personal preference).

3. Top with mini marshmallows and crushed candy cane.

****If mixing full batch, you'll have roughly 36-38 servings. Great gift idea for stocking stuffers, gifts for friends or teachers.****
Pin it for later: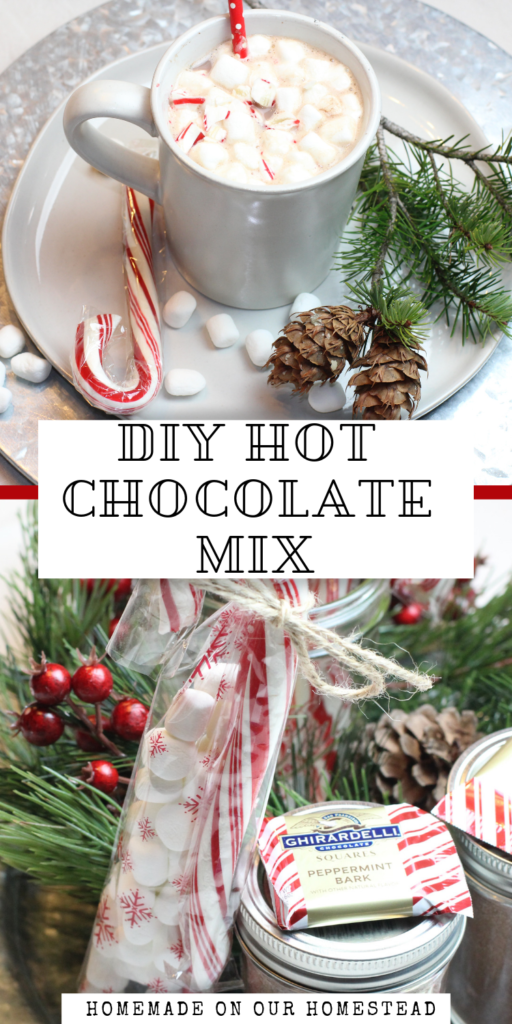 Enjoy. Happy holidays!