How to sew a face mask- FREE mask pattern
Learn how to sew a face mask with this free mask pattern and video tutorial.
We are currently facing a situation in which we have never experienced before.
Times are challenging and hospitals are experiencing severe shortages in equipment. There simply isn't enough PPE (personal protective equipment) to go around. Medical staff are being asked to reuse things like gowns and masks they need to safely care for patients.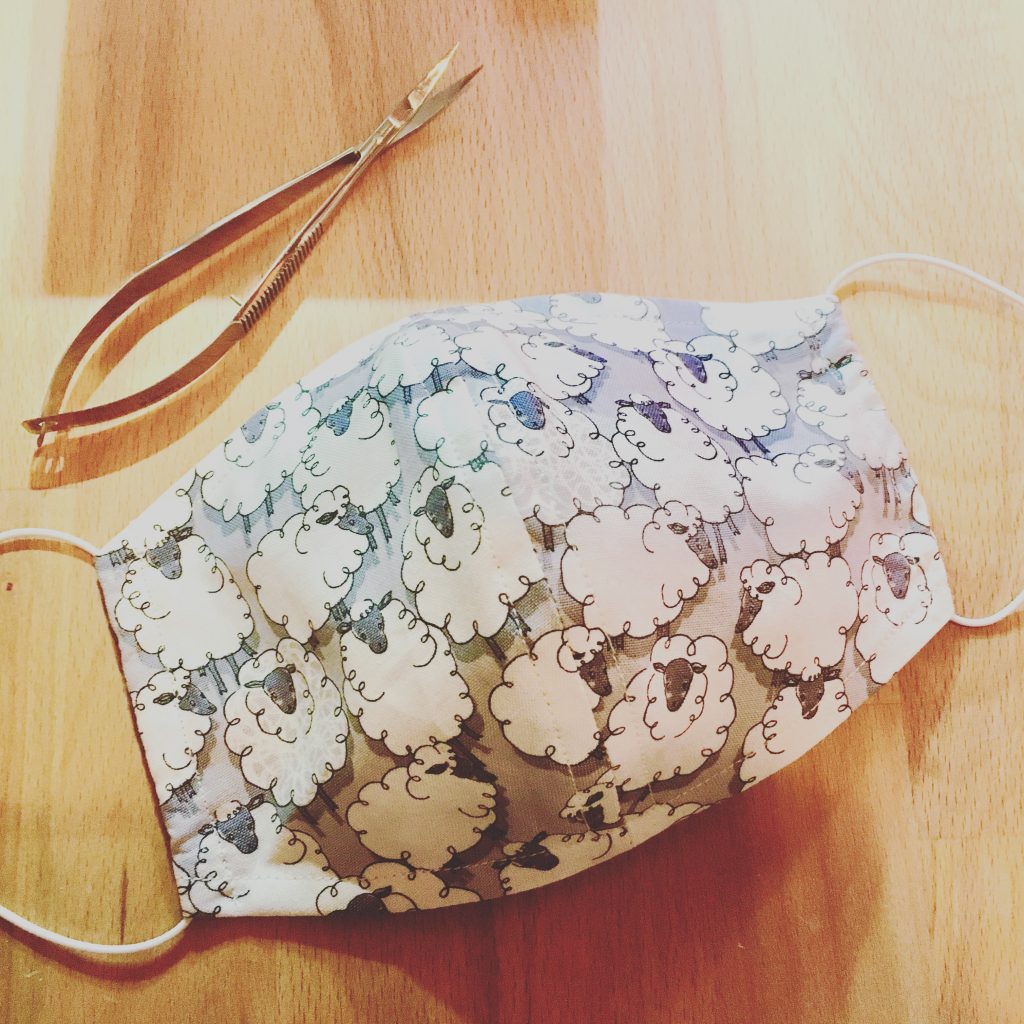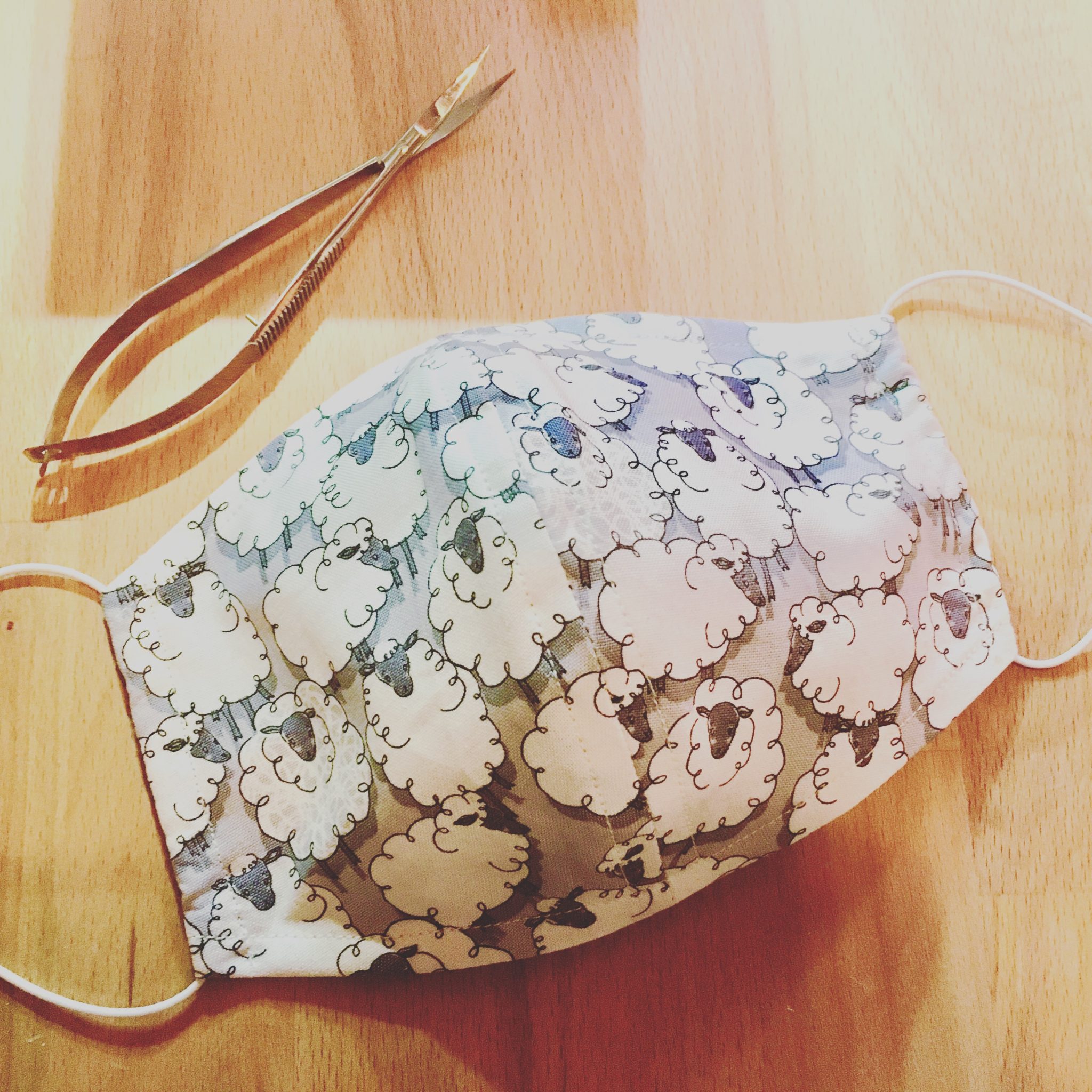 Most of these items are intended for single use. However, due to the national shortage of the n95 masks, gloves and gowns, doctors, nurses and other hospital staff are being asked to re-use these items. Reusing these items is putting healthcare worker at risk. Because of this severe shortage, hospitals have turned to those of us who sew and asked for help. Here is a quick and simple sewing tutorial to make a face mask. If you have time and resources, please consider making a few and donating to a local hospital or assisted living facility.
If you have the time to sew some masks but don't have the resources, contact your local hospital. Because of this COVID-19 pandemic some hospitals are giving out supply kits to those wanting to help. Any donation, great or small is deeply appreciated from those on the front lines of healthcare. This is how I'm able to contribute and do my part right now.
*disclaimer: some of the links in this post are affiliate links. You can read my full disclosure here.
[yotuwp type="videos" id="3ZMC3Yr_zOY" ]
Before you get started, make sure you print off a copy of your mask pattern. Link below.

After you have printed off your pattern, read through the pattern notes that are attached, then cut out your mask pattern piece. No need to leave a seam allowance around the outside of the mask-it's been added in-so just cut along the lines of the pattern.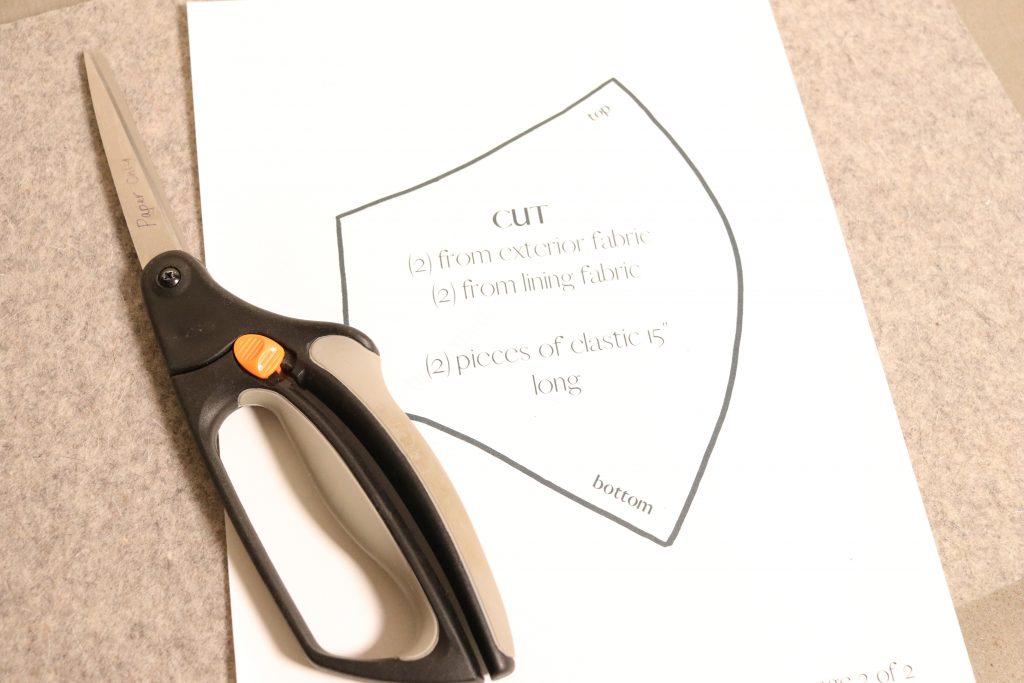 After you've cut out your pattern piece, it's time to get your fabric ready.
It's important to wash, dry and iron the fabric you're going to be using before you cut out your pieces. This will be ensure that your mask doesn't shrink after it's been worn and then washed.
For this pattern you can use a variety of fabrics.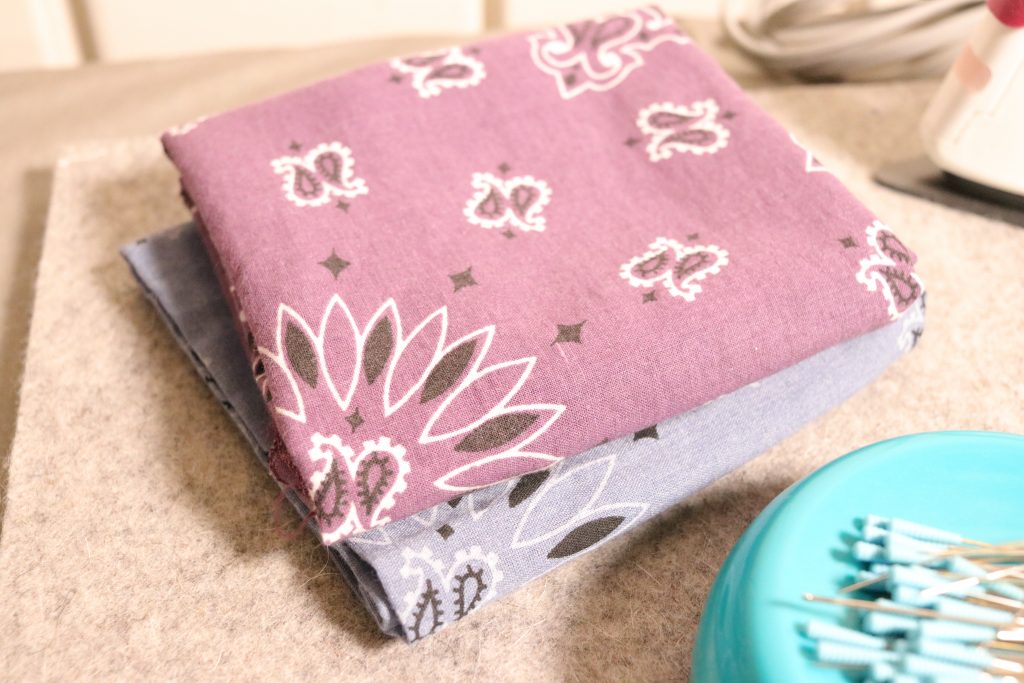 100% cotton drop cloth. It will need to be washed at least twice first and you can also bleach it if you want a more white fabric. This will give you a lot of fabric for around $12.00. The one I like for all my projects is this one.
This is a great project to repurpose old scrubs if you're a healthcare professional.
If your don't have old scrubs laying around, you can also repurpose old tee shirts too.
Whatever fabric you decide to use, you just want to make sure it's a breathable material since you'll have this covering your mouth and nose.
It's time to cut your fabric. But first, let's make sure you have everything you're going to need to complete your project.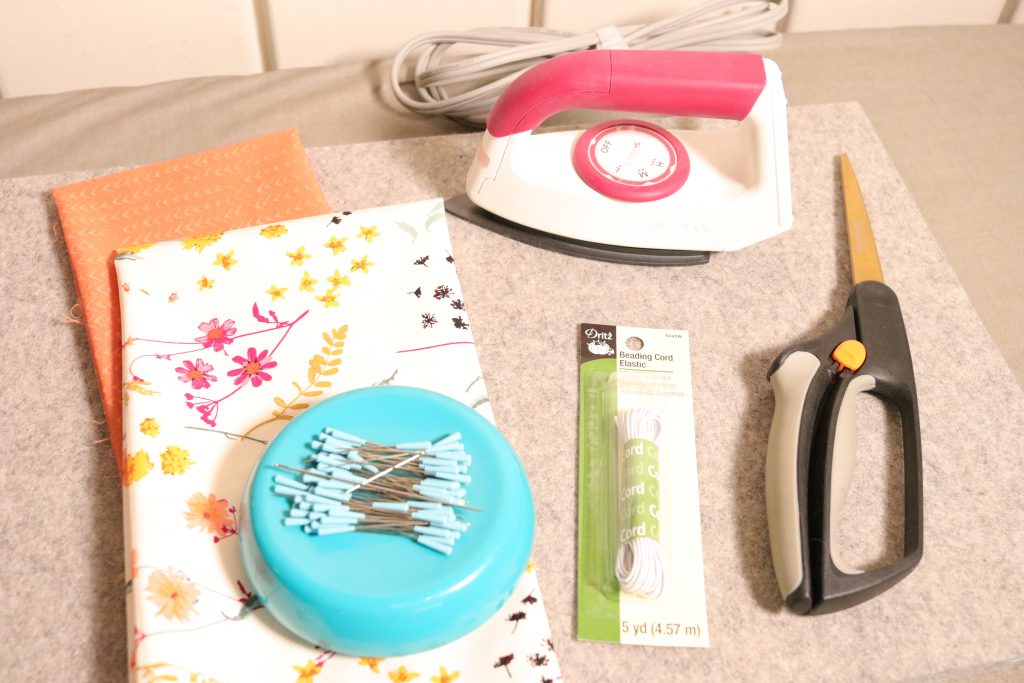 An iron to press your seams open
Pins and pin cushion. I adore this magnetic one I have.
Fabric (see suggestions above)
1/4″ elastic also works well if cording isn't available.
Because of the short supply of masks available in hospitals, many people have taken to making them and donating them, leaving a short supply of things like the elastic cording. If you aren't able to find elastic beading cord on amazon, check your local craft store. You can usually find this in the beading section and or sewing section.
If you still aren't having any luck, you can also use hair ties like these ones. You may need to extend out the end of the pattern a bit to be able to use these, but its a great alternative if nothing else is available.
You can also use drawstring cording that you can tie, larger diameter shoes laces work well too. Bias tape is easy to come by and comes in a variety of colors. This will allow you to make the ties in any size and color you like to coordinate with your masks. So there is other options if you can't find elastic.
It's cutting time!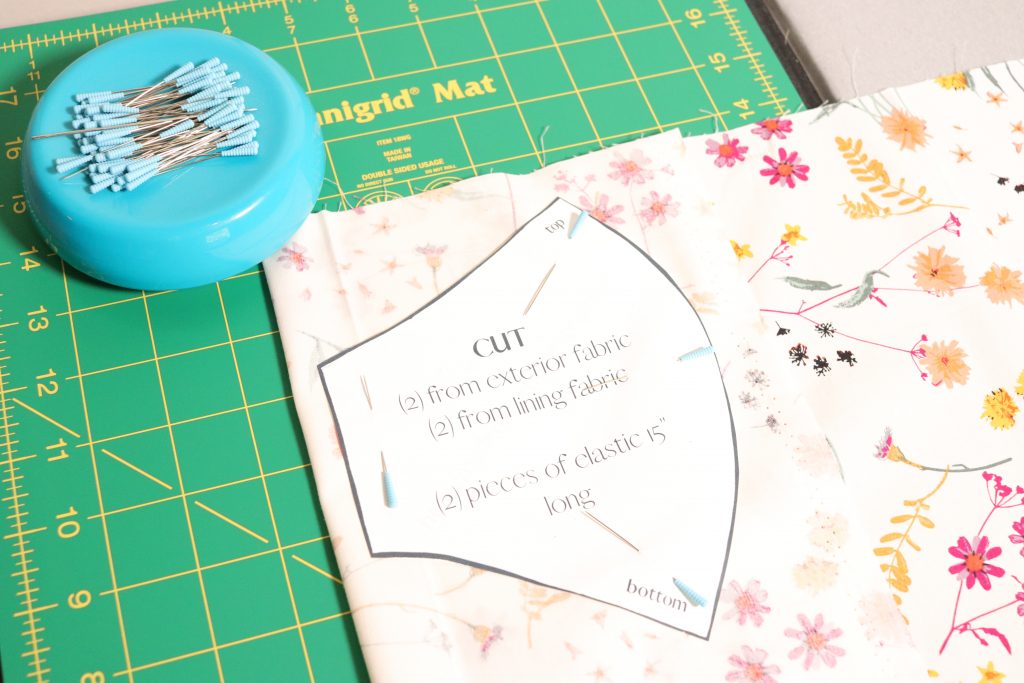 Fold your fabrics so they are double thickness. This will make it so you can cut once and then sew, instead of having to cut the pattern out four separate times. Fold the exterior fabric in half and do the same for the lining fabric. After you have done this, lay the fabrics onto of one another and pin your pattern piece on. Then cut out your pieces.
Remove your pattern from your fabric, and make the TOP of your pattern pieces. This will make a difference when it comes to piecing them together. You can do this with a fabric pen, a chalk pencil, or simply place a sewing pin along the top of each piece. After these have been stitched together, you can get rid of the pins or markings. These pens are my favorite to use and the best part? They iron off!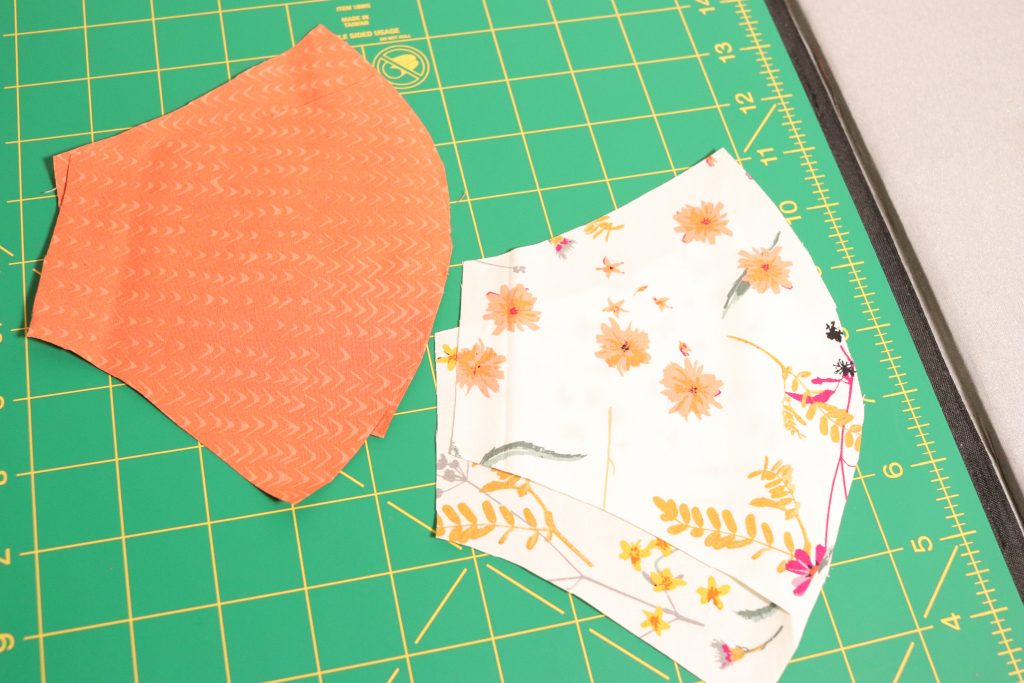 3. So you should have 4 pieces (total) cut from your exterior (outer fabric that you'll see) and the interior fabric (lining). Two pieces of each-as indicated on the directions.
4. Place your (2) matching exterior pieces RST (right sides together). This just means that you want the pretty side of the fabric you'll see when you're wearing your mask, facing each other when you sew them together. In sewing terms, RST may be what you see on a pattern in the future.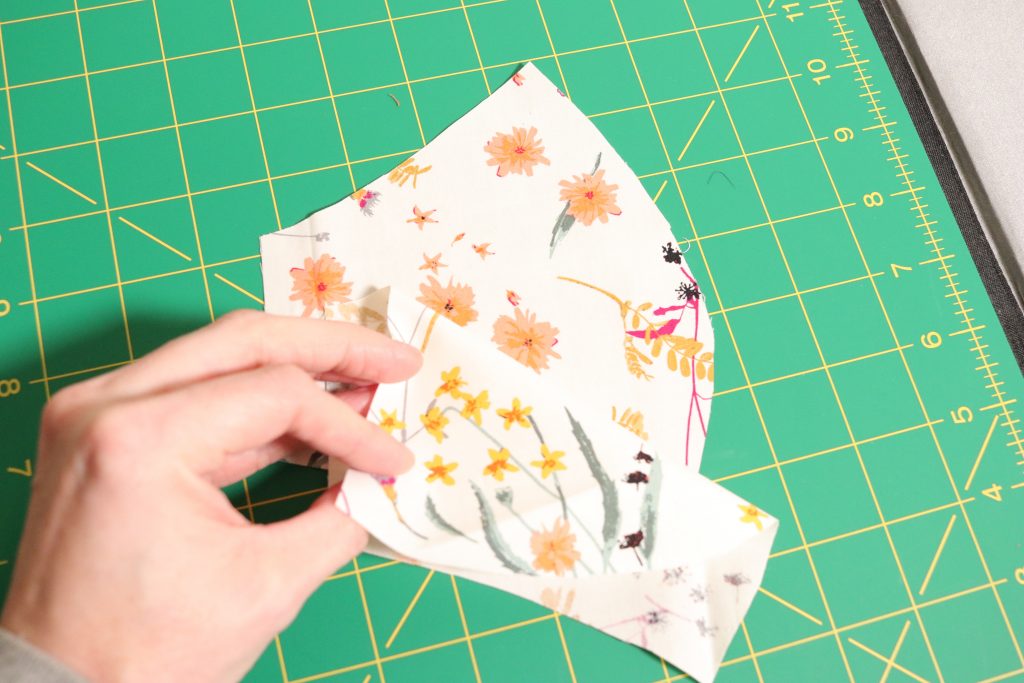 5. Do the same thing for the (2) lining pieces as well.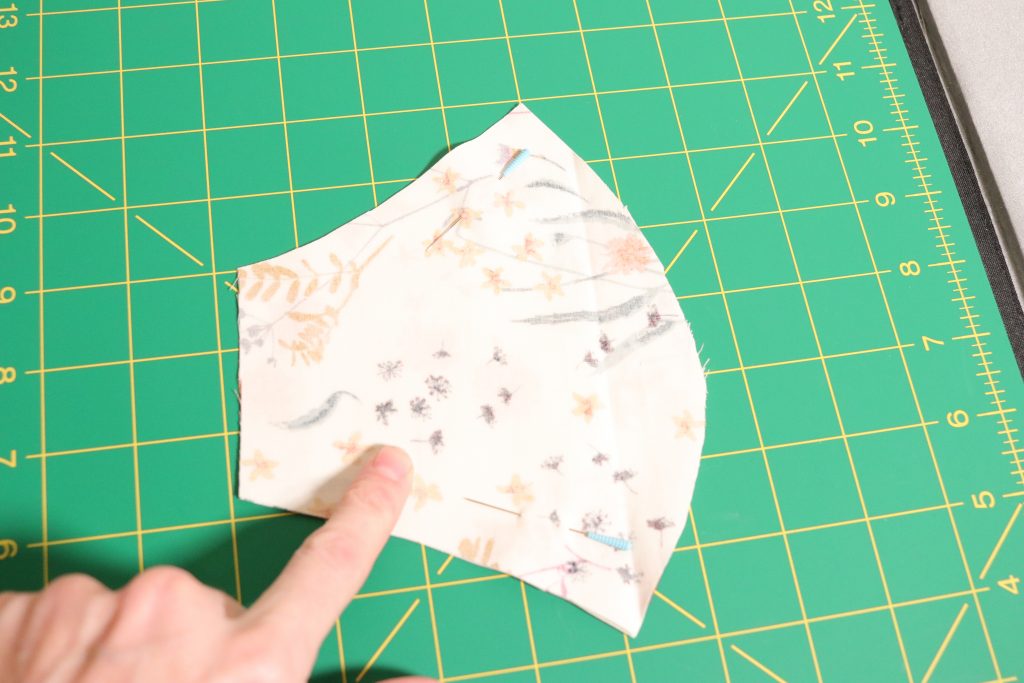 Turn on your iron. After you sew the first seams, you're going to press. So it's a good time to get your iron ready to use.
6. For this project you're going to be using a 1/4″ seam allowance. If you have a machine that came with specialty feet, put your 1/4″ on your machine. Consult your manual that came with your machine if you are unsure. If you are using a machine that has that option digitally, change it now.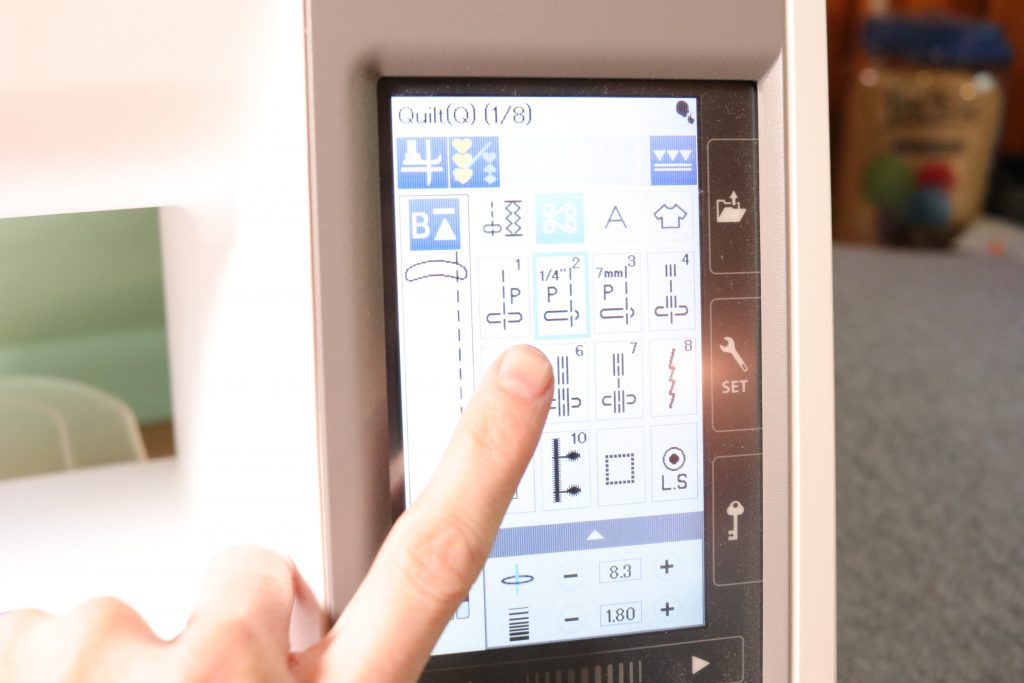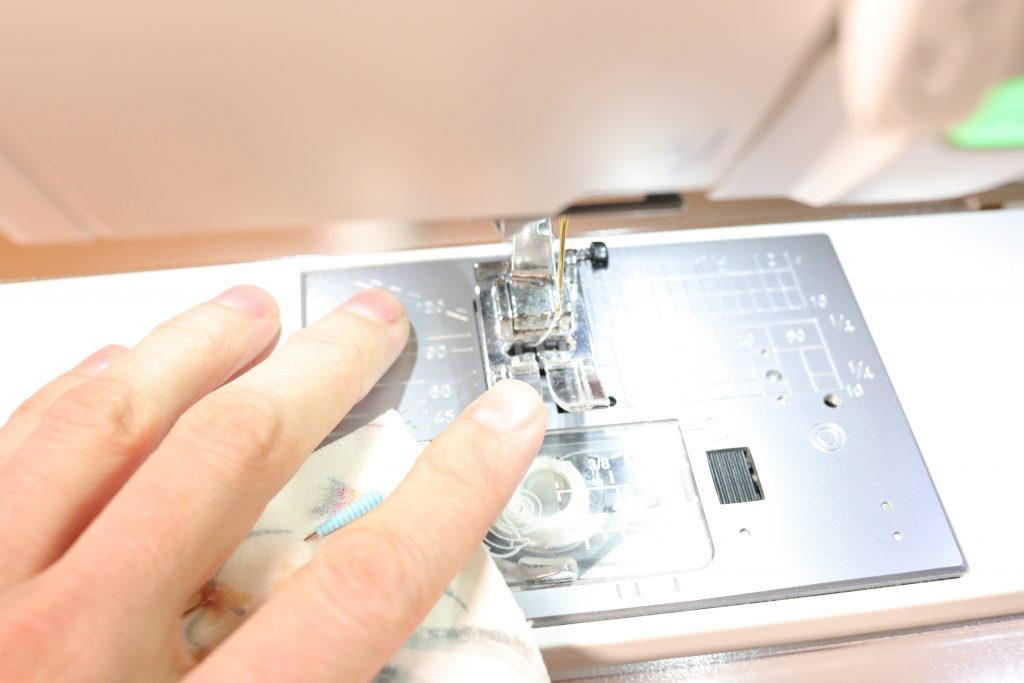 7. Place the (2) exterior pieces of your mask that are RST under your machine presser foot and put the foot down into sewing position.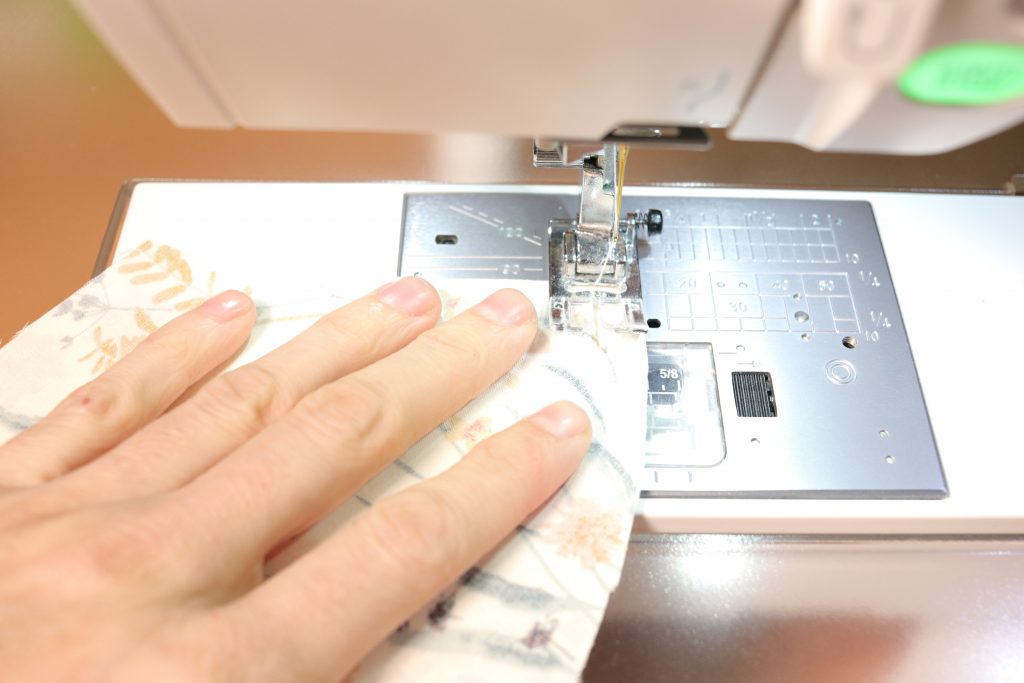 8. Backstitch at the beginning and end of each line of stitching. This reinforces the line of stitching and it will hold up better long term.
9. Sew from the top to the bottom along the curved edge.
10. Repeat step 9 for the (2) interior pieces of your mask as well.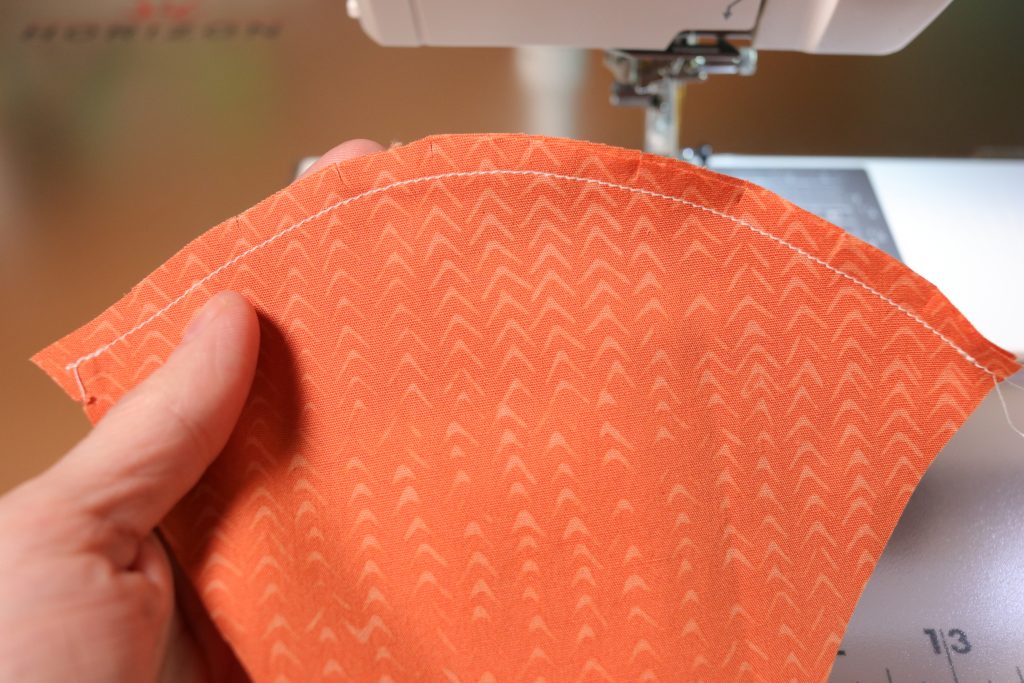 11. After you have sewn the exterior pieces and interior pieces together (you should now have 2 pieces of material instead of 4), you need to ease the seam. This just means that you make tiny "snips" or cuts into the fabric along the curved edge. This helps the seam to lay nice and flat when you press it open. You don't have to do this step if you are afraid you may accidentally cut through the stitching. It's just something I always do.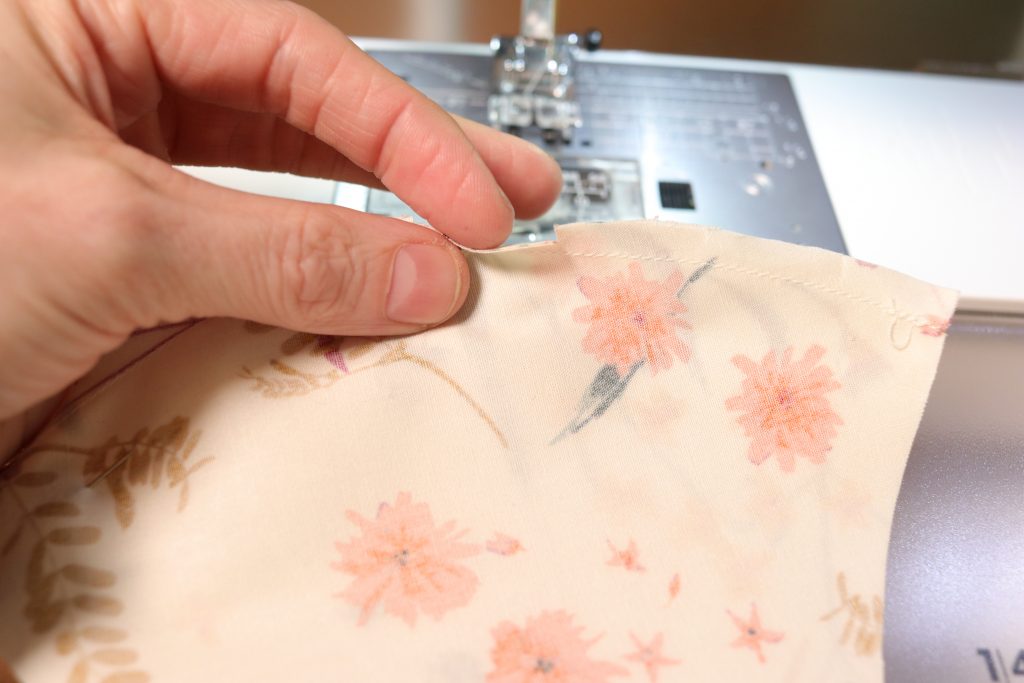 12. Next you're going to press these (2) seams down the center of each of your pieces open. This will help your masks to lay nice and flat. If you don't have an iron, you can finger press them open. This just means using the heat from your fingers to press them open instead of using an iron.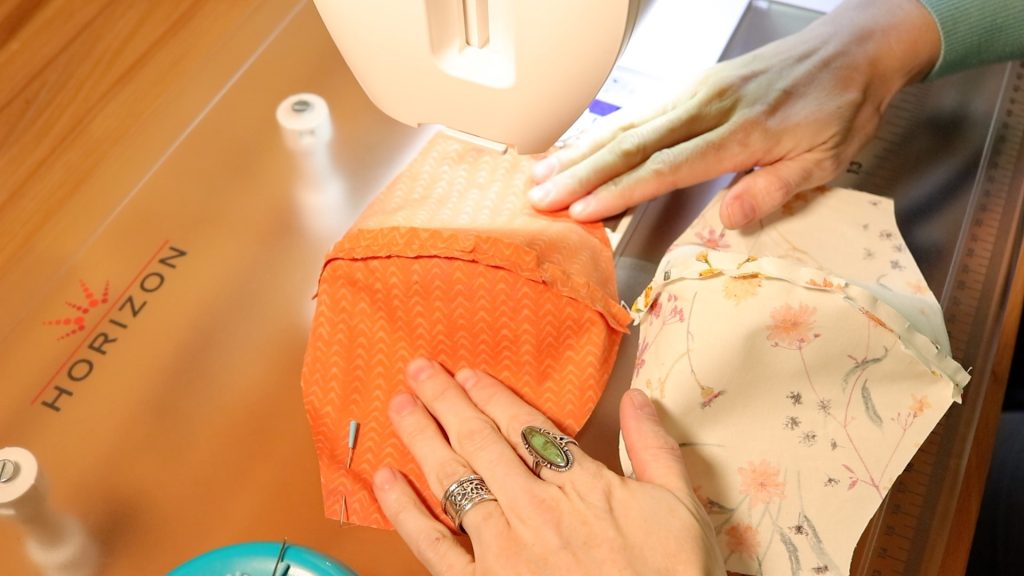 13. After you have pressed your seams open, You're going to place your two pieces RST (right sides together) to sew them together.
NOTES:
Make sure that you place the "tops" of each piece together. It makes sewing them together so much easier.
You also want to make sure that the center seams are lined up on the top.
Sewing your mask together.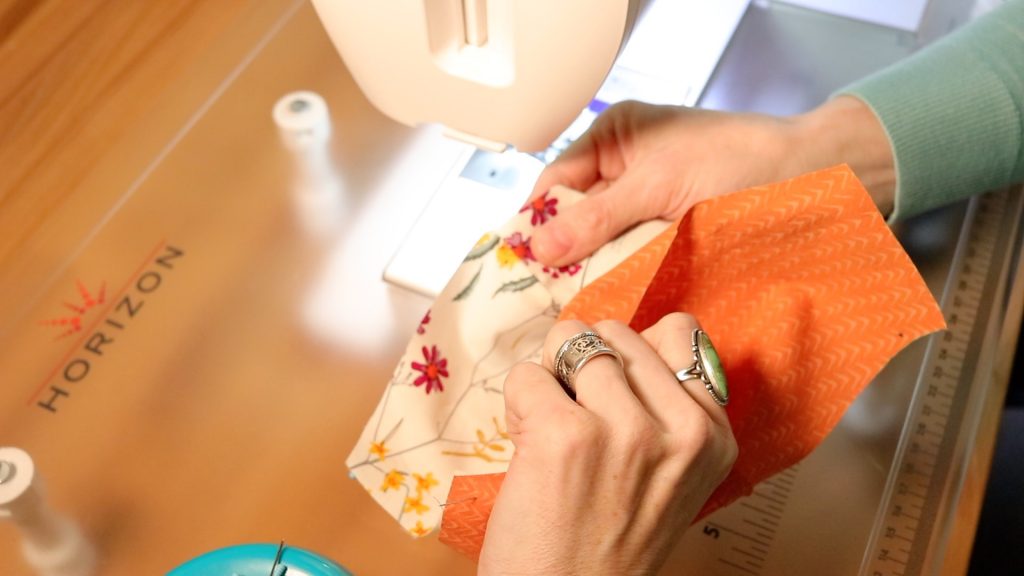 14. Pin along the top and bottom edge of the mask. You're going to sew a 1/4″ seam along each side. DO NOT SEW THE SIDES CLOSED-you need these open to turn your mask when you are done.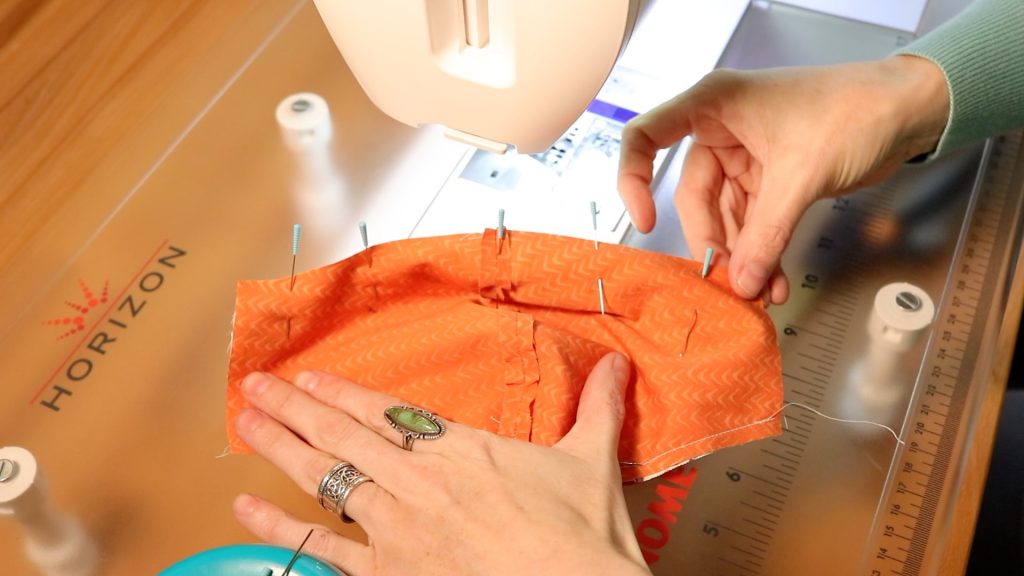 15. After you have sewn both sides, ease the seam around the curved areas to allow your mask to lay flat the we turn it.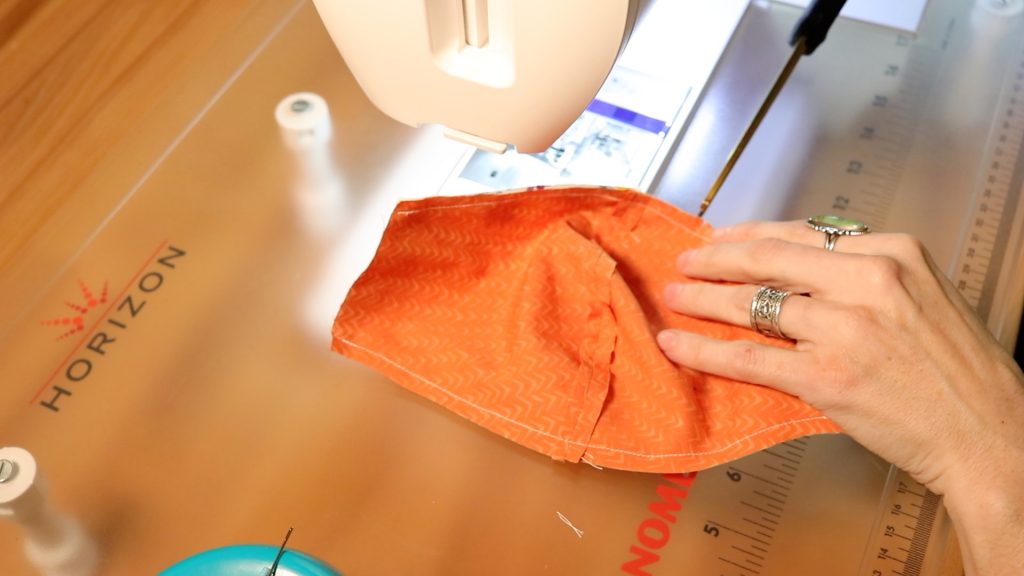 Now it's time to turn your mask RSO (right side out).
16. This part looks a bit messy, but it goes quick and you'll iron it nicely when you are finished. Using one of the ends you left open, slowly begin to push your mask inside out.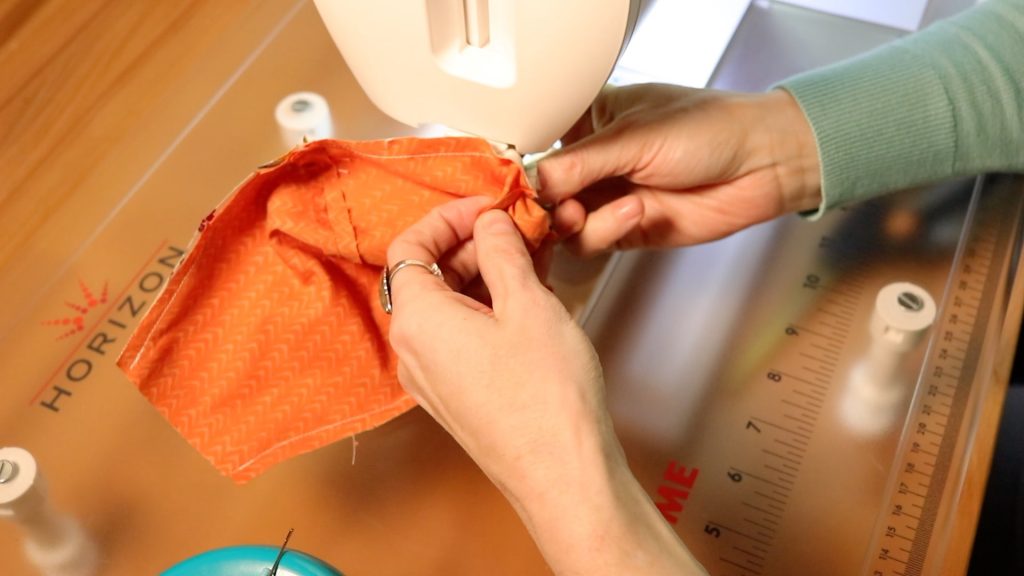 17. Now you should have the pretty side facing out and all the seams on the inside where you can't see them.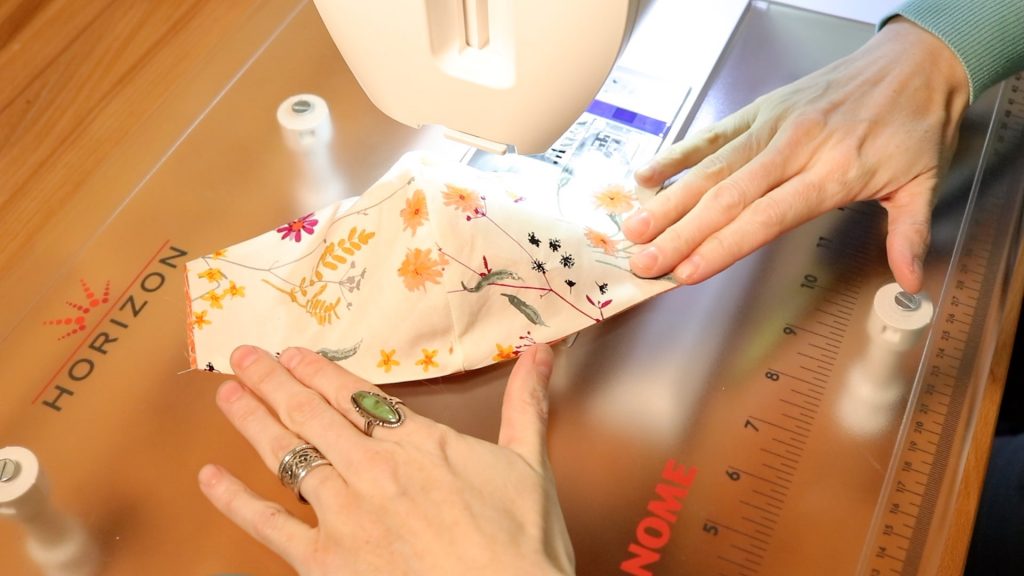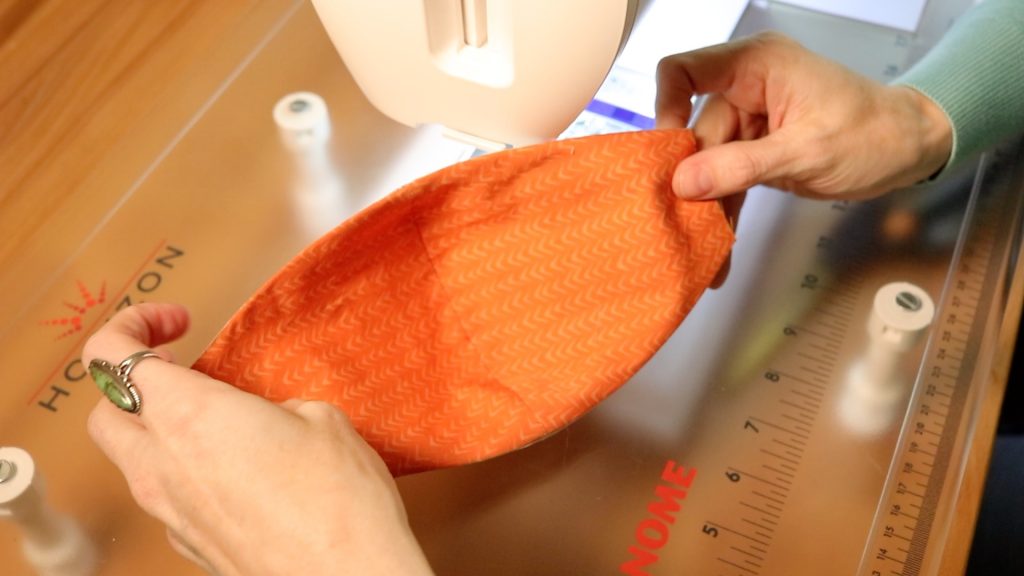 Press along the top and bottom edge of your mask once you have turned it inside out. This will make sure you're seams are nice and flat before topstitching.
18. Again using a 1/4″ seam, topstitch the top of the mask and along the bottom of the mask. I also prefer to top stitch down the center seam of the mask too. This just keeps everything together and flat when you wash them. You don't have to do this step, but it looks more polished when it's done.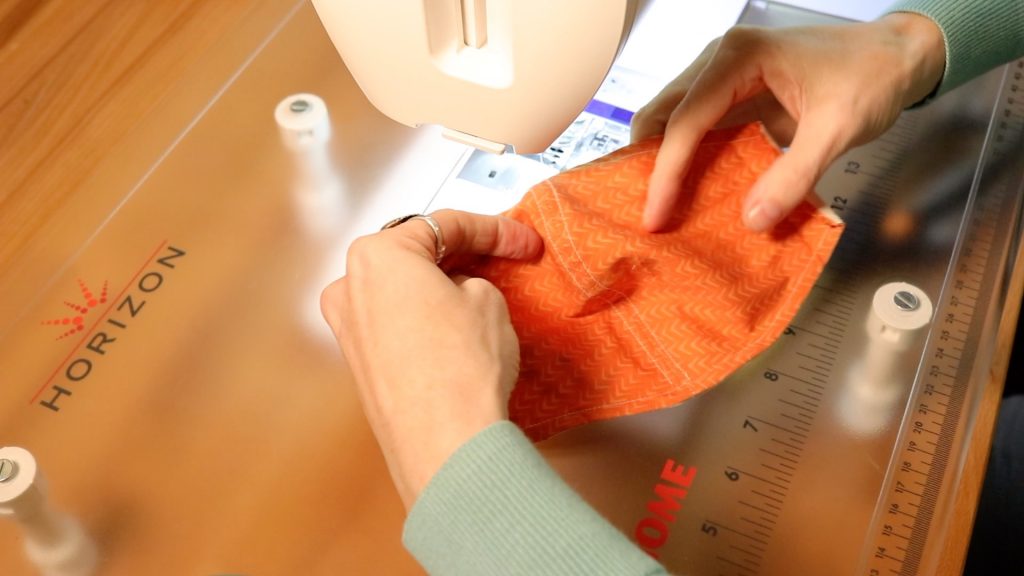 19. Cut (2) elastic pieces 15″ long.
Last steps, you're almost done!
20. Starting on one side of your mask. Fold in and press 1/4″ or so.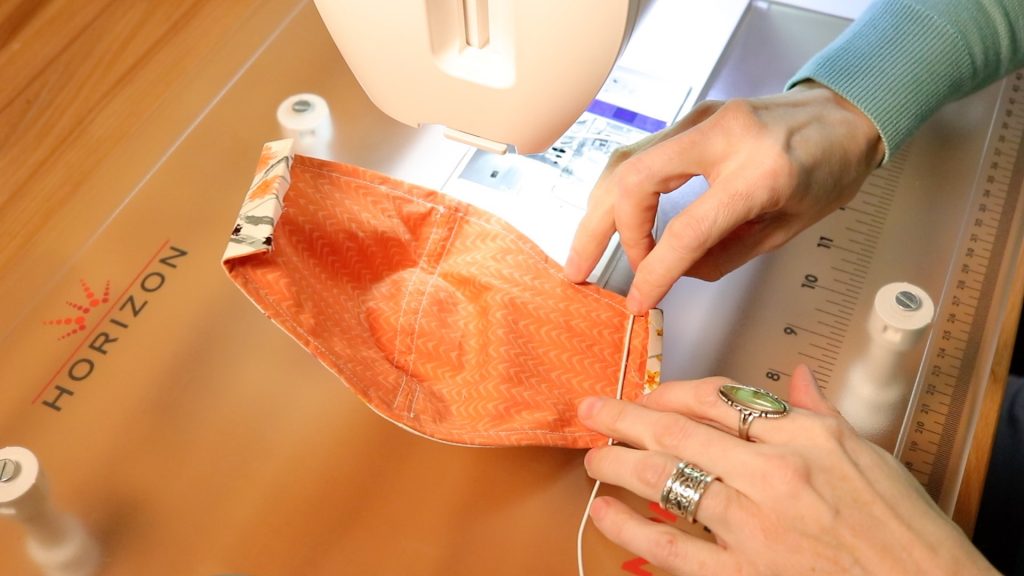 21. Then fold again 1/2″ and press. This will encase the elastic and hide the raw edge of the fabric.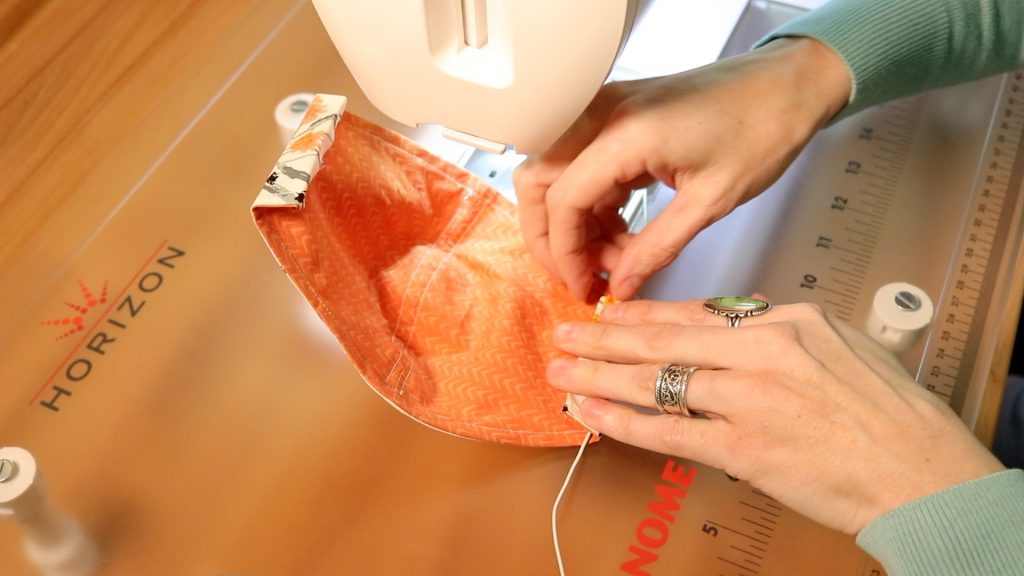 22. Lay your elastic piece into the ironed seam, and topstitch along the edge. The elastic piece should be able to slide freely through this hole. If the elastic over time becomes weak or breaks, it's easily replaceable. Again, if you can't get elastic cording, you can use bias tape to make ties, 1/4″ elastic also works, or hair ties.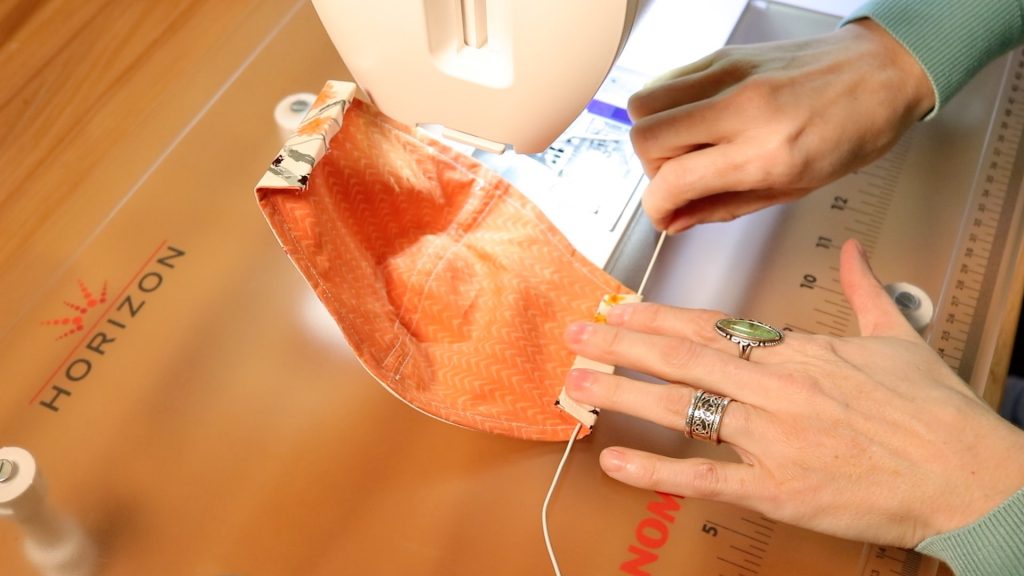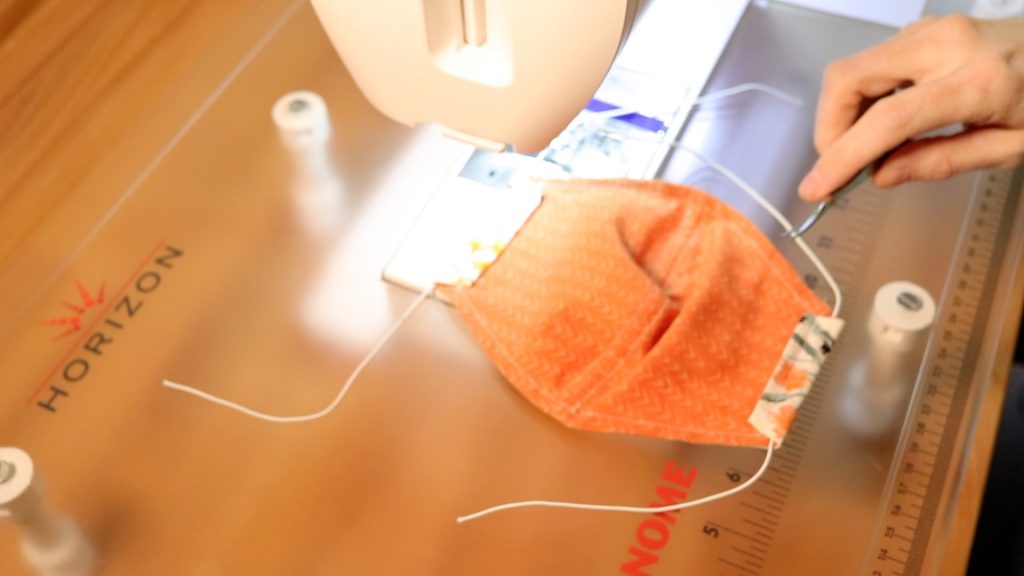 23.
You've now finished sewing a face mask. Make sure to leave the elastic pieces long so they can be adjusted when being fitted. once the correct size has been achieved, tie a really tight double knot. Cut the excess elastic, and pull the knot so its incased in the side seam.
To those of you who are sewing these for healthcare workers during the COVID-19 crisis, thank you so much. Your work and dedication to helping us out during this difficult time is really appreciated.
-Brie RN
How to make a face mask | DIY reusable mask sewing tutorial is also available HERE if you prefer video format. Enjoy!
Pin for later: