Learn how to make a mask without a sewing machine.
Why a tee shirt face mask?
Making a quick face mask without a sewing machine makes its super simple to get a homemade face mask in a pinch.
Is a tee-shirt face mask washable?
Absolutely! Because you are re-purposing an old tee shirt this mask is totally washable and reusable.
Is this simple no-sew face mask comfortable?
Because this face mask is seamless and made from a tee shirt, it is really comfortable, stretchy and breathable.
Is there a filter in the mask made without a sewing machine?
I designed this mask specifically to be able to add filter material if you'd like. Just remove the filter and discard before washing.
Is there a nose wire in the no-sew face mask?
You do have the option to add a simple pipe-cleaner wire to the nose area if you prefer a more fitted mask to this area. Honestly I felt like because of the material this mask is made from, it didn't really need a wire. But if you prefer a nose wire you could definitely add one in the filter pocket area.
Are there kids' mask templates for this style of mask as well?
Because this mask is made from a repurposed tee-shirt, it's super simple to make this mask work for a child as well. Before you place the loops over the ears, give it a simple twist first. This will make the mask a bit smaller so it can fit a small child/toddler's face more comfortably.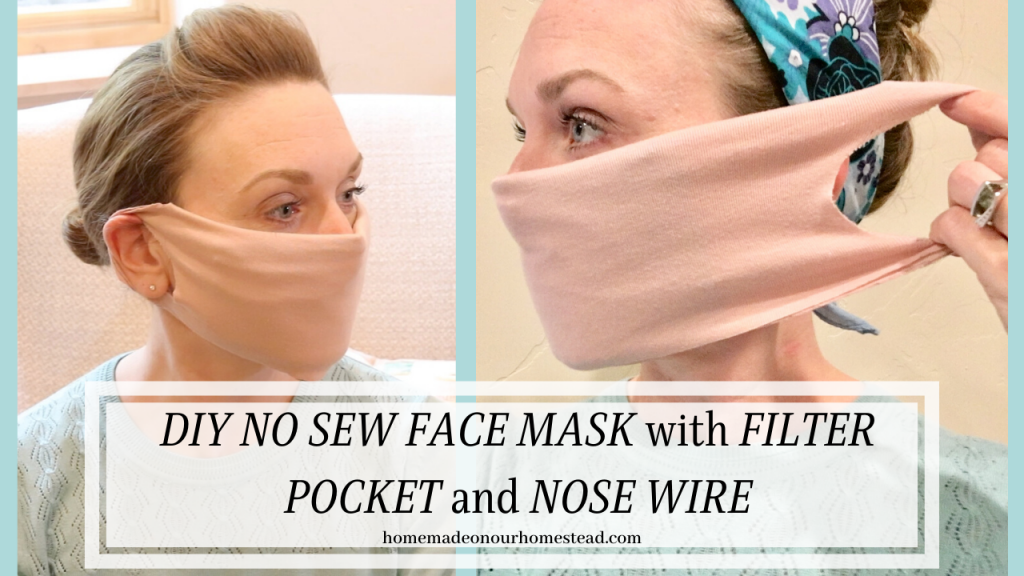 * some of these links are affiliate links. This simply means that if you clink in a link and make a purchase, I may receive a small commission at NO EXTRA COST to you. As an Amazon affiliate, I earn from qualifying purchases*
Shop this mask without a machine post:
tee-shirts for mask (you can also re-purpose old teeshirts you may already have at home)
Looking for more FREE fabric face mask sewing patterns?
Check out the link below for more options of face masks. Not all of the masks below are no-sew face masks. However, most of the masks have filter pocket are are offered as FREE FACE MASK PATTERN PDF TEMPLATES.
If you go to the "search" bar on the homepage of this website, you can use the search term "face masks" and you'll be able to see all the tutorials I have done here. Again, all of these are free and no email sign up is required.
[embedyt] https://www.youtube.com/embed?listType=playlist&list=PLnoEoUIyTFp9AF8tY9T0YvKP0JdcjhUXw&layout=gallery[/embedyt]
FREE face mask pattern pdf's available on this website.
Video of how to make a mask without a sewing machine
[embedyt] https://www.youtube.com/watch?v=A43g4KBAEa4[/embedyt]
Pin it for later: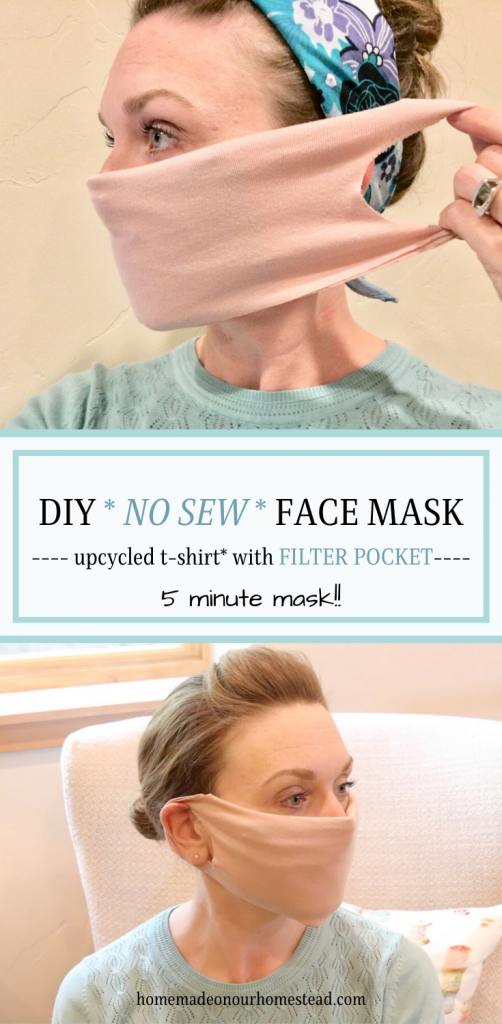 If you have any questions about this mask or any other FREE mask templates I offer, feel free to comment below.