How to Make a Designer Inspired Hobo Sling Bag
Learn how to make a designer-inspired hobo sling bag with this FREE SEWING PATTERN and step-by-step sew-along tutorial.
Have you ever seen a bag and instantly fell in love? Well, that's how I felt when I saw the Bando bag by Clare V. But guess what? At the time of this publishing this blog post, it has officially sold out-again! Cue the tears.
So here we are. Attempting to re-recreate this designer inspired handbag with a bit of that DIY style.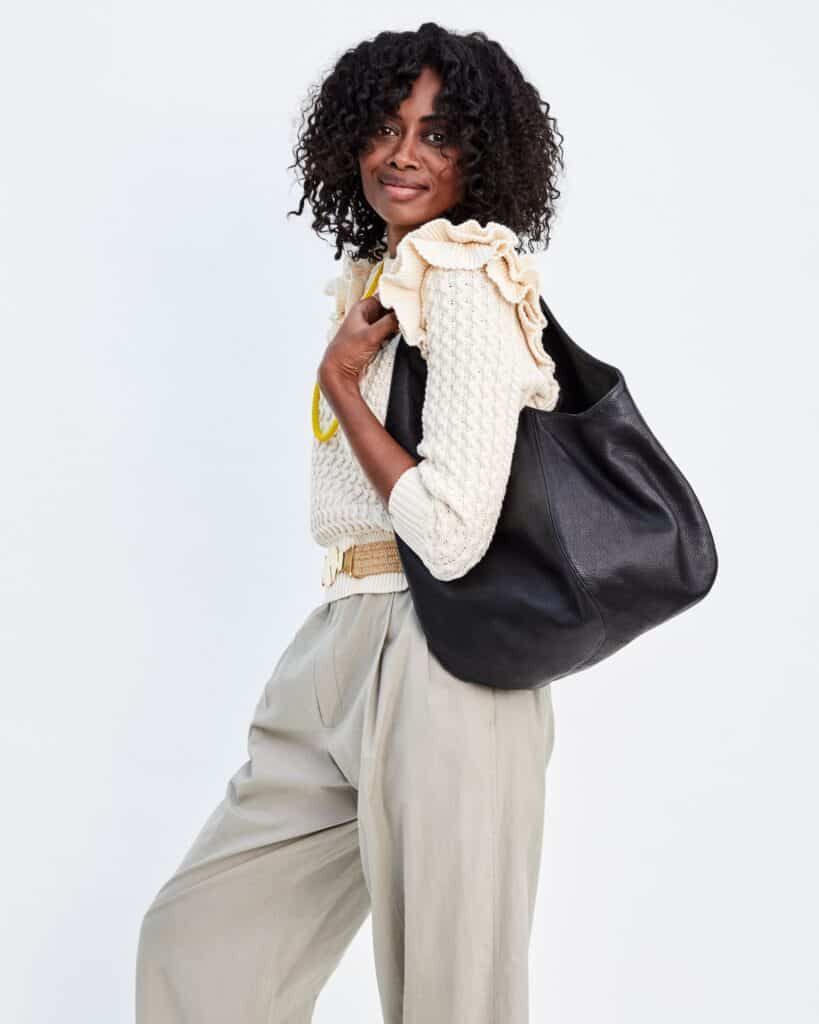 Inspiration for making a designer inspired hobo sling bag
So I think it's pretty obvious where my inspiration for this hobo sling bag sewing project came from, right? Clare V. has down it again with her gorgeous Bando bag. This bag is simple in style which means it will be a classic.
Why the Clare V. Bando is so good
Well let's break this bag down in terms of functionality and simplicity. These are qualities I look for in a bag I want to sew or buy.
This bag is simple, which to me also means functional. With two kids in tow and always on the go, I need a bag I can throw stuff into with ease.
This bag has one internal pocket big enough for keys or a phone.
There is no metal hardware on the bag to weigh it down or that will also get hot in the sun.
It's made of the most buttery soft and supple leather, which also means you won't have to "break it in."
So for these simple reasons I chose the Clare V. Bando bag as my inspiration.
After doing some searching online for a pattern that was similar to size and shape, this is what I found. No I didn't try and attempt to re-invent the wheel here. I tried to create the pattern myself but without much success.
Turns out, the bottom of the bag is really challenging to do without a pattern.
And I'm not going to lie. This pattern is tricky in that very spot. Lots of curves. So maybe consider having a glass of wine before tackling that step. No seriously. Wine. Trust me.
Free designer-inspired hobo sling bag sewing pattern
So if you are interested in sewing along with me, grab your supplies and let's get started!
I have listed the dimensions for both bags as well as a list of supplies you'll need for this project below.
Dimensions for the LARGE bag: 11″ wide x 10″ tall, 11″ deep x 18 drop
Dimensions for the SMALL bag: 9″ wide x 8″ tall x 9″ deep x 17″ drop
How to make a designer-inspired hobo sling video tutorial
Be sure and watch the full video tutorial for how I made the Hobo sling bag.
Supplies to make a designer inspired hobo
So here's a quick list of what you'll need to create your boho style bag.
Sewing machine
Thread
Material (exterior fabric and interior fabric)
Woven interfacing
Scissors
Pattern (print above)
Iron
Optional: magnetic seam guide to help keep your seam allowance accurate)
Fabric marking pen or chalk pencil
Ruler
Making a hobo sling bag
Step 1:
Pre-wash and iron all your fabrics. This will ensure that any fabric shrinkage or movement happens before you go through all the work of making your beautiful bag. If you are comfortable using your fabric without pre-washing, that's fine too. This is something I always do before sewing any project. It's been a habit of mine for years and will likely always be something I do.
What size hobo sling bag should I make?
The sizes for both completed bags are listed above so use those dimensions as your guide. I will tell you from experience that the small size is really small. I made one of these bags for my 7 year old daughter and it was a great size for her. However, if you don't love larger bags, then the small size may just be right for you.
Cut out the pieces for your summer festival sling bag
Again, using the finished measurements as your guide, cut out the pattern pieces for the bag you'd like to make.
Tape the pieces of your sling bag together
Match up the corresponding letter from each piece of the hobo sling pattern and tape them together to form the full pattern pieces. I prefer to tape the front and the back of the pieces to help reinforce them. Taping them on the front as well as the back also keeps them neater when it comes to storing them for later use.
Fabric cutting for your sling bag sewing pattern
Once you have decided on a fabric for the exterior and interior of your bag, it's time to lay the paper pattern pieces out, pin them onto your fabric and cut them out.
Follow the cutting guidelines in the pattern to make sure you have cut out the correct amount of pieces from each fabric