The Best All Natural Homemade Makeup Remover
Learn how to make the best all-natural homemade makeup remover at home.
This all-natural makeup remover contains non-toxic ingredients and is really simple to make.
Ever wonder what all the ingredients that you are putting on your face are actually doing to your skin? Seems most skincare products today are full of harmful chemicals. Ready to try a more natural approach to removing your makeup?
This DIY makeup remover will remove everything from mascara to foundation without over-drying, irritating, and damaging your skin and lashes.
Most of the products I use for these wipes can be found at your local drug store, whole foods market, or Amazon.
So if you have considered transitioning to a more natural skincare approach, this makeup remover will get the job done without sacrificing your skin's natural glow in the process.
Start your more natural skincare regime right here! Stay tuned for my natural lash growth serum.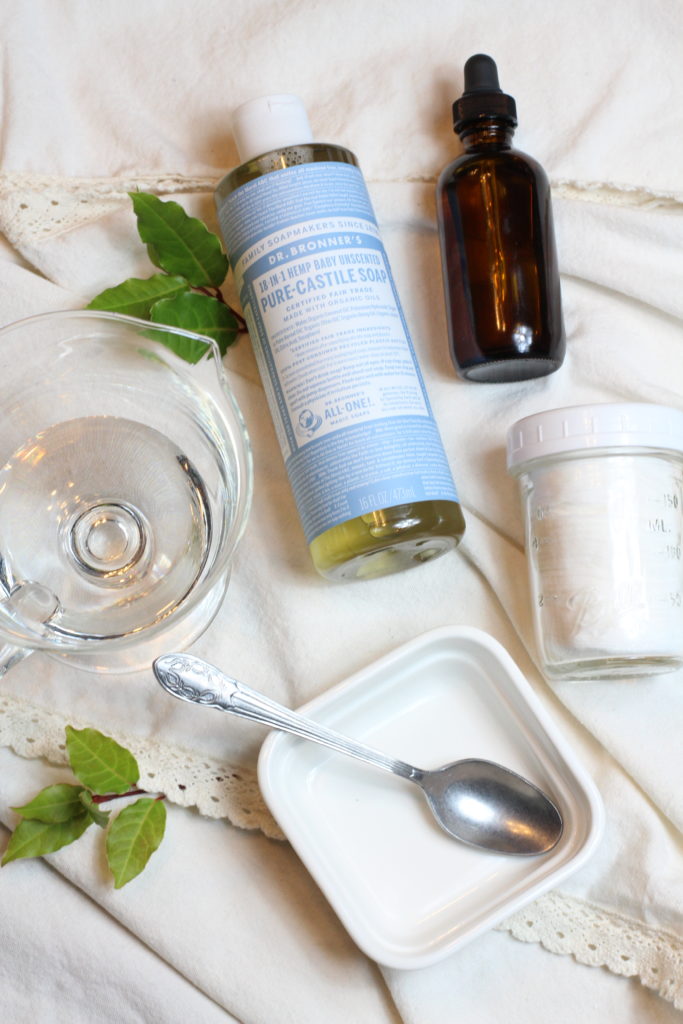 Some of these links are affiliate links. You can read my full disclosure HERE.
Ingredients
Castille soap
Fractionated coconut oil
Vitamin E or Jojoba Oil
1 tsp. Dr. Bronner's Baby Unscented Pure Castile Soap:
Castile soap is another product that has many uses in the world of natural living. You can make hand soap, body wash, face wash, and baby wash-the possibilities are endless as well as harmless. I only use the unscented baby version in self-care products, because it's ingredients are mostly different types of oils and those are safe for use around the eyes as well as other sensitive areas of the body. This makeup remover will actually cleanse your skin and not strip it of its naturals oils.
1/3 cup of filtered water:
We like to filter all our water through our Berkey to eliminate all the things that may be lurking about in unfiltered water. You can also buy filtered water at the grocery store if needed.
2 Tbsp organic fractionated coconut oil:
Coconut oil is the best. You can bake with it, use it on your skin…the list of possibilities is seemingly endless with this stuff. For this DIY makeup remover, we will be using fractionated coconut oil which just means it is liquid at room temperature, unlike regular coconut oil that becomes a solid at 75 degrees.
Fractionated coconut oil has had the long-chain fatty acids removed and just this one difference makes it liquid at room temperature.
Coconut oil has natural antibacterial and antifungal properties which make it a perfect choice for any natural skincare product. Not to mention its highly nourishing and extremely moisturizing. It is high in lauric acid, fatty acids, and vitamin E which can be very soothing to your skin.
5-10 drops of vitamin E or jojoba oil (optional):
I find it extra nourishing for my lashes so I prefer to add this as opposed to not. But it's up to you. You can also add more if you have extremely dry skin and feel as though you could use the extra moisture.
Supplies
100% cotton makeup remover rounds and a jar with an air-tight lid.
If you don't want to make pre-saturated cotton rounds, store this liquid in a container like this. I purchased mine at Whole Foods Market but they also sell them on Amazon. That way you can use a washcloth or organic reusable cotton cloth to remove your makeup.
How to make the best all-natural homemade makeup remover
Making a homemade all-natural makeup remover is really easy. Let me walk you through the steps.
Pour 1/3 cup filtered water into bowl.
Add 2 Tbsp fractionated coconut oil.
Pour 1 tsp Dr. Bronner's baby unscented castile soup into bowl with other ingredients.
Optional: add 5-10 drops oil of choice (vitamin E or jojoba).
Gently mix ingredients until fully incorporated. If you are planning to put the liquid makeup remover in a squirt bottle style container, skip steps 6-9.
If your planning to use cotton rounds, place them in the jar of your choice. A wide mouth jar is preferable as it will make them easy to get out when needed.
Slowly pour mixture over cotton rounds. Press the rounds down in jar as you're adding the liquid. This will help the cotton rounds to absorb the makeup remover liquid.
Continue adding the rounds to the container until you have added all the liquid and the rounds are damp but not dripping wet. I have found that I can do a package of 80 cotton rounds per 8 oz jar.
Place air tight lid on container. Label and store for use.
If you are using a squeeze bottle-style container such as this one, pour liquid into the bottle and store it for daily use.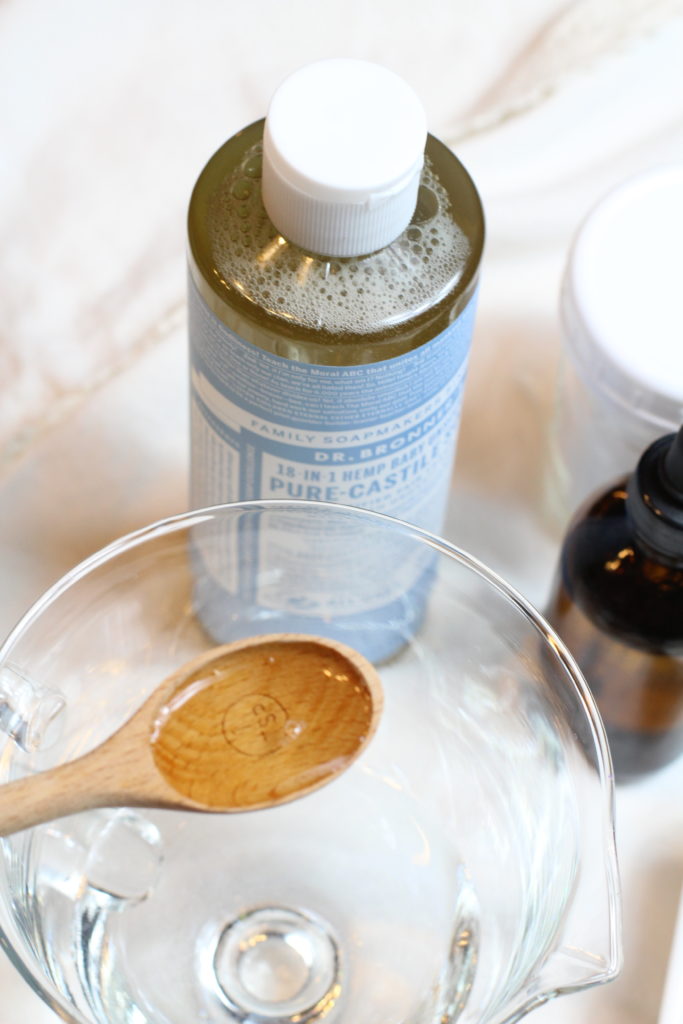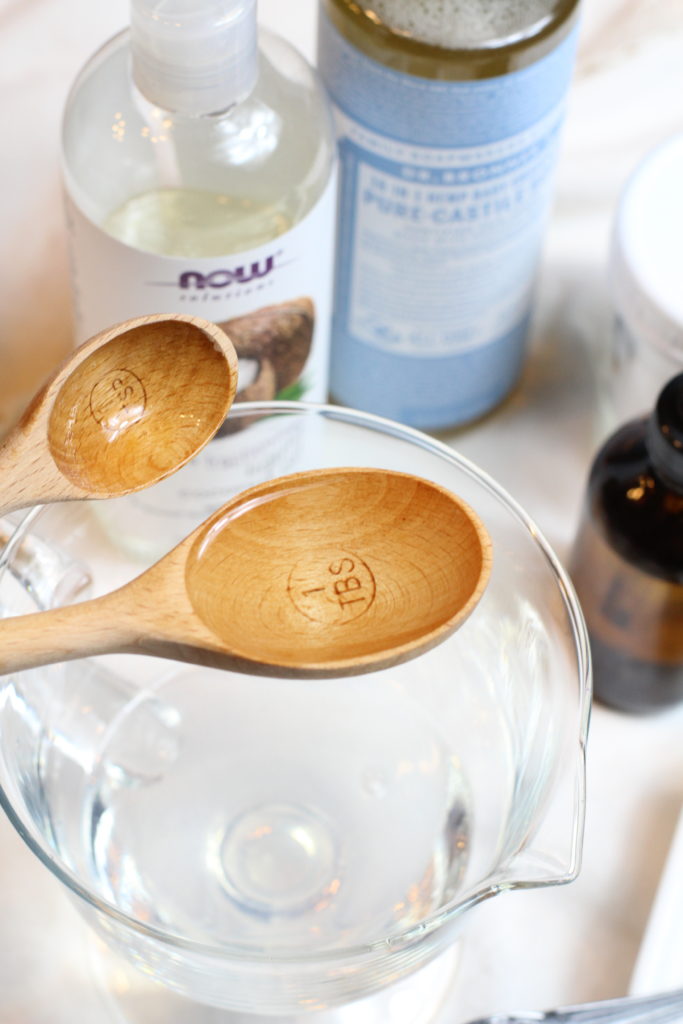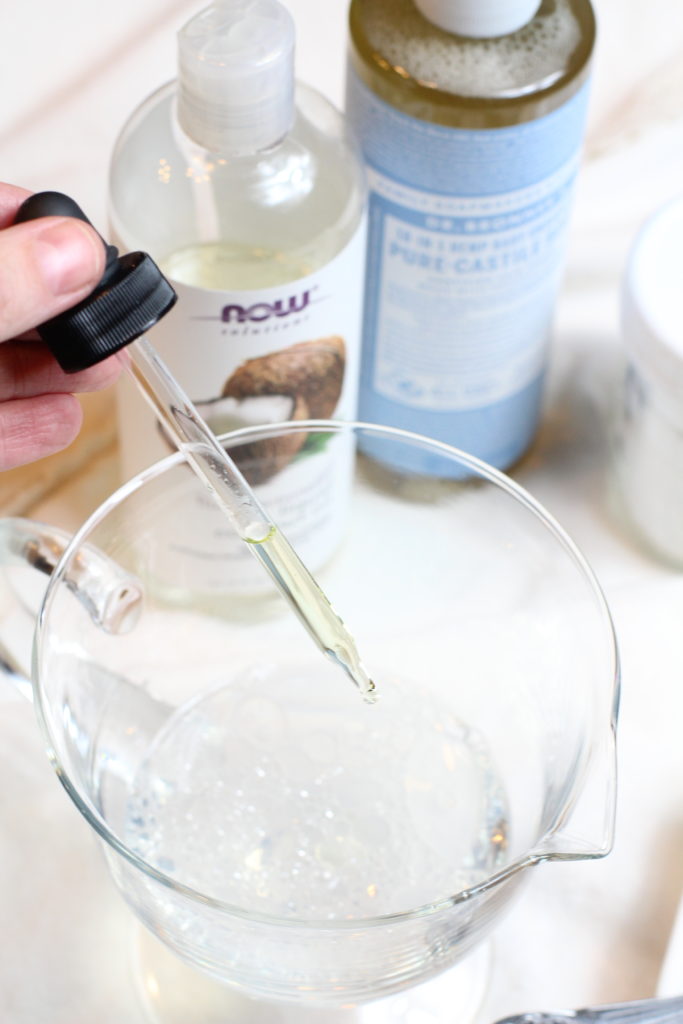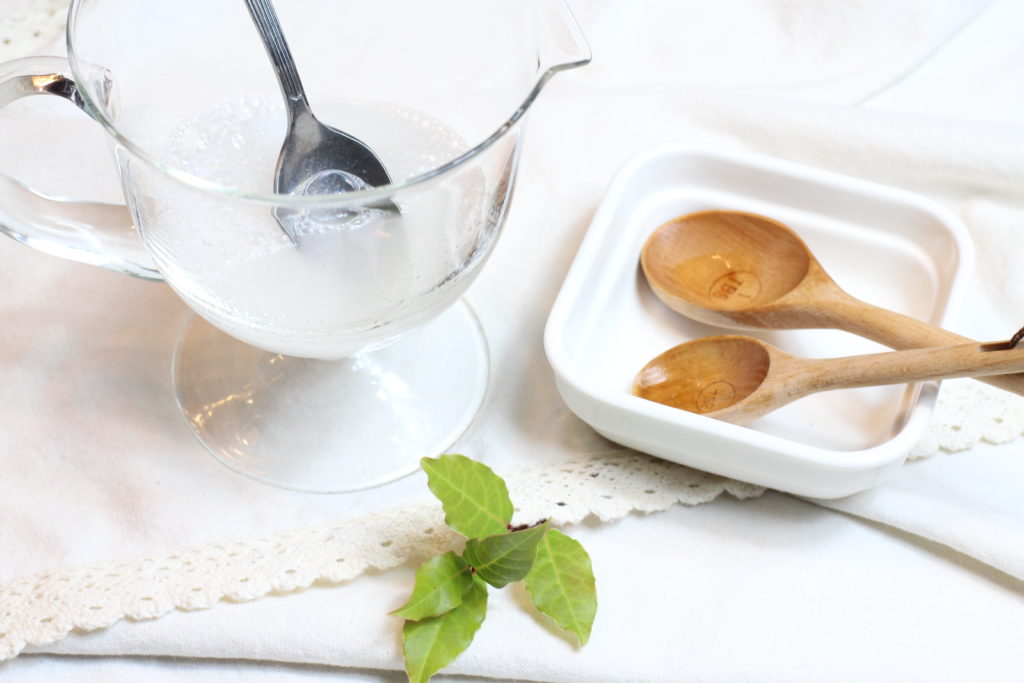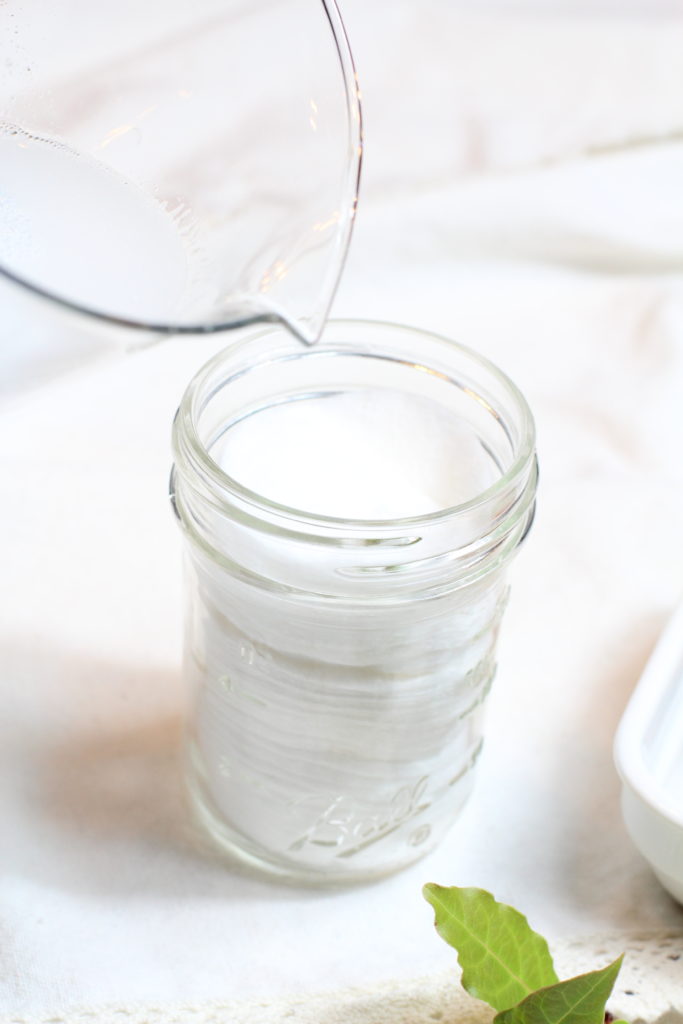 Is there something I could add to this recipe that would make it even better? Do you have a recipe that you have been using that works great for your skin type? Share your recipe below!
Shop
Pinterest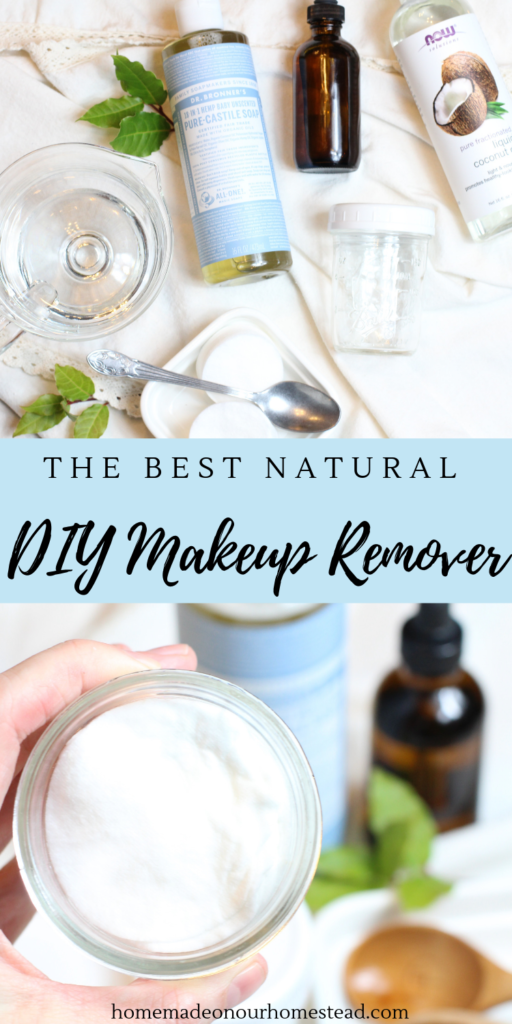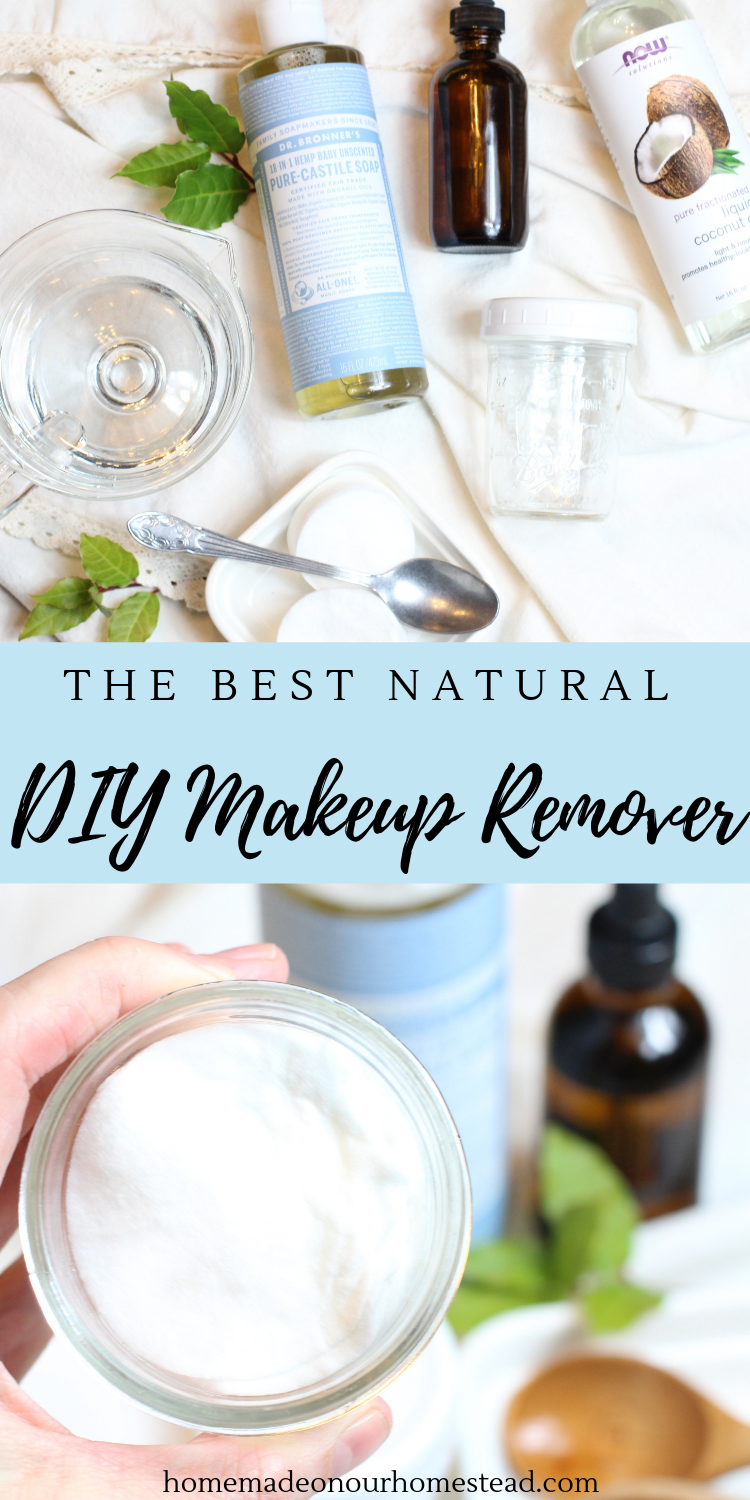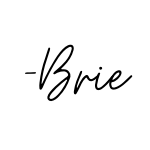 Other Skin and Beauty posts you might enjoy
Interested in learning more about some all-natural and affordable drug store makeup brands? Read all about some of my favorite brands and products.